GTO Engineering is one of the world's foremost classic Ferrari specialists. Under their belt are years worth of know-how and expertise after caring for and restoring precious prancing horses. Now, it's time they use their learnings to resurrect arguably one of the best old Ferraris into this new millennium. While they're at it, may as well add a few touches here and there to make it better.
The name of this mad science is the Squalo. This is GTO's own take on what a 250 GT SWB would be like had it absorbed some 21st-century tricks. We've covered a bit of the Squalo not too long ago. But it's only recently that GTO Engineering has pampered our eyeballs with what the interior of the Squalo will look like. Although these are only sketches, the mind does wander.
What you see here is a blend of new and old. It's a merging of timeless luxury and simplicity, matched with modern-day and cutting-edge technology. The entire cabin has a very familiar ethos to how its gorgeous bodywork was designed. Take all the good parts of what the 50s and 60s had to offer, and add a few creature comforts and unique elements in there.
What's Old Is New Again
There is no clutter or touchscreens here to get in your way. The team over at GTO took a lot of time, as well as back-and-forth feedback from clients on how they envision the Squalo to be. Even the placements of each button, switch, or dial will be integrated into the entire design just right. More practical aspects like cabin space, luggage capacity, and visibility has been considered, too.
Soon, we'll get to see how GTO plans to adopt more space-age features. These include a good sound system, infotainment screen, smartphone linking, as well as our favourite – cup holders. Your seating arrangements will be made bespoke, just for you and every lucky owner. This includes setting up the pedal box, steering wheel, and the location of the gated manual box to optimise its positioning.
Only For The Lucky Few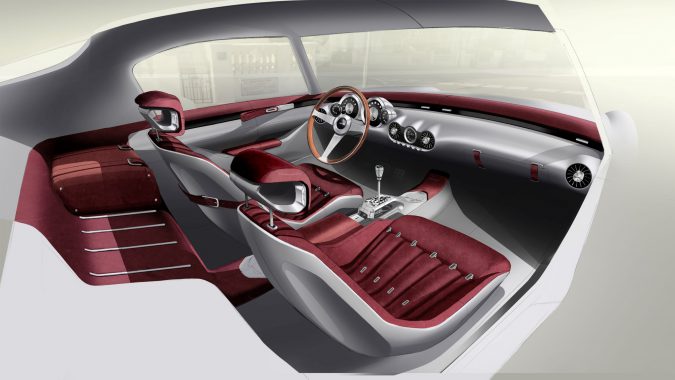 The first GTO Engineering Squalo cars will be sent to their new homes come 2023. For now, we'll leave you with what Mark Lyon, the founder and Managing Director of GTO Engineering, has to say about the Squalo, and the thinking behind it:
Squalo drivers will spend more time inside the car than looking at it from the outside, so it was vital to us that we not only listened to our customers but also drew on our experience of driving sports cars to focus on what's important within the cabin: simplicity and driver engagement.

As a bespoke, hand crafted vehicle we want to make sure that every detail has been carefully thought out, and are continuing to be deliberated at length as we get closer to the production specification. We hope the drawings explain some of our thoughts and focus on craftsmanship as well as material selection.