Actually, I should probably say "hypercars" instead of "supercars". In the past few years, sports cars and muscle cars have continually blurred the line between them and ultra-expensive super or hypercars. These days, even we mere mortals could get a chuckable little sports coupe that'll handily kick the teeth out of some Ferrari 10 years ago. But, what if we push it even further?
Instead of making do with 500hp or 600hp, why not double it up? Well, that's what Hennessey has done, and for what it offers, it's shockingly (relatively) attainable. Their brand-new Venom 1200, which is a fully upgraded Mustang GT500, is just about as insane as it gets. From a huge 5.2-litre supercharged V8, the from-the-factory motor outputs 760bhp and 625lb-ft of torque.
Much More Sting Than You'd Expect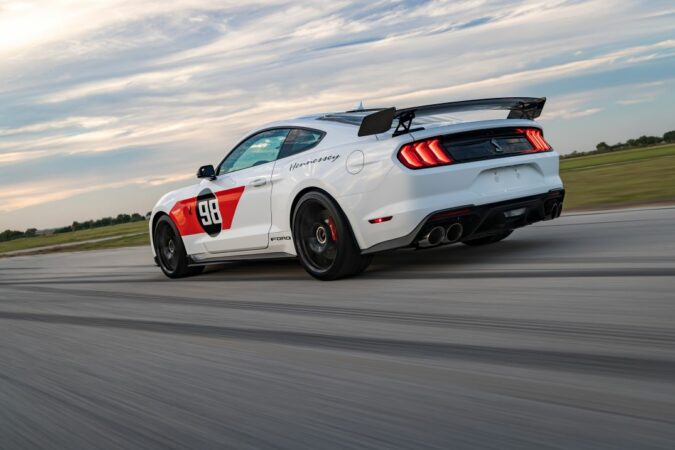 But clearly, there's still more to go. Hennessey then bolted on a humungous 3.6-litre supercharger, alongside a high-flow induction system, a new fuelling system, and an air/oil separation system. The result is a mighty 58% boost in power, bringing the Venom 1200's output to 1,204bhp and 902lb-ft of torque. That alone makes this one of the most powerful Mustangs ever built.
Naturally, cranking out an additional 400++bhp from an already potent powertrain isn't easy. The dual-clutch transmission, as well as everything in between, has been strengthened and uprated. If you want to stand out, you could even opt to have a classic 24 hours of Daytona livery. For a tune of $59,950, it's not a bad price, so I imagine those 66 examples will be sold out pretty soon.