A couple of weeks back, we had some fun remapping the ECU in our VW Transporter campervan. While some might sneer at the idea of tuning a 2-tonne van, I beg to differ. ECU remaps don't merely yield horsepower, although that is its most popular application. However, a reprogrammed ECU may also help you eke out more MPG, tweak how your car behaves, and generally get the best out of your car.
Unleashed Tuning – along with Black Code – did wonders with the Transporter, which transformed it from a sleepy campervan to a (slightly) swifter go-fast camper. But what if I had a sportier test-bench, instead? The noble sacrifice this time around is my Mustang, with its bright Grabber blue paint. Perhaps, any additional gains would be even more mind-boggling with a muscle car?
How Does This All Work?
I've described in greater detail how Unleashed Tuning's process goes in our Transporter guide. But for those who hadn't read it, a quick summary might help. Call up Unleashed Tuning, and they'll send a mobile technician over to you. Upon arriving, they'll whip out some fancy kit. This is courtesy of Black Code, who are the ones responsible for the kit needed for a full-blown ECU remap.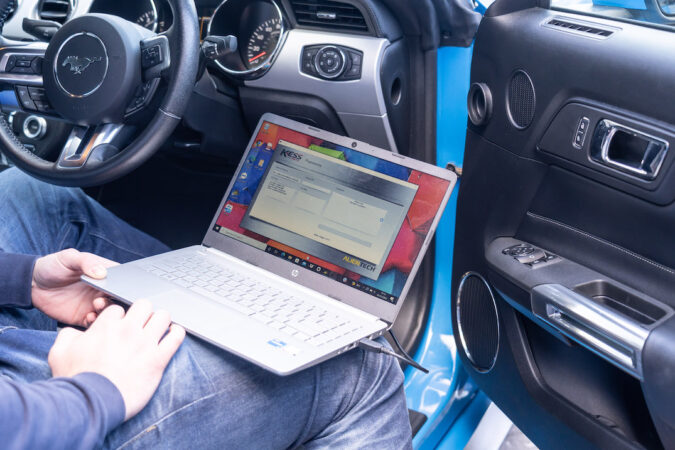 Unleashed Tuning's techie will plug the Black Code box into your car. In doing so, it'll analyse, before then downloading your car's current ECU mapping, settings, and software. Instantly, all that data is uploaded and passed over to Black Code's headquarters. There, a team of engineers will remap and rewrite a brand new ECU program, just for your car, overlaying new configurations over the old one.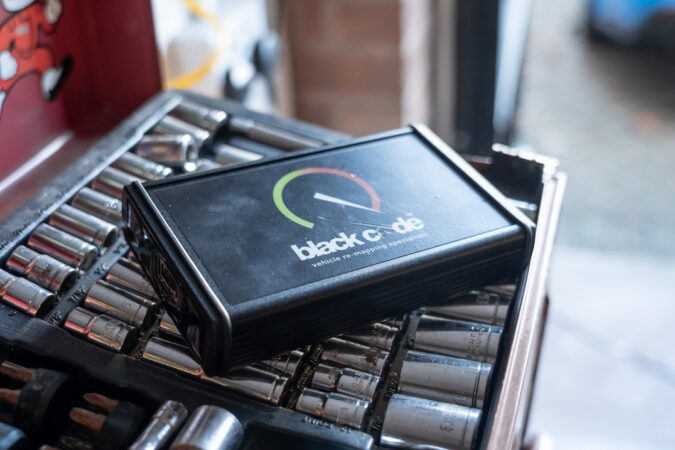 In just around an hour or two, Black Code's programmers would've completed the remap, and would now beam the retuned ECU over to Unleashed Tuning's techie. They'll then copy over the rewritten, custom ECU remap into your car. And, that's a job well done, with horsepower, torque, MPG, as well as other drivability gains aplenty. And, all of this can be custom-made for most vehicles.
Getting More Ponies Out Of The Mustang
You don't even need to go anywhere. Nor, do you need to wait several days for a remap. Albeit, and unlike the fairly speedy and painless process on the Transporter, the Mustang needed more work to get the remapped ECU done right, but the in house specialists at Black Code have knowledge of thousands of performance cars, including the Mustang so this wasn't a problem.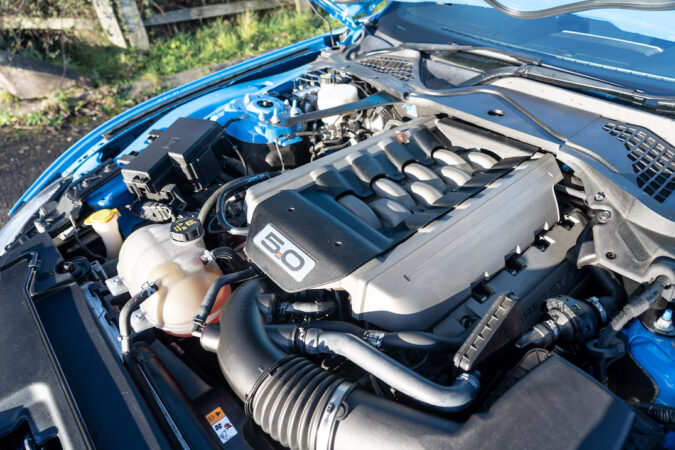 If you're planning to get one for yourself the process was very straight forward and you also have some choices for what you are looking for from the remap. In the case of the Mustang, I wanted more peak torque extracted out of its 5.0-litre naturally-aspirated V8. Plus, some mild pops and bangs from the exhaust, for that added sportiness. Bespoke asks like these will of course demand more effort from Unleashed Tuning, but they will get it done.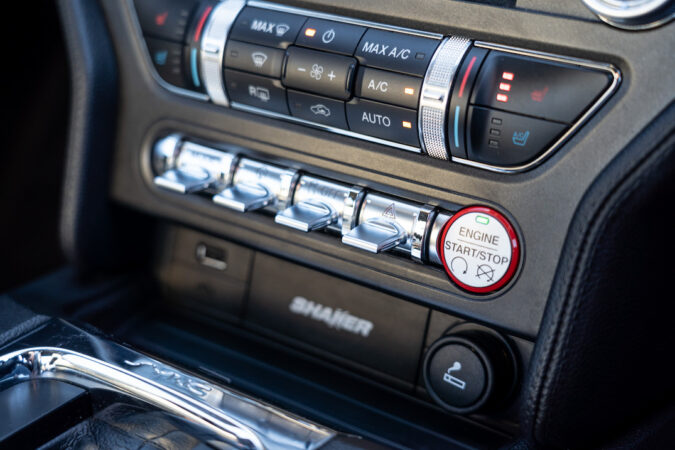 Furthermore, you'll have to consider your car's warranty. The remaps are supposed to be undetectable and Unleashed Tuning supplies a warranty for any problems that might come about from a remap. so you do get complete peace of mind.
Although, go a bit too far with the pops and bangs and it might be more likely the remap gets detected from the car manufacturer. It's for that reason that I hadn't gone completely mad and opted for fiery and explosive crackles from the exhaust. Tread carefully, as they say.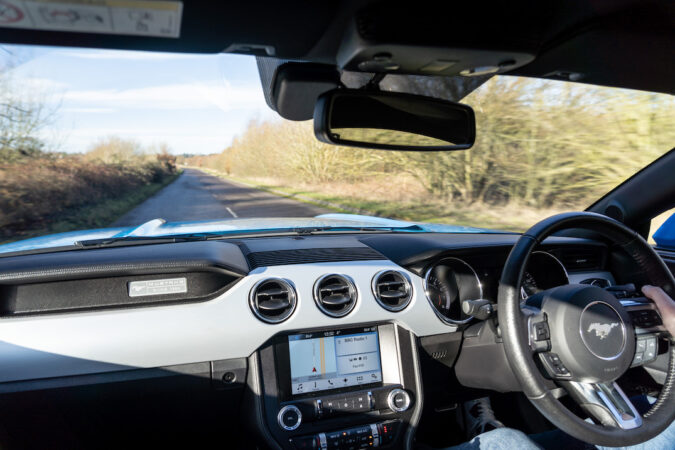 Is It Worth The Extra Muscle?
For a spot of context, the Mustang originally cranked out 415bhp and 530Nm of torque. One remap of the ECU later, and it's now outputting 445bhp and 562Nm of torque. Performance-wise, that's a 30bhp and 32Nm of torque gained from just tweaking the software that manages your engine. If you prefer numerical terms, that is a 7% gain in horsepower, without a single bolt-on part in sight.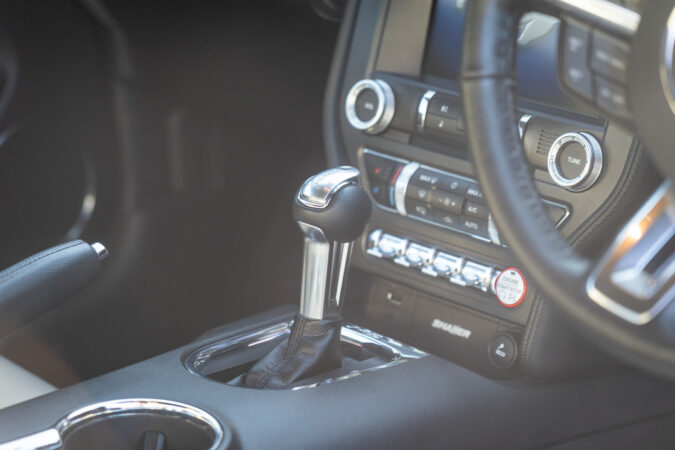 Sure, it's not game-changing, nor is it a massive leap ahead compared to the 35% or so gains that I saw in the Transporter. It's a car-by-car basis, as a remap may be more transformative in some cars than it might on others. Nevertheless, and unlike a VW campervan, the Mustang is already a pretty fast muscle car. In that sense, a 30bhp increase isn't something to scoff at or dismiss outright.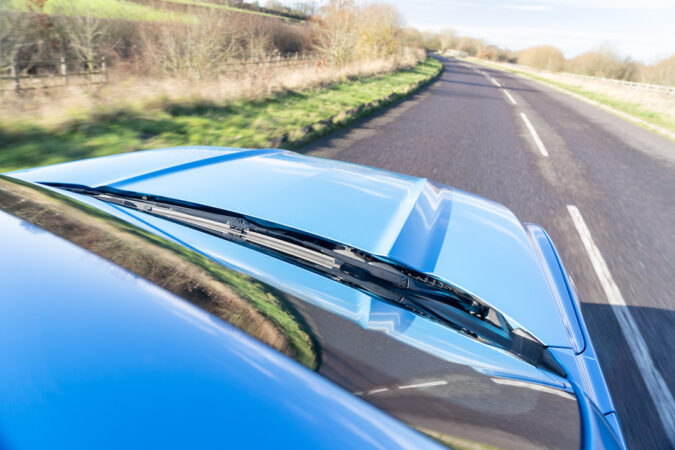 Besides, the other key benefit of an ECU remap isn't necessarily just power, mind you. One of the Mustang's pitfalls, fuel economy, could get a slight uptick. Being a thirsty V8, any MPG improvement is more than welcomed. And, Unleashed Tuning (as well as Black Code) has also proven that a remap is able, depending on the vehicle, to cut down on CO2 emissions. That's another win for remaps.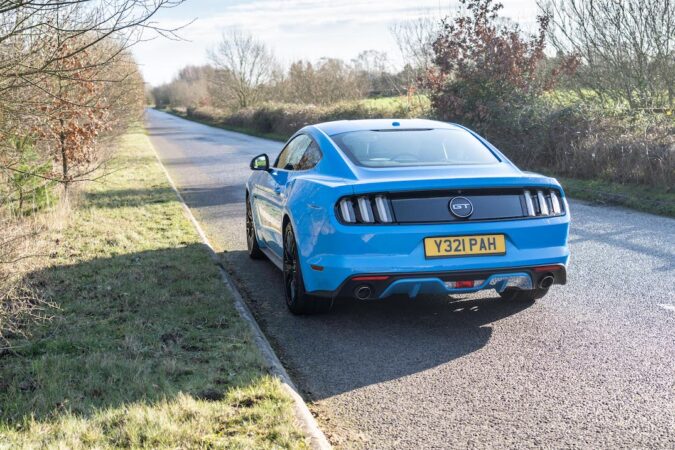 Additionally, I've noted a fairly noticeable change in the Mustang's driveability following the remap. The extra peak torque does make it faster, especially during hard, flat out acceleration. Compared to its stock settings, there's a stronger kick as the Mustang starts hauling, with that inertia kicking you back into the seats. The Mustang was already sprightly before, but now, it really shows.
Does It Growl More Than Before?
It's worth mentioning that the remap hasn't made any changes to the transmission, or drive modes. Specifically, on the latter, more power will at least be accessible in each drive mode. It's an especially nice boost, even in Normal or Sport+ mode, and more so in the Mustang's Track mode. But how about that sound? Frankly, the pops and bangs weren't as discernible as the power gains, to be honest. Most likely as we have the cat and full stock exhaust in place.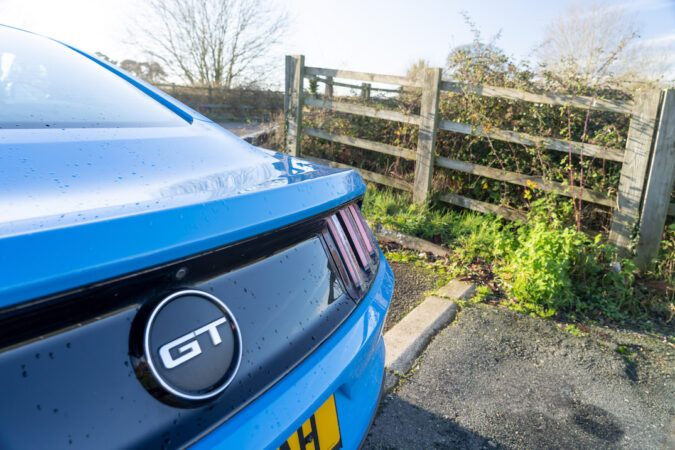 You still get a throaty V8 rumble, now amplified slightly, but not much more. It's best heard as you're revving it to the redline while stationary. It somewhat gives off the illusion that the Mustang is racier than it actually is. But then again, there's only so much that it can do, no matter how comprehensive an ECU remap is. Only a thorough exhaust mod can extract a bit more growl from those tailpipes. Maybe in the future if we swap out the exhaust we can report back on those pops and bangs.
Final Thoughts On Unleashed Tuning's Remap
As a whole, having Unleashed Tuning and Black Code remap the Pony's ECU hasn't brought home as much percentage gains as it did with the VW Transporter, but this was always expected. However, it's those little things in life that matter and could add up quite a lot. As a package, it made a significant change in how the Mustang behaves. It's the perfect mix of subtlety, but with sharpened fangs that could more than happily bite.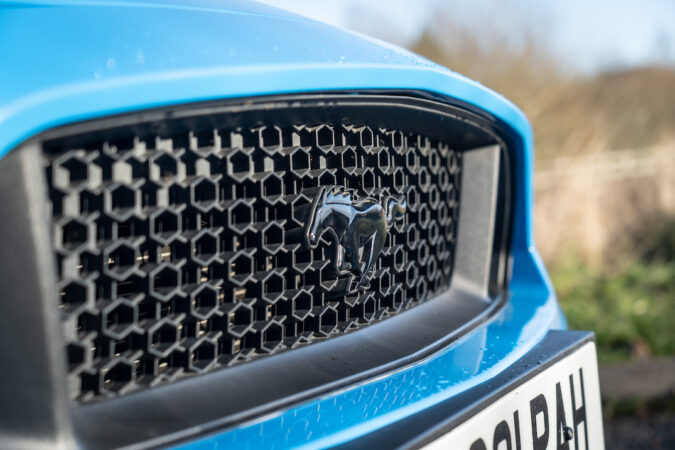 Frequently Asked Questions
If you're ever curious about getting the ECU remapped with your car, here's a few more things that'll get you acquainted with where to start…
1. What Can An ECU Remap Do, Exactly?
Quite a lot, it seems. Unleashed Tuning will squeeze out as much as they can, which most carmakers lock you out of with the standard ECU mapping. The default settings may be a good balance, but that doesn't make it ideal, especially when you can have it reprogrammed to suit your needs. We've seen already that performance gains are more than easy to acquire.
Specifically, they advertise gains of up to 35% in horsepower, and another 15% for torque. Besides that, Unleashed Tuning can fine-tune the throttle response and other minute calibrations with the engine. For example, it can remove electronic speed limiters, or tweak how the oxygen sensors work. If you have an SUV or truck, they can further optimise your towing capabilities.
In regards to fuel economy, a thoroughly reworked ECU might bring you up to 25% more MPGs. Plus, lower CO2 emissions, which is a win-win-win, in my books. For diesel vehicles, Unleashed Tuning and Black Code also provides services to service any diesel-related components. Through software, they could aid in fixing diesel particular filter (DPF) issues, and more.
2. What Sort Of Vehicles Do Unleashed Tuning Work On?
A wide variety of them, as you've seen how they could seamlessly work on a campervan, as well as a thoroughbred muscle car, all at once. Primarily, Unleased Tuning will mostly work with performance vehicles, such as sports cars, sports saloons, hot hatches, supercars, and homologated road racers. Yet, they're more than happy to work on 4x4s, SUVs, city cars, vans, lorries, and so on.
3. How Much Does All This Cost?
For a more precise answer, you could enquire Unleashed Tuning for a free quote. They'll mostly ask about what you'd want out of an ECU remap and will assess the difficulties of creating a map for it. For the VW Transporter, as an example, that costs around £350 for a remap at the time of writing. Quite a good deal, given all that you're getting. If you're not happy, Unleased Tuning has a 30-day money-back guarantee.
4. Does The Remaps Come With A Warranty?
Yes, indeed it does. Unleashed Tuning provides a unique Mechanical Breakdown Warranty. It means that any unintended side effects of an ECU remap could be covered. This includes a lifetime software warranty, courtesy of Black Code, that encompasses future software upgrades or re-tweaks. Best of all, an ECU remap with them is carefully done to prevent voiding your manufacturer warranty.
5. What If The Local Dealership Re-Flashed The ECU?
If you bring your car in for its latest round of servicing at the local dealership, there's always the risk that a software update might re-flash and reset the ECU. If that's the case, you can always ring up Unleashed Tuning, and they'll have it mapped to its previous settings free of charge.