If there's one particular type of vehicle that doesn't need more power, it's in the same class as the Cadillac Escalade. Logically, all you need to do with an Escalade is waft around in comfort, not tear up drag strips. But, if you happen to find the latter prospect interesting, then perhaps you need to give the folks over at Hennessey a call. Maybe… A supercharger does the trick?
Yep, Hennessey's paired the latest Cadillac Escalade, a ginormous earth-moving machine, with a supercharger. Specifically, a 2.9-litre supercharger to the Escalade's stock 6.2-litre Ecotec V8. That's good for a healthy 55% increase in horsepower from 420bhp, to a whopping 650bhp. In addition, you're getting 658lb-ft of torque, thrusting you from 0-60mph in just 5.3 seconds.
Do You Really Need An Escalade To Be This Fast?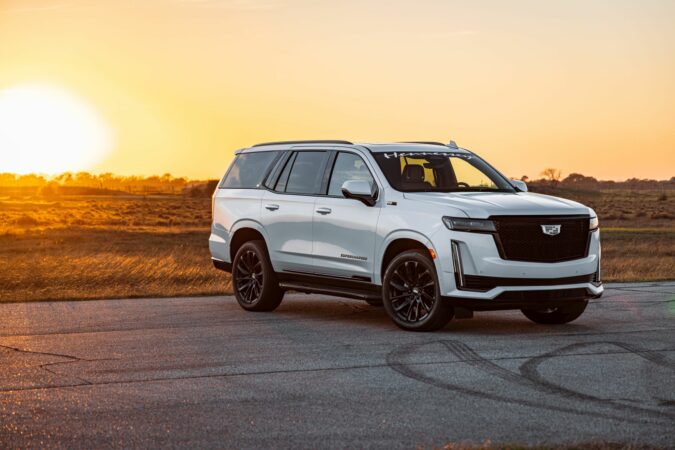 If you've done your maths, you'll know that's nearly a second faster than the stock model. This isn't solely down to the supercharger alone, of course. Included in the box are a high-flow intake system, high-flow intercooler, Chromoly pushrods, cat-back exhaust, and ECU tuning. Also, it's going to come with optional extras, such as 22-inch wheels and 6-piston Brembo brakes.
But, is it worth the $27,950 price tag for the upgrade? Well, that's for you to judge… If its 13.5 seconds running the quarter-mile and a 230hp boost sound attractive. On the plus side, if the Hennessey Cadillac Escalade H650 isn't for you, they're offering this supercharging package in other models, too. That includes the Suburban, Tahoe, Yukon, and Yukon XL.