The Huracan STO is as mad as any Lamborghini deserves to be, as a road-homologated super racer should. Not too long ago, Bridgestone made some special pair of Potenza Sport running shoes to help the Huracan STO stretch its legs. But it looks like there's a lot more to the story, as Bridgestone has now crafted an even more extreme set of rubber tailor-made for it – the Potenza Race.
The name gives some clues to what it can do. The Potenza Race are semi-slick tyres, made to ring as much performance out of the STO both on, and off the track. It's an optional extra, of course, and one that offers plenty of upgrades over the standard fit. Dry grip and handling should thus be improved, thanks to optimised tread compounds, patterns, and an exceptionally sporty tyre profile.
Racy Tyres, For A Racy Bull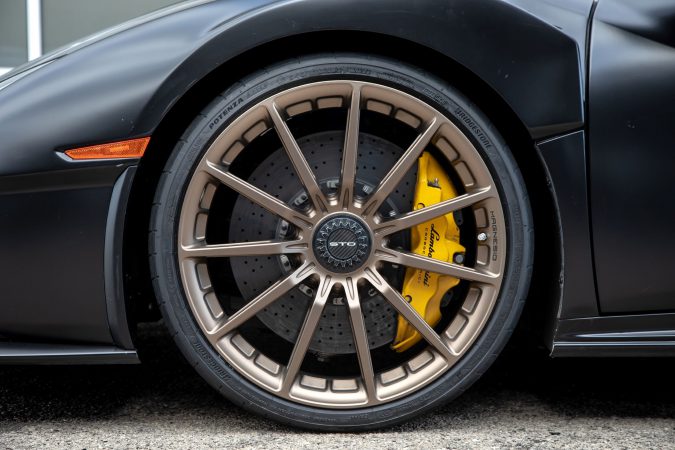 It's got a maximised contract area and even pressure distribution, both of which aids in getting you better braking and cornering. There's also the added benefit of longevity in on-track performance without too much wear. This means you can stay on track for longer, in case you're still out there trying to break new lap records past dinner time.
The Potenza Race has a redesigned carcass that allows for all that performance to be exploited on regular roads, too. To top it all off, Bridgestone isn't afraid to show off a tiny bit of Italian flair, as its made-in-Italy Potenza Race tyres sport a Tricolore along the treads. It's amazing to get behind the scenes of how the tyres were designed and engineered, as well.
Instead of testing real rubber, Bridgestone and Lamborghini used a 'digital twin'. Basically, it's a virtual simulation, enabling them to test far more variations and minute changes. From there, they'll keep tweaking them to offer the best cornering, braking, and traction with far greater flexibility. It also means that they get the best tyres out of it, and have it put on the road a lot quicker.