Striking isn't it? It may look like a shooting brake version of the Stinger, but this is actually the Kia Proceed Concept. Unveiled at the Frankfurt Motor Show 2017.
Shooting Brake from the Norm?
The concept looks to break away from the normal formation of the current Cee'd shape, with what the Korean brand describes as "extended hot hatch styling". I'd argue it's bit too big to be a hot hatch styling, but I'm being pedantic here. Whatever genre you want to slot the body shape into, I think it looks fantastic. Now let's not get carried away – not all concept models end up looking the same when they hit the production floor. However, I'd be surprised if the car that goes on sale isn't a million miles away from the car shown here.
Anyway, back to the car in question.  One of the features of the Kia Proceed Concept is something called a 'Luminline'. What's that you ask? Basically, what Kia means by this, and I quote; "an illuminated outline of the car's glasshouse that greets drivers as they approach the car." I hope that cleared that one up! A more straight-forward feature on the concept are 20″ aluminium alloys with a six-spoke design.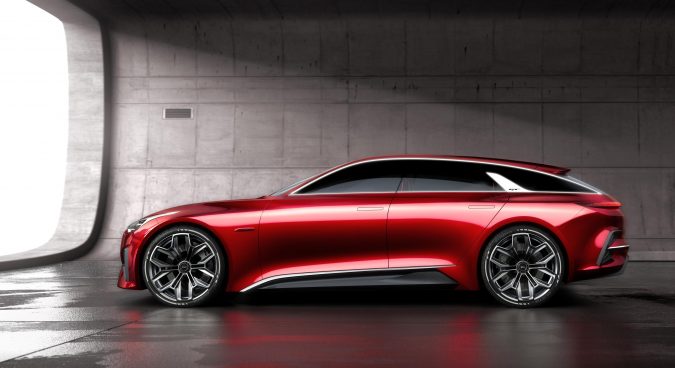 The Proceed Concept features the ever-familiar 'tiger nose' grille that has become a prominent design cue on the latest Kia models. The body, which is finished in 'Lava Red' has a raking roofline, with a dynamic window-frame that follows the roofline to the rear tailgate.
Gregory Guillaume, Chief Designer Europe for Kia Motors, commented: "With many European drivers now seeking performance alternatives to the three-door hot hatch, we began thinking about a different halo model for the Cee'd family. The Proceed Concept represents a bold new vision of how the vibrant soul of the pro_cee'd could be reincarnated and revitalised for a new generation of performance-oriented drivers."
Kia Proceed Concept – Gallery