Finding a good (and more importantly, the right) camera bag can be surprisingly difficult. Especially, if you don't know what you're looking for. Among the most important criteria for choosing a backpack is its sizing. And, whether it'll be able to fit all your gear. Nevertheless, that doesn't mean that small bags are bad. If anything, Manfrotto's Advanced Active Backpack III proves that they can be great.
It's a matter of optimising what little physical volume there is. Plus, cleverly compartmentalising all of what you need to carry. With good design, smaller camera bags can still be sufficient for an extensive photo shoot. Yet, they don't have to feel cumbersome to carry around or feel under-utilised. But with its relatively compact dimensions, can the Manfrotto Advanced Active Backpack III be right for you?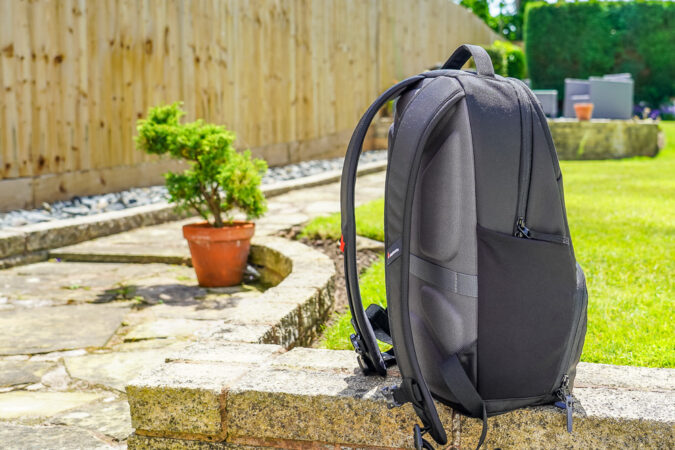 Compared to most of the camera bags that I've used, the Manfrotto Advanced Active Backpack III is a very tiny thing. On first impressions, it feels smaller than I would've ordinarily preferred. Still, it's good for those who'd rather not lug about too much stuff or prefer to remain under the radar. Alternatively, it may be a good pick if you're just starting out and don't have a lot of camera gear to carry, anyway.
Small In Size, Mighty In Capacity
The fact that it's light and comparatively diminutive does mean that you're compromising on storage space compared to a fully-fledged camera bag. Optimally, it could fit one DSLR or mirrorless (and one secondary camera, like a tiny Sony RX100 III). In addition to that, it'll be able to accommodate just a few extra lenses (Manfrotto quotes that up to 3 lenses can fit, but of course, it depends on the lens), amongst other things.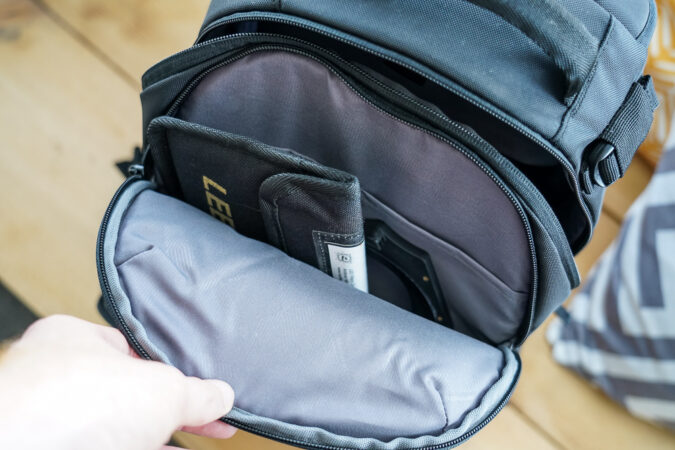 For a day's worth of shooting, it'll handily squeeze in a water bottle on the side, and several extra batteries or other components like lens hoods, flashes etc in the primary compartment. Besides that, it features numerous pockets, dividers, and slots to make better use of what little space it would've typically had. Here, you can slot in loose items like any filters that you might want to carry, microSD memory cards, batteries, and whatnot alongside it.
That central compartment has a void big enough to fit one large drone, or maybe two smaller drones (with their accompanying controllers). Otherwise, the Manfrotto Advanced Active Backpack III would have little difficulty in hauling around lighting gear, props, clothing, and whatever else that can fit. In addition, you might notice a pull tab in the back of the main compartment. So, what does it do?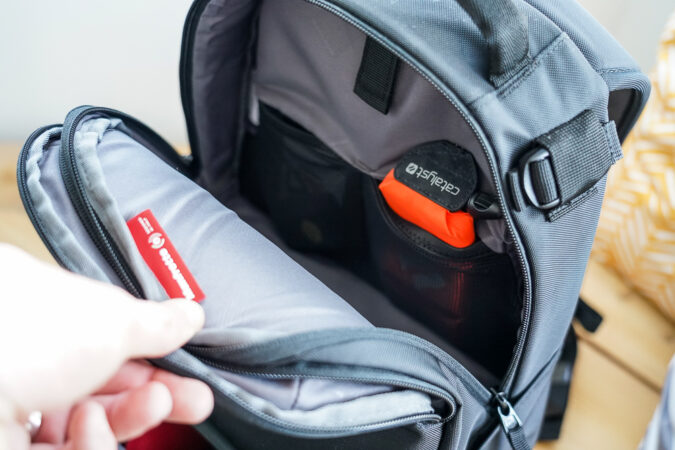 If you pull that tab, the central divider will slide open to reveal another compartment. Granted, this is slimmer than the others so far. As such, that rear-most storage space is a good spot to keep a laptop (at most, roughly 14-inches in size), tablet, or a notebook. As with the rest of the bag, there's quite a lot of padding back there, just in case. Meanwhile, the side has a pouch that's perfect for a tripod.
A Great Use Of  Space
Speaking of, the Manfrotto Advanced Active Backpack III should be a byword for optimisation. All the padding we mentioned earlier is something that's echoed throughout the rest of the bag. That should offer ample protection against impact. Furthermore, we've yet to discuss its most important as well as consequential compartment. To access this, we'll have to look near the bottom of the bag.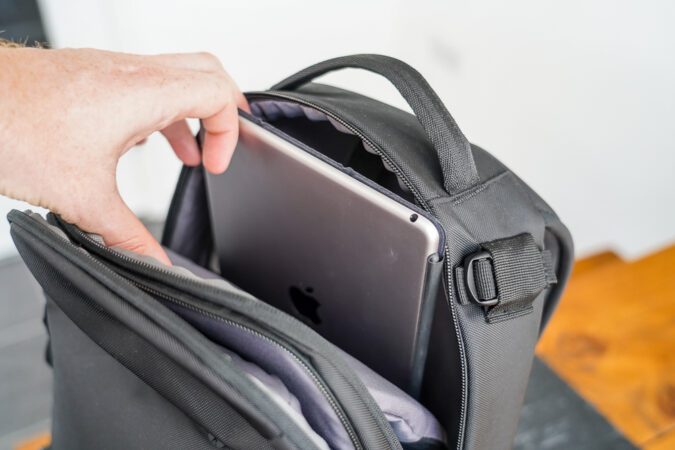 Unzip this, and the bottom-most compartment pivots and slides outwards. It's an elegant way for you to quickly get at your camera, put it back in afterwards, and zip it up. That's rather than having to stick your hand all the way into the bag, rummage about, and grab things blindly. This is where you'll most likely store your camera. And just like other Manfrotto bags, it has these neat Velcro dividers.
Hence, allowing you to further customise the available storage space. With that being said, my main camera (a Sony A7 III) just about slots inside this bottom compartment. Particularly, with a daily 24-105mm lens that I commonly carry. So, depending on what camera and setup you're using, it might be necessary to detach the lens. Plus, take things apart before you place them in there, just to ensure that it fits.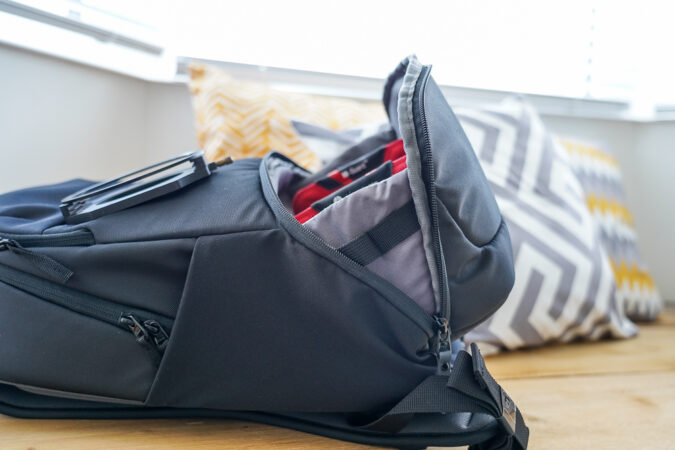 However, and if you opt to not keep anything in the central compartment, you can theoretically fit an extra DSLR or mirrorless camera in there, too. It's certainly big enough, albeit without any of the tight and special-fitting dividers to keep your cameras stored snugly in place.
But Is It Too Small?
This does at least alleviate a double-edge sword of that bottom-most compartment, which I'd want to ideally put my camera in. As we mentioned earlier, it's super easy to unzip and grab your camera right quick if you don't want to miss a good shot. Though, this also means that it's rather easy for it to open while you're on the move. It's not a deal breaker, but it's something to be aware of in public or crowded places.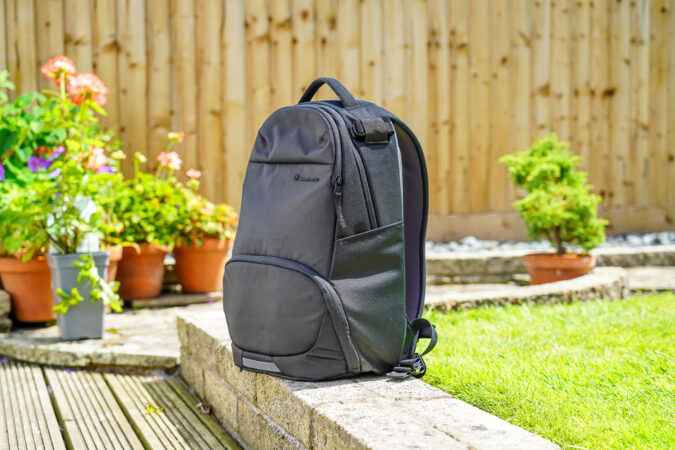 So, if you're riding the train or just walking around, it can be fairly straightforward and effortless for a thief to pop this bottom pouch open. Then, stealing your camera or gear in mere seconds, and without you likely ever noticing until it's too late. This is why I prefer camera backpacks where the main pouch that I'll be carrying my expensive gear in is only accessible from the top or if it's facing my back.
But some of you might be asking… Is the Manfrotto Advanced Active III not too small? Compared to a lot of camera bags that I've used before, it's tinier, for sure. But this isn't necessarily a bad thing, as it will serve you well on certain occasions. For example, there might be moments when you don't want or need to carry too many things at once. I guess it just depends on what you're doing with it.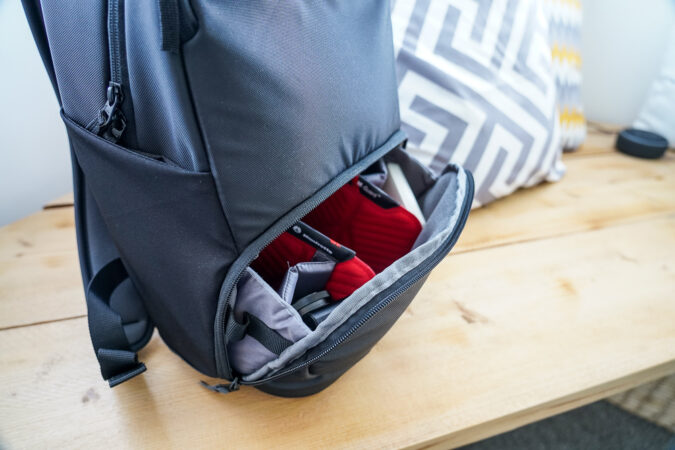 For my use, Manfrotto makes other, larger and more capable camera bags that I'd carry most of the time on a day-to-day basis. But whether you're a pro or just someone who's just starting, it could be a great secondary backpack. In particular, if you want to store one type of camera in a bag by itself, or some days you just want to travel light. Then it is a solid option.