Historic Moment in British Automotive
Glasgow celebrated a historic automotive moment as Munro Vehicles announced the completion of its first pre-production model, the Series-M Utility. This rugged, hard top five-seater 4×4 left the East Kilbride factory just ten short months after its prototype, the MK_1, made its dazzling debut in Edinburgh.
This is a real feather in Scotland's cap, marking the return of light vehicle mass production to the nation since Linwood's car plant closure way back in 1981.
Big Ambitions, Bigger Impact
Munro's latest unveiling isn't just about reviving Scotland's automotive production prowess. They have their eyes set on some serious expansion, with plans to rocket production from a humble 50 vehicles in the coming year to a whopping 2500 annually by 2027. And the cherry on top? They're also aiming to roll out 300 new jobs in the region over the same period.
Moreover, the world's been noticing Munro's strides. Recently, they earned a spot as a finalist in the Fully Charged awards for Best Innovative EV Manufacturer. And it's not just accolades they're gathering; they've already got a healthy two-year customer order book.
Built for Today and Tomorrow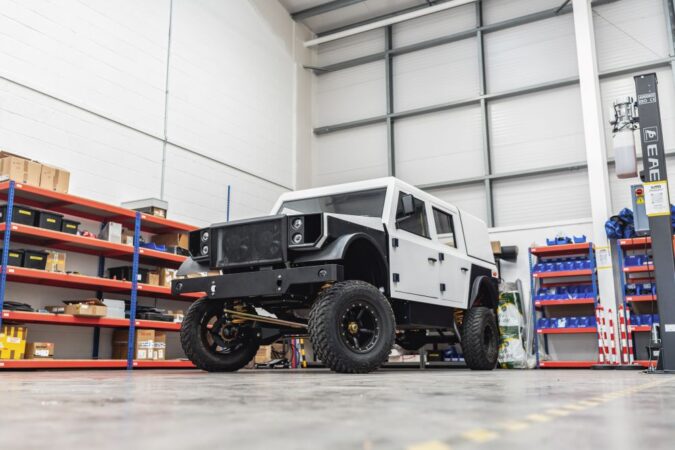 The Series-M isn't just a vehicle; it's a revolution on wheels. The feedback-driven design and development saw innovations, like an adjustable steering column and a ton of ergonomic enhancements. Safety hasn't taken a back seat either, with the vehicle loaded with features including airbags, ABS brakes, and stability controls.
With sustainability at its heart, the vehicle boasts of an 'exoskeleton' at the rear, providing for easy equipment mounting. This is in line with Munro's vision of crafting a versatile all-electric 4×4 meeting various customer needs.
The vehicle's battery pack, the LFP, promises faster 30-minute charging times and improved thermal efficiency, heating the cabin with waste heat from the drivetrain. But it's not all about function; comfort's been given its due too.
Improved sound-deadening measures mean the Munro Series-M offers a plush travel experience. Whether you're cruising on the tarmac or tackling tough terrains, it's got your back with a range of up to 200 miles.
The Series-M: A Fusion of Power and Purpose
The Munro Series-M is more than just a vehicle; it's a statement. Merging the reliability of a 4×4 mechanical drivetrain with a cutting-edge electric powertrain, it ensures zero emissions. Whether you prefer the 'standard' M170 170kW or the 'high-power' M280 280kW variant, or you're torn between the Utility (hard top) and Truck (open-bed) configurations, there's a Series-M for everyone.
Already, more than 250 pre-orders have been placed for both models, clearly indicating Munro's offerings are striking the right chord, especially in sectors like mining, construction, and agriculture.
In the words of Munro CEO and co-founder Russell Peterson, "After listening to our customers, we introduced numerous improvements… to help customers transition to net zero and protect the environment." True to their words, Munro Vehicles is not just driving the future of automotive in Scotland but also steering the industry towards a greener, more sustainable future.