Driven: 2018 Subaru XV SE Premium Review
With the keys to the second-generation Subaru XV, we hop onboard this charming crossover.
What's the 2018 Subaru XV SE Premium all About?
Subaru is one of those brands that are unique in many ways, earning them a small but ardent following. This is unusual as the Subaru is not a massive volume seller in the UK at the moment.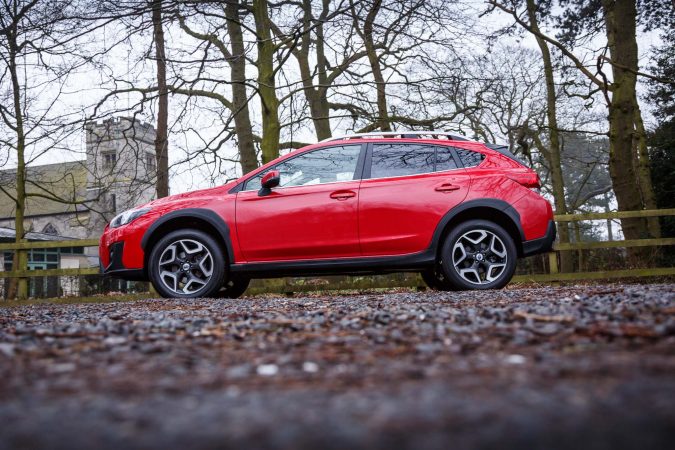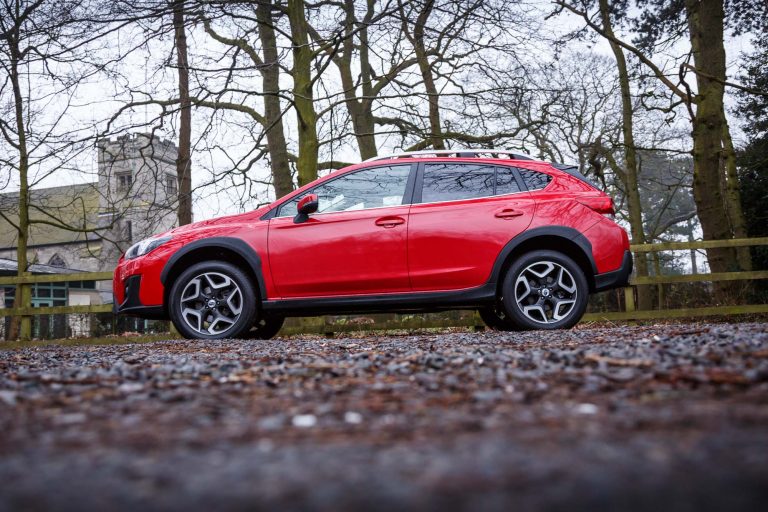 However, some of their current production models may shed some light on this situation. The new Subaru XV, for example. While other manufacturers are jacking up hatchbacks with the pretence of additional off-road practicality, the XV actually has a lot more off-road capability than its rivals.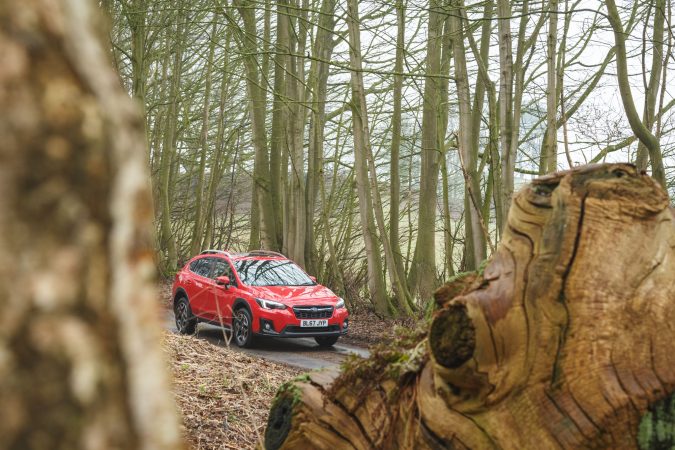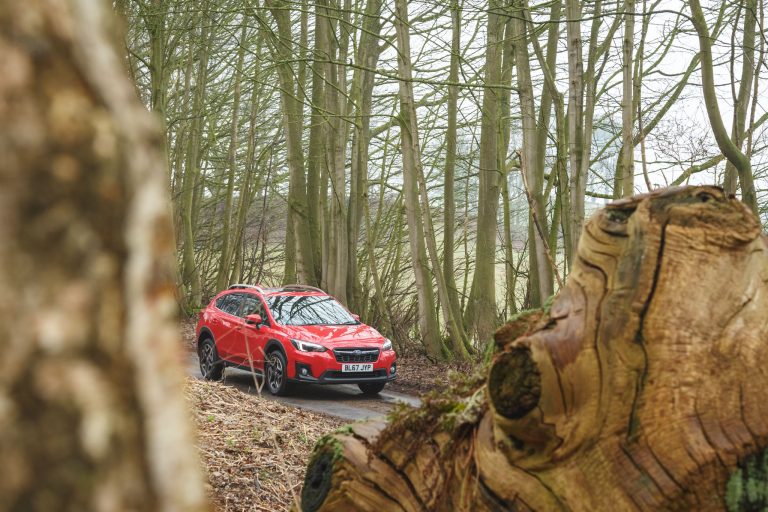 The second-generation XV goes one step further, as it's riding on the brand's latest global platform coupled with a newer engine and a new look. Is this enough to put Subaru back on the map?
It's easy to tell that the Japanese manufacturer has looked to its history for inspiration for the XV's aesthetics, as it's very similar to an Impreza hatchback. That might not be a bad thing though, as the contentious angular design that the XV evokes is an attractive one. I find myself gravitating towards the whole piston-shaped contours the LED headlamps follow.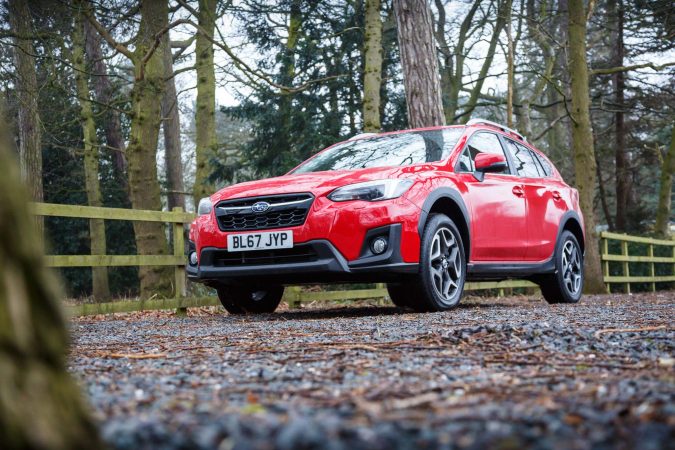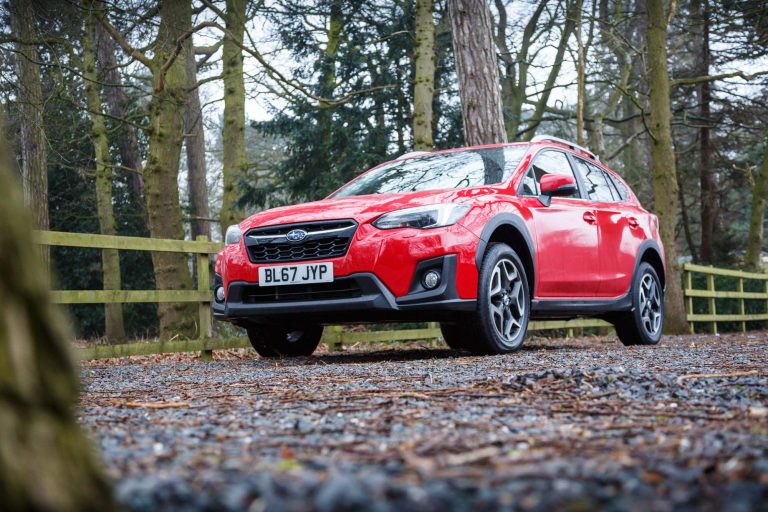 If you choose the SE Premium trim, you can also expect the unique 18″ alloy wheels we found in our XV. Paired with the 'Pure Red' colour, this model is bound to get some admiring glances.
Engine options are quite limited for the UK market so far. Powering our test model is the FB20, a 2.0-litre naturally-aspirated boxer-4 with direct injection. It's Subaru's current generation engine, and it emits 154 bhp with 196 Nm of torque.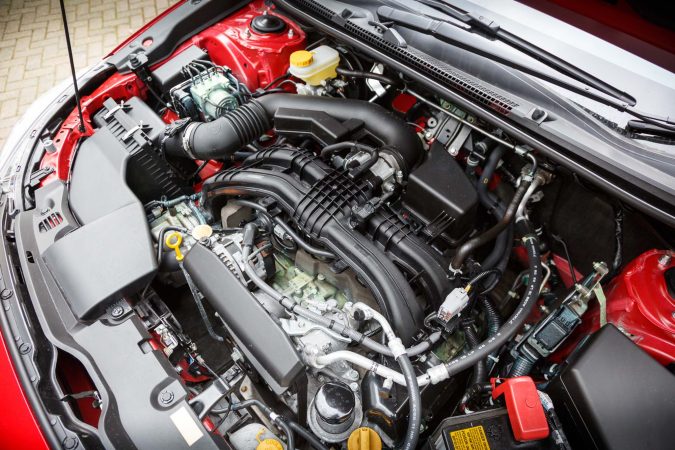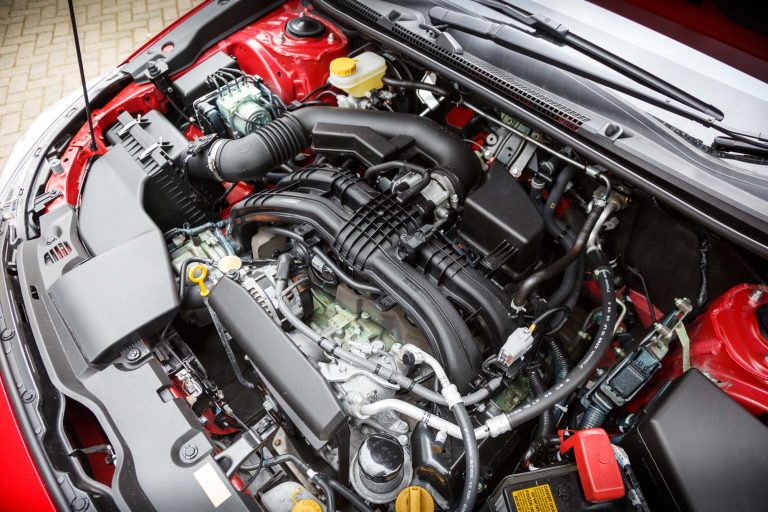 In this country, there is only one transmission you can opt for: Subaru's Lineartronic CVT. It's built from the ground up for All Wheel Drive usage, so it powers all four wheels of the vehicle. This propels the XV from 0-62 mph in 10.4 seconds, with a top speed of 121 mph.
For a permanent AWD with a big displacement engine, it is very efficient. You can expect 40.9 mpg combined while emitting 155 g/km of C02.
How Does it Drive?
While the 0-62mph figures may not have prepared you for the performance, you may be surprised at what you find here. It drives well, with a broad reserve of torque for when you need power. It serves the purpose of the XV, either as a city runabout, or an off-road vehicle.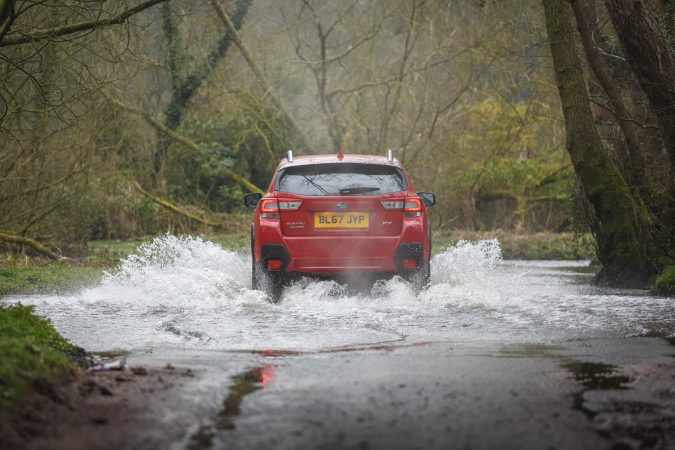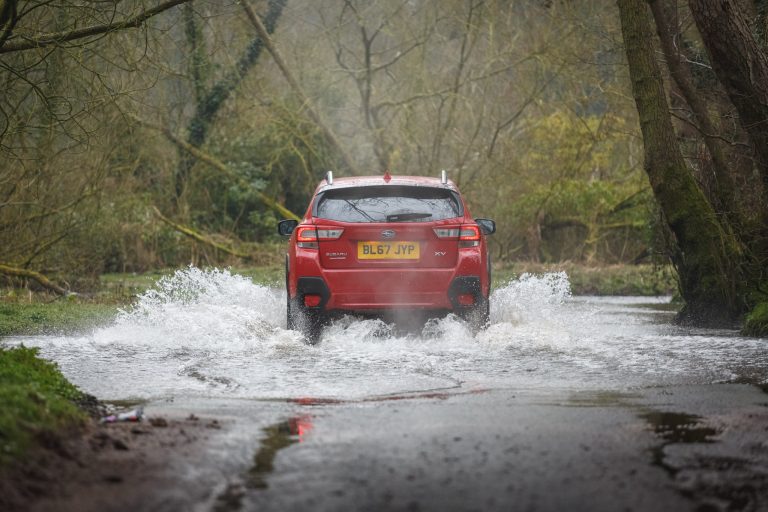 The Continuously Variable Transmission works in harmony with the engine. You can always shift it manually via the paddles, which locks the ratios. Still, auto is technically the most efficient, and the best for feeding the engine with torque.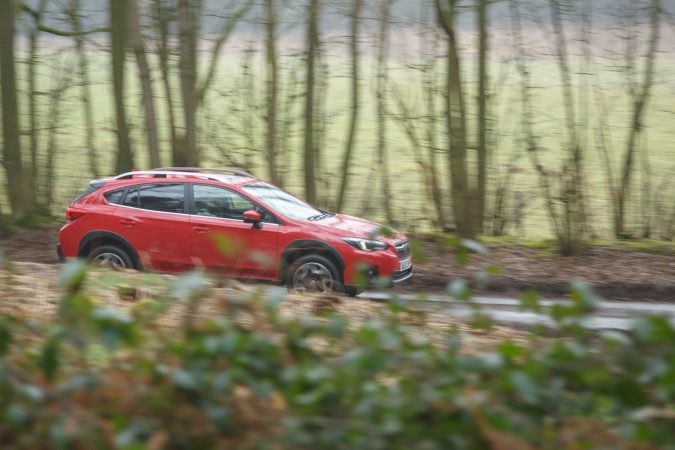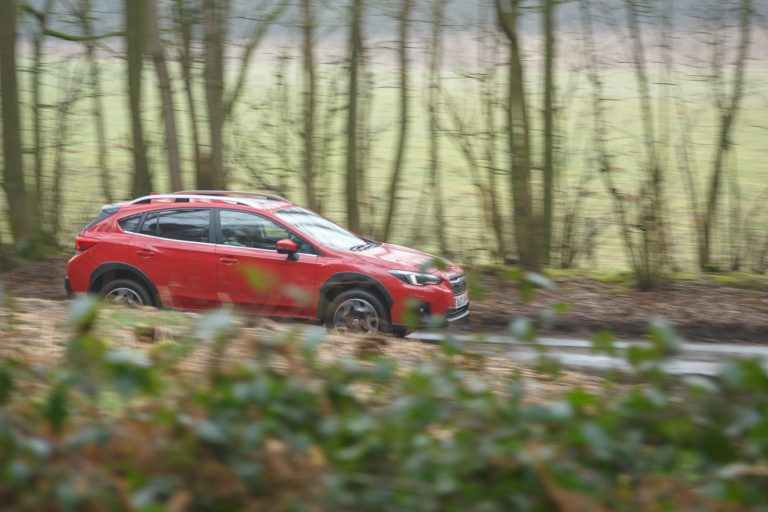 On the road, the XV performs remarkably well. Subaru advise this model is stiffer with a lower centre of gravity. The abundance of mid-corner grip combined with steadfast composure means that the XV instils confidence in the driver.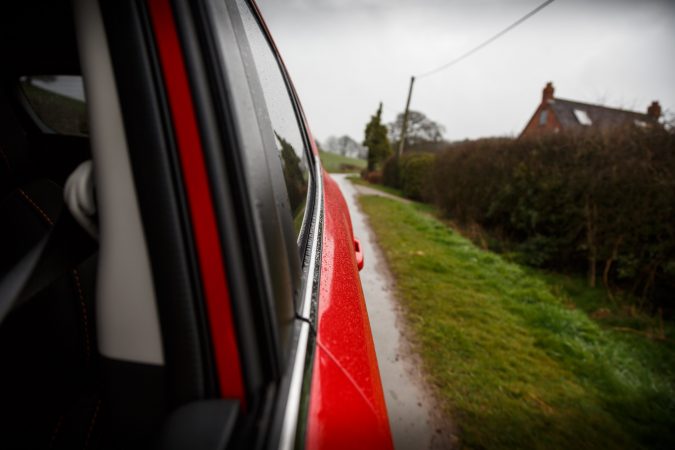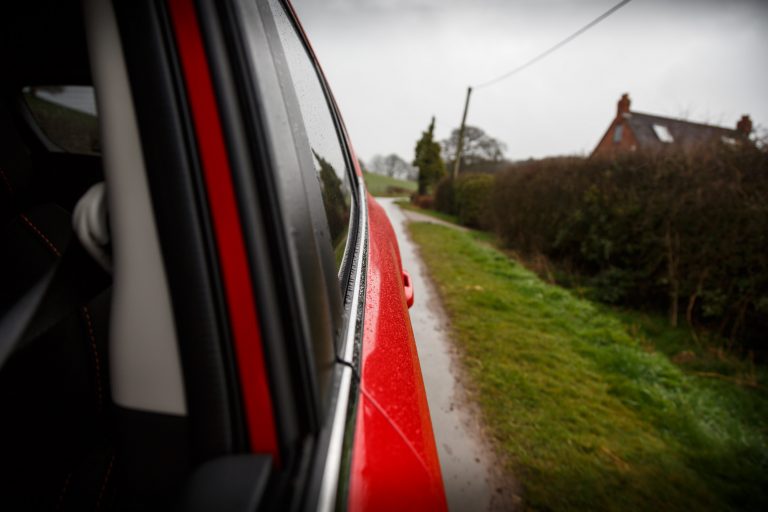 It may not appear to be a particularly decorous crossover, exhibiting a tad more body roll than most. But it always displays its readiness behind the wheel, with a well-weighted, precise and accurate steering that holds true even under high lateral Gs. The electronics are very subtle, while the symmetrical AWD with torque vectoring functions tremendously well in all weather.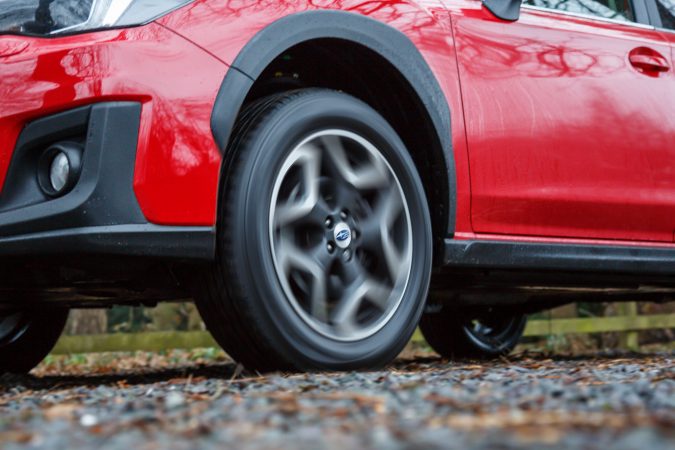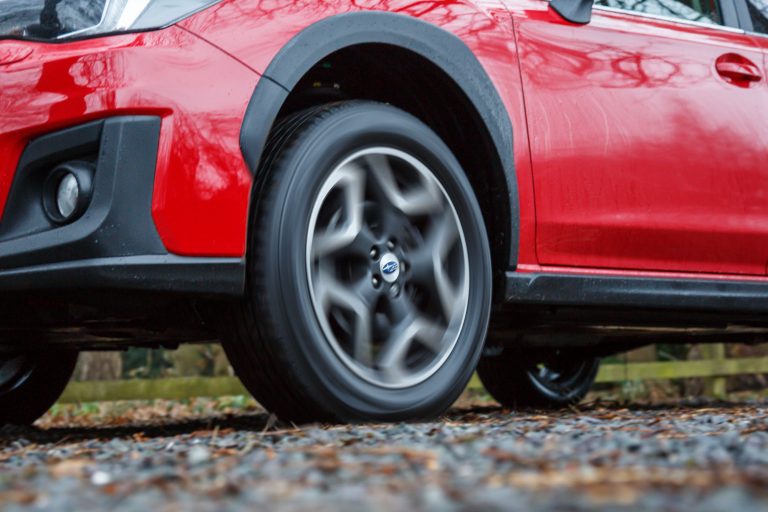 The big difference between this and other comparable crossovers is the fact that you can drive the XV on muddy terrain with no problems. You just kick it into X-mode and the computer begins to intelligently route power and manage the brakes with impressive efficiency.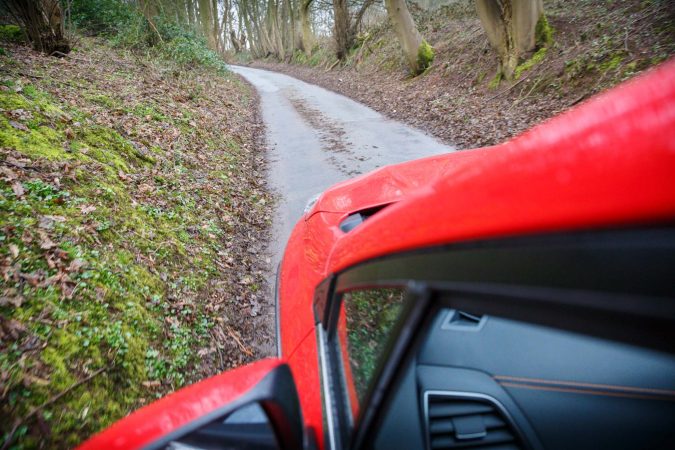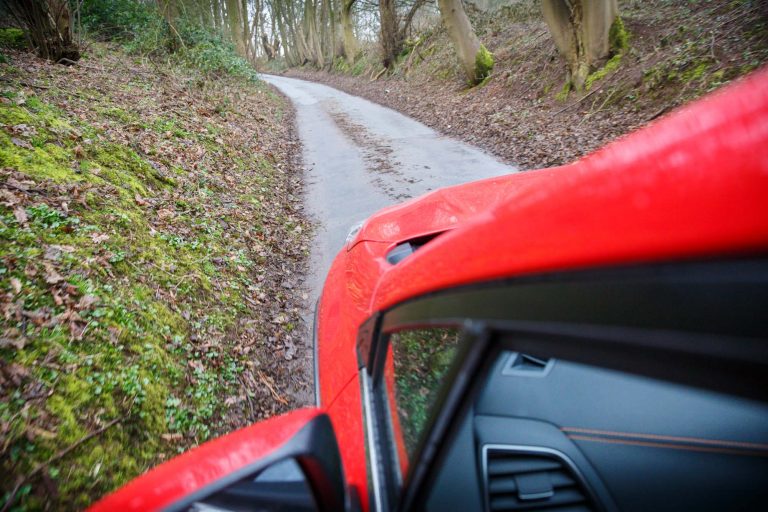 With a powertrain such as this, refinement is a trickier subject to touch on. At motorway speeds, the engine is hushed as the CVT is in overdrive. However, when you're accelerating in auto, the CVT will pin the engine at a high 6,000 rpm.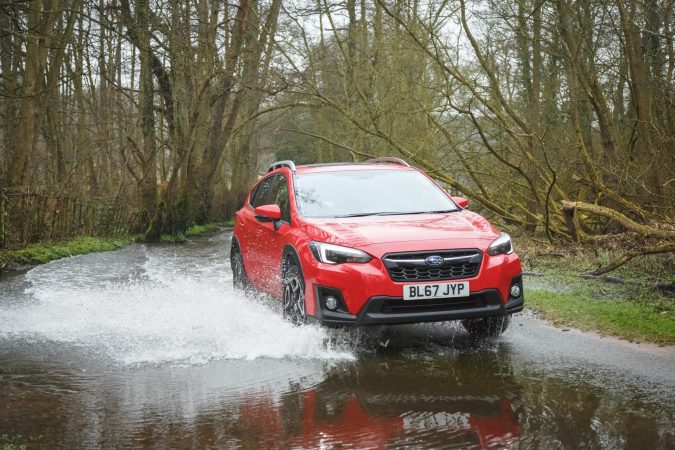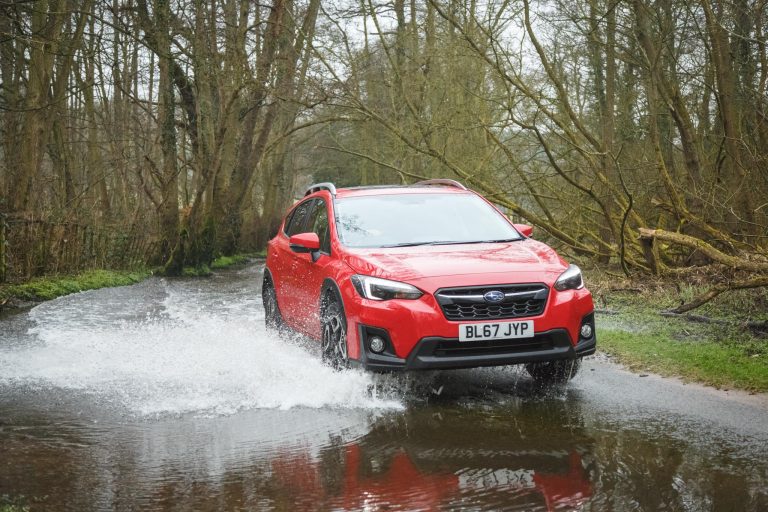 The other big change to the XV for the second-generation is the fact that Subaru's EyeSight driver assist technology now comes as standard. It utilises two high-resolution cameras for greater control. Six safety technologies keep you in check at all times: adaptive cruise control, lane departure warning, lane keep assist, pre-collision braking plus throttle management and finally lane sway alert. It's ingenious stuff.
What's it like inside?
While Subaru used to fall behind in terms of interior aesthetics, recently they've caught up. In our SE Premium XV, you can find leather upholstered seats with sporty contrast stitching evoking the feel of the STI, Subaru's performance department. It lifts the tone considerably, unlike the executive colours we're used to.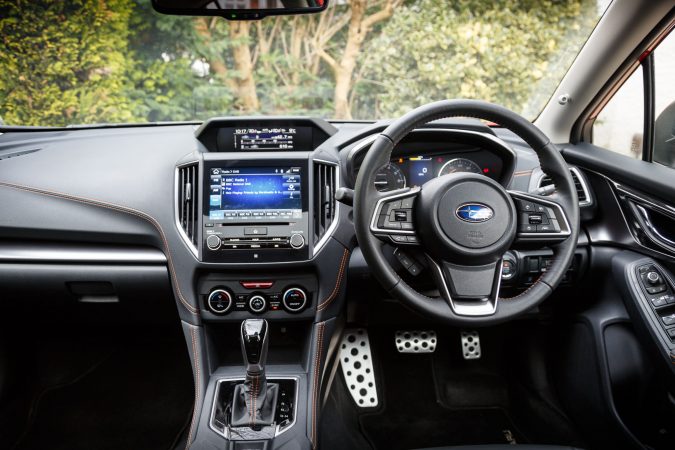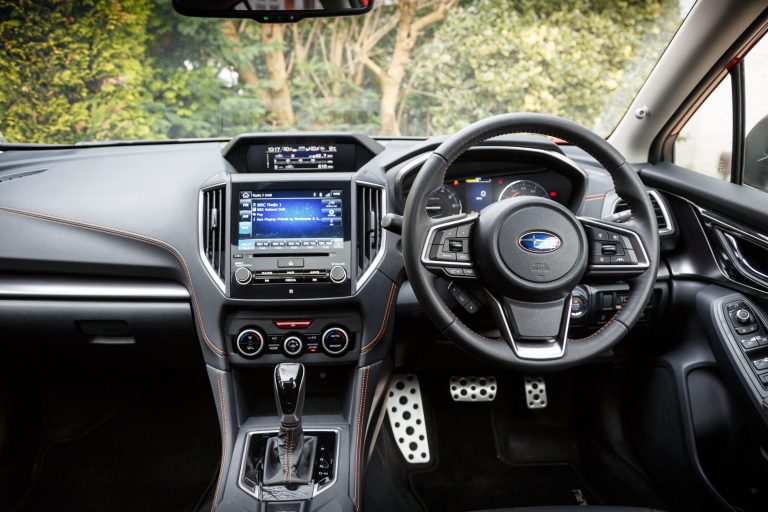 Subaru state that their design language has a modern feel while harking back to their roots and the XV demonstrates this. Material choices may not be as high end as their competitors, but they feel very rugged and robust. The chunky switchgear is easy to operate and fit and finish are excellent too.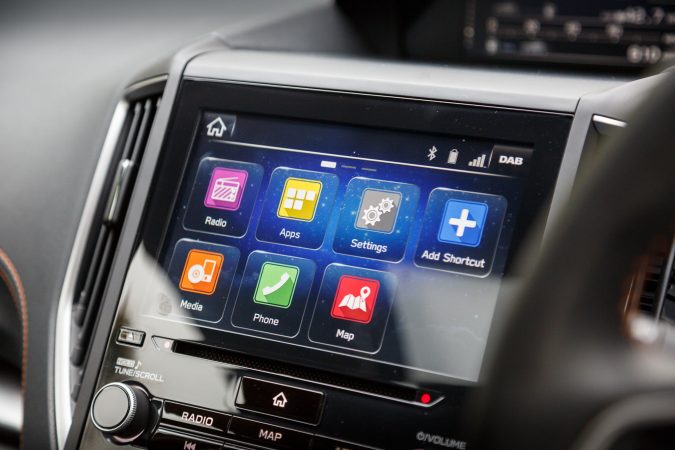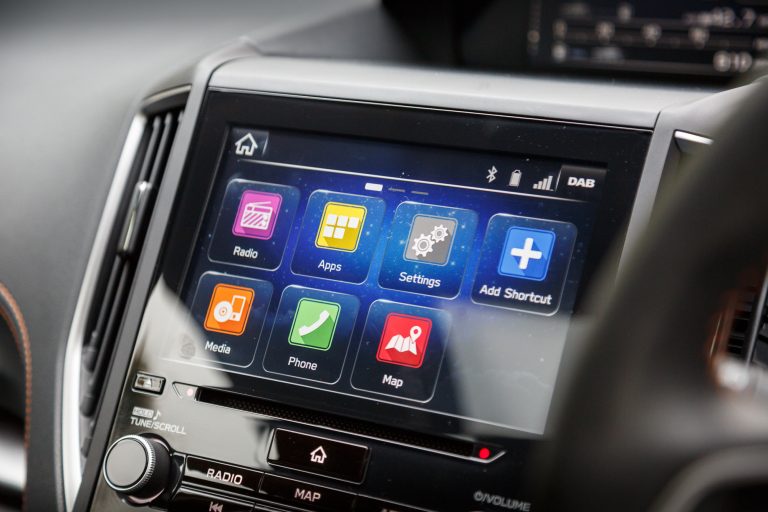 It's also uncluttered. The big 8″ infotainment touchscreen dominates the centre console with the CD player and climate control buttons below. There's also a 4.3″ information display within the instrument cluster which feeds information to the driver.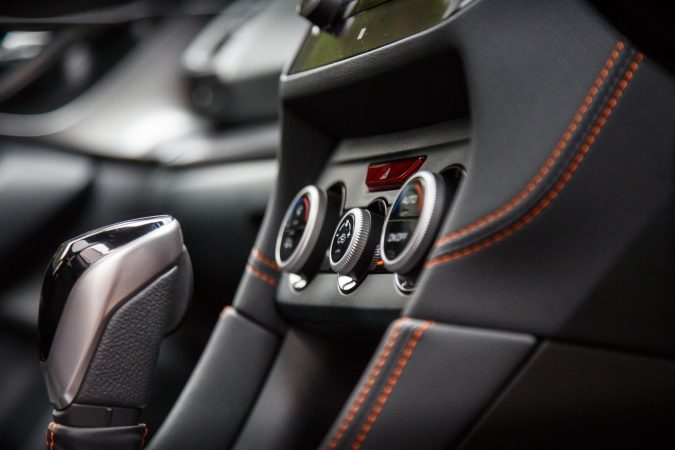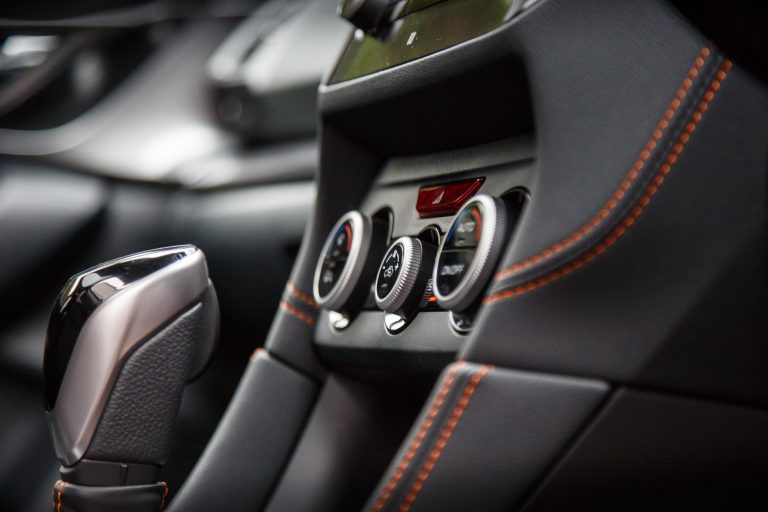 There is an additional screen right above the infotainment system, which shows the passengers' climate control information, MPG and miles left until your next refuel.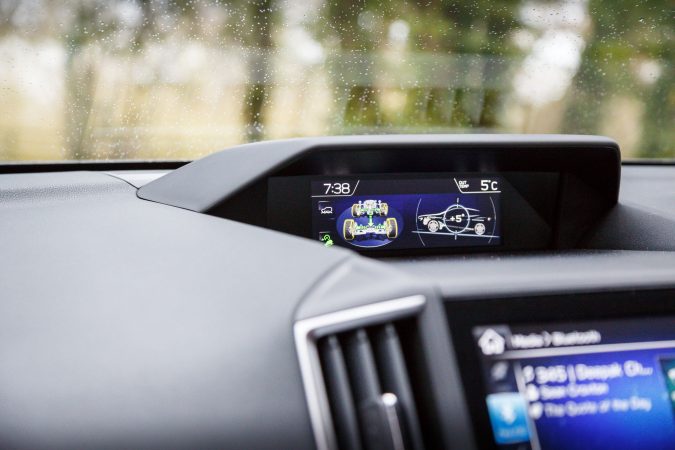 The interior is very spacious. Because the XV has a longer wheelbase than the Forester, legroom is abundant for the front and rear with sufficient headroom for the rear passengers.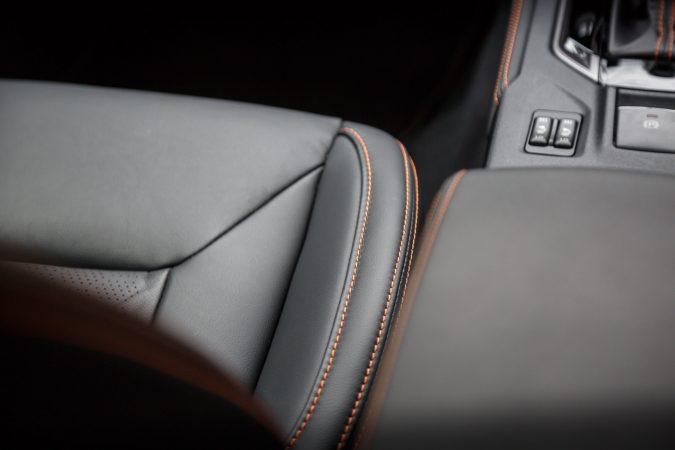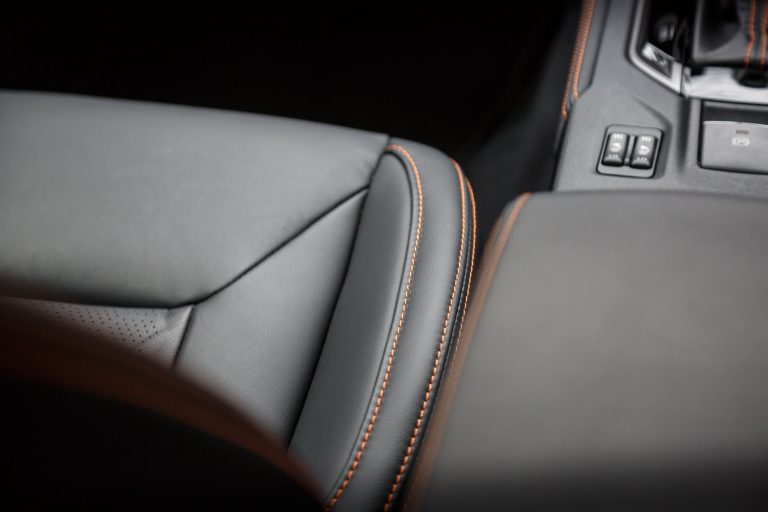 It is a pretty short car though, which provides it with 385 litres of storage which maybe outshone by its rivals. You can, however, fold the rear seats down for a lot more cargo room.
The Experience
The big selling point here is Subaru's signature symmetrical AWD which gives the XV its poise and balance. Not only that, it is suited to off-road terrain unlike its peers.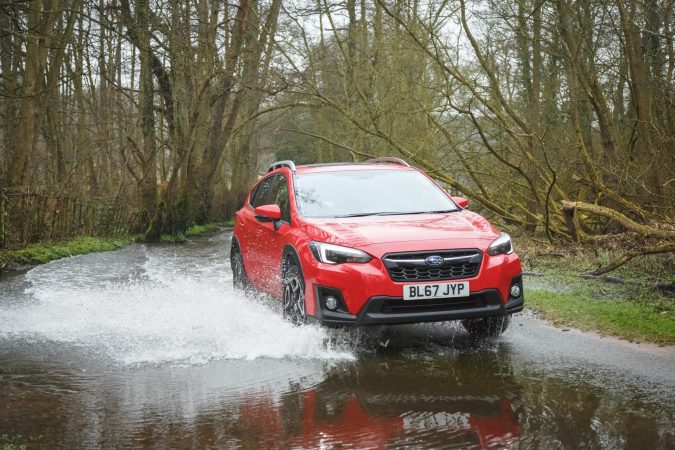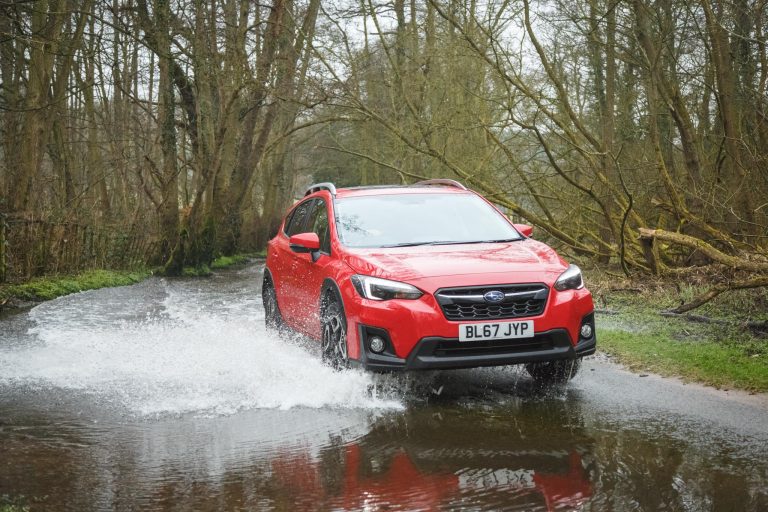 After driving it, it really feels like Subaru is underestimating their 0-62 mph figures. I wouldn't be far off either, as most report a quicker time of 9.0-second run from 0-62 mph. I think the CVT is what makes drivers doubt its capabilities though, as they hear the engine spinning continuously at sub-redline.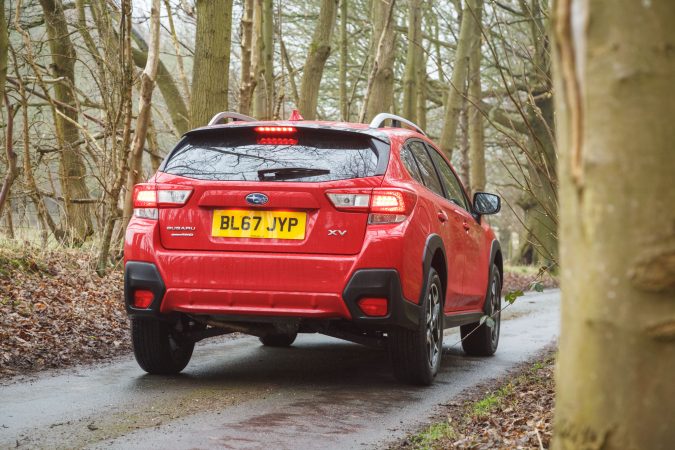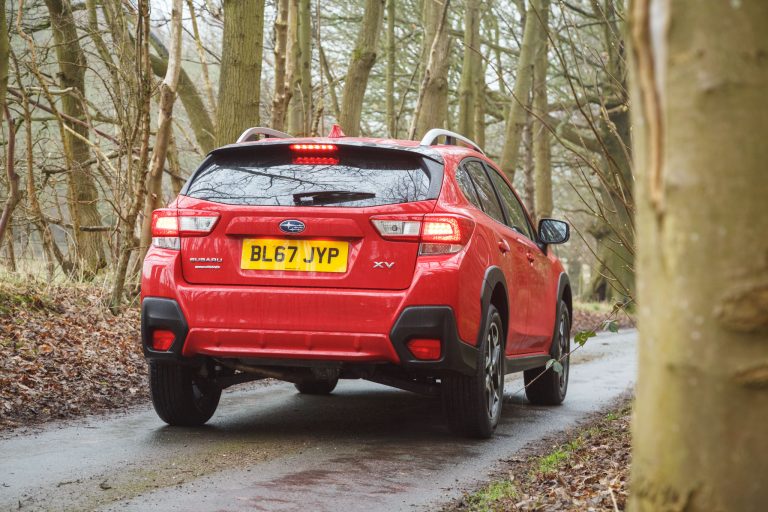 Verdict
While the powertrain will be adequate for most buyers, the appetite for a peppier engine is hard to resist. That said, if you adore off-road terrain, the XV is the ideal small crossover choice for you. It's also very safe with EyeSight driver assist technology and a 5-star Euro NCAP rating to assure you if the worst comes to the worst.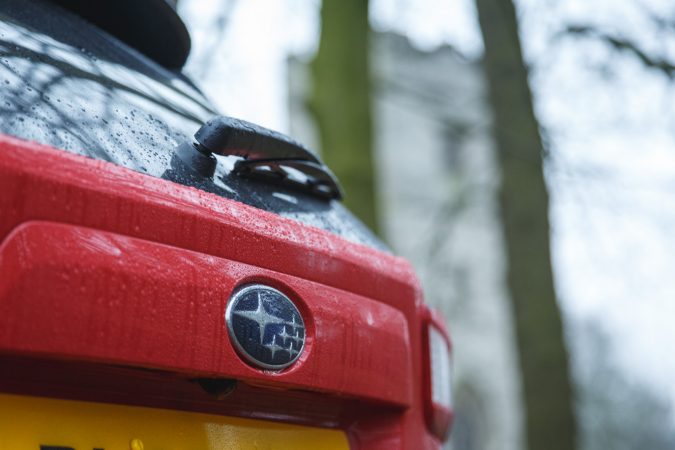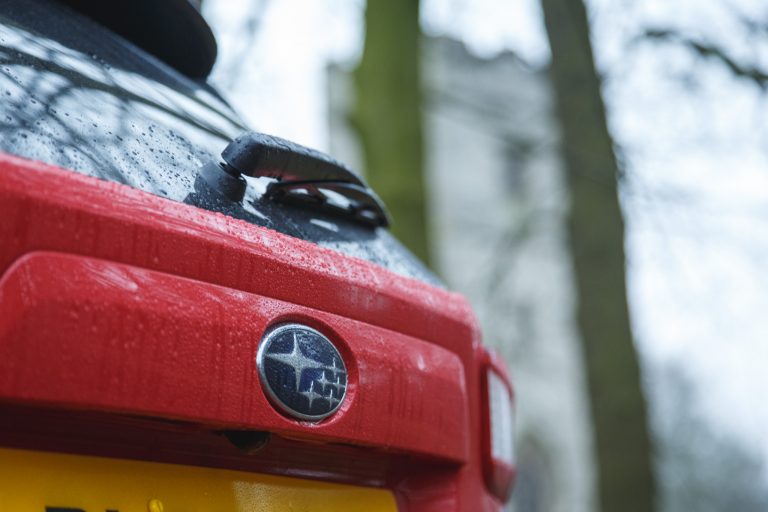 Choosing the SE Premium trim for an extra £2,000 on both 1.6 and 2.0 models will get you additional features like leather seats, satnav and an 8-way power adjustable driver seat. Otherwise, the basic SE trim is already well equipped and sufficient enough to save you that additional £2,000.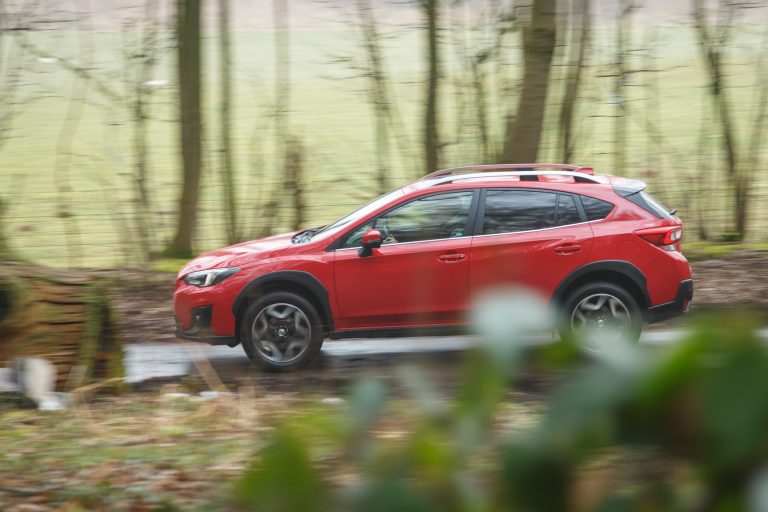 As it stands, the Subaru XV represents great value for money at £25,000. Nothing compares to the off-road aptitude that the XV boasts alongside its easy going road manner. And that is why I think this charming crossover has a modest but passionate following of its own.

Specification
2018 Subaru XV Premium Specs
Price from: £24,995 
Engine: 2.0-litre Boxer 4-cylinder petrol 
Power: 154 bhp
Torque: 196 Nm
Transmission: Lineartronic CVT
0-62mph: 10.4 Seconds
Top speed: 120 mph (est)
Weight: 1,439 kg
Economy combined: 40.9 mpg
CO2: 155 g/km
Gallery