There's no other way for us to say this, but the Alfa Romeo Giulia Quadrifoglio is easily and without a doubt, one of our favourite cars. I know, I know… We shouldn't be biased when reviewing a car. But there's something about these Italian cars that bring out something in the driver and let you experience some exciting moments.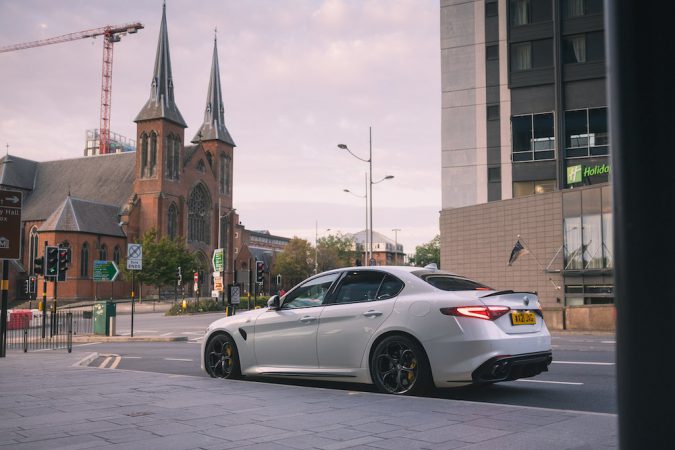 A while back, we've had the chance to take the Giulia QV – yes, we're using short-form for the sake of our fingers – out for a first drive. Our impressions are as gushing as we'd hope, but would that change now that we're given a bit more time with it? Well, it appears as though time only makes you fall (dangerously) in love with the Giulia QV that much more.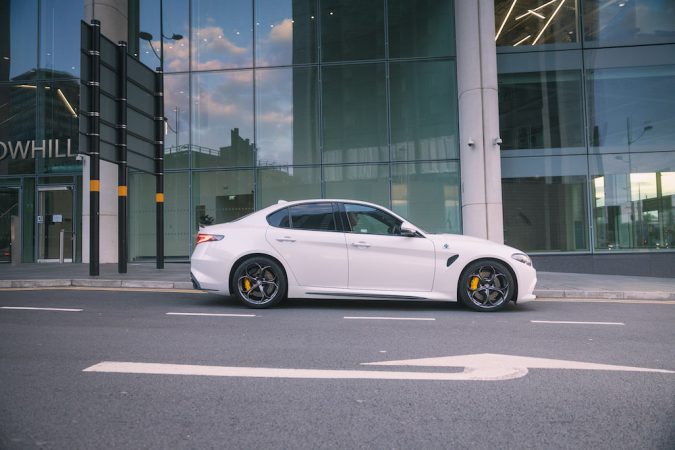 What Is The Alfa Romeo Giulia Quadrifoglio About?
But first, do you believe in love at first sight? Well, we do, and the Giulia QV is proof that it works. A quick glance will immediately tell you how much it stands out. For the most part, it lacks the angles and creases of its German compatriots. Sure, your M3s, C63 AMGs, and RS4s are nice and all, but it's also good to have something refreshing. The Alfa is just that, a beautiful breath of fresh air.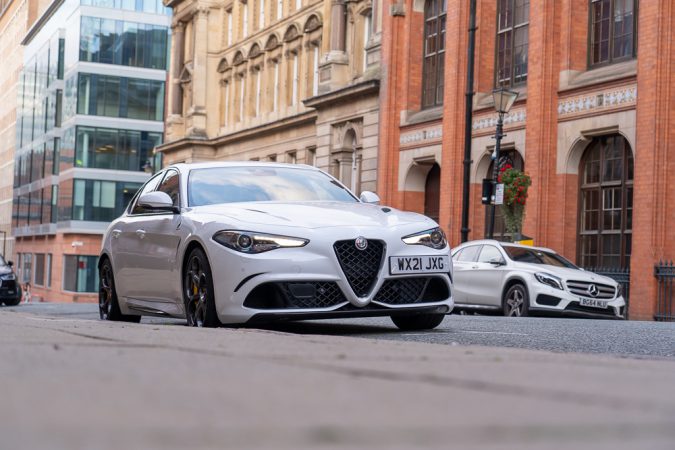 As one would expect with an Italian machine, the Giulia oozes sensuality and charm. In the racier Quadrifoglio trim, it alluringly blends muscular dynamism with romantic elegance. There's a touch of sporty carbon fibre and winglets here and there, before meeting the Giulia's curvaceous hips. This is clearly a car that could be taken out to a track to beat lap times and set new records.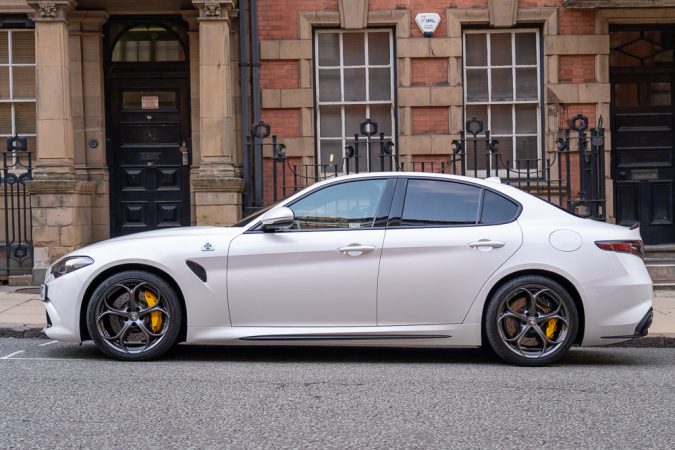 Yet, you could also drive up to the opera in style, without having to explain to folks why you have a 10-foot spoiler at the back. It's as technical as a CAD drawing, with the humaneness of a designer sketching it out on a beach. Utterly gorgeous. Those cloverleaf wheels, meanwhile, are the cherry on top of an already beautiful car.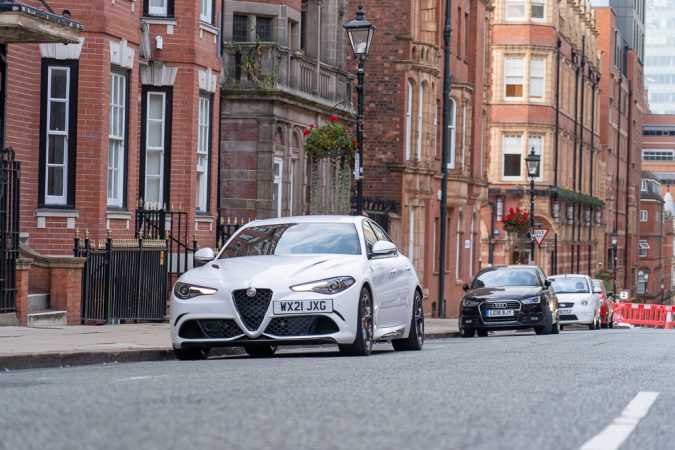 How Does It Drive?
In short, the Giulia Quadrifoglio is a proper driver's car, through and through. A while back, this held the Nürburgring lap record for saloons. Within just a few feet of driving it, you can instantly feel that pedigree at work. Our car here was fitted with very racy Pirelli P Zero Corsa rubber. In the dry, it is the best tyre and car companionship to get all that power down to the road.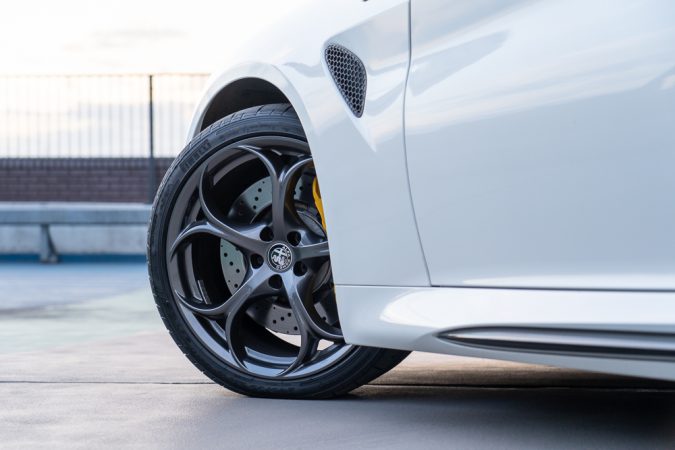 This means that it gets a bit hairy when it starts chucking it down. Still, and when grabbing the scruff of the Giulia QV's neck, it does a great job of putting the power down. As with practically every car these days, there are configurable drive modes. In the Giulia, it's continually surprising how quickly it changes character. In "Advanced Efficiency" or "Natural", it's very easy to live with as your daily driver.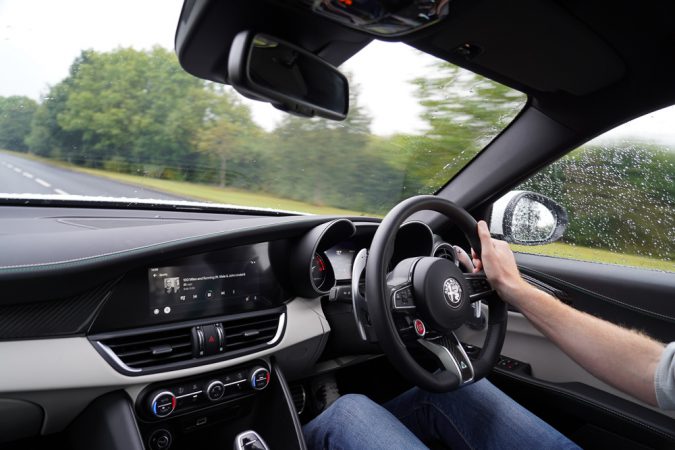 That mundaneness disappears behind a sprightly cloud of smoke once you turn it up to "Dynamic". Put it in "Race", however, and you begin to hold on to dear life. The suspension hardens, while the steering gets sharper, and the throttle response quickens. Crucially, the traction control slackens nearly all the way off. Even at its most 'inert' settings, the Giulia is already a twitchy car.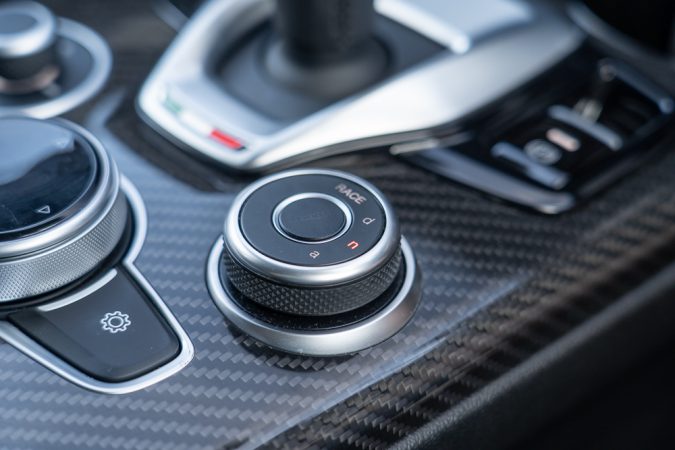 Rear-wheel-drive makes it both a handful to drive at speed, but equally as fun and engaging. With those electronic safety nets turned off, you do have to be careful. The Giulia QV could easily snap off the line and send you pointing the wrong way. Yet, it's incredible how its playfulness is matched with a chassis that's balanced to a T, where it's sufficiently honed around the Green Hell to break lap records.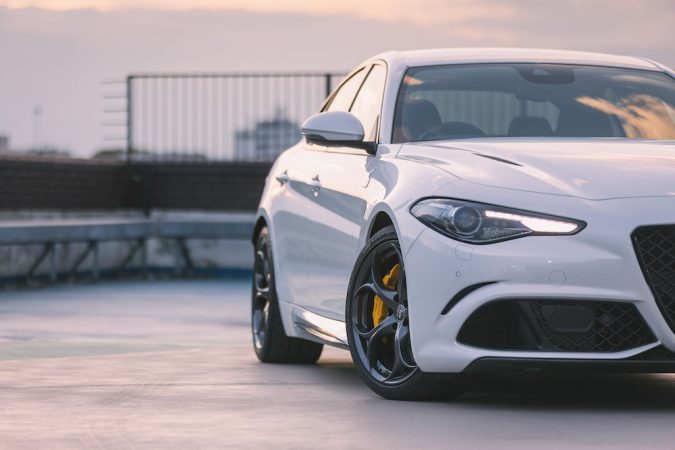 The chassis is rigid, without an ounce of flex. It's then paired with a suspension that's seemingly set up to do everything just right. It's never too hard that it breaks your spine, while also firm enough to keep the car well poised. You can notice the engineers' experiences behind this car, and they, among other things, also helped to fine-tune the Ferrari 458. Speaking of, how could we not mention the obvious?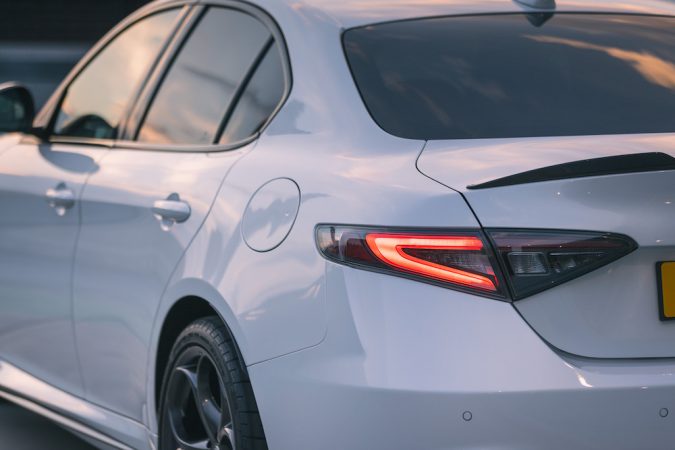 Ah yes, the four-doored Ferrari, they call it. The Giulia QV is fitted with a 2.9-litre twin-turbocharged V6. According to some, it's basically the same powerplant as what you'd find in Ferrari's very similar bi-turbo V8, with two cylinders lopped off. Despite missing a pair, the QV isn't short on power, with 510 Italian horsepower at the mercy of your right foot, with another 600Nm of torque.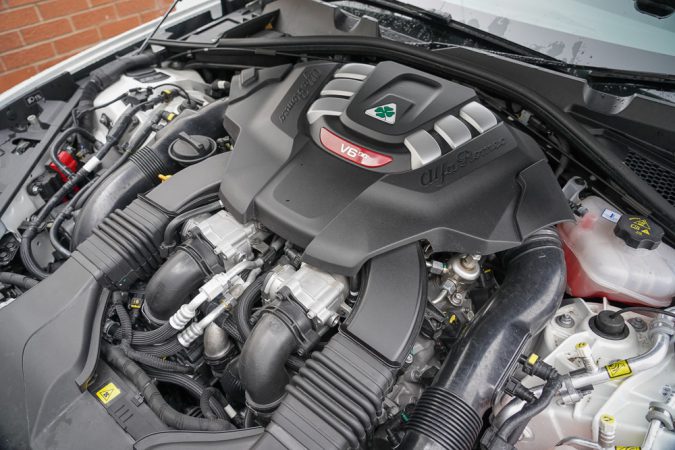 With an equally marvellous 8-speed automatic gearbox, the QV could sprint from idle to 62mph in just 3.9 seconds. On a long enough runway, it'll top out at 191mph. But numbers on a spec sheet don't do it justice, as that power is mesmerising in person. Turbo lag is non-existent, as the Giulia QV punches you into the horizon. Performance, by all accounts, is quite potent.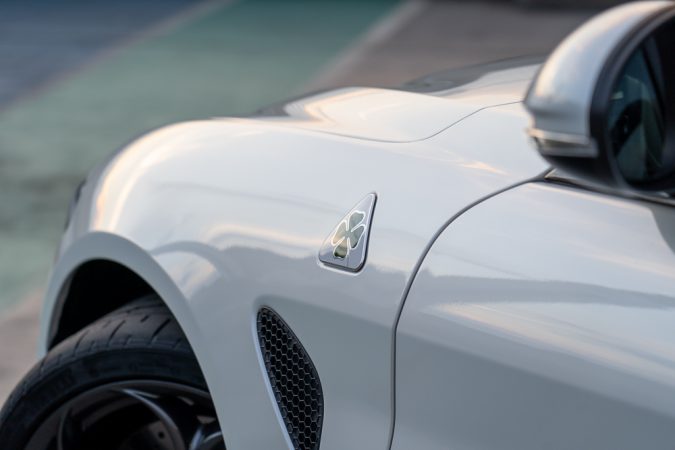 What Is It Like Inside?
The interior is just as beautifully crafted as the exterior. It's perhaps a bit uncharacteristic if you've been around older Alfas. Where their bits might fall off if you even touch it, the Giulia QV is a whole different plane. Build quality is solid; practically on par with the Germans. Soft-touch materials, and all the supple leather, as well as the Alcantara, are joined together in green, white, and red.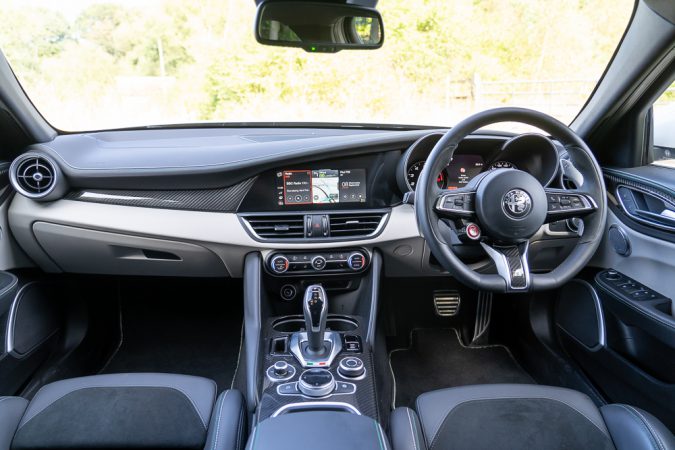 That's the stitching, just so we're clear, with the Tricolore stripes of the Italian flag proudly presented. Although, maybe the bright green seatbelts are a bit too much. It's the attention to detail that really matters if you know where to look and feel. There's ample carbon fibre trim, and don't forget those huge column-mounted paddle shifters, which are oh-so-nice to change gears with and cold to the touch.
Tactility continues with the big red starter button, just like a proper Ferrari. The actual layout is quite minimalistic, with few distractions to get in the way. There's a hint of old-school, like the analogue gauges and physical buttons aplenty. The infotainment system is well integrated into the dash and works well. Most of the time I found myself using Android Auto which works well to combine the car and phone technology together.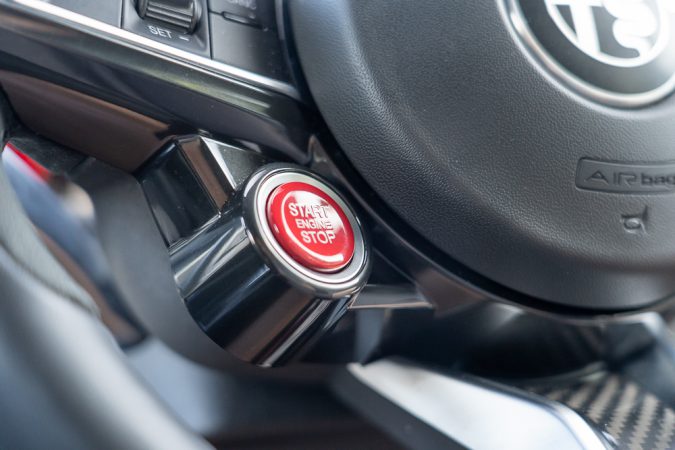 The Experience
One of the extras that we had for our Giulia QV here is the optional Akrapovic exhaust system. This is, frankly, a must-have if you're spec'ing one. It doesn't come cheap, nor does it provide noticeable benefits in performance. Nevertheless, these new tubes absolutely transform the driving experience, ten-fold. The raspy V6 is throatier, meatier, and more substantial in volume.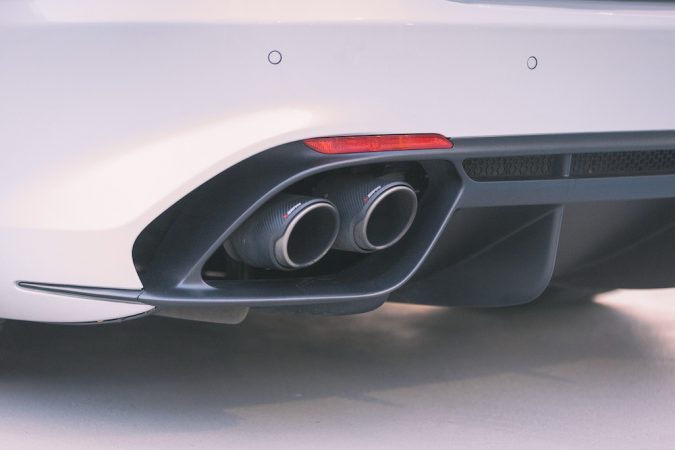 Get it up to speed, and the exhaust and engine noises intensify, too. It's not as though the regular Giulia hasn't already garnered enough attention from passers-by. Everyone, and we do mean 'everyone', stops to take a peek at it. It catches glints of curiosity in the best way possible, and it's not one you'd notice in most other cars, including the Giulia QV's rivals.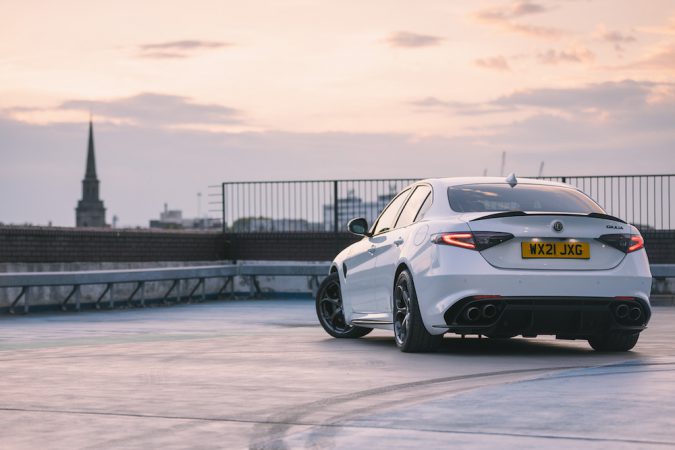 Driving it, the Giulia QV sparks excitement like few in its class ever could. Mostly, it stems from the sheer thrills and the eyebrow-raising danger that it puts you in. At the same time, there's also the evocative sensation of how communicative the QV is, with input from the chassis and the steering wheel.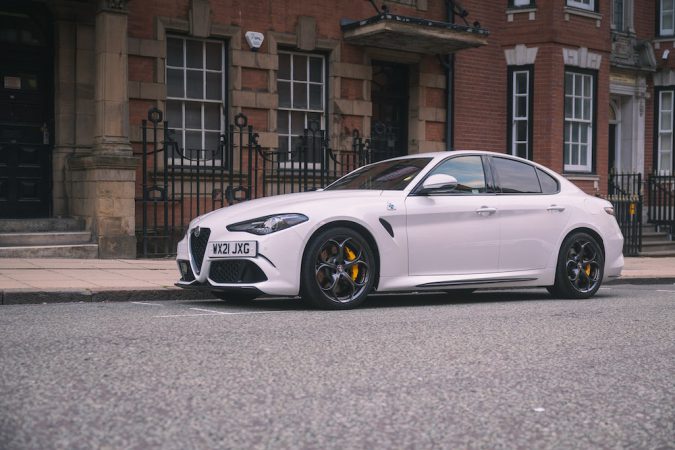 Typically with many Italian sports cars, the steering wheel is razor-sharp. This uber-fast rack adds to the fun, as it zips from side to side. Combined, and while you may call it hazardous on the limit, the QV works hard at keeping you on alert. It handles pace and joy in equal measure. It's quite serious and technical, but if you want it to, the Giulia Quadrifoglio will easily put a smile on your face every time.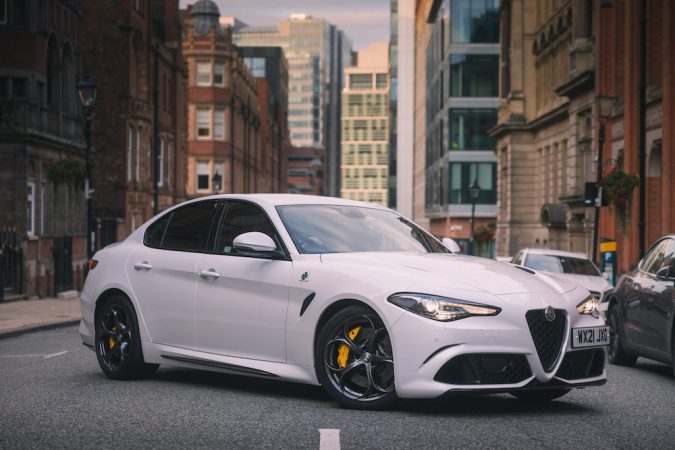 But once you leave the winding country roads and emerge into town, it turns amazingly docile. Put it into its comfort mode – the damping is turned right down – and it lets you cruise at ease. That duality of character is striking, as the Giulia can be comfy, compliant, quiet, and won't actually try to kill you. There's even room in the back for the whole family, but rear legroom is a little limited, as expected in this sector.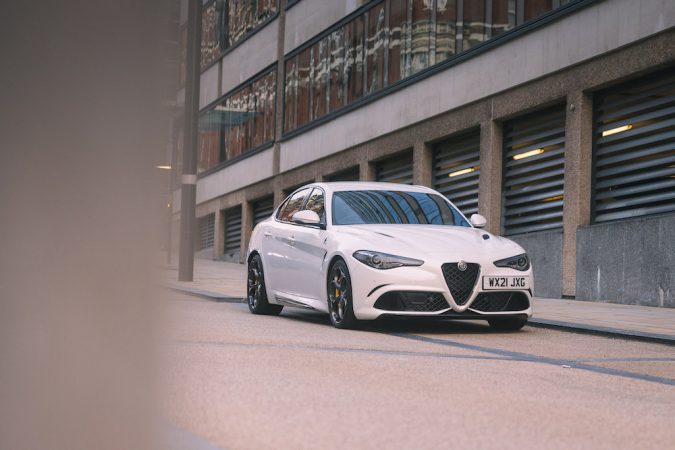 Alfa Romeo Giulia Quadrifoglio Cost
When it's all said and done, our particular Giulia Quadrifoglio here rounds up to £74,555. For a spot of context, the starting on-the-road price is £68,055. In other words, it meant that we had £6,500 in optional extras. Some of these are certainly nice to have, such as that booming Akrapovic exhausts. Also, we had a Harman Kardon audio system.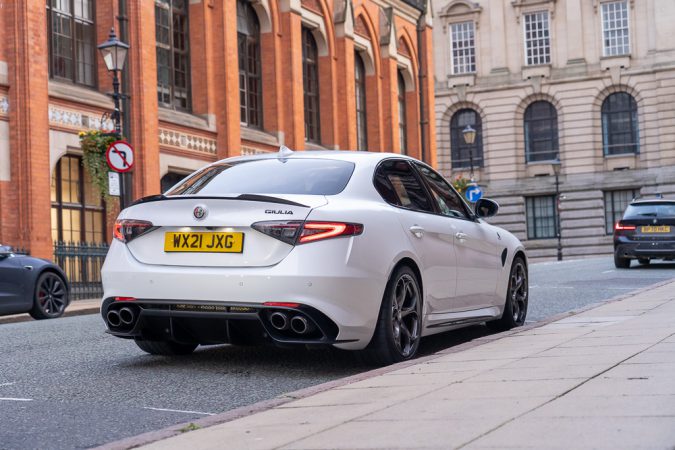 The premium sound system is one box that you may want to tick. Overall, it's quite a lot of money, without a doubt. That said, and given all its credentials as a super-sporty saloon and do-it-all runabout, we do think it's more than worth the cash. To compare, the Giulia QV is positioned well against the Germans in its respective price bracket, too.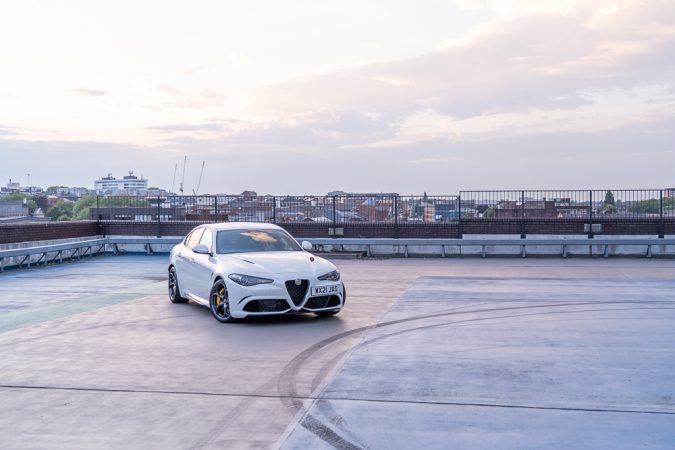 Verdict
Overall, how can we not love the Alfa Romeo Giulia Quadrifoglio? Sure, that Alfa badge might not have the wow factor or pizzazz among the common folk as a Bimmer or Merc would. But when the car itself does so many things right, why should that matter?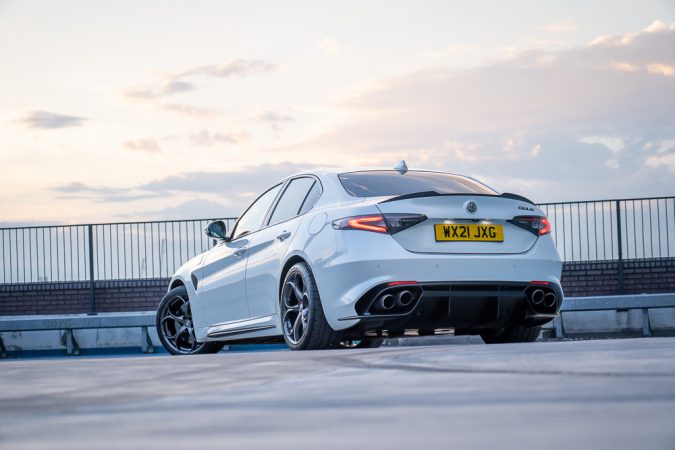 The Giulia QV is lightning quick, both in straight lines and in the bends. The engineering that's gone behind its steering, suspension and chassis is nailed perfectly. It's a perfect equilibrium of grocery getter and track muncher, all in one machine. And the way through, you get to hear that V6 burbling along, charming you into another spirited drive. If we could keep this Giulia forever, we would.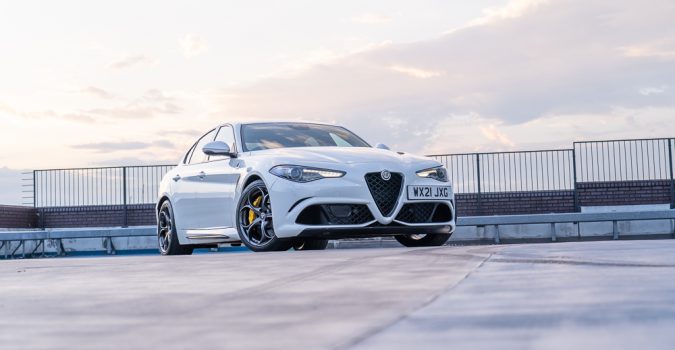 Specification
Alfa Romeo Giulia Quadrifoglio Specs

Price: £74,555
Engine: 2.9-Litre Twin-Turbo V6
Power: 510hp
Torque: 600Nm
Transmission: 8-Speed Automatic
0-62mph: 3.9 seconds
Top speed: 191mph
Weight: 1,605kg
Economy combined: 28mpg
CO2: 228g/km