BMW isn't what you'd call an inexperienced youngling when it comes to SUVs. I'd argue that the X5, which debuted all the way back in 1999, helped to popularise the concept of a sports utility vehicle as we know it today. This only got better when BMW made sporting utility more accessible, in the form of the downsized X3. They further brought the capability and do-it-all nature of SUVs to the masses.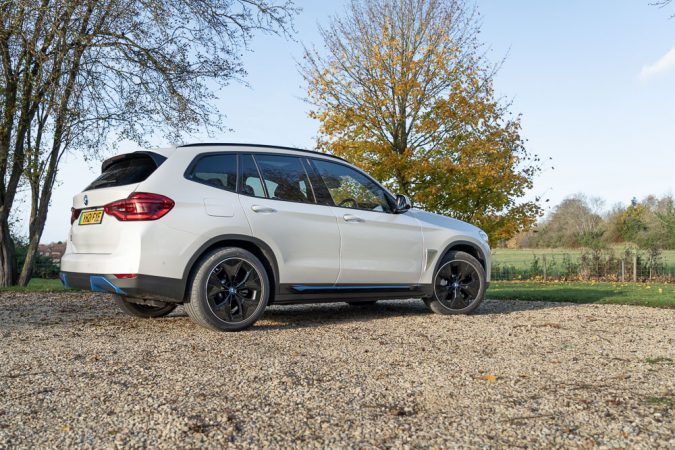 Now, BMW is taking this a step further into the future, with an all-electric version of their most well-known SUV. Yes, BMW's bringing back the EV-only "i" badging for its latest iX3, and get ready to see more of those in the near future. One question remains… Will BMW's iX3 be just as revolutionary as a mass-market SUV in the world of electrification, as its forefathers were in the days of fossil fuels?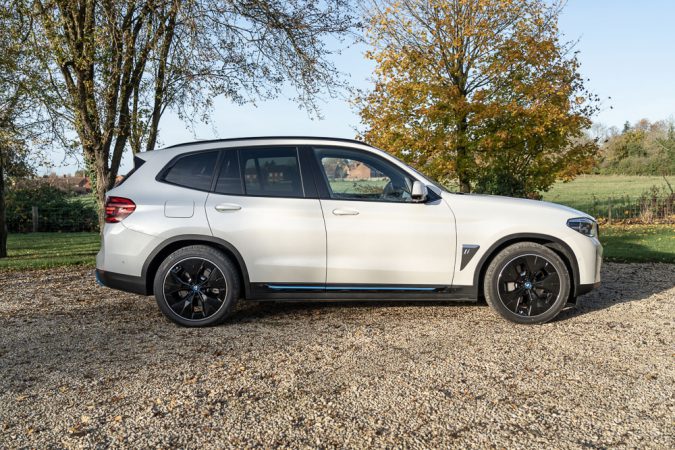 What Is The BMW G08 iX3 Premier Edition Pro About?
Most importantly, the launch of the iX3 marks the first time BMW's X lineup of crossovers and SUVs get an all-electric variant. As such, it should ideally make a big splash before its siblings join in. With that being said, you may not have noticed that the iX3 is any different from an X3 based on its looks, did you? The changes on the skin are subtle, but there are ways that you can tell it's been electrified.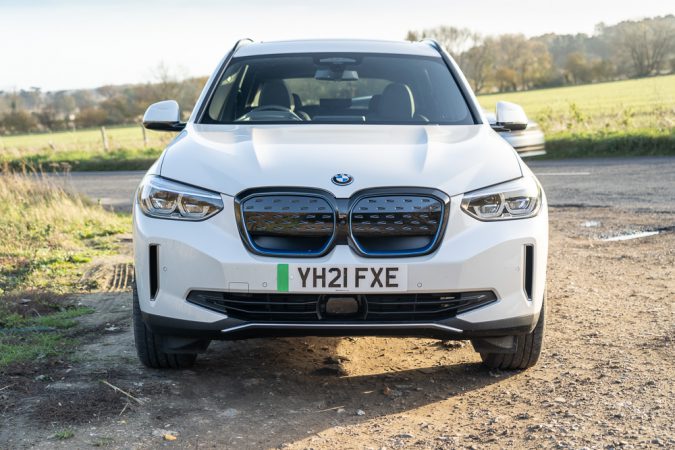 For starters, you'll find a myriad of electric blue touches dotted about. It's especially noticeable when accented against this bright white paintwork. Perhaps rather symbolically of the world we're living in now, that flash of blue is quite concentrated around the diffuser. This is where you'd typically find an exhaust pipe or two. You can also spot that – being an EV – the iX3 doesn't fashion an open front grille.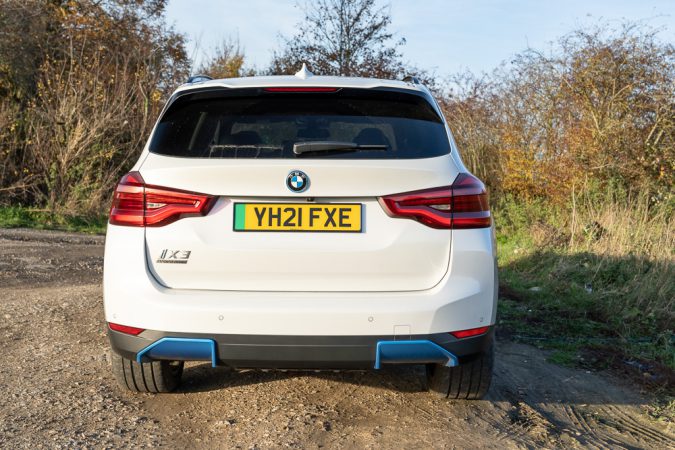 BMW's iconic kidneys are present but mostly faux in functionality. It's practically a giant placeholder for the sensors, or just to remind you that it's a Bimmer. Apart from that, you could also see that the wheels are slightly different. They're a more aerodynamic design, reminiscent of the old-school BBS turbo-fan wheels you'd see on BMW touring racers and sports cars of yesteryear.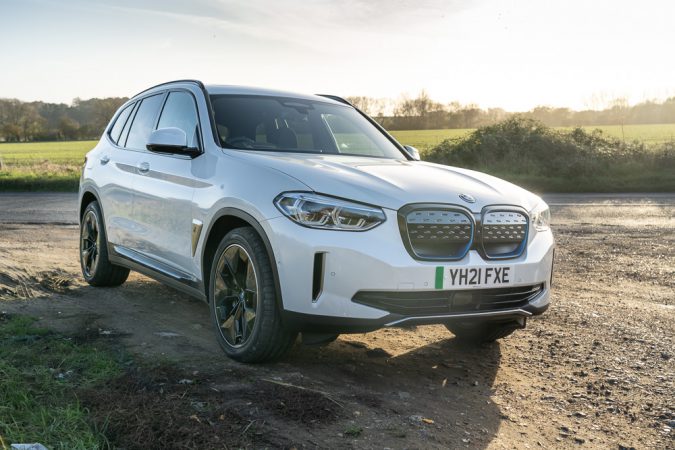 How Does It Drive?
As a whole, BMW's iX3 is still the same, good-looking, and crucially for us here in the UK, compactly-sized SUV as with the X3. But once you get it moving, the similarities end there. As is a given with all EVs, the driving experience is beyond serene. It's exceedingly smooth and quiet, with barely even a whisper to disturb you. Vibrations, noises, and overall harshness are kept to a bare minimum.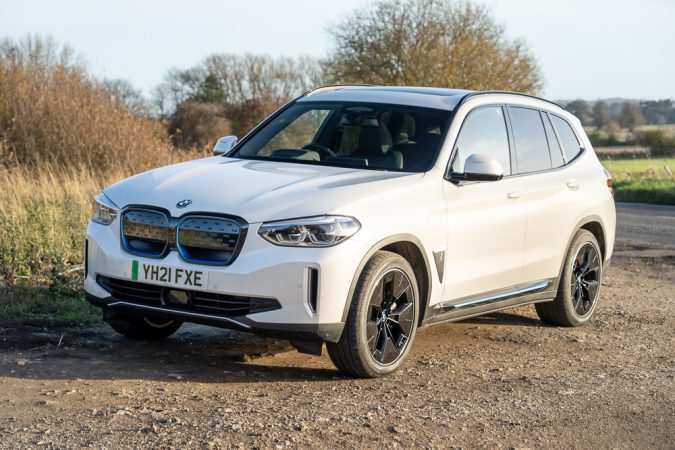 Nonetheless, maybe BMW thought this was a bit too quiet. To rectify this, they brought along Hans Zimmer to orchestrate the hums and whooshes as you drive along. BMW wanted to give the motor some more character, but I'm not really sure if it's convincing enough. Still, it's not as though they're lacking any zest in the electric drive. Underneath, you'll find BMW's fifth-generation EV powertrain.
Powering that is – another first for the brand – an electric motor, now centrally-housed with its one-speed transmission and all its electronics. With an 80kWh capacity, it can handily output 286hp and another 295lb-ft (400Nm) of torque. All that grunt is sent to the rear wheels exclusively. Although its performance figures aren't mind-blowing, the iX3 still manages to punch through like a train.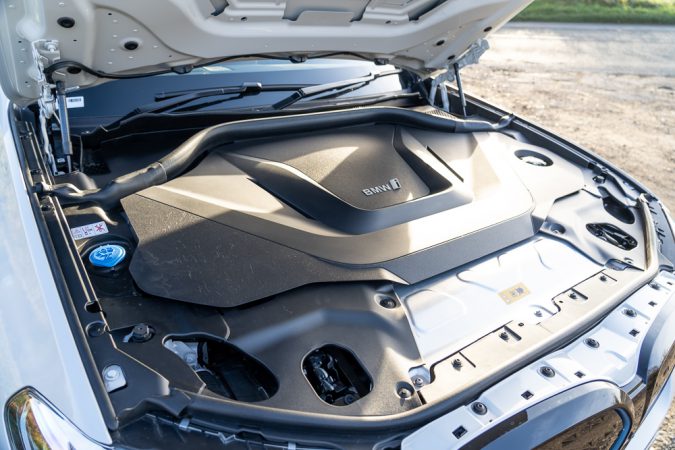 There's ample torque that can be deployed at an instant to get you off the line. It feels quite torquey at the low-end, with plenty of power to shove it off into the sunset. You can expect a 0-60mph time of around 6.8 seconds. For its size and weight – over 2.2 tonnes – it can perform within leagues of a hot hatch, which is commendable. The iX3 will eventually top out at 112mph, limited electronically.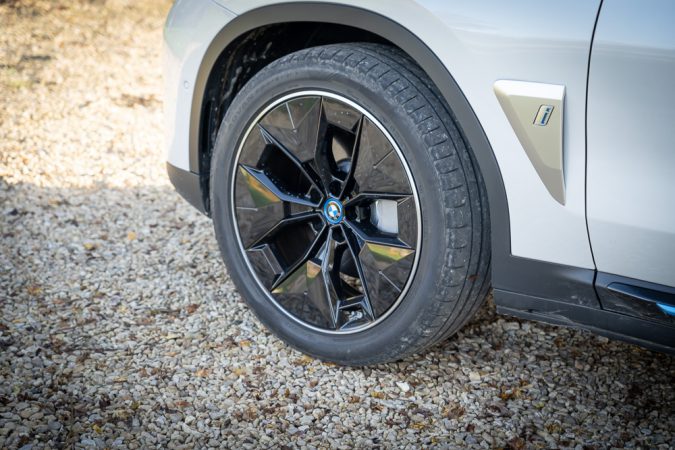 Naturally, you'll find a regenerative braking system, which can vary between three stages. You could either play around with this manually or let its adaptive recuperation automatically switch between them. It differs granularly between a distinctively one-pedal feel, or if you'd prefer coasting to a stop. It comes with a few other neat touches too, like adaptive suspension, which is a standard fitment.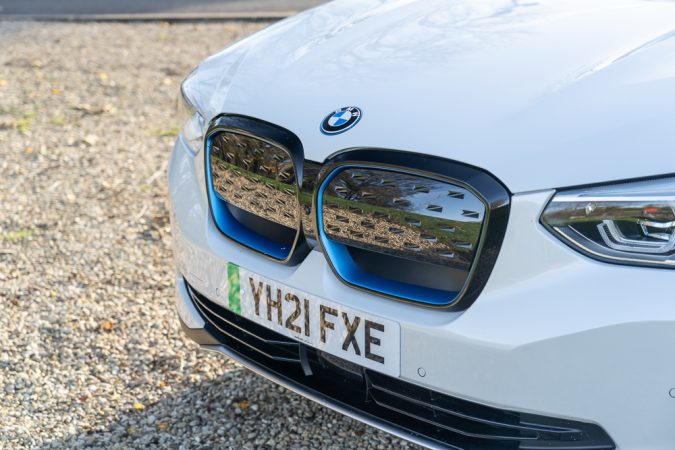 What Is It Like Inside?
One of the iX3's standout features is its interior space. Despite having an underfloor brimming with batteries, the iX3 surprisingly hasn't lost that much interior space. Thus, you can enjoy the basic fuel-powered X3's most practical aspects, like its roomy head and leg-room front to back, as well as its gigantic boot. Switching to the electrified iX3, in this regard, doesn't bring significant compromises.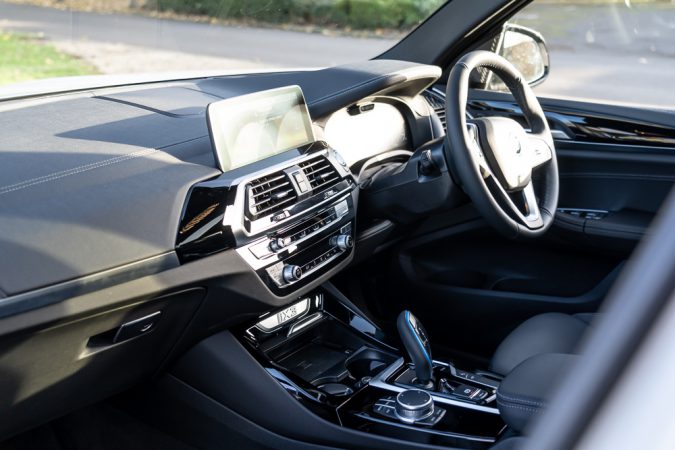 It would've been an even better bonus had there been a front boot on the iX3. Alas, what you'll find is a plastic cover keeping some of its exposed innards free of dust. The rest of the interior is normal, and nothing out of the ordinary compared to an X3. The leathers are just as supple, and its gadgets work as intuitively as it always has been. The key differentiator is those bright blue accent marks.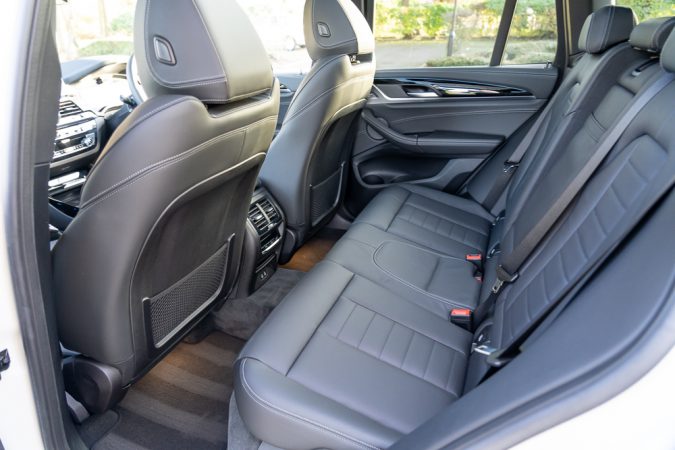 The Experience
BMW has evolved its electric systems to no end since the i8 came along all those years ago. Its fifth-generation motors and batteries signify gargantuan leaps forward. For example, the power density of its powertrains is now 30% more potent. Besides that, the batteries are 20% more energy-dense than before. A realistic expectation of the iX3's EV range would be somewhere around 285 miles.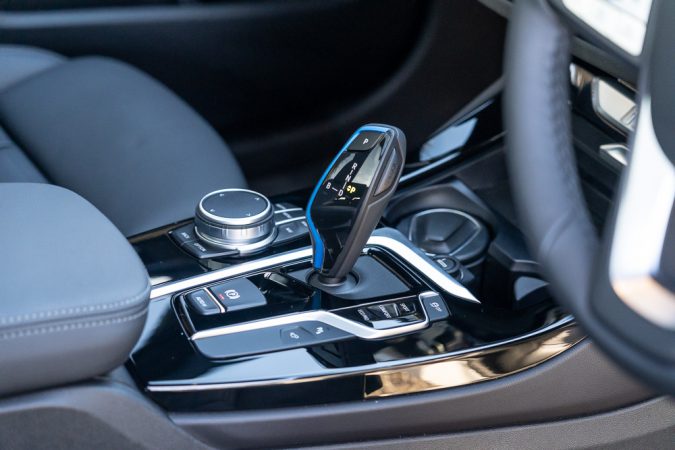 That's more than merely respectable, and it should be beyond sufficient for most weekly commutes. It could be charged through a Type 2 charging socket that's common with home wall chargers. Or, a standard CCS-style adapter for high-speed top-ups. On that note, you can plug the iX3 into a 150kW DC rapid charger, which should take just around 34 minutes to top it up from 0% to 80%.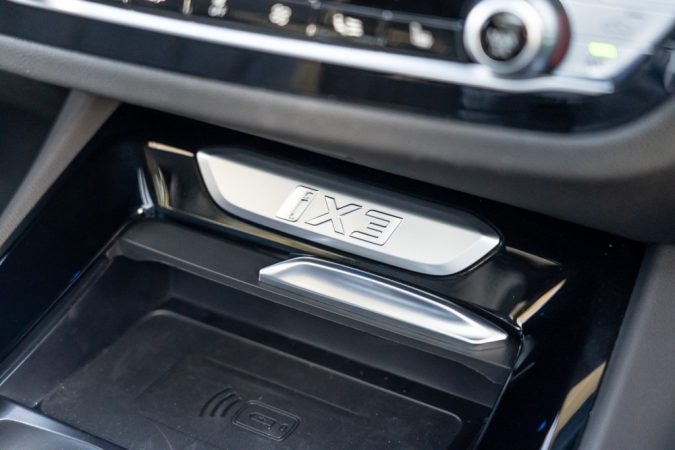 To break it down even further, that's only 10 minutes of your time to add another 100 kilometres (or 62 miles). BMW's keen to make an EV transition easier, hence why they've fettled about with its app. On your phone – or through the satnav – you can easily find charging stations along the route. All the while, it can cleverly analyse your usage, and help plot out any mid-journey charging if needed.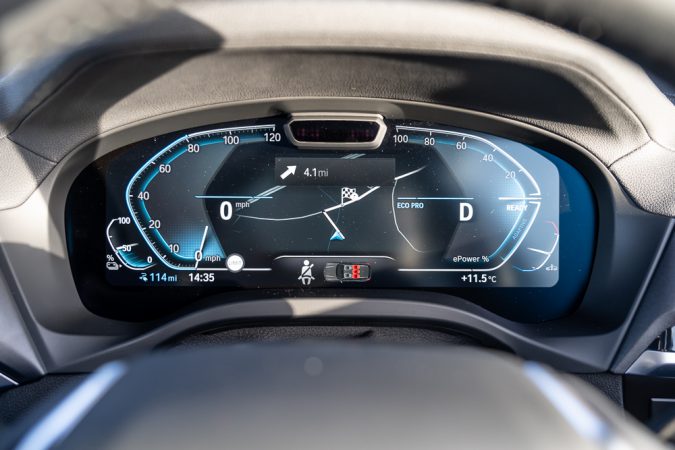 BMW has a few initiatives to help iX3 owners sleep easier at night. One of which is BMW's Charging Card service that enables you easy access to more than 450,000 charging points around the world. You could, optionally, get a set of BMW wall chargers for your home. Or, and if you frequent IONITY fast-chargers, iX3 owners are entitled to some pretty sweet discounts for charging per kWh.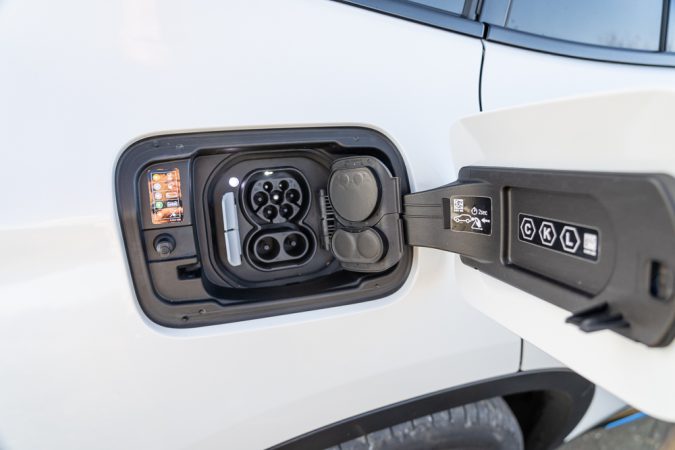 BMW G08 iX3 Premier Edition Pro Cost
Our top-spec Premier Edition Pro variant of the iX3, which is the launch edition model here in the UK, starts at £60,945. The first deliveries should arrive shortly, in December 2021. It seems that if you opt for this Premier Edition Pro early on, it includes most of the options list with it. So, we haven't really splurged on the optional extras, which include quite a few creature comforts that I've appreciated.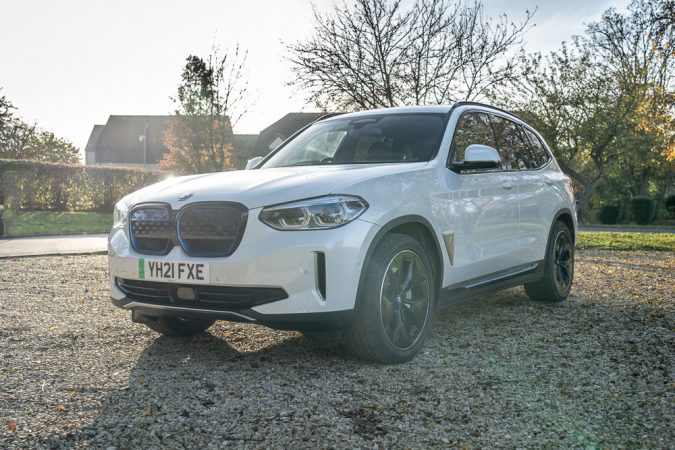 The most valuable one, in my view, is the driver aids. This nets you parking assist systems, as well as a handy heads-up display, adaptive LED headlights, and automated high beams. You can also opt for BMW's IconicSounds Electric pack, which brings Hans Zimmer into your cabin. No offence, but I think it'd be more worth your cash to spec the booming Harman Kardon surround sound, instead.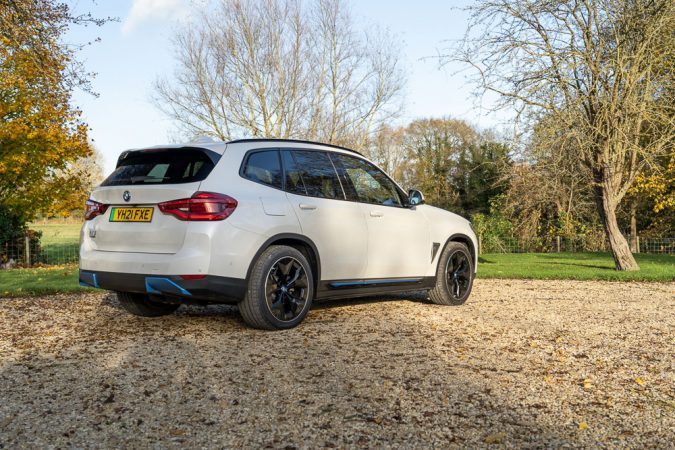 Verdict
Well, what can I say other than… "The iX3 is an X3, but electric". It's exactly just that, an electrified X3, with all its many benefits from a practical do-it-all point of view, but with none of the downsides of going EV-only. On top of that, the iX3 brings numerous upending changes that a petrol, diesel, or hybridised X3 can't muster. Being electric, the iX3 transforms the driving experience entirely.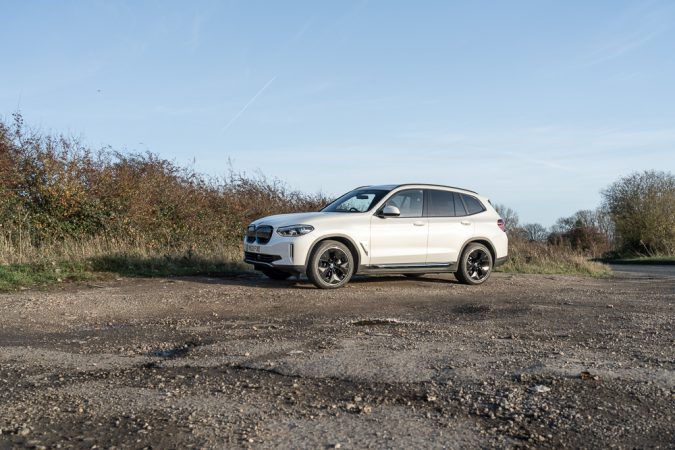 Words alone can't easily describe how tranquil of a time it's been hauling the iX3 around. Be it a set of quiet and challenging B-roads, or the tiresome and dull motorway commutes. And when it comes time to get a move on, there's adequate power to sprint you swiftly along. In addition, it'll do this all day, while still carrying 285 miles worth of batteries to assuage any concerns of range anxiety.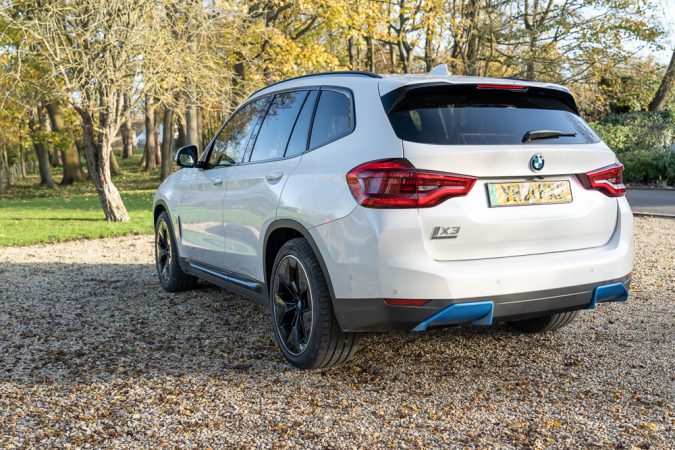 Charging those lithium-ions should be seamless, and the iX3's satnav could plot top-ups throughout your journey to make things easier. Step inside the iX3, and you'll be left with as much luxury as you want in a BMW, and with as much interior space as an SUV can offer. With all that it can do, BMW's iX3 seems to be a masterpiece from the get-go and is a fantastic stepping stone for their future EVs.

Specification
BMW G08 iX3 Premier Edition Pro Specs

Price: £60,945
Engine: BMW eDrive Electric Motor
Power: 286hp
Torque: 400Nm
0-62mph: 6.8 seconds
Top speed: 112mph
Weight: 2,260kg
Economy combined: 285 Miles
CO2: 0g/km