Driven: 2018 BMW i8 E-Copper Review
Here is our opinion of the vehicle long-believed to be the supercar of the future: the BMW i8 in E-Copper.
What's the BMW i8 E-Copper all about?
If you've paid attention to the automotive climate, you'll know that BMW introduced their Vision EfficientDynamics concept in 2009. This expressed BMW's enthusiasm for the inevitable migration towards electric cars.
In 2011, BMW introduced its i8 Concept and it genuinely looked like a spaceship. People were dubious about whether the production model would remain faithful to the brand's vision but three years later, the BMW i8 rolled into showrooms looking just like the concept.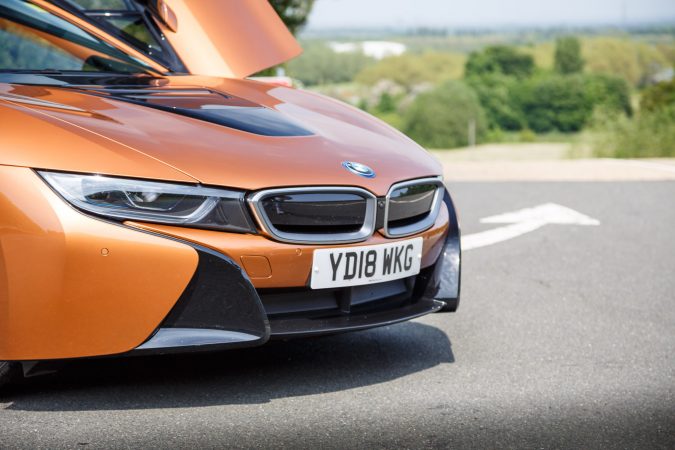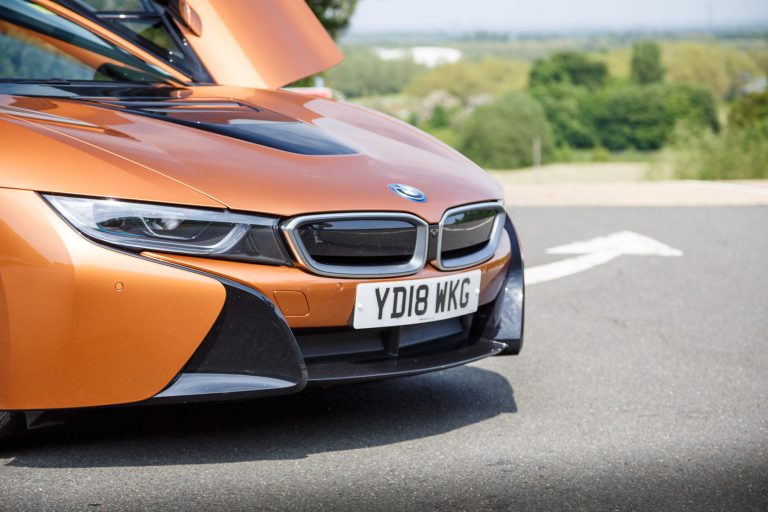 The i8 was all over the headlines then, and journalists were eager to review it. It had everything – a four-wheel drive, hybrid electric vehicle with amazing performance and spectacular economy figures, while still being commercially available. However, after the initial hype, its popularity rapidly waned and it faded into relative obscurity.
So after the buzz has died down, we have a BMW i8 E-Copper at our fingertips. How will it fare after the craze?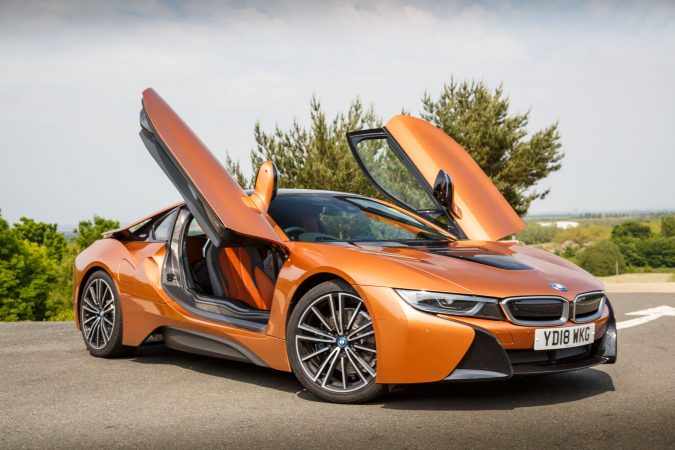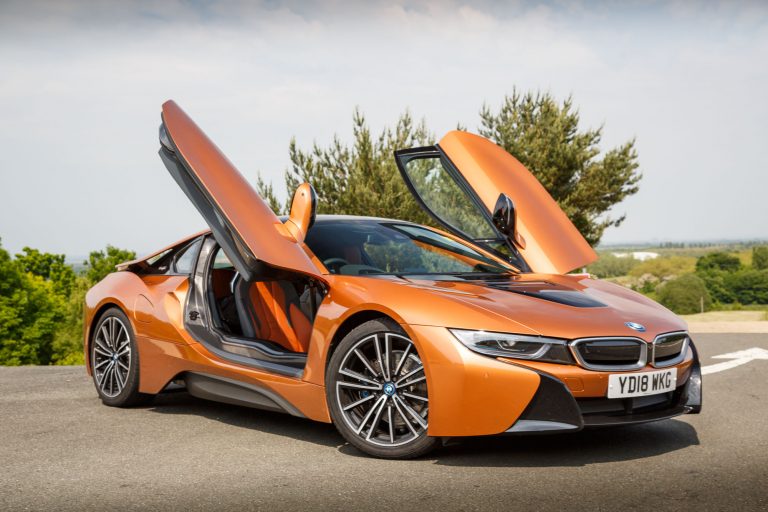 A few years ago when the BMW i8 was launched as a bonafide production vehicle, it was the cover model of every self-respecting motoring magazine. It looked like a window into the future, and that statement is self-explanatory. After the initial shock has dwindled, with cars like the new Ford GT, McLaren 750S and Aston Martin Vulcan now available, this has numbed the wow factor.
However, don't let that put you off this striking vehicle. A brilliant collaboration between BMW's finest technicians, it's an impressive blend of style and substance. Its sleek, defined lines and low slung silhouette give it a body even a supermodel would envy.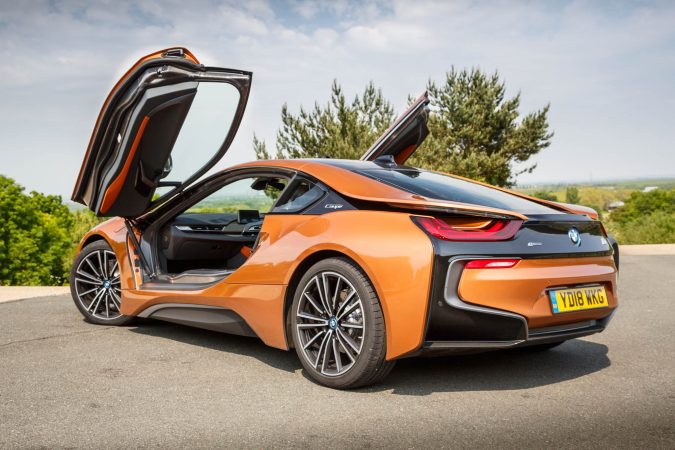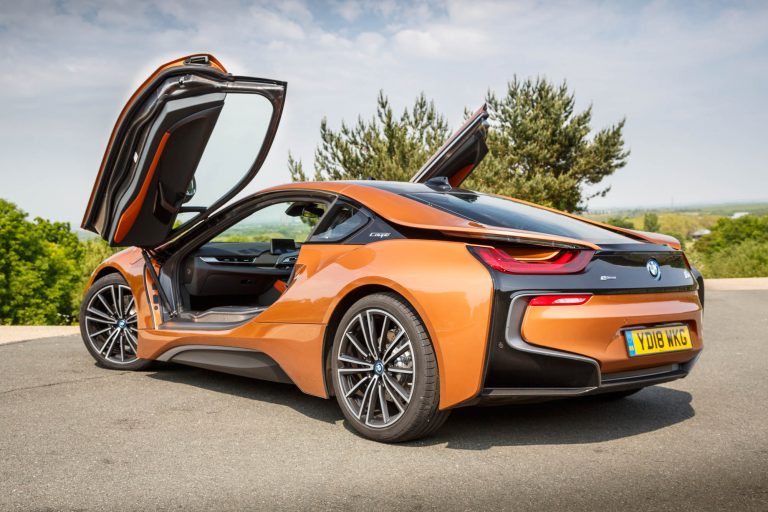 The most noteworthy aspect of the i8 is the ascending contours carved into the side profile concluding with the U-shaped taillights. Of course, this slick design is functional as well as it leads to a paltry drag coefficient of 0.26.
The most notable feature of our BMW i8 test model is the paintwork. It's a unique BMW hue known as 'E-Copper'. It's similar to burnt orange, otherwise known as copper. Sitting on these 20″ BMW 'Style 516' bicolour i light alloy wheels with radial spokes, our model assumes a menacing stance.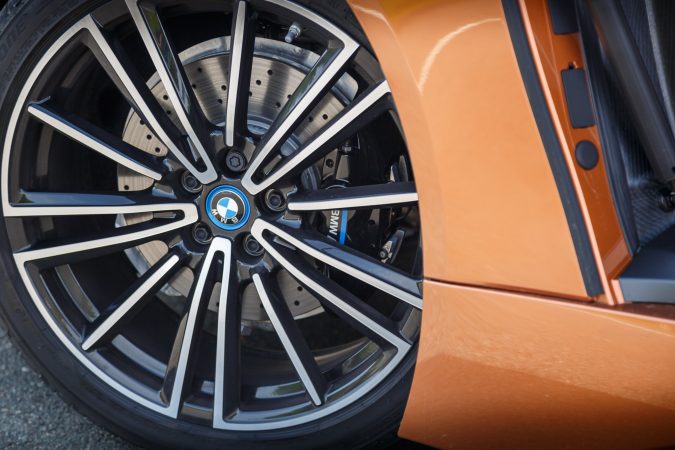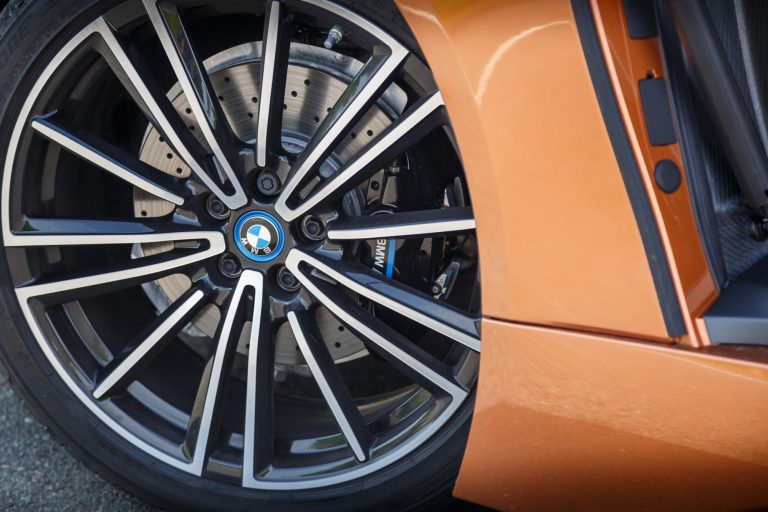 The big disparity between the BMW i8 and its rivals is the powertrain. First, you have the conventional engine located at the rear of the car: a 1.5-litre turbocharged inline-3 borrowed from MINI, but tuned to make 228 horsepower and 320Nm of torque. At the front, you'll find what BMW calls a 'hybrid synchronous' motor. It produces 129 horsepower and 250Nm of torque. Combined, this potent powertrain emits 374 horsepower and 570Nm of torque.
Matched to that drivetrain combo is actually two separate transmissions. First, you'll find that the inline-3 is coupled with a 6-speed automatic which drives the rear wheels. At the front, you may be surprised because BMW has managed to link a 2-speed automatic transmission to the motor, which is quite a breakthrough even now. This means that the i8 is essentially all-wheel drive, which can propel it from 0-62 mph in just 4.4 seconds, with a top speed of 155 mph.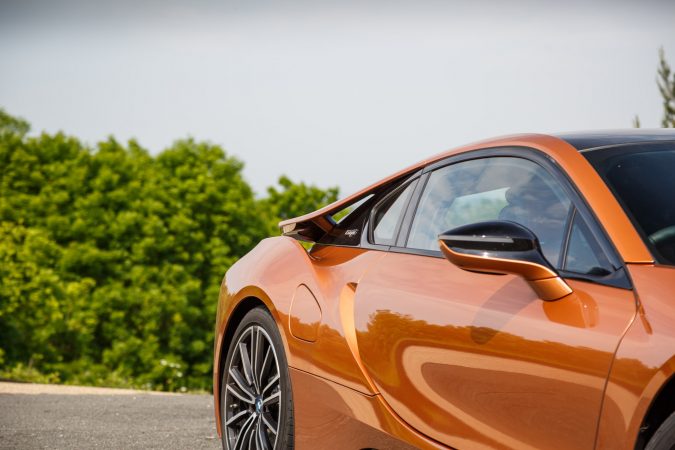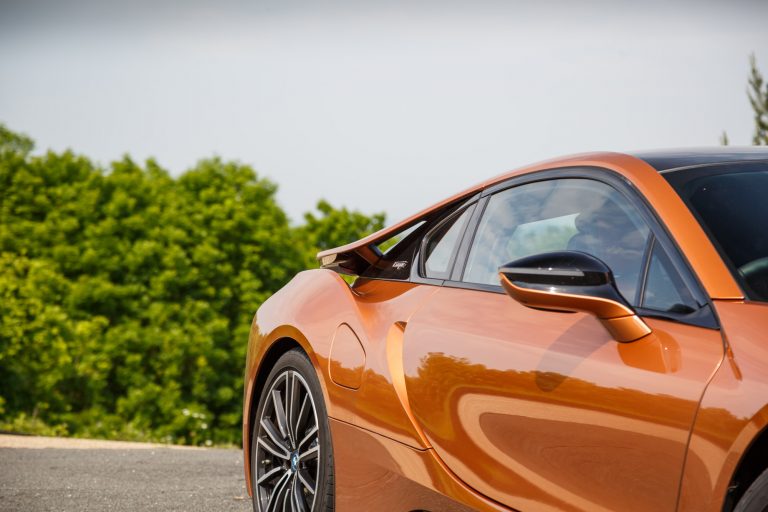 Thanks to this drivetrain combination, you can blitz past a Porsche 911 while mustering a combined fuel economy of 156.9 mpg, but emitting just 42 g/km of CO2. That said, even though it's a hybrid, it's still a supercar, so it's heavily dependent on driver behaviour.
How does it drive?
The BMW i8 has a range of clever engineering to compensate for its otherwise lacklustre engine, allowing it to command a high premium. Most notable is the hybrid synchronous motor which acts like an instantaneously spooling turbo, making over 400 Nm of torque available. This is a trick that typical hybrid drivetrains can't match. Further confusing the matter is a multi-duty motor that serves not only as the starter but also as a filler to support the engine while its turbo spools, and produces 11 hp on its own.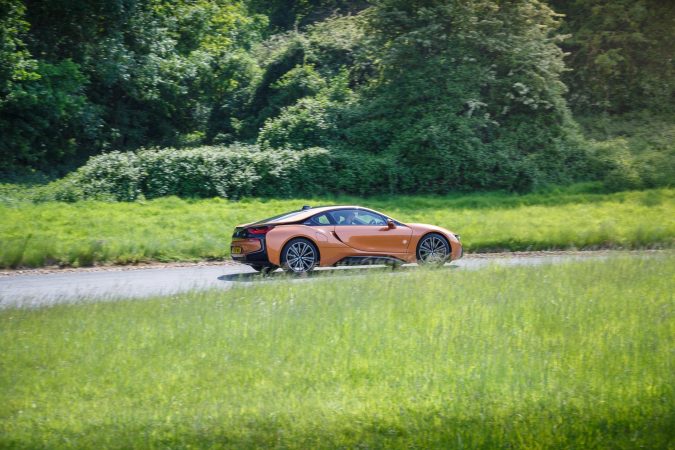 That 4.4 seconds 0-100 mph figure may not sound impressive even retrospectively, but the i8 pins you to the seat at the tap of the throttle. With this much immediate torque available, overtaking is easy with the vehicle surging past other cars with ease.
Regardless of how exotic the i8 feels to drive, it's still a humble 1.5-litre inline-3 engine behind you. It emits a hoarse rumble with the turbos audibly whistling. That said, it is a foreign inflexion for an inline-3 to make, and it is one of the best unique 3-cylinder notes out there. Being a modern sporty car, it definitely whistles while shifting gears.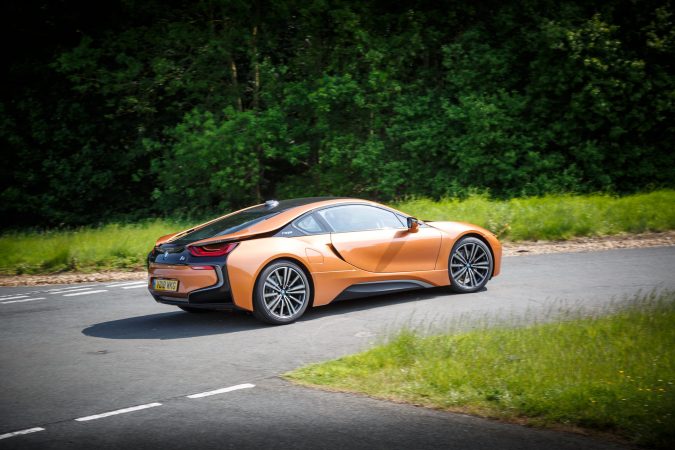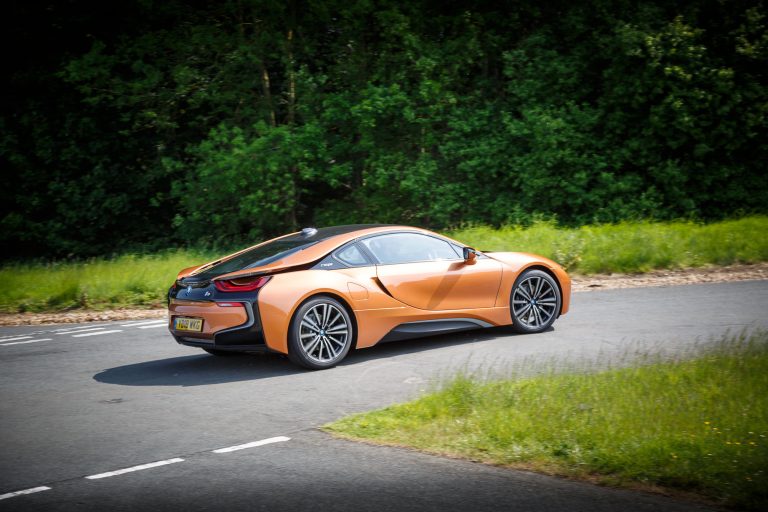 The driver only has to worry about the rear transmission, as the front is a two-stage gearbox sorted by the model itself. In Sport mode, the gear shifts are crisp and swift, and you can manually operate it via the shifter paddles. However, if you switching to Eco Pro, the gears will shift at what is deemed peak efficiency.
Of course, for the engine and motor to work in tandem you'll have to switch to the Sport mode. You'll feel all the i8's reserve of torque, while you can also charge up the motor. In Eco Pro mode, the vehicle will strive for peak efficiency within every controllable aspect to achieve the most economical figures. There is also a third driving mode, Comfort, where the BMW i8 E-Copper adheres to electric drive whenever feasible for pure driving pleasure.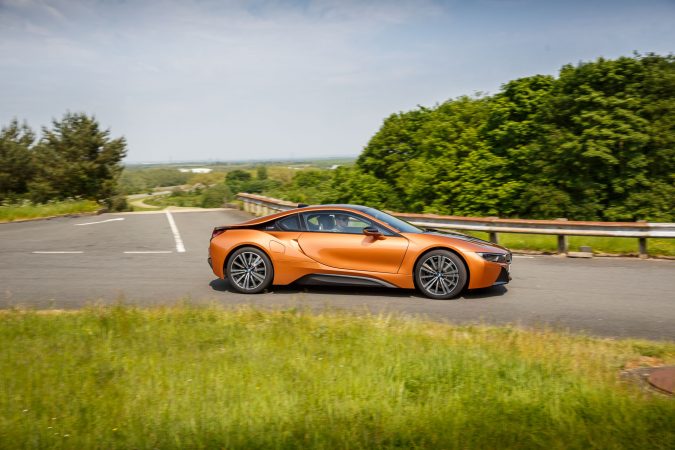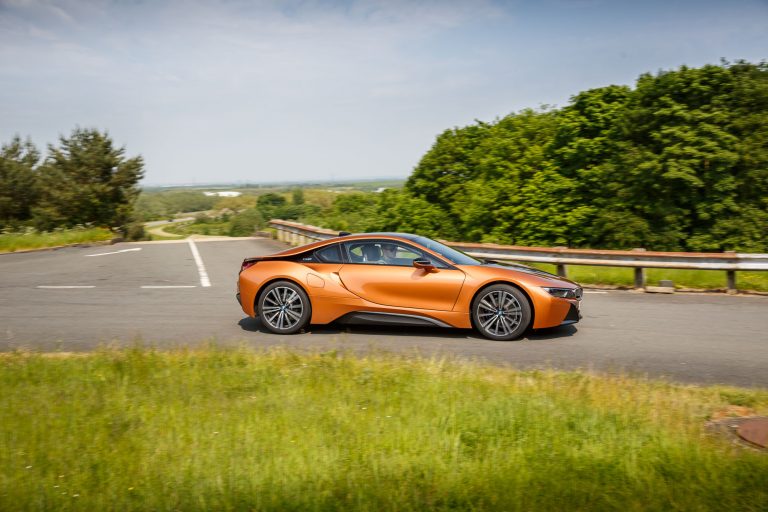 To underpin its supercar-like aesthetics, the i8 has the dynamics to back this up. BMW has strengthened the chassis on their new electric car platform, LifeDrive. When you open the doors, you'll notice that the kickplate has the looks and texture of carbon fibre. They have used a material known as carbon fibre reinforced polymer (CFRP), which is manufactured through resin-injection.
The doors and passenger cell are made from CFRP, while the front and rear subframes and crash structures use aluminium. This has led to a tough and lightweight design, which battery-laden cars, in particular, benefit from. This innovative electric platform cuts the i8's weight down to 1.5 tonnes, which is deceptively light for a turbocharged hybrid car.
That said, it's common for batteries to be housed low down to lower the centre of gravity, which the i8 does. It behaves like a Grand Tourer around corners, with precise, consistent steering and strong brakes that give it a 7-series like decorum.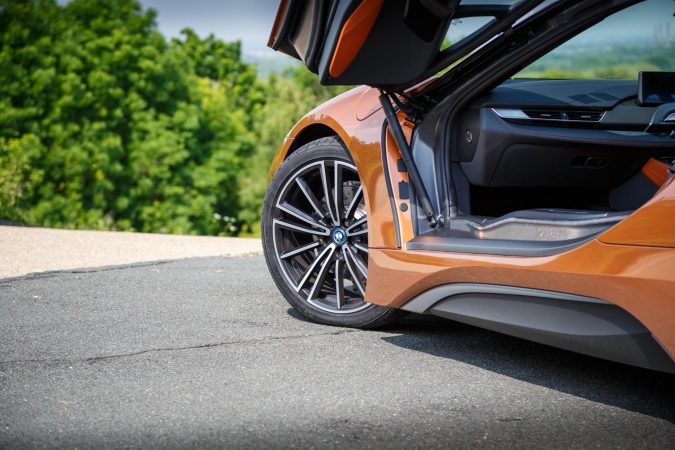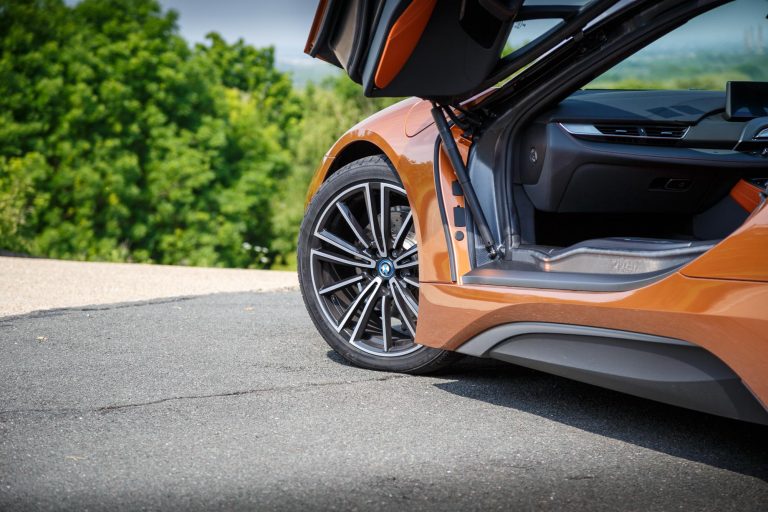 The traction levels are almost comically good: I bet you'll struggle to hold the tail out even with all the electronics off. Exiting corners is a breeze too when you have prompt torque.
It demonstrates such a poised dynamic that you'll run out of bends before you know it. However, it's not as visceral as a Porsche 911 or Jaguar F-Type, and it's not meant to be. If people wanted a BMW race car, they'd go for an M4, not the i8.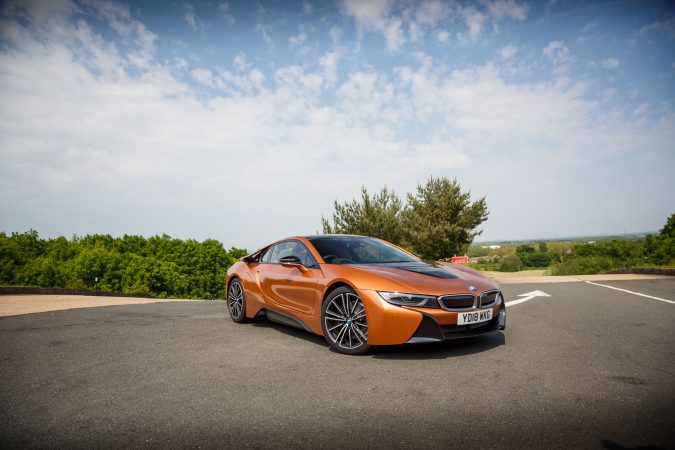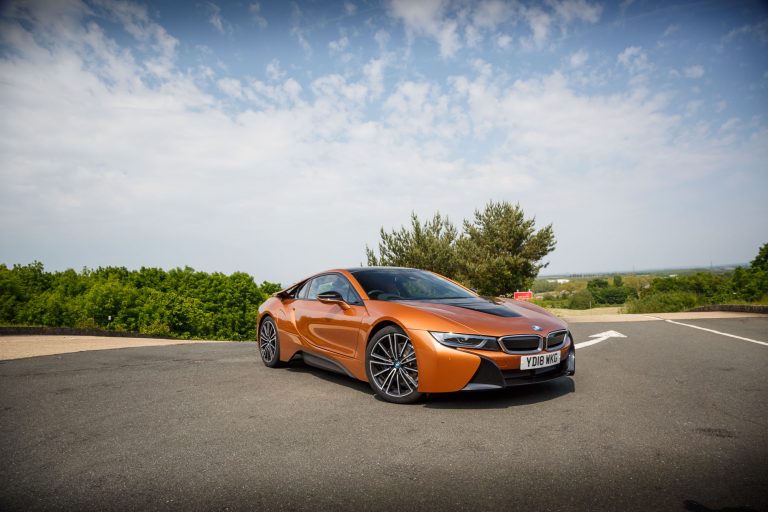 However, the BMW i8 requires refinement. While it features adaptive dampers, even in Comfort mode, it isn't completely supple. The low-profile tyres and stiff chassis stint on comfort, which some might find hard to overcome.
How is it like inside?
The interior is, as expected for an expensive German model, pretty impressive. It's not as futuristic as the exterior, but that may be a good thing.
This BMW i8 E-Copper is quite engaging, with its i Accaro interior design. The seats are made from E-Copper leather with cloth accents. They are moulded to your body but remain comfortable for long journeys. The seating position is low to the ground, very supercar-esque.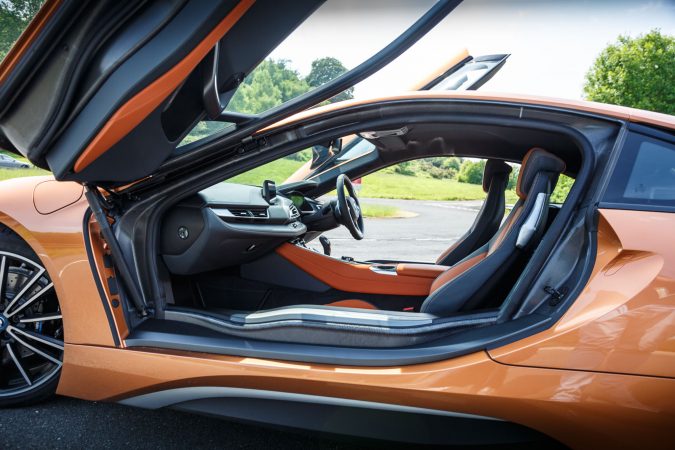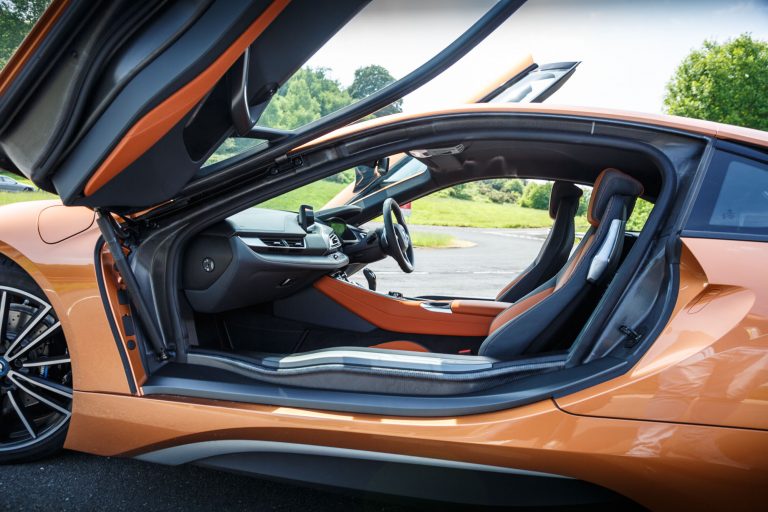 The button layouts are quite intuitive, and BMW has really sorted out the iDrive infotainment well in recent years. The dashboard and centre console wrap around the driver to emulate a cockpit-like experience. Everything just feels exceptionally well-built, with pragmatic material choices throughout.
Even as standard, the BMW i8 E-Copper packs in a comprehensive range of features. Things like climate control, DAB radio, heads-up display, tyre pressure monitoring, Harman Kardon 11-speaker hi-fi, adjustable dampers, front and rear parking sensors, electrically adjustable and heated front seats, cruise control with braking and the 8.8″ iDrive infotainment system with BMW's satnav.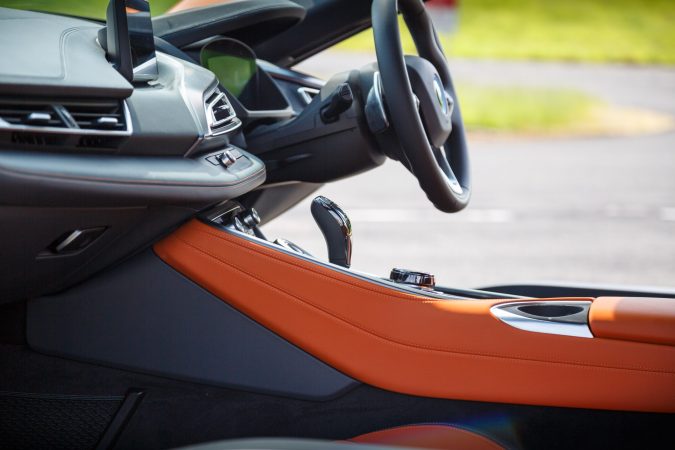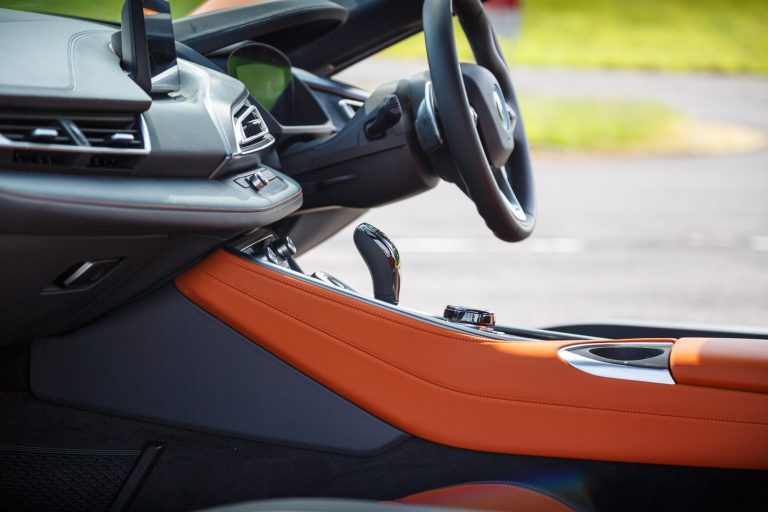 The afore-mentioned BMW satnav system is excellent as well, clearly displaying traffic jams and calculating the time of arrival accurately. It also combines with the car to make a nifty novelty: when you confirm your destination in Eco Pro mode, the navigation data will be utilised for more efficiency.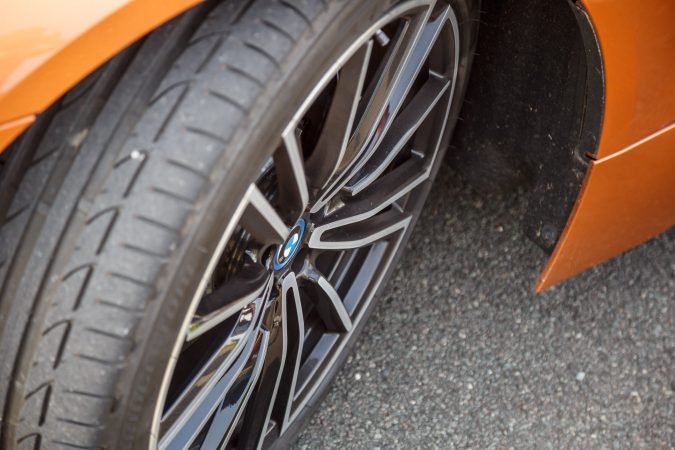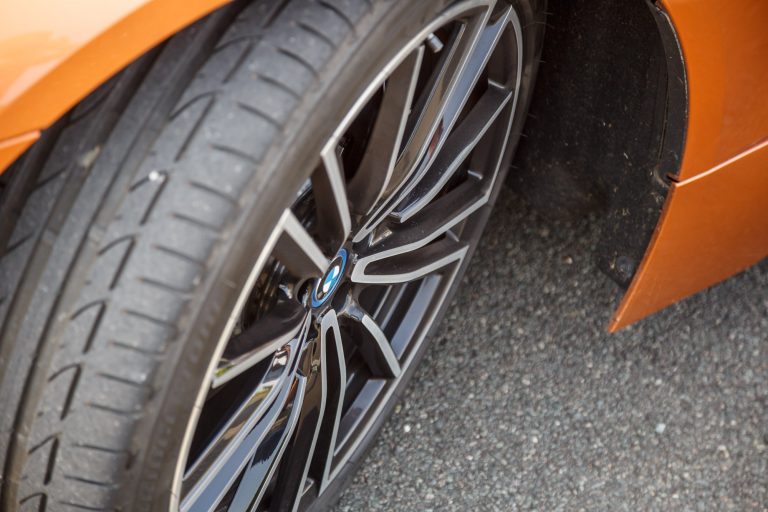 Fortunately, the rear seats are so narrow that you can't fit another adult in there. These will probably be relegated to an additional storage space, but not a particularly cavernous one, mind you, considering that my camera bag nearly filled up a seating space. Even for a midrange supercar, it is really lacking in cargo capacity. At 154 litres, the boot isn't going to offer you much luggage space either.
The Experience
While the i8 definitely has a unique look, it's not so different from a normal car to drive. Well, a normal car that'll go from 50-70 mph in 5th gear in just over three seconds. The chassis is taut and its on-road stability is second to none. It inspires confidence when driving around.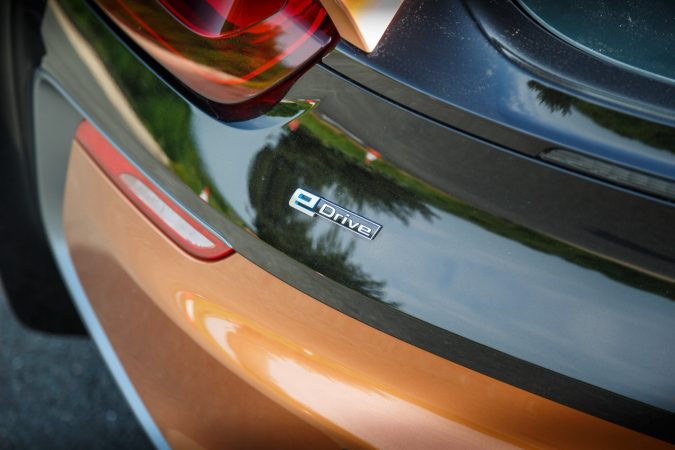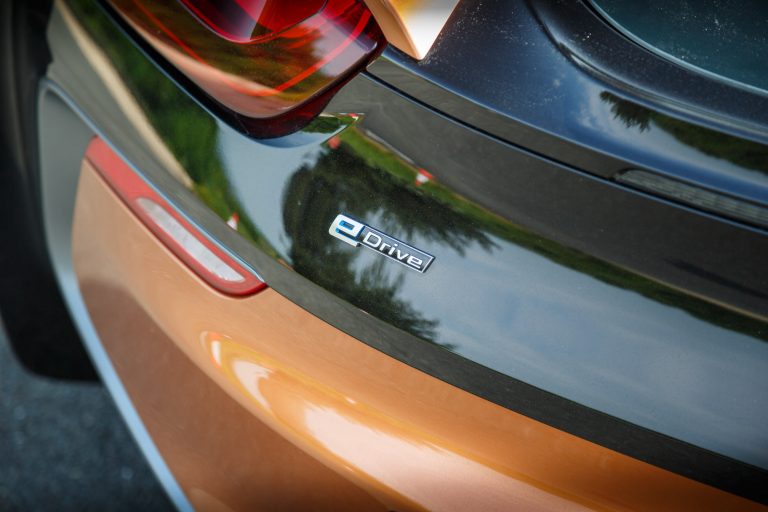 I did have a concern, though. While the butterfly doors look flamboyant, you may not appear dignified when stumbling out of the i8 in a tight parking space. It looks great for photoshoots though!
Verdict
If you want the i8 for long distance roaming, few rivals will match its acceleration prowess, unparalleled efficiency, satisfying handling characteristics and decorous road demeanour. It's biggest party trick is, of course, e-Drive, which essentially means that if your daily commute is less than 20 miles, your fuel efficiency is ridiculous.
Even at this extortionate price, it's the only true hybrid supercar out there, so there's no competition. People who think it's the car for them would've bought one already. If it were up to me, I would specify one in this colour, BMW i8 E-Copper. If you want a similar acceleration experience, the closest thing at this price would be a Tesla. But if you opt for a Tesla, you wouldn't have a car that looks as striking as the i8.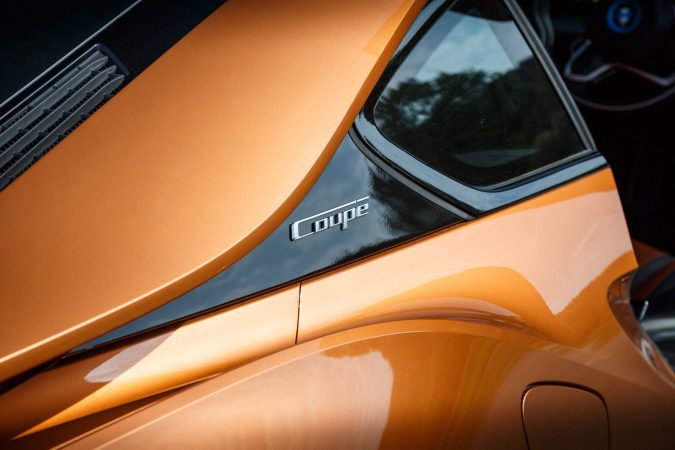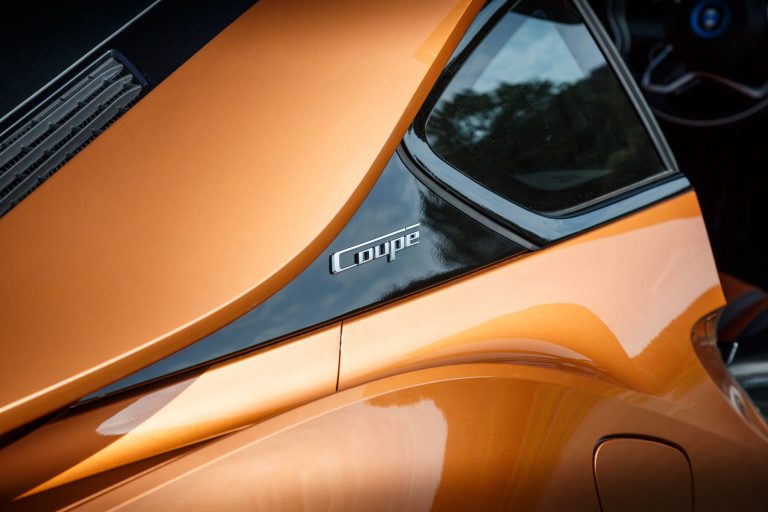 What the BMW i8 represents is the future of supercars. By becoming more lightweight, the i8 feels sportier and provides a glimpse into the future of total electrification.
2018 BMW i8 E-Copper Specs
Price: £113,375
Engine: 1.5-litre turbocharged inline-3 complemented with an electric motor
Power: 374 hp
Torque: 570 Nm
Transmission: 6-speed automatic and 2-speed automatic
0-62mph: 4.4 Seconds
Top speed: 155 mph
Weight: 1,539 kg
Economy combined: 156.9 mpg
CO2: 42 g/km
If you are a BMW fan check out our review on the BMW 335i M Sport.