Back in its heyday, the 60s and 70s Mustang muscle cars were revolutionary in more ways than one… Bringing sleek looks and raucous horsepower to the masses at an attainable price.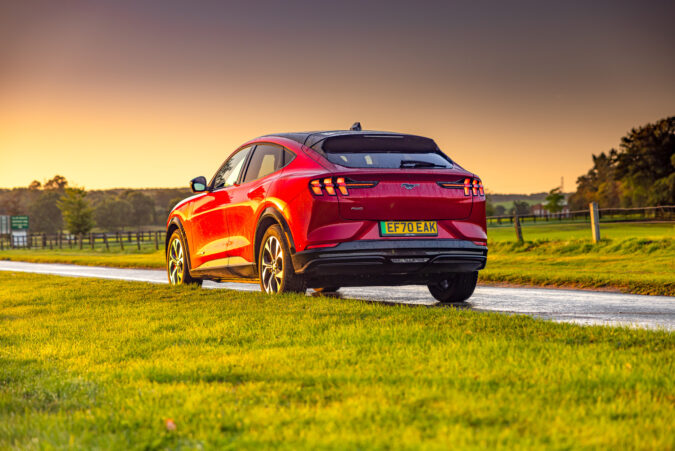 In the same vein, the Mustang Mach-E is leading the charge forward, with a sporty, chic, and properly modern EV for a new era of electrification. Granted, it's charging far more than any blue-collar worker could reasonably afford. And some might argue that Ford's only putting the Mustang badge there to heighten the appeal of the car. Yet, by every standard, it's a mightily impressive machine…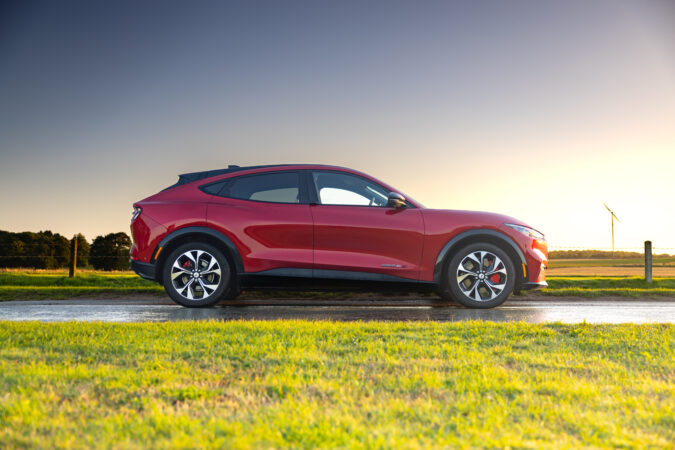 What Is The Ford Mustang Mach-E Premium AWD About?
While a lot of people chastised the Mustang Mach-E's looks when it first came out, I personally think it is a very handsome car. In fact, the more I look at it, the prettier I find it. It still keeps some of the must-have, hallmark Mustang design cues. There are those split taillights and sharpish headlights, on top of its aggressive, muscular bodywork. But, it's made just a tiny bit larger to fit into its SUV proportions.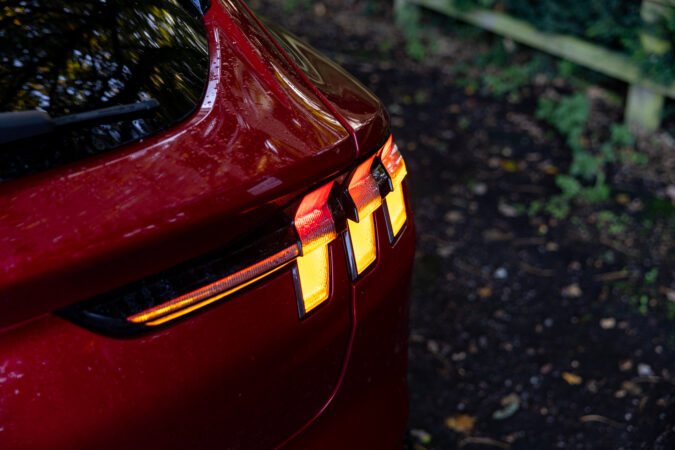 Obviously, you can quite clearly tell that it's not the same old, traditional Mustang that you and I know. But out on the street, it has a bold and sporting aura around it. As a whole, it's a lot nicer than most might have given it credit for. There is also a tonne of interesting touches to best optimise its EV-ness. For example, it has a set of active flaps underneath where the front grille would've gone.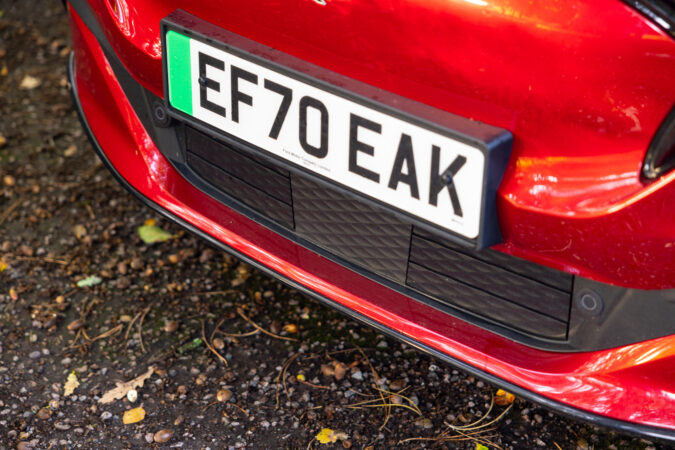 These can open to provide additional cooling to the batteries and powertrain. Or, it will remain closed to ensure optimal aerodynamics. Speaking off, the Mach-E's aero-focused design calls for the removal of any physical door handles. Instead, you'll have to make do with an electronic button. You could also use the keypad on the door to set a PIN, so you won't have to take out the key, this is useful for playing water sports as an example.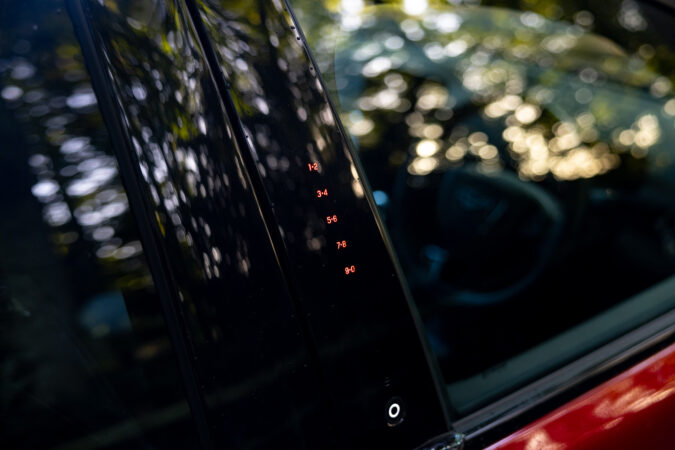 How Does It Drive?
So, here are the headline figures… Dual motors (front and rear for all-wheel drive), cranking out 351PS and 580Nm of torque. Thus, enabling it to sprint from 0 to 62mph in only 5.1 seconds, and a top speed of 111mph. If you really want to fine-tune its on-the-road characteristics even further, the Mach-E also comes with three different drive modes to pick and choose from… Whisper, Active, and Untamed.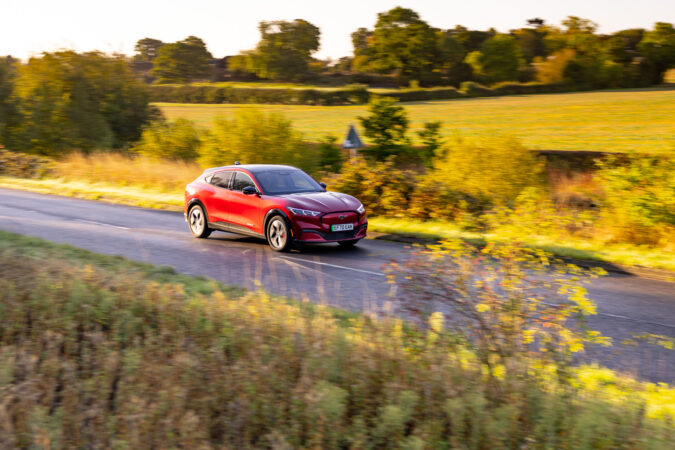 These are basically your Eco, Normal, and Sport modes. I've found that Active works well for most day-to-day driving and for a majority of other occasions. Then, there's Untamed, which is best reserved for sportier driving, courtesy of its sharpened throttle response. And, unlocking a bit more power from the electrified powertrain. Overall, the driving experience can be described as spirited and enjoyable.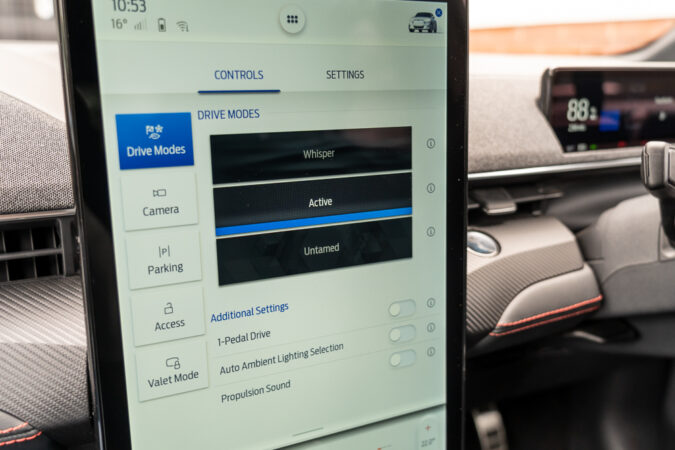 Surprisingly though, the damping isn't as soft or comfy as I had expected. Rather, the Mustang Mach-E's suspension has been set up more for athletic and enthusiastic driving. With, mind you, far greater emphasis on chuckable dynamics and quick changes in direction instead of outright comfort. It's not a bad ride, to be fair. Although, it can be a bit harsh in some places compared to its competition. But let's not forget it does have that Mustang name attached so this car does have to be prepared for some dynamic driving.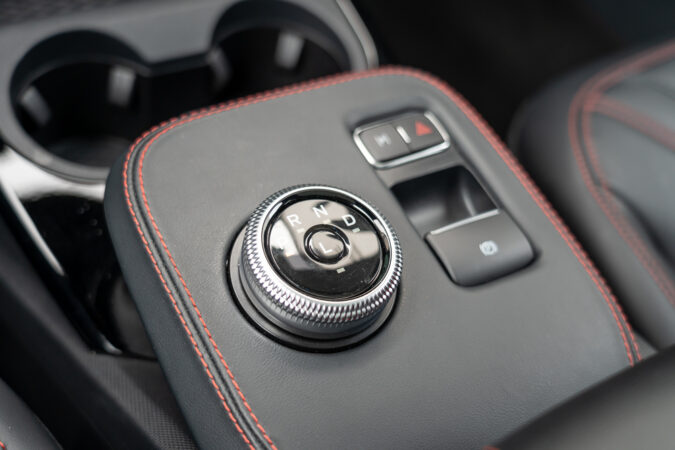 Nonetheless, it's still generally a comfortable car to drive around in. The Mach-E is an EV, so it's expectedly quiet and serene once you do get it going. Furthermore, it's also a great car to just get in and drive – no thoughts, head empty, without having to fuss around too much with it.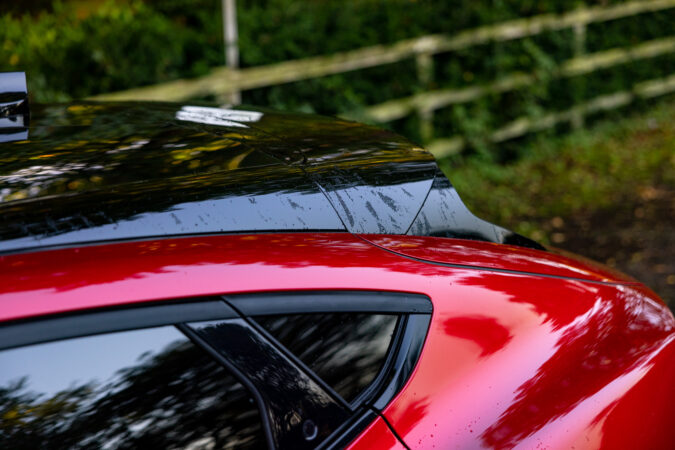 Still, when you do want to have a bit of light-hearted fun behind the wheel, the Mustang Mach-E is as speedy as you'd hope for. As with any EV, that instant wallop of torque hits you like a train, even more so in this Premium AWD trim and its dual-motor configuration. It's especially great for motorway overtakes or hastily hauling down a country lane. Speaking of, those dual motors give the Mach-E all-wheel drive.
On a damp set of tarmac, you can feel the AWD system practising some really clever wizardry with its torque vectoring to ensure that it can throw power down reliably. And, without any slippage or loss of traction, even with generous throttle application. In some cases, it even feels as though the wheels are tucking in and turning beyond your steering input. Thus, it's a perfect all-weather, all-season car.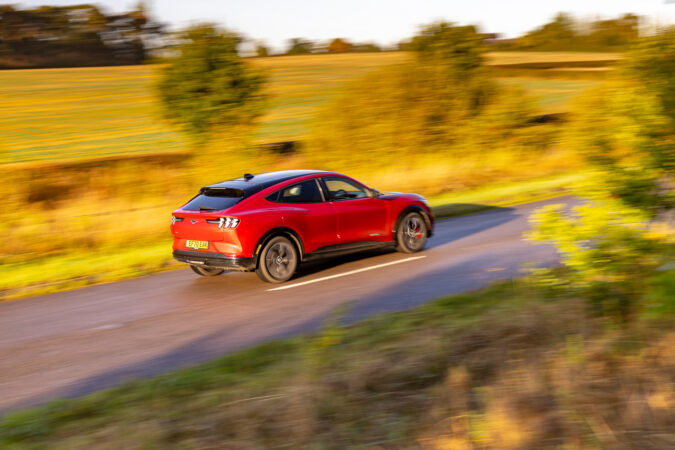 What Is It Like Inside?
Ergonomics are another strong point of the new Ford Mustang Mach-E. A noteworthy plus for me is its steering wheel. It feels both comforting and confidence-inspiring to grasp at while you're driving along. Meanwhile, the rest of the interior is fairly minimalistic, with a healthy mix of luxury and utilitarianism. Being a car born in the 2020s, it's natural that there's a plethora of screens for you to interact with.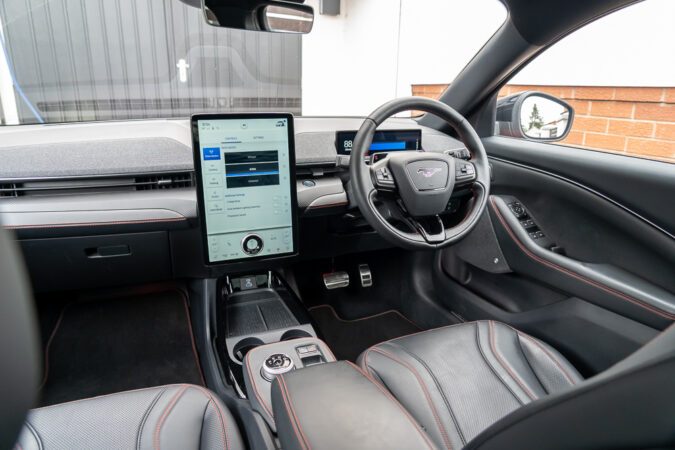 The fully digital 10.2-inch gauge cluster works well at providing information rapidly and clearly with a brief glance. Additionally, there's a huge portrait central infotainment system in the middle. With just about 15.5 inches in diameter, it's even bigger than most laptops out there! Shockingly, it's not as distracting as it first appears. And, it's pretty easy to use, quick to load up, and intuitive to rely on.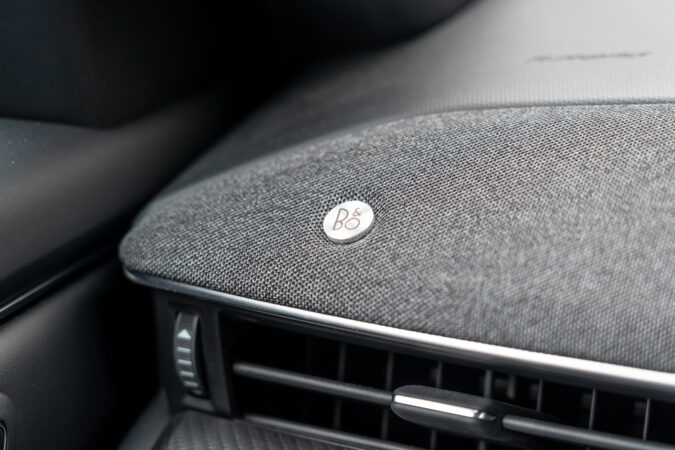 Although, I do wish that given its size and how the UI scales up, it would be slightly tilted towards the driver to make it that bit easier to fiddle about with. For better or worse, there's also a lack of any physical switchgear for managing the climate control. But, at least Ford's done it right, as that large screen is split in two… With the bottom portion available for all your air-con and heater controls.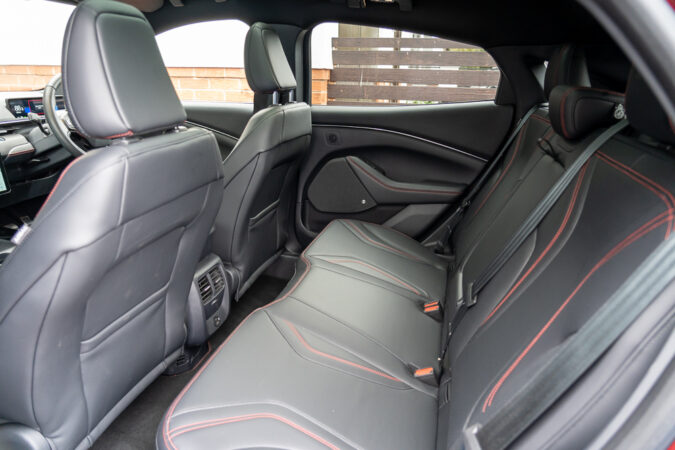 Meanwhile, the bigger, upper half of the screen could handle your satnav, Apple CarPlay, and Android Auto, among others, without hiding or minimising the HVAC controls. As for the more practical side of things… Despite its sporty silhouette, rear legroom and headroom are good enough. And, its boot space is also rather good, even considering the sloping roofline. For a family car, it's just about ideal.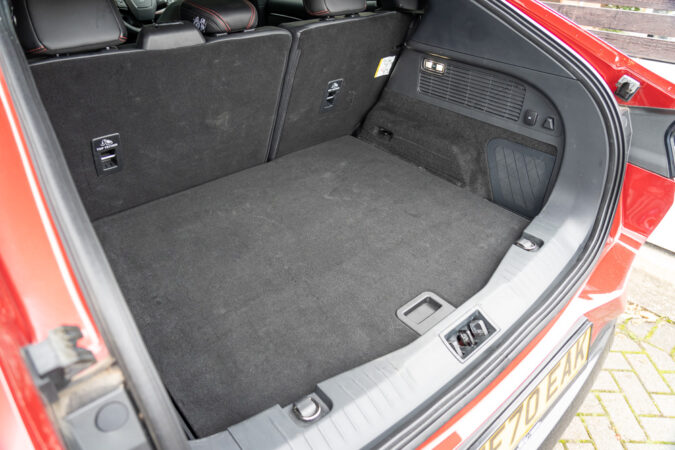 The Experience
Of course, how can we talk about an EV without discussing its range? This Mustang Mach-E, with the Premium AWD trim, comes fitted with a 98kWh battery. Although, only 88kWh is usable. Beyond that, it's then capable of 150kW peak rapid charging. Altogether, Ford claims that it could handle 341 miles of all-electric driving, as per the WLTP (Combined). That's a very strong figure, relatively speaking.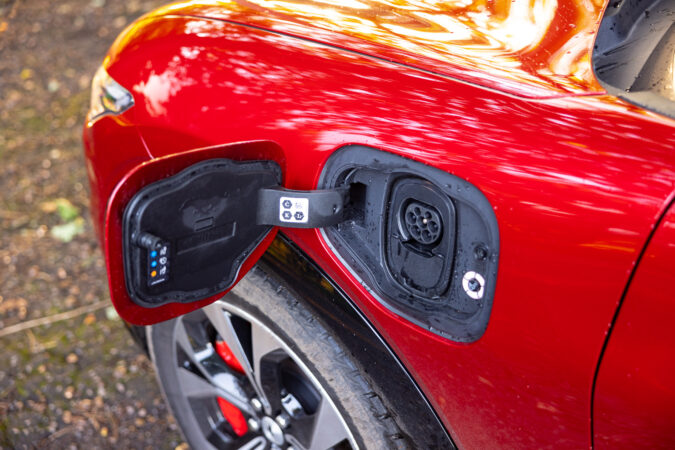 Realistically, most of you will have to take into account a regular commute with a lot of manoeuvring around town or slow-moving bumper-to-bumper traffic. With this in mind, you'll likely get somewhere in the neighbourhood of 300 miles. Which, compared to most other EV offerings, it's still a very strong showing. With 150kW of charging, it can top up its batteries from 10% to 80% in just 45 minutes.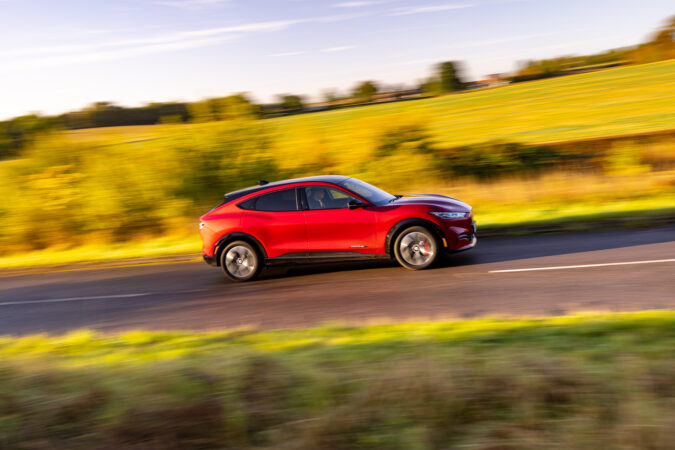 Ford Mustang Mach-E Premium AWD Cost
The Mustang Mach-E range, here in the UK, has four distinct trim levels. It starts off with the Select or Premium RWD, both for £50,830 and £59,380, respectively. The Premium RWD has more niceties and luxury features than the Select. Though, they both feature a single-motor powertrain. Still, a Premium RWD Mach-E will offer better performance, and a bigger battery – 88kWh vs 68kWh in the Select.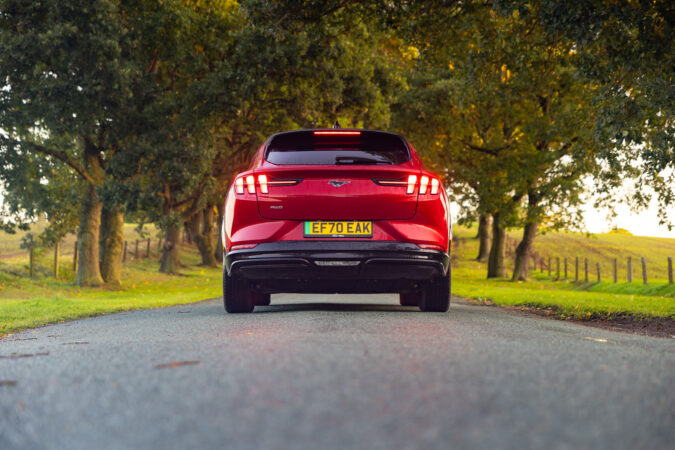 If you want even more capability, speed, or upscale touches, you'll have to opt for either the Premium AWD (like the one we have here) or the GT trims. They start at £65,405 and £74,540, respectively. It'll also get you a dual-motor powertrain (for all-wheel drive) and similar battery sizes (88kWh). Granted, the GT trim is the fastest and most powerful variant of the Ford Mustang Mach-E that you can get.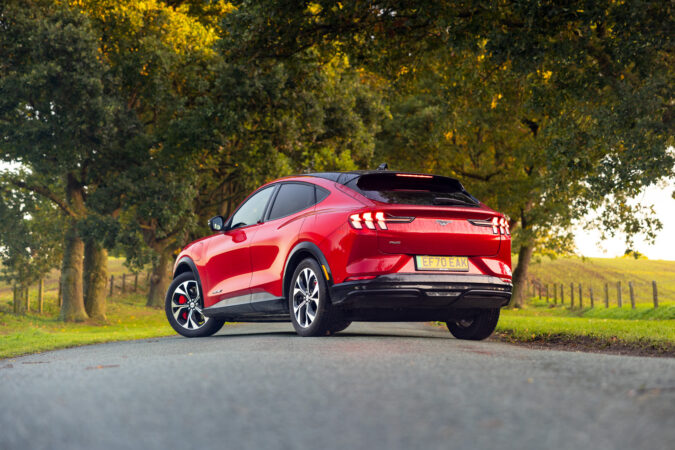 Should you wish to get the most amount of an all-electric driving range though, you'd ideally want either the Premium RWD or Premium AWD. The RWD model, in particular, has the highest range of the bunch (estimated around 372 miles), as it's lighter and only has a single motor. As you see it here, our AWD costs £66,555. That accounts for a £1,150 option on top of the MSRP for this lovely Rapid Red paintwork.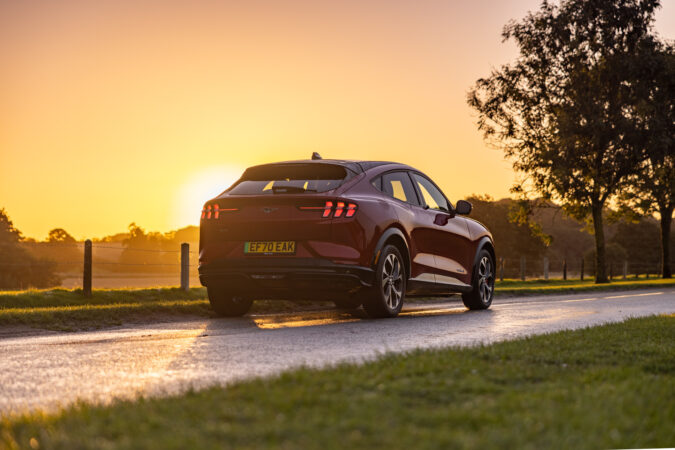 Verdict
I'm sure some haters would've wanted the Mach-E to flop… And for those people, I'm sorry to say this, but the Mustang Mach-E is a brilliant machine. Yes, it's no all-out muscle car, nor does it break new ground. But as a do-it-all car, it's a fantastic option.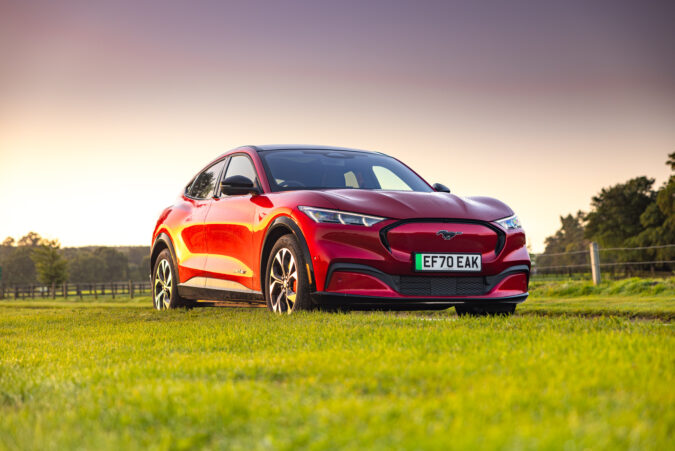 Performance is more than sufficient, and you could still have a bit of lairy fun with it. It looks good, can drive well, has an enduring electric range, is cosy to spend time in, and has a nice interior. In short, it'll do everything you need a car to do, and more! The only major downside is the cost, which does put the Mach-E beyond the budget for most. But if you have the money… Few other EVs at this price point would do just as well.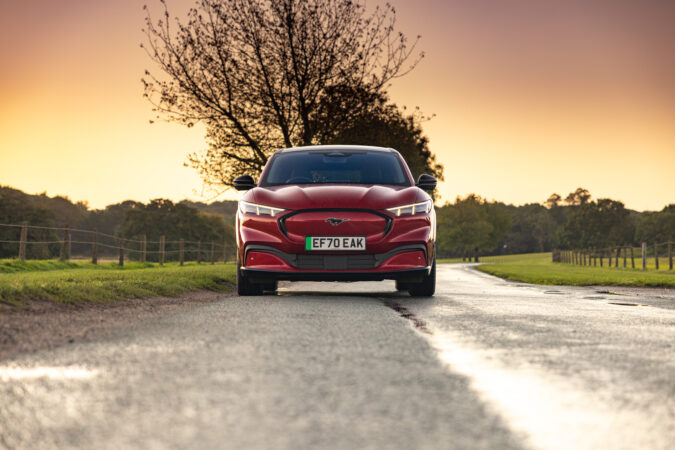 Specification
Ford Mustang Mach-E Premium AWD Specs

Price: £66,555
Engine: Dual-motor EV, AWD
Power: 351PS (around 346bhp)
Torque: 580Nm
0-62mph: 5.1 seconds
Top speed: 111mph
Weight: 2,194kg
Economy combined: 341 miles (WLTP)
CO2: 0g/km