Just half a year ago, I got behind the wheel of Genesis's still-new GV60, and it blew me away in more ways than one. It was a speedy, comfy, and techy little electric crossover coupe, which showcased to me (and the other journos there) how far Genesis had come in the past year alone. Despite that lack of provenance compared to some of the established brands, Genesis has since matured rapidly.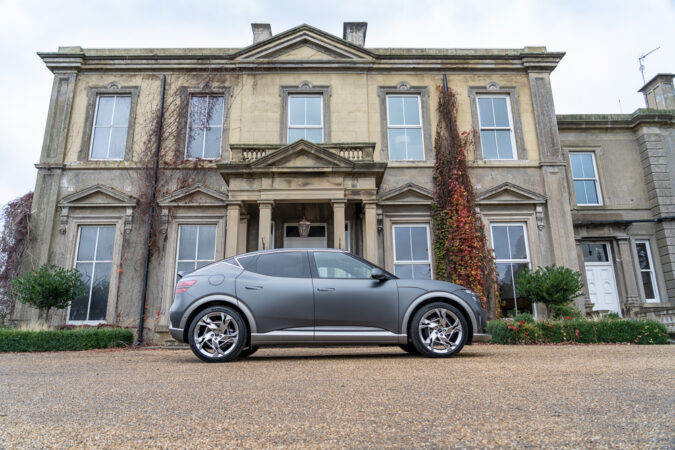 The GV60 is as fantastic, if not better, than what many of its competitors currently offer. However, the GV60 that I drove before was prepped for the brand's European-wide launch in Frankfurt. Today is a bit different, as I was handed the keys to a UK-spec GV60. So, what has changed, then?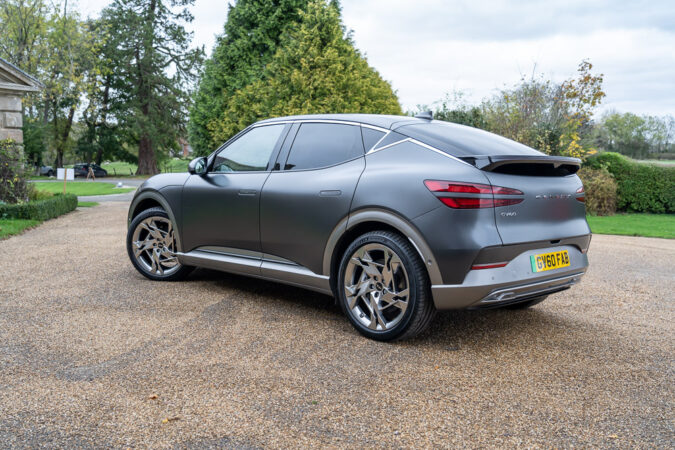 Are there any differences between this GV60 here and the one I drove before? Well, for one thing, it's now right-hand drive. And, there are some other subtle variations as far as trim and options go. I was already able to get a good feel of the GV60 on the road back then. Still, being on the right side of the road (and car) will make the drive more natural for me. In that case, is the GV60 still as impressive?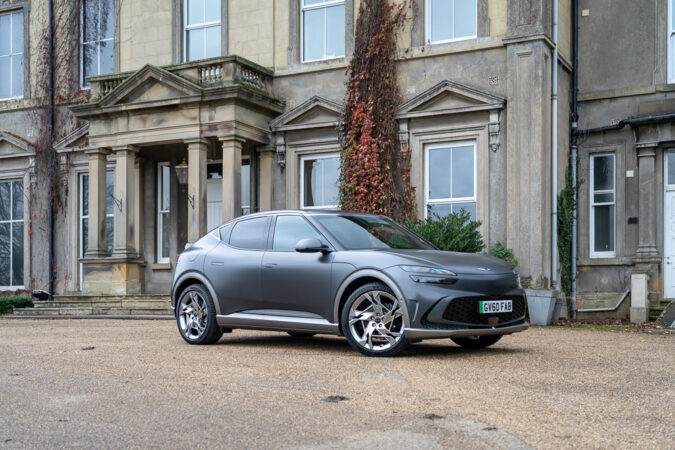 What Is The Genesis GV60 AWD Sport Plus About?
The GV60 is both identical, yet distinct from the rest of the Genesis line-up. It has a more curvaceous and softer look to it that might give passers-by the impression that they're looking at something else. Nevertheless, the GV60 is quintessentially Genesis, if you know where to look. The split headlights as well as taillights, for instance, are a hallmark Genesis design trait – unique among most vehicles.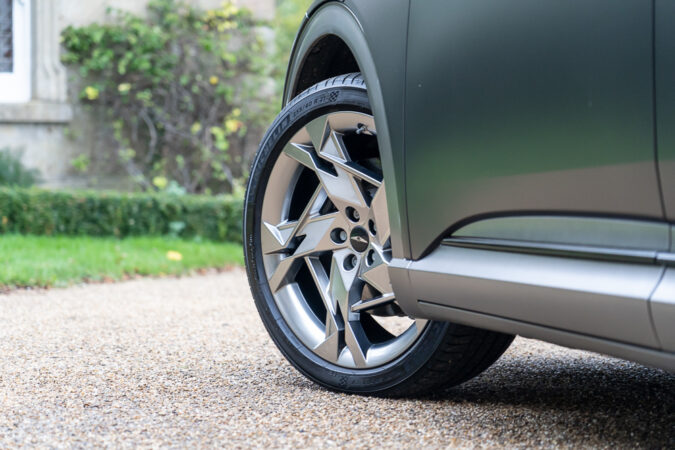 You may also be familiar with the front grille. Though it doesn't have vast open vents – as the GV60 is an EV – the general shape of the grille is akin to Genesis's other models. Then, there's that dashing of chrome trim, which contrasts rather lovely against that matte grey paintwork. It's hardly the oddest-looking car that I've seen, but it's quirky enough to readily stand out amidst a samey crowd.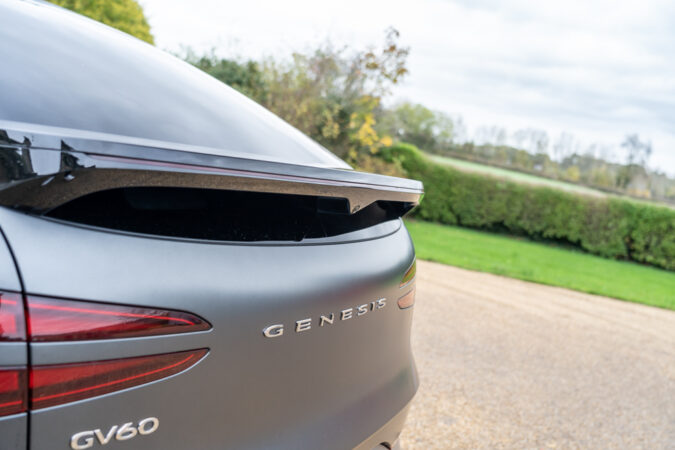 How Does It Drive?
On the other hand, the powertrain in this Genesis GV60 is identical to the one I tested in Germany a few months back. It's even the same trim level, too – Sport Plus. The latter is crucial, as it means it's fitted with not one, but two electric motors. With each motor outputting 160kW, this translates to a total power output of 320kW (around 429hp). This is in addition to a mighty 700Nm of torque.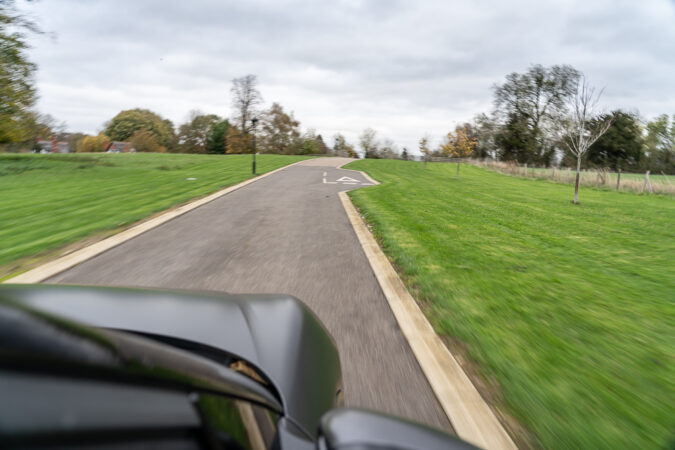 As you can tell, those are some heavy-hitting figures. That's then paired with a 77.4kWh battery and a 0 to 62mph time of just 4.0 seconds. Seeing that it's all-wheel drive, the GV60 Sport Plus is a rather unassuming monster out on the road. It might not look like it, but Genesis's (sort of) entry-level EV is among the fastest mainstream cars I've driven. This is even faster once you account for Boost.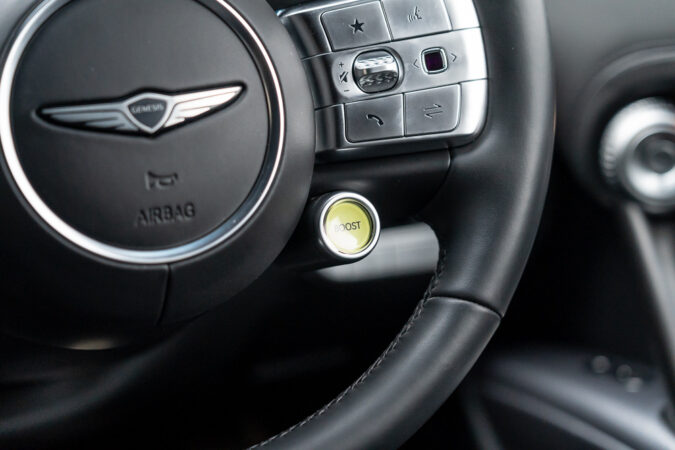 Press that bright yellow 'Boost' button on the steering wheel, and your GV60 now unlocks additional oomph from its powertrain. Specifically, around 20kW of power from each motor is unlocked – so, its motors are technically capable of a peak output of 180kW, not 160kW. Nonetheless, make sure that you use the GV60's 360kW (about 483hp) boost quickly, as it'll only last for 10 seconds (but you can hit the Boost button as many times as you like in a row).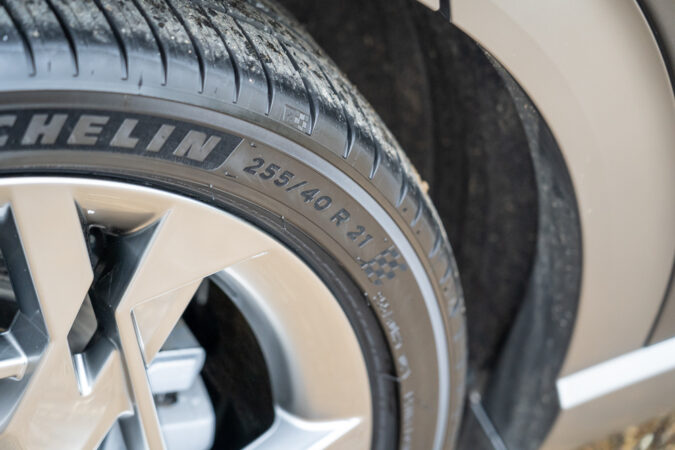 This is great for overtaking, then. Or, if you'd intend on attacking a corner at speed. Stomp on the go-faster pedal hard enough, and the GV60 will happily launch you into the sunset. It's quite shocking to me how this innocent-looking machine is so savage and brutal under hard acceleration.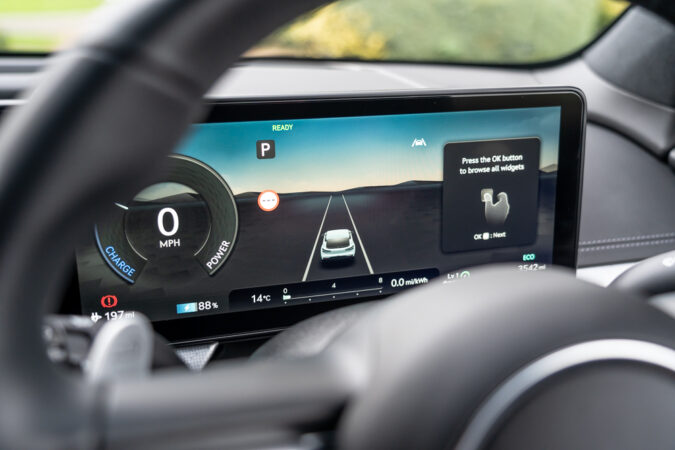 As with most cars these days, you'll of course find a bank of drive modes to choose from. For me, it's best to leave the GV60 in comfort mode. In this mode, the GV60 calms itself down from the prior escapades and turns into a glorious grand-tourer. Though it weighs nearly 2-tonnes, driving it won't make you feel as though you're having to lug around this great big mass with you.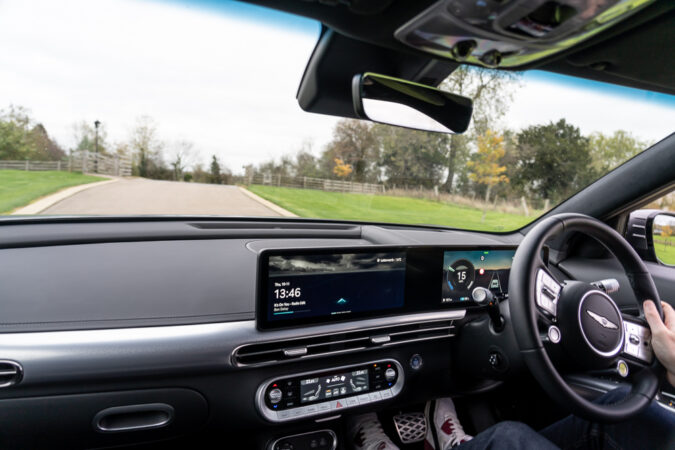 Rather, the GV60 is pretty light on its feet (or at least, it feels like it). Combined with the steering, it's handily able to get you through your day-to-day driving with ease. Moreover, thanks to its crossover form factor, the GV60 is perfect in both size and shape for today's increasingly urbanised world. Just like every other EV, the GV60's lack of combustion makes it supremely serene.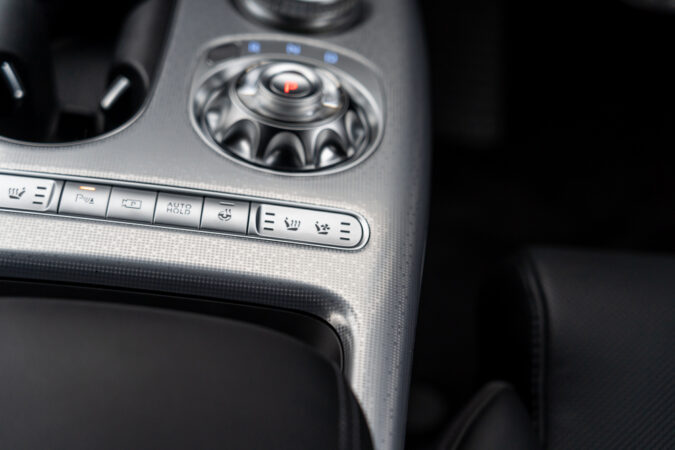 So, it's absolutely an easy and relaxing car to ferry about, whether you're heading out for a long road trip or are just commuting from point to point. Having mentioned that, being relaxing and easy-going doesn't count for anything if it can't manage its battery properly. Remember, the GV60 is an EV, so it should ideally have a good enough range and quick charging, too.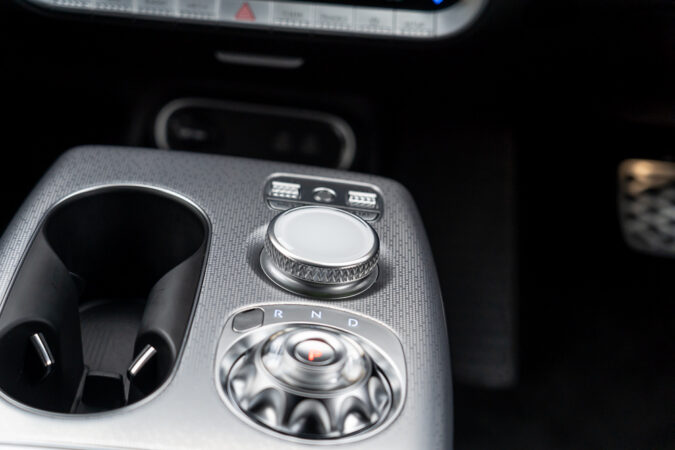 Thankfully, Genesis delivers in both regards. You can be very, very, very careful, and that could technically drive the GV60 as far as 380 miles, but the WLTP-rated range is 290 miles. The GV60's EV-ness is further enhanced by all the clever things in the background. You'll rely on these to condition the battery and electric powertrain for optimal performance and range.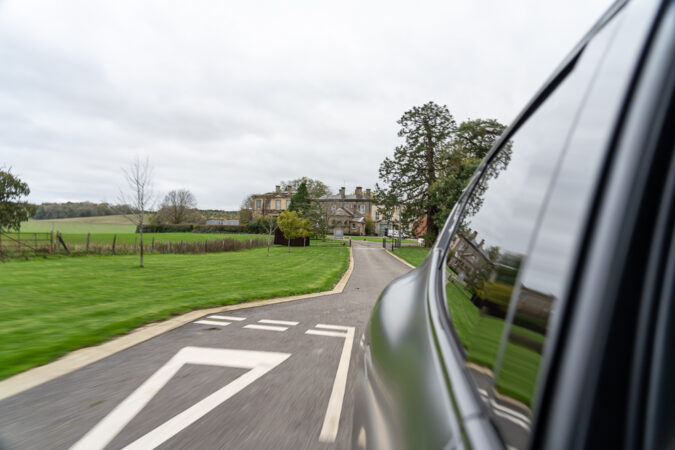 For example, it has a heating system that'll keep the battery warm in those cold wintery months. Your Genesis could also turn into a big battery bank, as it's fitted with V2L (vehicle-to-load). Using a 7-pin (240V) plug, you could power up an entire campsite with that. Charging the GV60 ought to be quick, as a 350kW DC ultra-fast charger can top it up from 10% to 80% in merely 18 minutes.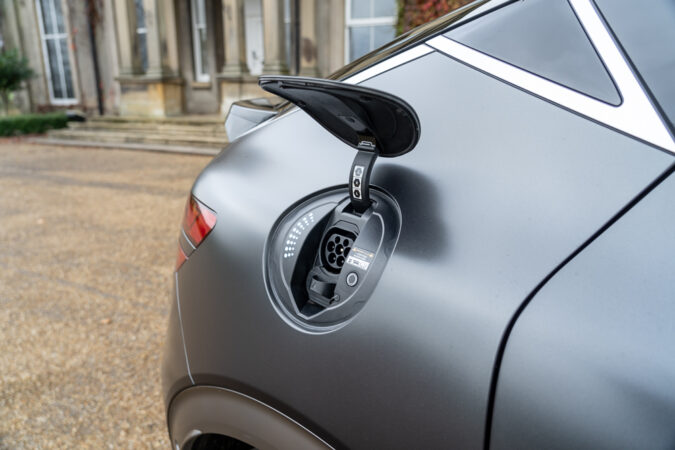 Meanwhile, a somewhat more common 50kW DC fast charger would take around 73 minutes to get a similar rate of charging. Still, seeing how far the GV60 can go on a single charge, if all you're doing is commuting to and from work, you might not even have to resort to a fast charger. Just plug it into an 11kW wall charger once you reach home, and that'll fill up the GV60 in 8 hours' time.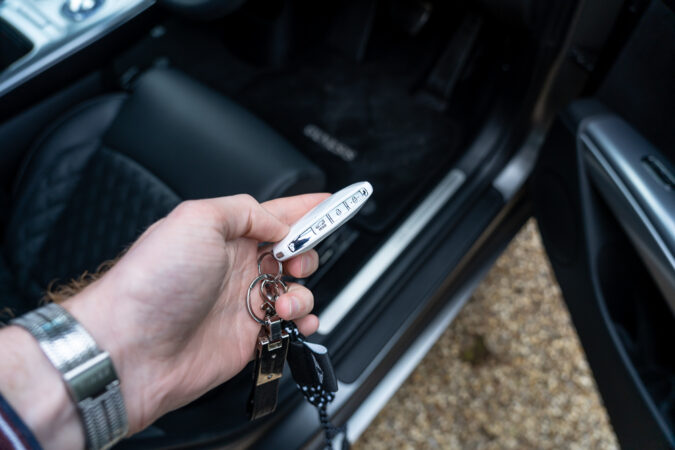 What Is It Like Inside?
Among the many aspects that I praise the most of recent Genesis models, it's their interior. That will also apply to this GV60 here, as a showcase of just how grand it is to spend any amount of time in it. Genesis has nailed the techniques of designing a car cabin that isn't just functional and aesthetically pleasing. But, it has that upscale and uber-luxurious aura that's incomparable to most others.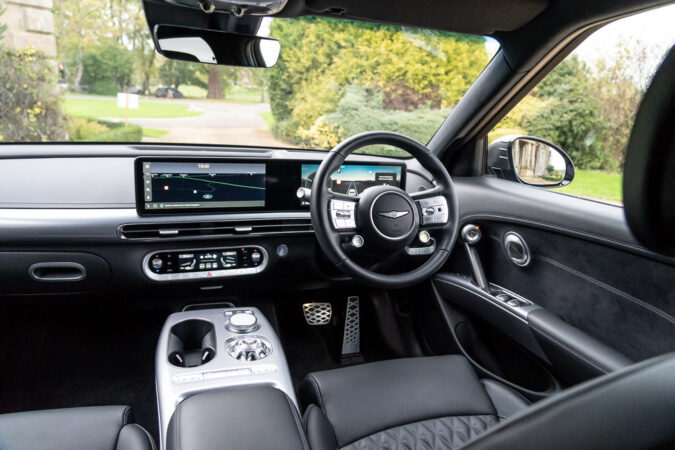 Their sheer attention to detail, down to the tactility of the switchgear or the stitching on the leather upholstery is top-notch, indeed. This is made even better with the GV60 being an electric car. Its lack of a transmission tunnel frees up a lot of space. Furthermore, the inclusion of a panoramic glass roof brings a lot of natural light into the cabin, elevating it into what's more akin to an airy lounge.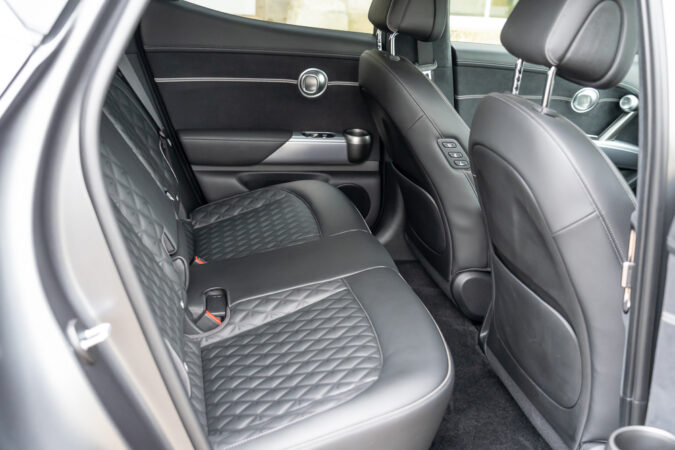 Besides offering a large cargo space, passenger space is abundant, front to rear, as well. That coupe-like styling does kneecap the GV60's potential roominess a bit. In other words, taller folks may rub the tip of their hair on the headliner if they were to sit in the back, however the room is still good and there's still plenty of theatre and drama in here.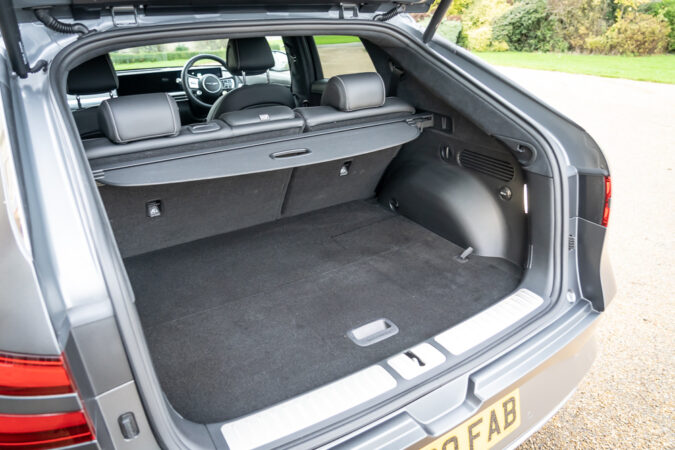 The Experience
Stepping inside, you simply can't miss the GV60's spinning and lit-up crystal ball, which is what you'll be interacting with to change from park, drive and reverse, by the way. That's just one of many technological onslaughts with which you'll regularly fiddle around. There are two giant 12.3-inch screens, acting as both your gauge cluster and the infotainment system. The latter of which is another highlight of Genesis.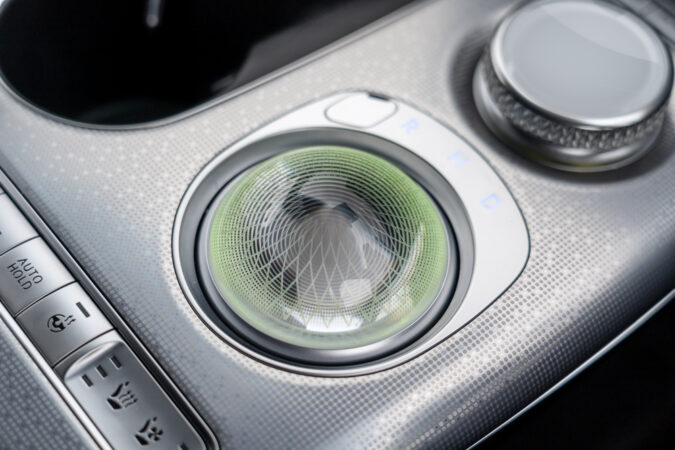 It's one of the best in the business – crisp visuals, slick animations, an intuitive interface, and with many different functions buried within. The satnav may even show a live feed of what's ahead, overlaying that with an augmented reality-style set of arrows. It's a pretty neat way of navigating around town. All the while, you're casually chilling with the GV60's awesome B&O sound system.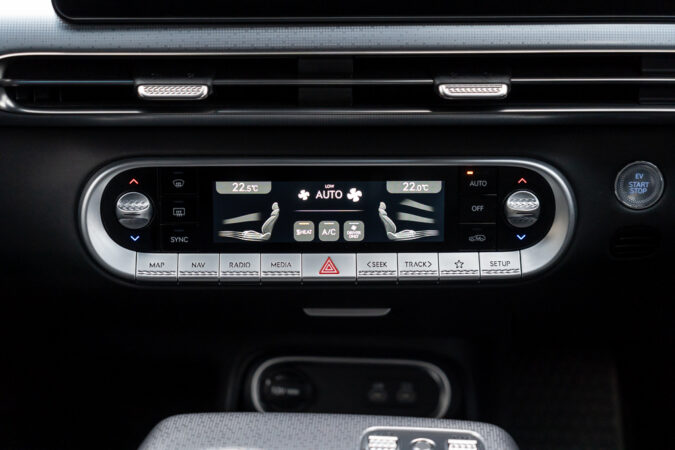 Should that not impress you enough, then know that Genesis and its GV60 here have one of the most feature-packed ADAS suites. There's adaptive cruise control, lane-keep assist, blind-spot monitoring, rear cross-traffic alerts, forward collision warning, driver attention alert, and more. So you know for sure that safety and ease of use, while you're behind the wheel, is always a priority.
Oh, and here's another major difference between this GV60 and the one we drove not too long ago… This one has regular side-view mirrors, whereas the other one was fitted with the optional side-view camera system. In my experience, a plain old slab of glass still works just fine. Yet, should you need a bit more versatility, then upgrading to those fancy cameras isn't a bad idea, at all.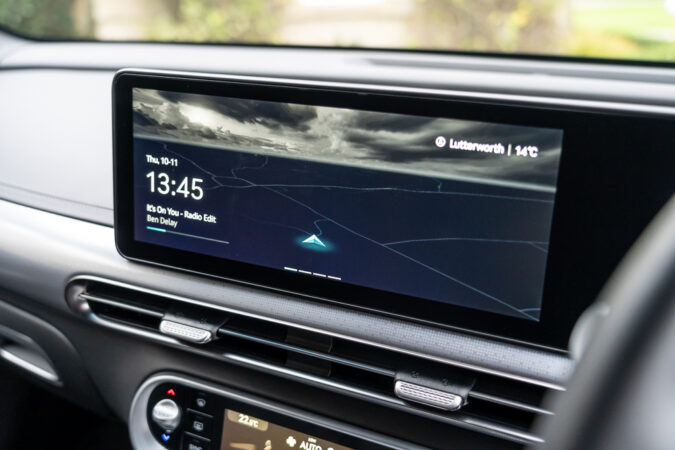 Genesis GV60 AWD Sport Plus Cost
Among Genesis's current line-up of electrified models, the GV60 – despite this being one of their more impressive cars thus far – is on the more accessible end of the scale. As you see it here, ours would otherwise cost you £65,405. But once you tack on the options, you're actually looking at about £71,445. As steep as that is, given what its rivals offer, the GV60 Sport Plus is priced very well.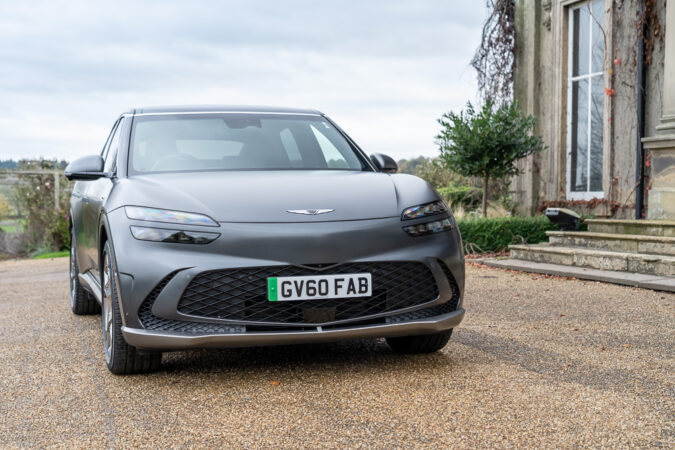 You then have to account for Genesis's generous aftersales support. That includes a 5-year warranty, a 5-year servicing plan, 5-year roadside assistance, 5-year support for courtesy cars, and 5 years' worth of OTA and satnav updates. If you want to take a peek at the options list, it's not that bad, either. This marks quite an attractive value proposition if you're looking for a higher-end luxury EV crossover.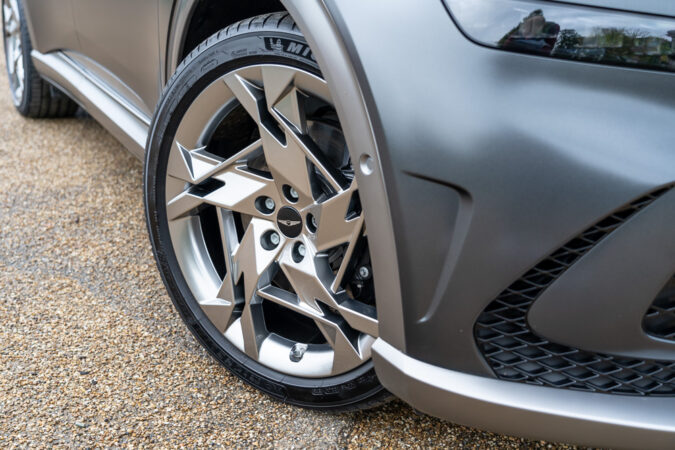 Verdict
Despite this being Genesis's first bespoke, dedicated, from-the-ground-up EV, the level of refinement and quality that's gone into the GV60 is beyond brilliant. It's a hell of a great start for its journey into electrification. For us consumers, that simply means we got a great little electric crossover in return. It's smooth and effortless to drive, and the GV60 is as comfy to spend time in on those long motorway drives.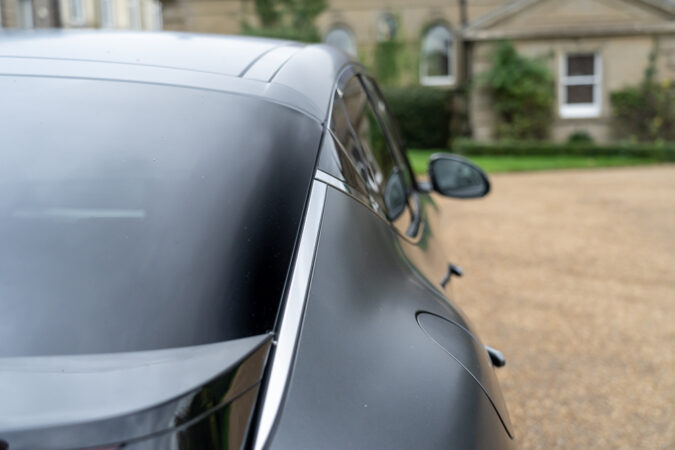 Yet, you'll feel refreshed once you get to the other side, as you relish its luxurious cabin. The GV60 isn't another commodity car created for the sake of wafting you from A to B. Rather, you'll also savour the experience of hoovering about in it, as well. In that tippy-top of the EV ladder, Genesis's GV60 is one of the best ones out there. You can't go wrong with it.
Genesis GV60 AWD Sport Plus Specs

Price: £71,445
Engine: Electric, dual-motor, AWD
Power: 483bhp (with Boost)
Torque: 700Nm
0-62mph: 4.0 seconds
Top speed: 146mph
Weight: 2,095kg
Economy combined: 290 miles (WLTP)