In a world where mega SUVs are taking over, it's slowly becoming more uncommon to find a cool saloon car. Wealthier clientele, especially, would prefer to flex with something bigger, bolder, and more audacious. But, if you want something more under the radar, the sleek new Genesis G80 is well worth a look if you're already contemplating something that's a bit more Germanic, instead.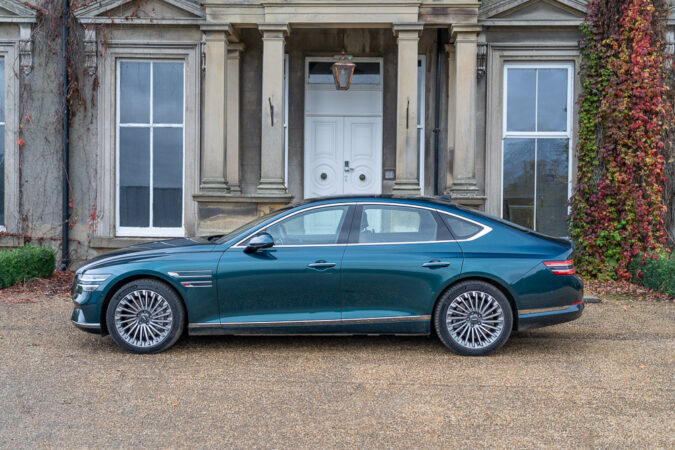 I've driven the G80 before, and it instantly reminded me just how quickly Genesis has caught up with the rest of the competition. This time around, I'm going to drive another G80… But slightly different. By swapping out its internal combustion engine with a big battery pack and a couple of electric motors, will Genesis's electrified G80 be able to leapfrog BMW, Audi, and Mercedes for good?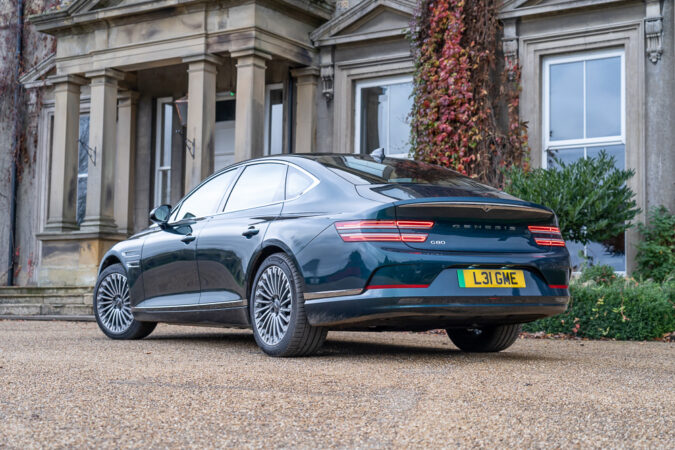 What Is The Genesis Electrified G80 About?
Looks-wise, it can be hard to tell apart an ICE and an Electrified G80 from a quick glance. The paintwork is great in the pictures – especially this blue hue – but it looks even better in real life. It has that sense of pop and vibrancy to it that Genesis has really nailed. Besides that bling and sparkle though, there are a few tricks that can help you discern between the electrified and ICE Genesis G80.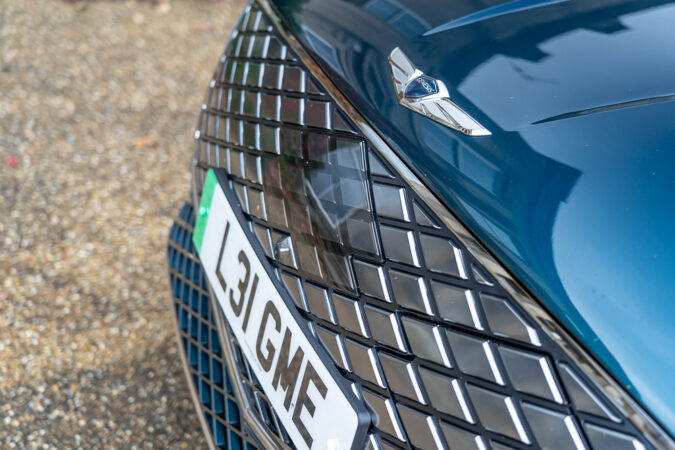 One of them is the grille, which is now faux. This has closed off most of what used to be vents for the engine's intake and cooling. That is where you'll also find the hidden charging port, which is neatly tucked into its diamond-cut pattern. Another unique element that is distinct from the EV model is the turbine-style wheels. Otherwise, it's still the same old G80, as bold and handsome as ever.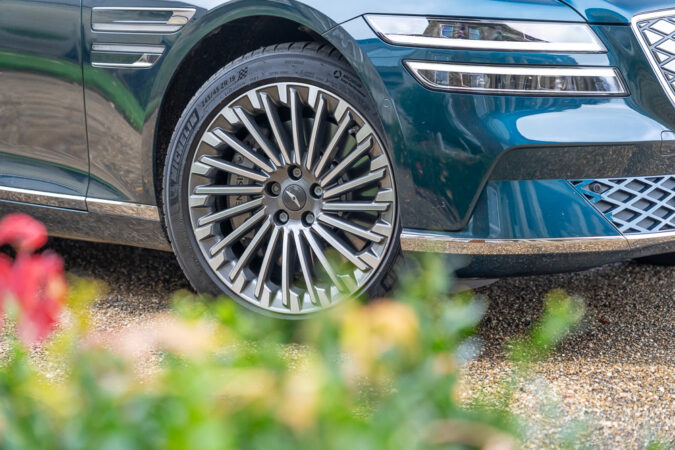 How Does It Drive?
The G80 here is an EV, remember. With that in mind, Genesis saw fit to install a humungous 87.2kWh battery pack. That's good for 323 miles of range, as per WLTP testing. Realistically, regular driving or simple daily commutes should easily stretch it past 300 miles. It's right up there in the EV segment as far as endurance is concerned, so range anxiety isn't one that you should be too worried about.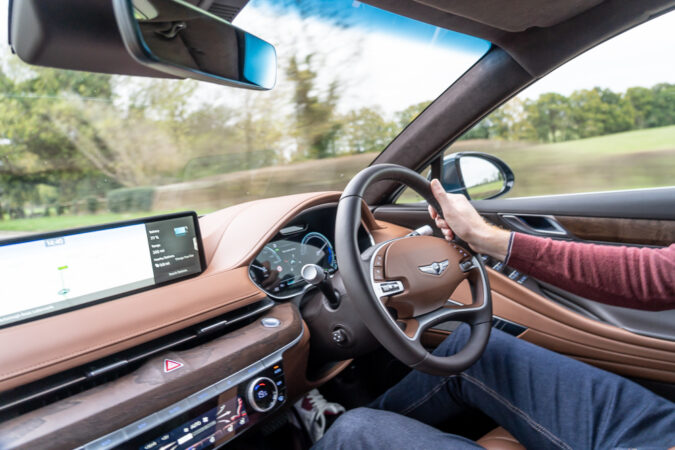 All that electricity then passes through not one, but two beefy electric motors… One in the front, and one in the rear, thus giving the Genesis G80 all-wheel drive. Combined, it has a respectable output of 364bhp and another 350Nm of torque for each of the two motors. Thanks to this high-revving set of motors, the G80 handily rockets itself from 0 to 62mph in 4.9 seconds, topping out at 139mph.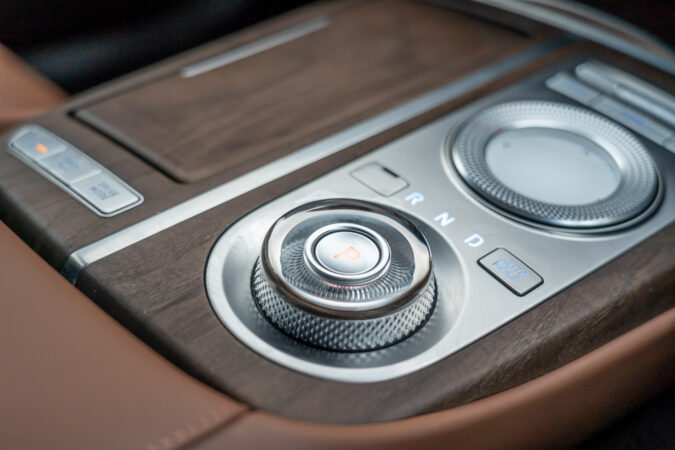 When you're on the road though, you'll most likely feel that added weight right away. After all, that large battery pack tacked on another 500kg onto an already sizeable land-yacht. In total, this G80 weighs over 2.3 tonnes! From a sporty point of view, you'll notice more body roll when coming into a corner at speed. As well as, a slightly less agile feel as you're pouncing along from one bend to the next.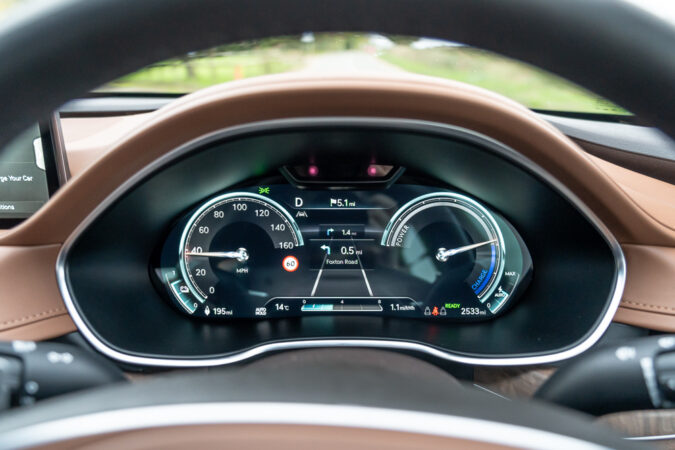 Having a set of Michelin Pilot Sport 4 tyres does at least help a bit with cornering speed. Naturally, this isn't the point of a mega-saloon like the G80. Instead, it's all about comfort, and the Genesis G80 performs wonders in this regard. The extra mass helps to keep the G80 more even and poised when the suspension and chassis are tasked with effectively absorbing bumps, undulations and potholes.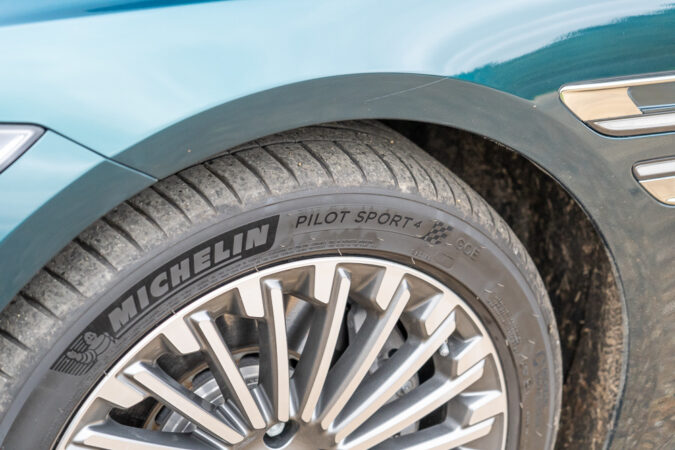 Being an electric car, that cosy and serene character is further improved by the absolute lack of any engine noise or vibrations. With that being said, the G80 can synthesize fake engine notes through its speakers. This can be fun to play about with, if you're into that sort of thing. Still, if and when you need to haul around to your business lunches speedily, there's a shocking amount of power and speed in a straight line.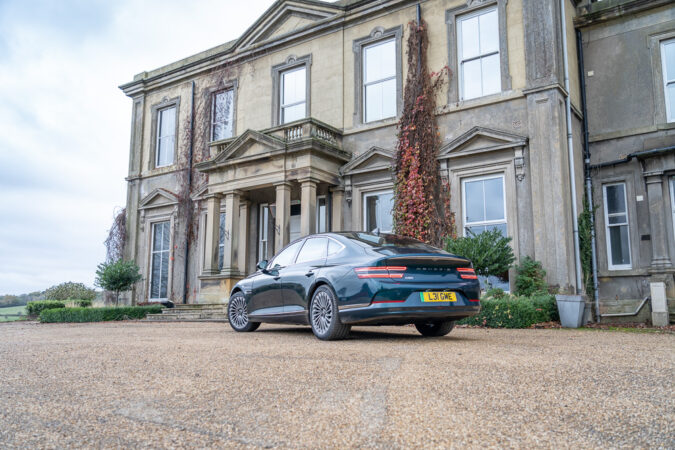 Its instantaneous electric torque kicking in from two beefed-up electric motors ensures that acceleration can be done blindingly quickly. And, you could more ably sustain that momentum. Beyond that, it's good to know that the brakes stop you well, too. Should you need to make quick adjustments to the regenerative brakes, you can do that by fiddling about with the steering wheel-mounted paddle shifters.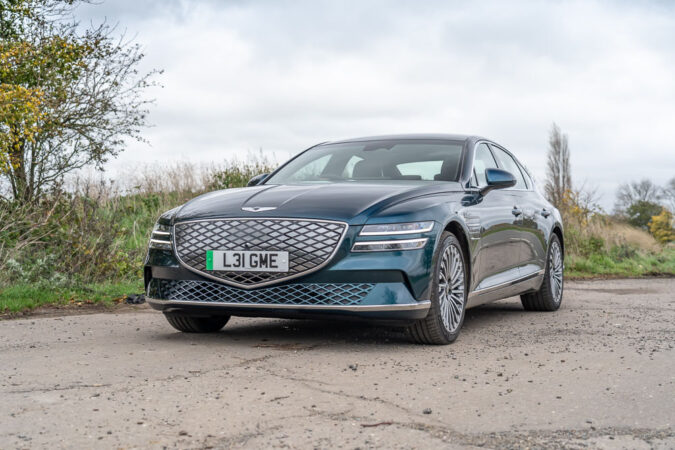 What Is It Like Inside?
The Genesis G80 is the type of car where the rear seats are very important. Thus, it's vital that its rear seat experience is just as good (if not, better) than the front. It's certainly not lacking in legroom or headroom back there, offering any aspiring executive ample amounts of luxury and comfort. With entertainment, you can even opt to have a pair of rear screens, basically working as tablets.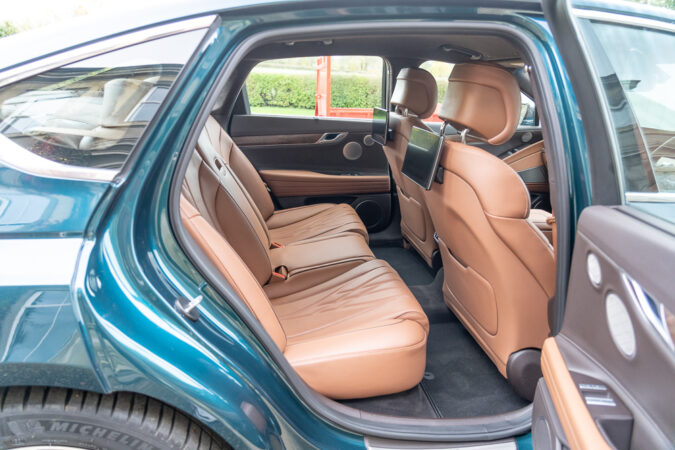 Nonetheless, compared to the ICE G80, it might be a bit tougher to stuff your golf bags and weekend luggage into. This electrified variant features a great big lump in the way of the boot space to fit the battery and rear motor. Hence, robbing you of would-be precious space. Further, all the way in the front, you get to enjoy one of Genesis's finest features – its excellent electronics and technology.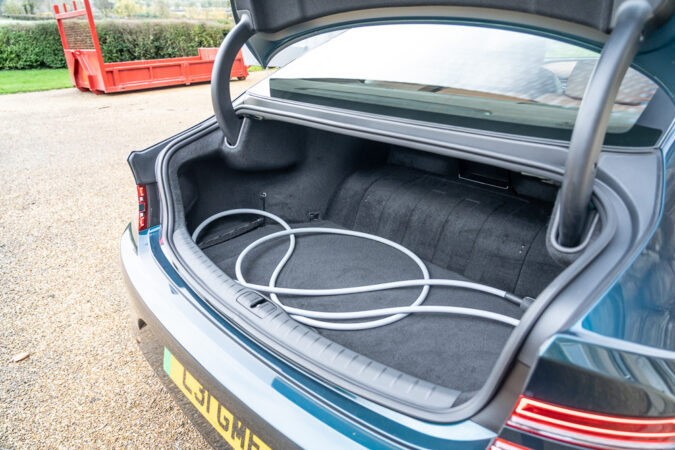 In short, the electrified G80's infotainment system, digital gauge cluster, as well as a suite of driver aids and safety systems are akin to other Genesis models. There's nothing all too different here. As such, it looks, feels, and works as impressively as I've encountered on the G80's siblings. The gadgets are easy to use, intuitive to rely on, and they offer an abundance of functionality and added features.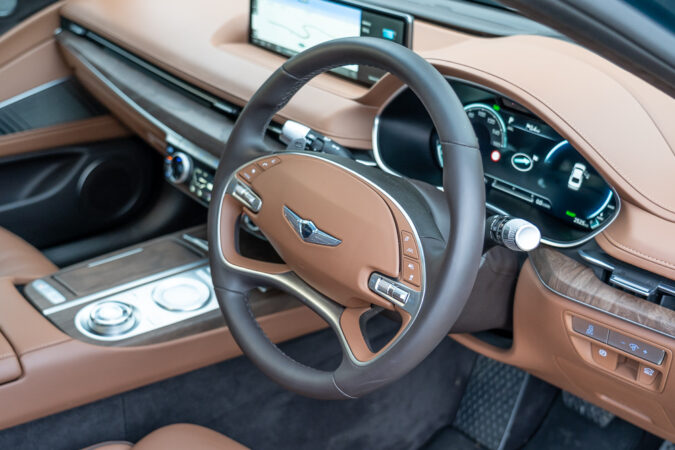 The animations are pretty slick, too – bonus points for the cool 3D, and the holographic-like appearance of its gauge cluster. In stark contrast, the G80 also excels in old-fashioned craftsmanship. The leather here is soft and supple, flanked by solid metal trim, alongside very tactile physical switchgear. If you want more traditional touches, you could even opt to have wood trim, though it's not to my taste.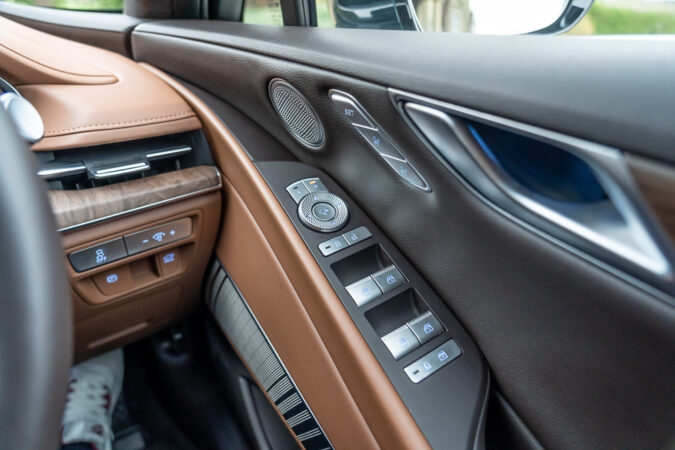 The Experience
Charging the electrified Genesis G80's battery shouldn't take you too long, either. The G80 features a max charging rate of 240kW, which should allow you to readily take advantage of high-speed electric chargers. How fast, you might ask? Well, let's assume that you're charging it from near-empty at 10% to just about full enough at 80%. With a peak of 240kW, this will take you just 21 minutes.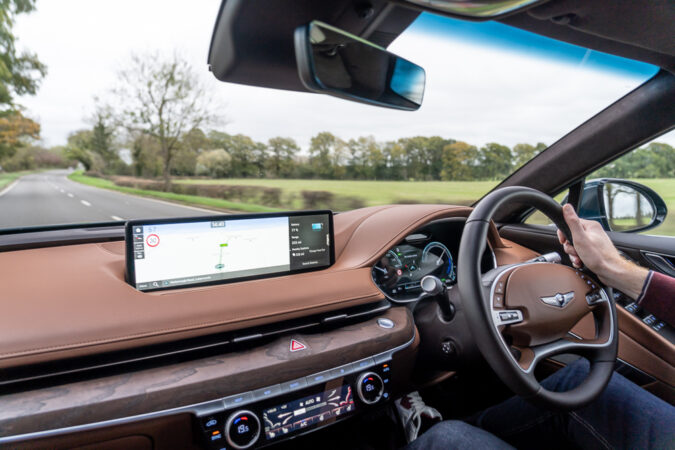 On the other hand, a relatively common 50kW fast charger will still get you up and going again after a mere 67 minutes. Meanwhile, charging it at home overnight using an 11kW wall charger is going to take you around 7.5 hours. This test car even came with a solar roof option. But to be fair I am not sure how much actual range it would realistically add.
So, don't expect to see 100 extra miles or anywhere near that being added purely from the power of the sun. Nevertheless, with adequate sunlight, this should be enough to, for instance, keep all the in-car accessories turned on without draining the battery too much. Or, if you want to keep your G80 parked for a very long idle period, and would rather not get back to it with a dead battery.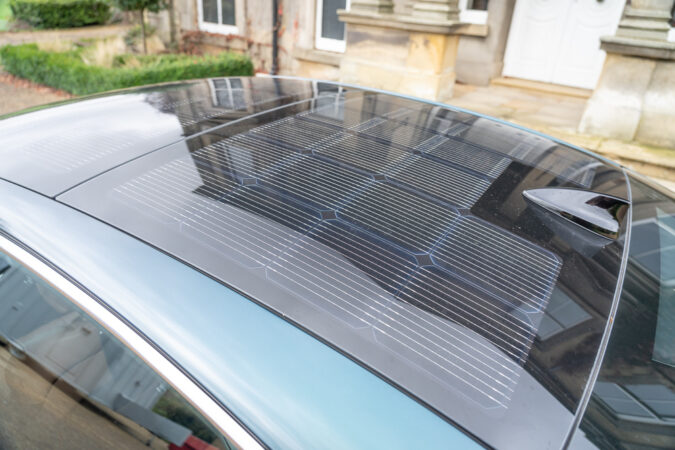 Genesis Electrified G80 Cost
The electrified G80 line-up starts at £65,805. After accounting for optional extras, ours here came in at a pricey £80,215. Some of the techy options are rather costly, though the £1,360 solar roof option isn't as much as I expected. Other than that, this lovely Matira Blue paint is going to set you back another £1,130.
To sweeten the deal, Genesis does have its lengthy 5-year care plan. That includes a 5-year warranty, 5 years' worth of servicing, 5 years' worth of roadside assistance, 5 years of courtesy cars, and another 5 years with OTA and satnav updates. This should help ease the cost of ownership, even by a little bit.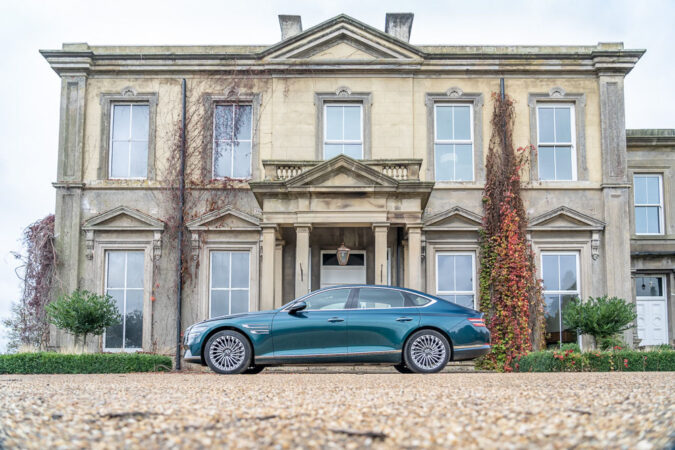 Verdict
Though expensive, the electrified Genesis G80's level of luxury, comfort, straight-line speed, tech, and overall refinement makes it one of the best upscale EVs that money can buy today. It comes with the plus points of its ICE sibling, but amplified more thanks to its electrified powertrain. It's even quieter in addition to being comfier and cosier to waft around in from one business meeting to the next.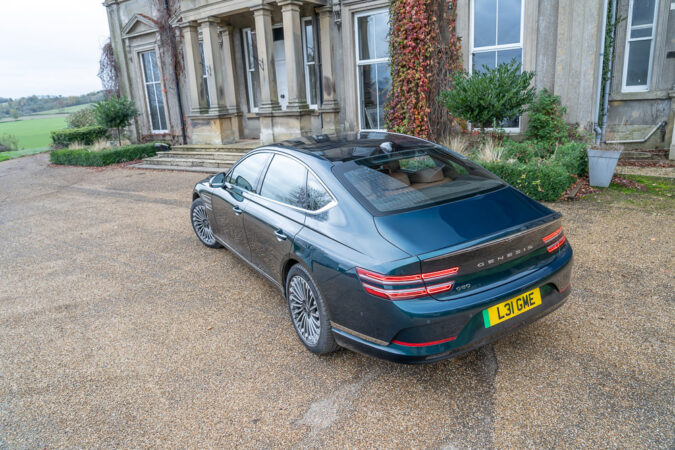 Barring the compromised boot space and heavy mass, you're not sacrificing a lot to switch over from the ICE to the electrified G80. With those silent hums and whispers, everything I loved about the G80 still applies to its EV form. It's a great place to spend time in, wonderfully relaxing to drive, and has an intuitive suite of electronic gadgetry. All in all, the G80 is a mightily impressive luxury EV.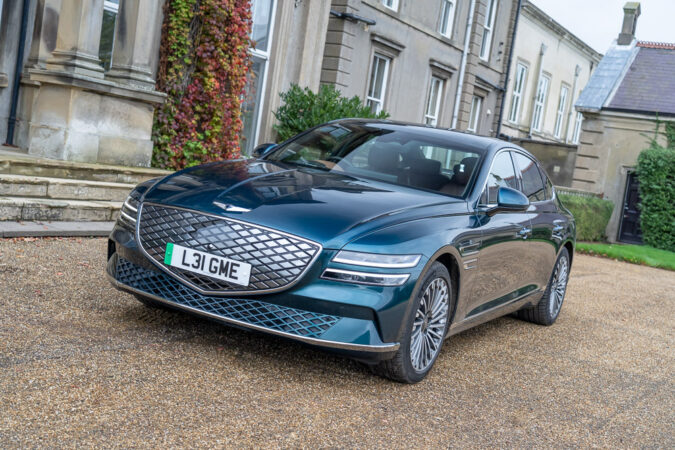 Specification
Genesis Electrified G80 Specs

Price: £65,805
Engine: Dual-motor, AWD
Power: 364bhp
Torque: 350Nm+350Nm
0-62mph: 4.9 seconds
Top speed: 139mph
Weight: 2,325kg
Economy combined: 323 miles (WLTP)