The luxury car market is a cutthroat place to be, and one dominated only by the select few. Primarily, the German trio of BMW, Mercedes, and Audi. So, where does the Genesis G80 come in?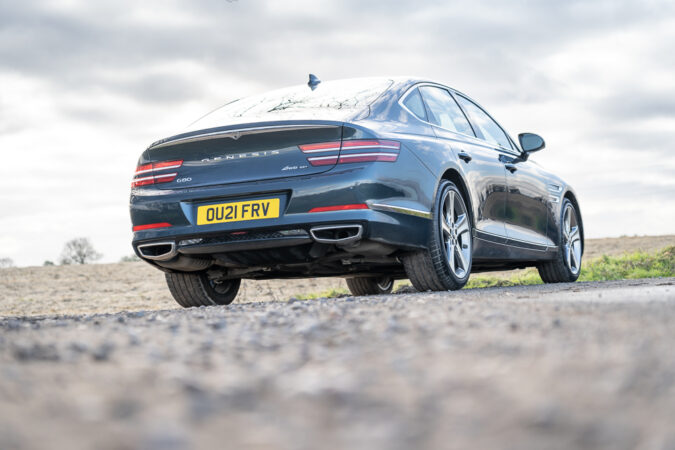 Genesis feels like it has sprung up out of nowhere for most new car buyers. It has been bold enough to challenge the might of the established luxury marques. And so far, it looks like their gambit is working. Genesis has steadily been gaining a lot of attention lately, predominantly from those who've been craving for a left-field option. If that's what you'd want, maybe Genesis' idea of a Mercedes E-Class rival, the G80, might suit your needs?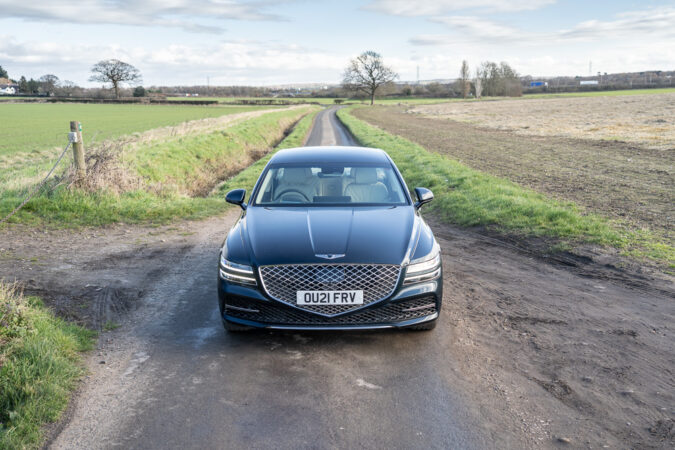 What Is The Genesis G80 Luxury Line About?
The first impression you get from the Genesis G80 is its heft and size. The G80 is the biggest saloon in Genesis' line-up. It's Genesis' equivalent of an E-Class, Audi A7, or a 5-series. Or, perhaps you'd instead see it as a saloon version of the even more monstrous, GV80 uber-SUV. From the looks of it, the G80 certainly has that wow factor of a traditionally large, imposing, and elegant state car.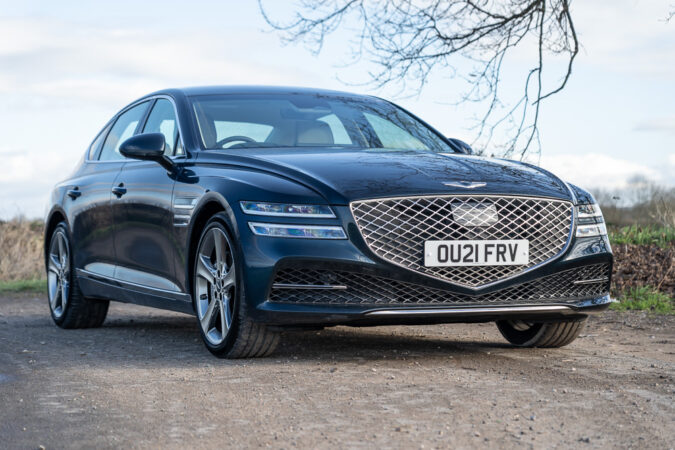 This G80 enables you to appreciate the distinctive and out-of-the-ordinary design. Its best and most unique feature would no doubt be the lighting signature, as we've become familiar with other Genesis models. The split light bars create a seamless and unison line, carving across from the headlights, into the turn signals, and the taillights. Wherever you drive, heads will turn.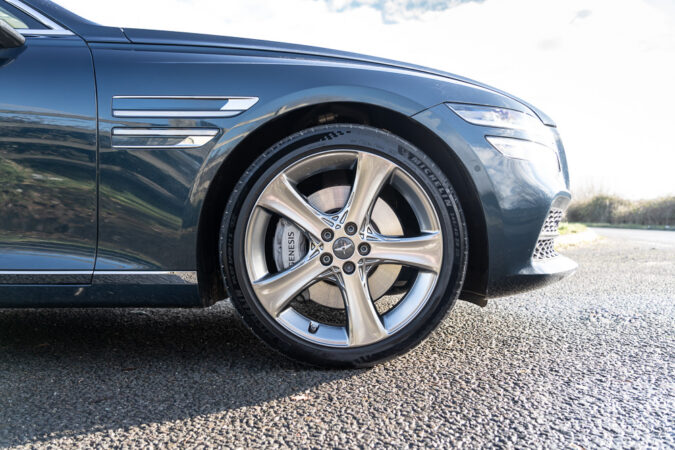 I'm still not sure about that grille though, as it seems far larger than it needs to be. Elsewhere, you have to love the G80's largely minimalistic, classic design. Yet, there's sufficient sharpness and edginess to convey a sporting appearance. Our car here has the Luxury Line trim, there's quite a bit of chrome that I'd personally do without. But hey, at least it complements the rest of the car very well.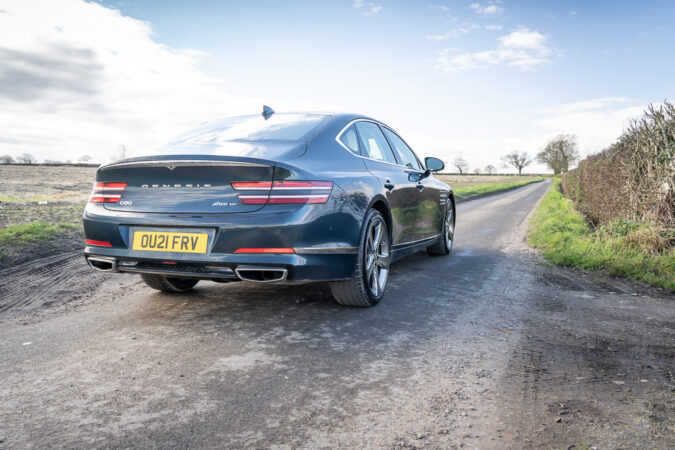 How Does It Drive?
Although, sporting and athletic aren't adjectives that you'd use the describe how the G80 feels on the road. While other big four-doors are trying their best to match a sports-car-like feel, the G80 is your typically old-school luxury saloon. I mean, sure, it has a rather punchy 2.5-litre turbocharged engine, with 304ps and 422Nm of torque at your disposal, and a 0-60mph time of around 6.0 seconds.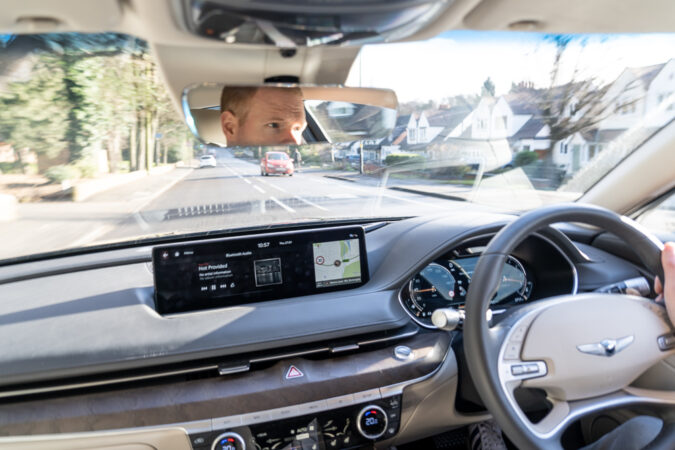 Quite decent figures overall, but nothing to blow your mind away. But where the G80 truly excels is how it wafts down any stretch of road, no matter how badly paved it may be. It's not Rolls Royce or Bentley class, but it is damn good, which is high praise for the new kid on the block. Between the engine and its slick 8-speed automatic gearbox, power delivery is smooth. Yet, progressive, given its size.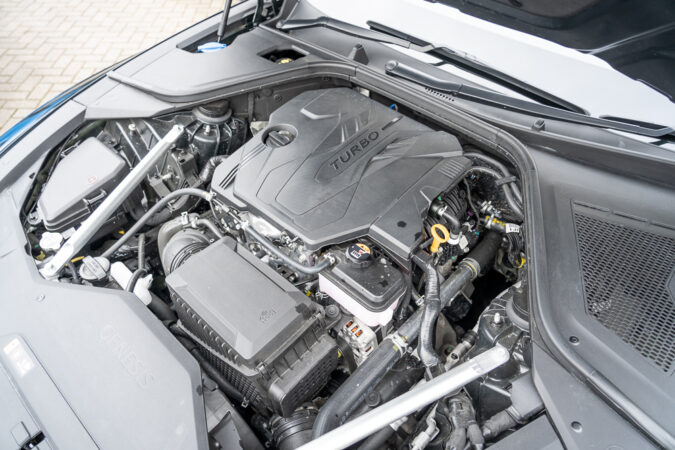 Genesis' engineers must have deployed some wizardry when it came time to fine-tune the engine, as well as programme the throttle mapping. Performance, even at its best, is genteel. There's no form of twitchiness or a high strung nature at the limit. Also quite shocking is just how Genesis has tweaked the G80's suspension and chassis. Most of the time, it's soft, compliant, and comfortable.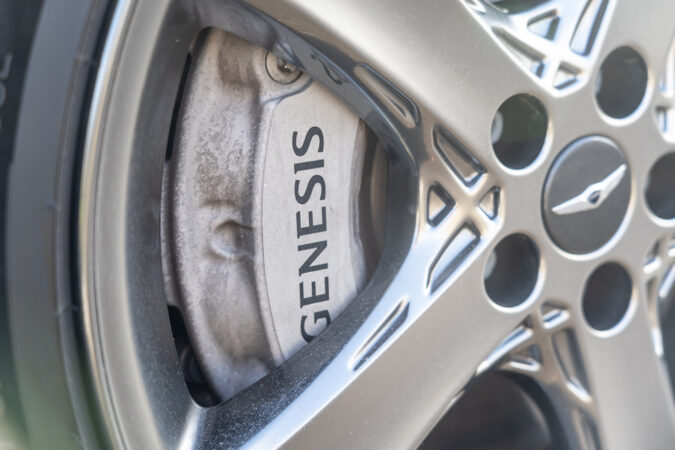 Nevertheless, it could still be agile around the corners, making it easy to place the G80 in the bends. Yet, without an overtly concerning amount of lean or body roll. Additionally, the G80 has four- (or more accurately, all-) wheel drive. So, it's certainly an all-season car, with no trouble putting traction down, even on frosty and greasy tarmac. The grip is further aided by a set of Michelin Pilot Sport 4S tyres.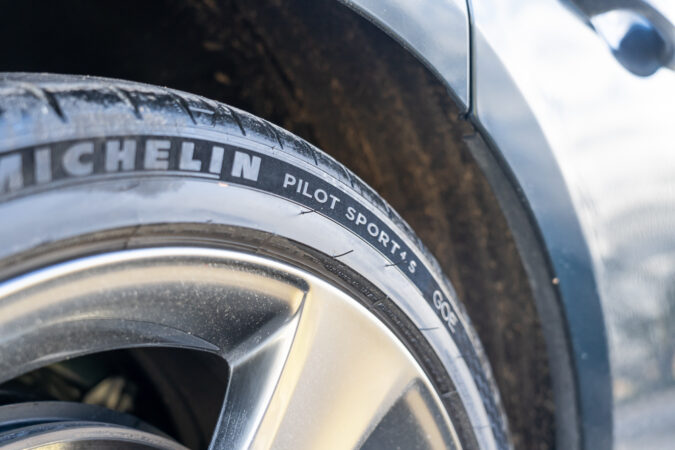 What Is It Like Inside?
The G80's luxuriousness continues to awe you once you step inside. There's a plethora of fine leather, wood grain, and cold metal. All trimmed beautifully around the cabin to give you a lounge-like feel. I dare say that Genesis has, in some ways, even outclassed its pricier German peers. The way its switches and buttons feel in the hand, interestingly, is both tactile and satisfying to operate.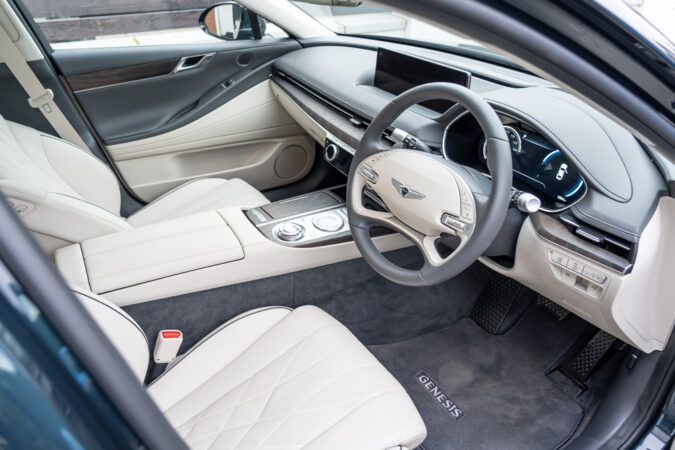 The seats too, are incredibly soft and cushiony, sinking you into its bolsters. The one quirk that you'll eventually have to get used to with the G80, is the steering wheel. It has a slightly oblong shape to it, which may catch you off-guard. On a chilly day though, you'll be thankful for the heated seats and steering wheel in the G80. It's simply a fantastic place to spend time in.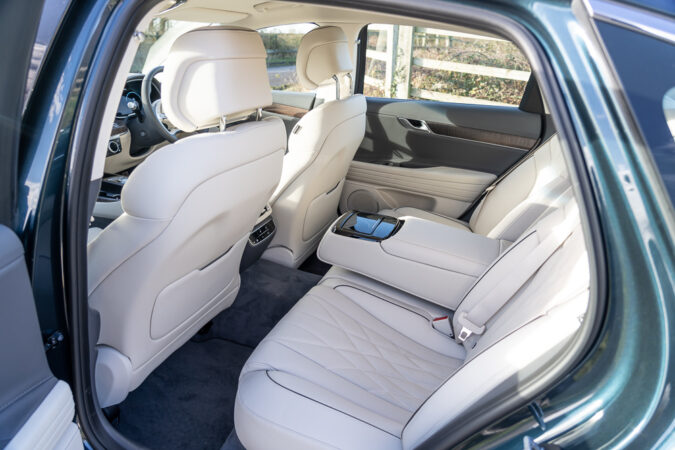 Being a limo, you'll of course be greeted with spacious legroom in the rear. Even with the front seats pushed all the way back, you'll still get ample room for your feet and knees to get comfy. If you don't need to sit 3 in the back, the centre armrest can be folded down to separate the rear passengers. A bit further back, you'll also find a roomy boot for a weekend getaway, or a set of golf clubs.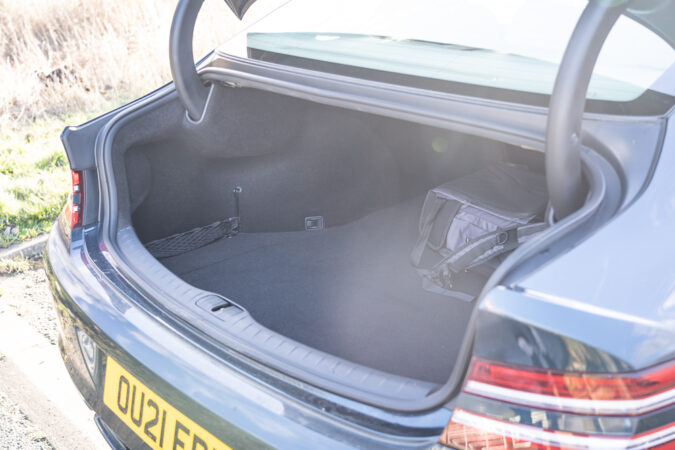 The Experience
Another strong point of the G80 (and any other Genesis, in fact), is the electronics. The infotainment system isn't just easy to use, but it's feature-packed and is slick to navigate. It's definitely among the better ones out there. Meanwhile, you're then cocooned with an abundance of gadgetry around the G80. Staring up ahead, there's a heads-up display, which is one of the best on the market at the moment.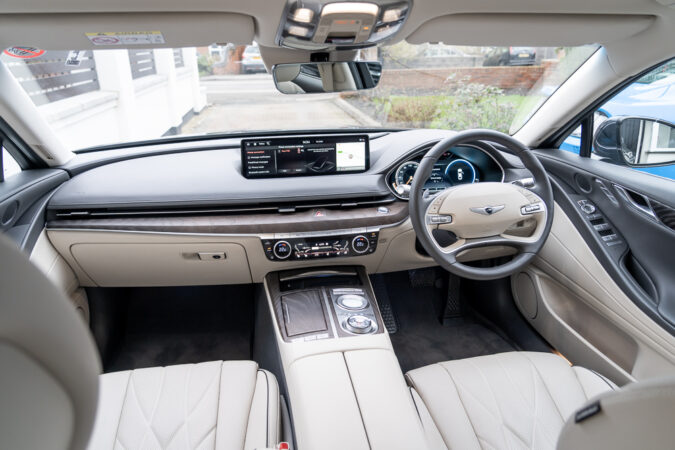 Then, there's a digital instrument cluster, which has its own neat little tricks. It's crisp and sharp and features some 3D graphics that could actually shift where the gauges are pointing at, based on where your eyesight is. Additionally, you can't speak of Genesis without mentioning its driver aids and safety systems.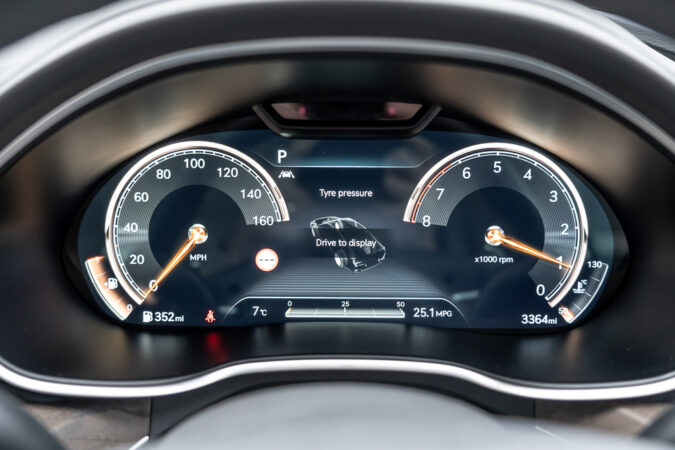 There's a plethora of them. Starting with, the 360-degree parking cameras, they are ultra-sharp, making it much easier to park and manoeuvre what is otherwise a large car. The fact that the infotainment is a widescreen also helps with projecting more at once. You'd have room for a front-view camera, top-view camera, while also keeping your satnav online, all at the same time!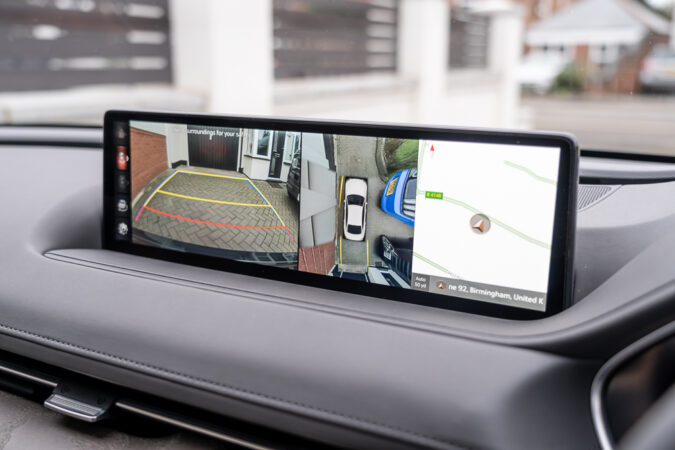 Moreover, you get a bountiful quantity of tech to keep you safe. There's adaptive cruise control, which works quite well. Combine that with lane-keeping assist, as well as lane-following assist, and the G80 could sufficiently take up some of the effort needed for a long drive. This is then paired with blind-spot monitoring, rear cross-traffic collision alert, automated emergency braking, and more.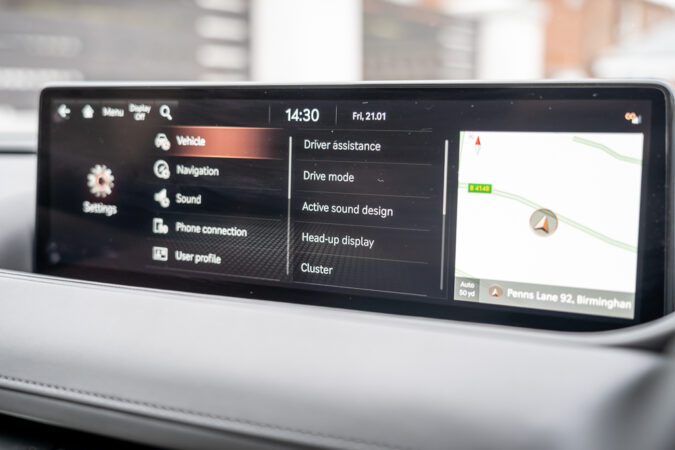 Genesis G80 Luxury Line Cost
The Genesis G80 range starts at £37,460. For that price, you're getting a 2.0-litre diesel engine. Step it up a bit to get the 2.5 turbocharged petrol engine, and the Premium Line will set you back £43,150. The range-topper, as is the case with ours, costs you at least £47,950. With options, it rises further to £54,280, as you see it with our car here, including the Innovation and Comfort packs.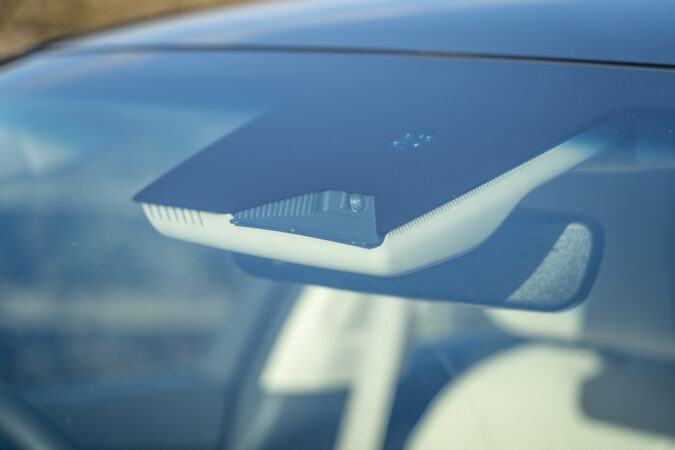 As a whole, it's a pretty attractive proposition, even at the higher end of the price range. The default specification already includes most of what you need, while the options aren't catastrophically costly. The aforementioned Innovation Pack is a £3,900 optional extra. With that, it mostly comes with the techy bits and bobs that we harped on about. In particular, the 12.3-inch digital dashboard.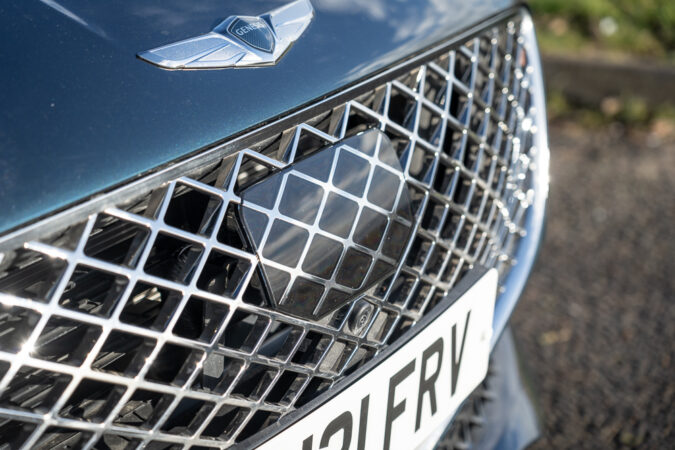 Plus, it includes the heads-up display, parking collision avoidance alerts, highway driving assist, and many other pretty neat inclusions. That's a worthwhile price for what you're getting in return. Then, we have the Comfort Pack, for £1,680. This mainly revolves around the seating. It provides additional seating adjustments, memory controls, and the ability to adjust your bolstering and cushioning.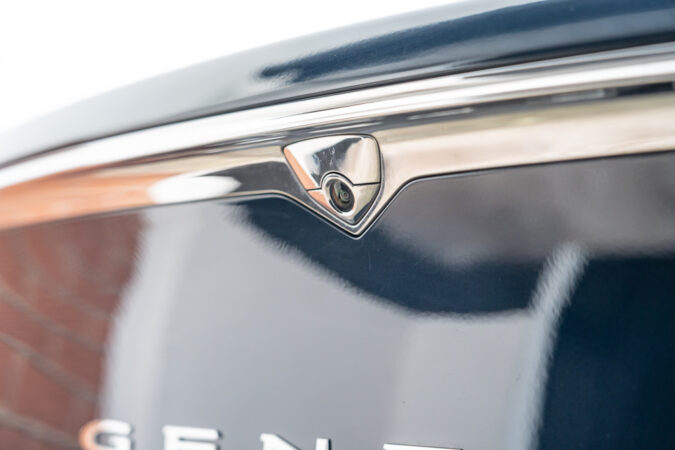 The audio system, as standard, is fairly good, with a good amount of bass and clarity. But if you want more, Genesis offers a Lexicon surround sound system. We've sampled this in other Genesis models before, and for £790, it's a great pick. Let's not forget, it's worth mentioning that the G80 comes with Genesis' 5-year care plan. So, that covers warranty, roadside assistance, and software updates.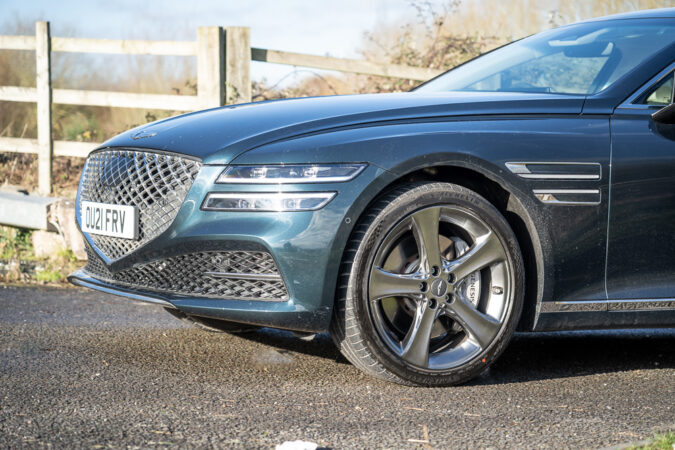 Verdict
The experience of the G80 is a step forward in time, I feel. It's a remembrance of what a proper luxury saloon is all about. Its competitors are typically busy extracting sportiness out of heavy limos which don't really fit the ideal criteria of dynamism in the first place. All the while, Genesis crafted its G80 as a classy, elongated, opulent, perhaps chauffeur-driven limousine. It's all about comfort.
The G80 wafts down the road like a magic carpet, yet still doesn't lack some speed when you need to get to a business meeting right away. As it's storming through traffic, you can relax and chill within a cabin that's more akin to a 5-star hotel than a car. And just in case you're a bit clumsy or impatient, a vast array of sensors, radars, cameras, and electronics keep you safe, no matter where you are.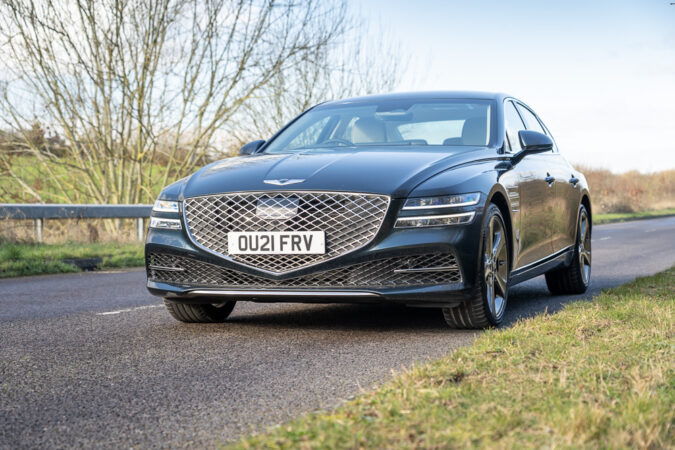 It's the epitome of what a luxo-barge should be, providing refinement and elegance in excess. It can readily outmatch much of its German and Japanese competition, even as it often undercuts them. The G80 is one of the most compelling luxury, four-door saloons on the market today.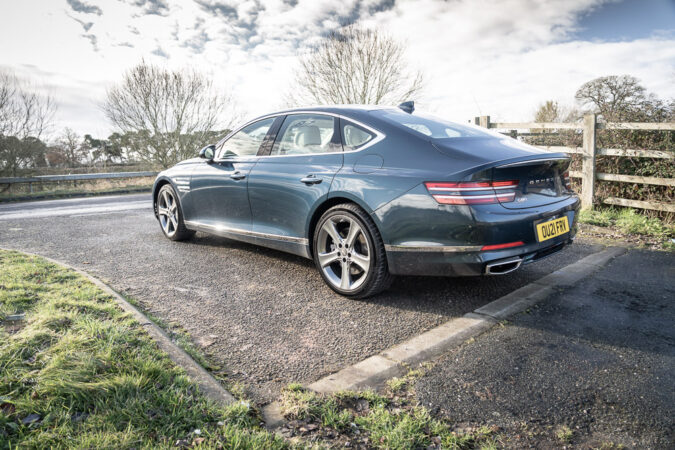 Specification
Genesis G80 Luxury Line Specs

Price From: £47,950
Engine: 2.5-litre Turbocharged Inline-4
Power: 300bhp
Torque: 422Nm
Transmission: 8-speed Automatic
0-62mph: 6.0-seconds
Top speed: 155mph
Weight: 1,930kg
Economy combined: 30.5-31.2mpg
CO2: 210-205g/km
Author: Paul Hadley