Although Honda's CR-V may not have created the SUV segment that we know and love today, it's had a profound effect on the genre. 20+ years now, since the first CR-V came about, and these days, it's still a big hitter… It's supremely practical, utilitarian-focused, comfy to spend time in, easy to drive, and does everything you need a runabout to do. The latest CR-V Hybrid is no exception.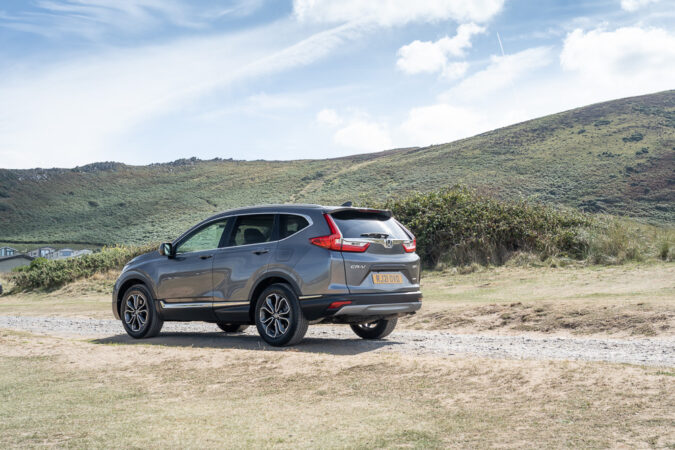 If anything, the inclusion of a hybrid only elevates its strengths as the perfect daily-driver SUV. This is especially the case with Honda's eHEV hybrid system, supplementing the CR-V with more power. And, maximising your MPGs while also reducing CO2 emissions. On top of that, you could even drive it like an EV (more or less), too! So, just what makes this latest CR-V Hybrid, so special, anyway?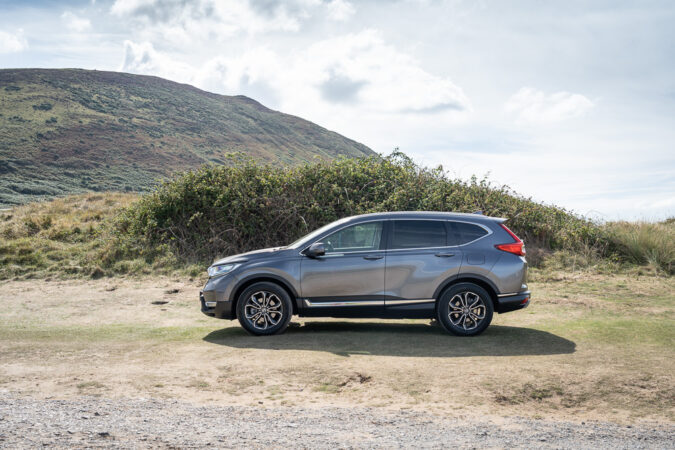 What Is The Honda CR-V AWD Hybrid EX About?
I think most of you should be familiar with the CR-V by now. In particular, this CR-V, which has been in Honda's line-up for some years. The 2022 model year CR-V's aren't any different, either. Although, this design language is set to be revised and renewed heavily for the following, 2023 model year. In fact, if you've perused the news these past couple of months, you might already know what it could look like.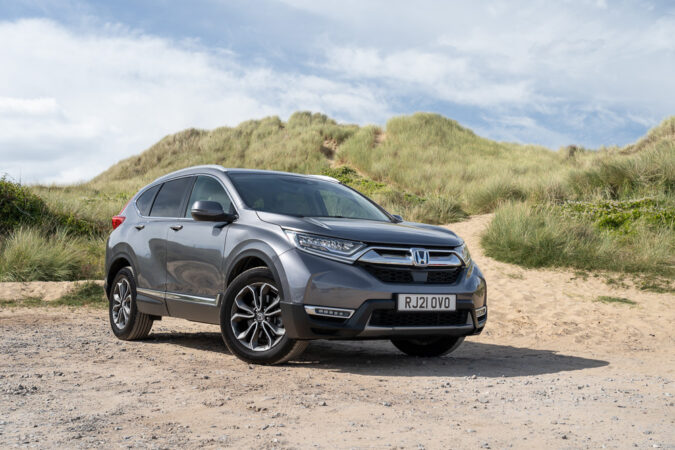 For now, though, this current Honda CR-V is still a pretty handsome car, with its boxy, muscular, and purposeful appearance. Whereas the upcoming CR-V has a bold, sporting, and aggressive stance, this ageing CR-V has a friendlier and more welcoming vibe. Though the EX trim, which is what you see here, is the highest available trim, you still get plastic cladding on the externals of the CR-V, and that's for good reason.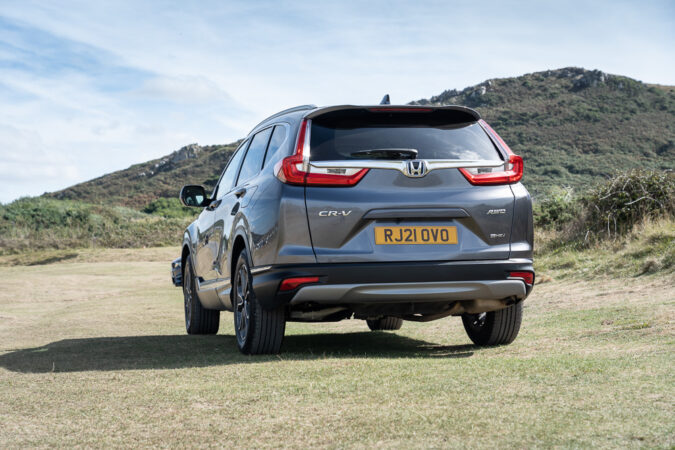 How Does It Drive?
Speaking of, there's the hardier side to the CR-V its off-roading capabilities. To be clear, Honda's previous CR-V's were never hardcore off-roaders, by any means. The same goes for this CR-V, despite its inclusion of all-wheel drive. Still, it should more than easily traverse simpler off-the-beaten path terrains in and around the UK.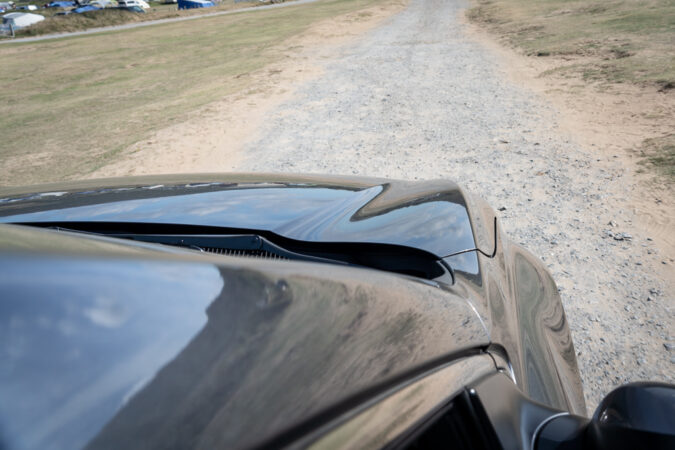 While it can't hop like a mountain goat, the CR-V is the ideal part-time off-roader. It has a higher ride height, chunky tyres, hard rubber arches, not to mention toughened underbody protection, as well as hardy suspension. It has a decent approach angle, though not extreme enough to trek across overtly challenging terrain. Speaking along a similar tune, that AWD is only good for mild off-roading.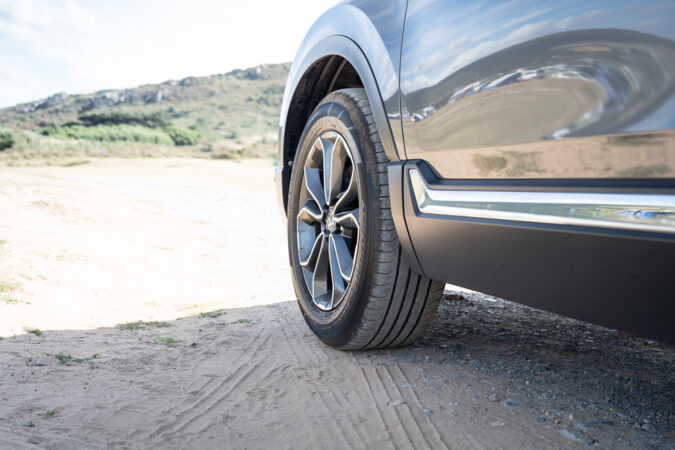 Mainly, it's only there to give you some peace of mind if the weather turns bad, if the going gets a bit too tough, or if you need to drive all through the winter. With that in mind, there's the elephant in the room that we've yet to discuss – Honda's eHEV hybrid system. This is one of the key selling points for this updated CR-V, after all. So, does it make driving a CR-V any more profound or different?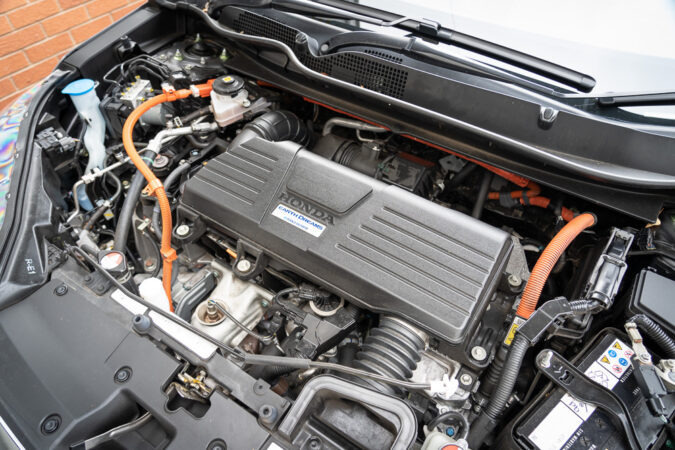 For a spot of context, Honda's eHEV isn't a plug-in hybrid. In actuality, it's a self-charging hybrid. So, you can't plug it in and charge it. But if you need to, there's a small battery pack in there that could let you drive it as an EV for a couple of miles. The capacity isn't going to last you long, so you've got to be sparing with its use. For example, you might want to pull away from your driveway quietly.
Or if you want to drive silently and emissions-free a few miles down in a built-up area. Besides that, I think this eHEV system works best when you leave it to sort things out automatically. When you do this, it basically works like a sidekick to the familiar 2.0-litre petrol engine. When you're overtaking, it can provide a momentary boost of power to the engine to provide additional torque for example.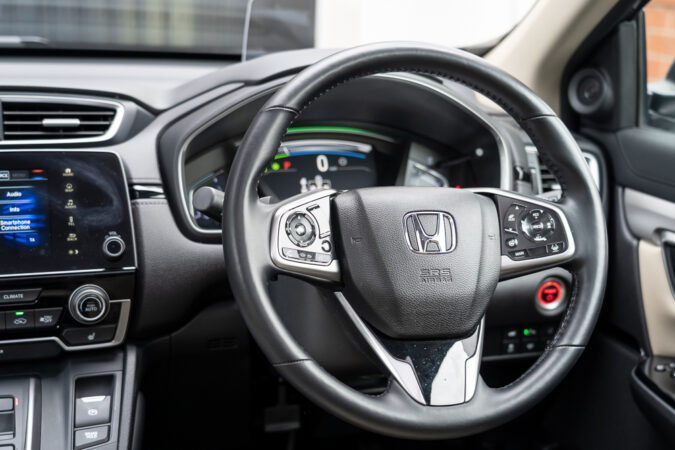 Additionally, it would work alongside the engine to reduce CO2 emissions and maximise your MPGs. When you're just driving normally, the engine also functions as a generator to top up the battery. It then interfaces with Honda's similarly ground-breaking e-CVT. The way in which it bridges the engine and electric motor is rather clever.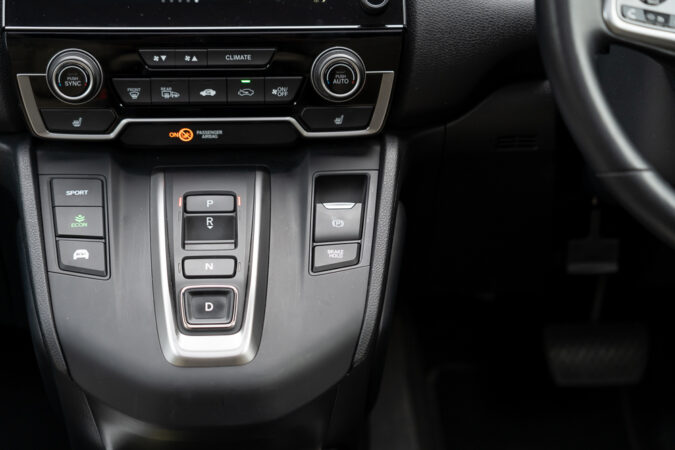 When needed, the e-CVT would link up the motors to drive the wheels directly, allowing you to more efficiently and effectively use that hybrid powertrain. Having both the ICE and hybrid system work in tandem brings numerous benefits to the driving experience. The eHEV, for instance, is smart enough to seamlessly swap around between the engine and motors when it feels most suitable.
This transition is never jarring, and in my testing, I've found it hard to tell otherwise. While you're on the motorway and require more power, the engine takes precedence. For regular driving, like in stop-and-go traffic or low-speed cruising, the electric motor takes most of the load. Every single CR-V has always been well-regarded as an easy-going, comfortable, and confidence-inspiring car to drive.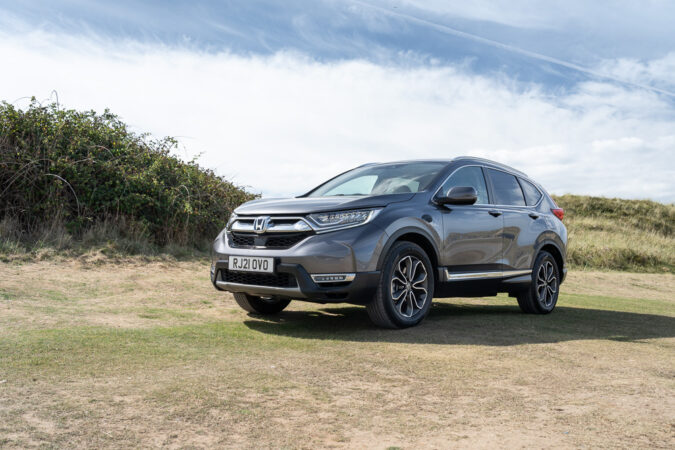 With the addition of both a hybrid powertrain and all-wheel drive, this CR-V is more so compared to its predecessors. It's quiet, refined, and cosy to commute those long hours in. In addition, and as big as it may appear from the outside, I always get the impression that the CR-V is several sizes smaller when you're behind the wheel. As such, it doesn't feel cumbersome to manoeuvre around town.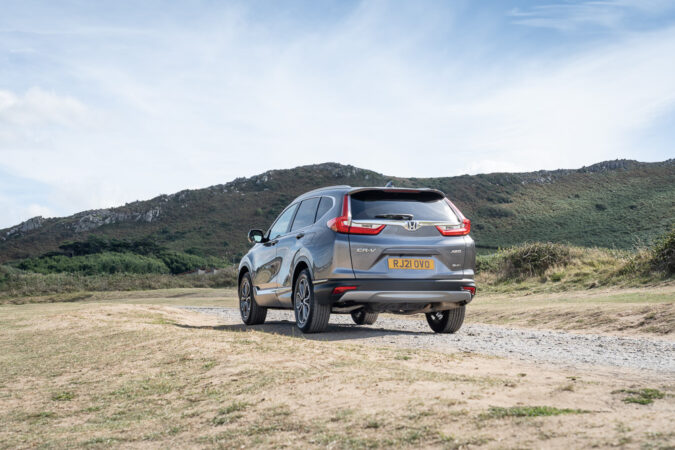 The rest of the CR-V is very well set up, too. It rides really well with the fine-tuning that Honda's done to the suspension. And, it's even comfier with these Dunlop tyres. You'll no doubt appreciate the high driving position as well, providing you with a commanding view of the road ahead. There's really not a single peculiar quirk or downside that stood out while driving the CR-V… It's just that good.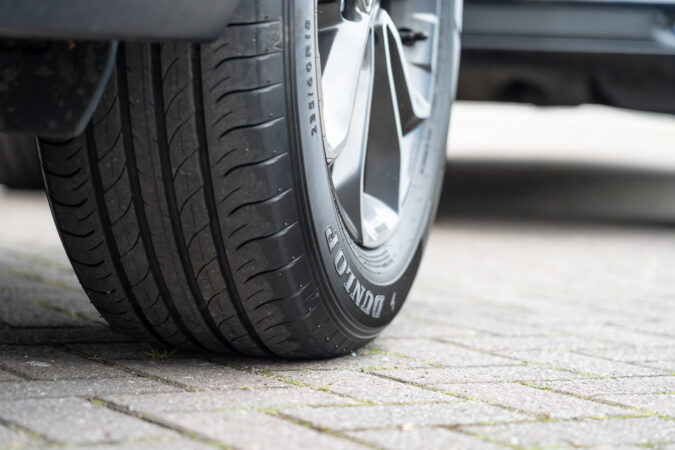 What Is It Like Inside?
Besides being easy to drive and live with, the CR-V is also known for maximal utilitarianism. Whether you're looking to get this as a family car or want a 'go places and do everything' sort of vehicle, it's the perfect companion. Inside, there's loads of interior space for both front and rear passengers. Looking in the back, the cargo space is equally as cavernous; perfect for a weekend trip or grocery shopping.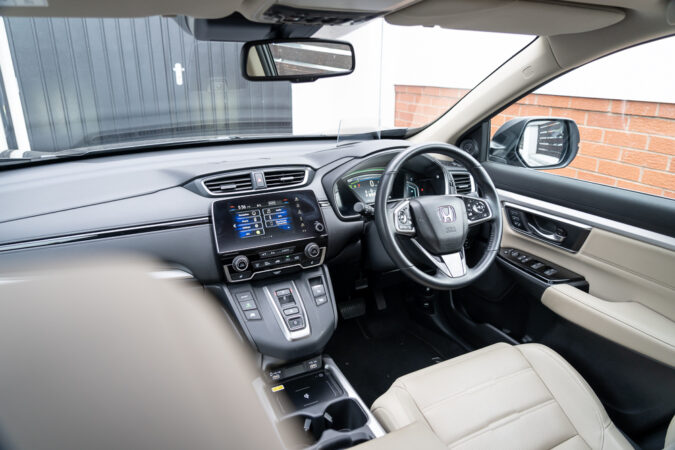 While this isn't something we'd normally notice or mention, it's the little details that round up what owning a CR-V is like. The doors open wide, making it easy to egress and ingress. Similarly, the cargo space is effortless to load stuff in, with a vast and obstruction-free opening. This further reinforces a common stereotype that the CR-V is a worry-free and headache-free car to live with day-to-day.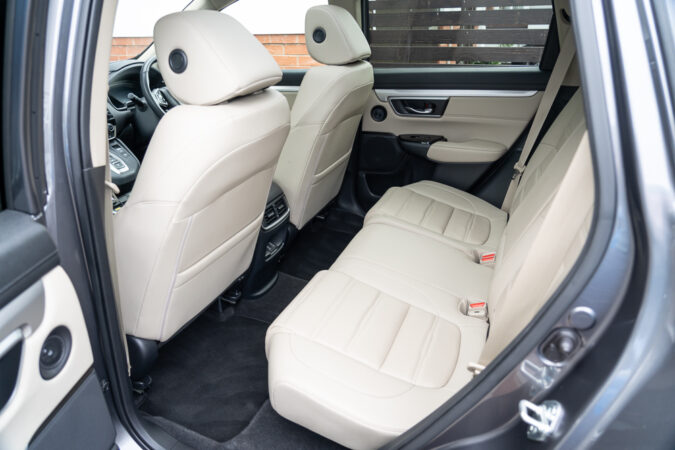 The seats are incredibly comfortable and plush, too! Then, you're greeted with the usual plethora of screens. It's your typical Honda infotainment system, which has remained mostly unchanged over a generation now. The key upside here lies in the fact that it's fairly simple, easy to understand, and works great as a general multimedia interface. I could say the same thing about the digital gauges.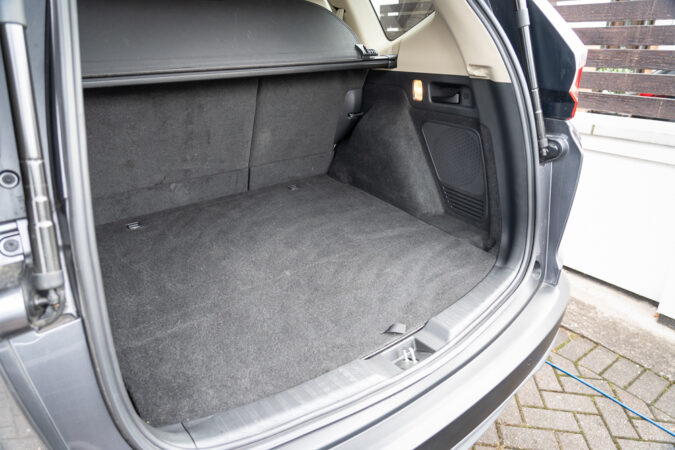 There's a central screen for most of your readouts, flanked by a couple of smaller auxiliary screens. Honda's most-recent multimedia systems and tech are significantly up-to-date with a modern UI and contemporary features.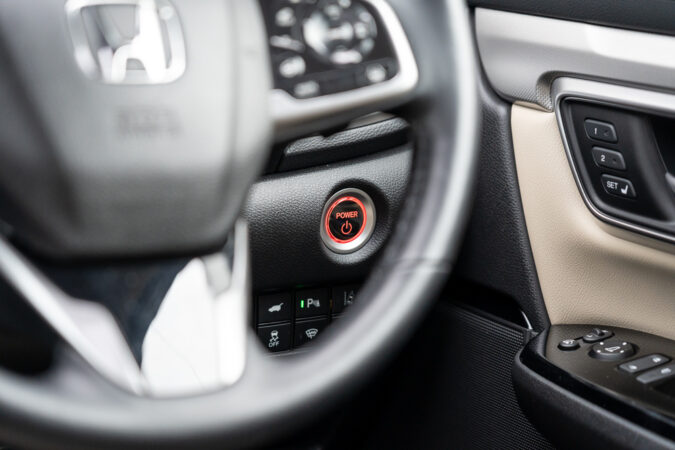 But as far as functionality is concerned, there's nothing wrong with this. If you're looking for a quick upgrade, you could always plug in your phone and get full Apple CarPlay or Android Auto functionality. To supplement this interior, they also included a heads-up display, a wireless phone charging pad, and a panoramic glass roof.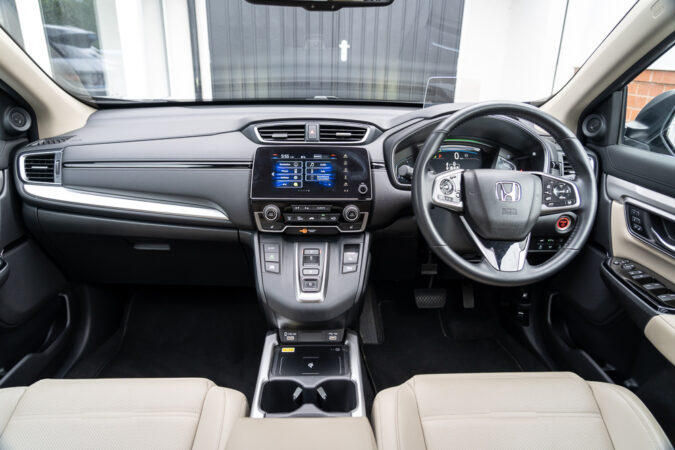 The Experience
As with all other CR-V trims, the EX trim that you see here gets the full suite of Honda Sensing active driver aids and safety systems. This includes blind spot monitoring, cross-traffic monitoring, collision mitigation systems, automated emergency braking, lane-departure warning, lane-keep assist, traffic sign recognition, and much more. All in favour of keeping you safe and protected on the road.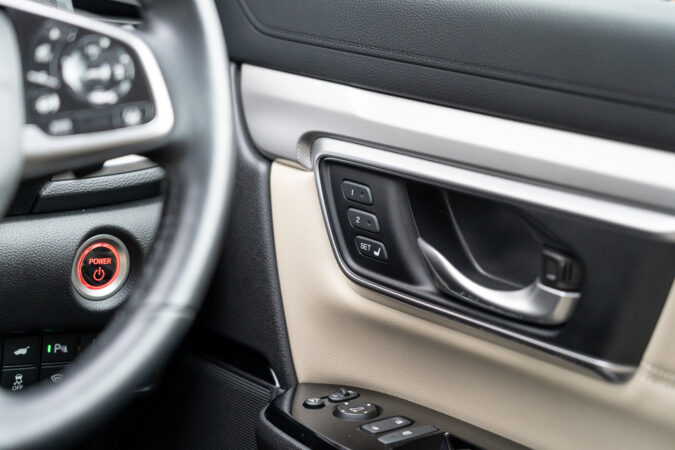 While we're here, it's worth getting into some of the perks you get by opting for the top-end EX trim. For starters, you get a heated steering wheel and heated rear seats, as well as that aforementioned panoramic glass roof. You'll also be able to use a power-operated tailgate, 8-way adjustable driver's seats, a heads-up display, and a wireless charging pad. It's certainly worth the upgrade.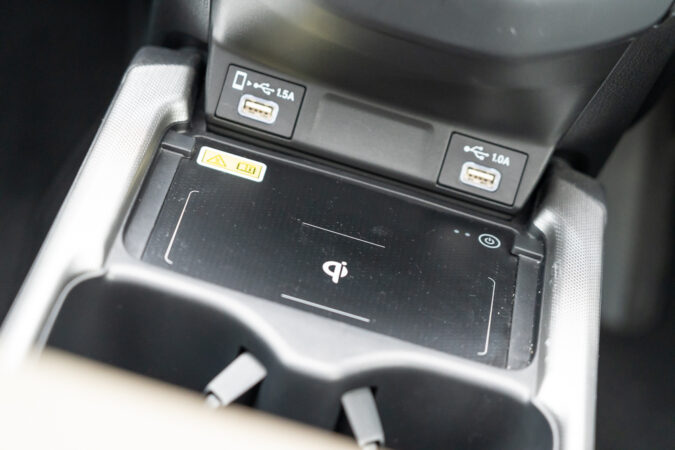 Honda CR-V AWD Hybrid EX Cost
With that in mind, how much does all this cost? Well, the base-level CR-V starts at £32,815. With this, you're getting the S trim, which frankly has most of what you'll ever need. Granted, it only comes with 2WD, so make of that what you will. From there, you can move up to the SE, Sport Line, SR, and EX. With a Honda CR-V with the EX trim, AWD (no 2WD options), and eHEV, you're paying at least £41,155.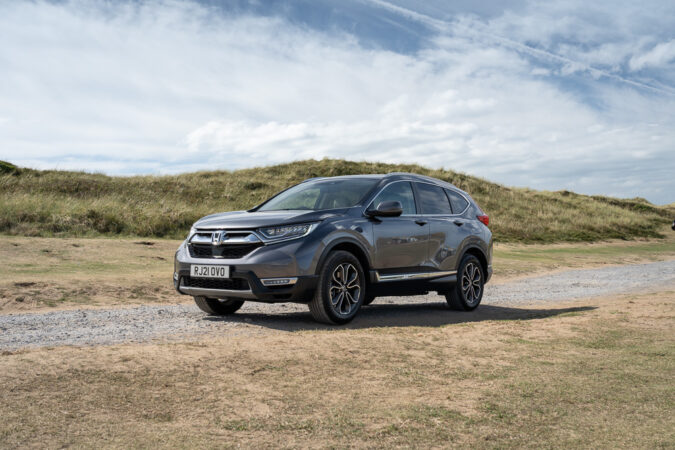 While that's a pretty decent chunk of change, I think it's still great value for the money, seeing what you're getting in return. The EX features a perfect blend of luxury and practicality that you can't easily find elsewhere. Being a Honda, you also needn't have to worry too much about the CR-V's longevity or durability. But hey, at least those hybrid-bound fuel savings should help to soften the blow.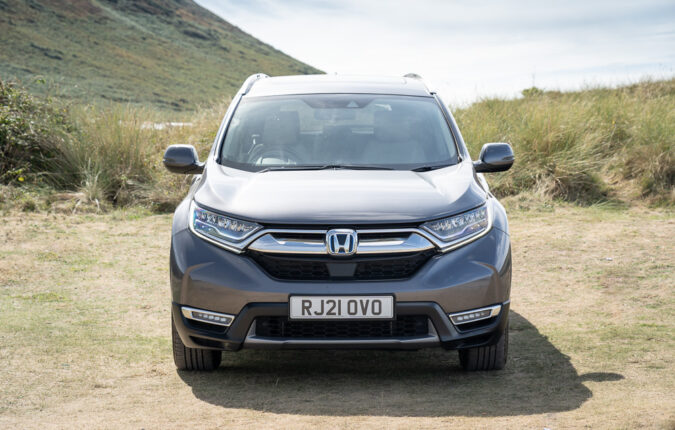 Verdict
This updated CR-V Hybrid is a continuation of the old CR-V legacy… Comfortable, easy to live with, a breeze to drive, practical, and does everything you need a car to do.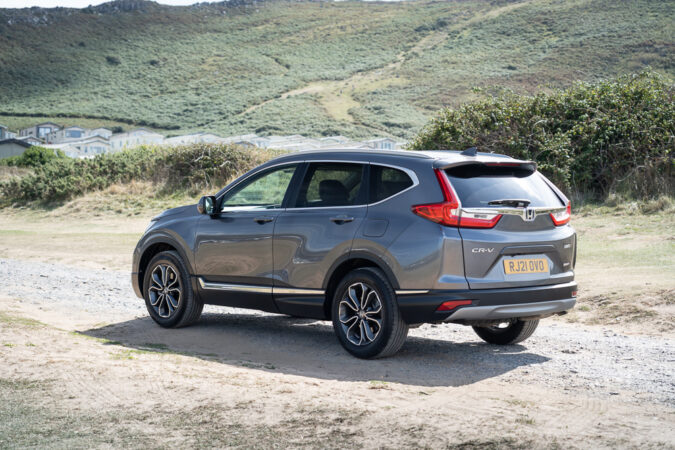 The CR-V is just perfect. It's a continued reminder of why the CR-V has maintained such a dominant lead in the SUV market, and why most folks looking to get an SUV simply default to the CR-V. No questions asked. While some of its rivals may be able to offer an alternative style or new bits of tech, Honda's repeated refinement of the CR-V is second to none.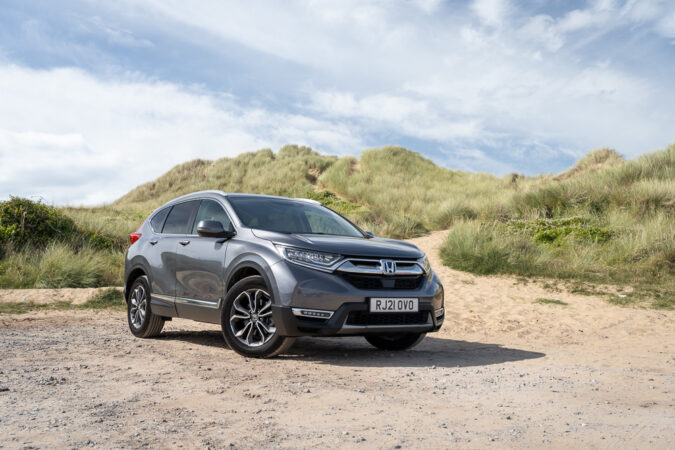 Specification
Honda CR-V AWD Hybrid EX Specs

Price: £41,155
Engine: 2.0-litre eHEV hybrid
Power: 145PS
Torque: 175Nm
Transmission: Single-speed e-CVT
0-62mph: 9.2 seconds
Top speed: 112mph
Weight: 1,797kg
Economy combined: 39.2mpg
CO2: 163g/km