The Range Rover has long been heralded as the king of SUVs. It simply does it all and is equally capable of holding its own against 4×4 off-roaders. Few else on the market today could rival the supreme majesty and immense capability of the Range Rover. Yet, can this new and redesigned Range Rover uphold the legacy of its predecessors?
On first impressions, I certainly get that feeling. In some ways, it's more evolution than revolution. That's not surprising given that the last-gen Range Rover did so many things right already, it would be tough to make improvements upon a mighty-high benchmark. But, looking aside their similarities, there are good reasons why this new Range Rover (especially in its Autobiography trim) could be the best one yet.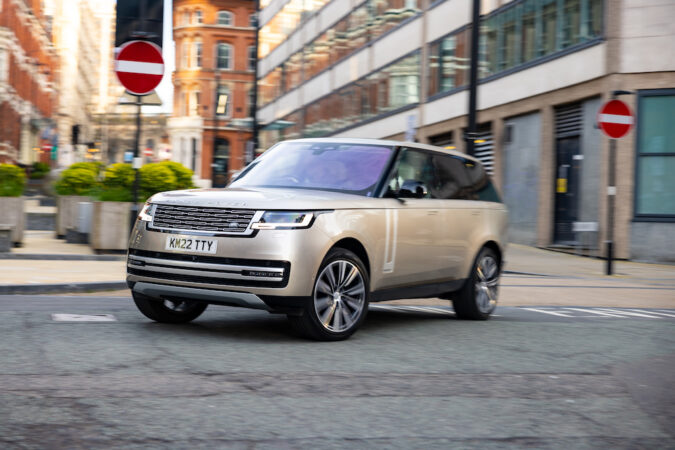 What Is The Range Rover Autobiography About?
Design-wise, it's a very handsome car. Though, it still carries over some of the familiar Range Rover ethos and design traits that old-school fans might recognise. Yet, bringing it up to date to become a much more modern vehicle, through and through. It's the little details that stand out to give it a sharp sci-fi look, such as the cool lighting signature, blacked-out trim, flush door handles, and the near-continuous glasshouse.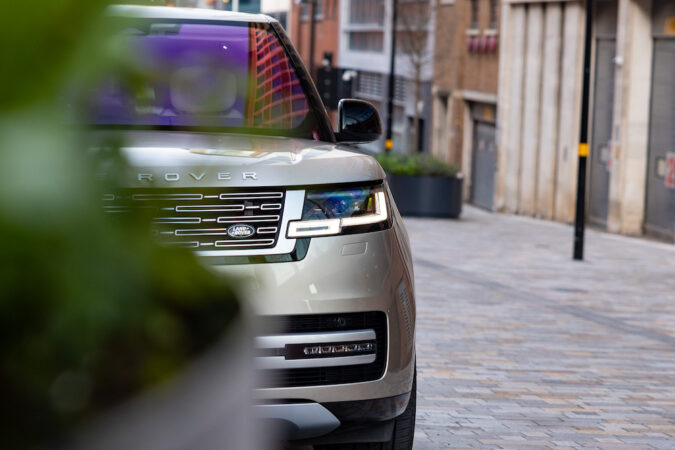 The one thing to bear in mind if you're driving the new Range Rover, is its size. You might've already been able to tell just by looking at it, but it's pretty large. Even compared to the last-gen Range Rover, this new one is chunkier still, with wider, longer, and taller proportions. On the upside, it does gain you an increase in interior space. On the flip side, you might feel you need to be more cautious when manoeuvring tight streets or parking spaces.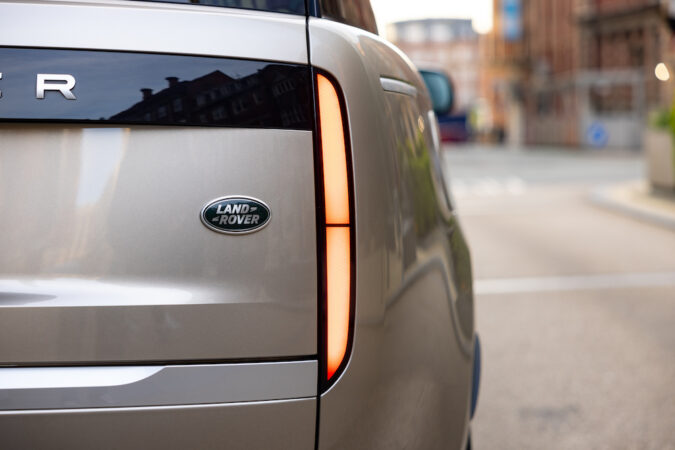 How Does It Drive?
The Range Rover has always been known as an excellent do-it-all vehicle. They would effortlessly balance daily driving, motorway cruising, and general comfort incredibly well. On the other hand, they can just as easily handle tougher tasks such as off-roading or even sportier driving. With this in mind, you can tweak how the new Range Rover behaves and customise how it drives through a series of drive modes.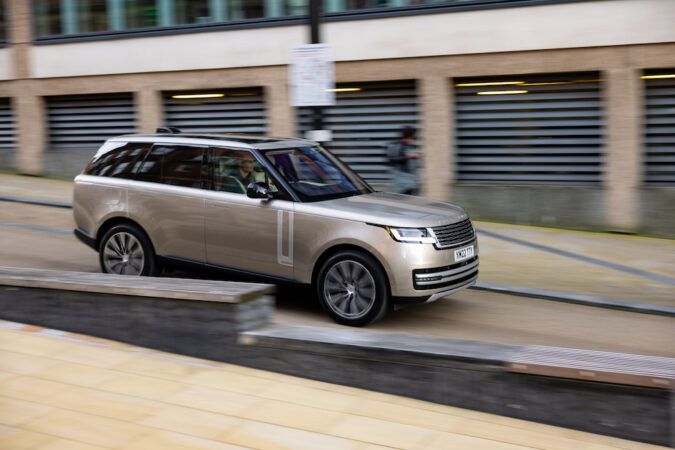 These could let you change the engine profile, and steering sharpness, as well as the speediness of gear shifts or the damping of the suspension. Realistically, its vast dimensions make the Range Rover far from the nimble qualities of even a smaller and hotter crossover. Albeit, it's surprisingly capable in regards to straight-light speed and exuberant handling, despite how large and heavy it is.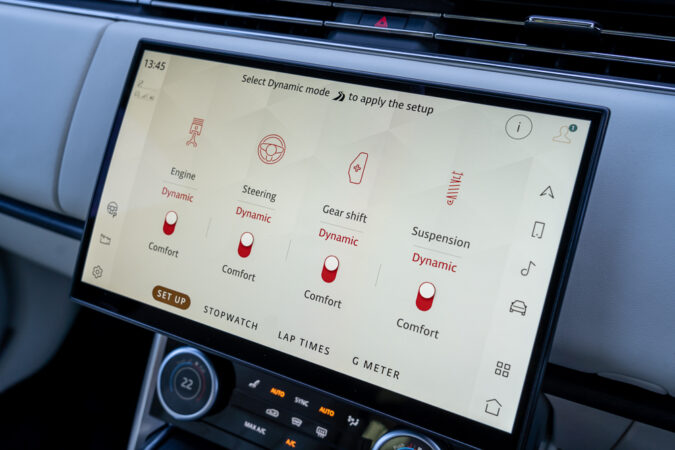 If you need to, it flies down the road and hugs corners nicely without feeling like it's going to tip over and letting the weight understeer you off the road. Given that it's a Range Rover though, its home would be a typical urban jungle. In its regular habitat, the focus leans more toward comfort and daily driveability, as well as letting you waft along with ease, with enough serenity and quietness to rival a Rolls Royce (almost).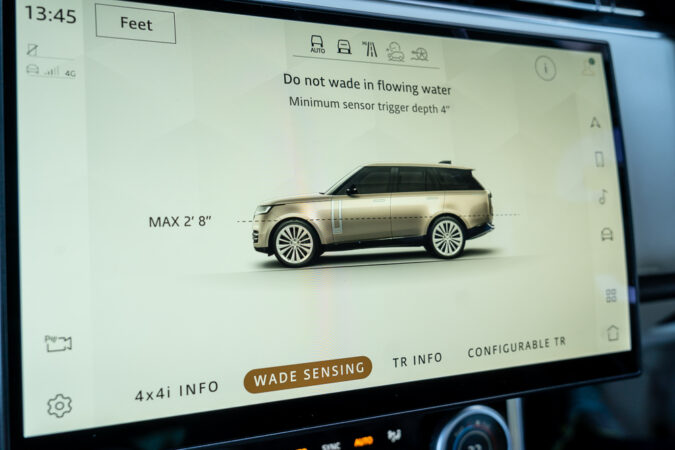 One of the reasons why so many people buy Range Rovers in the first place, as is evident here, is the rock-solid, planted, and bulletproof driving feel. Nevertheless, it remains a Land Rover at heart, so it can be an interestingly robust vehicle to off-road with. You can further tweak your Range Rover to perform better if it's taken off the beaten path, too. For example, you could lock and unlock the differential locks with just a simple classy click on the centre screen.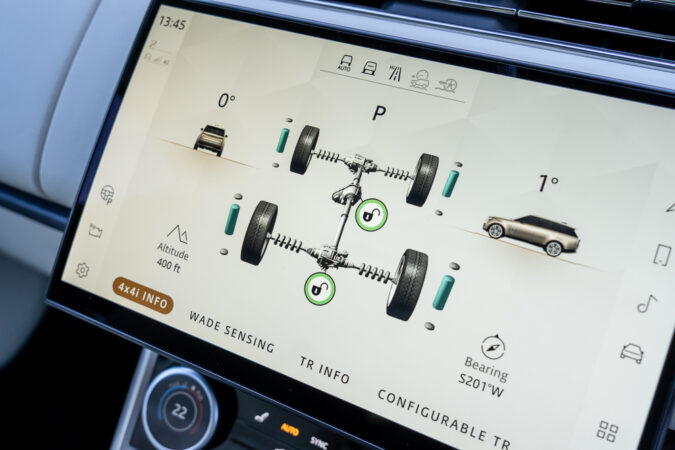 Of course, you also have its quintessential wade depth sensors if you're wading through a stream or ford. Then, there's its terrain management system to help you out with more effectively putting traction down onto the road, depending on the varying degrees of surface quality and available grip… Be it driving over thick mud or deep snow. Otherwise, if this is all too confusing, you could just set it to 'Auto'.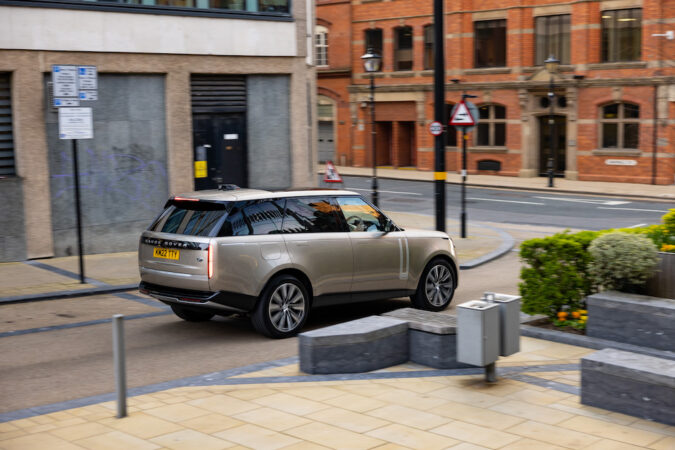 This would subsequently let the system determine by itself how to best manage traction across the Range Rover's brilliant all-wheel drive system. Despite the Range Rover having gained much weight and size since the previous generation, it remains pretty economical in return. In my testing across a myriad of mixed driving conditions, I averaged around 30mpg, which is good.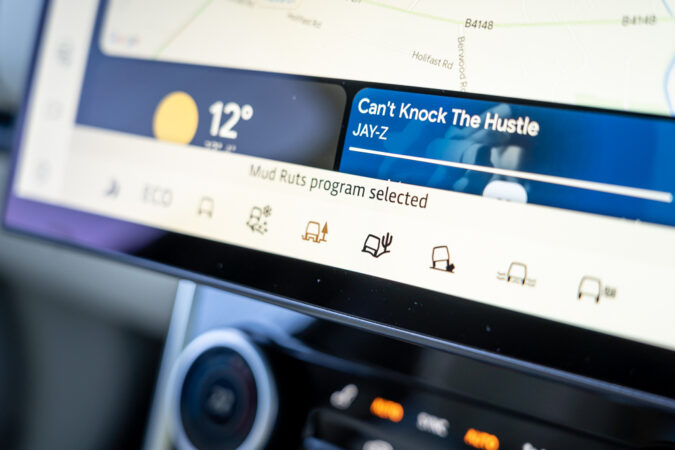 This is courtesy of Land Rover's 'Ingenium' 3.0-litre twin-turbocharged 6-cylinder diesel engine, yielding a healthy 350hp and 700Nm of torque. Moreover, it's affixed to an MHEV mild-hybrid system, consisting of a start-stop generator. That can turn the engine off when you don't need it, such as when you're braking, coasting, or idling. This then runs through a smooth and quick-shifting 8-speed automatic gearbox.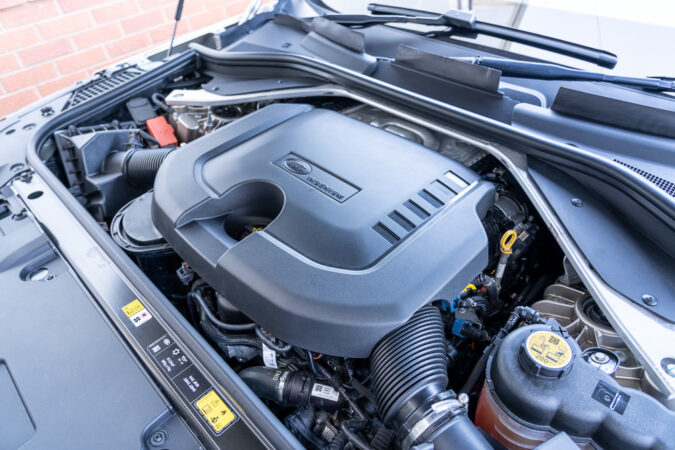 What Is It Like Inside?
Technology is a noteworthy highlight of the Range Rover's interior, as shown by the massive and feature-packed 13.1-inch infotainment screen. It has all the bells and whistles as you come to expect, including its wireless Apple CarPlay and Android Auto functionality. Not to mention, a sharp and crisp screen. It can be said just how good the UI design and UX are on these new Land-Range Rover infotainment systems.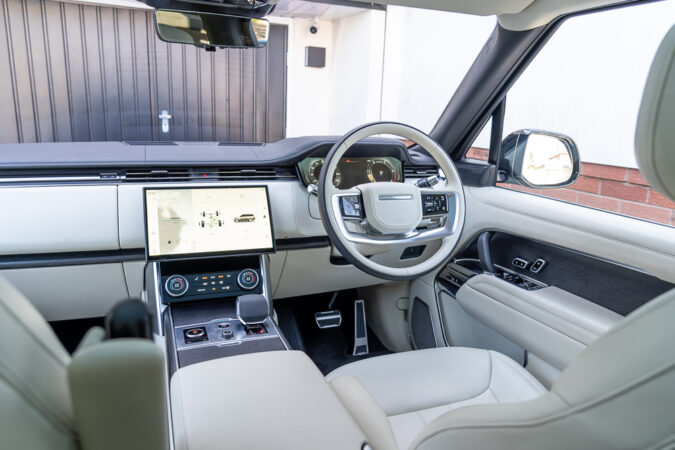 They're really pleasant to look at, as well as making the interface intuitive and very easy to use. On top of that, it ensures that key functions are easily accessible, such as the heated and massaging seats, bundled together with speedy animations and smooth performance. The same may be said about that fully digital, and high-resolution gauge cluster. It presents data legibly to ensure that it's easy to read at a glance.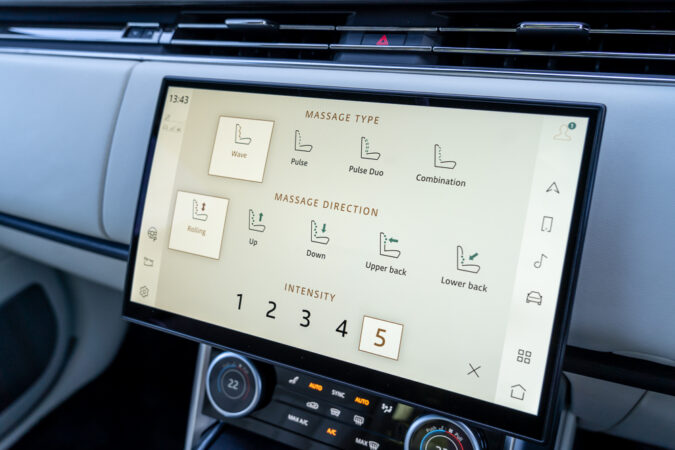 Furthermore, you could spend quite a bit of time configuring it to show other inputs, as well. On a similar note, even the climate control buttons are meticulously over-engineered… Rather than cluttering all your centre console switches, the same knob can be pushed and pulled to access other functions like adjusting between heated seats and air-con. As a whole, it's impressively cleverly designed and well-thought-out.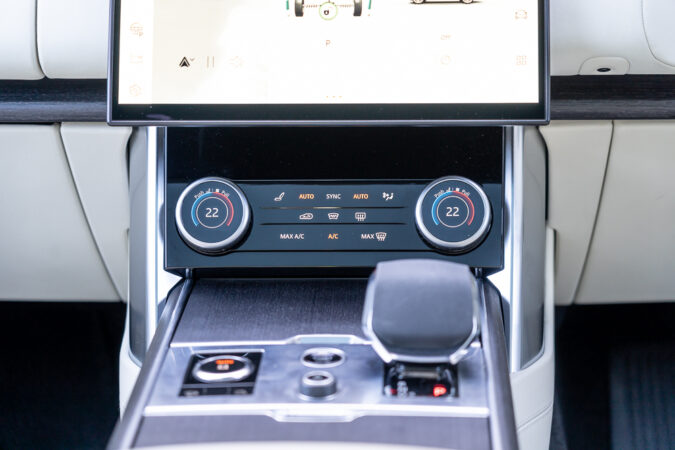 Moving on, since this is a Range Rover, besides all those fancy electronics, it puts as much attention on comfort and luxuriousness. This, especially in the Autobiography trim you see here, is something the new Range Rover excels with. There are swathes of leather upholstery, wooden trim, and almost excessively comfy seats. As mentioned, this new Range Rover has expanded dimensions over the previous gen.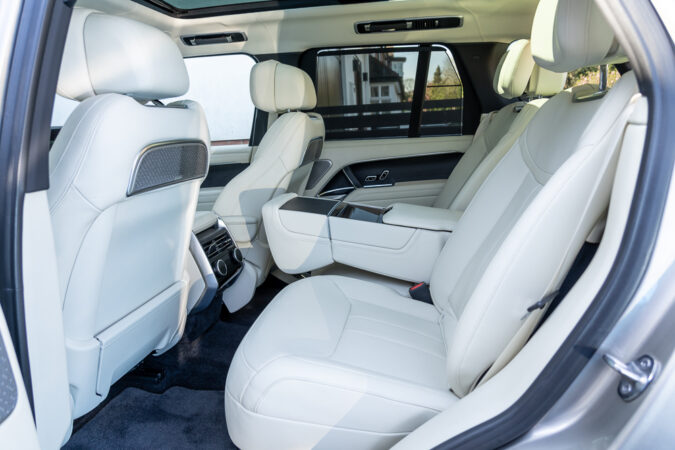 This means that the passenger compartment is more spacious, especially when paired with this light and airy cream leather trim. Besides the huge amounts of legroom and headroom, there's a very roomy boot for your weekly grocery shopping and getaway luggage. There's even more tech back here on the centre armrest too, letting rear passengers electronically adjust the seats or change the climate control.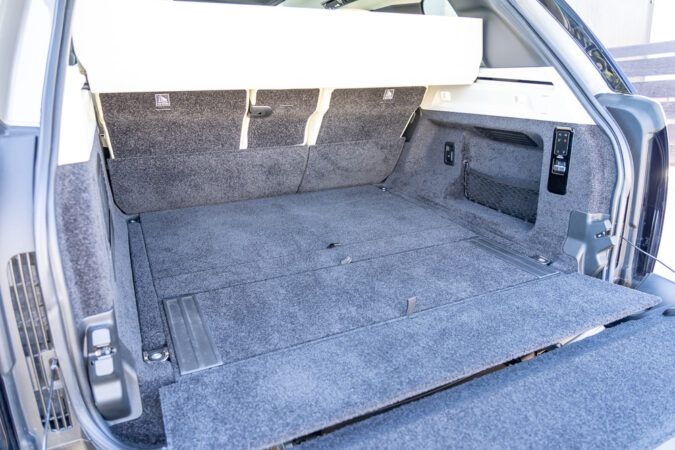 The Experience
The adaptability of the Range Rover is partly attributed to its high-tech air suspension. This lets you alter the ride height accordingly depending on how you're driving… Whether you want a higher ride height for a bit of off-roading, or a lower ride height for a better centre of gravity and easier access to load cargo or step inside. Also Being a luxury car of the 21st century, the Range Rover naturally has great Advanced Driver Assistance Systems.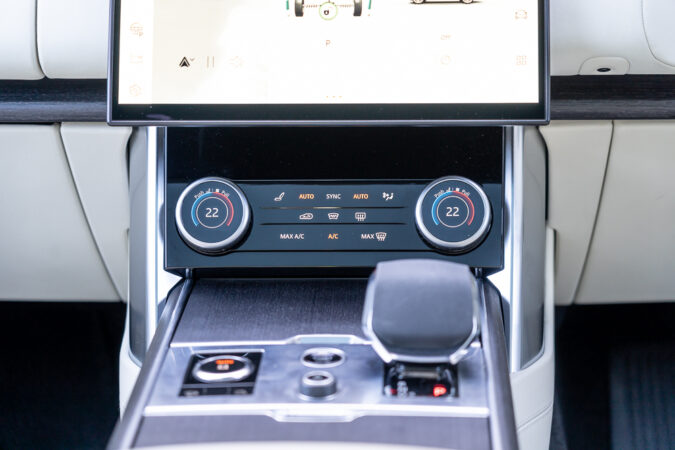 The inclusion of those driver aids and safety systems means that despite how beastly and ginormous the new Range Rover can be, it's effortless and easy to drive. Among the most noticeable additions is its 360-degree camera as well as the rearview camera. You can also pivot the camera about to get a better view to make it easier to park or manoeuvre, particularly around tight parking spaces or narrow streets.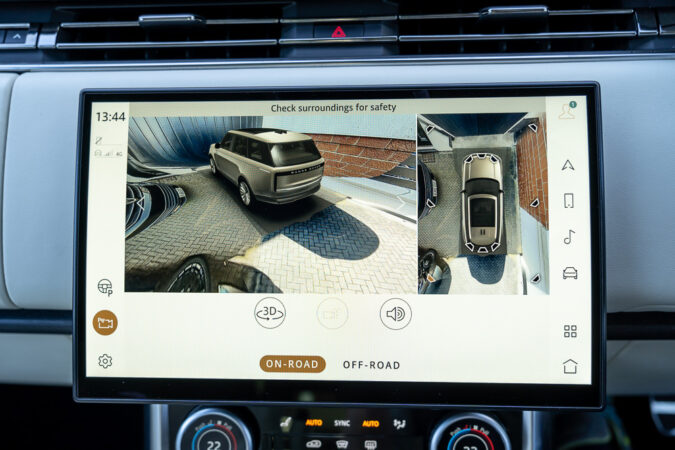 Plus, the Range Rover comes with rear-wheel steering to aid in tightening the turning circles. Once again, making it much less challenging to drive than it would otherwise seem. Elsewhere, it's good to know that most of the safety aids come as standard on the new Range Rover. That gets you a really good adaptive cruise control system, in addition to parking assist, blind-spot monitoring, and traffic sign recognition.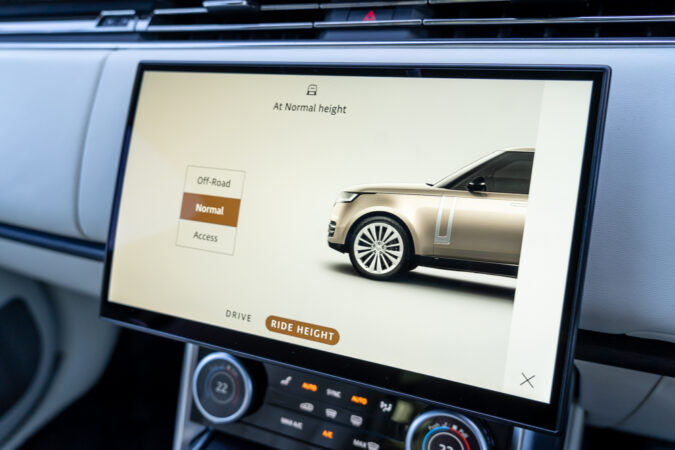 Furthermore, you'll get lane-keep assist, rear-cross traffic monitoring, rear-collision monitors, and more. On the off-road side of things, you could even leverage numerous driving aids here, too. For instance, it's fitted with a hill descent control system, as well as dynamic stability control, and cornering brake control, among others. All in all, making sure you can drive the Range Rover without feeling intimidated.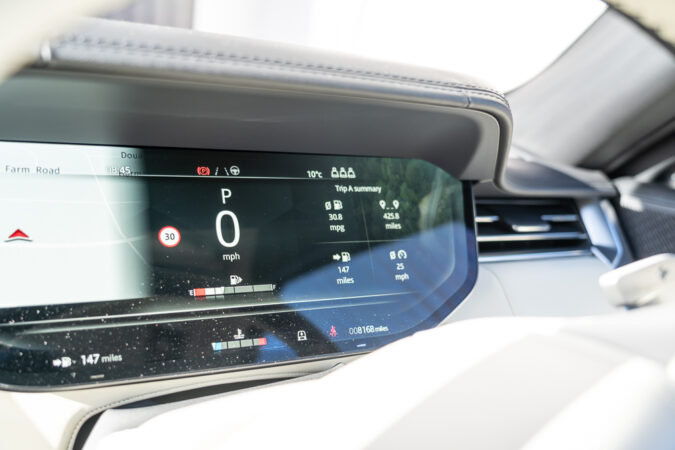 Range Rover Autobiography Cost
The base cost of the new and redesigned Range Rover, in its higher-spec Autobiography trim, will set you back £120,900. But as you're seeing it here, our example costs a whopping £123,715. At least getting the Autobiography trim means that there are very few optional extras to tack onto the base price. Our Range Rover only had two options – there's this lovely Batumi Gold paintwork for £865.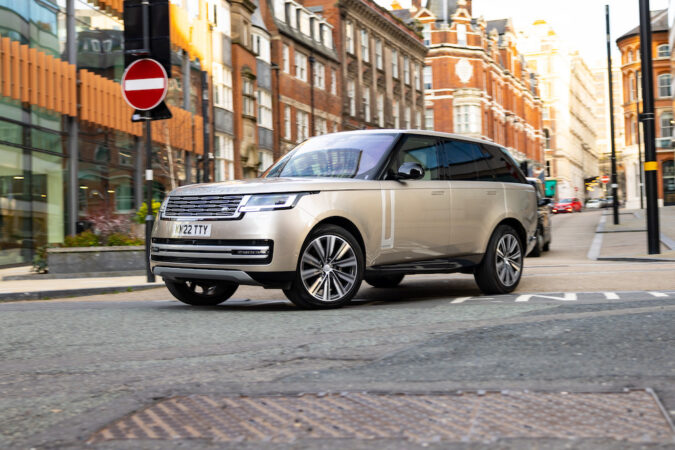 And, privacy glass for another £475. Otherwise, most of all the nice-to-haves come bundled as part of the Autobiography trim. So, what do you get by opting for the Autobiography trim, costing you a very healthy premium over the £103,720 'entry-level' Range Rover? Well, it's worth highlighting its awesome Meridian sound system, offering you greater depth, more amplification, and ample clarity throughout the cabin.
You then get other neat additions by spending the extra, too. For example, you'll note its massive 23-inch diamond-cut alloy wheels. Additionally, it has a sliding panoramic glass roof, adding further airiness to its cabin. Another cool inclusion with the Autobiography trim is the digital LED headlights, with their signature DRL and image projection. Plus, tonnes and tonnes of soft leather on the inside of the Range Rover.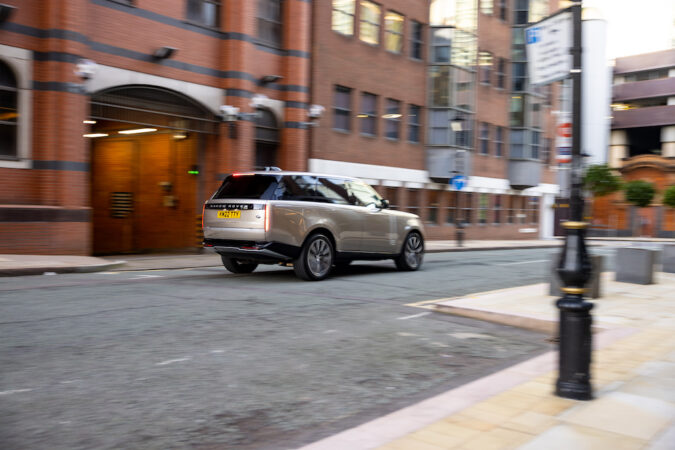 Verdict
In summary, the new and updated Range Rover continues to solidify its solid foothold as the king of kings amongst SUVs (and off-roaders, too). It carries over everything that's right and perfect about the previous generation of Range Rovers. Then, improving on some of its flaws or weaker points. While also bringing it up to date, keeping up with the times by adding new, improved, and must-have features.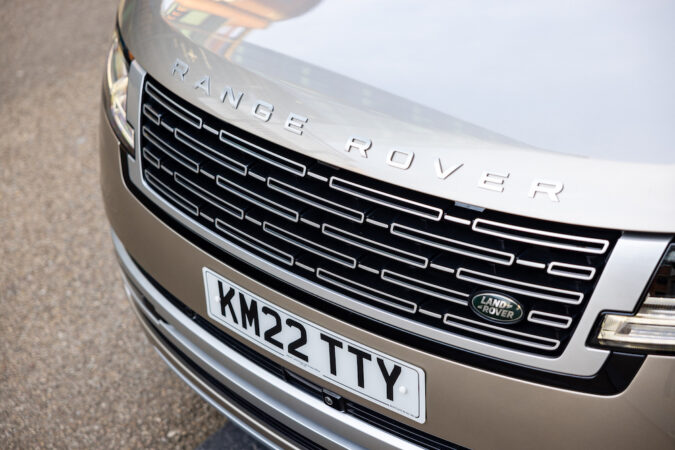 It's as capable off-road as it's comfy on-road. The level of refinement in the interior and learnings when it comes to the tech further elevates the Range Rover's luxuriousness to new heights. You'll even find better driving aids and high-tech systems to make your giant, posh family runabout safer and easier to drive. All in all, if there's a single car to do everything just about perfectly, the new Range Rover fits the bill.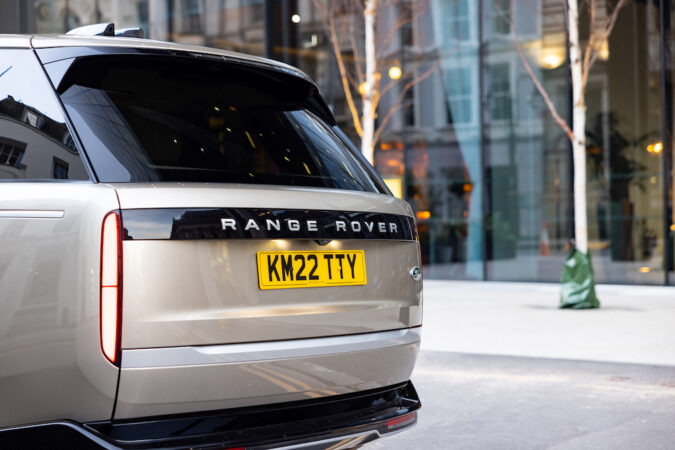 Specification
Range Rover Autobiography Specs

Price: £123,715
Engine: 3.0-litre 6-cylinder turbodiesel MHEV
Power: 350hp
Torque: 700Nm
Transmission: 8-speed automatic
0-62mph: 5.8 seconds
Top speed: 145mph
Weight: 2,505kg
Economy combined: 35.6mpg
CO2: 208g/km