Alpine remains one of the most iconic automotive marques in the world. From its time with world-beating rally cars to drop-dead gorgeous sports cars, and they even have their own F1 team now. But Alpine's journey in the world of performance isn't over, as they have a new front to tackle. Small, lightweight, and plucky performance, matched with masterclass chassis and suspension.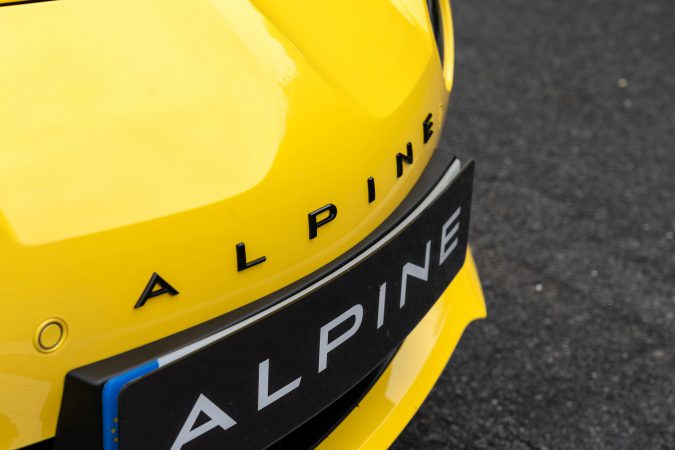 That's Lotus' territory, and Alpine isn't about to let them keep all of it. In comes the A110, which has since been spruced up thanks to the Colour Edition. While most of the changes are cosmetic, as you can probably tell, there are a few changes under the hood. So, is one of the dynamically best sports cars in the world about the get better? Well, let's get behind the wheel of the A110 Colour Edition.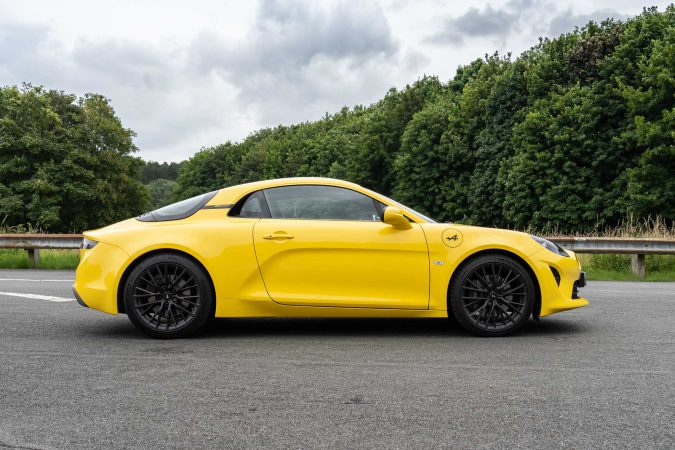 What Is The Alpine A110 Colour Edition About?
First, the looks. The A110 has always been a very handsome car, penned with retro-futuristic design cues. It has a typically Alpine silhouette, as the roofline gradually but subtly slopes down past its midship-mounted engine. Up front, and a nod to classical Alpines of decades past, we have a set of rounded fog lights, as they were seen sailing across the Monte Carlo rally stage.
They're sort of like angry, but cute nostrils. It's quite small too, by modern standards anyway. You should see how tiny it is parked next to a modern crossover or hatch. In its Colour Edition special trim, Alpine takes that recipe and adds a touch of French haute couture to make it pop. The bright Sunflower Yellow here on our A110 is especially a magnificent piece of eye candy.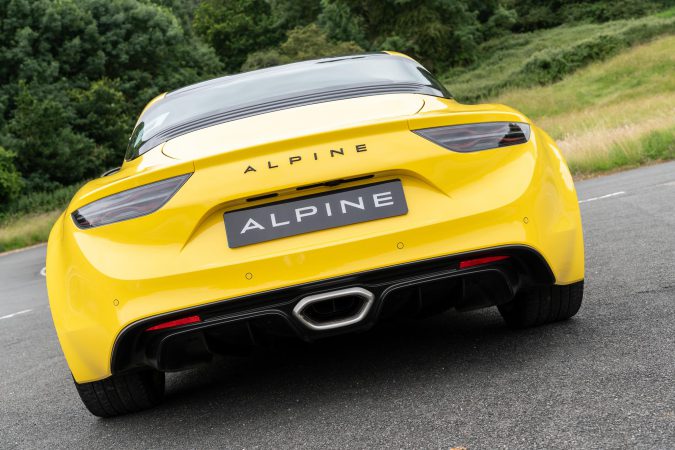 How Does It Drive?
The colours aren't the only things spicy about this refined A110. Underneath, it has a Renault-built 1.8-litre, four-cylinder, twin-turbocharged engine placed behind the seats. You might find this motor with a few other sporty Renaults, like the Megane RS. With this, the A110 sends 248bhp and 320Nm of torques to its 7-speed dual-clutch transmission, and is exclusively rear-wheel drive.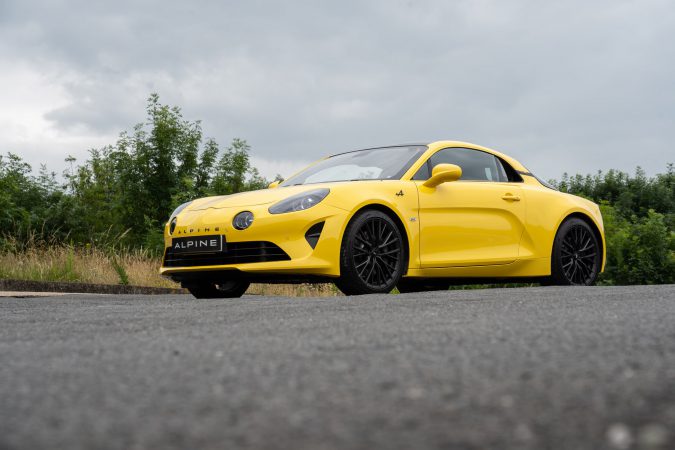 You might read these seemingly paltry figures and scoff at how Alpine could possibly ever think it's enough. However, you must look beyond raw horsepower and pay close attention to what it's hauling. The A110 is light. Very light – especially compared to today's sports cars that weigh hundreds of kilos more. 96% of the body is aluminium, and it tips the scale just under 1,100kg.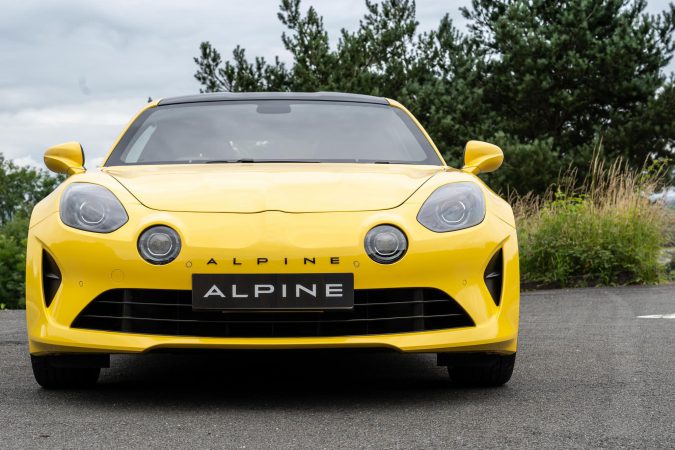 So, what pace you may have lost in the straights from a lack of straight-line speed can be quickly regained in the corners. The A110's lack of mass gives it little to no inertia to get in the way. You can carry the momentum gracefully through a corner, from one bend to the next, ready to keep surging on. It's not just the size of the A110 that contributes to this deft and nimble handling, either.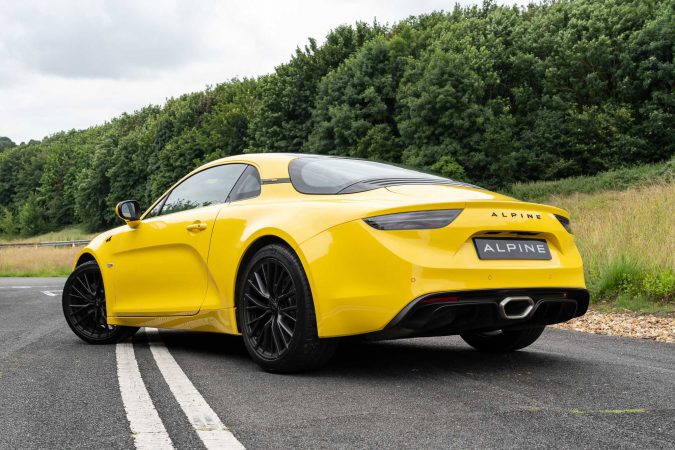 The chassis set-up is magical, as is the suspension tuning. The Colour Edition introduces some new enhancements to the double wishbones front and rear. Ride height has been dropped by 4mm, as the springs are now 50% stiffer, and the roll-bars too are 100% stiffer. The A110 is the best weapon to tackle an actual alpine road, chewing up corner after corner, and savouring every inch of tarmac.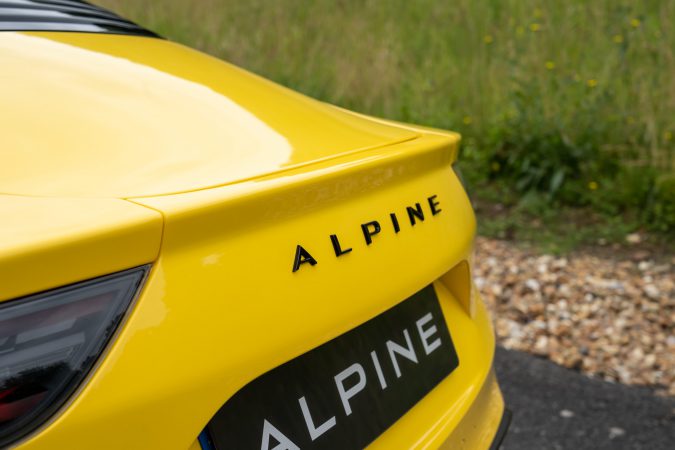 What Is It Like Inside?
You can feel the A110's compact presence while sitting in it. While it's by no means cramped, you do get a cocooned feel. We imagine it's not that different from being inside one of the original rally-spec A110s from the 60s and 70s. The bodywork is almost shrink-wrapped in a way. Elsewhere, the interior is perhaps not up to snuff as its competitors like the Supra or 718 Cayman.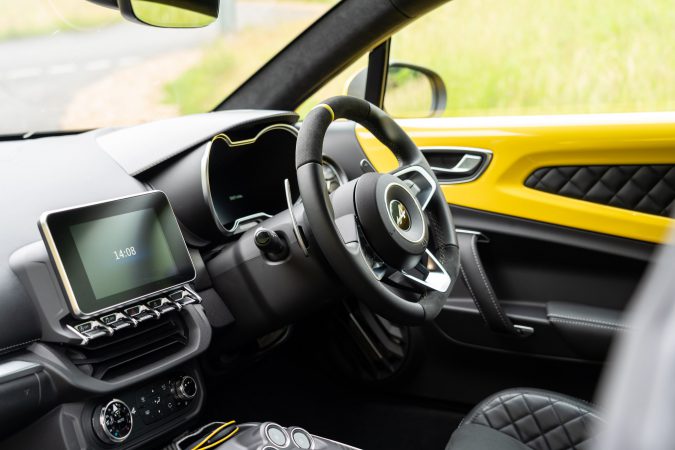 The quilted leather is a very elegant touch, though. Apart from that, it falls a bit flat. The trim sets like door cards and plastic panels feel hollow in a way, which is a necessary sacrifice for Alpine to save off as many ounces of weight as is possible. The tech is nothing to shout about, but works okay enough. That said, the A110 certainly has a unique retro and racy aura in here, and we do like it.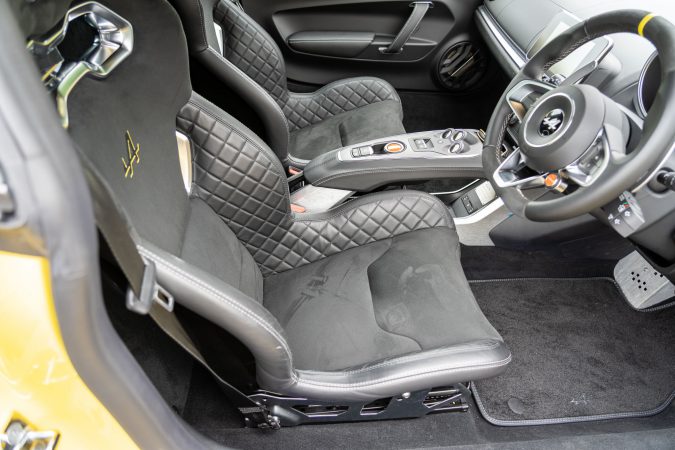 The Experience
Despite this being "only" a four-pot engine, Alpine has put a lot of work into making the A110 Colour Edition sound good. There's a very distinct burble and rasp when you're on it, which sounds rather nice. Now and then, you can hear more noises like pops from the exhaust, and whistles from the turbo. Still, the A110 isn't made to be an out-and-out sports car by itself, as it works well as a GT.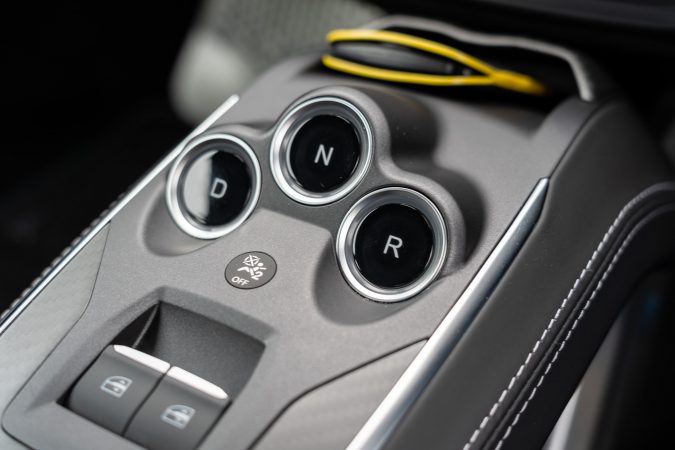 That suspension that we harped about earlier has enough movement to make it comfy to drive with day-to-day. It's passively set-up, without any of the fancy active dampers as some of its rivals. But as is, it's tuned just right for putting traction down when needed. Yet, it's not punishingly hard that it breaks your spine. It's a proper grand tourer… If you can get past the small luggage space.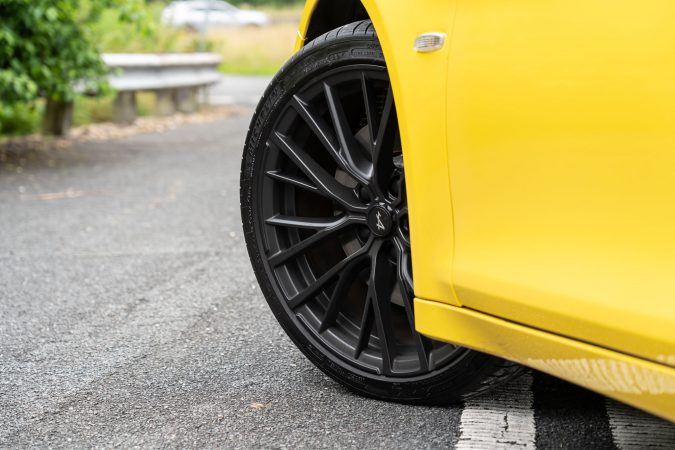 Alpine A110 Colour Edition Cost
Our beaming yellow A110 Colour Edition here has a sticker price of £62,958. We did have a couple of optional extras, with the most expensive of them a carbon fibre roof. It would reduce weight just a smidge, and might lower the centre of gravity for optimised dynamics. But whether or not that's worth £2,160 is up to you. We also have parking sensors and cameras, setting us back £480.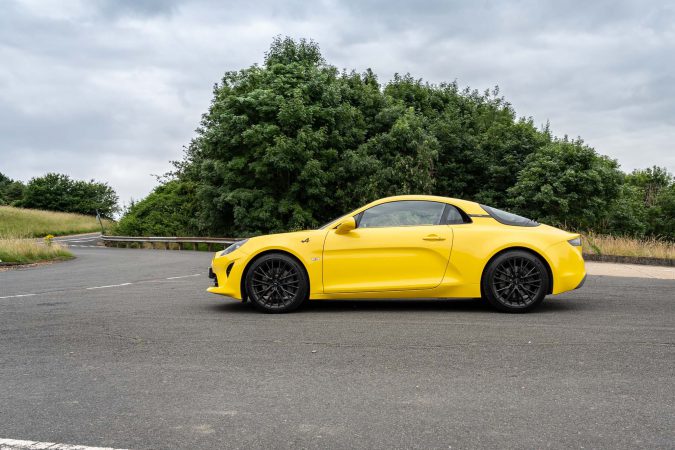 Another £468 was spent on Alpine's 'Mirror Pack', which includes foldable wing mirrors and interior anti-glare stuff. The floor mats – it might seem much now – with Alpine logos cost us £110. Running costs might be your saving grace, though. One unintended side effect of having such a small and light car with a tiny engine is that it's quite fuel-efficient. 40+mpg is impressive for a sports car.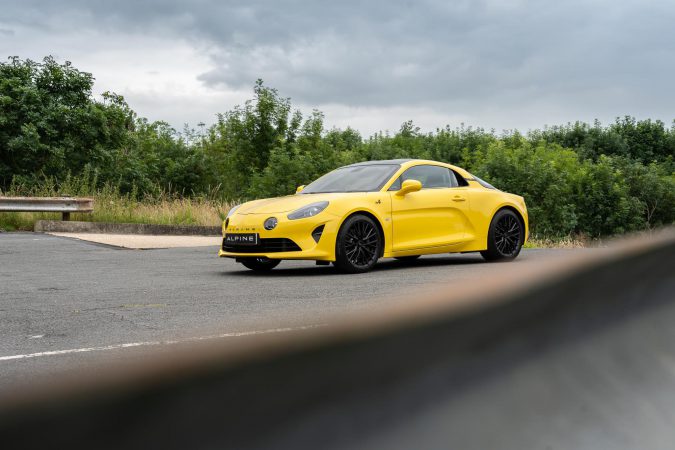 Verdict
In summary, the A110 is a proper driver's car – enough said. Inevitably, there will be parallels drawn between it and the Porsche 718 Cayman. The German is more well-rounded, better built, and is arguably a better "car" in general with fewer compromises. Nonetheless, few machines reach peak automotive heaven as the A110 Colour Edition, as it sits on a whole other plane as an engaging, fun, chuckable, and most capable role model for how all sports cars should aspire to be like.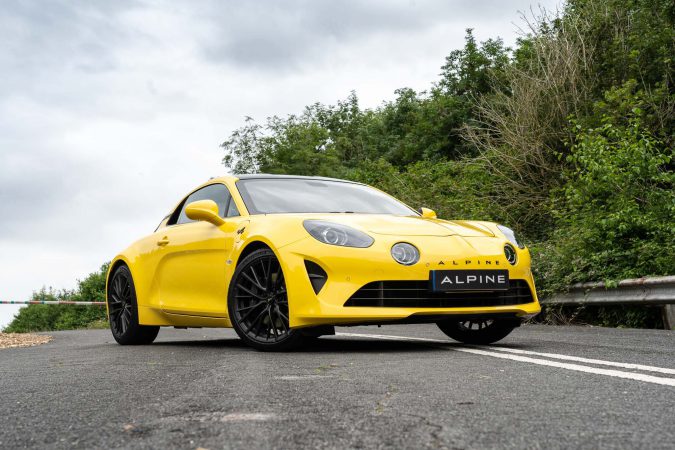 Specification
Alpine A110 Colour Edition Specs

Price: £62,958
Engine: 1.8-Litre, 4-Cylinder, Twin-Turbo
Power: 248bhp
Torque: 320Nm
Transmission: 7-Speed DCT
0-62mph: 4.5 seconds
Top speed: 155mph
Weight: 1,098kg
Economy combined: 44mpg
CO2: 156g/km