As we spend more and more time at home, we tend to take any opportunity to do something… Different. Amongst the many activities that we could partake in when confined to our four walls, DIY projects are always a great way to make the time go by. In that case, a grinder is a neat little tool to have in your secret stash. It's a great apparatus for the discerning tinkerer in your life that prefers to do things in their own way. But does Ryobi's new RAG18X grinder make the cut?
For us car enthusiasts especially, there is practically an infinite number of use cases for keeping a grinder handy. You could cut open your exhaust to replace sections, or trim your suspension springs for the most optimal kiss-the-tarmac ride height. Have a project car that you'd like sorted? Well, keep a grinder around so you'd cut through whole body panels, screws, bolts, nuts, and everything else. Thankfully, our test Ryobi RAG18X seems fit for this sort of duty.
What Do You Get In The Box?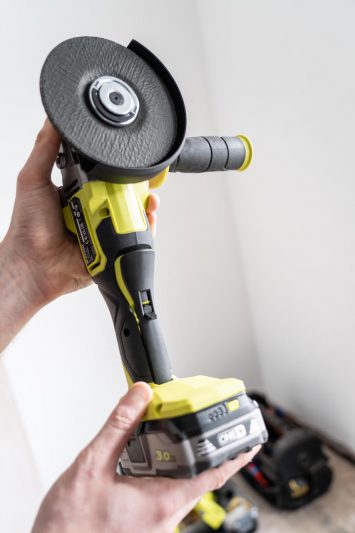 Ryobi's new RAG18X battery grinder is a brand new grinder planned to be released into the UK market. For now, though, the unit that we've been sent is a development sample. Nonetheless – spoiler alert – it's been working rather flawlessly during our round of testing. The RAG18X carries the 'HP' branding from Ryobi. It denotes that this particular grinder is among their high-performance tools.
Like some of their other grinders, Ryobi discs can be swapped out to meet your needs; like a grinding wheel and a cutting wheel. Consequently, this also means that the RAG18X will come with two separate protective guards; one for grinding, and the other for cutting. This is a nice touch, just to make sure you don't accidentally get sparks on your hands or arms. We found that the shrouds are also quite well designed in a way that doesn't impede on how much available surface area there is on the wheel available for cutting.
A Healthy Amount Of Performance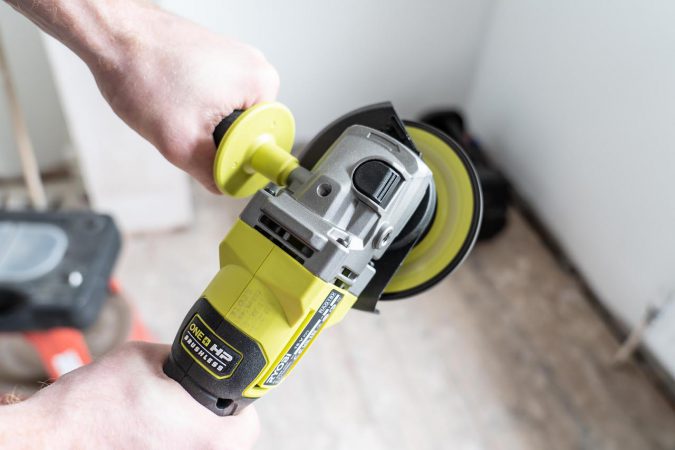 One advantage of being an 'HP' line product, is that Ryobi's given the RAG18X some fine-tuning under the bonnet. More specifically, it's been fitted with a shiny new uprated brushless motor design. The advantage here is that it'll run faster, for longer, while the motors have an increased lifespan, as well. For the end-user, you'll be able to notice this increased performance as soon as you start using it.
The RAG18X grinder can maintain a good amount of rotational speed, and the motors are able to sustain that increased momentum. In short, the grinder discs – regardless of whether you're cutting or grinding – won't start slowing down as soon as it makes contact against something. With the RAG18X, you could happily grind against a rougher surface or cut through heavy and dense material without feeling like it'll run out of power. Testing on rusted bolts on a car it cuts through like butter.
If that's not enough, you could always swap it out for other discs that'll fit your needs. If you need to cut through thin metal, use your grinder for precision cutting, grinding, or even stonework, the RAG18X will be perfectly at home… So long as you have the right discs for the job. The whole process is completely toolless to swap out, as well!
A Single Battery For Many Tools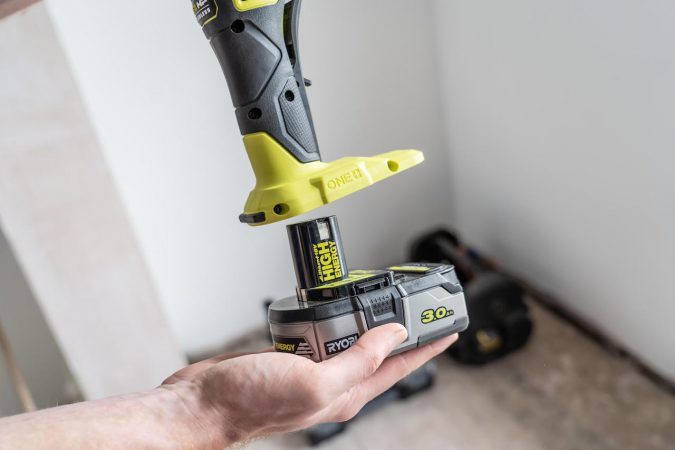 For those of us who are familiar with Ryobi's product line, you might be happy to hear that the RAG18X sits in the 18V One+ series. In layman's terms, the One+ line-up is a hugely versatile range of products – 175+ of them, in fact – where they all share the same battery. This is important, as cordless tools like a grinder often have their own unique battery. With conventional power tools, a grinder's battery isn't often interchangeable with that on a motorized wrench, for instance.
But with Ryobi's innovative approach, you could have a whole garage filled with tools that'll share exactly the same 18V battery pack as your RAG18X grinder. There are no extra adapters or sockets, or having to pair up with separate battery chargers. This is great as it prevents you from needing to buy different battery packs for every single tool. Furthermore, it's a hugely convenient aspect of owning and managing power tools. It's as simple as plug-and-play.
Great Ergonomics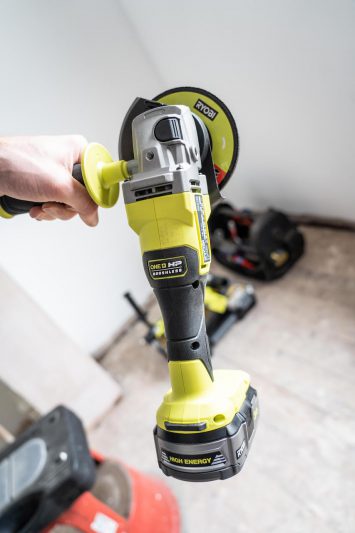 A familiar theme we've found with the RAG18X grinder is that many adjustments are tool-less. As we mentioned earlier, the discs could be swapped out without needing any tools. The same goes for the hand guards, too. Now, this tool-free adjustability applies to the handle. To give users the most comfortable ergonomics, the handle is completely removable. You could then reposition the handle on either side or even the top.
This is another little detail that we wouldn't have thought of, but it's nice to see Ryobi including it. As we were cutting and grinding in some of the harder-to-reach spots, like needing to cut around tight areas in your wheel wells, we've found that being able to move the handle to be a great added feature that makes life just that bit easier. The handle itself has ample amounts of grip thanks to the texture of the rubber.
Another extra little feature that we've found is a safety switch. It is part of the paddle trigger, you can activate this automatically when you need to set the grinder down. When you're ready to start grinding, just flip the safety back down, and it's good to go. The triggers themselves are quite tactile, too. It might only be a minor point, but it's good to know when you've actually pressed or depressed it. Even with thick gloves, we could feel the pressure points quite nicely.
Conclusion – A Handy Addition To The Garage
In rounding off our thoughts on Ryobi's new RAG18X grinder, we've come to appreciate the time we've spent with it. Its speed (and the consistency at which it maintains that speed), as well as the decently long battery life for a couple of day's work, are the star of the show. But it's also all the little details that fill in the whole experience. Being able to use the same battery as some of our other Ryobi tools, as well as being able to adjust the grinder completely tool-less is a great bonus, indeed.