With more cars on the road than ever, even the simple act of commuting from A to B can be rather tiring and overwhelming. There's far too much to process at a time… Between worrying about a sneaky speed camera hiding in a bush, or an accident that's bound to keep you grid-locked for hours, and the fact that you still need to focus on driving. It's a good thing then, that the Saphe Drive Pro is here to help.
What you need, in this situation, is a reliable, informative, and timely co-driver. This is what Saphe and its new Drive Pro aim to achieve… A tiny little brick that provides real-time and up-to-date prompts on what goes on around you. This means feeding you information about an accident up ahead, or an unsuspecting mobile speed camera. However, is a dedicated traffic alert system like this really worth the expense?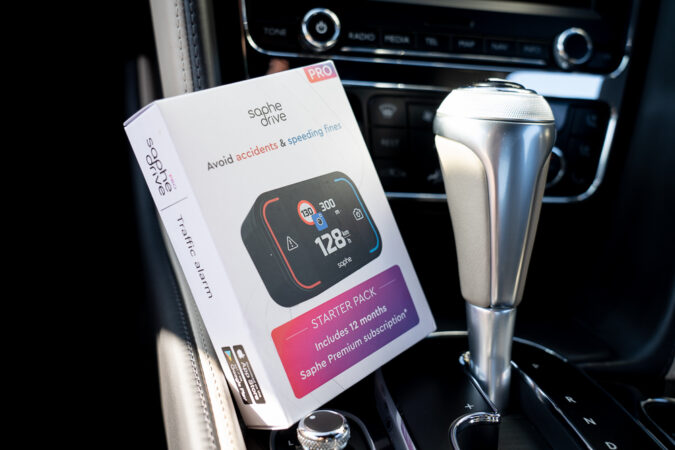 As mentioned earlier, the premise of the Saphe Drive Pro is fairly simple. It would feed you real-time data and alerts on whether there's a traffic incident up ahead, or if there's a speeding camera right around the corner. The end goal is to provide the user with valuable insights on what's going on up ahead, and what to be cautious about, or whether or not it's simply better to re-route and find an alternative roadway.
You can think of it as those on-the-road traffic alerts that you'd get as you're navigating with your car's in-built satnav system, Google Maps, or Waze. Nevertheless, unlike the latter, which mostly focuses solely on navigation first and foremost, and is less concerned with traffic information and speed camera reporting, the Saphe Drive Pro fills in that void to provide you with data in a more thorough and timely manner.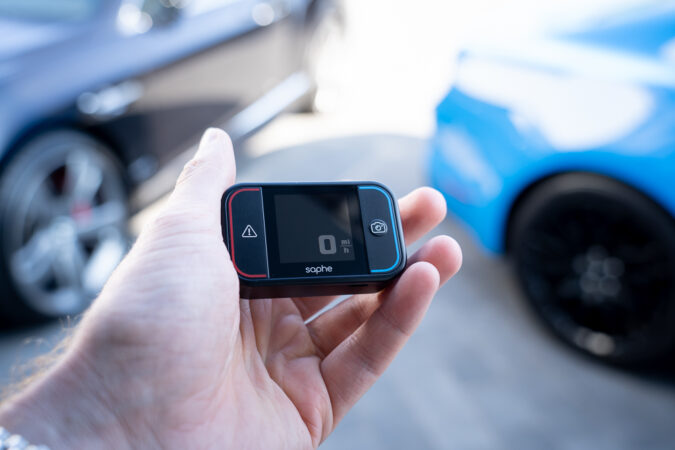 Keeping You Up To Date On Your Surroundings
So, it's really more about situation awareness and saving you time, fuel, patience, and possibly money. Its USP, however, is not only in keeping you safe and making you aware of what the traffic is like. But, it's there also to help you drive more diligently. You can be assured that it's aware of both what speed you're doing, and what the actual speed limit is on the road that you're travelling on. At the minute, it's very clever.
Saphe's database of concurrent speed limits encompasses all major roads as well as motorways in the UK. If you go over the speed limit of a certain road, the Saphe Drive Pro would alert you through a visual prompt on the screen and an audible chime, respectively. It's a really straightforward application, but sufficient to prevent you from getting a speeding ticket in the post, or have points added onto your driver's license.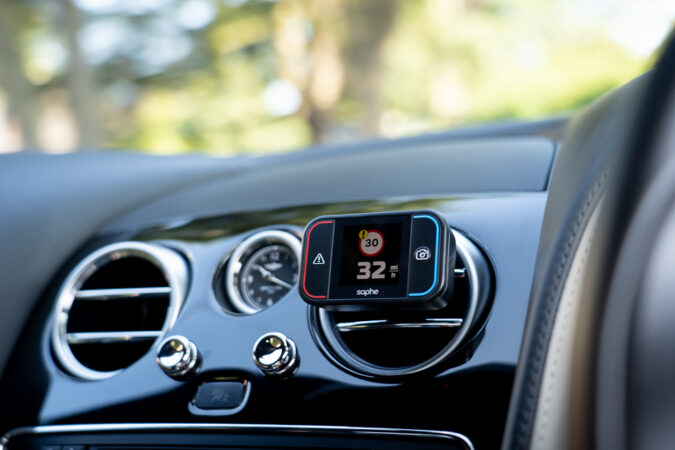 "Sure…", you might ask, "But how does the Saphe Drive Pro know if there's an accident up ahead or if that tree in the far distance hides a speed camera in it?". Ah, this segues us neatly to the other noteworthy and neat highlight of the Saphe Drive Pro. If you've read our review of its smaller sibling, the Saphe Drive Mini, you may already know what we're talking about. Its focus is working together as part of a community.
There are millions of other Saphe users and community members out there, on the open road, who help to contribute to its real-time reporting. They can quickly report obstacles like traffic incidents or the presence of a speed camera, which would subsequently warn other Saphe users about them. Then again, how does this separate Saphe from the likes of Waze, where community-based reports are also a key feature?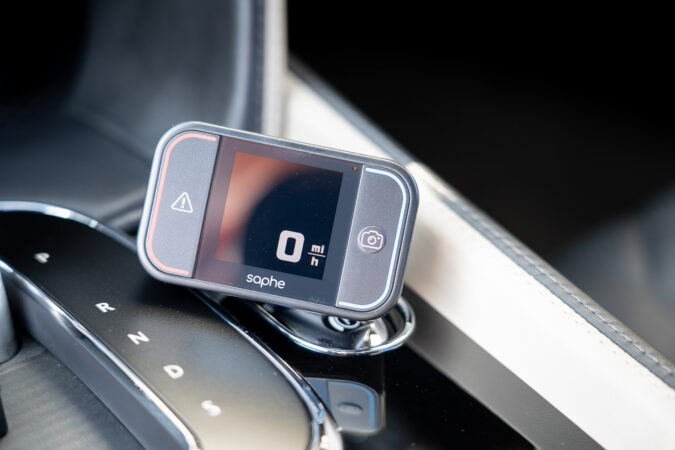 It's All Part Of A Community Effort
Well, unlike Waze, Saphe makes real-time reporting super-simple and can be fed to other users on the fly much more rapidly. Have you noticed those two big buttons flanking the Saphe Drive Pro's screen? That's how you file reports on the Saphe network, thus warning other Saphe users about them. That red button (with an exclamation mark and a triangle around it) is how you report an accident along your route.
Meanwhile, that blue button (with a camera icon on it) is how you report that there's a speed camera by you. This way, you – and other Saphe Drive Pro or Mini users – can contribute to the real-time traffic data and reporting. All it requires is literally a single tap on either button, and it's now marked on the map. It's quite an intuitive and effective system at trickling in traffic data, despite how simple it might seem.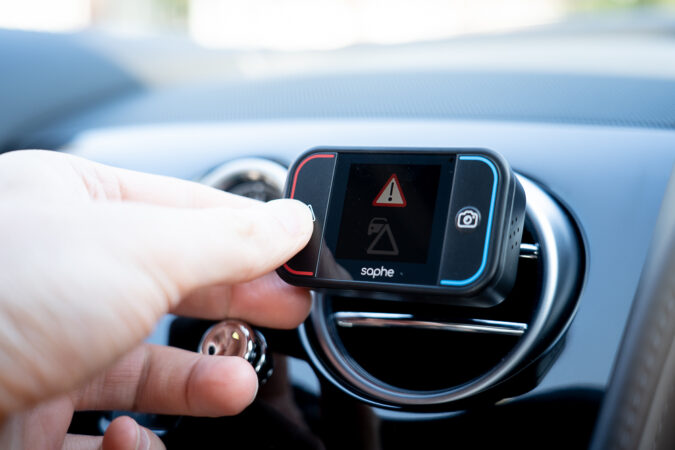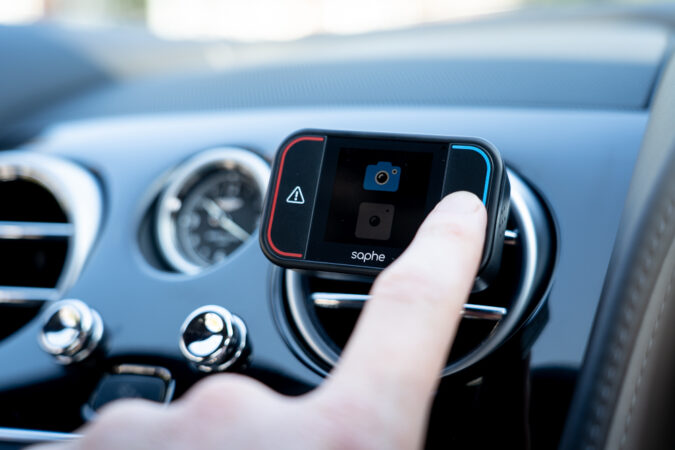 Packaging-wise, the Saphe Drive Pro is quite a compact device. As such, with the included 3M tape, it can be mounted on top of your dash, on the windscreen… Or, just like how we've done it, clip it on the climate control vents with some magnetic mounts (optional accessory). You could mount it just about anywhere you'd like, so long as that display remains visible. Speaking of, easy legibility is another strong suit of the Saphe Drive Pro.
That's despite its tiny 1.54-inch screen, and the Saphe Drive Pro's UI remains quite visible, even under fairly direct and strong sunlight. This is mainly due to its simplistic yet informative user interface, with those big, bold, and bright icons, which are easy to read and straightforward to understand at a glance. Although, it does display reminders when the battery is low, or if your GPS signal and data connection is too poor.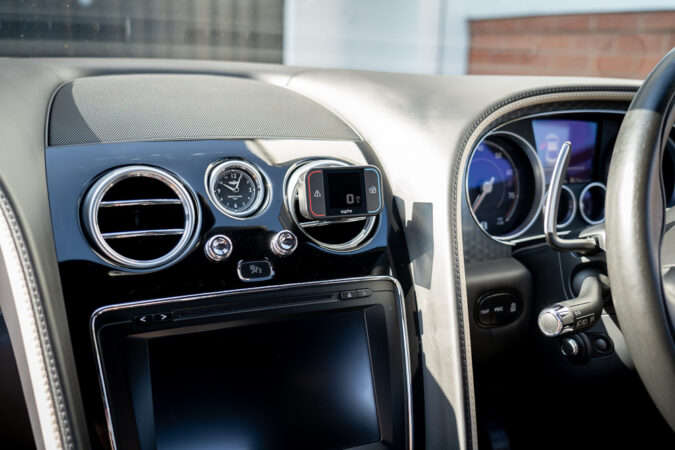 It May Be Small, But It Packs A Punch
This bundle here, for a pretty reasonable £69.99, comes with 12 months of Saphe Premium, which typically costs £2.99 per month or £29.99 per year. It's worth bearing in mind that you do require a Saphe Premium subscription to use the Saphe Drive Pro. So, what does Premium get you? Well, for starters, it'll grant you access to use the Saphe Drive Pro in tandem with Android Auto as well as Apple CarPlay.
That's a huge deal, as – with the aid of the companion Saphe Link app to sync everything together – you can now receive those speeding alerts and other traffic notifications, but this time, through your car's infotainment system, this should also help you compile all your important traffic information and navigation in a single place. To cap things off, let's answer the question that we set at the beginning…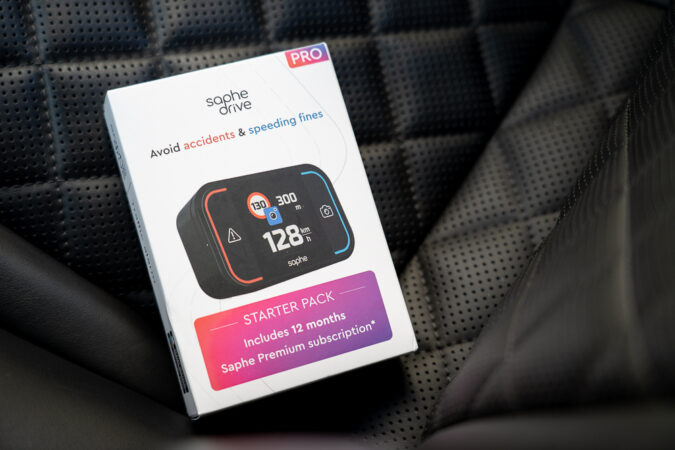 Is a dedicated device like the Saphe Drive Pro worth it? In short, yes, absolutely. Sure, you can still get your real-time traffic alerts, speed limit notifications, and speed camera locations using existing apps like Waze. However, there's nothing else on the market that quite does it like Saphe. With its ease of use and focused user interface, it's a shockingly great tool to get you up to speed with the goings-on ahead of you.
It's a simple device, yet it can make a big difference if you use it right. With a large and growing user base, this also means that the thoroughness and quality of real-time traffic reports will only get even better with time. Plus, it's just as effortless for you to contribute to the community, and keep other users informed about what lies ahead. If a co-driver is what you need, the Saphe Drive Pro fills those shoes brilliantly. Available to buy on Amazon. (Use this promo code at the checkout: MOTORVERSO15)
For more information take a look at the official Saphe website.