Driving Sustainability and Innovation
In an exciting turn of events, a group of 29 dedicated students from Škoda's Vocational School have astoundingly transformed a Škoda Enyaq into the Škoda Roadiaq, a battery-electric mobile-office camper. Notably, this marks the ninth student concept car to come out of the programme since it began in the 2013/14 academic year.
The Roadiaq: Adventure, Work and Leisure Combined
Designed to operate as a car while in motion, the Roadiaq transitions seamlessly into a usable office or living space when parked. Essentially, it's a multifunctional mobile-office camper that brings together the worlds of work, travel, and leisure.
The interior incorporates a multitude of 100% recycled textiles, demonstrating Škoda's commitment to sustainability. A new roof structure adds much-needed space to the vehicle, allowing for more comfort and utility.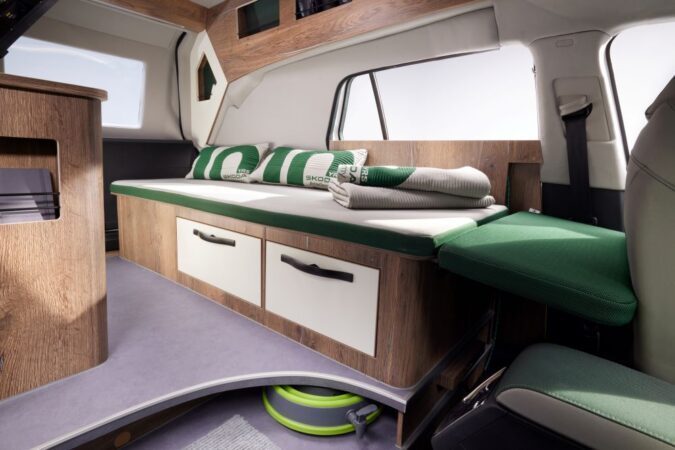 The Modern Mobile Office
This eco-friendly all-wheel-drive vehicle is packed with all the amenities needed for the modern mobile office, including a permanent high-speed internet connection, a 27-inch monitor, innovative storage solutions, an array of electric plug sockets and, importantly, an espresso machine.
Impressively, the Roadiaq can be converted from a workspace into a living area complete with a bed and a small kitchen in just a few easy steps.
A Reflection of Flexible Work Culture
As Maren Gräf, Škoda Auto Board Member for People & Culture, expressed, the Roadiaq is a symbol of the new, flexible work approach, embodying Škoda's commitment to this progressive form of working.
The project demonstrates not just the talent and creativity of the students, but also Škoda's strong culture of collaboration, attention to detail, and a purpose-driven approach to unconventional ideas.
Vehicle Modifications: Exterior and Interior
Significant modifications to the base Škoda Enyaq SUV have made the Roadiaq a unique vehicle for work and leisure on the go. It has a new roof structure and tailgate, a two-tone Emerald Green and Moon White paint finish, and 21-inch Supernova alloy wheels.
The seat covers, door trims and instrument panel use textiles made from 100% recycled materials, and custom-made furniture has been added to the rear of the vehicle. Solar cells help generate energy for the living compartment, ensuring the vehicle maintains range while off-grid.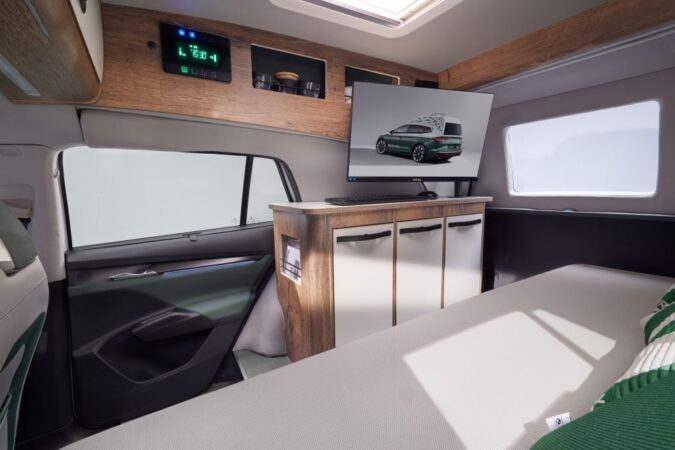 Technological Highlights and Support from Specialists
The Roadiaq comes equipped with two electric motors, providing all-wheel drive capabilities and a range of up to 495 kilometres on the WLTP cycle. The students, with support from Škoda's IT department, equipped the Roadiaq with technological highlights such as a built-in 27-inch monitor with an integrated docking station and camera, and additional light sources and sockets.
Expert camper conversion specialists lent their expertise to the project, supporting the students in creating a vehicle perfectly suited for the needs of today's digital nomads.
A Testament to Škoda's Educational Excellence
The Škoda Vocational School, part of the Škoda Academy, has a long history of providing a first-class education. This project serves as a testament to the institution's commitment to nurturing young talent and fostering creativity and innovation.
From the outside looking in, the Škoda Roadiaq is more than just a concept car; it's a symbol of the flexible, adventurous and sustainable future that Škoda envisions. And for the students who took part in this project, the Roadiaq is a tangible representation of their dedication and skill.