Elon Musk has kept us waiting for this one, and we are seriously excited to get our first glimpse of the long-anticipated Tesla Model X. The world's first luxury electric SUV is here.
 TESLA MODEL X
Ladies and gentleman, here it is: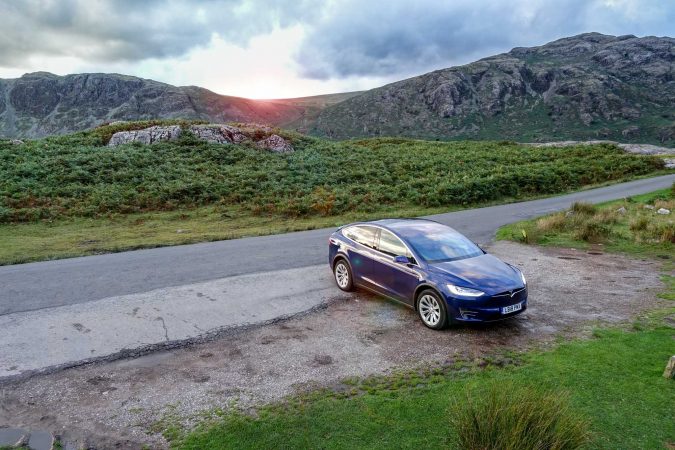 So, where to start with this beast? Let's begin with those awesome back doors. Tesla call them their "Falcon-wing" doors. There's no doubt that these look very "Back to The Future", but they serve a very useful purpose too. No more bending down to strap your kids in, knocking their heads on the car's ceiling in the process. Ultrasonic sensors mean that if you are parked in a tight spot, or there are other restrictions, the doors will only open as far as to not damage your car. Genius!
Inside, it's roomy and comfortable and will get you and 6 passengers to your destination in style. There's no less than 17 speakers to keep you entertained, and a huge 17 inch touchscreen dashboard. The panoramic windshield is also something to behold, it's apparently the largest sheet of glass ever used on a car.
Bioweapon Defence Mode
As ever, Tesla has also impressed us with some seriously cool tech. It's basically a safe house in a biological attack. By pressing a button you can activate "bioweapon defence mode". The car fills with "hospital level quality air" according to Musk. This is a pretty weird mod, but undoubtably very cool also. Equally as impressive is the promise that an auto-pilot function is soon to be added to enable driverless motorway driving. This is the beauty of this machine, who knows what they are going to introduce next with a simple software update to your car? According to Tesla, you can expect "continuous improvement" via these updates.
Tesla's 3rd vehicle doesn't disappoint in the speed and handling category either. The performance model, P90D, has a feature called "ludicrous mode". Yes, we're being serious. Activate this and you'll get to 60 mph in 3.2 seconds, with a top speed of 155mph.
A Hefty Price Tag
Tesla have claimed they've had 25k pre-orders worldwide, and it will cost $130,000 in the US. So slightly out of average Joe's price range! Musk has promised an "electric car for the people" costing just $35,000 in 2017, so we eagerly anticipate this more affordable version.
These are exciting times for SUVs and electric cars, it seems to have woken up brands like Bentley and Rolls Royce into planning similar luxury electric cars. Vive la révolution!
Sources: www.caranddriver.com, gocar.be, fortune.com, www.motortrend.com, www.forbes.com