Have you been thinking of buying a USPS truck and you are looking to get a USPS truck for sale? Doing the proper research before purchasing a vehicle like the Grumman LLV is key if you don't want to end up with something that you don't really want. If this is the case, then you are at the right place because we're going to learn a lot about these old USPS mail trucks.
Since this is a postal truck it has some ups and downs and you need to be properly aware of them. And, oh boy, oh boy, the Grumman LLV has some drawbacks that you need to be aware of. Since this is a government fleet vehicle, the chances of registering it are extremely slim. But this doesn't mean that you cannot register one or turn it into a dragster.
In this guide, we'll learn about the USPS truck and its specs. Then, we'll see what are the things you need to consider before purchasing one. And, the numerous problems that plague it. We'll also discuss how and where you can get a USPS truck for sale. Or, if you can't find one for sale or couldn't buy one, we'll also look at some popular alternatives.
Grumman LLV
The USPS truck is a truck designed for the United States Postal Service, it is also known as the mail truck. Or you can call it by its original name Grumman LLV which means Long Life Vehicle.
The LLV was designed by Grumman who usually was a government contractor that manufactured military equipment. But they decided to enter the commercial vehicle business and offered their LLV to the USPS and this project was accepted and Grumman produced the trucks for the USPS.
What made the Grumman LLV the right choice for the USPS is its versatility and endurance. Imagine that these trucks are still in use since 1994. Yep, the production of the LLV stopped in 1994. This means that these trucks are about 30 years old and still are widely used by the USPS.
A replacement for the USPS truck was unveiled and these old trucks should be available on the market in 2023 when the replacement truck will come to the USPS. Many of these LLVs will be turned into scrap while some of them will be offered for sale. So, there is a high chance that you can spot a USPS truck for sale and purchase it.
USPS Truck Specs
Nevertheless, the vehicle that was designed to replace the LLV is manufactured by Oshkosh Defense, which is a government contractor as well. These new vehicles will also keep the traditional look that a mail truck is associated with. In addition to this, the durability of the mail truck will be retained. These trucks have to be heavy-duty and withstand the day to day use.
But where can I find a USPS truck for sale? More on that in a bit after we learn the LLV specs and the things to consider before getting one. As we mentioned the USPS LLV truck was produced by Grumman between 1987 and 1994. The final assembly was carried out in Montgomery, Pennsylvania.
The original service life was estimated to be about 24 years. But the USPS concluded that they are still a reliable workhorse and this service life was extended to 30 years. This was owed to the high-strength materials that were used in making these trucks.
Imagine something that will survive more than 30 years of snow, mud, water, salt, and other contaminants that will destroy a car and turn it into a rust bucket. That's the LLV, the perfect and most reliable mail truck ever built. And I think that this is because some people from the Army decided to build it. If it was built by carmakers, it wouldn't last for so long, trust me.
USPS Truck Specs #1: Dimensions & Weight
But where can I get a USPS truck for sale? Well, more on that we are going to cover later in this article. Now let's discuss the dimensions and other interesting specs that make the LLV the perfect mail truck. The USPS truck also known as LLV is based on the Chevy S-10 Blazer from 1982.
This means that it shares a ton of components under the hood with the Blazer. But this doesn't mean that they are the same vehicle. The LLV was designed to be an endurance machine and a lot of this componentry is reinforced properly to withstand a lot of the stress that is accumulating over the years of long use.
But when it comes to dimension specs, this USPS truck has a wheelbase of about 100.5 inches and a length of 175.5 inches. It is 75 inches wide and 85 inches tall. It is quite taller than your regular SUV. This gives you the extra high ride height that makes you see everything on the road.
The USPS truck has a curb weight of 2,700 lbs which is quite light for a truck. As you can see this is not your ordinary truck. But where can I find a USPS truck for sale? More on that in a bit after we cover the engines and transmissions that were used in the LLV truck.
USPS Truck Specs #2: Engines And Transmissions
In terms of engines, there are two available in the LLV truck. The first one was the infamous Iron Duke. This engine was a design borrowed from Pontiac. And this engine was a true workhorse, they didn't call it the Iron Duke for nothing. The Iron Duke was a 2.5L straight-4 engine with an overhead valve design with 2 valves per cylinder. The Iron Duke was making about 85hp.
But this engine was replaced with a Chevy design later on. More precisely with a 2.2L straight-4 engine that was more modern and up to date.
In terms of transmissions, there is only one transmission used on the LLV. This transmission is the Turbo Hydramatic TH180 3-speed transmission. This transmission is made by GM and is a true workhorse. At the time in the '80s and '90s, this transmission was included in dozens of cars.
Unfortunately is that this transmission is not in production anymore. So, getting a new one if the old one is broken can be a real challenge. But where can I find a USPS truck for sale? More on that in a bit, after we cover the rest of the specs of the LLV.
USPS Truck Specs #3: Fuel Economy
What is interesting though is that the fuel economy of this truck is quite good for a truck. It easily gets 17 miles per gallon. Making it a really good commuter and in this aspect, it outperforms a lot of the competition when it comes to other types of delivery trucks as well as pickup trucks.
But where can I find a USPS truck for sale? More on that in a bit after we cover the rest of the specs of this truck.
USPS Truck Specs #4: Safety Features
The safety of the USPS truck is rather poor and it doesn't deliver what more modern options on the market are delivering. This means that you are stuck with 80's technology. No airbags, nothing when it comes to modern safety equipment and systems. So, it's up to you if you want to take the risk and drive one of these trucks on a daily basis.
Personally, I would be rather scared to drive a vehicle that doesn't have at least the basics like airbags and ABS. But at the end of the day, it's not my call. So, where can I find a USPS truck for sale? More on that in a bit after we cover the most common problems of this truck.
USPS Truck Specs #5: History & Background
The USPS mail truck, commonly recognized for its distinctive look and notable service in the mail delivery sector, is known officially as the Grumman Long Life Vehicle (LLV). The birth of the LLV arose from a collaboration between Grumman (an aerospace company) and Chevrolet in the late 1980s.
They then sought a vehicle that would serve its specific needs: longevity, durability, and the capability to handle varying weather conditions.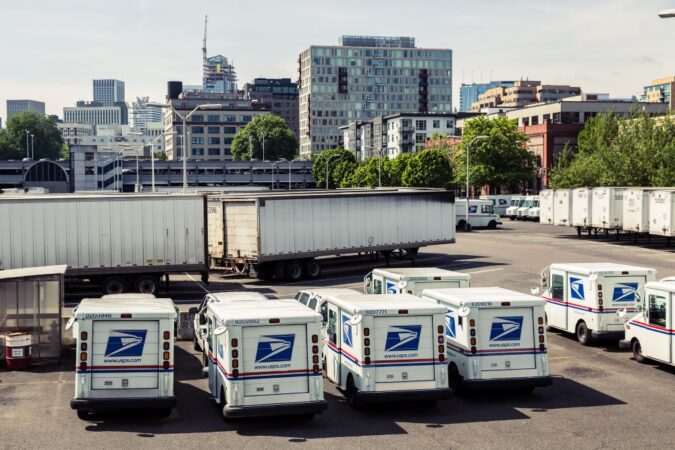 "Portland Main Post Office / USPS Trucks" by Tony Webster is licensed under CC BY-SA 2.0
.
USPS Truck Specs #6: Trivia and Lesser-Known Facts
Named for Longevity: The "Long Life Vehicle" label wasn't just marketing. The vehicle was originally anticipated to last 24 years, a lifespan that was later extended by USPS due to its reliability.
Unique Design: While many see the LLV as quirky, its design is purposeful. The tall cargo area was crafted to accommodate the stacking of mail and packages, ensuring efficiency for mail carriers.
Windshield Design: The LLV's large windshield was shaped to offer a broad field of vision, critical for mail carriers navigating through neighborhoods and tight streets.
USPS Truck Specs #7: List of Different Models
While the Grumman LLV is the most famous, USPS has used a variety of vehicles throughout its history:
Model A Ford: USPS used this iconic vehicle in the 1930s, revolutionizing mail transport.
Jeep DJ-5: In the mid-20th century, USPS utilized this Jeep model which was especially handy in reaching rural areas.
Ford/Utilimaster FFV: A more modern alternative, used mainly for bigger deliveries due to its expansive space.
The future also seems promising, with USPS exploring electric and more environmentally-friendly vehicle options.
USPS Truck Specs #8: More Detailed Specifications
Chassis: The LLV was built on a modified Chevy S-10 Blazer chassis, which provides durability and strength.
Cargo Space: The LLV boasts approximately 1,000 lbs of mail or parcels, which is sizable given its compact design.
Drivetrain: Unlike most trucks, the LLV features a front-wheel-drive system, suitable for its primary use in city environments.
USPS Truck Specs #9: Future of USPS Delivery Vehicles
As we venture deeper into the 21st century, there's a push for greener, more efficient vehicles. USPS has recognized this and announced the Next Generation Delivery Vehicle (NGDV) program. Partnering with Oshkosh Defense, the aim is to integrate modern safety measures (lacking in the LLV), improve fuel efficiency, and eventually transition to electric powertrains.
The NGDV promises enhanced ergonomics for drivers, air conditioning (a luxury not present in the LLV), and increased cargo capacity.
USPS Truck Specs #10: Common Issues and Longevity
Given the LLV's extended service life, it's inevitable they'd encounter wear and tear. Some frequent issues include rusting (especially in areas with heavy snow and salted roads) and mechanical problems due to age. Still, many attest to the vehicle's hardiness, especially when regularly maintained.
For potential owners, it's vital to understand these potential challenges. Yet, with care, these iconic vehicles can be a unique and functional addition to one's collection. In conclusion, while the Grumman LLV may be showing its age, its storied history, and the upcoming NGDV's promise demonstrate USPS's commitment to evolving and improving its fleet for years to come.
If you're pondering "where can I find a USPS truck for sale?", remember that owning a piece of postal history is not just about purchasing a vehicle, but also preserving a narrative of American perseverance and progress.
Grumman LLV USPS Truck Problems
In the following few chapters, we are going to discuss the common USPS truck problems. Knowing the problems will make you determine if this truck is the right for you and whether or not you should learn where to find a USPS truck for sale. So, if you want to learn more about the USPS truck problems, follow along.
USPS Truck Problems #1: They Love To Catch Fire
The biggest problem with the USPS truck is that these trucks love to catch fire. According to trucks.com, more than 120 of these trucks caught fire in the last 5 years. Still, there are more than 140,000 of these trucks out there and this number is insignificant when we put the numbers into perspective.
What is good though, there were no fatalities reported. Most of these were gas station fires that happened when the vehicle was refilled with gasoline. Overall, pretty reliable vehicle when everything is considered. That's why the postal service chose it as the main workhorse.
USPS Truck Problems #2: No Air Conditioning & Safety Measures
When it comes to problems, it is worth mentioning the safety and comfort aspects. With this truck, there are no safety measures around that will make you feel safer in it. There is no ABS, no airbags, and other essentials that are available in other trucks out there. With this truck, you rely on your own.
But even if you are the most cautious driver there are still some people that don't deserve a driver's license and these people can accidentally hit you and cause you some permanent damage to your health. Another aspect is the comfort, with this truck, you can expect the heat to hit you hard in the summer. Why is this the case?
This is the case because there is no air conditioning inside of the truck. You will not be able to cool your body during those hot summer days. You will be carrying that wet towel around your neck to wipe your face from all the sweat. Not the ideal situation, to be honest. But where can I find a USPS truck for sale? More on that in a bit, we'll get there in no time.
USPS Truck Problems #3: Age-Related Wear and Tear
Remember, many USPS trucks, especially the Grumman LLVs, have been on the roads since the 1980s and 1990s. This means that they've encountered years of wear and tear. From rusting undercarriages due to salt exposure in winter climates to brittle rubber seals causing water leaks, age hasn't been kind to these vehicles.
If you're eyeing an older model, be prepared for a host of replacement parts and repairs. Moreover, old components and outdated mechanical designs can translate to a less-than-smooth driving experience.
USPS Truck Problems #4: Limited Parts Availability
Given the specialized nature of the USPS mail trucks, parts aren't as widely available as, say, for a popular sedan. When you need a specific part, you might find yourself scavenging junkyards or turning to specialty shops. This scarcity can lead to expensive repairs and longer downtimes when things break.
USPS Truck Problems #5: Left-Hand Drive Challenge
USPS trucks, specifically the Grumman LLV, are left-hand drive vehicles. This design is intentional to make mail delivery efficient. However, for everyday use, this setup can be challenging, especially in areas where right-hand driving is the norm.
Even in the US, where it's a right-hand drive nation, parking, drive-thrus, and even simple tasks like paying tolls become complicated exercises.
USPS Truck Problems #6: Lackluster Fuel Efficiency
Fuel efficiency wasn't a top priority when designing the Grumman LLV. Owners have reported underwhelming gas mileage. When compared to modern vehicles boasting improved fuel efficiency, owning a USPS truck might feel like you're burning cash at the gas station.
USPS Truck Problems #7: Noisy Ride Experience
Owning a USPS truck isn't a silent affair. The combination of an old engine design, minimal insulation, and boxy structure leads to a noisier ride. This might not be the best choice for those seeking a quiet, relaxing drive. But if you're into retro vibes and can handle the noise, it's a unique experience.
USPS Truck Problems #8: Modest Speed and Power
These vehicles were designed to stop and start frequently, not for highway speeds or heavy loads. Don't expect to win any races or haul heavy equipment. The truck's modest power is enough for mail delivery, but might leave you wanting more in daily driving scenarios.
USPS Truck Problems #9: Size and Maneuverability
While its compact size is an advantage in urban settings, it also means limited storage space. If you're considering a USPS truck for a conversion project or for transporting larger goods, be aware of its constraints. Furthermore, its high center of gravity can make it less stable and more prone to tipping in sharp turns.
USPS Truck Problems #10: Adaptation for Personal Use
The Grumman LLV was designed for mail delivery, not personal use. Adapting it for other purposes might require modifications, such as seating adjustments or adding windows for better visibility. These alterations can be costly and time-consuming.
In conclusion, while owning a USPS mail truck can be an interesting endeavor, potential owners should be aware of the challenges. It's essential to weigh the unique charm of driving such a distinctive vehicle against the potential headaches. Whatever your decision, ensure you're informed and prepared for the road ahead.
What To Consider When Buying A USPS Truck For Sale
Before going out there on the market, there are some things that you need to consider first. Because you cannot go for any USPS truck for sale out there. You need to find something really good that is worth your attention and not a rust bucket.
That's why in the following chapters we are going to discuss the things you need to consider before finding a USPS truck for sale. Knowing these things will help you out finding your best deal and learn if this truck is the right one for you. So, let's begin.
Buying A USPS Truck, Considerations #1: Look At The Condition
The first thing you need to do before you do anything is to give the truck a proper inspection. You need to be fully aware of the condition of the truck before you buy it. If you are looking to purchase one, you will most likely find one at the auction of government surplus vehicles. These usually have USPS trucks for sale. There you need to go directly and inspect the truck.
You need to learn if the engine works right, if it goes into gear, or if it does have some major rust issues. Everything needs to be checked, you don't want to get a truck that you cannot drive. Remember that parts for these trucks are scarce and it is really hard to come by to something like the headlights, and other panels.
These trucks were not intended for the public, so you can expect that you will not come by to do something for it on eBay. Or if you find something, it will likely cost you a whole fortune to purchase it. That's why a good inspection before you make a purchase is essential. Make sure that nothing is missing and that everything works properly when you find a USPS truck for sale.
Buying A USPS Truck, Considerations #2: Check It's Legal Status
Since the USPS truck is a government-sanctioned vehicle, you need to make sure that the seller that is trying to sell you this vehicle complies with the law. Which means that it has a legal right to sell these vehicles. Not everyone can sell these trucks.
Also, these trucks if are intended for public use need to be retrofitted with seat belts and proper doors that will allow the new owner to feel safe in these trucks and not worry about his life. Seat belts are one of the essentials of this truck. So, if the USPS truck for sale that you want to purchase doesn't have them, you need to install them by yourself if you want to make it road legal.
Buying A USPS Truck, Considerations #3: Purchase Cost For The USPS Truck
Although they say that something is worth as much as the seller thinks that the product is worth. This isn't always the case, you need to make sure that there are a ton of people that try to sell these trucks for a price that goes high through the roof.
If someone is trying to sell you a truck for like 20 grand, don't buy it if you appreciate your money. These trucks are not worth 20 grand or more. Even though some people are trying to sell them for this amount of money. More about the real cost of the USPS truck for sale, we are going to cover later in the article after we learn where you can find a USPS truck for sale.
Buying A USPS Truck, Considerations #4: Fuel Efficiency and Maintenance
Old USPS mail trucks, especially the Grumman LLV (Long Life Vehicle), were not particularly known for their fuel efficiency. Many ran on gasoline and offered miles per gallon figures in the low teens. If you plan on using the truck frequently, factor in the cost of fuel.
Maintenance can also be a challenge. Due to the unique nature of these vehicles, they might require specialized maintenance knowledge. When considering the purchase, evaluate your proximity to a mechanic who is familiar with these trucks. If not, be prepared for a steep learning curve or additional costs for specialized service.
Buying A USPS Truck, Considerations #5: Availability of Spare Parts
Expanding on the point of scarce parts, one must dive deeper into the world of auto parts. The unique design of USPS trucks means that not just any part will fit. When planning to purchase one, research nearby salvage yards, or online forums where enthusiasts might be trading parts. Having a ready source for potential replacements can save you headaches down the line.
Buying A USPS Truck, Considerations #6: Practicality and Intended Use
What's your purpose for buying a USPS truck? If it's for novelty or collector's value, then some of the practical concerns might not apply to you. However, if you intend to use it for daily commuting, delivery, or another regular task, you should evaluate its practicality. The truck's size, lack of modern amenities, and its one-side drive orientation might not be suited for everyone.
Buying A USPS Truck, Considerations #7: Insurance and Registration
When purchasing an older or unconventional vehicle like a USPS truck, there can be unique challenges with insurance and registration. Check with your local DMV and insurance agents to understand the process, potential restrictions, and costs involved. Some insurers may classify it as a commercial vehicle, which might lead to higher insurance rates.
Buying A USPS Truck, Considerations #8: Vehicle History and Usage
Like any other vehicle purchase, it's vital to check the history. Was it involved in any accidents? How often was it serviced? Being a mail delivery vehicle, it would have stopped and started frequently, leading to wear and tear that's different from typical passenger vehicles. Such factors can influence its longevity and future performance.
Buying A USPS Truck, Considerations #9: Adaptation to Modern Roads
It's essential to understand that these vehicles were designed for a specific purpose – mail delivery. Hence, they might not be as agile or fast as contemporary cars. Evaluate if it suits the type of roads and traffic you'll typically encounter. Would it be primarily city driving, or do you need to access highways?
Buying A USPS Truck, Considerations #10: Resale Value and Community
Finally, think about the future. While the novelty of owning a USPS truck is enticing, consider its resale value. If you decide to sell it later on, is there a market for it? It might be useful to join online communities or forums related to USPS trucks to gauge interest, get advice, and understand the market better.
These communities can also provide invaluable insights and support throughout your ownership journey. In conclusion, owning an old USPS truck can be a fun and unique experience, but it's crucial to go in with your eyes wide open. By understanding the challenges and preparing accordingly, you can enjoy the journey of owning a piece of American postal history.
Where To Find A USPS Truck For Sale
When it comes to getting one, there is good news and bad news. First, we will cover the bad news. And the bad news concerning the USPS trucks is that they will be crushed. They are all due to be replaced with the new types of trucks that should start to roll on the streets in 2023. Meaning that the old ones will be scrapped.
But you shouldn't be desperate because you will still be able to find a USPS truck for sale. Soon the market will be flooded with these trucks that the local USPS offices will want to get rid of. The best thing is to be patient and start observing your local car surplus auctions in your state.
There is a high chance that you will see some of these trucks there and also be able to inspect them before you bid. That's why it is not a smart idea for you to rush and get some really expensive deal that will cost you an arm and a leg. But when we talk about expensive deals, what is the real cost for a USPS truck for sale? Let's find out in the next chapter.
Owning a piece of postal history is exciting. As these iconic trucks phase out, their nostalgic value only rises. By exploring various avenues, from auctions to local USPS offices, you can secure a good deal. With patience and diligence, you'll soon have an iconic mail truck parked in your driveway.
A Few Tips Before You Buy
Regardless of where you decide to buy, a few pointers will serve you well:
Inspection is Key: Always inspect the truck in person. Look for rust, check the engine, and ask for maintenance records.
Know the History: Understanding the vehicle's history can help you negotiate better. Was it in any accidents? How was it used?
Test Drive: This seems obvious, but many skip it. How does the truck feel on the road? Any strange noises?
Cost of Maintenance: Old USPS trucks might have unique parts that can be expensive. Factor in maintenance when deciding on your budget.
Where To Find A USPS Truck For Sale, Option 1: Government Surplus Auctions
One of the most reliable places to find decommissioned USPS trucks is government surplus auctions. Federal agencies, including the USPS, often use these platforms to dispose of their old equipment.
Websites like GSAAuctions.gov are a hub for such assets. By signing up, you'll have access to a list of upcoming auctions, complete with vehicle descriptions, starting bid amounts, and inspection details. Always remember to check these listings frequently, so you don't miss out on a great deal.
Where To Find A USPS Truck For Sale, Option 2: Local USPS Offices
Sometimes, it pays to go directly to the source. With the USPS transitioning to newer models, many local post offices will be looking to offload their old fleet. Pop into your local office or give them a call. They might provide insider information on upcoming sales or direct you to the appropriate contact. It's a more hands-on approach, but it could yield surprising results.
Where To Find A USPS Truck For Sale, Option 3: Online Marketplaces
In this digital age, online marketplaces like eBay Motors or Craigslist can be invaluable in hunting down old USPS trucks. Sellers might list their newly-acquired mail trucks, offering you a chance to negotiate prices or even barter. However, always exercise caution when making online transactions. Ensure you inspect the truck in person and verify all details before sealing the deal.
Where To Find A USPS Truck For Sale, Option 4: Private Sellers
Occasionally, private sellers acquire old mail trucks, either from auctions or direct purchases. They might use them for a while and then decide to sell. Keeping an eye on automotive classifieds in local newspapers or community boards can lead to such hidden gems. While they might be a tad pricier, sometimes these trucks come with modifications or restorations that add value.
Where To Find A USPS Truck For Sale, Option 5: Specialized Dealers
Believe it or not, there are specialized dealers dedicated to unique vehicles, including old USPS trucks. They often have a network that sources these vehicles, ensuring you get one in decent condition. However, their expertise might come at a premium. So, if you're looking for a top-notch mail truck and are willing to invest a little extra, this might be the route for you.
"USPS Mail Trucks in Huron South Dakota" by Tony Webster is licensed under CC BY-SA 2.0
.
How To Buy A USPS Truck For Sale
If you are thinking of buying an old USPS truck for sale, here's what you need to do to buy one…
How To Buy A USPS Truck, Step #1: Why Buy a USPS Mail Truck?
USPS mail trucks, with their unique design, have become iconic on American streets. For car enthusiasts and collectors, owning one can be a real treat. Besides the novelty, these trucks are built for durability, making them a worthy investment for some.
How To Buy A USPS Truck, Step #2: Are They Road Legal?
Most old USPS mail trucks were designed specifically for mail delivery. This means they might not always meet standard road vehicle requirements. Before making a purchase, check local state laws regarding vehicle requirements. Some states may need modifications before they're street-legal. Always ensure you're compliant to avoid legal issues.
How To Buy A USPS Truck, Step #3: The Buying Process
1. Finding the Truck – USPS mail trucks can be found at government surplus auctions. Websites dedicated to government auctions often list these vehicles. Always choose reputable sites and avoid listings that seem too good to be true.
2. Inspecting the Truck – Like buying any used vehicle, inspection is key. Check for rust, tire wear, engine issues, and brake health. If possible, bring a trusted mechanic to the auction for a professional opinion.
3. Bidding and Purchase – Remember, you're participating in an auction. Set a budget. Bidding can get competitive, but it's crucial not to overspend. Once you win the bid, understand the auction's payment terms.
How To Buy A USPS Truck, Step #4: Legalities and Documentation
1. Title Transfer – Ensure you get the vehicle's title upon purchase. This proves ownership and is necessary for registration.
2. Vehicle Registration – Depending on your state, you may need to provide inspection certificates, proof of insurance, and the title for registration. Always check local DMV requirements.
3. Insurance – Getting insurance for a unique vehicle like a USPS mail truck might be challenging. Reach out to insurance providers beforehand to understand the coverage options.
How To Buy A USPS Truck, Step #5: Modifying Your USPS Truck
If you're thinking of modifications, remember that any changes can affect the truck's legality on the road. Here are some things to consider:
1. Safety First – Before any aesthetic modifications, ensure the vehicle's safety features are up to date. Brakes, lights, and mirrors are primary concerns.
2. Engine and Performance – Given their age, some USPS trucks might need engine upgrades or replacements. While this can be costly, it ensures better performance and longevity.
3. Aesthetic Changes – Want a fresh paint job or a new interior? Go for it! But always keep local laws in mind. Some modifications, like tinted windows, have legal restrictions.
How To Buy A USPS Truck, Step #6: Maintenance and Care
Owning a USPS truck means you have a piece of American history. Proper maintenance is essential. Regular oil changes, brake checks, and tire rotations will keep your truck in top shape. Since these vehicles were used daily for mail delivery, they might show wear and tear. Be prepared for regular upkeep.
Buying and owning an old USPS mail truck is an exciting journey. It's a blend of nostalgia, history, and automotive enthusiasm. By understanding the buying process, legal requirements, and maintenance needs, you can ensure your USPS truck runs smoothly on the streets for years to come.
USPS Truck For Sale Cost
These trucks on average cost between $3,000 and $5,000. Depending much on the condition of the truck. Some people are trying to get a ton of money from them and list them for more, but the real cost is about 5k.
If you are prepared to pay more for it, you should do it. But be sure that this is a really good deal and not a basket case, meaning that you need to test it out properly and inspect the vehicle for corrosion and other damage that is potentially there. Then based on this you should make a clear estimate of whether it is worth it or not.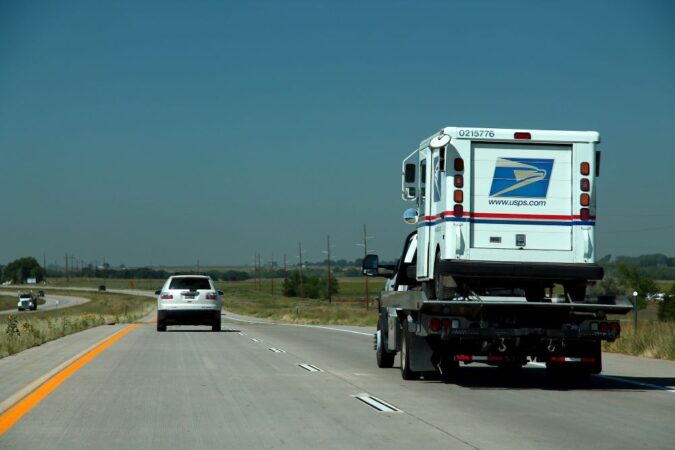 "I-76 West – MM75 – USPS on Tow Truck" by formulanone is licensed under CC BY-SA 2.0
.
Alternatives To A USPS Truck For Sale
While the allure of an old USPS Grumman LLV mail truck is undeniable, the alternatives provide various features that might better suit your needs. Whether it's the jingle of an ice cream truck, the power of a U-Haul, or the spaciousness of a commercial van, there's a vehicle out there waiting for you.
Dive deep into your requirements, do your research, and soon you'll find a ride that's just right for you. Remember, it's not just about the vehicle's history, but the stories you'll create with it in the future. If you weren't able to buy a USPS truck for sale, or if you couldn't find one for sale, here are some alternatives:
USPS Truck For Sale, Alternatives #1: Ice Cream Trucks
Ice cream trucks bring joy with their music and frozen treats. Beyond serving up cool delights, these vehicles offer ample storage and large windows, making them ideal for business or personal use. If you're hunting for a vehicle with character and space, this is a tasty choice.
USPS Truck For Sale, Alternatives #2: U-Haul Trucks
Ever considered U-Haul trucks for personal use? These powerhouses are built for hauling heavy items across long distances. They offer an impressive storage capacity, ideal for mobile businesses or moving. Plus, they're available in various sizes to fit your needs.
USPS Truck For Sale, Alternatives #3: Commercial Vans
Commercial vans, like the Ford Transit or the Chevy Express, are versatile. They come in multiple sizes and configurations, from passenger vans to cargo versions. Their robust engines, ample storage, and easy customization make them great alternatives to the USPS mail truck.
USPS Truck For Sale, Alternatives #4: Step Vans
Step vans, also known as walk-in or multi-stop trucks, are perfect for those who need to stand or move around inside. Many businesses, from delivery to food trucks, benefit from their design. Think of them as mobile rooms on wheels!
USPS Truck For Sale, Alternatives #5: Pickup Trucks with Camper Shells
Pickup trucks are everywhere, and for good reason. They're reliable, robust, and flexible. By adding a camper shell, you get the benefits of storage and security. Whether for business or travel, this combo offers both power and protection.
USPS Truck For Sale, Alternatives #6: Box Trucks
Similar to U-Hauls, box trucks offer a significant amount of storage. They're ideal for moving bulky items or even turning into a unique RV. The back is a blank canvas, ready for your customization.
USPS Truck For Sale, Alternatives #7: Mini Buses
If you need to transport people or goods, mini buses are a smart pick. With multiple seating configurations and storage options, they're adaptable to various needs. Many choose mini buses for community activities or mobile businesses.
USPS Truck For Sale, Alternatives #8: Ambulances
Retired ambulances offer durability and a unique layout. With cabinets, storage, and a strong build, they can become excellent work vehicles or campers. And, with their history of care, they're sure to be reliable.
Should You Purchase A USPS Truck
Definitely, if you are pumped about it and you find a good USPS truck for sale, go for it. The main thing we to be happy, and if it makes you happy to own one of these trucks, this might be the deal for you.
These trucks can be restored and used as museum pieces, you can take them to car shows around the country and everybody will want to take a picture with your USPS truck. Especially if it is a really good example.
You can also modify these trucks as well. You can easily swap the axle and install something really special like a Dana rear axle and a big LS engine. These trucks can into a fun dragster. And people have already done it in the past. So, you should do it as well. Having fun in a vehicle you purchase should be your top priority, especially if it is a USPS truck for sale.
Do I Need A CDL To Drive One Of These USPS Trucks
Having a commercial driver's license is not an essential thing if you want to drive a USPS truck. Even though if you want to work as a postal worker you will need a CDL. So why is this the case? This is the case because for you to do your commercial duty you will need a CDL.
Still, you make money and earn your salary through the truck, maybe it is not yours, but, understandably, you need a CDL. On the other hand, if you plan to use the truck for personal use and convert it into a camper, you will not need a CDL.
This truck is not above 26,000 lbs, so you don't have to worry about it and you will be able to drive it with just a regular non-commercial driver's license.
The History of the USPS Mail Truck
The USPS Mail Truck has been an American icon for over a century. The first mail truck was introduced in 1902 and since then, the vehicle has undergone many changes. The current model, the Grumman LLV, has been in service since the 1980s.
The Grumman LLV has a unique design, with a low profile and an aluminum body, which makes it more fuel-efficient and cost-effective. The vehicle is also equipped with air conditioning and heating, making it a comfortable ride for USPS drivers.
Advantages of Buying a USPS Mail Truck
Buying a USPS Mail Truck has many advantages. First, the vehicle has a proven track record of durability and reliability. This means that the vehicle can handle heavy loads and tough road conditions. Second, the USPS Mail Truck is designed to be fuel-efficient, which means that it is cost-effective to operate.
Third, the vehicle is easy to maintain and repair, which reduces downtime and keeps the vehicle on the road. Finally, the USPS Mail Truck is a great investment for anyone looking to start a small business, as it can be used for a variety of purposes, such as delivering packages or running a mobile shop.
Where to Buy a USPS Mail Truck
There are several places to buy a USPS Mail Truck. The first place to check is the USPS itself, as the organization periodically sells its used vehicles. Another option is to check with local dealerships that specialize in commercial vehicles, as they may have used USPS Mail Trucks for sale.
Finally, online classifieds and auction sites may also have listings for used USPS Mail Trucks. When buying a used USPS Mail Truck, it is important to inspect the vehicle thoroughly and ensure that it has been well-maintained. It is also important to check the vehicle's history, including any accidents or major repairs, before making a purchase.
USPS Truck For Sale: In Conclusion…
In this article, we have covered quite a bit when it comes to the USPS trucks and we learned where you can get a USPS truck for sale. First, we learned the basics of these trucks and their history, who made them as well as their specs. It is worth noting that they are no power monsters. But they are reliable workhorses that serve the postal service for more than 30 years.
Then we learned the things you need to consider before purchasing one of these trucks for yourself. The condition of the truck as well as the legal status of the truck are important if you want to register it and drive it on the road. Then we learned where you can get USPS trucks for sale and that is on government website auction sites.
Overall, an excellent vehicle if you find one for a screaming deal.
USPS Truck For Sale: Frequently Asked Questions (FAQs)
Here are some popular frequently asked questions (and their answers) for a USPS truck for sale…
What Is USPS
USPS stands for the United States Postal Service. It's a government agency responsible for delivering mail and packages in the U.S. They handle billions of mail pieces every year and are a crucial part of the country's communication infrastructure.
Who Makes Mail Trucks
Historically, the Grumman LLV (Long Life Vehicle) was the iconic mail truck used by USPS for many years. It was produced by Grumman Corporation. As of my last update, the USPS was looking into new models and contracts for the next generation of mail trucks. Different companies were competing for the contract.
Can You Track USPS Truck
No, you can't track the exact location of a USPS truck in real time. However, you can track your packages and letters. USPS provides tracking services that allow you to see where your package is and when it's expected to be delivered.
How Much Does USPS Drivers Make
USPS drivers, often known as mail carriers, have salaries that vary based on experience, location, and other factors. On average, entry-level carriers start with an hourly rate that's above the federal minimum wage. Over time, with experience and tenure, their pay can increase. Benefits are also a big part of their compensation.
Do Mail Trucks Have AC
Many of the older Grumman LLV mail trucks do not have air conditioning. This has been a point of contention, especially in hot climates. However, newer models and potential replacements for the LLV may have improved features, including air conditioning.
Do Mail Carriers Pay for Their Own Gas
No, mail carriers do not pay for their own gas. The USPS covers the cost of fuel for its fleet of mail trucks. However, rural carriers who use their own vehicles are compensated for their mileage, which includes a consideration for gas.
Why Is USPS So Terrible
Some people find issues with USPS due to delayed deliveries or other service disruptions. Like any large organization, USPS has challenges, especially given the vast volume of mail they handle. Factors like budget constraints, policy decisions, and increased package volumes, especially during holidays, can affect their efficiency.
What Time Do Delivery Trucks Stop
Delivery times for USPS can vary based on the route and volume of mail. Typically, mail carriers start their routes in the morning and continue until all mail and packages for the day are delivered. In most areas, deliveries are completed by early evening, but during busy times, it might go a bit later.
How Long Has USPS Been Around
The USPS has a rich history that dates back to the founding of the United States. The Postal Service Act, signed by President George Washington, established the USPS in 1792. So, it's been around for over 230 years, playing a crucial role in the nation's communication and commerce.
Does USPS Work at Night
Yes, USPS does work at night. While mail carriers typically deliver during the day, sorting facilities operate around the clock. Night shifts process mail and packages to prepare for the next day's deliveries. This continuous operation helps manage the vast volume of mail that USPS handles.
Why Is USPS So Unreliable
Some people feel USPS is unreliable due to missed deliveries or delays. However, considering the sheer volume of mail and packages they handle, challenges are inevitable. Weather disruptions, operational constraints, and increased package volume during peak times can influence service reliability. It's worth noting that many customers have positive experiences with USPS too.
Do Mail Trucks Have Heat
Yes, mail trucks, particularly the Grumman LLV models, are equipped with heaters. This is essential, especially in colder regions, to ensure the comfort and safety of the mail carriers during winter months.
Does USPS Forward Government Mail
USPS will forward most mail, but there are exceptions. Some government mail, especially items deemed as 'official,' might not be forwarded even if you have a change of address on file. It's always a good idea to notify individual agencies directly if you move.
How Fast Can a Mail Truck Go
The Grumman LLV, which is a common USPS mail truck, has a top speed of around 65 miles per hour. However, in urban and residential areas, mail trucks usually move much slower to ensure safety and efficiency while making frequent stops.
How Much Do Delivery Trucks Cost
The cost of a delivery truck can vary widely based on size, features, and manufacturer. Smaller vans might cost anywhere from $20,000 to $40,000 new, while larger delivery trucks can cost upwards of $50,000 to $100,000 or more. Used trucks can be less expensive, depending on age and condition.
How to Buy a Mail Truck
If you're interested in buying a retired USPS mail truck, you might want to check government surplus auctions. Websites like the General Services Administration (GSA) Auctions list government vehicles for sale. It's important to ensure the truck is in good working condition and to be aware of any regulations concerning the use of former mail trucks.
What Time Do USPS Drivers Start
USPS mail carriers typically start their day early in the morning. They begin by sorting mail and preparing for their route. The exact start time can vary based on the specific post office and route but it's common for many carriers to begin their day between 6:00 am and 8:00 am.
How to Deliver Mail in Your Own Car
Some USPS rural mail carriers use their own vehicles for mail delivery. If you're interested in this type of position, you'd apply for a Rural Carrier Associate (RCA) job with the USPS. Once hired, you would receive training and guidelines on how to safely and effectively deliver mail using your own vehicle. Compensation includes a mileage rate to cover vehicle costs.
What Does LLV Stand for USPS
LLV stands for Long Life Vehicle. It refers to the iconic mail truck that has been widely used by the USPS for many years. These vehicles were designed to have a long operational life, typically lasting for decades with proper maintenance.
How Old Do You Have to Be to Deliver Mail
To work as a mail carrier for the USPS, you generally need to be at least 18 years old. However, if you're a high school graduate, you can apply at 16. Other requirements include passing a written examination and having a clean driving record.
How Many Miles Does a Truck Last
The lifespan of a truck in terms of miles can vary based on its make, model, maintenance, and usage. On average, many trucks can last 200,000 to 300,000 miles with proper care. Some well-maintained trucks can even exceed this range, reaching 500,000 miles or more.
Does USPS Use Planes
Yes, the USPS does use planes to transport mail and packages. Air transportation is especially important for long-distance deliveries or when quicker delivery times are required. The USPS contracts with commercial airlines and also uses dedicated cargo planes for this purpose.
How Much Does a Mailman Make
A mailman, or mail carrier's, salary varies based on location, experience, and tenure with the USPS. Entry-level mail carriers can expect a starting hourly rate that's above the federal minimum wage. Over time and with promotions, this rate can increase. In addition to their base salary, mail carriers also receive benefits.
What Time Does the Mail Truck Come
The arrival time of the mail truck can vary based on the route, volume of mail, and the specific area. In most residential areas, mail is typically delivered between 9:00 am and 5:00 pm. However, during busy periods or in certain areas, delivery times may differ.
Why Are Mail Trucks Right Hand Drive
Mail trucks in the U.S. are right-hand drive to make it easier and safer for mail carriers to deliver mail. This design allows mail carriers to access mailboxes from the vehicle without having to walk around the truck or step into traffic, especially in suburban or rural areas where mailboxes are often on the road's edge.
How Many Miles Can a Van Last
Like trucks, the lifespan of a van in terms of miles varies based on make, model, maintenance, and usage. A well-maintained van can often last 200,000 to 300,000 miles. With exceptional care and regular maintenance, some vans can even reach or exceed 400,000 miles.
Do USPS Trucks Have Cameras
Yes, some USPS trucks are equipped with cameras for safety and security reasons. These cameras can help monitor the surroundings, especially when reversing. Additionally, they can be used to ensure the safety of both the mail and the mail carrier.
Did Vans Exist in the 80s
Yes, vans existed in the 80s. In fact, the 1980s was a popular era for vans, especially the customized 'conversion vans' that often featured elaborate interiors, and artwork on the exterior, and were sometimes used for camping or as travel vehicles.
Why Do Mail Trucks Drive on the Right
Mail trucks in the U.S. have right-hand drive configurations to make mail delivery more efficient. By driving on the right side, mail carriers can easily access mailboxes from the vehicle, especially in suburban and rural areas where mailboxes are located at the edge of the road. This setup reduces the need to get out of the truck or step into traffic, enhancing safety.
Why Do Mail Trucks Have No Doors
Many mail trucks, especially the iconic Grumman LLVs, have open or easily removable doors to facilitate quick and easy access in and out of the vehicle. This design allows mail carriers to deliver mail more efficiently, especially in areas where they need to make frequent stops.
How Many Mail Trucks Are There in the US
As of my last update, the USPS operated a fleet of over 230,000 vehicles, the majority of which are recognizable mail trucks, like the Grumman LLV. The exact number might vary due to new acquisitions, retirements, and other operational changes.
Where Do Mail Trucks Get Gas
Mail trucks get their gas from designated USPS facilities that have fueling stations. These facilities ensure that the fleet has a consistent supply of fuel. In some rural areas or situations where a USPS fueling station isn't available, carriers might use public gas stations.
Can You Buy Old Mail Trucks
Yes, you can buy old mail trucks. When the USPS retires vehicles from their fleet, they often sell them to the public through government surplus auctions. Websites like the General Services Administration (GSA) Auctions list government vehicles, including mail trucks, for sale.
Are Mail Trucks 4 Wheel Drive
The traditional Grumman LLV mail trucks are not 4-wheel drive; they are rear-wheel drive. However, as the USPS looks to modernize its fleet, it's possible that some of the newer vehicles might have different drive configurations to better handle various terrains and weather conditions.