Milton Keynes has become the launch pad for Volkswagen's latest electric vehicle (EV) innovation, the ID.7. This sleek, premium EV is not just turning heads with its design but also with a suite of enticing introductory offers. With prices starting at £55,570, the all-electric upper mid-sized car is the new flagship in Volkswagen's ID. range, and it's already available for UK customers.
Packed with Power and Range
The ID.7 Pro Launch Edition, Volkswagen's inaugural model, is a marvel of efficiency and power. It boasts a fast DC charging capability of up to 175 kW and a noteworthy 384-mile range on a single charge.
That's London to Edinburgh with miles to spare! And for those looking for even more, a larger battery version is on the horizon for 2024, promising charging speeds up to 200 kW and an increased range of approximately 430 miles.
Under the hood, or wherever electric cars keep their zest, the ID.7 doesn't disappoint. The APP550 drive unit is the most potent electric motor across the Volkswagen ID. models, delivering a sprightly 286 horsepower. This means dynamic driving isn't just an option; it's a standard.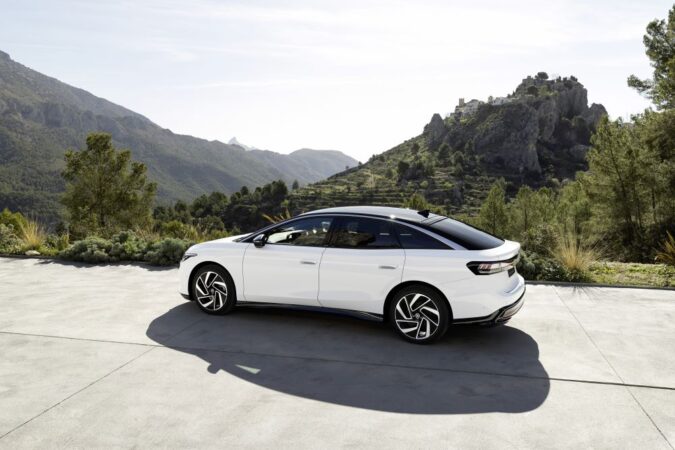 Design and Comfort: A Luxury Experience
At almost five metres in length, the ID.7's aerodynamic design contributes to a remarkably low drag coefficient of just 0.23 Cd. The vehicle's long wheelbase and short overhangs are not just for looks; they maximise interior space, making for an expansive, comfortable cabin.
Volkswagen hasn't skimped on luxury either. The ID.7's interior is a sanctuary of high-quality materials and cutting-edge design. The optional ergoActive premium seats are a standout, boasting a certification from the German Campaign for Healthier Backs (AGR), complete with massage programmes and automatic air conditioning.
Smart Tech for Smoother Travels
The ID.7 is kitted out with best-in-class assistance systems like Travel Assist with swarm data and an automatic parking feature. These technological advancements are complemented by a panoramic sunroof with smart glass technology, adding to the vehicle's modern flair.
But that's not all; the ID.7's 15-inch infotainment system is a testament to Volkswagen's commitment to user feedback, featuring illuminated sliders for cabin temperature control – a nod to customer desires for tactile controls alongside digital interfaces.
Exclusive Offers for Early Birds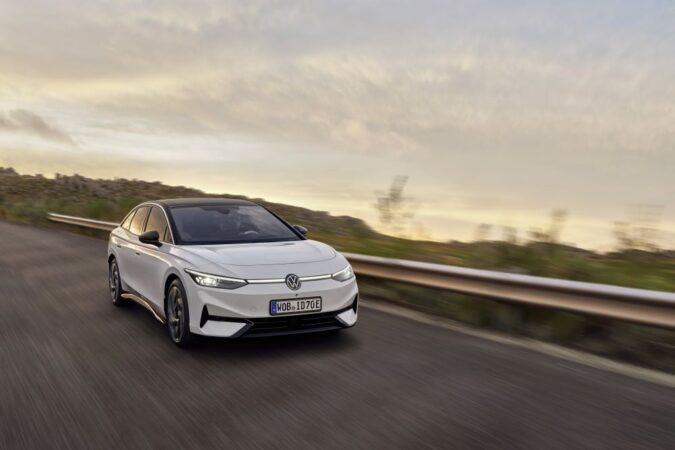 To celebrate the ID.7's launch, Volkswagen is rolling out the red carpet with a range of offers valid until 2 January 2024. Buyers can opt for a complimentary Ohme wall charger or £750 in charging credit from We Charge by Elli. Additionally, a £3,000 deposit contribution and competitive finance options are on the table, making the leap to electric easier and more appealing.
Rod McLeod, Director of Volkswagen UK, expressed excitement about the ID.7's debut, highlighting its appeal to both private and business drivers. The ID.7 is more than just a car; it's a statement of sustainable mobility coupled with luxury and innovation.
A Brand Moving Forward
Volkswagen's commitment to electrification and sustainable mobility is clear. With a presence in over 140 markets and a robust lineup of EVs, the brand is paving the way forward. The ID.7 is the latest jewel in Volkswagen's electric crown, promising to deliver a combination of style, comfort, and efficiency to UK drivers.
The ID.7's arrival is a significant milestone in Volkswagen's ACCELERATE strategy, driving the brand towards a future where sustainable mobility is not just an aspiration but a reality for drivers across the UK and beyond.