We have rounded up everything you need to know about the 2018 Formula 1 races both on and off the track. Read below to find out more.
Latest Race – Abu Dhabi Grand Prix – 25th November 2018
If someone was to ask you to sum up the 2018 Formula 1 season, what would you say? Perhaps that there were some adventures and detours along the way; even at points an alternative outcome looked possible. But for the most part Lewis Hamilton was in the position of command. And he won. Again. Well that sums up the season-closing Abu Dhabi Grand Prix too.
Therefore it wasn't only that it was his 11th win of his latest imperious championship campaign, and in so doing became the first ever to break the 400-point mark (not that historical F1 points records mean a great deal), that made this one feel familiar. In a way Hamilton provided a synopsis.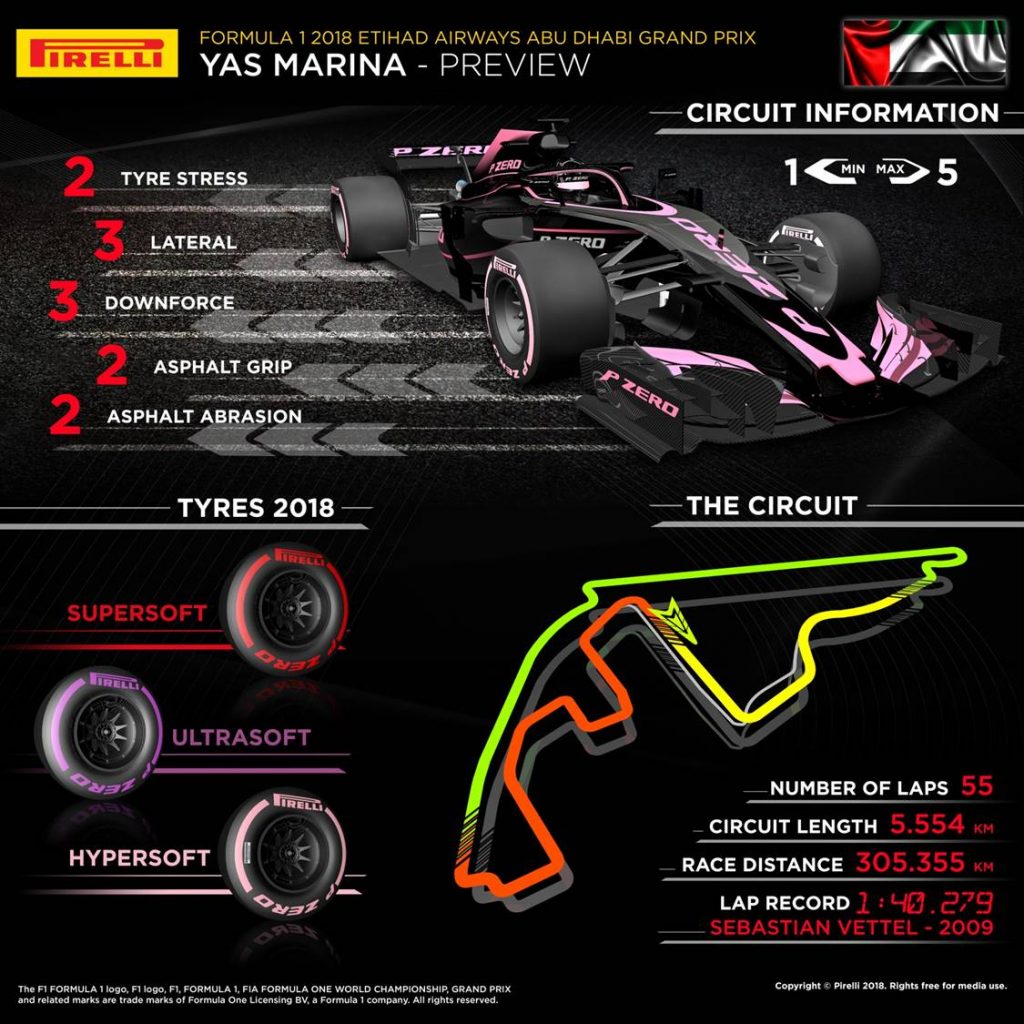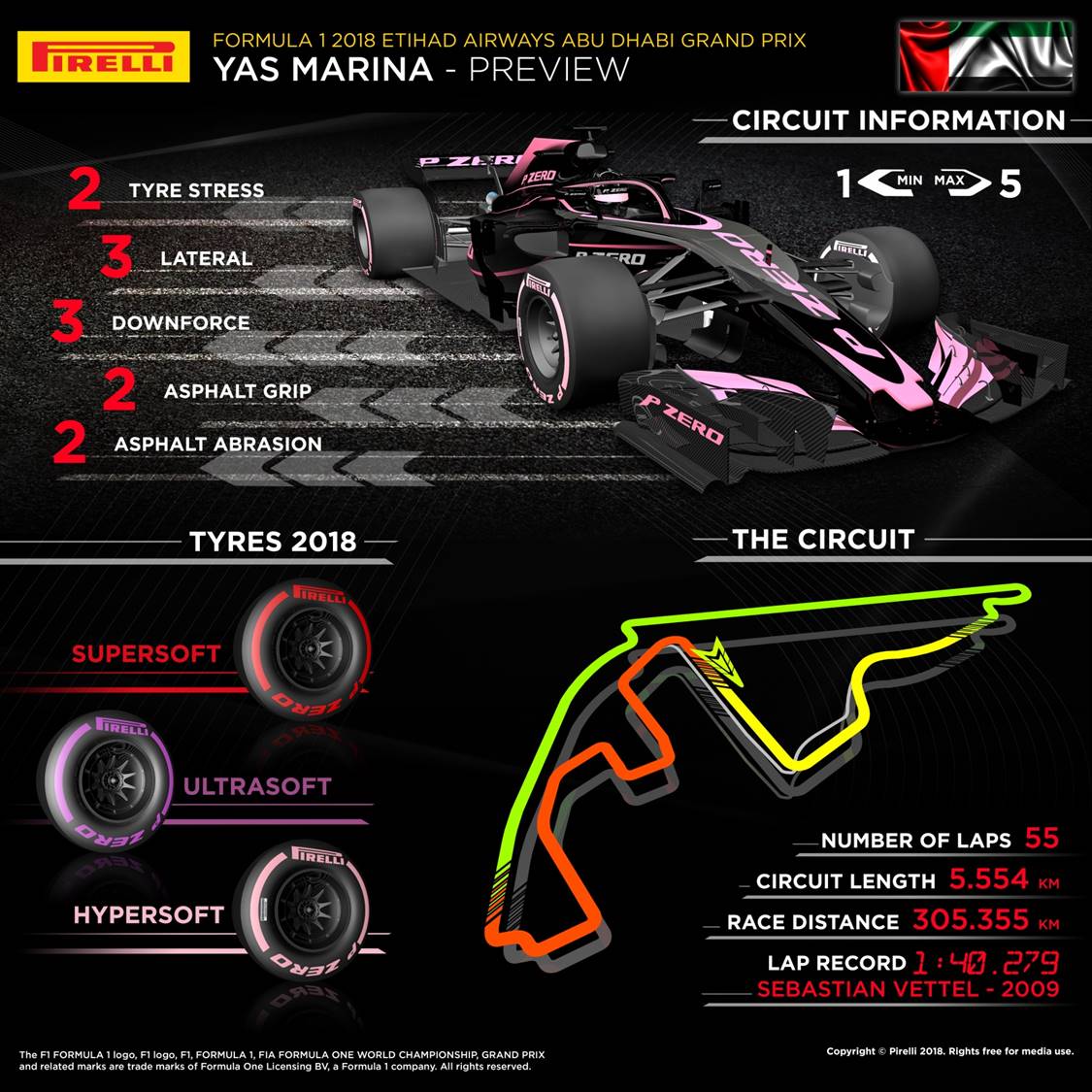 Hamilton's high
He took pole and led from the off. The detour intimated mainly related to Kimi Raikkonen's Ferrari stopping on the pit straight early on with no power. The Virtual Safety Car was 'brought out' and as we've seen repeatedly less time can be lost relatively by pitting in those conditions. Hamilton, alone among the leaders, did just that and emerged in fifth place.
He expressed doubts to his Mercedes team about the plan, wondering more than once if his tyres would make the end. But it worked. Once it all shook out Hamilton had a net lead of around 10 seconds. And, eking out his tyre life to a nicety, he stayed ahead to the end.
His team-mate Valtteri Bottas was next up initially, and with fresher rubber ate at Hamilton's lead and got within 6s by around two-thirds' distance. But then things went wrong. First he locked up and ran wide letting Sebastian Vettel's Ferrari onto his tail at the worst moment, just before the long straights. Vettel said thanks very much and took second place from him.
Bottas then unravelled in what by now sadly feels familiar style just lately. Within a few laps both Red Bulls were past as well and he'd fitted in another excursion following a lock-up. He then had a second stop for tyres – as the team was concerned about a slow puncture after Max Verstappen gave him a nudge on the way by – which dropped him properly out of contention. He trailed in fifth and it cemented a difficult final part of the year for him, as well as meant both that he wouldn't leapfrog his countryman Raikkonen in the final table as well as that Max Verstappen would leapfrog him. Bottas admitted he needed the forthcoming break more than most.
Vettel takes best of the rest
Vettel took up the Hamilton-chaser role and ate at his lead just as Bottas had, but in another thing that felt familiar the chase stalled just when it threatened to get interesting. Hamilton it transpired was comfortable out front. Vettel though had the compensation of second place and with it an overdue upturn at the end of a difficult latter part of the campaign.
The Red Bulls followed him home third and fourth, with Verstappen ahead. Both had their own adventures in getting there – Verstappen dropped to ninth at the off as his engine kept defaulting into a 'safety mode', losing him power. But it was resolved before long and therein after he was his usual punchy self. Daniel Ricciardo meanwhile led for a lot of the way by leaving his sole pitstop late. But it didn't allow him to do a charge in the final laps as hoped.
Thus what felt over time a familiar season ended in a familiar way. Much changes in F1 now – only two teams of the 10 next year will have the same driver line-up, Red Bull changes engine supplier too while the haughty Fernando Alonso departs, for now at least. But on our latest evidence one thing we've got used to in F1, the identity of the guy on top, won't change nearly so easily.
Abu Dhabi Grand Prix Top 3 Results
1. Lewis Hamilton – Mercedes
2. Sebastian Vettel – Ferrari
3. Max Verstappen – Red Bull
---
2018 Formula 1 Season's Expectations
There are no miracles in Formula One. And no one at the outset of the 2018 season expected any.
As is the norm in a year with no great regulation shift from the previous one, pre-season testing in Barcelona suggested the 'feed-in' from 2017 to '18 was strong. There will be no grand reshuffle, in other words.
Yet there were points of intrigue, not least the prospect of a tighter battle between the 'big three' teams – Mercedes, Ferrari and Red Bull.
Ferrari of course gave Mercedes a stern test last season, though twelve months on the Scuderia's pre-season testing didn't appear quite as strong as then. More it was enigmatic. But it did show flickers of pace and promise towards the end.
Then there is Red Bull which for once looks to be starting a season in as strong a state as it ended the previous. Again its chassis could be the one to have though its Renault engine power (or lack thereof) remains a source of doubt.
But not too many left Barcelona without a sense that Mercedes remains pretty comfortable out front. Not only as it has dominated this hybrid engine era but, soberingly, has conspicuous 'easy' gains to make for this year's machine from last year's 'diva'. Its technical director James Allison spoke of this Merc blowing away the '17 version. No complacency it seems has set in.
Another thing that there are no miracles about is that the big three will be in a race of their own – sheer budget and resource says that. Still the midfield scrap behind also offers intrigue – it's expected to be tight and tough to call.
We started testing assuming McLaren, having replaced its dread Honda engine with a Renault, would be a clear fourth best, but its Barcelona running was bitty – occasionally quick but maddeningly unreliable and perhaps flattering itself with its tyre compound selections. Renault instead looked like it may have the legs of McLaren. Yet testing's biggest surprise was Haas which somehow had vaulted forward, with the fourth quickest car by consensus.
Best of the rest incumbent Force India underwhelmed in testing but is never to be underestimated. Williams and Sauber have vastly altered their cars from last year, adding conspicuous complexity, and appeared to struggle to get their heads round it all in testing. Toro Rosso surprised with the mileage it got from the Honda but despite this didn't look all that quick.
Not like the Mercedes of course.
F1 Changes for 2018
Halo – Cockpit Protection
Twelve months on from a fundamental change in F1 chassis the alterations for 2018 are minor, and largely cosmetic. Not least the halo, a new cockpit protection device designed to defect large pieces of debris from the driver's head, introduced amid controversy. 'Shark fins' and horizontal 't-wings' from the rear of the car also are banned.
3 Power Units For The Entire Season
Teams for 2018 only have three power units to get them through the entire season, down from four, and some already murmur about needing to take a 'strategic' grid penalty later this year as they will need an extra unit. Power unit manufacturers also are now obliged to provide all teams they supply with an identical specification of power unit, though it remains to be seen how that will manifest in practice.
Two New Tyre Compounds
Tyre supplier Pirelli has brought in two new compounds – one at either end of the scale: the hyper-soft (with pink writing on the sidewall) and super-hard (with orange writing, the hard changing from orange to 'ice blue'). Combined with this it has promised greater differences between compounds in their performance and durability, with the aim of greater in-race strategy variation as well as a norm of two stops per race after one-stoppers became the norm in 2017.
The French Grand Prix returns for the first time since 2008, while the German Grand Prix is back after a year away. The Malaysian race is no more. There's also a change to race start times, with most European races pushed back by an hour to try to attract a larger TV audience. All races also are scheduled to start at ten minutes past the hour, rather than on the hour, for the sake of broadcasters' pre-race coverage.
2018 Drivers
Race 1 – Australian Grand Prix – 25th March 2018
Modern-day Formula One can give a good impression of being mundane. Since the era of hybrid engines began in 2014 Mercedes has not only taken every championship but 63 race wins from 79.
But even so F1 races never are predictable. Not entirely anyway. We got a demonstration in the season-opener around Melbourne's Albert Park.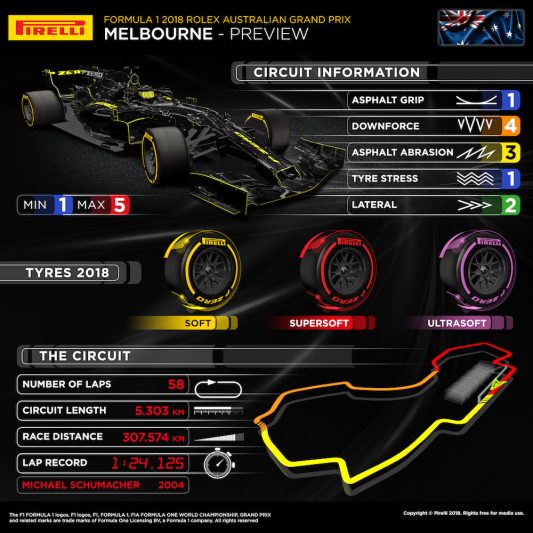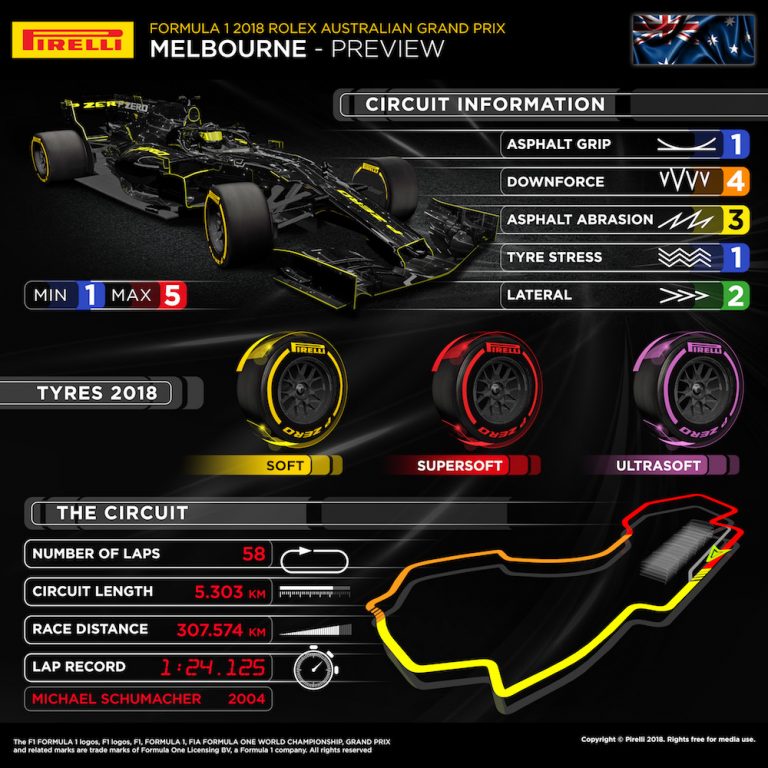 After qualifying, it looked a foregone conclusion and a familiar one. As pre-season testing had indicated Mercedes indeed was far ahead – Lewis Hamilton whizzing to pole with a best time almost nine-tenths of a second under the nearest challenger. Plenty foresaw not just a race but a season of continuing domination.
There was talk, denied by Merc, of a special Mercedes 'party mode' offering more power for the last part of qualifying. And amid the jibing on the subject after qualifying, Lewis said to rival Sebastian Vettel that his late boost instead based on the desire to "wipe the smile off your face".
"I think what goes around comes around," Seb retorted. "He's free to have a party tonight and then hopefully Kimi [Raikkonen, his Ferrari team-mate] and myself will have a party tomorrow."
Death Of A Party
It seems he's as good a mystic as racing driver. In the race we had our latest reminder that what goes around indeed comes around. Exterior events at half distance turned matters on their head.
And the self-same Seb was the grateful recipient of victory. For Lewis and Mercedes the party was over. Or at least postponed.
The race even started in familiar guise – Lewis led and while he didn't run away he did look comfortable ahead of the pursuing Ferrari pair, Kimi ahead. But things started to go wrong. Perhaps they had already the previous day, as the chasing Italian cars in a two against one situation were able to perform a strategic pincer movement. Lewis's stable-mate Valtteri Bottas binned it in qualifying, meaning he started 15th and was not around to assist.
Kimi pitted early-ish and Lewis covered him off by pitting a lap later. Seb stayed out, self-admittedly waiting for "something to happen". And it did.
The Haas pair, as also indicated by testing, looked strong but their races were ruined when both were released from their pitstops with a wheel not attached. Romain Grosjean, the second whom this fate befell, parked immediately but in an awkward place that meant a Virtual Safety Car was deployed – all had to circulate at much reduced speed.
And these deployments have the ability to alter races almost beyond recognition, as pitstops can be made with around half of the usual loss time compared with pitting at normal racing speed. Seb of course pitted, and emerged – incongruously – in the lead.
Lucky star
It was a shock even to the Mercedes squad, which reckoned it had enough time in hand even in this eventuality. Boss Toto Wolff spoke afterwards of computer glitches. "We thought we had about a three-second margin," he admitted.
And though around half the race remained that was that. F1 cars don't follow each other very easily and the Albert Park track isn't one that offers many overtaking opportunities. After a bit of to and fro Lewis conceded the win to Seb with a few laps left.
There were similar stories further back. Daniel Ricciardo, recovering from a grid penalty, similarly harried Kimi for third after the safety car but found no way through. And the wily Fernando Alonso was another winner in the mid-race shuffle as it vaulted him to fifth place. He similarly held off Max Verstappen who had a patchy run which included a spin. McLaren still is well shy of the 'big three' teams but undeniably has been boosted by ditching the Honda engine.
Seb was suitably sober, accepting that even in victory the main take from the weekend – unlike here 12 months ago – is that Ferrari is behind Mercedes.
"Last year we had more pace at this point," he conceded. "If you look at the gaps the whole weekend and we're not yet a true match.
"We got a bit lucky obviously…but we'll take it."
Explanation of how Ferrari beat Mercedes – Australian Grand Prix
Australian Grand Prix Top 3 Results
1. Sebastian Vettel – Ferrari
2. Lewis Hamilton – Mercedes
3. Kimi Raikkonen – Ferrari
---
Race 2 – Bahrain Grand Prix – 8th April 2018
The result looks similar to that of the opening round, but the implications could not be more different. Sebastian Vettel won the Melbourne curtain-raiser yet it owed a lot to an exterior event swinging the race his way. The consensus remained that Mercedes, and Lewis Hamilton especially, was going to walk 2018.
Yet Seb and Ferrari won the Bahrain Grand Prix too, and this time it was down to being quickest – helped along the way by the seat of the pants race strategy. Expectations for the year were thus frantically recalculated. As we are often reminded, this game is never predictable.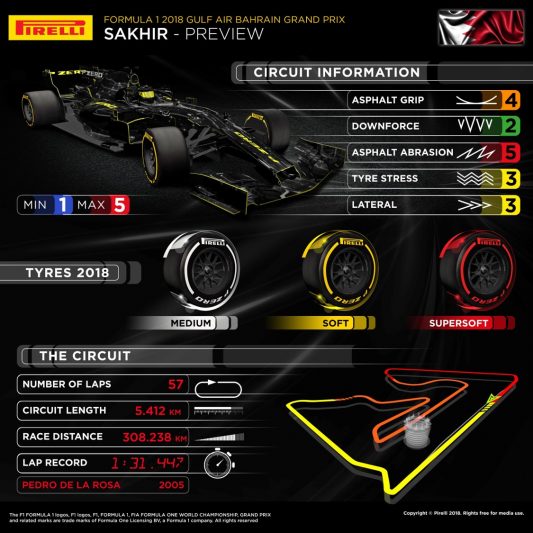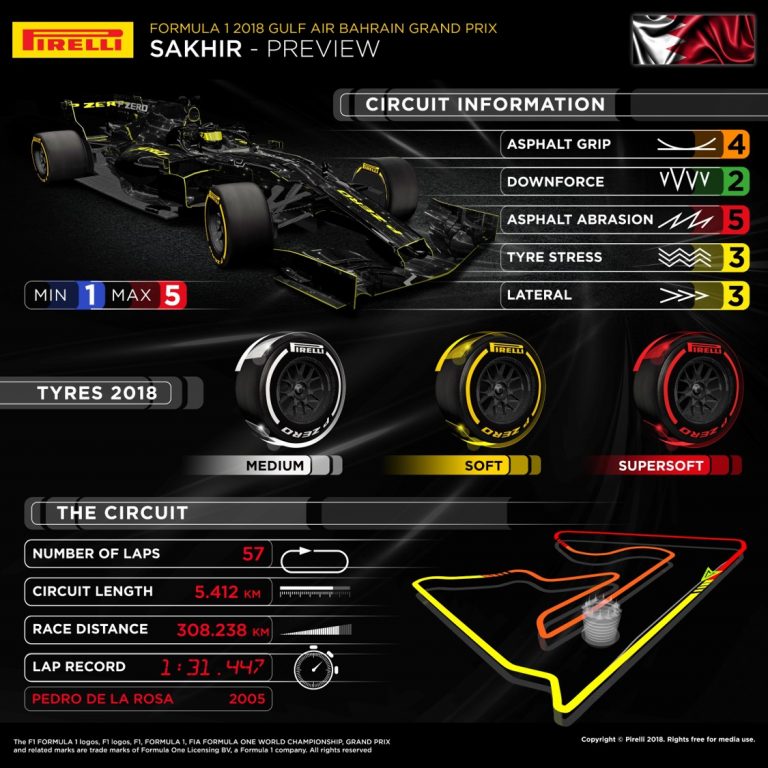 And the 'why' is not clear. Yes Ferrari did work on its troublesome front end grip between the two races, but more of the explanation may lay with Merc. Relatively speaking the silver car goes less well on softer tyres and when temperatures pick up, and this one was held in the clammy desert. Combine that with the abrasive Bahrain track surface (see the above infographic) and the silver car was overheating its tyres in qualifying, to the determinant of lap times.
Perhaps, like last year, Mercedes has a diva on its hands. Whatever Ferrari locked out the grid's front row – Vettel on pole – with Mercedes next up, and looked hard to stop. Adding to the insult Hamilton was relegated by five places in the starting order from fourth to ninth after changing his gearbox since Australia.
Mercedes plays the strategy game
Mercedes though is never to be written off and sought to make a virtue out of its vice. If it didn't like the softer tyres, then go for a one-stop strategy – when most were expected to pit twice – and run on the harder rubber for an extended period. It oh so nearly delivered a win.
With Lewis starting far back it was left to Valtteri Bottas to lead the Mercedes challenge. He cleared Kimi Raikkonen immediately then set off after Seb. And after what all assumed was the first of two rounds of stops it was clear Merc was trying something different as Bottas bolted on durable medium compound tyres, seeking to go to the end without another halt.
Vettel was well within range to lose the lead if he pitted again so Ferrari went for the tactic of maintaining the lead by hanging on for dear life, taking a set of tyres that wasn't supposed to last more than 30 laps the whole 40 laps to the finish.
Vettel hangs on
It worked, just. Seb had eked out a lead of seven seconds but with 20 laps to go Bottas closed in as Vettel's tyres got second hand. And with a handful of laps left he started to tear chunks out of the gap as the Ferrari's tyre situation got critical; for a time it looked like the race would be his.
He got within striking distance by the final tour and indeed had a half-lunge for the lead at the first turn; he might though have been better served though to instead line himself up for a more plausible attempt at turn four. As it was he lost momentum and there was nowhere else to pass on the lap. The win after all was Vettel's – reward for an unflinching performance.
Hamilton salvaged third after a spirited drive but even in the opening eight laps of clearing traffic he'd ceded ground to the leaders that he couldn't recover. Raikkonen dropped out after a harrowing incident in the pits when he was somehow given green to go even though one of his wheels had not yet been removed let alone replaced. A mechanic was left with a broken leg.
Analysis of Kimi Raikkonen's botched pitstop – Bahrain Grand Prix
F1's capacity to confound was seen further down too as the Honda powered Toro Rosso driven by Pierre Gasly had a tour de force to finish fourth – not even the squad itself could explain where it came from. Honda's ex McLaren had a rather desperate time (which Honda's rise to prominence didn't help presumably), but it recovered to finish seventh and eighth on race day. Haas maintained its Melbourne form as Kevin Magnussen bagged fifth.
Red Bull's time was the most desperate of all though, as both cars were out within two laps – Daniel Ricciardo due to electrical failure; Max Verstappen due to getting too greedy in battle with Hamilton and sustaining a puncture which put him out. The smart money was on the Bulls having the fastest race day car of all.
The next big question is whether Mercedes's Melbourne potency or Ferrari's in Bahrain will end up being our norm. Then again, we shouldn't rule out the possibility of something else entirely being our way of things. Given how the season is going it sounds this most appropriate of the lot.
Mercedes analysis of its race strategy – Bahrain Grand Prix
Bahrain Grand Prix Top 3 Results
1. Sebastian Vettel – Ferrari
2. Valtteri Bottas – Mercedes
3. Lewis Hamilton – Mercedes
---
Race 3 – Chinese Grand Prix – 15th April 2018
We entered this Chinese Grand Prix weekend keen that the story of the 2018 F1 season would reveal itself. Was Mercedes on top, as in Australia? Or was Ferrari on top, as in Bahrain? Yet if any story was confirmed in Shanghai it was Tales of the Unexpected. Red Bull and Daniel Ricciardo came from nowhere to ambush the race.
For the most part this looked a world away, as it seemed the tale being confirmed was that of a red revival. Ferrari dominated again, duopolised the front row of the grid with Sebastian Vettel on pole a whole half second clear of Mercedes. Come the race Vettel looked well in control out front too, controlling things in that familiar way of his – seen commonly in his Red Bull championship-winning days.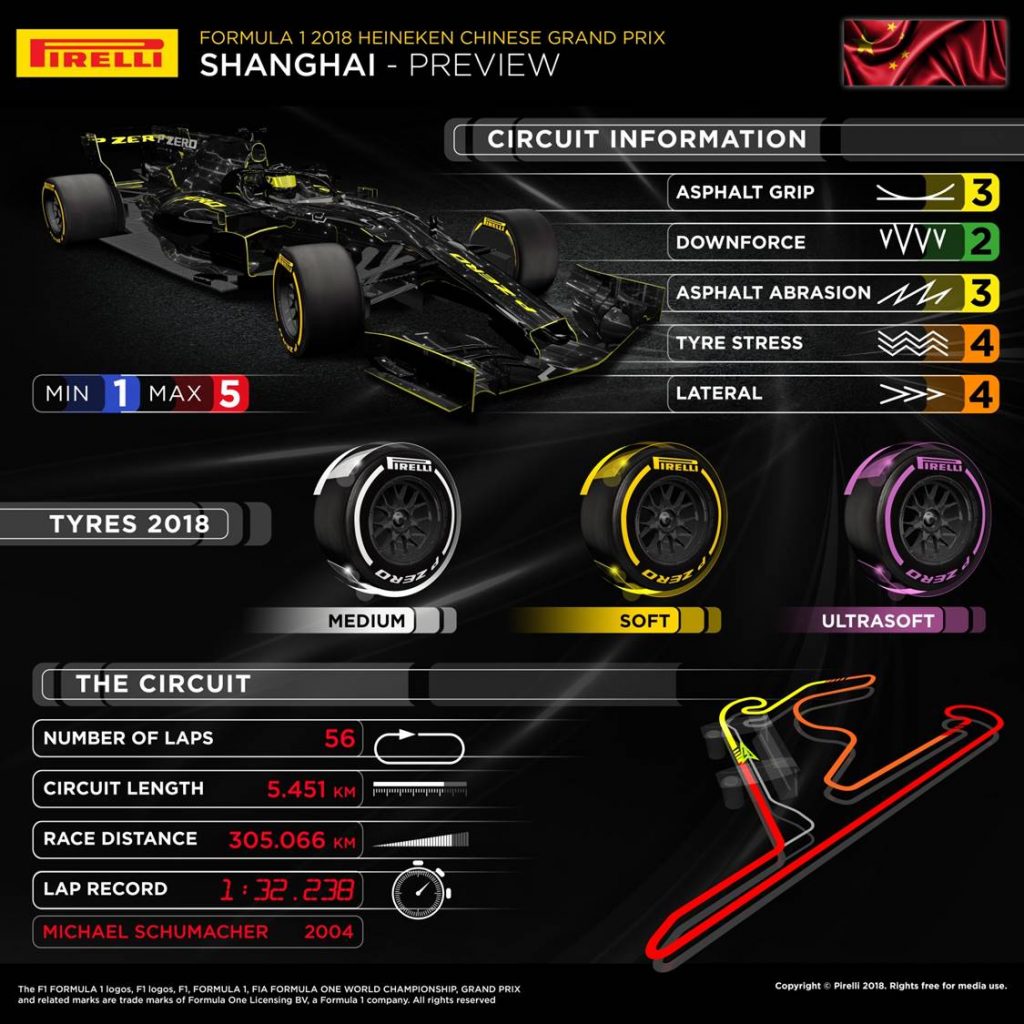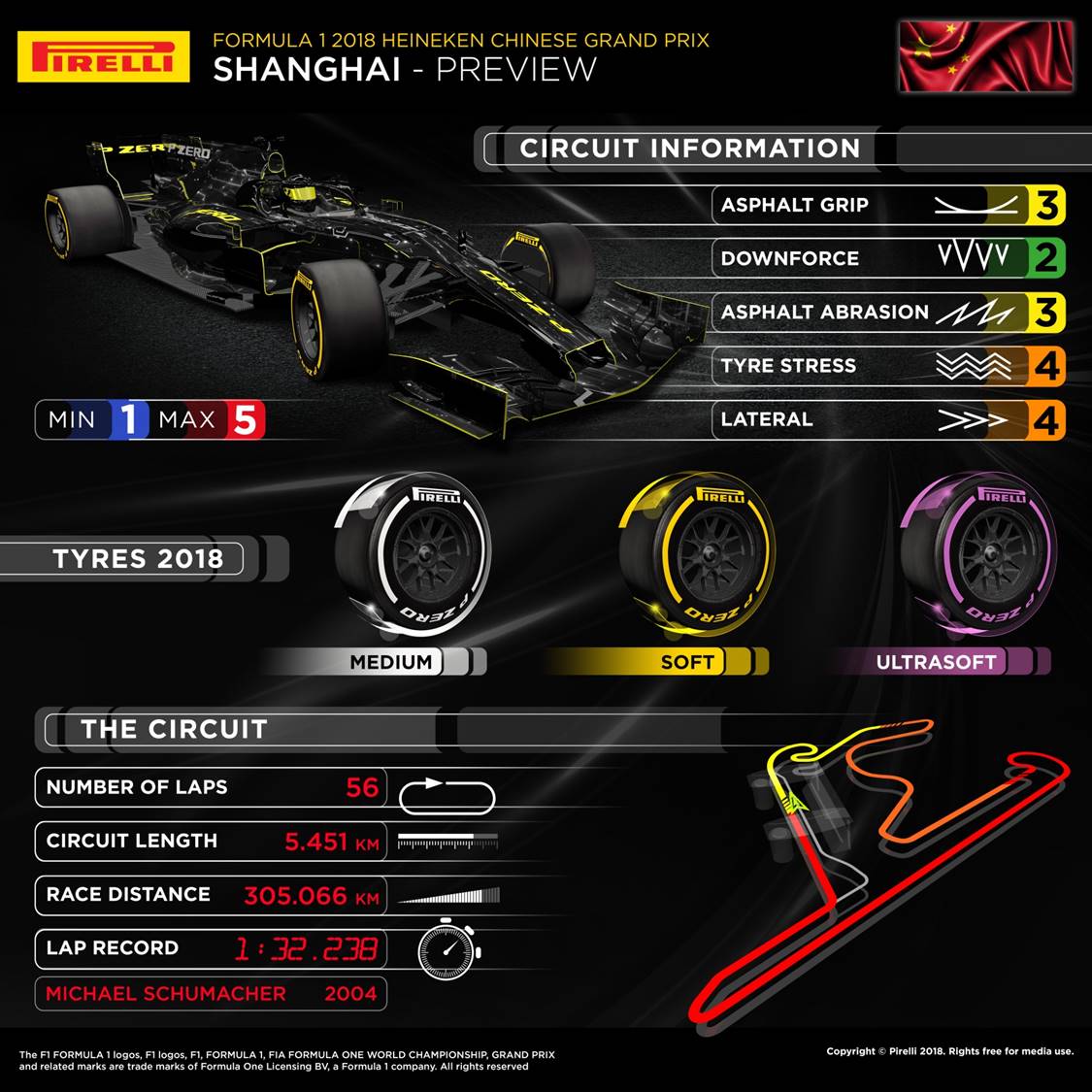 Vettel's race unravels
But against all expectation Vettel's day unravelled. First Mercedes's Valtteri Bottas in second place looked out of range for an undercut – overtaking by pitting first and getting a lap on fresher rubber – but that's exactly what he did during the pitstop round. A fine out-lap by the Finn combined with a tardy in-lap from Vettel and (understandably given what happened in Bahrain) and similarly tardy stop from Ferrari conspired to put the Merc ahead.
It looked like that would be that, but then the race was turned on its head again. The Toro Rossos – so strong in Bahrain – were far back in this one then ran into each other, a consequence of a "miscommunication" about one letting the other by. Whatever the safety car was brought out to clear the resultant debris.
Nico Rosberg's review – Chinese Grand Prix
And it was sharp-as-a-tack Red Bull that took advantage. Of the front-runners only the Bulls had the quick thinking to pit both cars – Mercedes and Ferrari meanwhile stuck rather than twisted. And it put Red Bull into the box seats, the pair right behind the Mercs and Ferraris with 20 laps left and on much fresher tyres.
Red Bull seizes the day
It appeared at first that Max Verstappen was in place to win, but in a theme of 2018 he erred. First, he ran off track at the esses going for a pass of Lewis Hamilton that wasn't on, then he drove into the side of Vettel at the hairpin putting both into a spin. It got him a 10 second penalty as well. Fifth was his lot.
This all left the ubiquitous Ricciardo in the box seat. He nipped by Max when the Dutchman had his esses detour, then got on with it in his typical style with a series of thrilling and decisive passes to clear Hamilton (who had one of his chin-on-floor days), Vettel then – most thrillingly of all – Bottas to claim a lead he wasn't to lose. Vettel sank to eighth following his Max assault, while Hamilton actually gained in the title fight by coming in fourth.
All reflected too that a day earlier it looked like Ricciardo wouldn't be able to even take part in qualifying after an engine failure earlier in the day left Red Bull having to break all records to replace the unit and get him out in the nick of time. Such lightness on its feet served the squad well on race day also.
Stunning and swift team work; other-worldly aggression. If Vettel's early domination was reminiscent of Red Bull in its pomp, it was actual Red Bull and everything we associate with it that in fact seized the day.
The internet's best reactions – Chinese Grand Prix
Chinese Grand Prix Top 3 Results
1. Daniel Ricciardo – Red Bull
2. Valtteri Bottas – Mercedes
3. Kimi Raikkonen – Ferrari
---
Race 4 – Azerbaijan Grand Prix – 29th April 2018
Lewis Hamilton winning a Grand Prix shouldn't seem odd. That this one did seem odd says a lot about the latest Azerbaijan Grand Prix. It was thrilling in a more general sense particularly towards the end, but odd feels like the overriding adjective.
But then that's the way this Formula One season is going. Add in that the tight confines of this Baku street track are a time-honoured recipe for trouble, and you can work out the rest.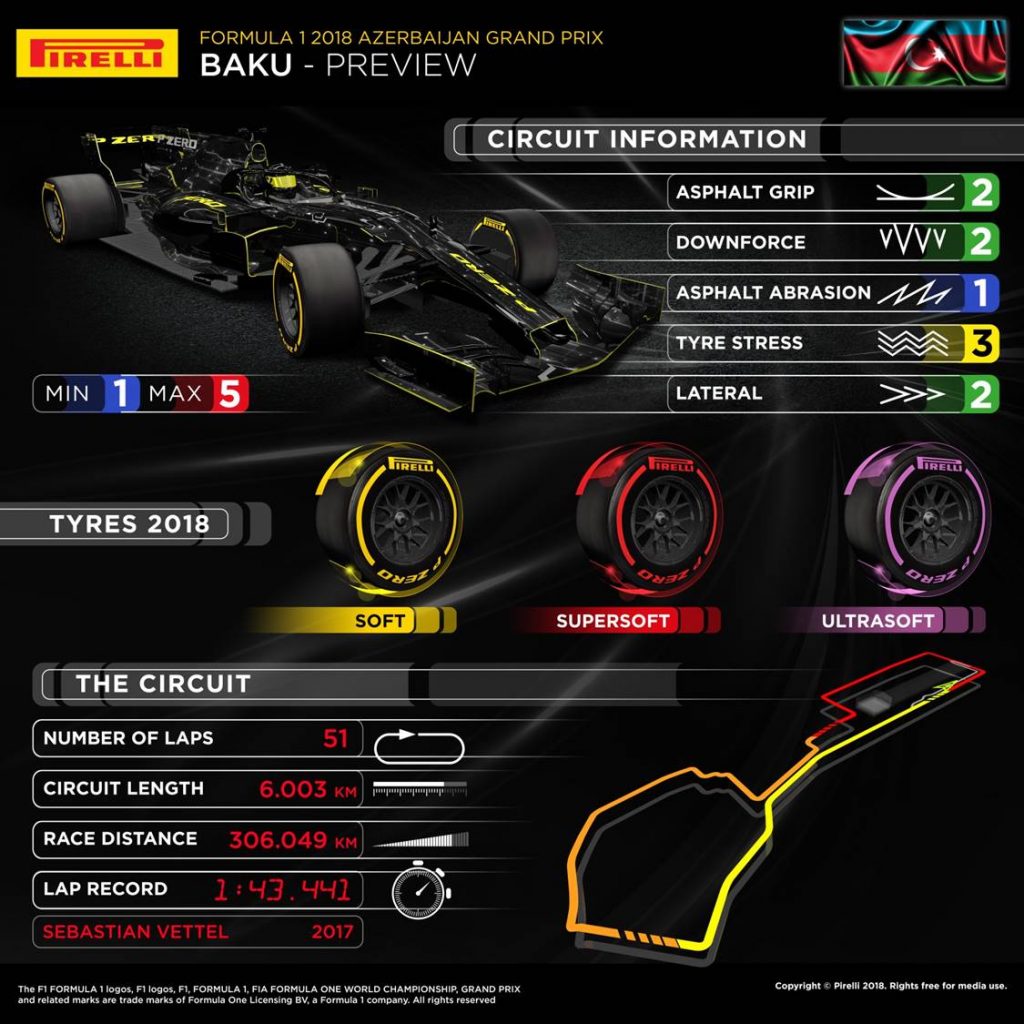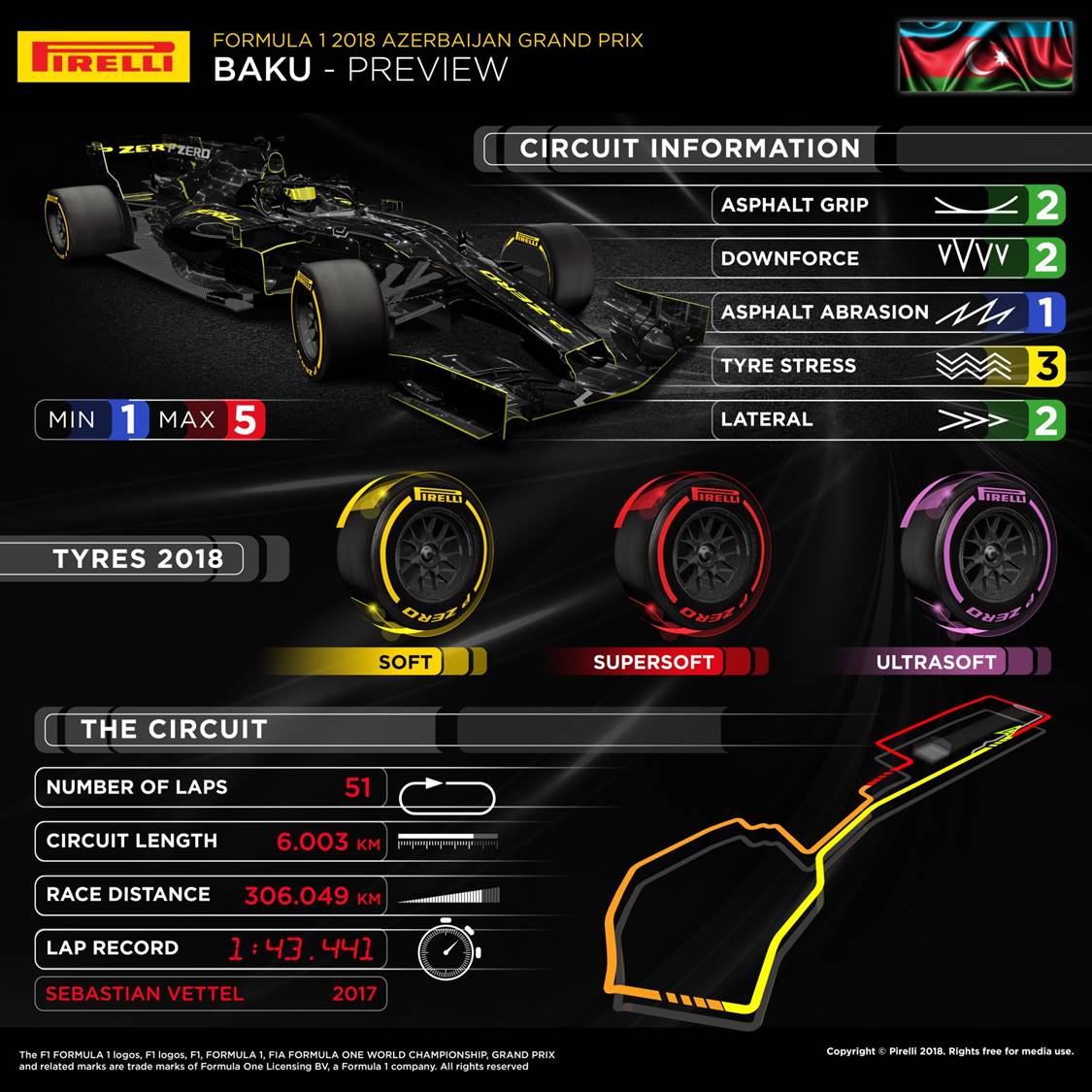 A better bit of Bottas
Like in China last time out it didn't start that way though. Like then Sebastian Vettel and Ferrari appeared in the early part to have the race well in their grasp by leading dominantly from pole. Like then Vettel and Ferrari let the race slip from it, and on pit strategy. And in a way that wasn't readily seen coming.
Lewis had given closest chase of Seb but appeared to dash his chances with a big lock-up of his tyres which required an immediate (and early-ish) change. This put Lewis out of the strategy picture for the win it seemed as tyre warm up here was slow in cool temperatures on the temporary surface.
Vettel eventually pitted himself and stayed ahead of Lewis, but in that seemingly innocuous move lost the race. As the move reckoned apparently without the other Mercedes of Valtteri Bottas who had been running behind at a reasonable distance.
Vettel had the same warm up issues as Hamilton and therefore didn't make inroads into Bottas's inherited lead – and the Finn seemed intent and content to run out front for an indefinite period. And while Seb would regain first when Bottas pitted, so long as there was no safety car, the prospect whatever happened of Bottas having a late run at him on ultra-soft tyres looked potent.
Baku trouble
But in another echo of China the safety car indeed appeared, because the two Red Bulls collided. The pair had been warring all race and with just over 10 laps left Daniel Ricciardo ran into the back of Max Verstappen; some reckoned Max weaved more than was fair. Whatever it put both out and the team was left with expressions of bulldogs chewing wasps. Yet that the clash is rather a footnote further says a lot about what sort of race Baku's was.
Bottas pitted pronto and retained his lead. Everyone behind had little choice but to pit too. This left a four lap sprint to the line with Bottas having to hold off Vettel and Hamilton. Seb got the whiff of a tow and decided to send one up the inside. But he was too ambitious – he ran wide in a plume of rubber smoke and lost three places. Fourth place thus was his lot.
But amazingly this race wasn't done, as next time around Bottas ran over some debris and punctured – sending him immediately from first to nowhere. Hamilton – who'd hardly been a factor – on a plate got the race win and championship lead. Both would have been Bottas's without the puncture, who is quietly starting to have a fine season if a desperately unlucky one. It's worth remembering the safety car cost him a probable win in China too.
Lewis had the grace to be slightly embarrassed in victory, as well as to accept he and Mercedes have work to do. Bottas was clearly devastated albeit typically phlegmatic. Further underlining the sort of race it was all 'big three' teams came away from this one feeling rueful. Not that the rest of us, duly entertained, will complain.
Azerbaijan Grand Prix Top 3 Results
1. Lewis Hamilton – Mercedes
2. Kimi Raikkonen – Ferrari
3. Sergio Perez – Force India
---
Race 5 – Spanish Grand Prix – 13th May 2018
So we got our nice boring race after all, five rounds in. If it did reveal this season's competitive way of things then it's ominous. And a familiar sort of ominous.
The Spanish Grand Prix at Barcelona has long been known for tepid fare, but also for providing a strong steer of which car is ahead of the rest. This one was indeed, to use the well-worn euphemism, not a thriller. But it was made so in large part by Mercedes's dominance. And particularly that of Lewis Hamilton.
It was Lewis on a good day. "Today the car and myself, I felt that synergy today, which I haven't felt this year," he said afterwards. It looked that way.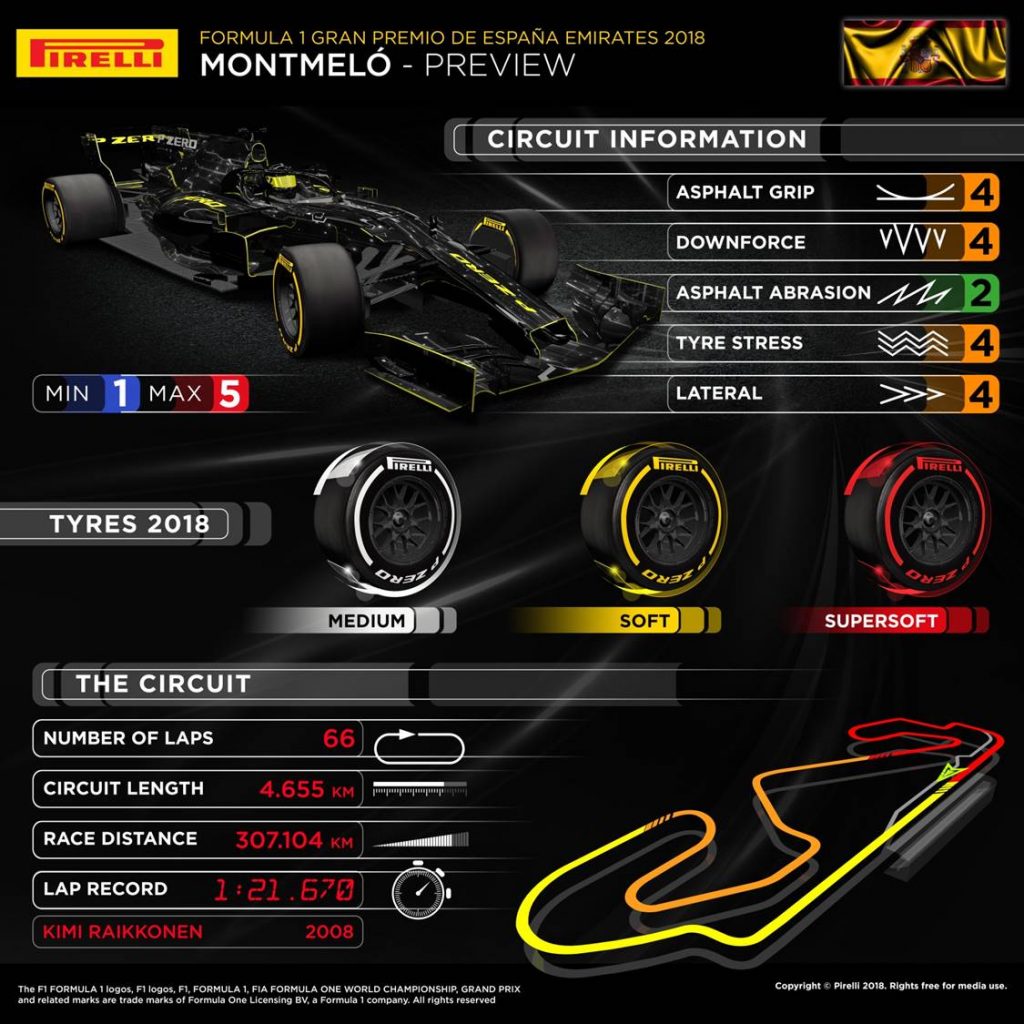 Silver bullet
The win never was in doubt after Lewis led from pole into turn one. Sebastian Vettel in second clung to his coattails for the first few laps but then dropped away dramatically with fading tyres, a prelude to his day unravelling.
In a reverse of this season's usual way Ferrari this time struggled with the rubber. The day before the red cars shunned the softest compound in qualifying as they couldn't get it to work. Then in the race Vettel pitted early to change wheels, a result of his wear problems. It looked like quick 'overcut' laps from Valtteri Bottas would get him ahead a la China to cement a Merc 1-2, but a slow-ish stop kept him behind.
It mattered not though, as later Ferrari delivered him the place. Esteban Ocon parking his Force India with an oil pressure problem meant the Virtual Safety Car where all have to circulate at reduced speed while the hazard is cleared.
And in another chief theme of 2018 the race – some of the race anyway – pivoted. As Vettel and Ferrari, convinced they weren't going to make the end on that set of wheels, pitted for a second time – as they'd lose less time relatively pitting when the Virtual Safety Car was deployed. Trouble is it dropped Vettel from second to fourth (not helped by the stop being slow), places he never looked likely to get back particularly on this circuit where following another car is not easy. In another chief theme of 2018 Ferrari had thrown points away. You wonder already if it will live to regret it.
Smile of Lewis
Lewis won as he liked, self-admittedly pushing all the way and beating Bottas home by 20 seconds. You suspect he'd have happily driven straight back home to Monaco in his W09 had that been allowed. His points lead over Vettel now is a healthy 17.
It wasn't necessarily a walkover though as Bottas lapped at roughly Lewis's pace once in clear air, having the day before qualified just four hundredths off the Englishman. Even if this race suggested Mercedes returning to its natural order compared with the rest it doesn't apply necessarily to the balance of power between its drivers.
The recently-maligned Max Verstappen completed the podium for Red Bull – the Bull pair pedalled hard all weekend but were just two more to not have an answer to the Mercs.
In typical F1 style a few (including the Ferrari drivers) cried foul, saying Merc was handed this one by Pirelli bringing a thinner than usual tread due to the threat of blistering on the track's fast corners. Ignoring that the decision was made weeks ago and Ferrari was among the teams advocating that switch…
So is Mercedes's dominance the new way of things? Maybe not so fast. This one always was likely to suit Merc. The next race is Monaco where Mercedes really struggled last year – Lewis and his boss Toto Wolff even in Spain's post race party were expressing trepidation over that one. Red Bull is expected to be particularly good around the Principality.
Then there's how this season is going more generally. We've seen repeatedly that the myriad voodoo effects of the tyres combined with the temperatures, surfaces, track layouts and compounds can make one heck of a difference. Not least to Mercedes.
Spanish Grand Prix Top 3 Results
1. Lewis Hamilton – Mercedes
2. Valtteri Bottas – Mercedes
3. Max Verstappen – Red Bull
---
Race 6 – Monaco Grand Prix – 27th May 2018
Rarely can there have been a Formula One race wherein thoughts so heavily laid on another race altogether. In this particular Monaco Grand Prix it was back to the Principality round two years ago – that Daniel Ricciardo should have won but lost due to a disastrous Red Bull pitstop. A loss which clearly still rankled.
And from the moment cars hit the track in this weekend he looked well set to make up for it. Red Bull in advance was expected to be the team to beat at Monaco. So it proved – and Ricciardo topped every practice and qualifying session. His main – perhaps only – threat team-mate Max Verstappen removed himself in effect by missing qualifying after crashing in Saturday morning practice. Ricciardo then led the race from pole, and kept the lead after all the leading contenders had made their solitary pitstops. This being Monaco – where overtaking is near enough impossible – that surely was that?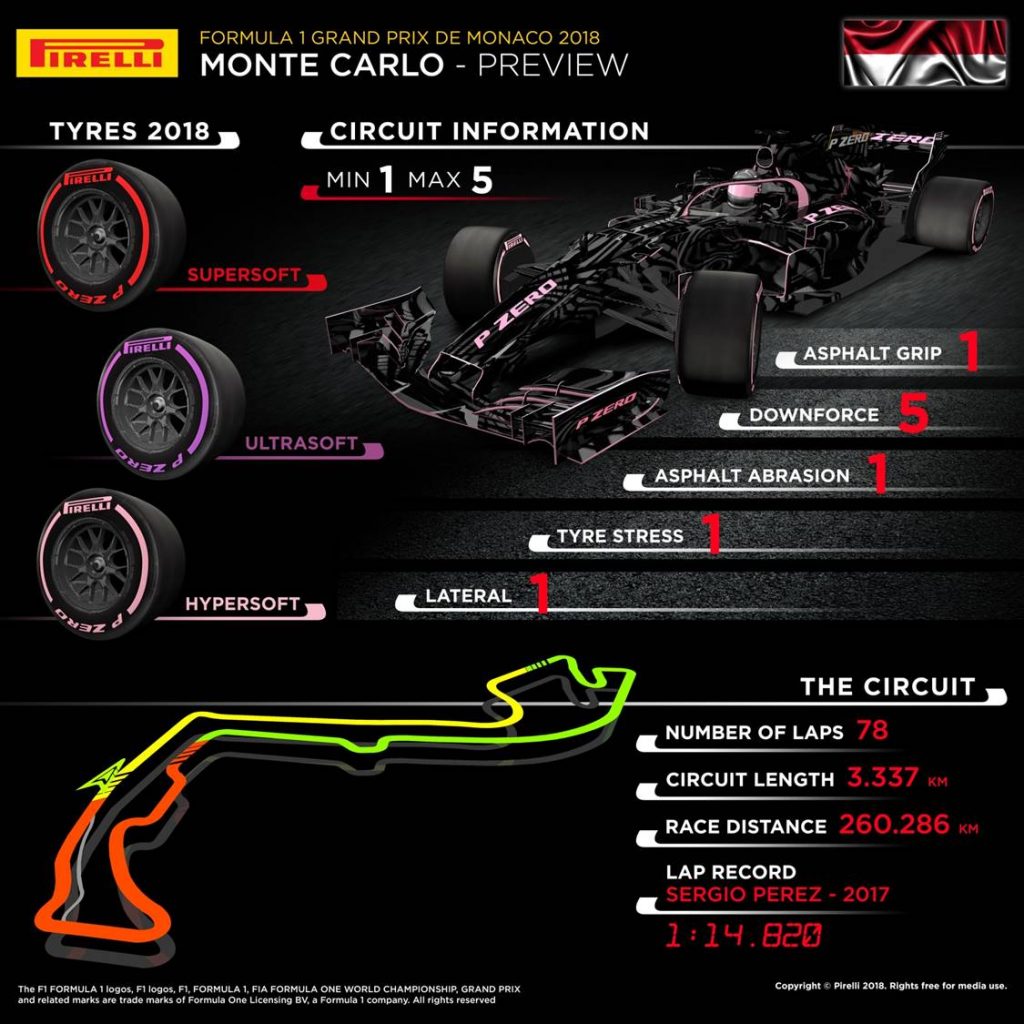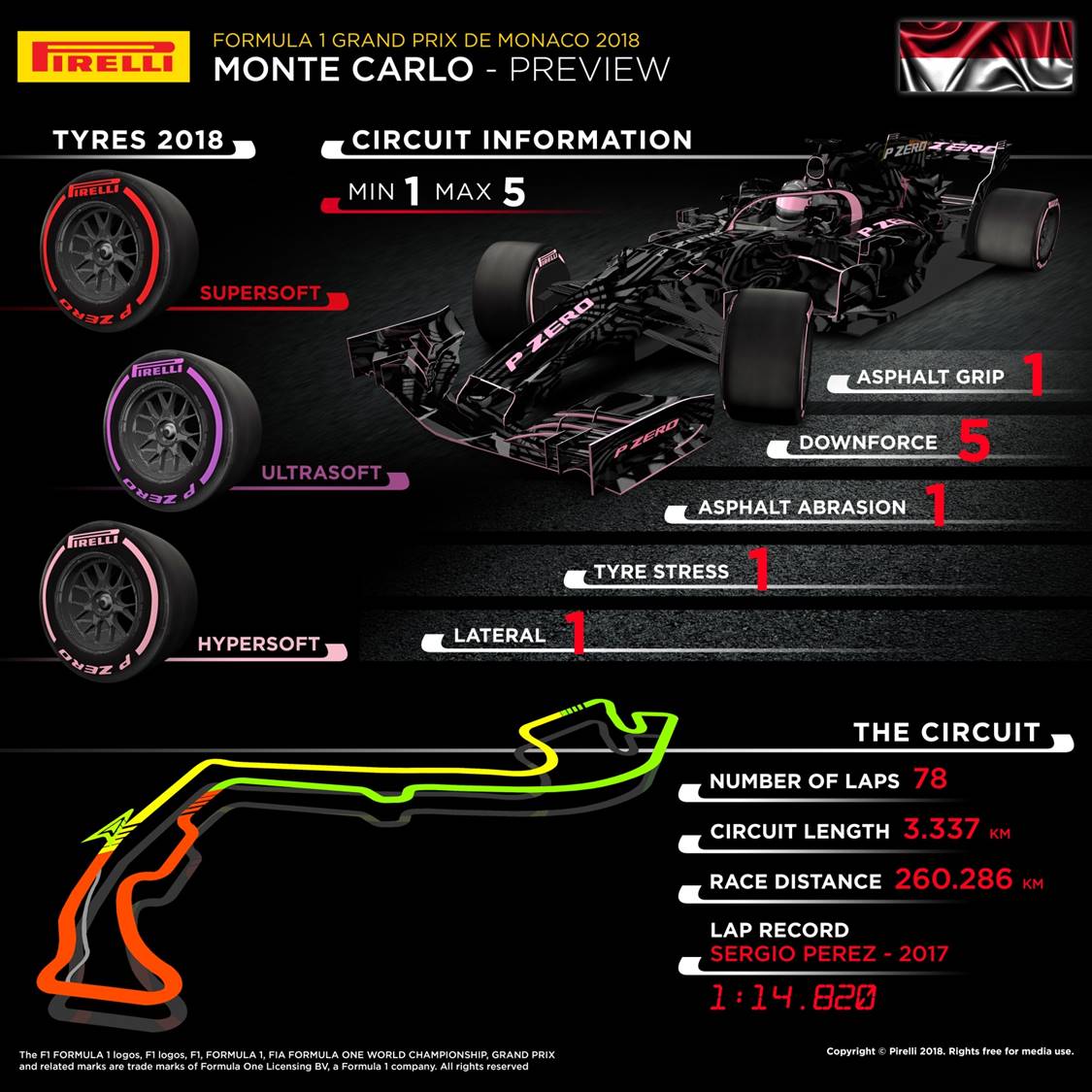 Not so. This being Monaco it is also a place that can and does bite. And not always in a way that is explainable. Daniel knows that better than most.
Daniel's deja vu
And it looked like it was happening to him again. At around a quarter distance he reported a power loss. Hangdog expressions and head shakes in the Red Bull pit seemed to tell its own tale. It was an MGU-K failure, which lost him a quarter of his power and well upwards of two seconds a lap once the various knock on impacts had been felt. Him dropping out – or at least the rest sailing past – looked a matter of time.
But as his boss Christian Horner noted this is the Monaco Grand Prix. Not only should one not give it up lightly, but also at this circuit even if you are hobbled getting past will not be the work of a moment.
And that's what we got for the rest of the way. Ricciardo dug in for victory.
It wasn't just about grimly hanging on though, as Sebastian Vettel next up while close at hand never got within range to strike – though in mitigation he had tyre problems. Lewis Hamilton in third had tyre problems too and he never fully bridged the gap to the front pair.
Road to redemption
Come the end Ricciardo had pulled away from Hamilton by 17 seconds, indeed had stretched out seven seconds on Vettel, though the Ferrari had lost five seconds in a blink late on when he seemingly couldn't get his tyres up to temperature after a Virtual Safety Car period. They finished in that order.
Little wonder that most in the Red Bull team and beyond spoke in terms of sheer wonder about Ricciardo's victory effort that should never have been possible. Little wonder too that much of the talk from Ricciardo and others was of redemption after their loss two years ago.
It vaults him to third in the drivers' table too with his two wins in 2018 matching Hamilton and Vettel's respective totals, albeit with a 38 point deficit to Hamilton at the top. Vettel, for one, refused to rule Ricciardo out of championship contention. No one was denying Ricciardo's ranking as a complete and top-drawer driver.
Virtually all of F1's giants have won here. Drivers of that status take the lion's share of Monaco victories. This time Ricciardo, belatedly, joined them. And with a drive that possibly outdid them all.
Monaco Grand Prix Top 3 Results
1. Daniel Ricciardo – Red Bull
2. Sebastian Vettel – Ferrari
3. Lewis Hamilton – Mercedes
---
Race 7 – Canadian Grand Prix – 10th June 2018
It could have been right from his Red Bull championship-winning pomp. All the hallmarks were there as Sebastian Vettel bestrode the Canadian Grand Prix on the way to lights-to-flag victory, this time for Ferrari. A not especially large underlying advantage was converted to pole position then a win with grim inevitability as he controls matters out front. From a long way out this one looked in no doubt.
But not that long a way out. As at the end of Friday practice Vettel declared his running so far a "disaster". Overnight swotting by the team righted things and Vettel did the rest. Appropriately he with it takes back the title lead too, by a point from Lewis Hamilton.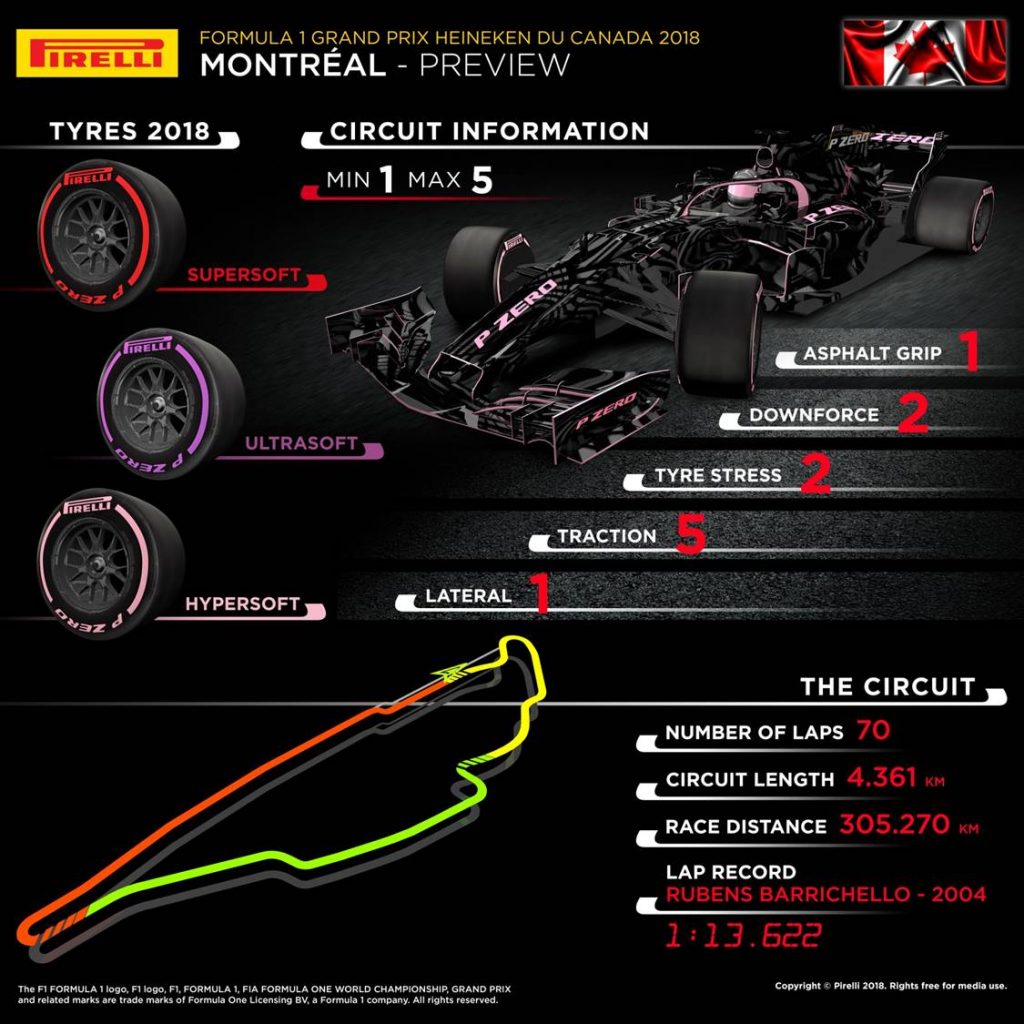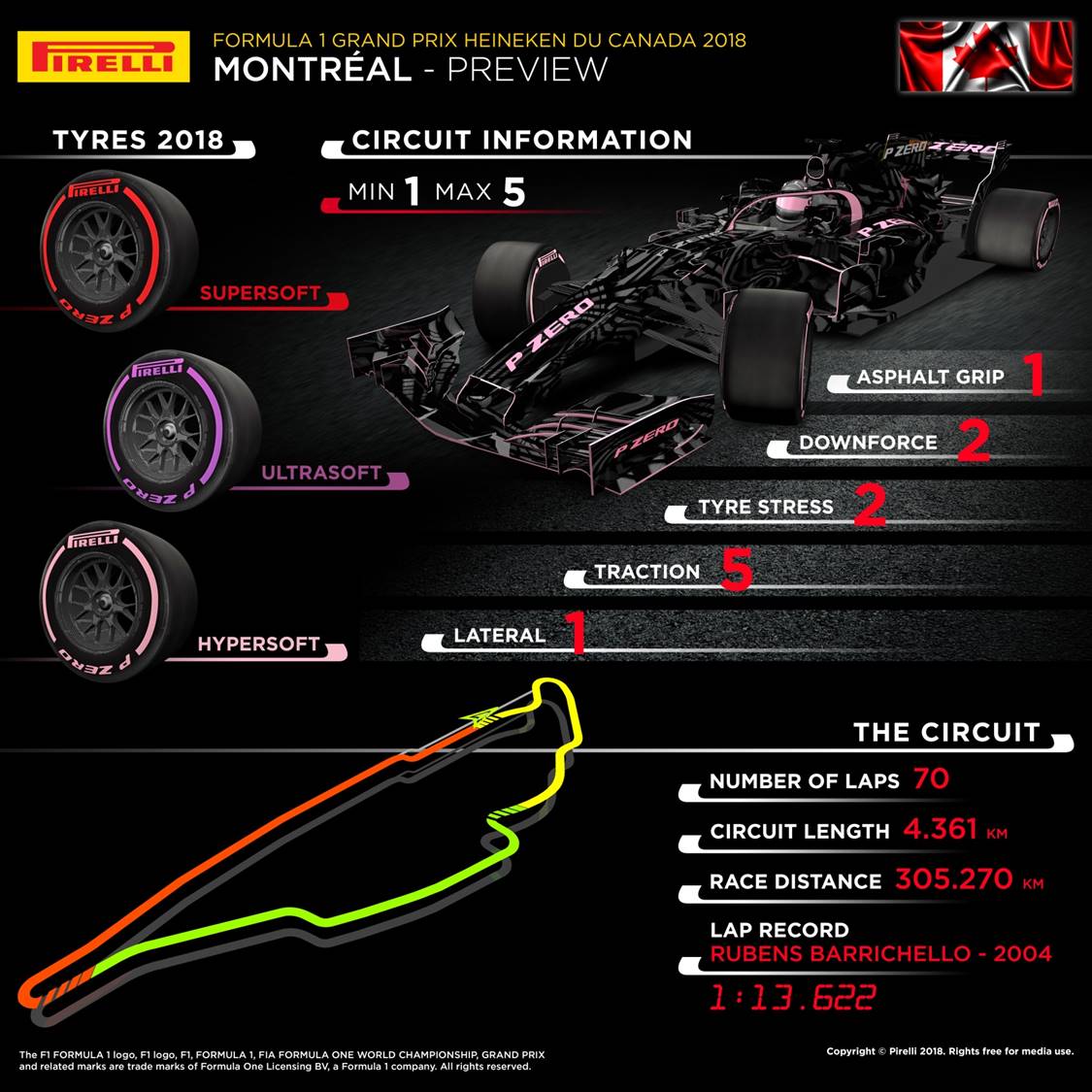 Mercedes in the mire
As at this most unlikely place Hamilton underwhelmed. He's won here six times, including the previous three, but was not a contender here as he trailed in fifth – a result only in part explained by cooling problems which also required him to pit early.
A big part of the explanation too is that Mercedes again struggled more generally – particularly again with getting the tyres working to its liking. The team admitted its tyre selections – with fewer hyper-softs than its rivals – was an error, and it was the first of a few.
Monaco last time could be written off as an outlier by Merc but – given it got a crushing 1-2 result at Montreal last year – it was harder to explain this one away. And in fairness to the team's boss Toto Wolff he didn't try to – his words for his squad afterwards were damning.
Valtteri Bottas was the better of the Mercedes pair and was Vettel's closest challenger, trying his best to keep him honest. And with 15 laps left he looked like he might make things interesting as he closed in, but then he ran wide lapping Carlos Sainz and there his charge ended. He later had to conserve fuel in any case. Second place was salvaged.
Vettel and Verstappen right the past
The Red Bull pair finished between the Mercs with Max Verstappen ahead – a result the Bulls will likely take at a track that doesn't suit its Renault engine. And for Verstappen it was a timely bounce back after all the criticism he's had recently – his weekend this time was flawless. He was in stoic mood in and out of the car at Montreal.
Amazingly this was Ferrari's first win in Canada since 2004 – and its first pole here since 2001. And it was done on the 40th anniversary of F1's first Montreal visit then won by local hero and archetypal Ferrari pilot Gilles Villeneuve, after whom the circuit is named.
Judging by the crowd response there remains plenty of Scuderia loyalty here. Seb afterwards also spoke also in homage to his hero Michael Schumacher, the last in red to bag pole and the win at this track. The sense of the past was heavy.
That included past of the more recent variety too – Vettel's Red Bull pomp mentioned. And from the championship angle we know how those ones used to end.
Canadian Grand Prix Top 3 Results
1. Sebastian Vettel – Ferrari
2. Valtteri Bottas – Mercedes
3. Max Verstappen – Red Bull
---
Race 8 – French Grand Prix – 24th June 2018
In F1 in 2018 it seems at any given moment some teams zig and other teams zag. In a tight fight at the front the precise combination of track layout, surface, conditions and tyre compounds peculiar to that race is enough to tilt things decisively one way or another. None more so than with Mercedes. For the silver team and particularly Lewis Hamilton this return to the French Grand Prix was decisive.
It was a reminder that in every round this year we've left it with a different view of the pecking order than when we entered it. And again with Mercedes and Hamilton the shift is stark – from them being at their lowest ebb after Canada, now Hamilton leads the table by 14 points and looks serene.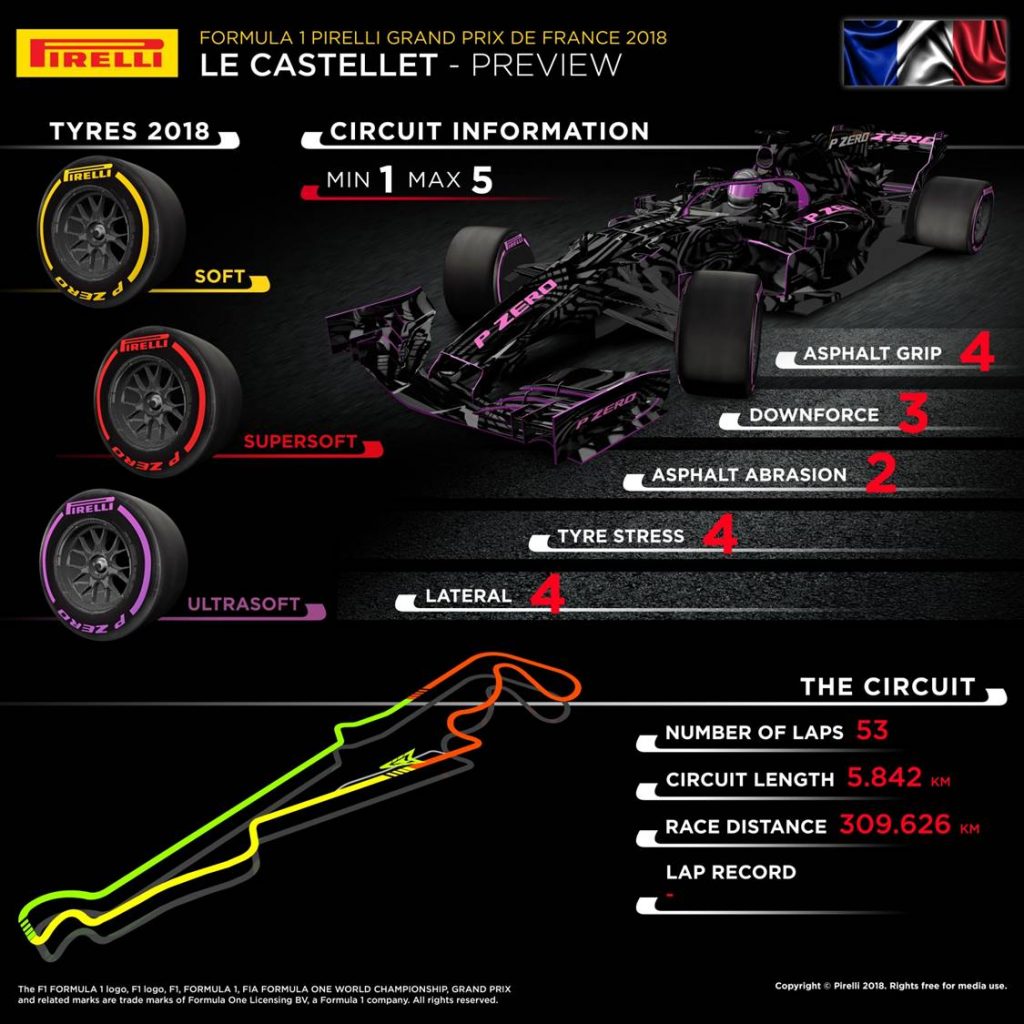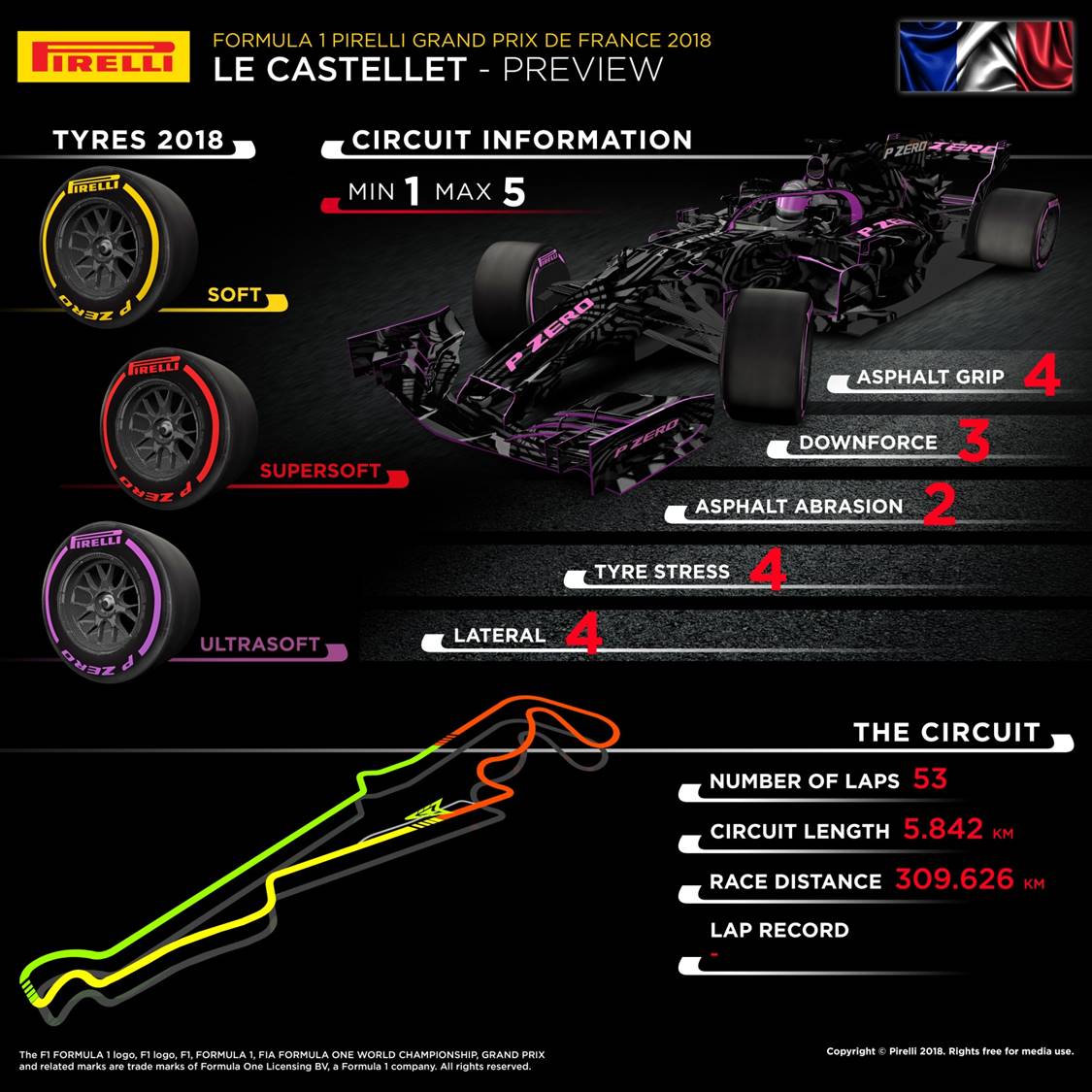 Hamilton zigs; Vettel zags
From driver and team this was one of their good weekends. Mercedes locked out the front row of the grid comfortably and polesitter Hamilton thought he had more time in hand. Whatever in the race he never looked like being beaten, leading every lap apart for one in the pitstops round.
His team-mate Valtteri Bottas likely would have followed him home but he had his latest major dose of bad luck in 2018. At turn one Sebastian Vettel tagged him in the back and punctured the Finn's rear tyre. It put Bottas to the back and the resultant floor damage and slow pitstop meant he could only salvage seventh.
Vettel broke his front wing in the clash and fell to the back too, though such is the modern-day advantage of the 'big three' teams he got back to fifth place with comfort. Plenty thought he was deserving of more of a penalty for the incident than the five seconds he got.
It was the latest in another nagging theme of the season – that Vettel hasn't always made the best of things. Even with the zigging and zagging mentioned Ferrari likely has been the year's best all round offering yet Vettel as mentioned trails in the points. While Hamilton for all that he's associated with the whizzbang this was in fact his 33rd consecutive points finish.
Verstappen vanquishes
One person altering his theme of 2018 is Max Verstappen who now has put in two fine drives after his Monaco depths – this time he finished second having alone kept Hamilton just about in sight throughout. And afterwards he couldn't resist a dig at one of his more vocal former critics Vettel…
The other Ferrari of Kimi Raikkonen got third, passing Daniel Ricciardo late on helped by an off-set pit strategy. Raikkonen may be another to struggle to change his developing theme of this year though as strong word is that Ferrari protegee Charles Leclerc is all set to replace him for next year, and Leclerc impressed again in France.
Hamilton and Mercedes will be particularly keen that the theme developed in France will continue. But then again, the way 2018 is going it'll do well to last beyond the next round.
French Grand Prix Top 3 Results
1. Lewis Hamilton – Mercedes
2. Max Verstappen – Red Bull
3. Kimi Raikkonen – Ferrari
---
Race 9 – Austrian Grand Prix – 1st July 2018
As the sage Mark Gallagher noted after this one, "Ferrari will be waking up dazed by how they are leading both the drivers' and constructors' championship; Mercedes at how they are not."
This was no ordinary Grand Prix, as Gallagher's assessment indicates. And it started looking like it would be extremely ordinary – Mercedes armed with a technical upgrade was a step ahead and locked out the grid's front row. All spoke in advance of two races in one with those not in silver aiming for third place at most. Then when Mercedes maintained its one-two after some first lap frolics, Lewis Hamilton ahead, that indeed looked like that.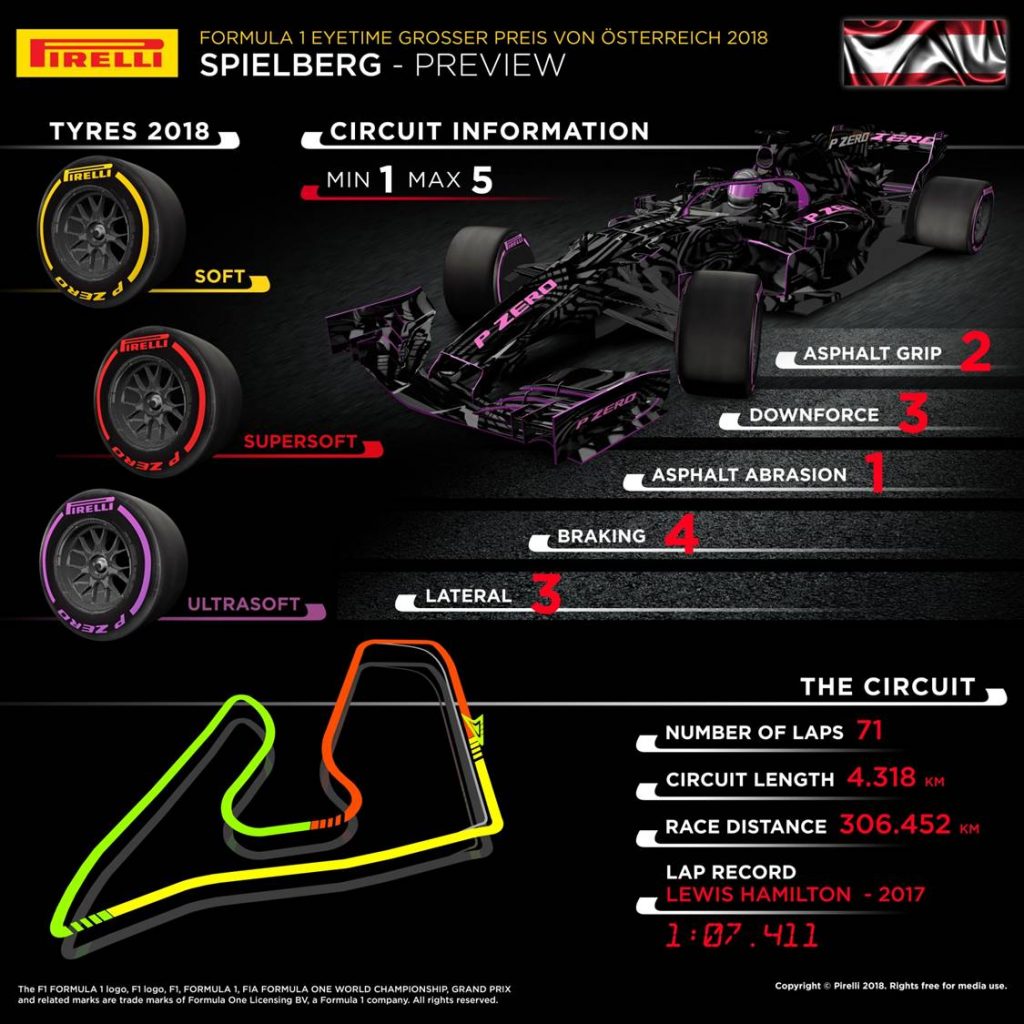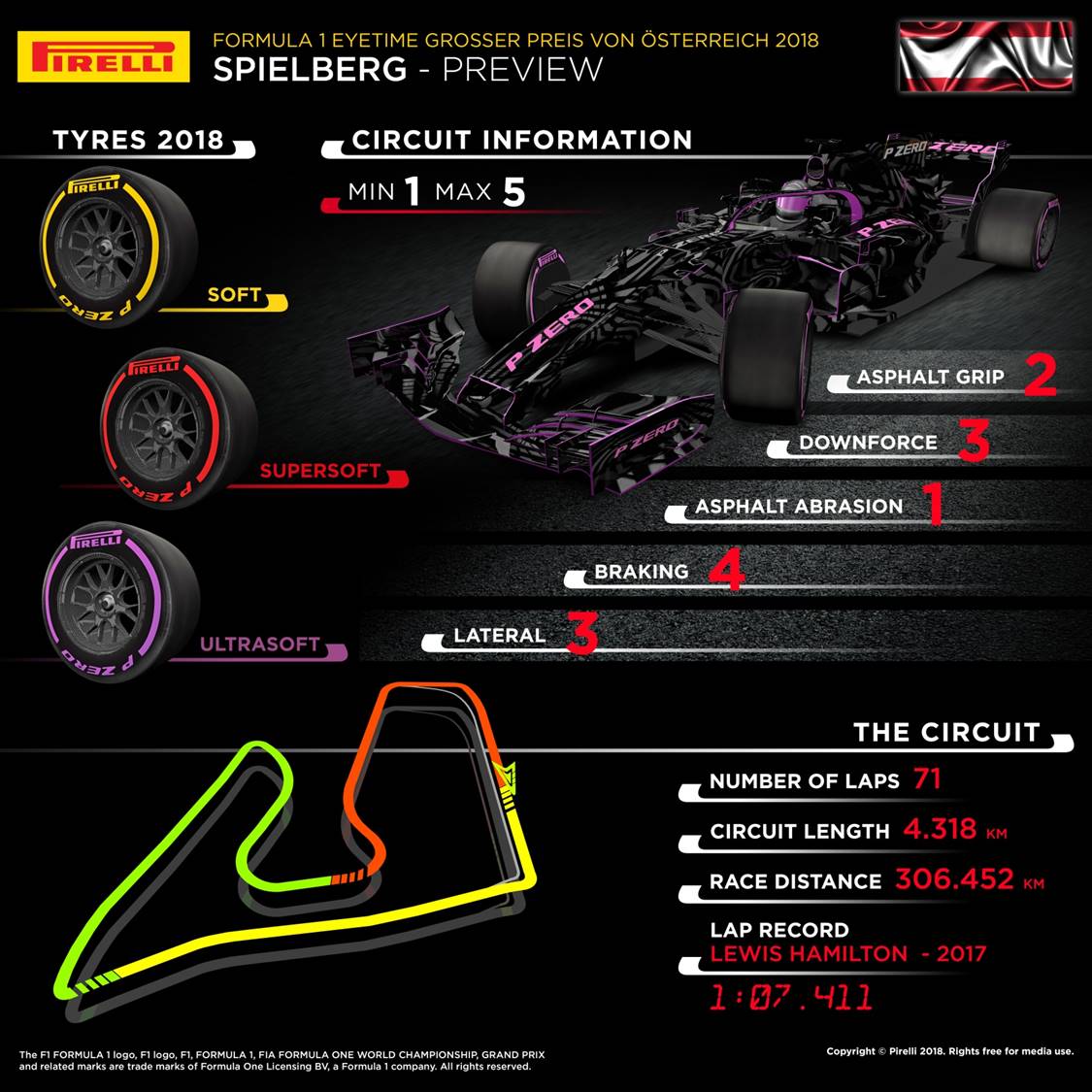 Mercedes falls into the mire
And yet. Mercedes's empire fell within a single lap. After 13 tours Valtteri Bottas stopped with a hydraulic problem. And worse for Mercedes recovering the parked car brought out the Virtual Safety Car and the team somehow missed the opportunity to pit Hamilton when his Red Bull and Ferrari rivals behind all did. As seen already this year in Australia and China pitting under a VSC is a boon as much less time is lost, and Hamilton couldn't build up enough of a gap to the rest to maintain his lead after pitting under green. He emerged from his stop fourth at which point he appeared to have one of his chin-drops.
As if to prove that nothing succeeds like failure Hamilton then ate through his tyres on a hot day on which plenty had problems on that front, Sebastian Vettel passed him for third then Hamilton stopped late on with a fuel pressure loss. Little wonder Mercedes boss Toto Wolff called it his "most painful day" in F1 ever.
Ferrari therefore from a desperate situation – Vettel even got a grid penalty for baulking after his team didn't warn him of a car behind in qualifying – leads both tables again as noted, as the red pair came home second and third with Kimi Raikkonen ahead, the Finn masterful in tyre handling. It will however have come with a lingering sense that it got away with this one and that it needs to find more pace; the Scuderia's looking like it could be slipping behind the Red Bull let alone the Mercedes.
As for the winner? On a day in which it seemed all around him were losing their heads it was a certain Max Verstappen who kept his.
Verstappen's virtue
His on the edge pass of Raikkonen on lap one it transpired was vital to his win, but from then on he relied on attributes which we don't always give him credit. Going almost unnoticed as he stroked his car around the track up front, keeping the rest at arm's length as they were the ones to squabble and run out of rubber. But it's not the first time he's done such a thing – his Mexican triumph late last year was similar. This time his boss Christian Horner described his "cute" tyre management, even altering his driving style to suit, as "unbelievable".
It's odd to think that just three rounds ago Verstappen was even more of a pariah than the Mercedes team is right now. Yet since his progress has been perfect in its symmetry – and in everything else for that matter – with a third place, second and now a win. Without his earlier wastefulness he could be leading the table – some think he might still do before the year's out.
Yet you also can make the case that Mercedes's solitary crumb of comfort from this round is significant, and one that will have the longest and largest implications. That as also noted it appears to have stolen it a clear march on its rivals.
And Silverstone is next, which Mercedes usually has to itself and Hamilton particularly. Though then again perhaps we should keep such thoughts in check. This one was a warning writ large of the perils of getting ahead of yourself.
Austrian Grand Prix Top 3 Results
1. Max Verstappen – Red Bull
2. Kimi Raikkonen – Ferrari
3. Sebastian Vettel – Ferrari
---
Race 10 – British Grand Prix – 8th July 2018
In 2018, as Martin Brundle noted in practice this time, we are coming to the realisation that Ferrari will be quick everywhere. And if the British Grand Prix was the car's ultimate test then it passed it triumphantly.
In every sense – literal and metaphorical – the Silverstone round is Ferrari's away fixture. Not only is it one of a small minority of teams not to have a base a short drive away, it also is a track that we thought could have been designed for its chief rival Mercedes – shown in results with the silver team winning the previous five here and Lewis Hamilton being particularly happy at home, taking the last four. Yet this time Sebastian Vettel and Ferrari won. On that basis it can win anywhere. Maybe it's the team to beat this year.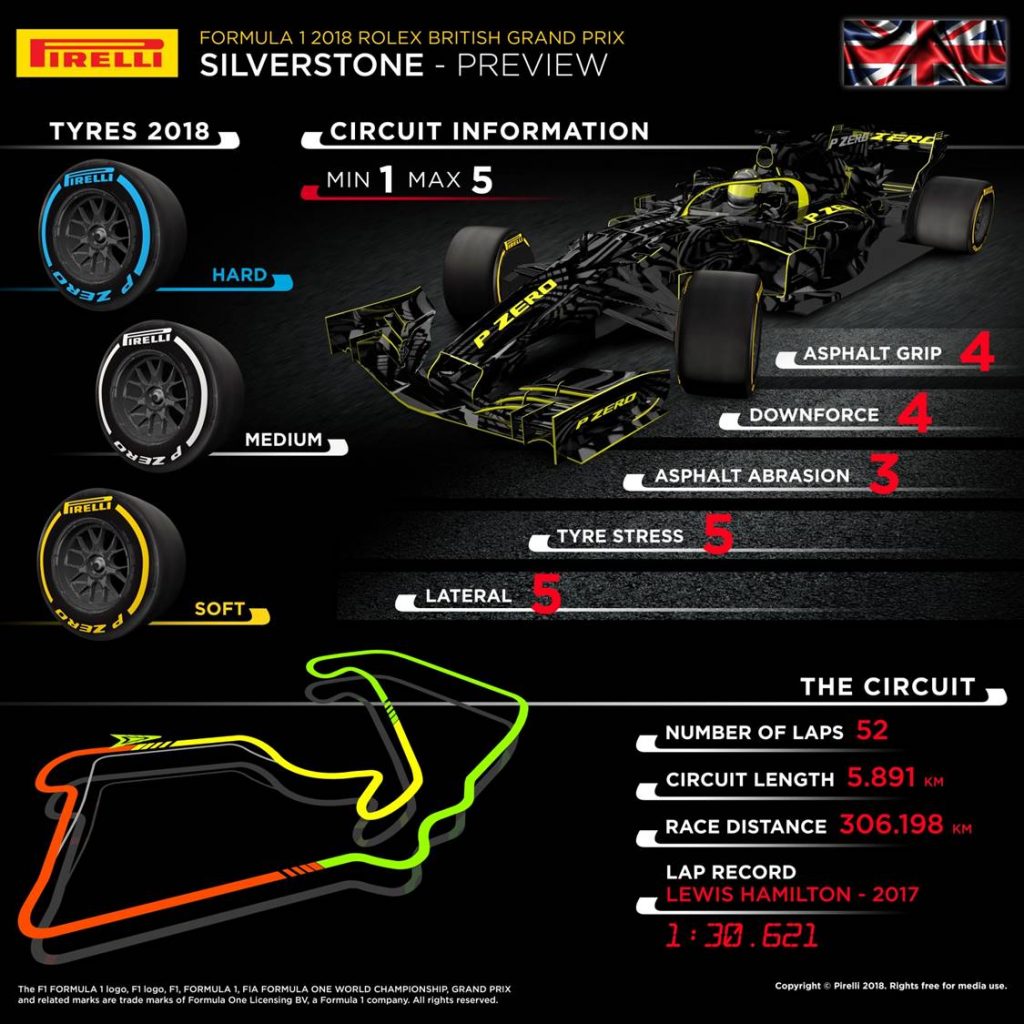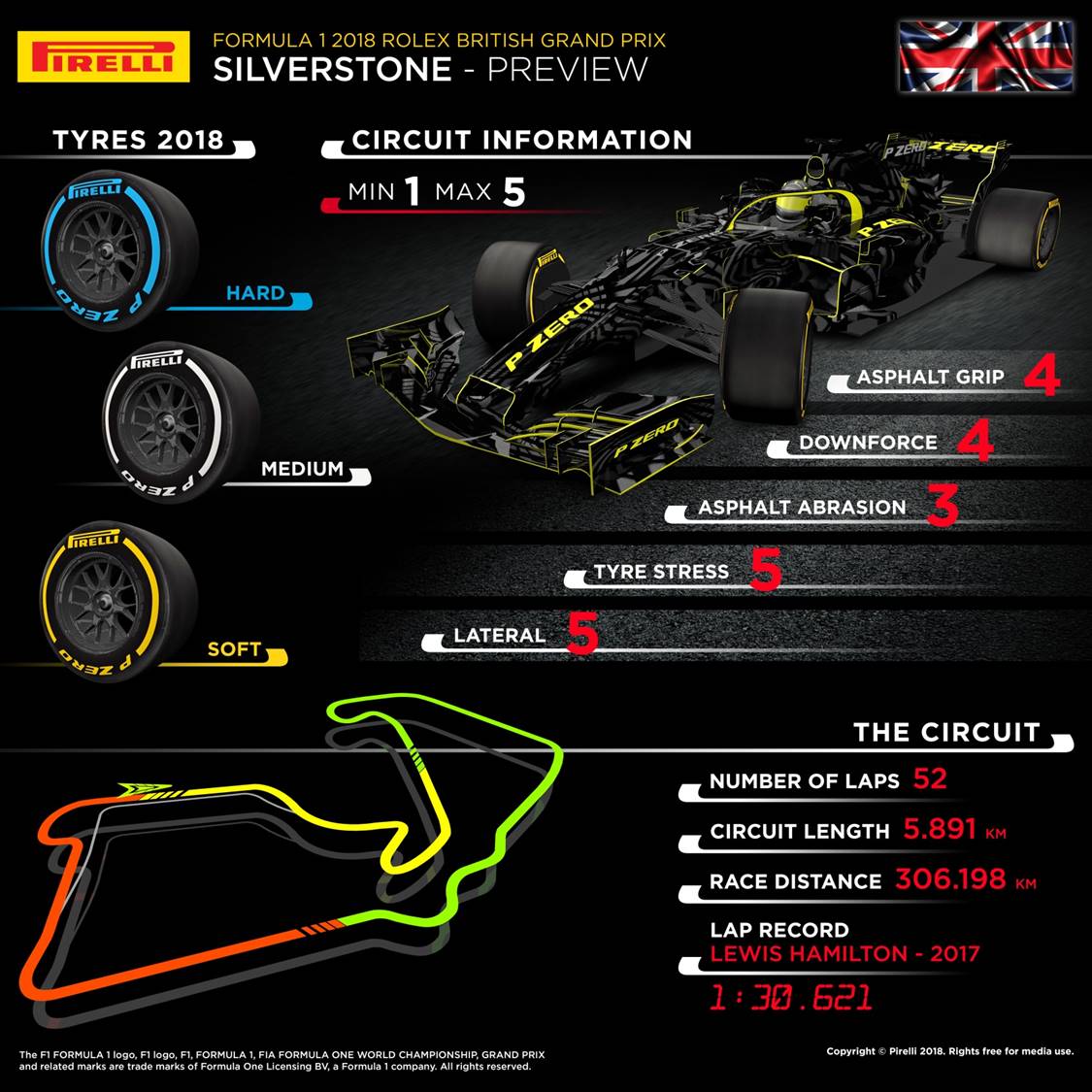 Flying Ferrari
Granted there were some adventures in getting there, but the bottom line is Ferrari – armed with a new floor which seemed to electrify the red cars – looked at least as fast as Mercedes throughout on the latter's happiest of hunting grounds. Only Hamilton pulling a rabbit out of the hat – which in Nigel Mansell-esque fashion he always seems capable of on his home ground – denied Ferrari pole. Otherwise the Scuderia was never denied.
Much pivoted on the start and opening corners. Hamilton's launch was poor and both Vettel and fellow Merc Valtteri Bottas were quickly by. Then worst of all for Hamilton he was nudged into a spin by Kimi Raikkonen which put the Englishman to the back. The fault was Raikkonen's – indeed he got a 10 second penalty for his pains – but equally it looked every inch a genuine error and it was a pity that Hamilton and his team spent some of the post-race hinting otherwise. Lewis has since apologised for the insinuations but you suspect in many quarters the truth will now not overtake the lie.
Whatever though it put the race into Vettel's palm and in that familiar way of his he grasped it – building a five second lead by lap seven over Bottas. Hamilton also in familiar style picked off the F1 'B class' swiftly and was up to sixth by lap 10. The Red Bulls – slightly tepid this time on what these days is a power circuit – and the penalised Raikkonen may have been just about in range but leader Vettel by now nearly half a minute away was not.
Mercedes was given an opportunity however – then dashed it again in familiar fashion.
Mercedes again muddles
Bottas edged in on Vettel in the second stint to be only two seconds shy but that battle was disrupted by a safety car appearance when Marcus Ericsson went off in his Sauber, leaving eventually a 15 lap sprint to the flag.
But just as in China and Austria, Mercedes faced with a decision made no decision (though it maintained afterwards its strategy of doing the opposite of what Ferrari did was deliberate), and it left Bottas and Hamilton out on old rubber while virtually all others stopped to change under the safety car. The Mercs therefore had track position – Bottas leading and Hamilton third – but either before long had a freshly-booted Ferrari on its rear bumper.
The decision just about made sense for Hamilton but Bottas, on tyres of greater vintage, was easy meat once green flag racing resumed. Vettel quickly gobbled him up to lead again and the Ferrari was never headed – Daniel Ricciardo later spoke too of the Ferrari's 'insane' straightline speed advantage. Hamilton got by too to finish second and Bottas by the end sank from his own sure second place to fourth behind Raikkonen. His latest case of not getting what he deserves in 2018.
Ferrari and Vettel were suitably thrilled with their weekend's work, edging clear in the table to now sit eight points clear of Hamilton after a scrum won against the head. Hamilton will view his second place as a save but equally knows, if he didn't already, that he is in quite a title battle.
Next up F1 returns to Germany, at Hockenheim, in a fortnight. As ever predicting which way that one will tilt will not be easy. But there is one thing we can count on it seems – that Ferrari will be in the picture.
British Grand Prix Top 3 Results
1. Sebastian Vettel – Ferrari
2. Lewis Hamilton – Mercedes
3. Kimi Raikkonen – Ferrari
---
Race 11 – German Grand Prix – 22nd July 2018
Maybe the problem is that they're said so often that we stop listening. It is in the nature of mantras after all.
F1's mantras are familiar – that anything can and does happen; that it's not over until it's over; that nothing is handed out until the chequered flag falls. Trouble is we don't abide by them, not even in a season with more shifts than most.
In this one Sebastian Vettel took a crushing pole position – Mercedes spoke of the Ferrari having a half second advantage on the straights alone – and his title foe Lewis Hamilton started 14th after a qualifying hydraulics failure. Immediately the arithmetic started as to how much Vettel would extend his title lead by. But once the points were handed out things could hardly have looked more different. Vettel was in the wall and Hamilton, somehow, had come through to win. In a season of turns this was its sharpest so far.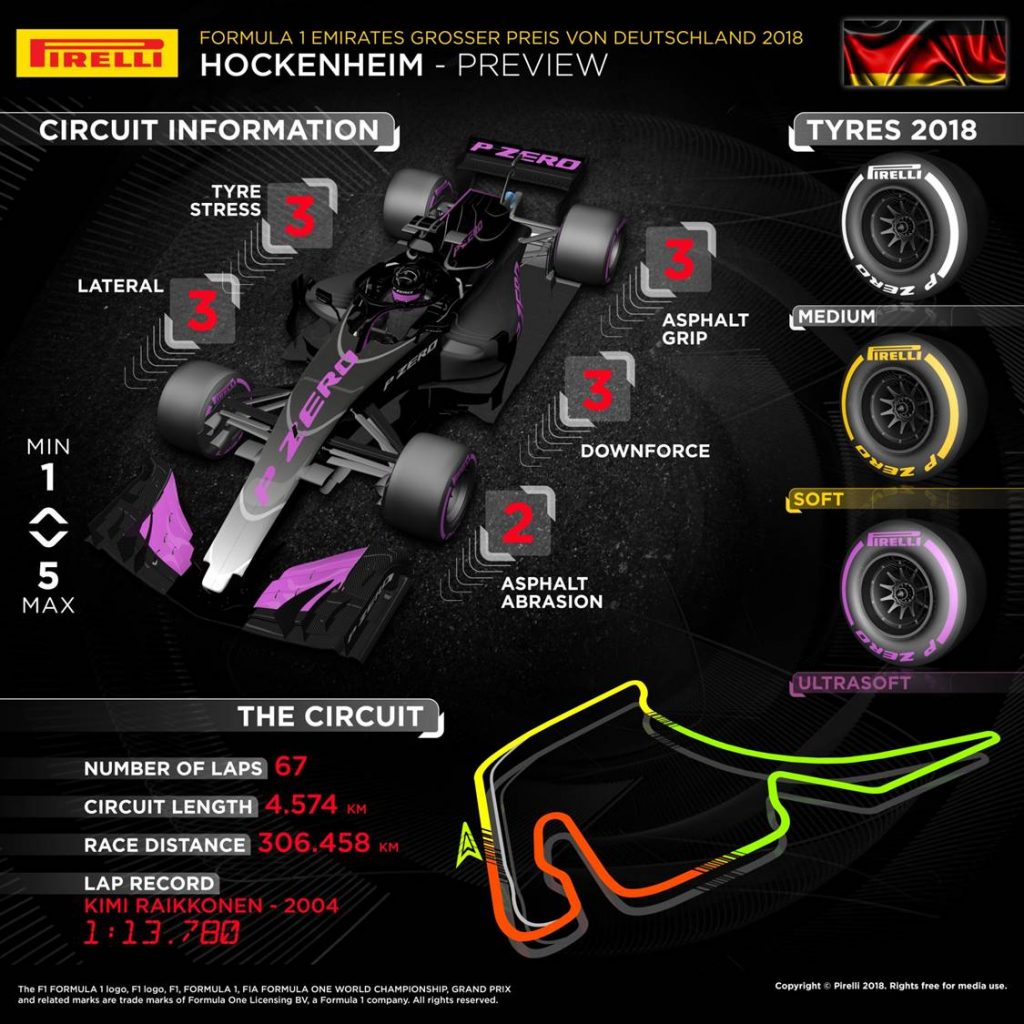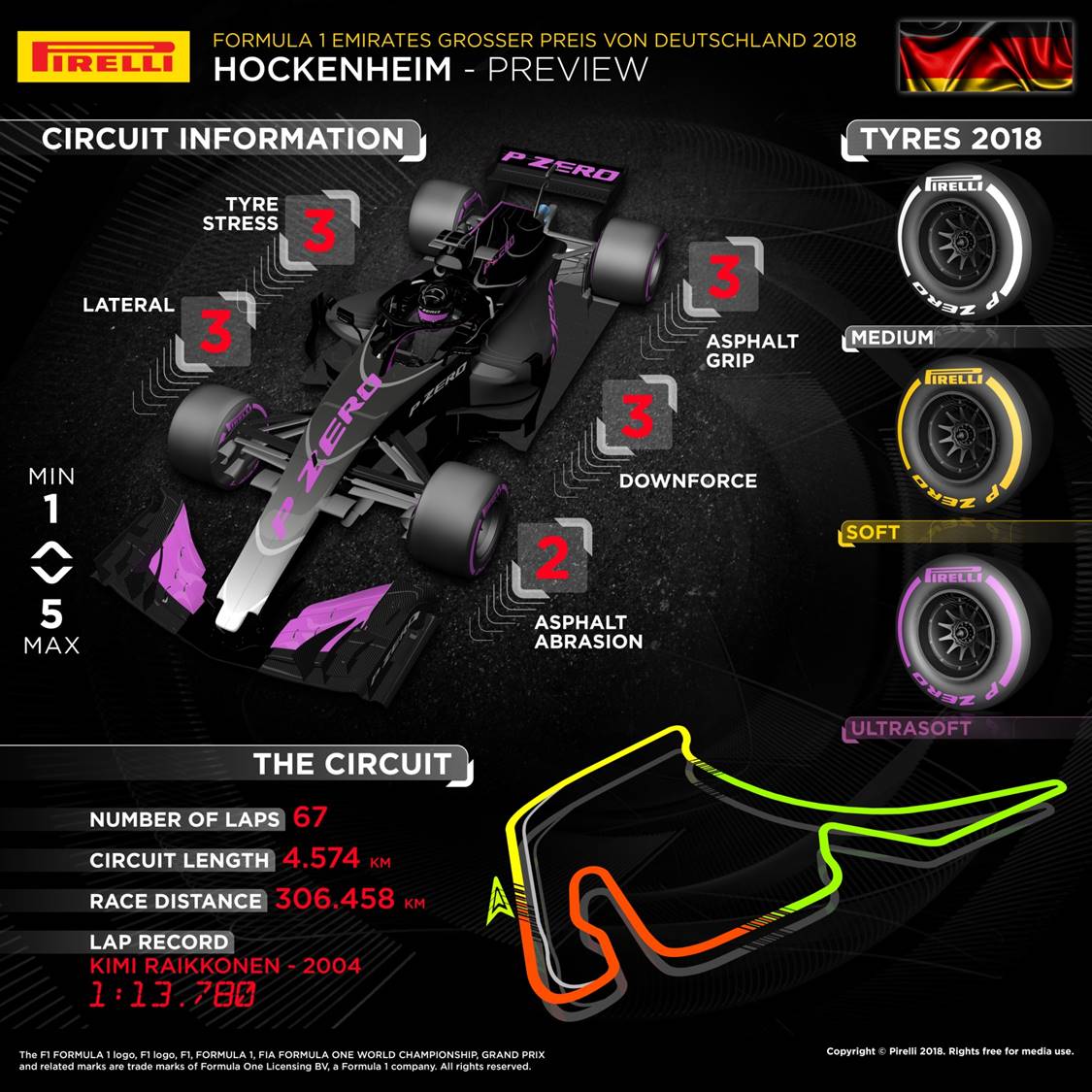 Rain on Vettel's parade
Vettel maintained his lead from the off, yet the threat of the unusual always lingered. Chiefly in the shape on the weather, with rain it seemed permanently bubbling on the radar. Hamilton meanwhile as expected cleared the 'B Class' outside the top three teams  sharp-ish, indeed after all other leaders made their pitstops he got himself into third place behind the leading Ferrari pair – during an odd interlude wherein Vettel spent several laps behind his early-stopping team-mate Kimi Raikkonen and complained about being held up and of his tyres overheating.
Hamilton had got there as he'd started on harder tyres and was pressing on for a long while without pitting, the aim apparently to kill two birds with one stone by making his halt one where wet-weather tyres were bolted on if/when rain arrived. That would really get him into the mix.
As it was Hamilton in fact gave in and made his stop just before the rain did arrive. Yet as it was too the rain indeed helped tilt the race to Hamilton. Just not in the way we thought.
The rain was light at first and only really over a single corner, then it relented though not before Max Verstappen who'd run in fourth throughout thought it was worth a change to intermediates. He had to return for dries a few laps later – amazingly having only lost one place. To Hamilton.
But no sooner had he done that than the rain came back, harder and more comprehensive – cars were skewing off in all directions. Including, astonishingly, the leader Vettel who almost apologetically went straight at the stadium section's hairpin and nosed the tyre wall. His day was done.
Matters conspire for Hamilton
The safety car was called and Valtteri Bottas and Raikkonen – now placed one and two – pitted. Hamilton stayed out and took up the lead. But even that wasn't quite as it seemed, as radio transmissions suggested the move owed to confusion rather than a strategic masterstroke and Hamilton in fact had been told to pit too. He indeed entered the pitlane then bailed out, even taking a trip over the grass (something the stewards looked at post hoc, but only gave him a reprimand for).
Hamilton had spoken of the need for divine intervention after his qualifying woes – and it was indeed like some invisible hand guided everything towards his victory.
The Mercedes pitwall helped too, as when green flag racing resumed Bottas in second attacked hard and Hamilton defended about as hard. The call was quick – the Mercs had to hold position. Though Hamilton may have repelled the attack by then anyway.
And suddenly it was over – Hamilton had a incredible victory having started 14th, by a way his lowest grid slot to win from in his F1 career. Underlining that this one was unusual, from the entire expanse of F1 world championship history going back to 1950 he was only the 12th to win a race from that grid slot or lower.
Afterwards again the talk was familiar – was this a turning point in the championship? Perhaps, but Silverstone was purported to be a turning point too in the opposite direction. So was this one until Vettel binned it. In Austria – almost like this one in reverse – we started the race thinking it was a shift to Merc and ended it thinking it was similarly pivotal in favour of Ferrari.
This title story has had a few u-turns, and no doubt will contain a few more. We really do need to remember those mantras.
German Grand Prix Top 3 Results
1. Lewis Hamilton – Mercedes
2. Valtteri Bottas – Mercedes
3. Kimi Raikkonen – Ferrari
---
Race 12 – Hungarian Grand Prix – 29th July 2018
In a season of twists and turns, this one in Hungary was instead an uncanny case of history repeating. The chimes with the preceding round in Germany were disquieting.
Just like then Mercedes and particularly Lewis Hamilton looked out of it. Just like then Sebastian Vettel and Ferrari looked poised to make a major gain in the championship. Just like then rain arrived and tilted things decisively towards Hamilton, who instead made the sizeable points gain. Only this time the rain arrived in qualifying.
A few sniggered behind palms when Hamilton hinted at divine intervention after the elements came to his aid a week ago at Hockenheim. But with them now doing so right on cue for two rounds on the spin, it may as well have been have been a matter of design.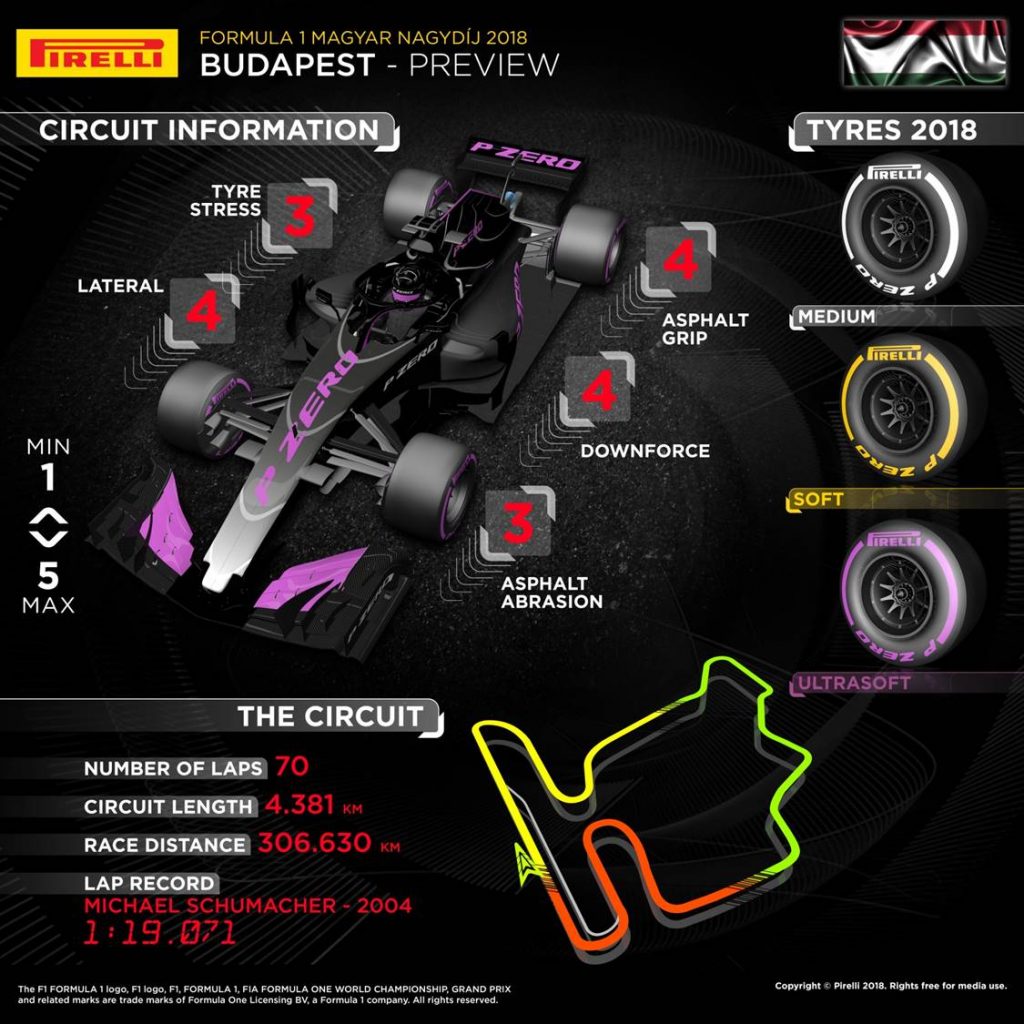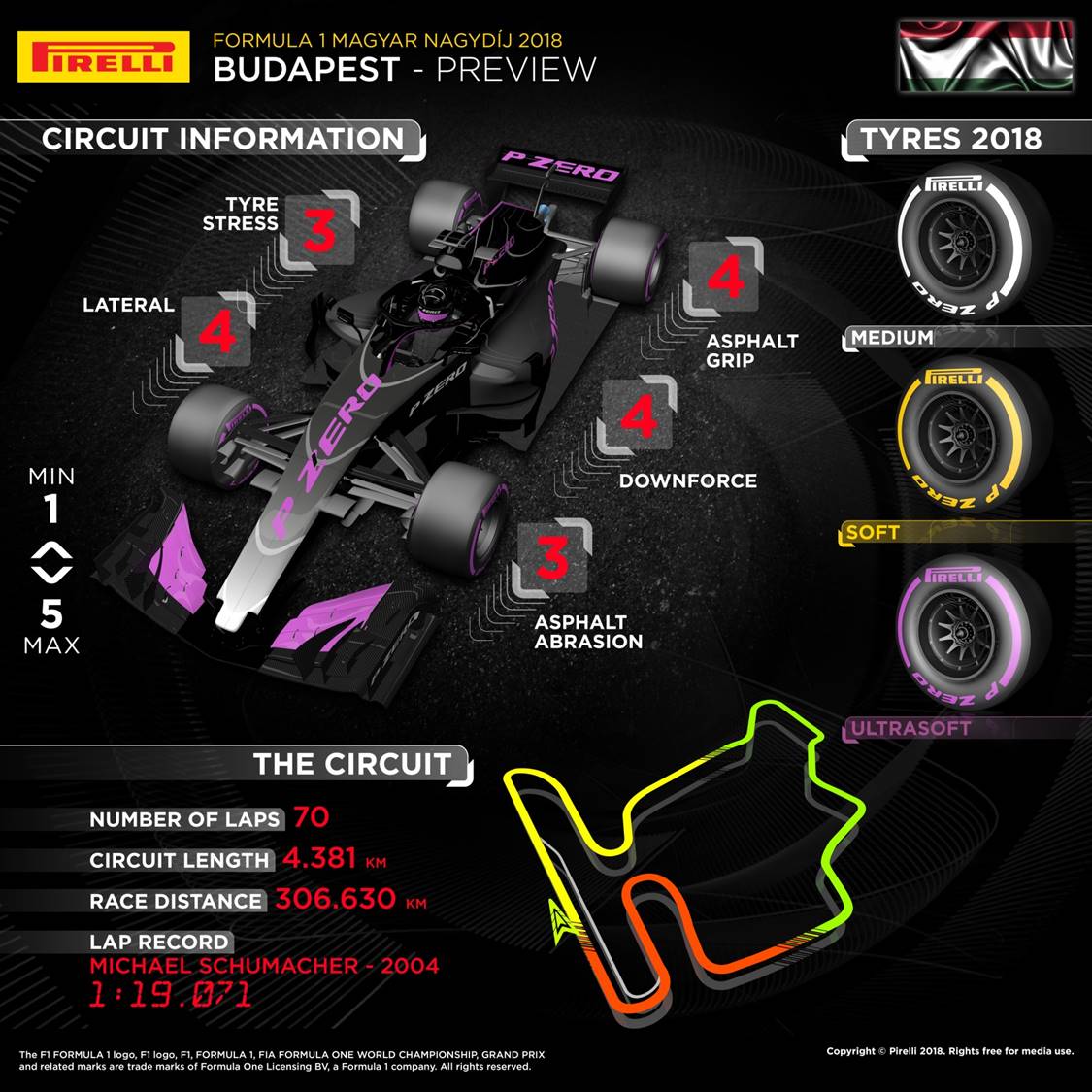 Hamilton the raining champion
Qualifying order means a lot in modern F1 of course, and it has long meant a lot at the tight and sinewy Hungaroring. Sure enough leading from the race's off formed the basis of Hamilton's latest victory – but his drive on Sunday and particularly Saturday was highly impressive nevertheless.
In Friday practice it didn't look like the Mercs would get with the Red Bulls let alone the Ferraris. Hamilton was self-admittedly off his team-mate Valtteri Bottas too. Yet a thunderstorm in qualifying allowed him to perform his party piece – bravery, creative use of lines and the like. Not for nothing has he won the last nine rain-affected grands prix.
Pole was his and it got even better for him behind. The friendly Bottas was next up and only then did we have the Ferraris on the second row – Kimi Raikkonen ahead of Vettel. The Red Bulls – unfathomably off it after the rain fell – were out the picture: Max Verstappen starting seventh and Daniel Ricciardo 12th. The weekend had changed, changed utterly.
And the significance wasn't lost on Hamilton, him noting Mercedes was now in position to – in modern F1 parlance – 'control' the race. So it proved.
Ferrari's best laid plans go wrong
To begin with the Mercs in the race played the perfect team game. Hamilton scampered off into a clear lead while Bottas hung back – helpfully bottling up the Ferraris in so doing.
Ferrari did threaten to make it interesting though, aiming for something like a three card strategic trick. First Raikkonen pitted early forcing Bottas to follow him in a lap later to guard against the 'undercut'. This left Vettel with a clear track to Hamilton. Moreover the German had started on harder tyres and was able to run longer before pitting with the long-term aim to chase down Hamilton late on with fresher and softer rubber. For a good while exactly this looked a go-er.
But it unravelled. Vettel had established a 'delta' (F1 parlance again – that's enough time to pit and still be ahead) to Bottas, but then lost time in traffic particularly behind Carlos Sainz and Bottas, his team advising him of the emerging opportunity, put a spurt on with two consecutive fastest laps. Then Vettel had a slow stop, losing two seconds to the usual pit time. All together it meant after his tyre change he was tucked up behind Bottas all over again. The day, barring disasters, was now Hamilton's.
Vettel at least got second place back, getting past Bottas with six laps left when the Finn's long in the tooth tyres cried enough. Bottas personally rather degenerated too, first clumsily damaging his front wing on Vettel's Ferrari after being passed (although some thought Vettel could have showed prudence by giving more space), then – with a damaged front wing and tyres that we've mentioned – even more clumsily understeered into Ricciardo as he passed for fourth a few tours later. Bottas also got a post race penalty for it though it didn't effect his fifth place. Otherwise though Mercedes could hardly complain about its day.
Hamilton now has a clear lead in the table – nearly a full win to Vettel – and five wins from 12. All too in a car that's hard to claim confidently has been the best over the piece. Yet things are fascinatingly poised for after the summer break given this very point. Ferrari though needs to start turning its potency into points. And for the rain to stay away.
Hungarian Grand Prix Top 3 Results
1. Lewis Hamilton – Mercedes
2. Sebastian Vettel – Ferrari
3. Kimi Raikkonen – Ferrari
---
Race 13 – Belgian Grand Prix – 26th August 2018
If 'rain Gods' actually exist then Ferrari and Sebastian Vettel on the Saturday of this Belgian Grand Prix meeting must have paused to wonder if they had offended them. For the third round in a row they looked the fastest package out there; for the third round in a row precipitation – in itself a perennial threat at this Spa track – threatened to take it all away. Rain fell on the last of the qualifying session and Lewis Hamilton in his Mercedes performed his usual party trick in the wet to pinch pole away from Vettel.
But this time it ended differently. As this time, for the first time in those three rounds, Vettel and Ferrari overcame its misfortune to win. And with it breathed timely life into their championship chances.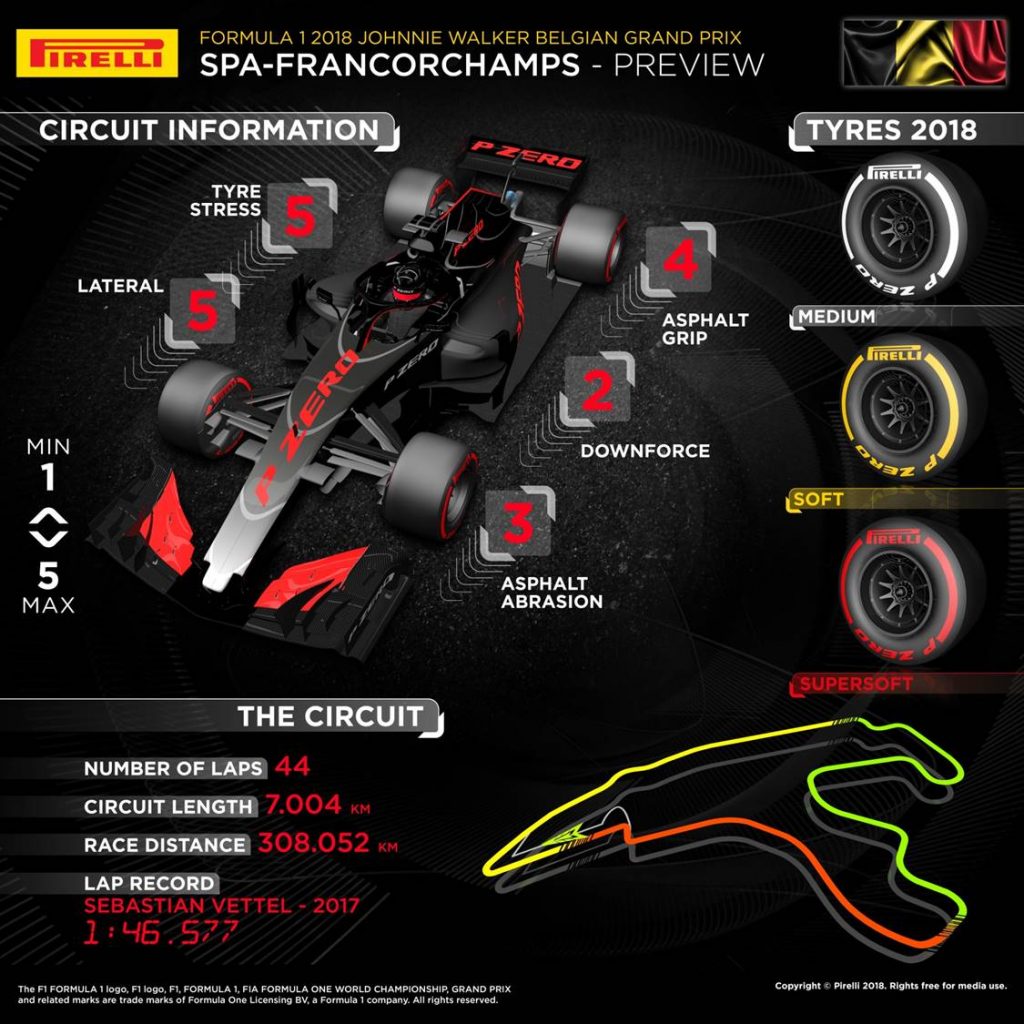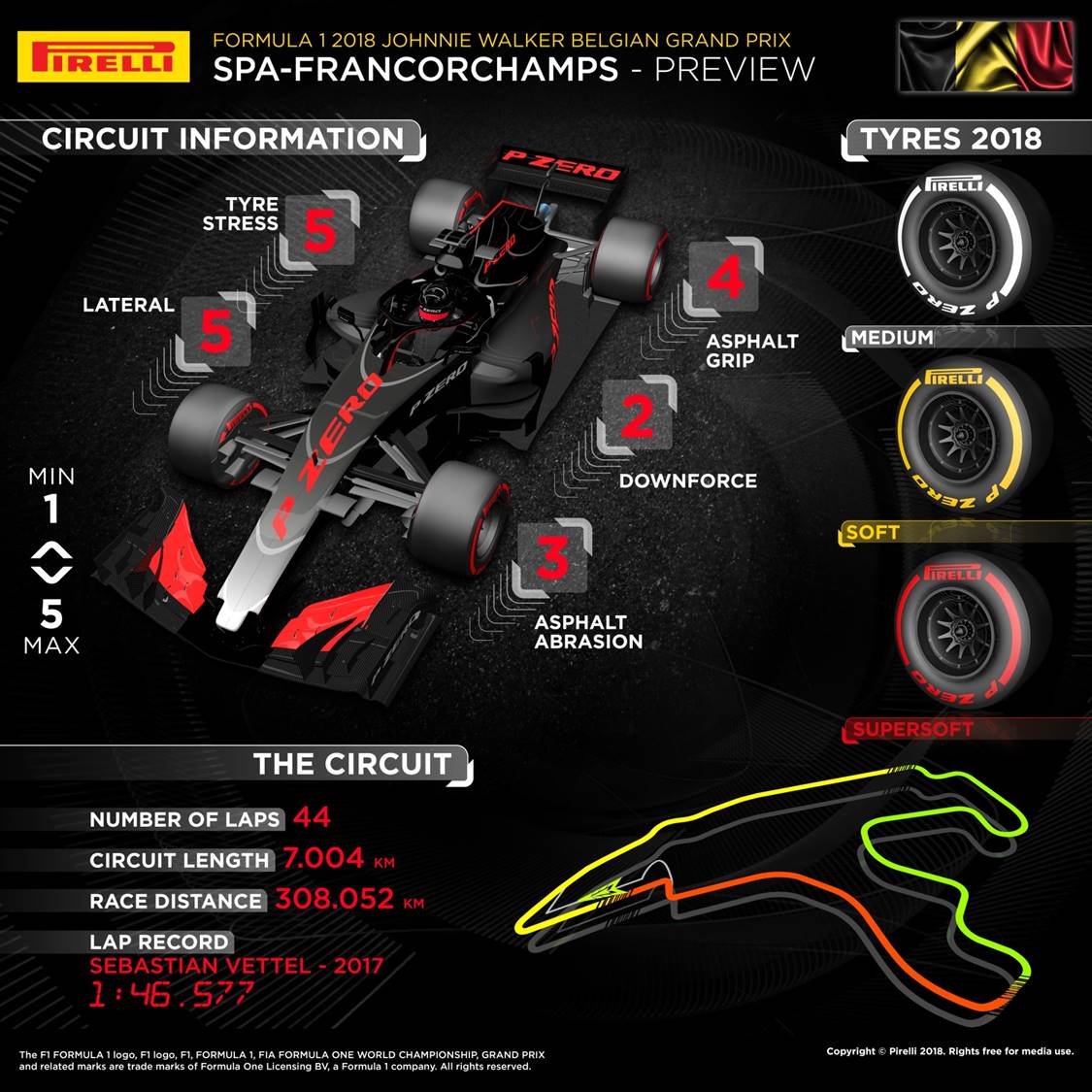 Sebastian's Spa stroll
Come the race Vettel got the lead quickly thanks to another Spa perennial. There is a 25 second full throttle run to Les Combes, which with the resultant slipstreaming – particularly on the first lap when everyone's bunched – offers a conspicuous chance to pass whoever's ahead. It's led some to theorise that starting second at Spa is better than first.
And Vettel starting second took advantage of just that to take from Hamilton a first place that he never subsequently was to lose. Indeed the slipstreaming effect was so great that even the Force India pair – which had started on the second row after the rain-jumbled qualifying – almost took the lead themselves and the quartet in a brief blink were four-abreast.
Vettel before long built a clear lead over second-placed Hamilton, and while it ever-so-briefly threatened to get interesting when Hamilton trimmed the gap by making his solitary pitstop a lap sooner, before we knew it Vettel was cruising clear again. He was 11s ahead by the end. Hamilton conspicuously settled for second but equally conspicuously had little choice in the matter. In-race drama was one Spa perennial which did not make itself felt.
Well, not after the first corner at any rate. At the tight La Source hairpin – in another Spa perennial – there was carnage. A late (or non) braking Nico Hulkenberg pitched Fernando Alonso's McLaren over the top of Charles Leclerc's Sauber. The McLaren bounced off the top of Leclerc's halo, thus making a compelling case for its efficacy.
After the carnage
Daniel Ricciardo also lost two laps after getting tagged in the smash and needing a new rear wing while Kimi Raikkonen and Valtteri Bottas – caught up in separate first turn incidents – also were delayed and in Raikkonen's case eventually dropped out.
Max Verstappen had a lonely race to third – a fact that contrasted with that many of the grandstands were packed with his vociferous supporters – while Bottas was able to rise up after his early adventures to finish fourth.
Plenty hearts were gladdened that Force India – or rather these days Racing Point Force India F1 – got a healthy points haul for being next home in fifth and sixth, Sergio Perez ahead, given the team's recent troubles. Indeed it technically was the team's first points ever, it having lost the previous 2018 haul after its administration and subsequent buyout. The team thus is already ahead of Williams in the constructors' table and just one point shy of Sauber.
Most of all today reminded us of something. That for all that Hamilton has eked clear in the table in recent times – helped by rain as noted – Vettel and Ferrari have persistently been the fastest. And ask any F1 engineer, it's pace – not points – that keeps them awake at night. And these days the Autumn schedule stretches long. Monza is next too which should suit Ferrari down to the ground. This championship still has life in it.
Belgian Grand Prix Top 3 Results
1. Sebastian Vettel – Ferrari
2. Lewis Hamilton – Mercedes
3. Max Verstappen – Red Bull
---
Race 14 – Italian Grand Prix – 2nd September 2018
Ferrari in its home round did just as expected. It likely has the quickest car right now; almost certainly it has the quickest engine, and this converted to a pace advantage on Monza's rapid circuit. The Italian cars indeed were a step ahead of the rest, including its title foes Mercedes and Lewis Hamilton, and after qualifying the grid's front row was all red. But the bottom line is that a day later Hamilton had won and left Ferrari's homeland with an extended 30 point lead in the table over the Scuderia's Sebastian Vettel.
Lenin purportedly once said that everything is connected to everything else. He's an unlikely source for F1 truisms, but those words indeed apply absolutely to this game. Mighty oaks from little acorns grow. The acorns of Ferrari's downfall were planted the day before the race, in that very same qualifying session. Perhaps in another, more negative, sense Ferrari again did just as expected.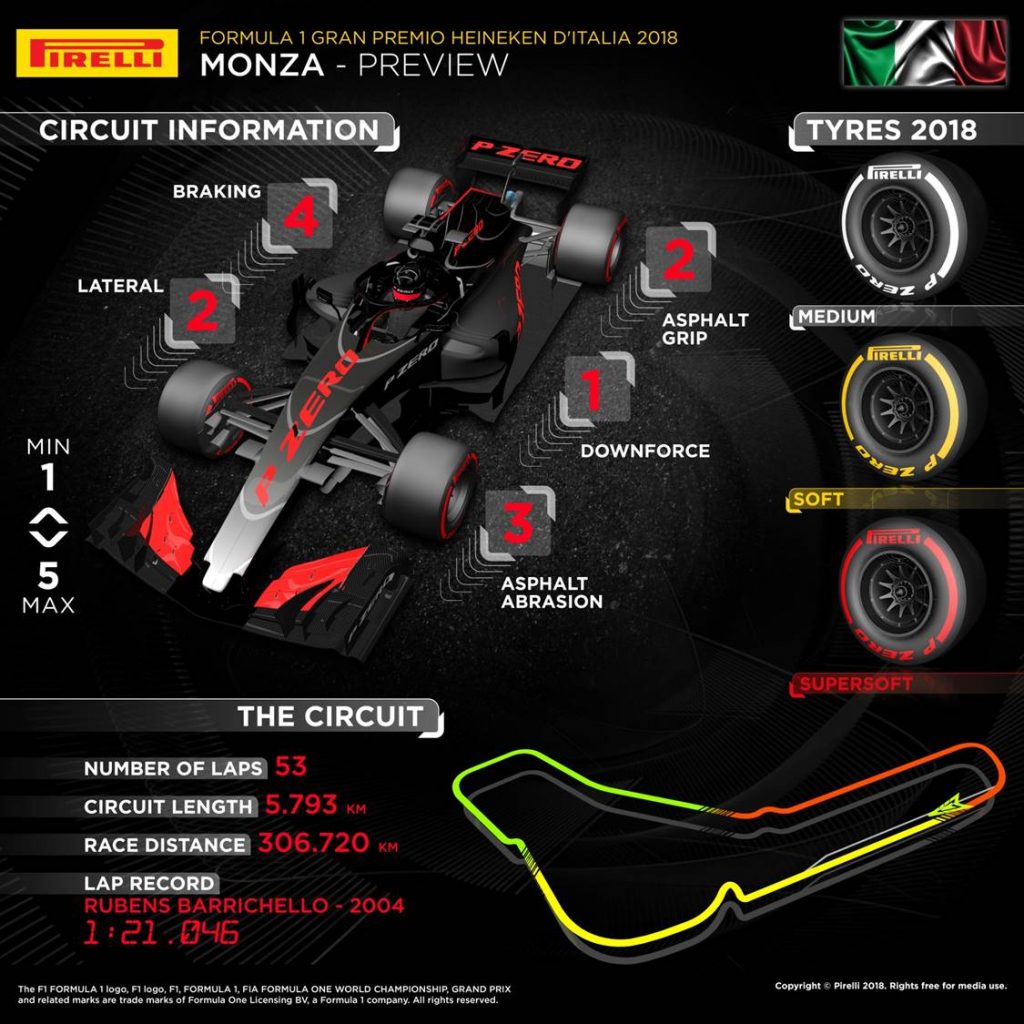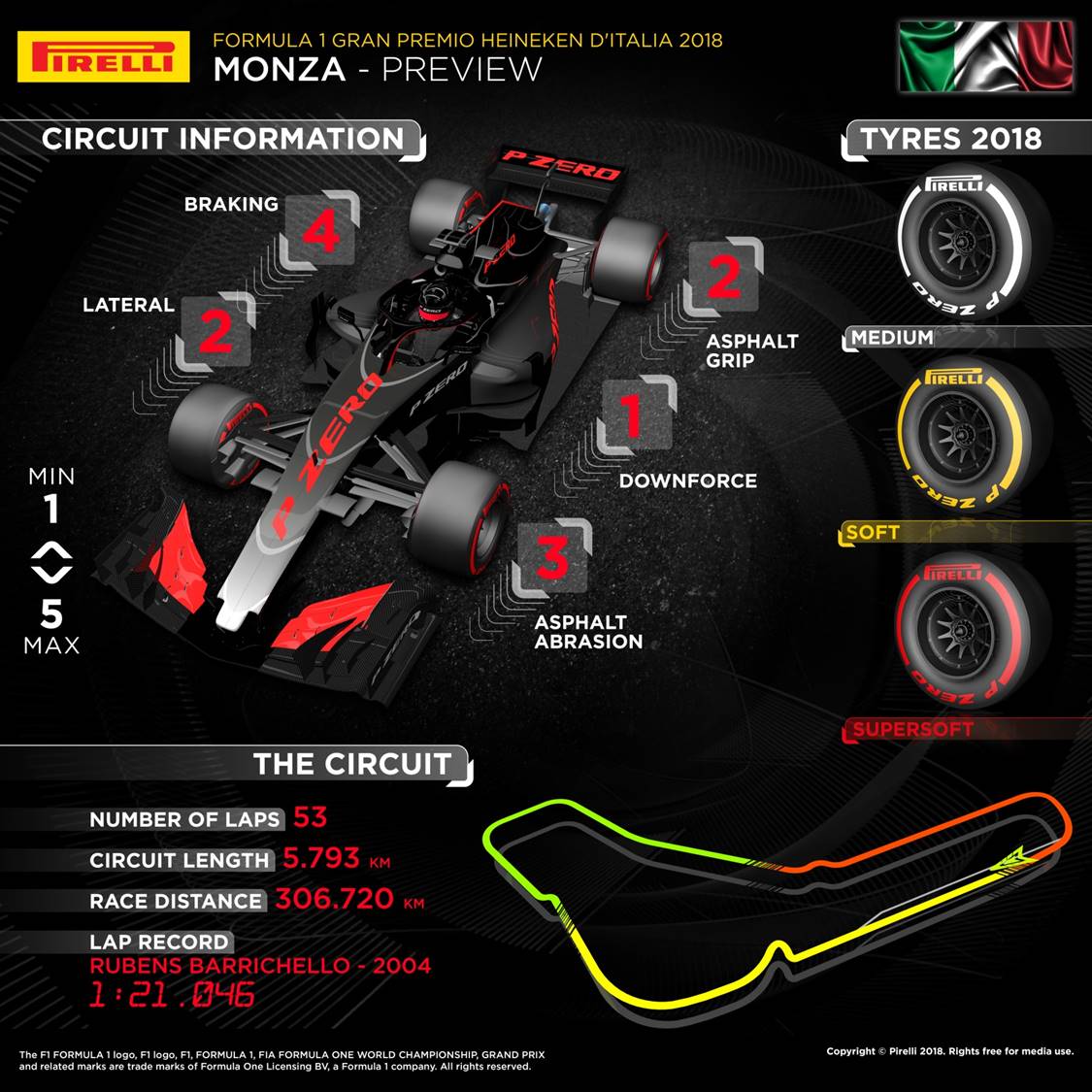 Ferrari's failure
There was one fly in Vettel's Saturday ointment, that it was his team-mate Kimi Raikkonen who took pole position. He was aided by that he ran behind Vettel on track and thus got the benefit of his slipstream on Monza's many lengthy straights. Vettel meanwhile had been fed out a little late and therefore didn't really benefit from the car ahead (Hamilton, as it transpired).
Vettel clearly wasn't happy afterwards but refused to expand, beyond noting that the Ferrari pair takes turns to run ahead and it was Kimi's turn this time.
Perhaps the acorns were sown even sooner, with it reckoned that Raikkonen knows he's out at Ferrari next year for fledgling Charles Leclerc. Whatever, the Finn seemed in no mood for championship-minded cooperation at any point. And Vettel seemed to know as much.
As when the race started Vettel attacked Raikkonen immediately – the implication being, intriguingly, that Seb expected no sedate synchronised swimming later in the race to swap them around – and the Finn defended robustly, leaving Vettel a little compromised.
And Hamilton, sensing an opportunity that likely wouldn't come again, got on the outside of Vettel at the claustrophobic second chicane. The pair touched and almost defying the laws of physics it was Vettel on the inside who spun while Hamilton sailed off serenely in second place. A piece of Ferrari detached for good measure. Vettel continued in 18th. The day in a blink was upturned.
From then on it was a case of Hamilton chasing Raikkonen for the win, after they'd quickly swapped and un-swapped the lead after an early safety car period. Raikkonen made his sole stop first reacting to Mercedes's plan to pit Hamilton. But Mercedes had resolved to do whatever Raikkonen didn't and Hamilton instead pressed on. But the early stop was not what lost Raikkonen the race, rather it was that Raikkonen pushed more than was necessary on his new tyres which had to get to the chequered flag. It got him a five second advantage over Hamilton after the Englishman pitted but the other Mercedes, Valtteri Bottas's, was ahead having not stopped and was about to render the advantage for nought by holding Raikkonen up.
Worse Raikkonen's spurt left him on very second hand tyres, a big chunk indeed had detached from his left rear, and Hamilton with the scent of a win sure enough got by at the first chicane to lead with 10 laps left.
Hamilton takes maximum advantage
He therefore eased to a worthy win, likely one even of his best, and to maximum points from a weekend he started minded mainly of damage limitation. That instead ended up Vettel's task and he salvaged fourth place aided by another 2018 season's chief theme, Max Verstappen's petulance, getting the Dutchman a five second penalty.
But minds were drawn back to the day before, and that if Vettel had got his pole he'd likely have cruised to the win. The points deficit to Hamilton would have got ever shallower with the momentum undeniably with the German. Those little acorns…
After our excitement post Spa about Vettel's prime position for the rest of the year, the season's prior chief theme reasserted in this one – that Ferrari for all its stunning speed isn't beginning to make good on it where it really matters. That something comes along to trip it up. Sometimes it's of its own doing.
Perhaps Ferrari shouldn't panic. Singapore is next which has long been a Mercedes bogey track and there's a good chance too that the Red Bulls will get between the red cars and the silver ones. And there remains still seven rounds and therefore 175 points. But then again we've said all this sort of stuff about Ferrari plenty before in 2018. And it was at the same Singapore track 12 months ago that it started its clumsy ways.
In a year where only Ferrari can beat itself, it's becoming harder to escape the conclusion that it will do just that.
Italian Grand Prix Top 3 Results
1. Lewis Hamilton – Mercedes
2. Kimi Raikkonen – Ferrari
3. Valtteri Bottas – Red Bull
---
Race 15 – Singapore Grand Prix – 16th September 2018
With almost any Formula 1 championship fight we can pinpoint at least one specific weekend of the season that was pivotal in deciding its destination. Usually they become clear in hindsight. Sometimes they appear as such at the time. Should Lewis Hamilton go onto win the 2018 F1 world title – something that looks increasingly likely – it's probable we'll look back on this Singapore round as the point things really tilted decisively towards him.
If Monza was where Ferrari fell, Singapore next up was supposed to be its soft landing. It was meant to be Mercedes's bogey track. Sebastian Vettel was supposed to win. For Hamilton it would be a matter of damage limitation to his championship points lead.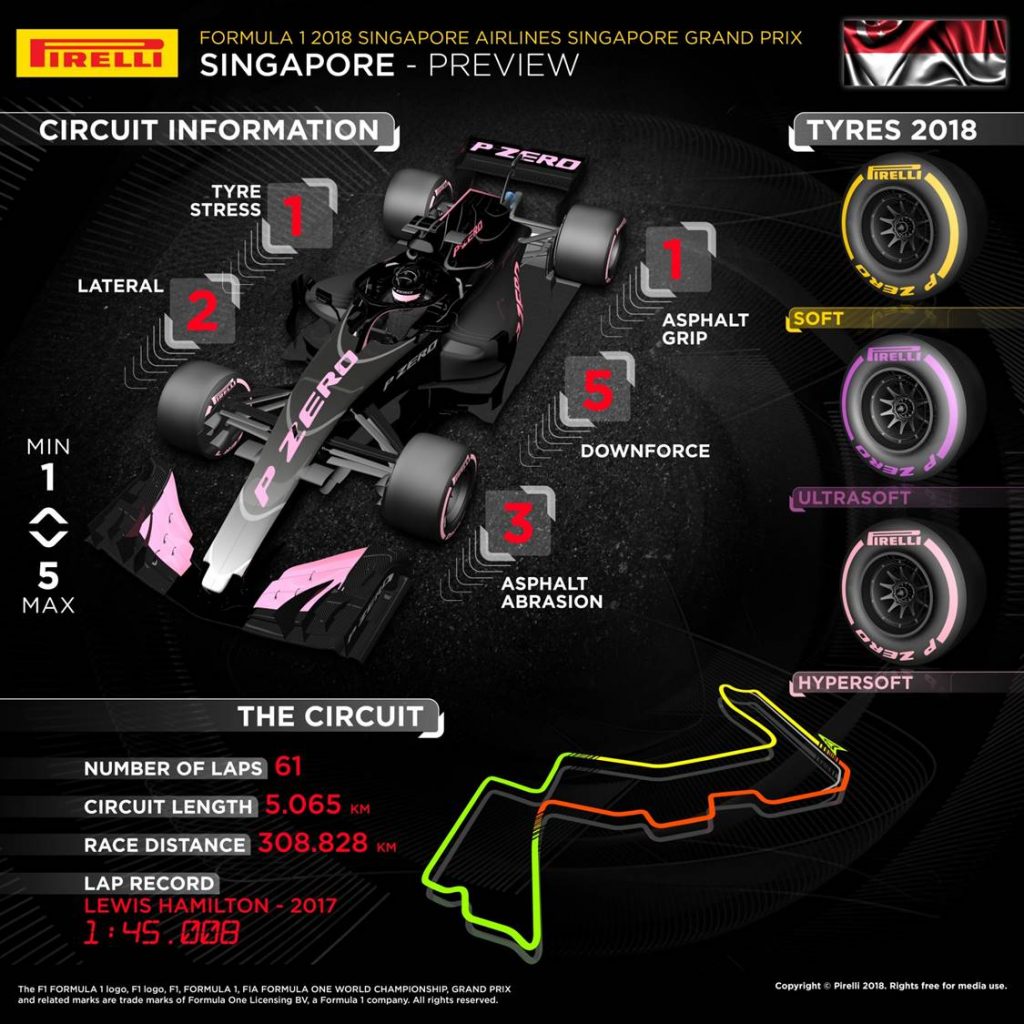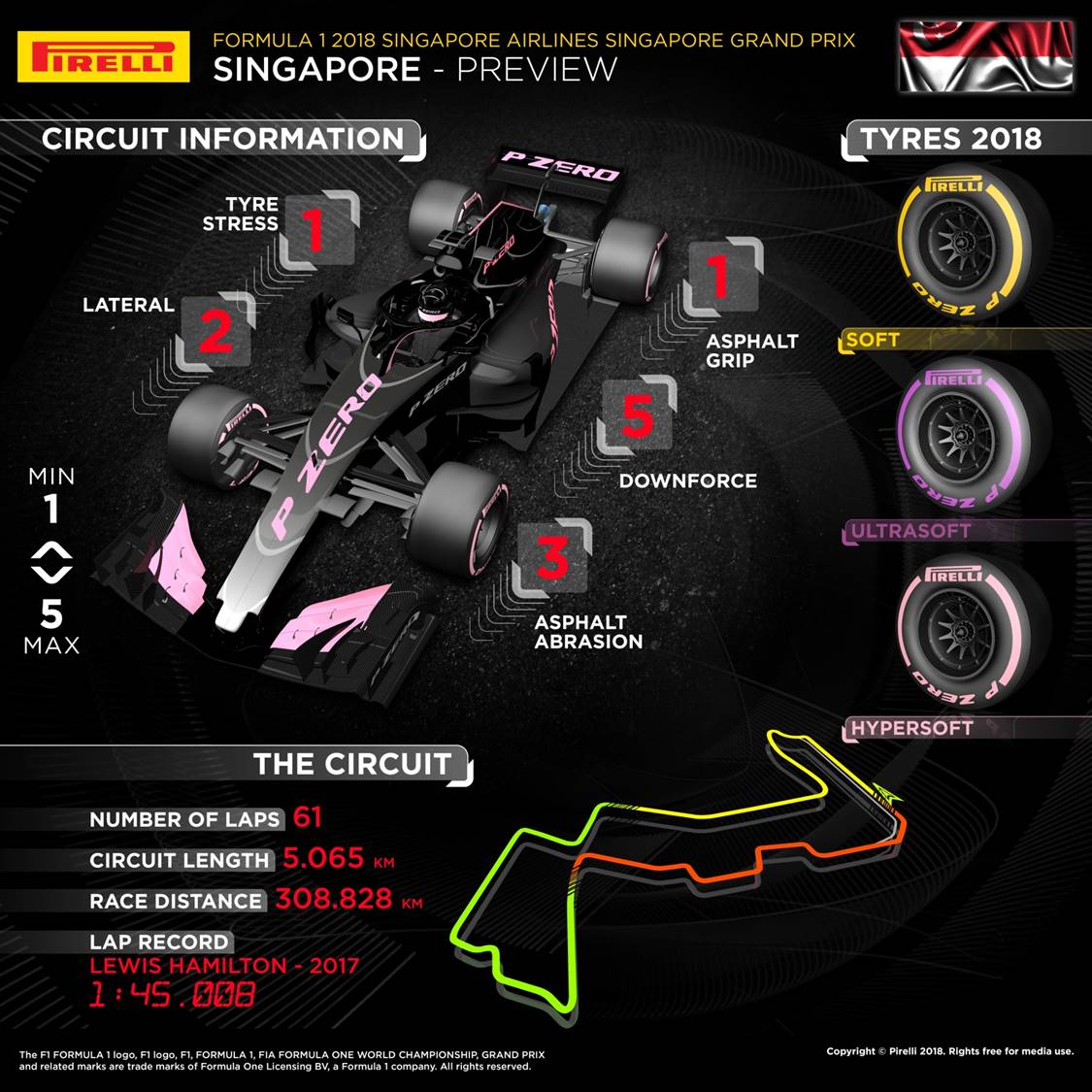 Ferrari fades
It looked like it was going just that way until the last of qualifying, when all of a sudden Hamilton pulled out a lap that may have surpassed even what he has done before. Mercedes also had at last it seemed learnt its Singapore lessons and got its car working here. Pole against all expectations was Lewis's.
And Ferrari, seemingly not maximising things, could only get third in Vettel's hands. On this Monaco-esque track grid order counts for a lot. Matters were the opposite of the advance expectations. Even here, things were still going Hamilton's way.
And so it was in the race. Hamilton was equally imperious therein too and won with little fuss – or as little fuss as is possible in this most exacting of 2-hour challenges. He's now won four of the last five in a devastating run.
For a time it looked though like Vettel might salvage something. He got by second-place starter Max Verstappen on lap one, just before an early safety car was called. Then Ferrari sought to force the lead from Hamilton in the solitary stops by pitting first, seeking an undercut.
But it exploded in their faces, as it dropped Vettel into traffic which lost him time not only so to stay behind Hamilton but to lose second place back to Verstappen. The Dutchman's Saturday and Sunday were about as impressive as Hamilton's indeed – a fact that's got somewhat missed with the understandable focus on the title implications. Max did it too enduring conspicuous engine coughing for much of the weekend, including when he exited the pits in the race.
And as if to show that it never rains but it pours, Vettel as part of the strategy had been put on softer tyres that were not so good to go to the end as those of the two cars ahead. From that point he faded. Much like his title hopes.
Lewis's leadership
Hamilton looked only fleetingly under threat, when lapping some very frenzied squabbling backmarkers at two-thirds' distance Verstappen, chasing as ever with his usual zest, had a chance to do one of his trademark dives down the inside for the place. But it came not at a great overtaking point and the opportunity passed as swiftly as it arrived. Otherwise the imperious Hamilton was well in control.
Championship-wise he now has similar status. His points lead is now up to 40 and we're almost at the point at which Vettel needs snookers – even winning all of the six remaining races with Hamilton second would only get him the title by a scant two points.
But it's not just due to the mathematics that it felt like this round titled the title decisively Hamilton's way. For Ferrari it is more than points and momentum that needs to change. Singapore again laid bare its weakness, this if it has the fastest car it is far from the best operationally and on strategy.
And the strain on these very subjects, already present this year, got more taut in this one, with Vettel having terse conversations with his team via the radio on Saturday and Sunday. He conspicuously hinted at it when in front of media microphones out of the car too. You wonder where the driver-team relationship at this most combustible of squads goes from here. Recovering from this weekend's blow more generally may not be the work of a moment.
All in, and in more ways that one, this one came with the air of reaching a point of no return.
Singapore Grand Prix Top 3 Results
1. Lewis Hamilton – Mercedes
2. Max Verstappen – Red Bull
3. Sebastian Vettel – Ferrari
---
Race 16 – Russian Grand Prix – 30th September 2018
For Mercedes this was a bittersweet symphony. At the topline level it barely could have gone better – a one-two result and one that again felt like a scrum won against the head. Although Mercedes has never lost a Russian Grand Prix at Sochi there again were reasons to think in advance this would be Ferrari country. The Italian cars had locked out the front row in last year's qualifying here and as a power track it should have suited them this time too. Plus unlike the previous one in Singapore Lewis Hamilton self-admittedly didn't care for this circuit, saying early in the weekend that it possibly is his weakest of the year.
Yet the theme of recent weeks was conformed to as Mercedes again got ahead – this time not due to anything in particular beyond that the silver car persistently was the quicker. So why was it bittersweet for Mercedes? All to do with F1's old bugbear of team orders. That while they are to a large extent unavoidable, particularly when there's a championship at stake, there never seems a painless way of applying them.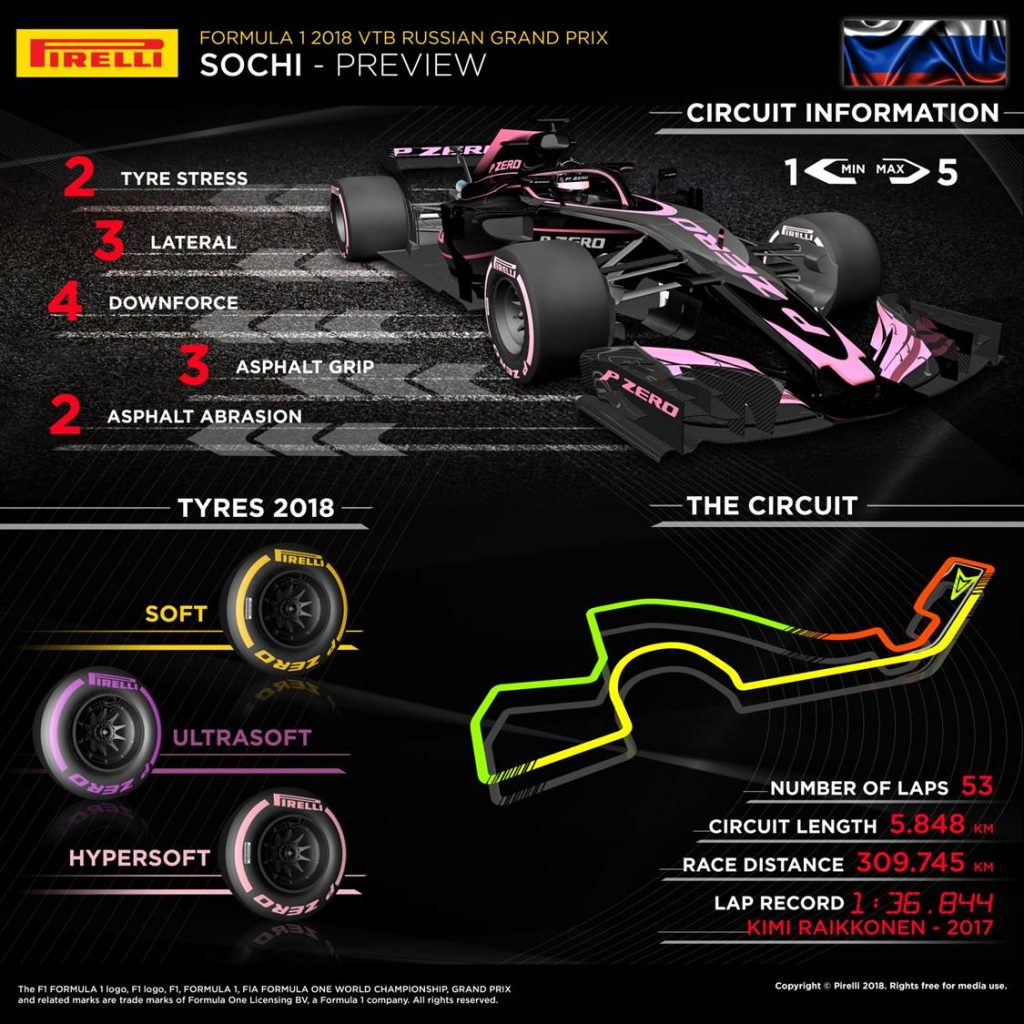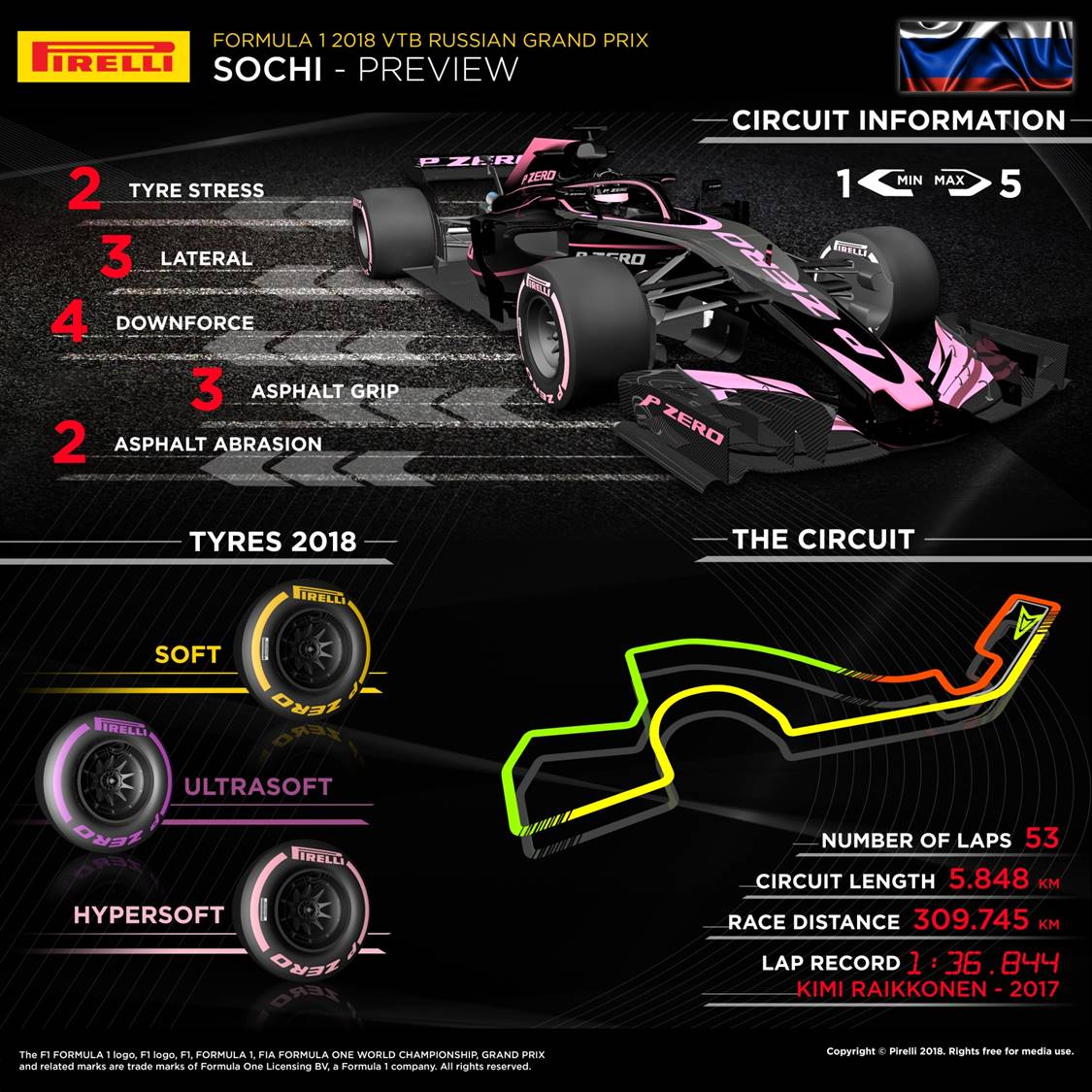 Bottas obeys the order
Ferrari did in this race witness a glimpse of sunlight through its recent overcast, as Sebastian Vettel got ahead of Hamilton for a net second place with a classic undercut, pitting a lap earlier. But rather typically for recent model Ferrari the joy was short-lived, as Hamilton reclaimed the place a lap later with a fine move up the inside of turn four (as an aside, in terms of on-track action at least this was one of the better Sochi F1 races).
Which mainly left the matter of team orders mentioned. If Hamilton doesn't care for this track then his stable-mate Valtteri Bottas very much does – the Finn led from pole ahead of Hamilton and didn't put a wheel wrong. But the question had lingered throughout as to whether he'd get the 'phone call' requesting that the Mercs switch. Around half distance that's just what we got.
They finished in one-two formation with Hamilton ahead and the sense of moral conflict in the silver camp was tangible; the podium 'celebrations' muted. It also wasn't clear, going by Bottas's words, the extent that he had been forewarned by his team that this call in this foreseeable scenario was a possibility. Elsewhere there was no little hand-wringing.
Much of the pain will be dulled though by that, with Vettel finishing third, Hamilton's title lead is now 50 rather than 43. Consider also that five rounds remain and we still exist in a season wherein Mercedes by no means has always been the clear class of the field. It can't take much for granted in other words. Typhoons are expected for next week's Japanese round too… Whatever the accompanying moral outrage from a pragmatic title-winning perspective the Mercedes call made perfect sense. Even Vettel said it was a "no-brainer".
Max power
The other story of the race was more positive. Max Verstappen had started 19th of 20 due to technical grid penalties but after the red light went out rose at a scarcely credible rate. He was 13th at the end of the first lap and up to fifth by lap eight. Even better his starting low down let him deploy a contra-strategy, starting on the harder tyre which let him run a long time before pitting. This in turn let him lead for a long spell after the nominal front-runners had stopped (which in turn contributed to Mercedes's team orders – as Hamilton was being backed into Vettel in the queue behind Verstappen).
"How the heck did that happen?," Nico Hulkenberg asked when advised it would be Max first through to lap him, summing the matter up.
Verstappen pitted at last for ultra-soft tyres with 11 laps left and most then expected some whizz-bang laps to chase down fourth-placed Kimi Raikkonen's Ferrari, but they never materialised. He finished fifth some way ahead of his similarly low-starting team-mate Daniel Ricciardo, whose first lap progress was slower then he was hobbled by a damaged front wing after hitting debris.
All in this was a bittersweet symphony as outlined. But if and when Mercedes and Hamilton confirm their respective titles this year the concerto of 2018 to them will sound no less sweet to them.
Russian Grand Prix Top 3 Results
1. Lewis Hamilton – Mercedes
2. Valtteri Bottas – Mercedes
3. Sebastian Vettel – Ferrari
---
Race 17 – Japanese Grand Prix – 7th October 2018
Lewis Hamilton took pole. Lewis Hamilton won. Lewis Hamilton barely was challenged. Lewis Hamilton's title lead has grown. Lewis Hamilton's fifth world championship is a matter of when not whether.
If it sounds familiar that's because it is. Since Singapore three rounds ago at least, the story has been roughly like this. Perhaps it's been so since even sooner – as Hamilton has now won six of the last seven, a run that extends all the way back to the Silverstone round at the height of the intense summer . In F1, just as in US presidential nomination races, the 'big mo' – that intangible called momentum – counts for a lot.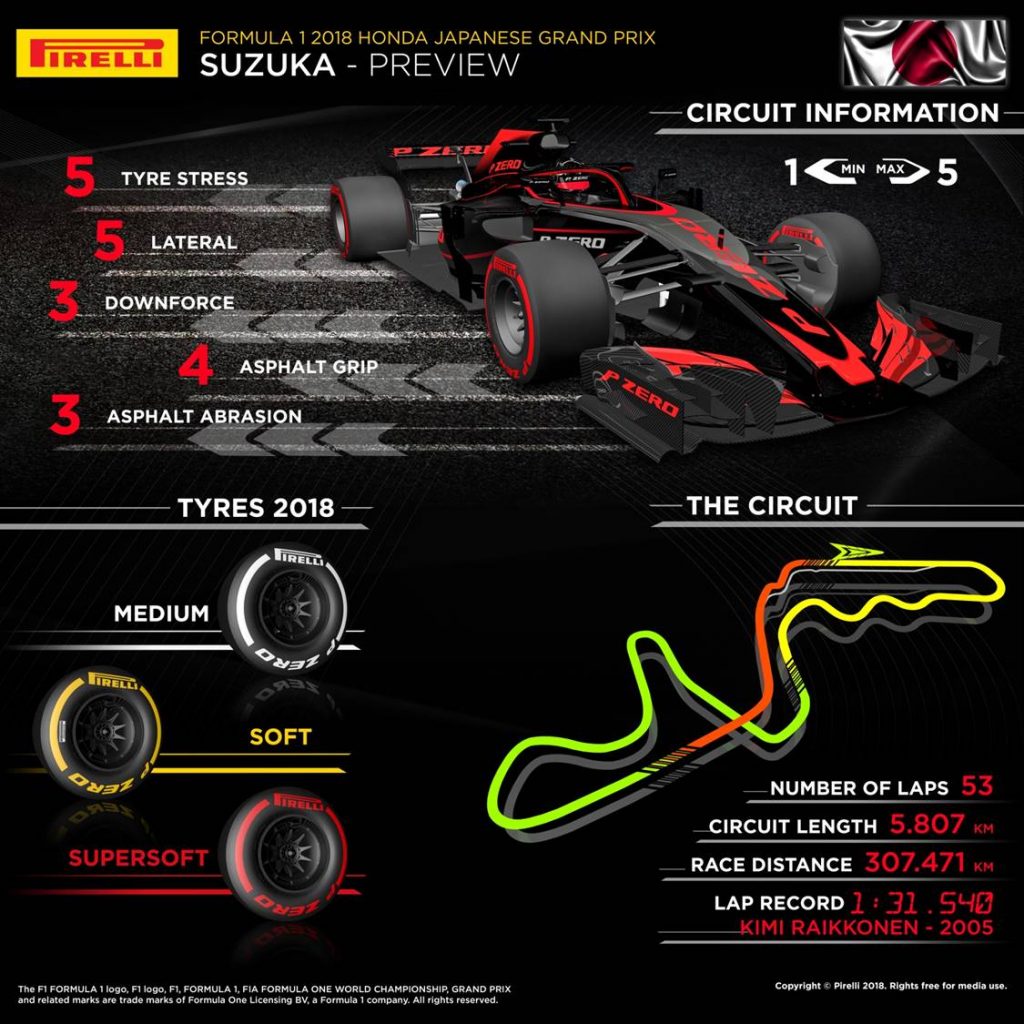 Hamilton indeed won again in Japan and is now 67 points ahead of Sebastian Vettel with just 100 available. Another result of the sort we've been getting lately and the title will be his officially in the next round at Austin – and Hamilton tends to be untouchable in Texas. It's all over bar the shouting.
Ferrari farce
Another familiar theme that continued in Japan was Hamilton and Mercedes's chief rival Ferrari unravelling. Just as we're getting used to it was fundamentally off the Mercedes pace in this one – perhaps more than before. Just as we're getting used to in that situation it nevertheless sabotaged itself with very odd decision making.
This time it was a glaring farce. Late in qualifying it sent both cars out on intermediate tyres –  rain was expected at some point but in that moment the track was bone dry. If one is to be generous it reflected a team that realised it needed the grandest of long shots to come in to rekindle its faint title chance. More likely it reflects the generally scrambled thinking of late at the Scuderia. Boss Maurizio Arrivabene's subsequent comments lent weight to the latter theory. So did its strange race strategy given to Kimi Raikkonen.
Then by the time the red pair tried their qualifying laps Raikkonen and Vettel both made errors. Then the rain came down. Raikkonen therefore started fourth and Vettel a desperate eighth.
In another echo of the previous round in Russia it did look for a time that Vettel might salvage something in the race. He shot up to fourth place on the first lap then a safety car ensured the Mercedes hadn't escaped. But like in Russia his hope was fleeting as shortly afterwards he made contact with Max Verstappen and spun having sought a risky pass, and so dropped to the back. It's rather chicken and egg, but Vettel and team have lately been reflecting one and another in their over-reaching.
Vettel, in another continuing theme, creamed the Class B cars easily and got up to sixth place. Then came the final Ferrari white flag – late on it elected not to take the extra points available from swapping him with Raikkonen ahead. Ferrari seems to realise it's over too.
Hamilton's high
Hamilton meanwhile hasn't always been happy here – he only got his first Suzuka pole last year. But in his most recent couple of visits he at last appears to have discovered his local equilibrium. Mercedes was well on top in this one – this is just the sort of track that suits it. And of the two in silver Hamilton was well ahead. As early as Friday practice he was crowing in his cockpit – radiating a man who knew this one was in the bag barring the very unforeseen.
And the parallels in fact may stretch even further than we think. Go back 12 months to 2017 and then we also had a nip and tuck title battle between Hamilton and Vettel. Just like then from Singapore Vettel and Ferrari went to pieces and Hamilton found another level and took the honours ahead of time.
The coincidence is even more disquieting. Now, after 17 rounds of the season, Hamilton has 331 points and Vettel 264. After 17 of 2017's rounds? Hamilton 331; Vettel 265.
Ferrari it seems has demonstrated Karl Marx's aphorism. For the Italian squad history has repeated. First as tragedy; second as farce.
Japanese Grand Prix Top 3 Results
1. Lewis Hamilton – Mercedes
2. Valtteri Bottas – Mercedes
3. Max Verstappen – Red Bull
---
Race 18 – United States Grand Prix – 21st October 2018
It was supposed to be so simple. A coronation. Another result of the sort we'd been getting time after time recently would secure Lewis Hamilton his fifth world championship. And this one was at Austin – his happiest of hunting grounds. But Formula 1 despite its sometime immediate appearances has a nagging tendency not to be so simple. This one diverged from the script.
First off Ferrari rediscovered its pace that had gone missing for a few races. Although in one thing that stuck firmly to the recent script it went a way to scupper itself. Or rather Hamilton's title challenger Sebastian Vettel did. He didn't slow sufficiently under a red flag in practice and thus had three added to his qualifying slot in advance. Hamilton got the pole, because that's what he does, but the red cars were right on his case.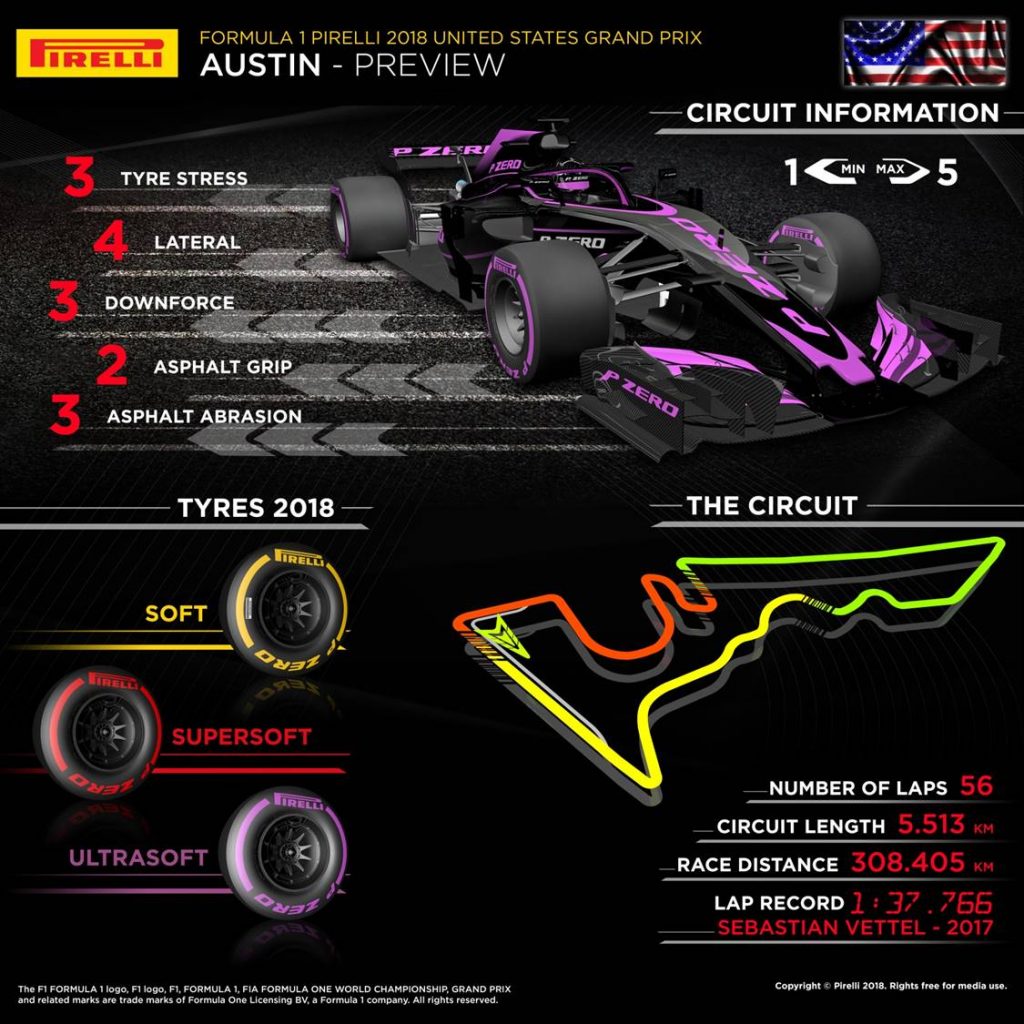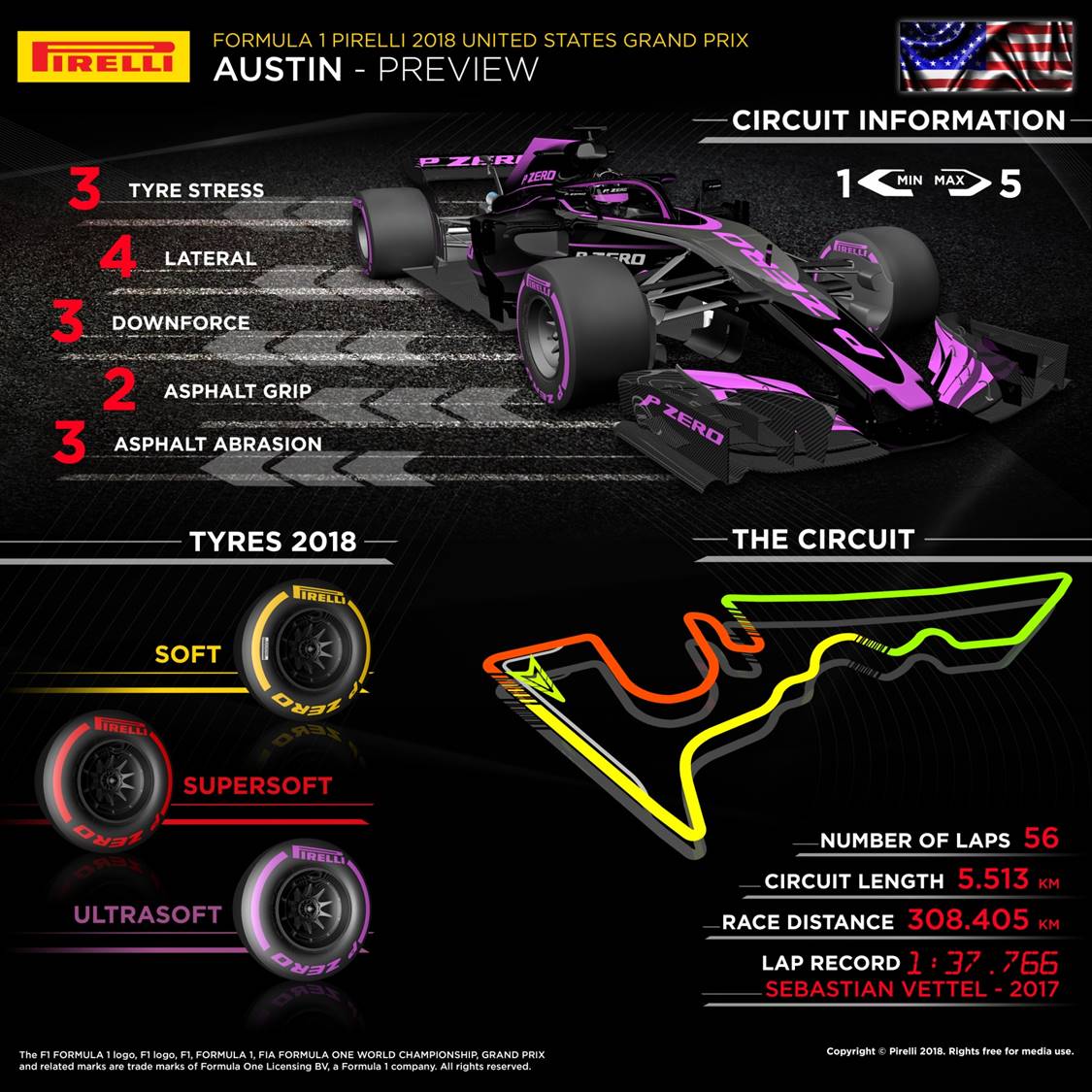 It all left Kimi Raikkonen starting alongside Hamilton on the front row – a man who in his second Ferrari spell has tended to fumble the rare opportunities for glory tossed his way. Yet in the race we immediately got our latest evidence that this one was indeed diverging from the script, as Raikkonen for the first time in 37 races made a place on the first lap. And the ultimate one of taking the lead from Hamilton by seizing the inside of turn one.
Mercedes muddle
But again, almost immediately, things swung away from Ferrari and Vettel in the championship picture, as he collided with Daniel Ricciardo on the first lap and spun well down. His latest case of poor judgement.
Still, Raikkonen looked to be controlling matters out front, until lap nine when Ricciardo stopped with a battery problem. The Virtual Safety Car was deployed as his Red Bull was cleared and Hamilton nipped in to change tyres, meaning a stop with less than the usual loss time – to the tune of roughly 10 seconds.
This gave rise to yet more familiar talk, that Ferrari had once again surrendered the initiative with a screw-up. But, it transpired, Ferrari for once had got it right.
As with the usual one-stopper Hamilton was left with a long way to go to the end on his tyres. And in time it became clear that, with rear blisters, he wouldn't. In another thing that was a throwback to the balmy days of a few rounds ago, the Mercedes's set-up and tyre usage wasn't ideal, perhaps a consequence of practice running being severely curtailed by rain. It reminded us too that the team hasn't always got strategy right either – remember, for one, Austria?
Thus Hamilton pitted for a second time and suddenly had overtaking to do if he wanted to seal the title today, or win the race, or both. Raikkonen was ahead. So, now in second place, was the astonishing Max Verstappen who'd risen prodigiously in that way of his from starting 18th, a lowly grid slot resultant of a qualifying suspension failure (which he may have caused with his kerb-hopping though the man himself insisted not).
Raikkonen retains the race
As the laps ticked down Hamilton closed in on Verstappen as the Red Bull man in turn edged in on Raikkonen and a grandstand finish was on. As it was F1's familiar dirty air problem called off many of the fireworks as the trio then circulated at about a second apart for a good few tours. Hamilton did though get to engage with Verstappen late on for a second place that at that point would have been enough for the title, getting alongside in the track's twisty final section and having several outside-to-in pass attempts. It looked for a split second he'd be by at the quick Istanbul-aping turn, but he got on the marbles and ran wide. The show was over.
In any case Vettel made the point largely moot almost immediately, by getting past the by now struggling Valtteri Bottas for fourth. That meant Hamilton had to win to secure the championship there and then.
And that wasn't going to happen as a by-product of the Max-Lewis scrap was it let Kimi establish crucial breathing space.
So Raikkonen won, and won with a hand that really should not have let him win – between starting on the ultra-soft rubber and then not pitting under the Virtual Safety Car (something worth remembering when those point out how Hamilton and Vettel's weekends were compromised). Yet the Finn did exactly as he needed at crucial moments, including the start, holding off a more freshly-tyred Hamilton (twice) as well as his sympathetic touch stretching out his tyres on his lengthy second stint. There is, it seems, still a racing driver there.
It was his first win since the first round of 2013. Underlining that this was the ultimate divergence from the script, it set a new record of Grands Prix completed between victories.
So in the Austin round everything changed. Yet in terms of the big prize in effect nothing changed, as Hamilton now only needs five more points to make the title secure, which he'll get barring him falling over in the bath and sitting out the last three races. And even if he does that the out of sorts Vettel would need to win everywhere to alter the championship destination.
And, as noted, we have reason to doubt that.
United States Grand Prix Top 3 Results
1. Kimi Raikkonen – Ferrari
2. Max Verstappen – Red Bull
3. Lewis Hamilton – Mercedes
---
Race 19 – Mexican Grand Prix – 28th October 2018
Lewis Hamilton at last got over the line. As always seems the way when Hamilton has a title to claim things weren't entirely straightforward, but fortunately for him he had a sizeable buffer. He got fourth place when seventh was all he needed. In fact other results ensured nothing was needed. His fifth world championship now is official – level with Juan Manuel Fangio and only Michael Schumacher ahead. Exalted company.
In a 2018 championship fight that has had plenty of parallels with that 12 months previously it continued that way in its conclusion. Again it was resolved in Mexico. Again Hamilton did just about enough. Again his chaser Sebastian Vettel battled hard but it was not quite enough. Indeed as noted it turned out Hamilton's effort was moot, as Vettel didn't get the win he needed. As again the deciding race was dominated by Red Bull. Or rather, again by Max Verstappen's Red Bull.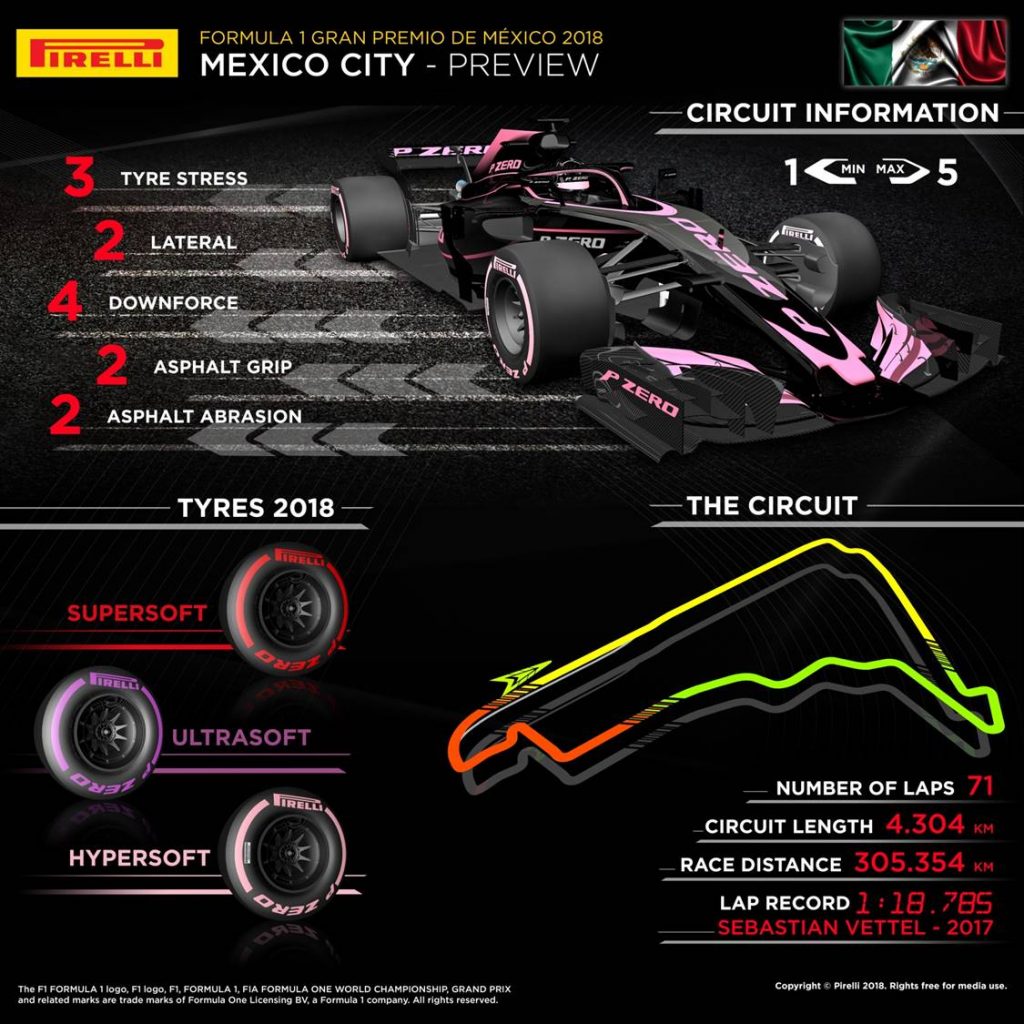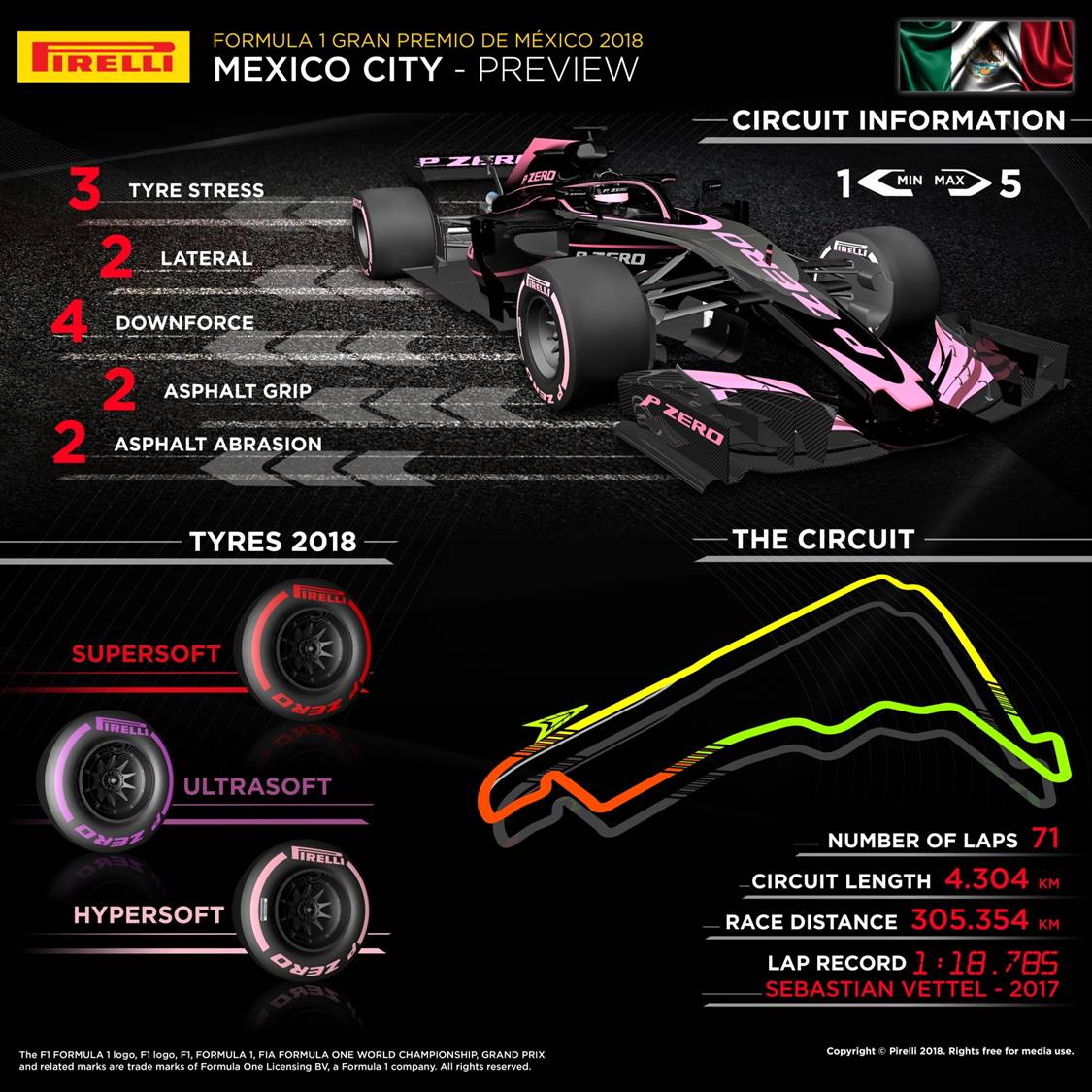 He was the fastest out there all weekend, his only partial stumble was missing out on pole position at the last against expectation, to his team-mate Daniel Ricciardo – Verstappen complained afterwards about engine braking problems. Whatever he swiftly righted the positions with a better start. And was never seen again.
Verstappen vanquishes
For all that we assume Red Bull's victory chances come only on the tight and twisty Monaco and Singapore street circuits, the not-especially tight nor twisty Mexico track is very much in the same bracket. It seems counter-intuitive with the Autódromo Hermanos Rodríguez's long straights and Renault's oft-cited power shortage. What's crucial is the altitude – at 2,225m the highest on the calendar.
Some say the thin air goes a way to equalise the engines – particularly in Renault's main deficit of the V6 itself rather than in the gubbins that surround it. Also F1's chief discriminator of downforce is harder to put into effect. With the low drag teams maximise their wing angles but achieve only grip levels akin to that at Monza where they trim the cars out. And Red Bull can in almost any circumstances be counted on to find grip that no-one else does.
Hamilton meanwhile slotted in behind leader Verstappen at the off and looked set-fair. But he soon, as at Austin last week, hit tyre troubles, this time mainly in the form of graining. He pitted earlier than ideal, then encountered more graining on his second set.
Ferrari meanwhile, also like at Austin, stuck to its programme and got the rewards. Having pitted later Vettel in far less tyre peril started to move forward, past Ricciardo then past Hamilton for second. Yet, needing a win to have any chance of keeping the title open, that was as far as he got. Verstappen by now was a long way away and just like here 12 months ago was enjoying himself out front and had conspicuous pace in hand. This one was done.
Hamilton's high five
Hamilton had a frustrating run to the end, even after stopping for a second time he made no progress, in part as his team didn't have a new set to give to him, rather one he'd done a qualifying run on. He crawled in a rather underwhelming fourth, over a minute off the victor. But he soon was cheered up – as noted it was more than enough.
As also noted Vettel fought to the end but runner-up in the race – or the championship for that matter – was no good to him. And from his demeanour afterwards it was clear that Vettel was one of the very few who did not consider the title as good as done before this one. But he took the defeat with dignity.
Which leaves Hamilton. Few drivers divide opinion like he, but as his numbers pile up doubt will be harder to sustain. Now even Schumacher's race and title records – long thought untouchable – are within sight. More pertinently, of his five championships this was the most impressive yet. What we have here is an astonishingly skilled driver at something like his peak.
Mexican Grand Prix Top 3 Results
1. Max Verstappen – Red Bull
2. Sebastian Vettel – Ferrari
3. Kimi Raikkonen – Ferrari
---
Race 20 – Brazilian Grand Prix – 11th November 2018
It goes to show the one about not judging books by their covers. Lewis Hamilton winning his 10th Grand Prix of the year looks very standard, but this Brazilian Grand Prix was far from that. And not as it was the first time Hamilton had won a Grand Prix after taping up that year's title. Nor that Mercedes with it sealed its latest constructors' championship. The anticipated rain didn't arrive at Interlagos either.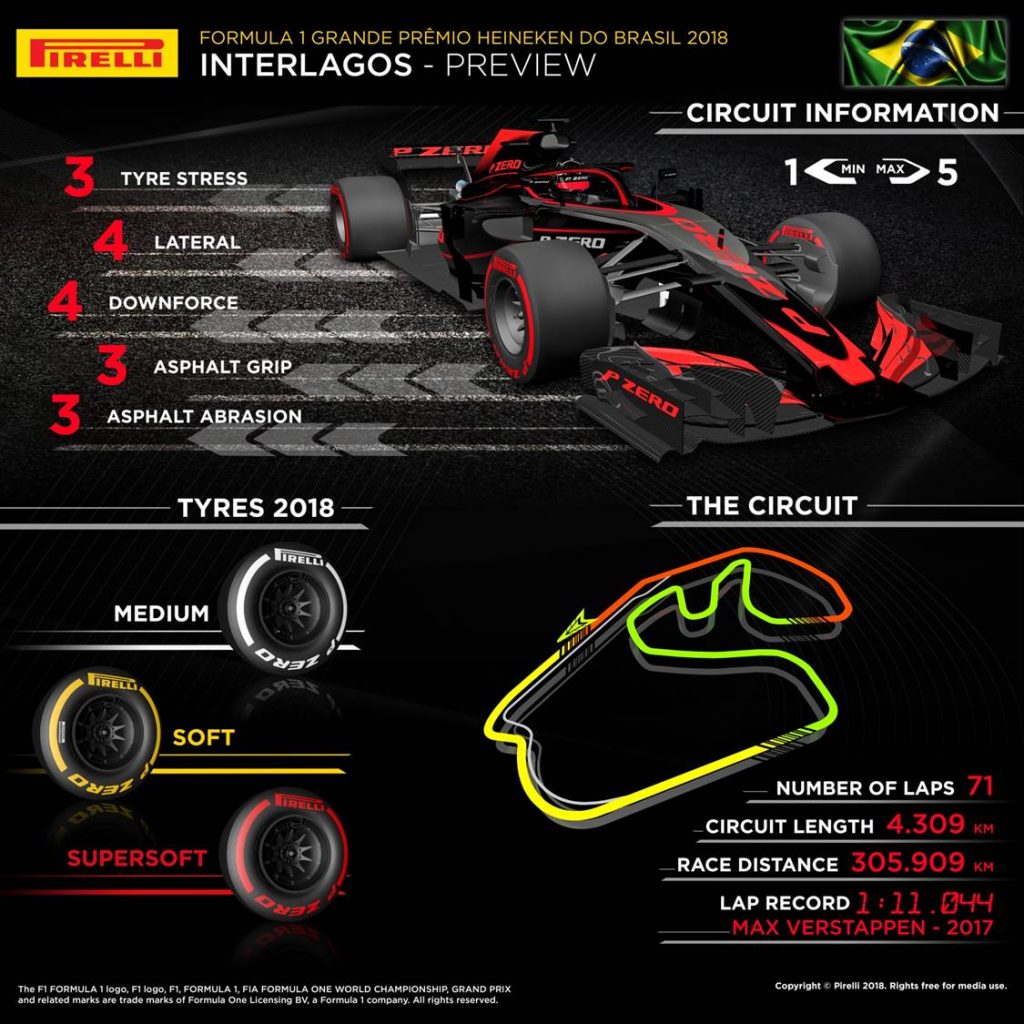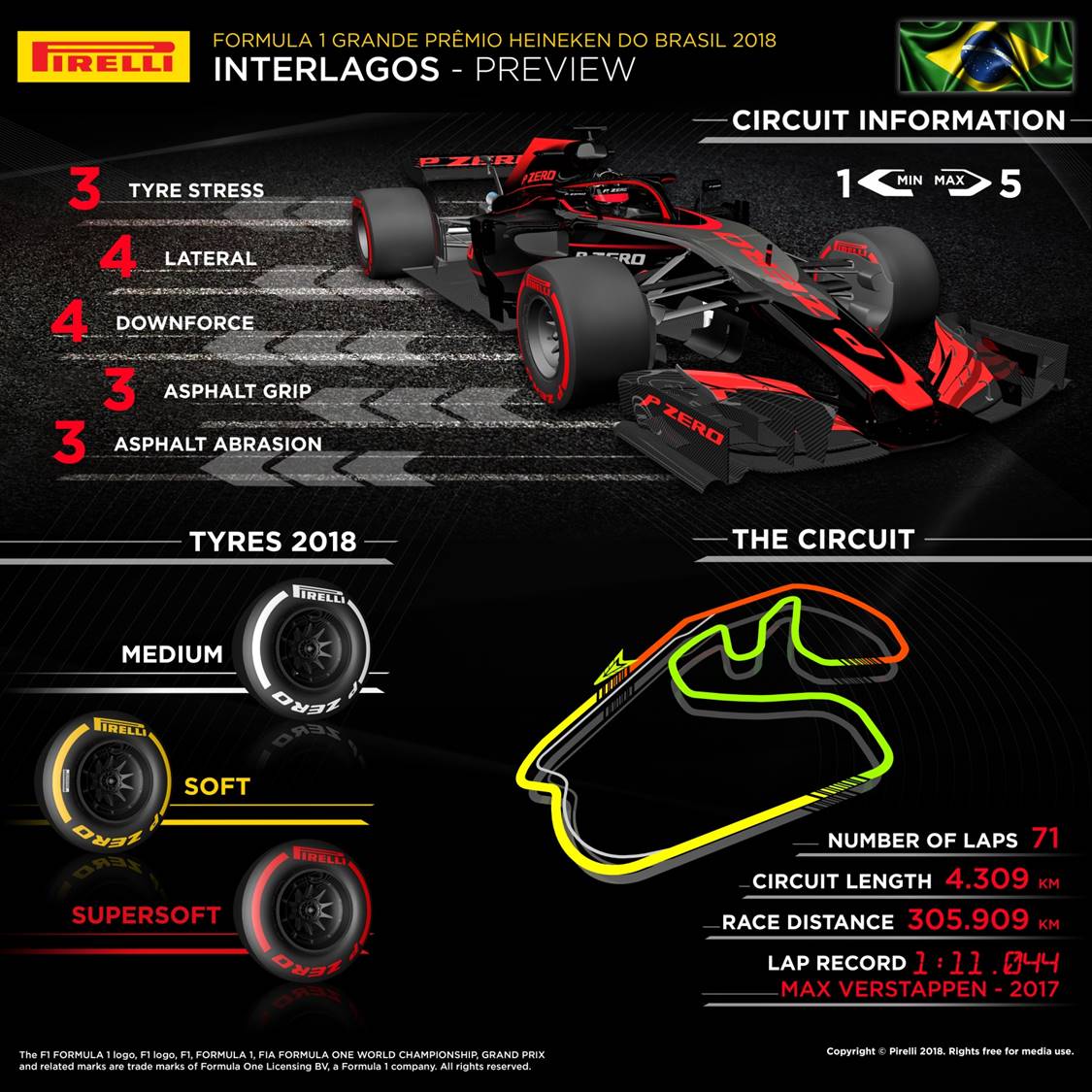 It also wasn't because of an anticipated Ferrari challenge, as that also didn't arrive. Despite Sebastian Vettel qualifying a smidgen off Hamilton on pole, and he reckoned he'd have had pole without a small mistake, as well as that he started on more durable tyres. No, it was because of a fight to Mercedes that came instead – against anticipation – from Red Bull.
Red Bull challenged Mercedes. Red Bull passed Mercedes, amid Mercedes issues. Red Bull had this one in the palm of its hand. Until Red Bull lost it. As Red Bull hit a backmarker. And that was only the start of the consternation.
Max factor
Or rather most of the way through the above thread it was Max Verstappen's Red Bull in question, though his team-mate Daniel Ricciardo did rise formidably to finish fourth after a grid penalty, fighting for a podium late on.
Max was even more of a factor. He got past Kimi Raikkonen's Ferrari for fourth on lap three and it quickly became clear he was the man on the move. Literally so as the next lap at the same Senna 'S' he got past Vettel's red car to take third with a astonishing from-a-mile-back pass on the inside. On lap 10 he'd moved past Valtteri Bottas for second and had a clear run at leader Hamilton.
Hamilton pitted on the early side, on lap 19 of 71; the Merc for the third race in a row wasn't at one with its tyres as well as at points had engine problems. Verstappen pressed on swiftly until lap 31 – sounding if anything ever-happier with his rubber as the stint went on – and having pitted and benefiting from fresher rubber sailed past Hamilton to lead on lap 40.
But, as noted, that was far from that. On the dread lap 44 Verstappen collided with the lapped Esteban Ocon's Force India, spun, and by the time he's gathered it all up again Hamilton was back in the lead.
Max and his melee
The default assumption at such moments is to blame the backmarker, but on further inspection there was more to this one. One is that Ocon, freshly-tyred and fast, was in fact seeking to pass Verstappen rather than the more habitual other way round. Unlapping yourself is permitted, but the stewards were correct to conclude that when it is done it should be done with care. Ocon instead went for an 'on-the-edge' outside-to-inside pass at Senna 'S'. He got a 10 second stop-go penalty for the incident.
But this doesn't entirely absolve Verstappen. Ocon was alongside him and by turning in Verstappen was guaranteeing the accident. He surely knew Ocon was there – as he'd covered the inside line in defence – and surely knew too that Ocon wasn't in the same race as him. Hamilton was correct to point out to Verstappen too that he also should have realised the disparity with Ocon in what he had to lose. While Verstappen could claim the moral high ground by seizing the racing line it also lost him the race, which isn't a favourable deal. A few reflected that a more mature driver would have let Ocon go.
There wasn't a comeback either, or not the entirety of one. Verstappen's pace was dulled from then on, likely from floor damage sustained in the clash. Red Bull boss Christian Horner estimated – probably fancifully – a loss of a second a lap. Hamilton stayed in the lead until the end, ahead of a stony-faced Verstappen in second.
He was spotted afterwards pushing Ocon in the chest more than once during a remonstration. That the stewards punished this with community service or some such for Verstappen felt light, though apparently both drivers 'said all the right things' in the stewards' presence. No doubt though a few lower down the motorsport food chain who have been thrown out of races, even meetings, for similar conduct will be reflecting on it. That Ocon and Verstappen have previous, going to before F1, added to the froth.
As for Ferrari, expected as noted at the day's start to be potent? Well Raikkonen continued his recent strong form by driving mightily to third, benefiting from his gentle touch on the tyres. Vettel though trailed in a tepid sixth. And it followed on from him conspicuously losing his temper having been called to the weighbridge in qualifying, and was another to be lucky to receive a relatively light punishment. It, once again, seems to betray his frazzled mind of late. At least he's got a close season coming up shortly to have a think about it all.
Brazilian Grand Prix Top 3 Results
1. Lewis Hamilton – Mercedes
2. Max Verstappen – Red Bull
3. Kimi Raikkonen – Ferrari