One of the most difficult things to do in the car industry is to launch a new super car and have it establish a legacy of its own. Just think about it. Almost every supercar sold today, from the 911 to the Ferraris and Lamborghinis, have a long line of predecessors but Audi managed to do something amazing with the R8 and establish a new dynasty starting in the 2000s and here is a closer look at everything that made this car such a success.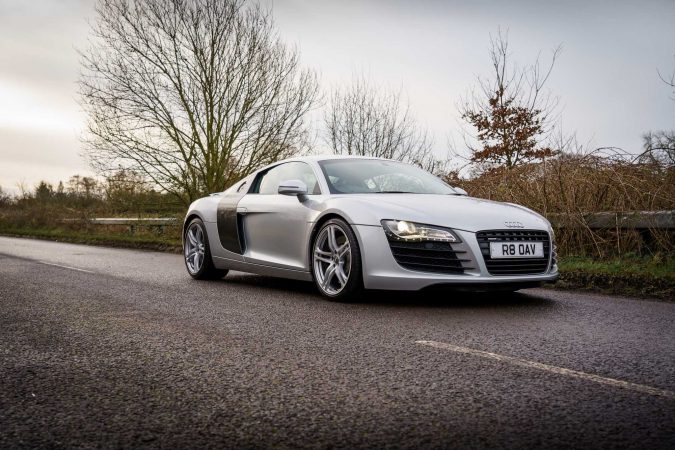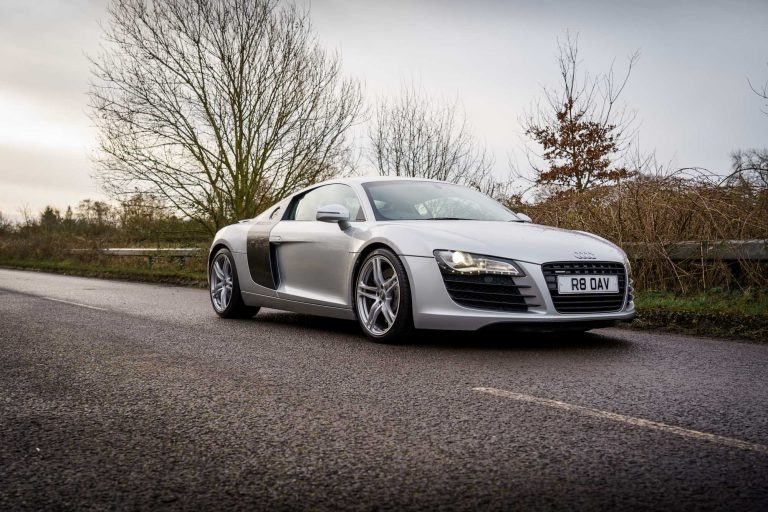 What is the Generation 1 Audi R8 V8 (Type 42) about?
Generally speaking, buying a used supercar is not always the best idea as they tend to undergo more wear and tear than a regular car over the years. So, the obvious question here is why did I choose this car as the focal point of my project?
The answer is simple. Even after all these years, it is a brilliant car. It is also one of those rare cars from the 2000s that has aged really well both in terms of looks and features.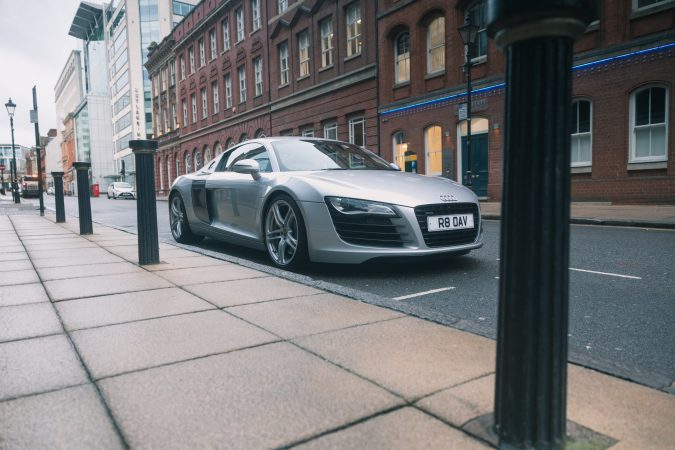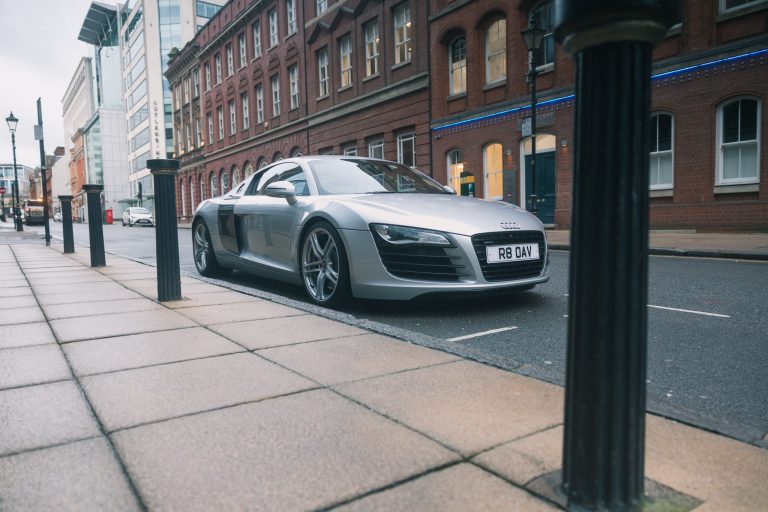 All of this makes it a brilliant used car despite its pedigree as a supercar. This should not distract from the fact that the Audi R8 is one of the most practical supercars ever launched. You could use this every day without making too many compromises or breaking the bank (hopefully this rings true during my ownership experience).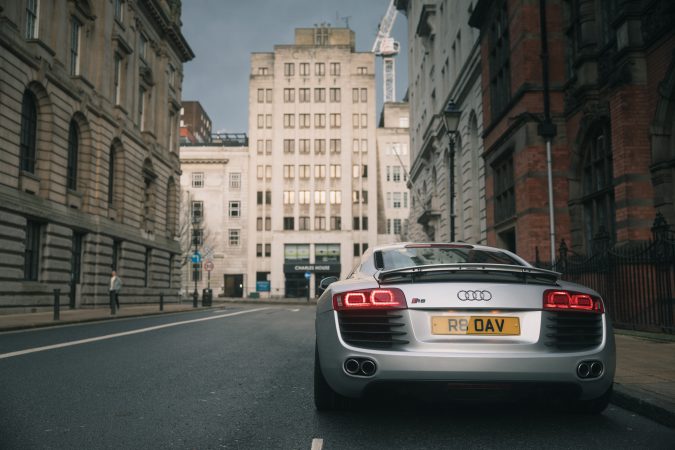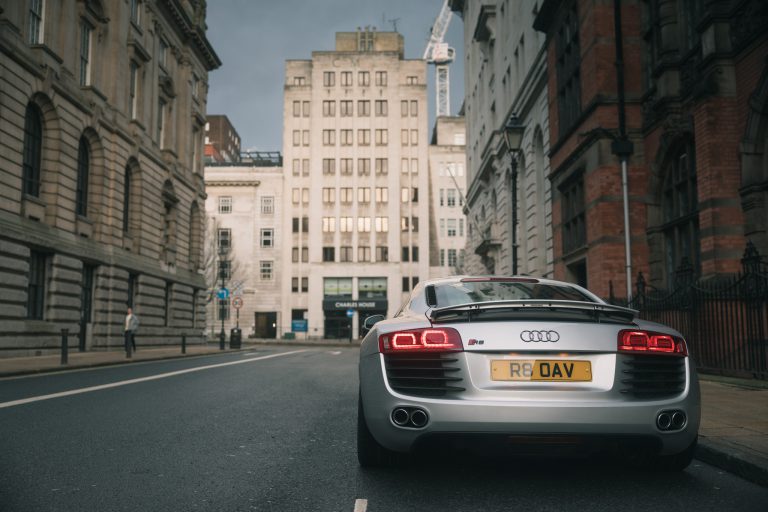 Audi took a lot of pride in this car and that shows in the build quality. Even after 13 years, this car is in very good shape. Except for a few very normal signs of wear and tear and dated infotainment system, there is nothing that belies the age of this car. The fact that it just looks stunning and can turn heads even on today's roads is the cherry on top.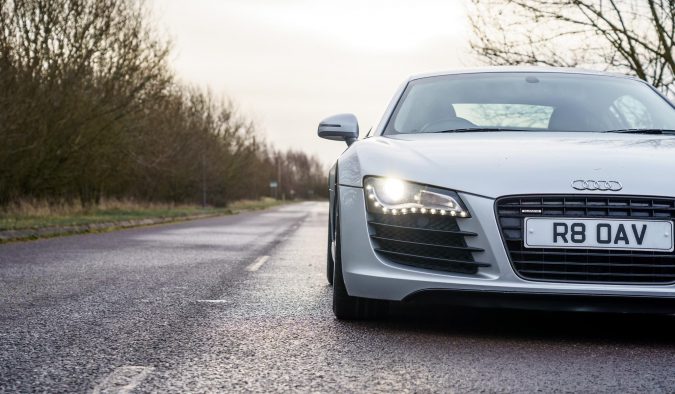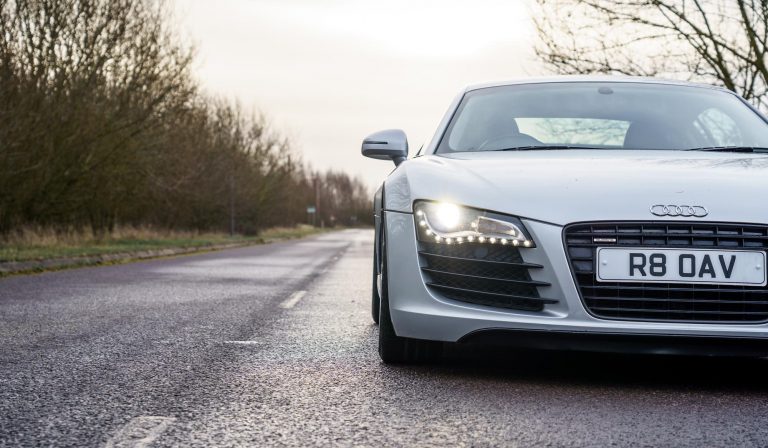 The front has a wide and low stance, pretty much what you would expect from a performance-oriented car but there are no aggressive angles.
Everything flows nicely that creates this sense of speed and power without being too ostentatious. The sides feature the iconic carbon fibre sideblades that are so unique that I can't think of another car that features something similar.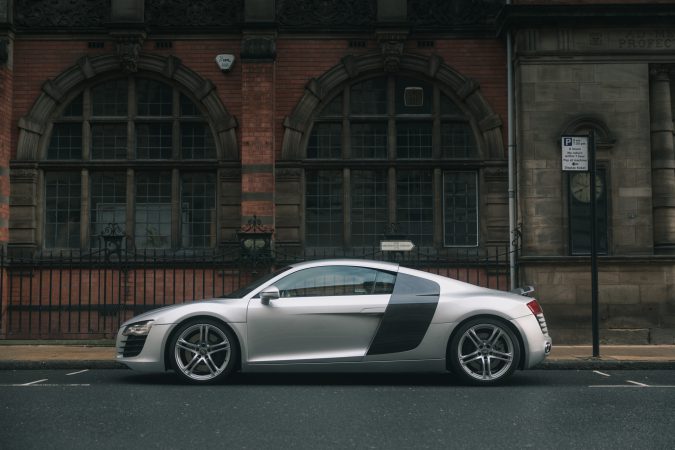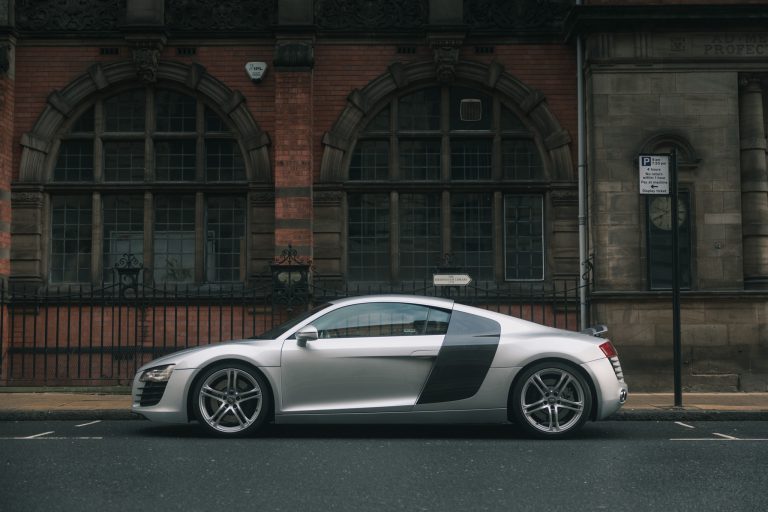 The rear features a glass display case through which the engine can be viewed. This is the most obvious sign that this is a supercar in terms of the looks. The car as a whole feels well proportioned and a handsome car even by 2020 standards.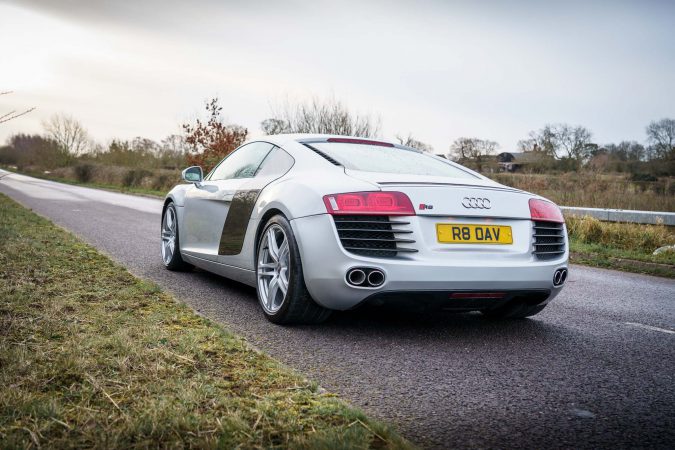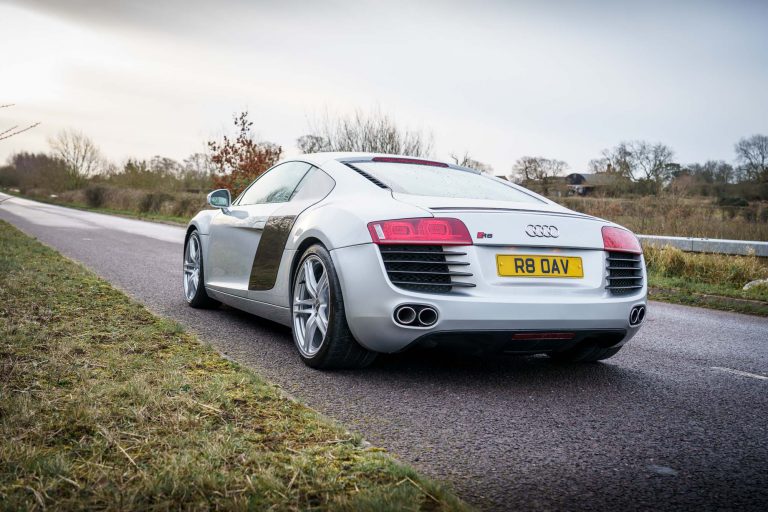 This car is powered by a 4.2-litre petrol engine that is mated to a 6-speed manual gearbox. It can produce 414 bhp of power at 7,800rpm and 430 Nm of torque at 4,500-6000rpm. It weighs in at 1,560 kilograms and boasts of a combined fuel economy of 20 mpg.
It can achieve a top speed of 187 mph and boasts of a 0-62 mph time of 4.6 seconds. The stats are rounded off by a CO2 emission figure of 320 g/km.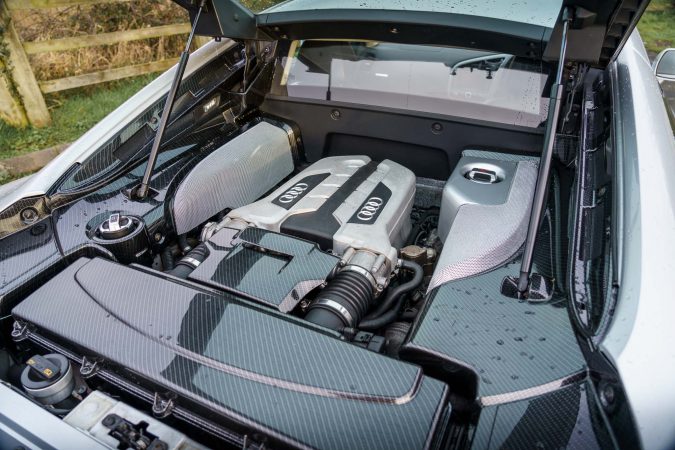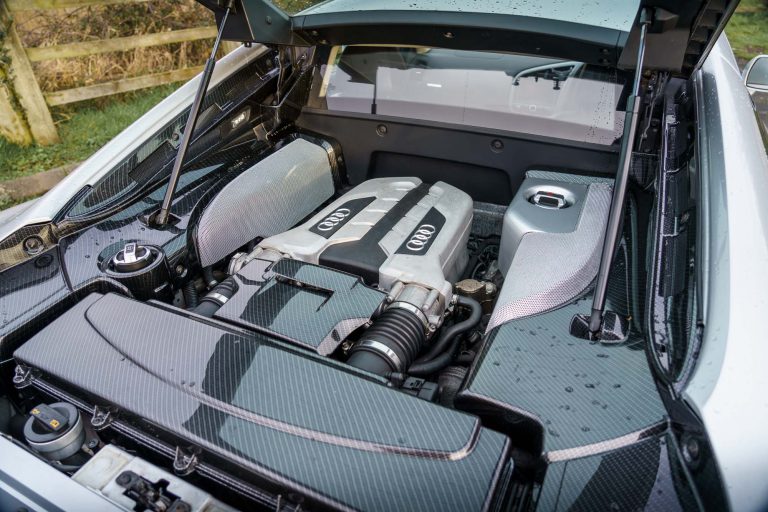 How does it drive?
A big reason behind me choosing the manual version of the R8 was the way it drove. I am not saying that the automatic versions were bad. In fact, they were quite revolutionary for the time but the manual gearbox of a 2007 Audi R8 is something special. It is one of the best manual gearboxes ever made and the metallic clunk it makes every time a gear slots into place is one of the most satisfying sounds ever made.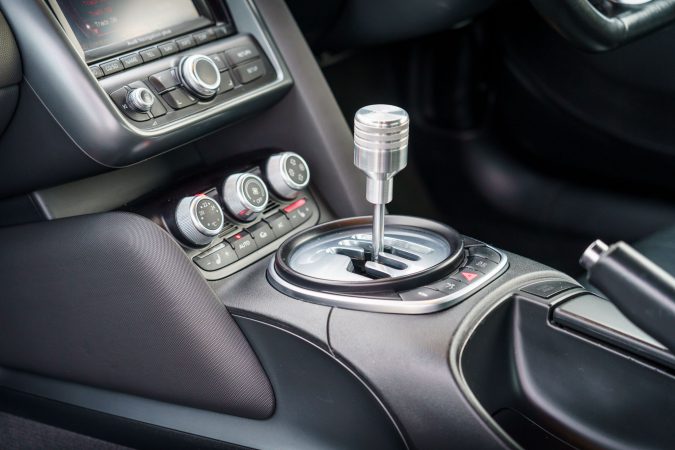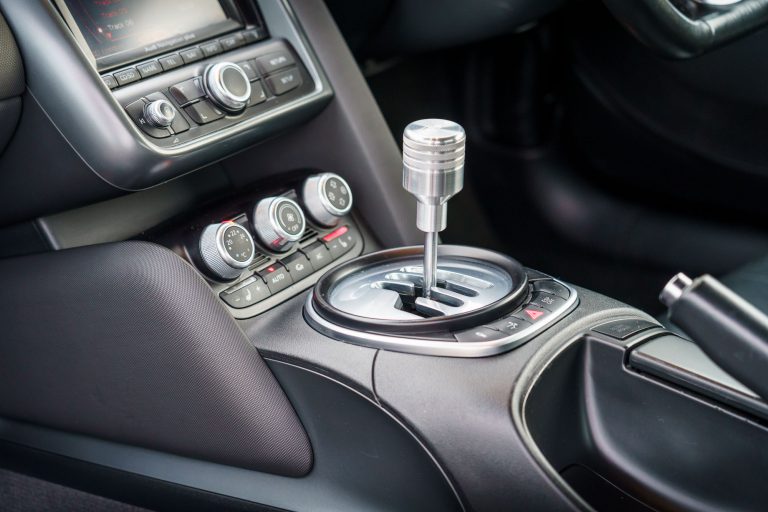 As for the actual car itself, its stats aren't earth-shattering. 414 bhp of power and a 0-62 mph time of 4.6 seconds might cause many to question its credentials as a supercar in 2020. Time's have certainly changed. This was Audi's first mid-engined supercar and they wanted to give their own unique spin to it.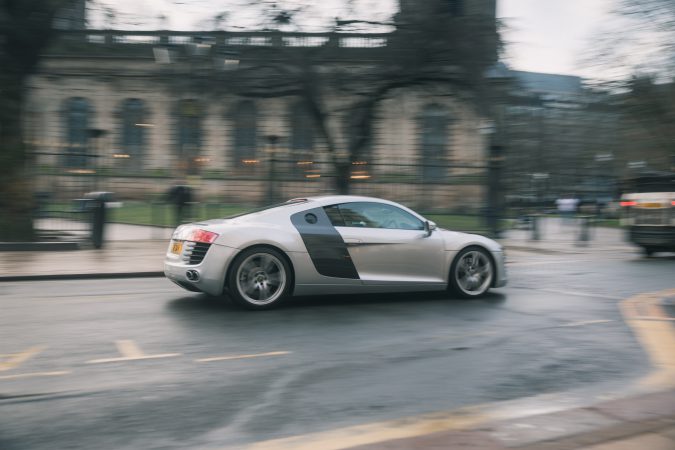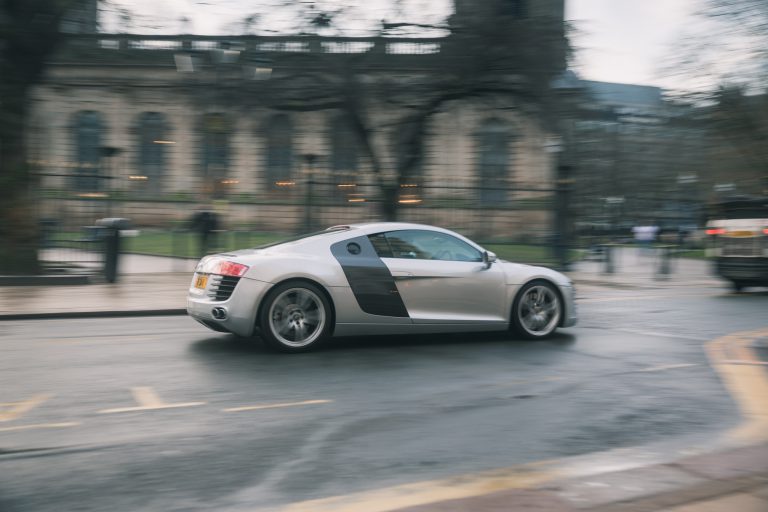 Instead of making something vulgar with jaw-dropping stats, they went for something slightly different. They gave this car just enough power to make it manageable when pushed hard while ensuring that you wouldn't have to forego most of the creature comforts you would expect from a car.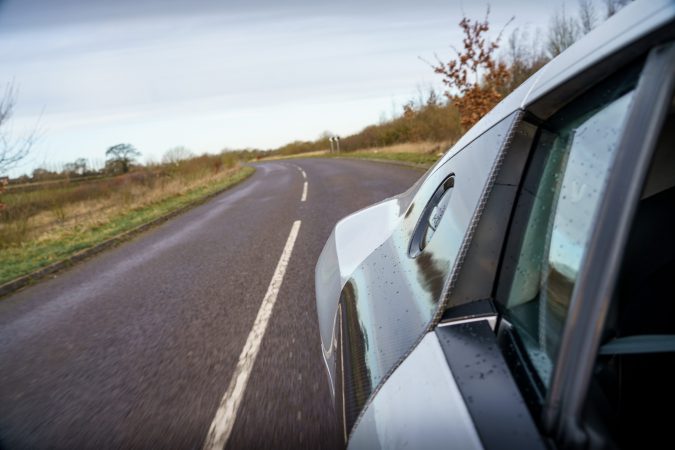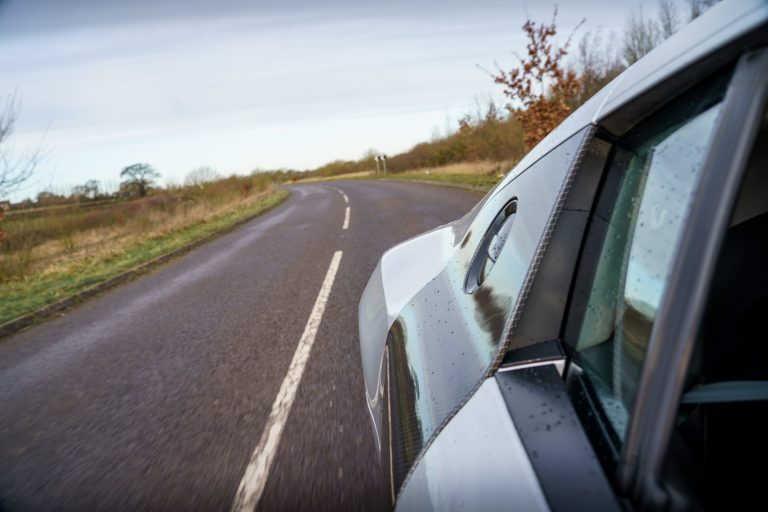 The big question that is probably on your mind is whether it feels a bit underwhelming from behind the steering wheel compared to the modern supercars and that answer is sadly a yes.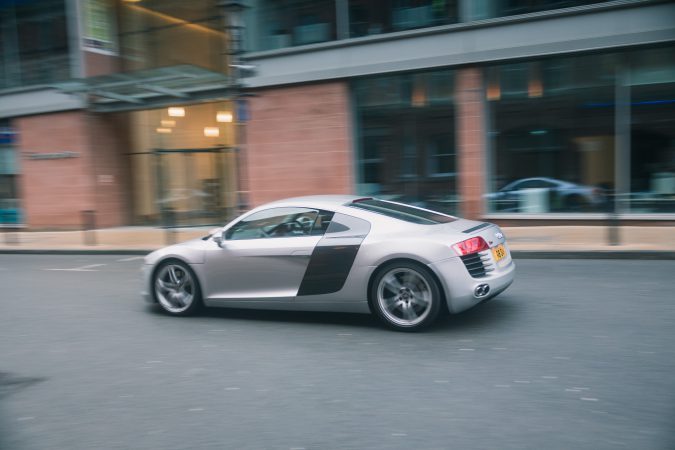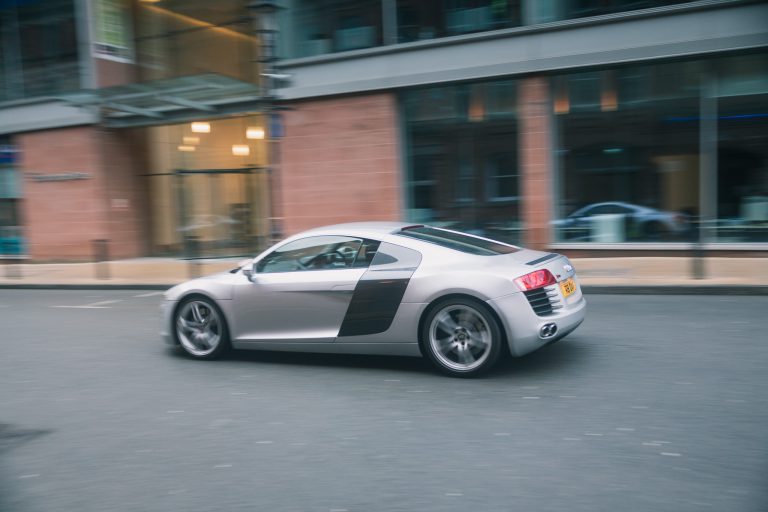 However, you won't feel like complaining about it once you spend some time driving this car. The appearance of this car does set the expectations a bit high and the first time you get behind the wheel, start the engine, shift into gear and set off, you will be surprised at the lack of head-kicking acceleration but once you settle in and get acquainted with the car, it will all start to make a lot of sense. The word that will keep springing up is refinement.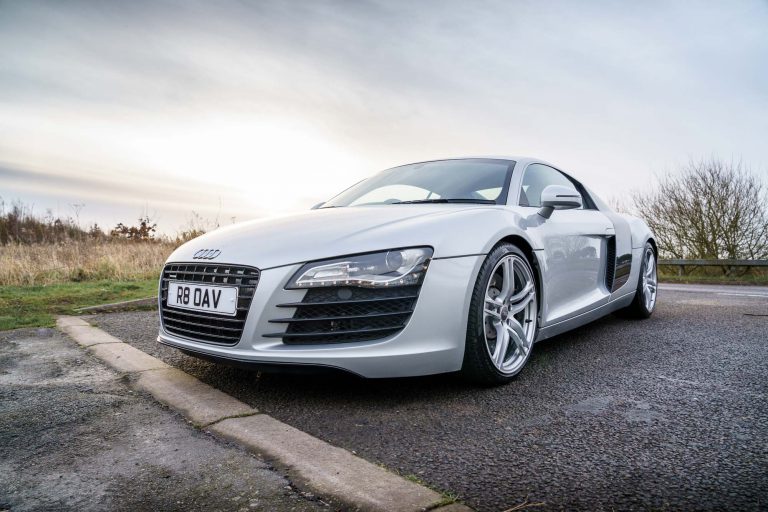 Everything from the aforementioned gearbox to the handling characteristics is meant to make your life easier while still allowing you to have fun.
While most supercars feel like they are trying to kill you when pushed hard, all the R8 wants to do is bring a smile on your face without any intentions of scaring you.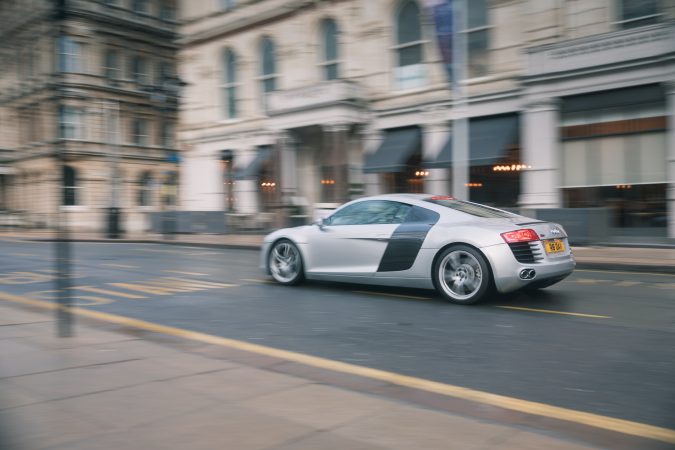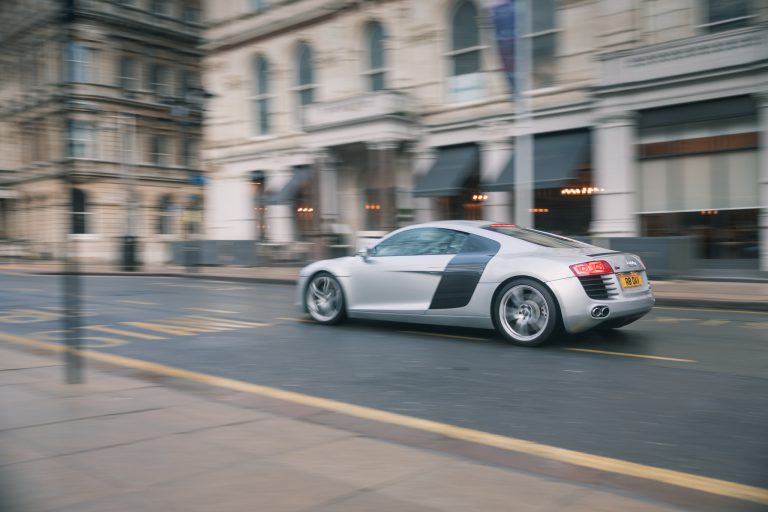 A top speed of 187 mph isn't slow and while a 0-62 mph time of 4.5 seconds won't try to push your head into the headrest permanently, it is still quite rapid. The braking and handling is excellent and feedback is never a problem with the R8.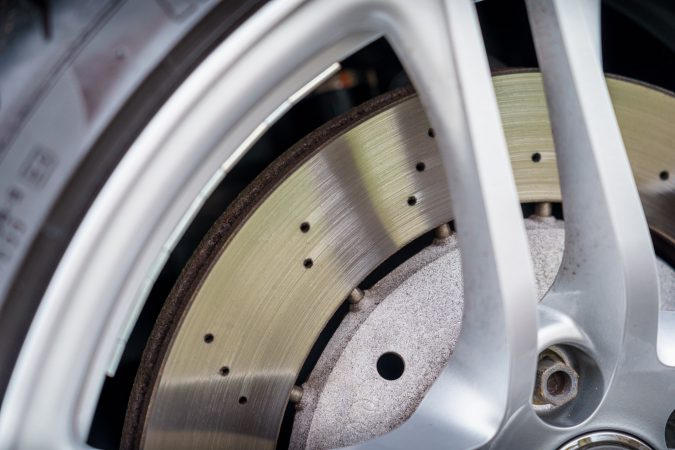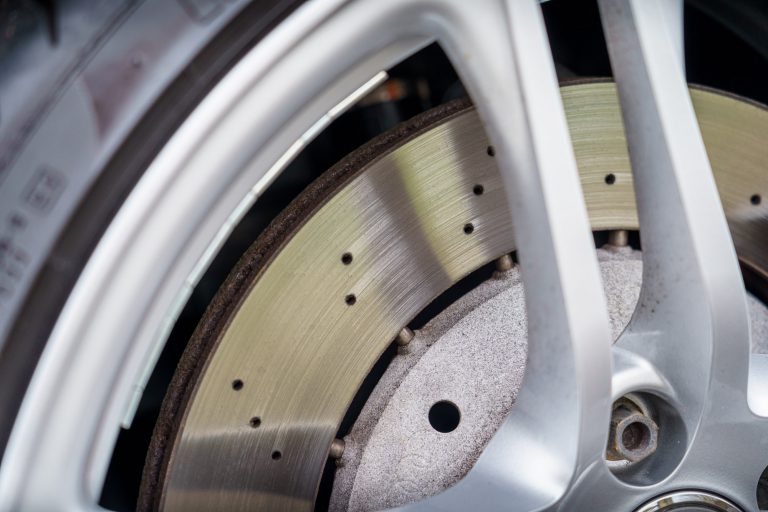 I do have to mention that the R8 used in our project has been modified with coilovers as the standard magnetic suspension has some flaws that can be a hindrance to enjoying this car to the fullest, because of common failures they don't last long.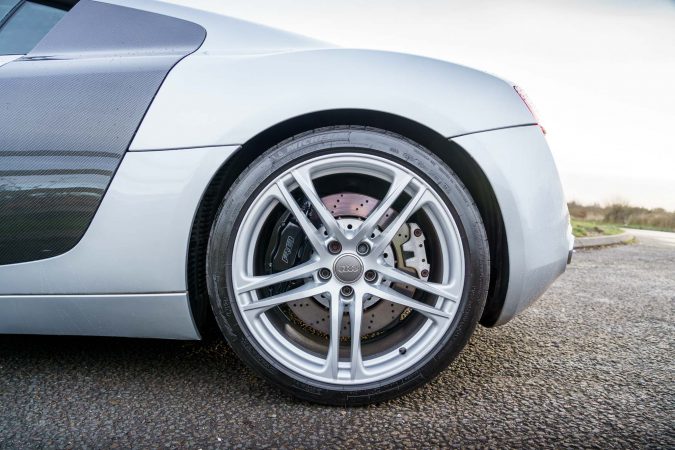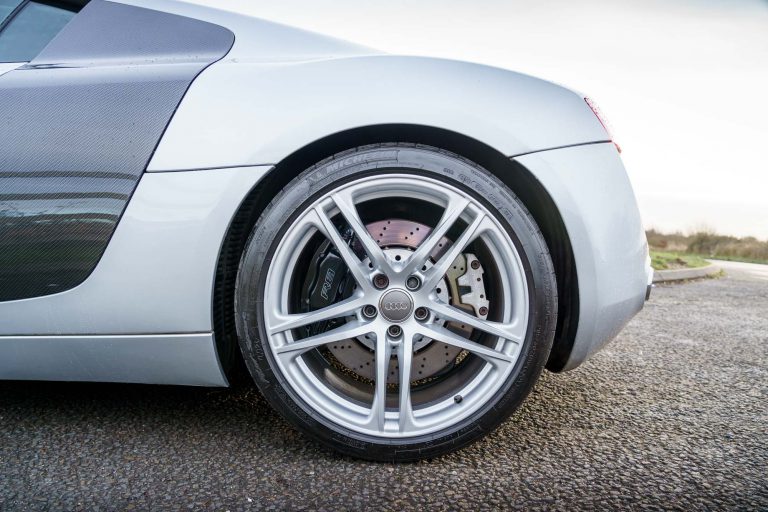 Another common doubt is if this is just a Lamborghini Gallardo masquerading as an Audi? After all, both use the same aluminium spaceframe. The answer is a big no. This R8 features a V8 as opposed to the V10 on a Gallardo. It also drives very differently. The R8 is slightly longer which means that it isn't as twitchy as the Gallardo and you can have a leisurely drive in this without endangering your well-being.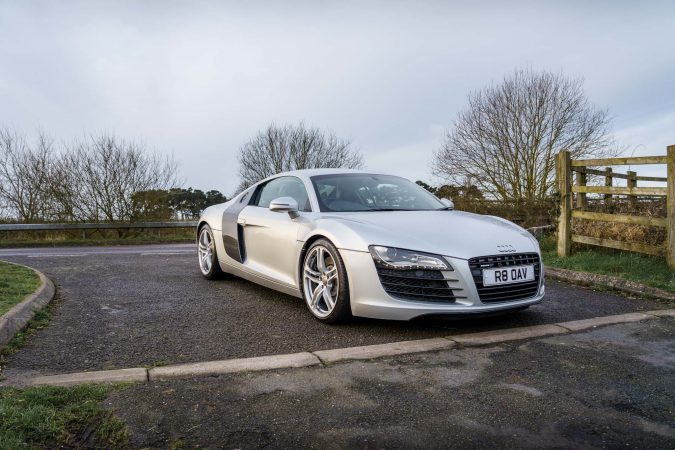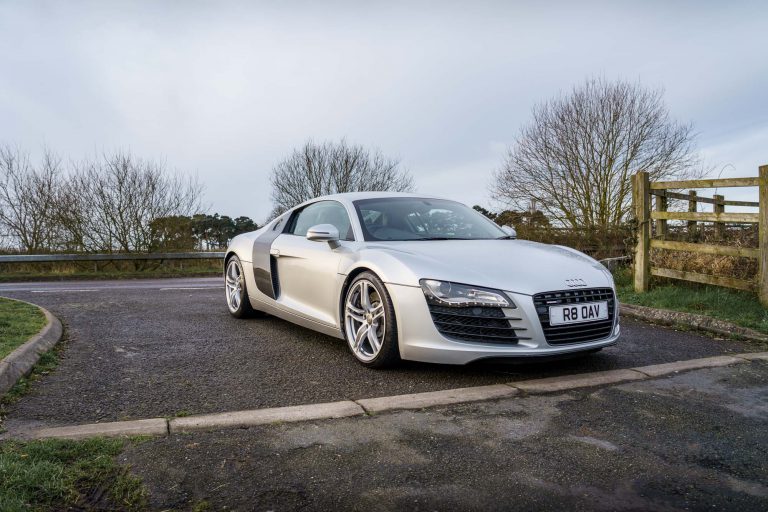 All of this is fine though but it isn't for a leisurely drive that you would get a supercar. Can you have fun in this car? Absolutely.
Turn the traction control off which is as simple as holding down a button for 3 seconds and the R8 can go sideways quite easily.
The great thing though is that even in the middle of a slide, it feels planted and you always feel in control and that is the essence of this car.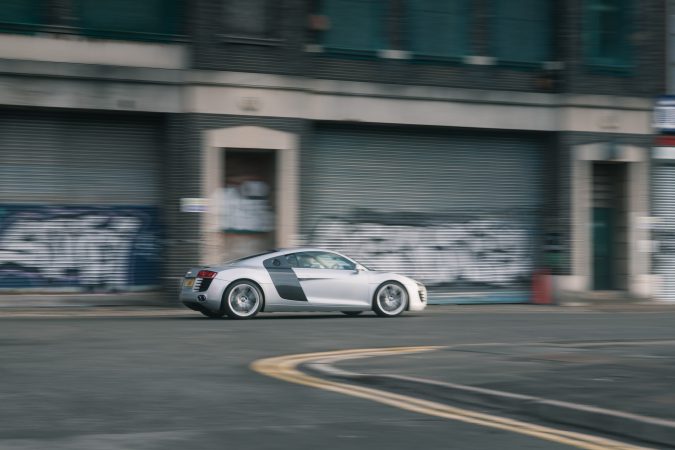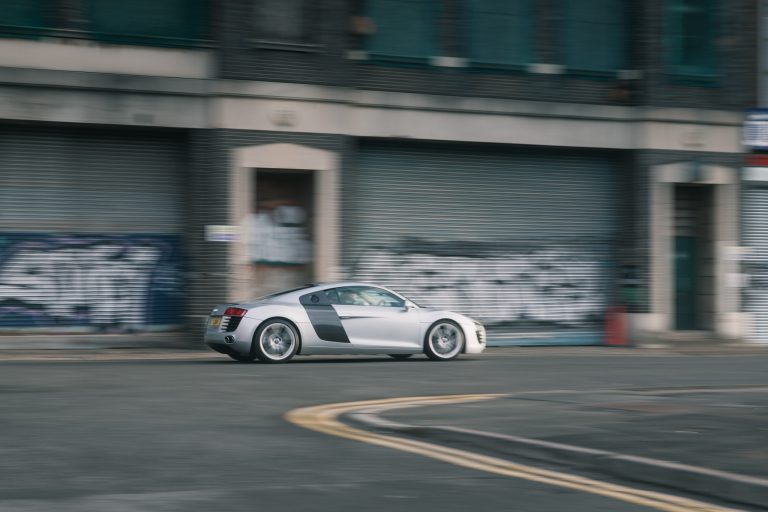 While most supercars will ask you to hang on for your dear life, the Audi R8 lets you have fun in a more controlled manner. This is a car that will allow you to show your wild side on the racetrack while still letting you drive home with your dignity intact.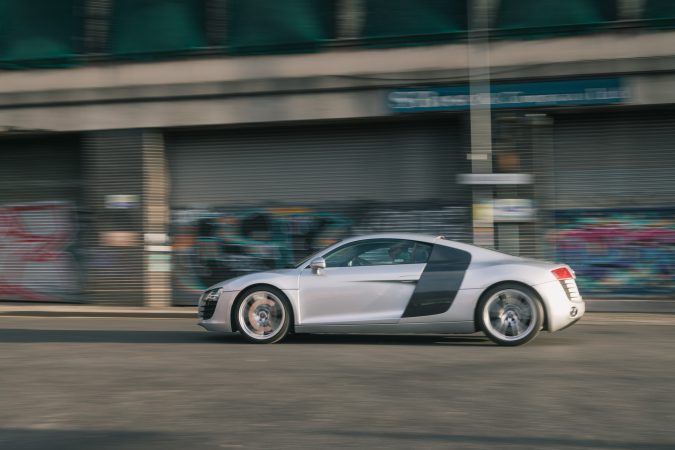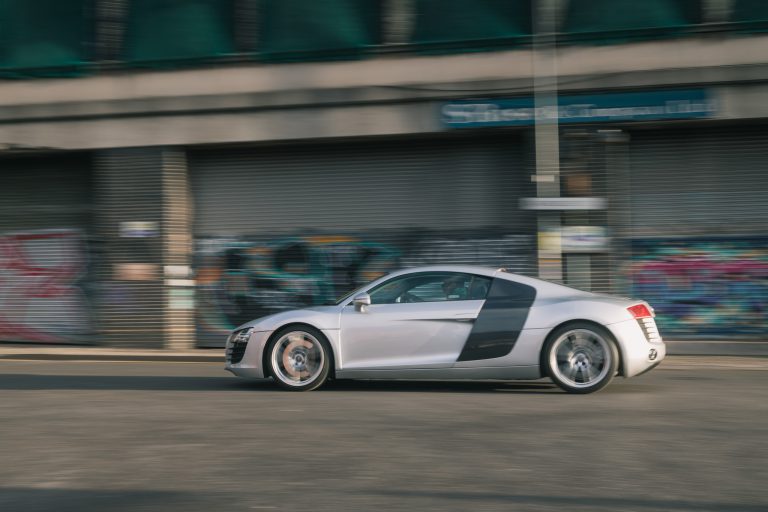 The enjoyment this car offers isn't the regular sort of fun you would expect from a supercar but it is still fun and that is all that matters and even after 13 years, this car can kick some serious behind.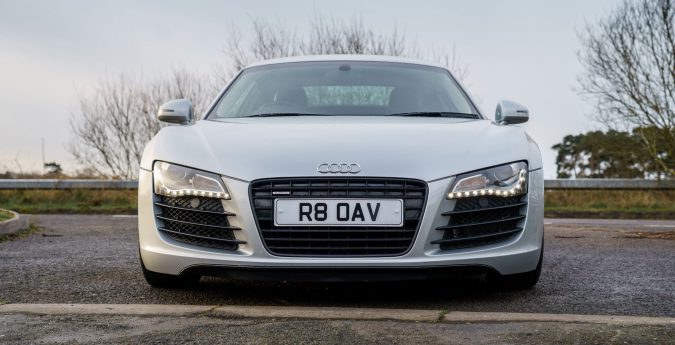 What is it like inside?
The "practical supercar" moniker of this car is most prominent when you get inside it. Many supercars are so difficult to get in that it can feel like the car does not want to be driven. Not so with the R8. I am pretty tall and I still managed to get in and out without any hassles.
The view from inside is also pretty good which is surprising for a supercar. The headroom and legroom are great and two people can actually travel in it without any discomfort. Unlike most supercars where you have to make do in cramped quarters, the inside of the R8 is spacious and roomy.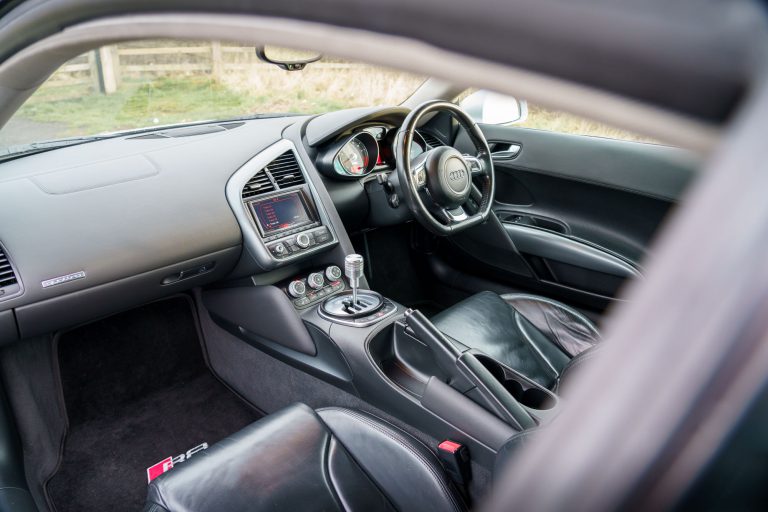 This being a used R8, it does show some signs of ageing. The seats and the upholstery were a bit worn but nothing too serious and nothing that can't be fixed by some cleaning and restorative work, like replacing the mats. The biggest sign of ageing though is the infotainment system.
The radio and CD player gives away the fact that this is an old-timer and will definitely need an upgrade. The instrument console does not feel too dated though and actually looks quite classy.
The gear knob showed the biggest signs of wear and tear and I had to replace it. Overall though, the inside of the Audi R8 isn't a bad place to be in despite the number of years it has already seen.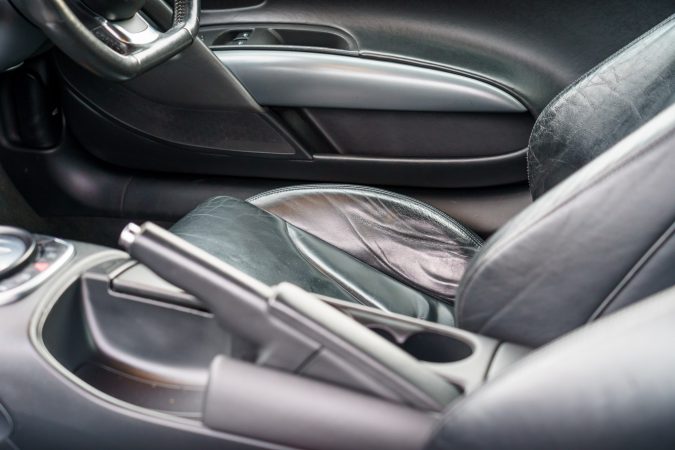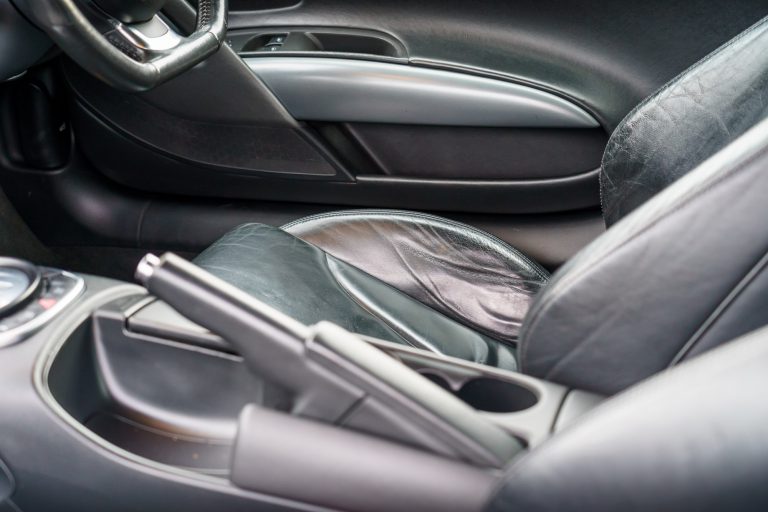 The experience
There is no getting around the fact that this car is an incredible feat of design and engineering. It has plenty of racing pedigree as this is based on the excellent Le Mans Quattro concept car from Audi.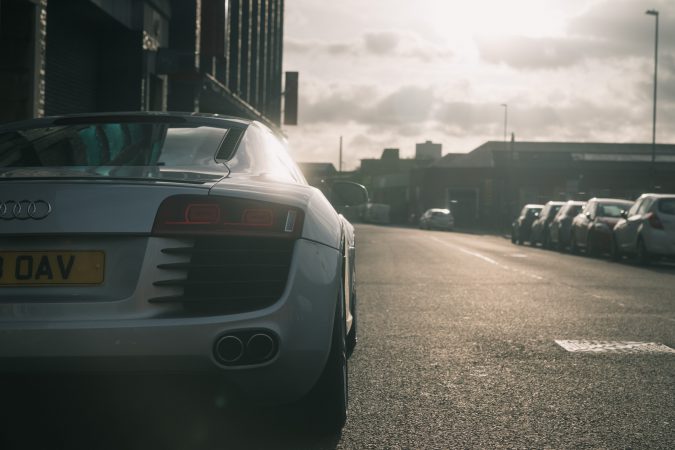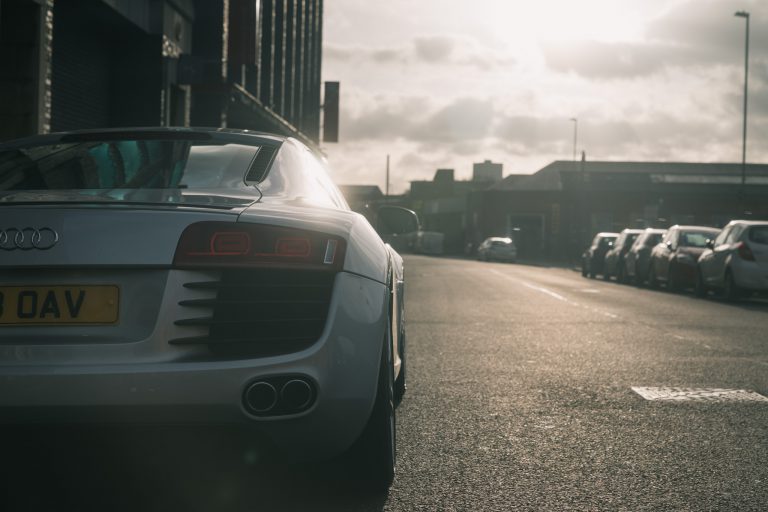 It is also a big achievement in terms of legacy. The mid-2000s were not exactly ideal for the launch of a totally new supercar and it was and probably will be the riskiest move Audi will ever pull and boy did it work.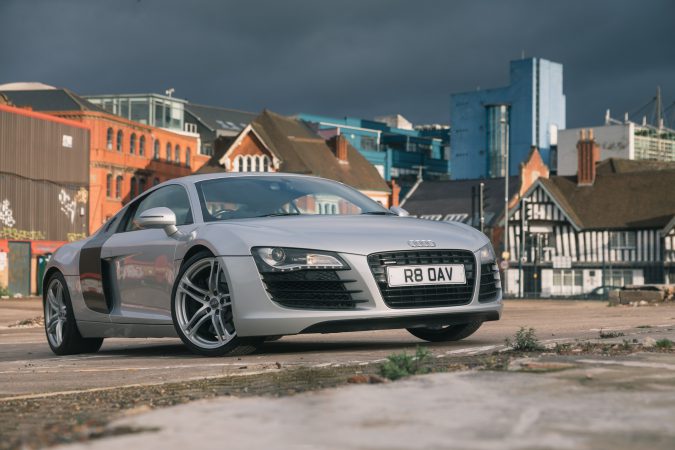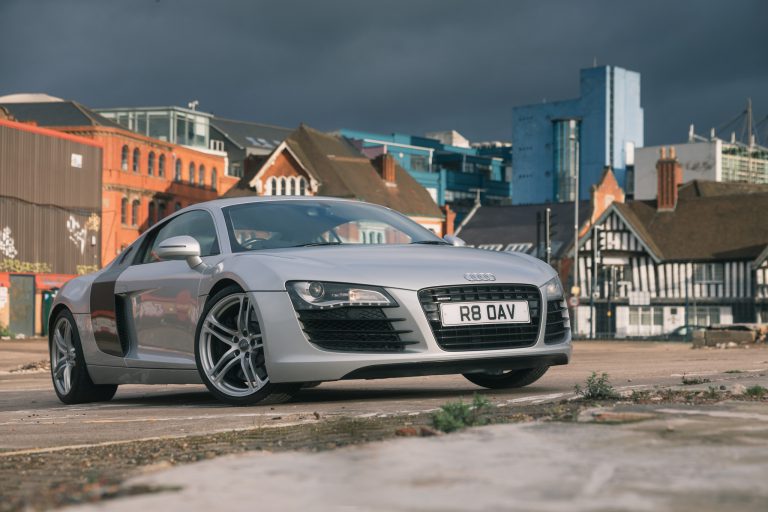 In the supercar world dominated by established names with many decades of heritage backing them up, the Audi R8 tried to rewrite the game and actually ended up being successful. When the Marvel Cinematic Universe needed a classy supercar for the modern and futuristic superhero Ironman, it was the Audi R8 they chose.While Audi's marketing team probably had something to do with it, there is no denying the fact that the match feels like it is made in heaven. Ironman isn't your typical superhero. He has a lot of cool stuff but at his heart, he is different and yet totally capable of standing on his own and that is what the R8 is all about. It does not need predecessors spanning decades to make a case for it. It likes to play by its own ideas of what a supercar should be like and I like and admire that.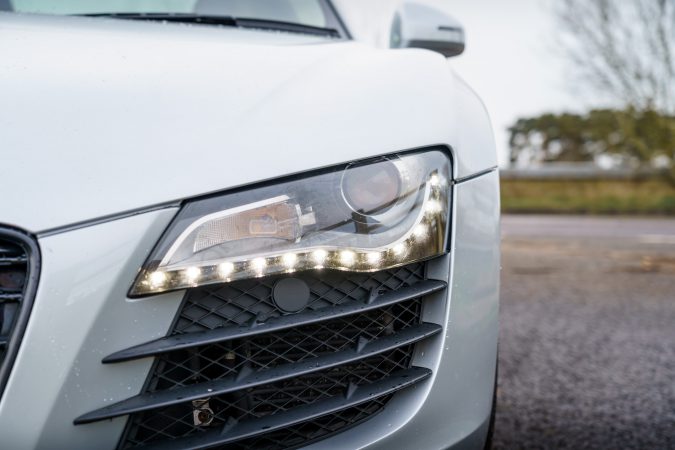 It has great looks but is practical on the inside. It can be a 4-wheeled gripy monster when you want it to be and it can go sideways when you are in the mood for some fun. You can drive this to a race track and not feel inadequate while being totally at home when driving to a formal party without letting anyone think that you are having a midlife crisis.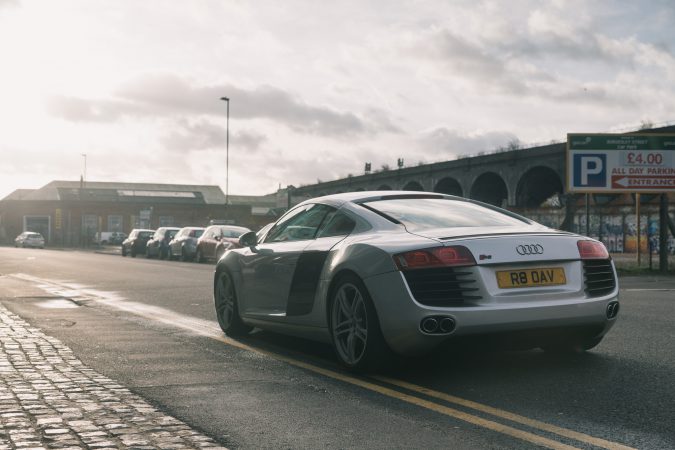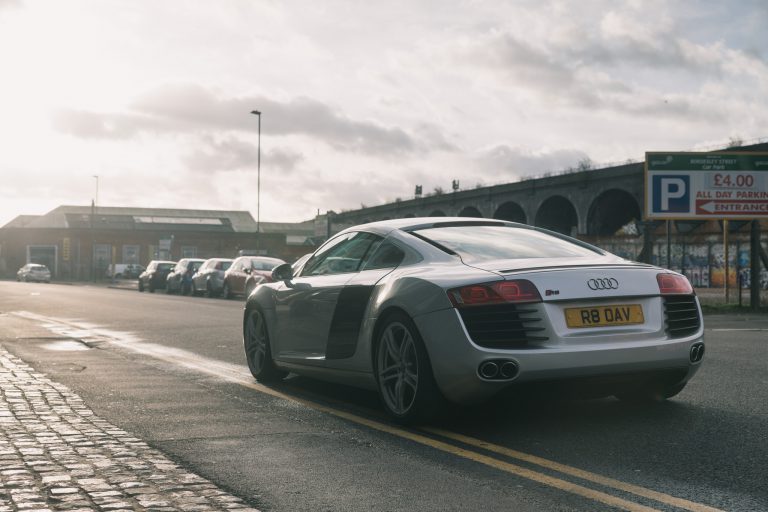 It can be sensible when you want it to and wild when you feel like unwinding. The R8 is a unique blend of properties that should not go together but somehow does and that is the appeal of this car.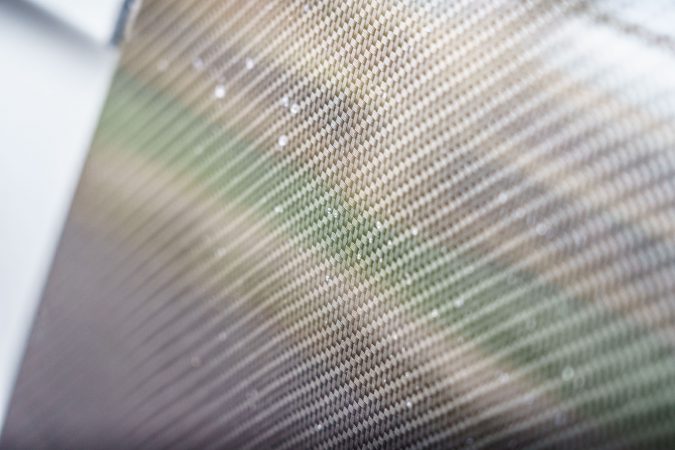 I will be the first to admit that this car isn't perfect and that it has some flaws but the reason I like it so much is that it is incredibly enjoyable even after 13 years with a very nominal amount of maintenance and upkeep work being put into it. This project has should be a lot of fun to document. Follow the progress of the car here.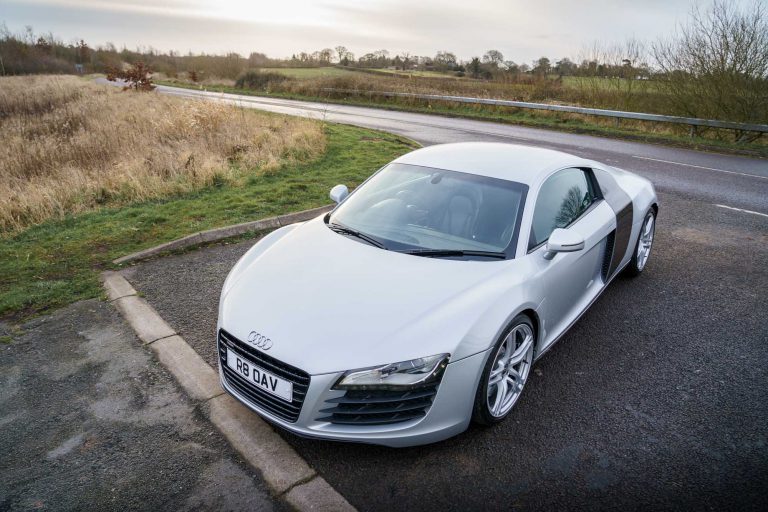 Gen 1 Audi R8 V8 Cost
The original cost of this car includes a base price of £77,000 plus the cost of optional extras such as the Carbon fibre side blades, auto lights, and the carbon engine pack. Taking standard rates of depreciation, the R8 can be valued between £30,000 to £35,000 after 13 years. Making it an affordable performance car and hopefully, it is at the bottom of its depreciation scale.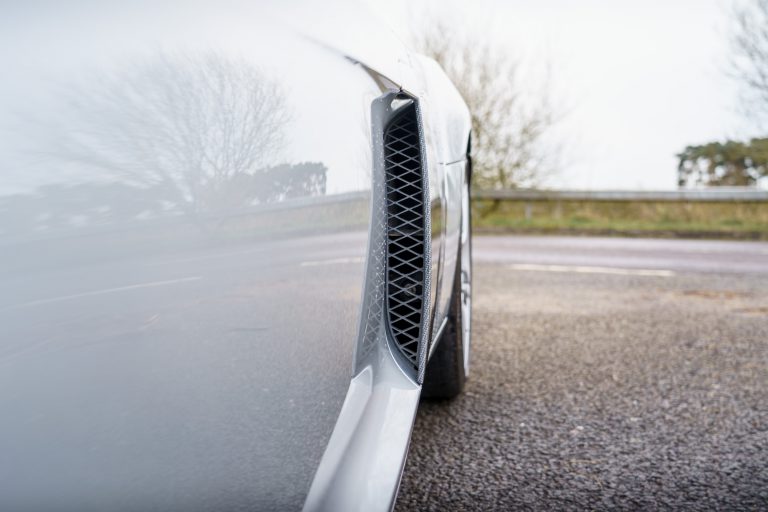 Verdict
I am a firm believer in the thought that a supercar isn't about the numbers or anything physical on it. The best supercars manage to bring a smile on your face no matter how unconventional or flawed they are and because the Audi R8 is the epitome of this definition, it is a car I highly recommend. The one downside of the R8 compared to its more established supercar competitors is that it really lacks a loud and fiery exhaust note (we might address this in the project).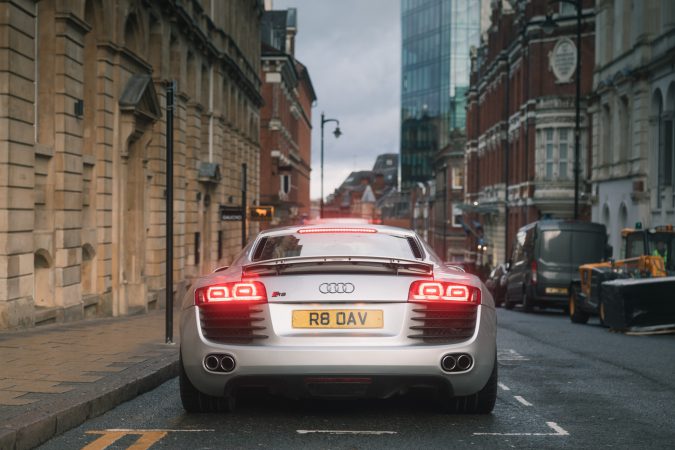 Should you buy a used version though? That depends. If you can find an R8 similar to the one that is part of our project – one that has been looked after properly and only has superficial signs of wear and tear, then go for it by all means.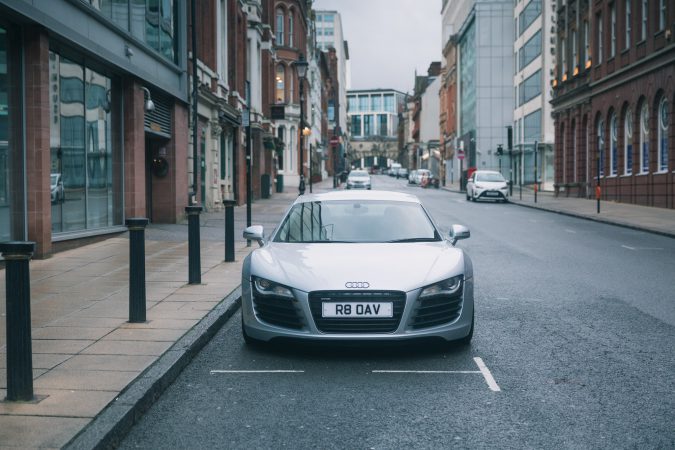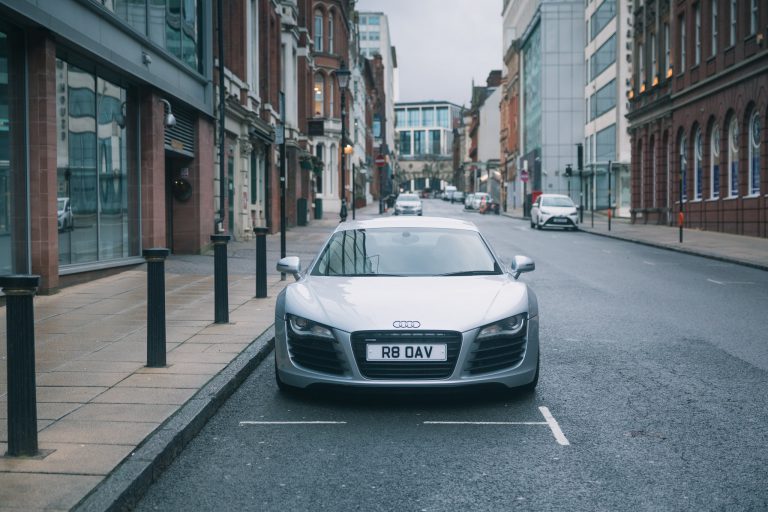 Specification
Audi R8 Generation 1 Specs

Price: Depreciated value – £30,000 to £35,000
Engine: 4.2-litre V8 petrol
Power: 414 bhp
Torque: 430 Nm
Transmission: 6-speed manual
0-62mph:  4.6 seconds
Top speed: 187 mph
Weight: 1,560 kg
Economy combined: 20 mpg
CO2: 320 g/km