Leather seats in a car are something that just feels right. It classes up the inside of a car while also being comfy. However, they can lose their shine and splendour with time and that can have the exact opposite effect of making the inside of a car look and feel dull and dated.
Normally, restoring the leather seats back up to their former glory can often be both costly and time-consuming. The alternative is going for a do-it-yourself option but most of the time, these options either tend to be ineffective or too difficult to use.
Today we will take the Furniture Clinic Leather Clean & Protect to the leather seats of a 2007 Audi R8 and see if it is something you should buy it for restoring your own leather seats.
How To Use Furniture Clinic Leather Clean & Protect Kit?
This leather care kit comes with a cleaning agent and a protection cream, both tailor-made for leather. Leather seats lose their shine and their softness with time and the main culprits are dirt and grime that collect on it over time. The cleaning agent is meant to remove them while the protection cream is meant to make the leather seats feel and look good again. A sponge and cloth are also included to make this process as convenient as possible.
Using this is pretty easy as the entire operation can be accomplished in three simple steps.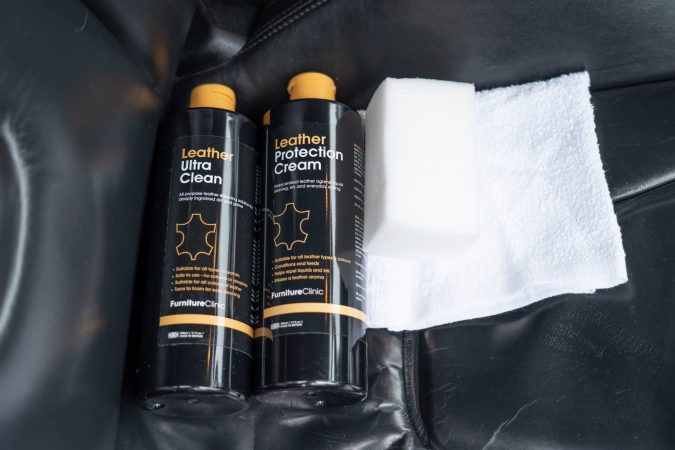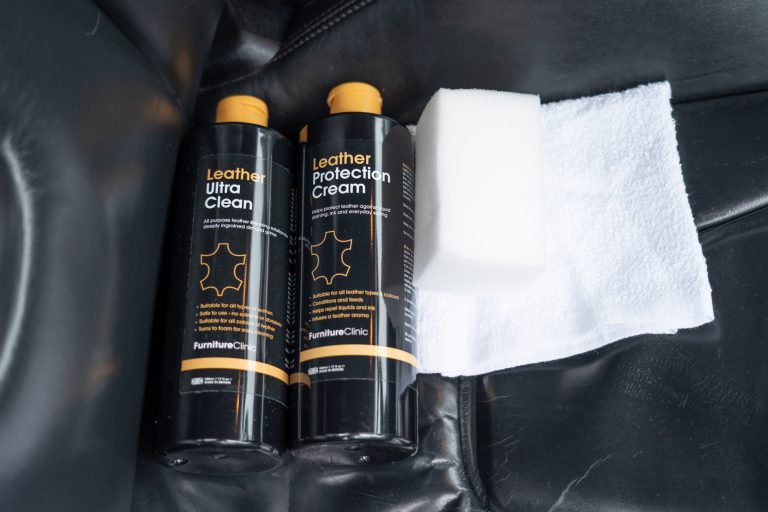 Step 1: Clean
Spray the sponge with the Ultra Clean and squeeze it to create a nice foam. Apply this to the leather seats in a smooth circular motion. You will immediately start seeing the dirt and grime lift up. Use the cloth to wipe off any excess residue left behind. You might need to repeat this step a few times. I had to do so on the seats of the near 13-year-old Audi R8.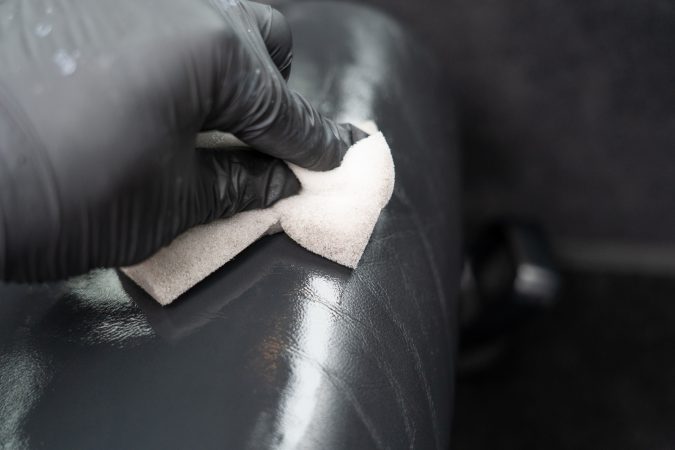 Step 2: Protect
Once the seats are dry and they are satisfactorily clean, apply the protection cream using a clean cloth in a circular motion. You will immediately see a change and the shine of the seats will be noticeably improved.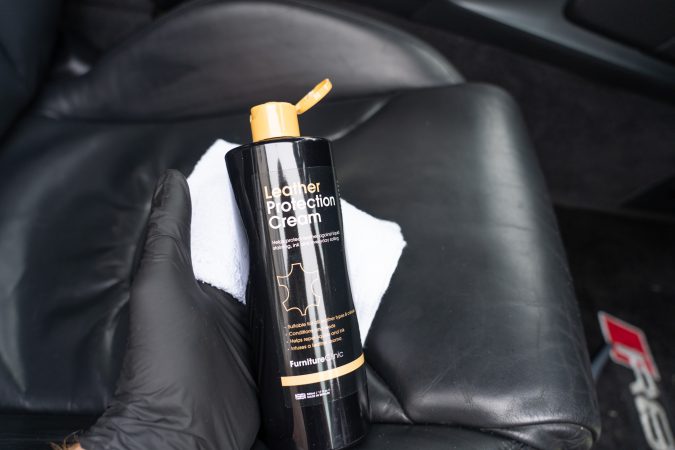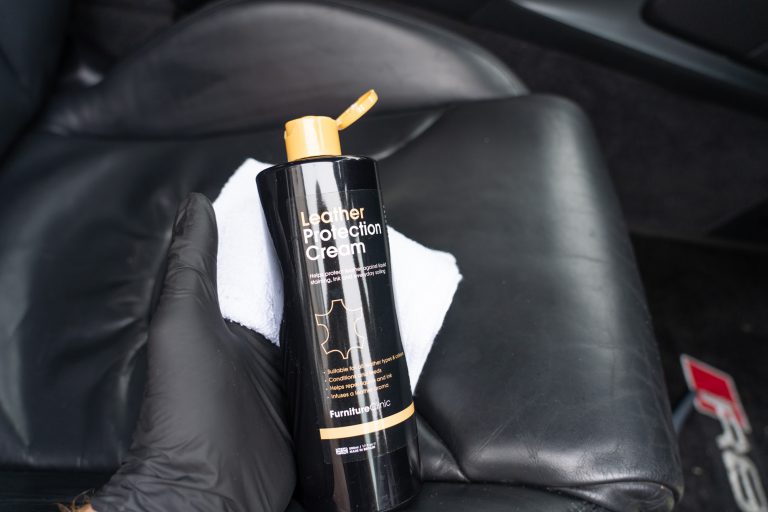 Step 3: Buff
Leave the compound in for 10-15 minutes and once the seats appear dry, buff to a nice shine with another clean piece of cloth and that is it.
It is also recommended to repeat this entire process once every three months. It is also worth noting that cleaning the seats again is a lot easier after the first time you use this leather care kit.
Does The Kit Work?
Now to the results. Normally I approach products like the Furniture Clinic Leather Clean & Protect with a pinch of scepticism. However, this product impressed me. Even though the cleaning required multiple cleans, it cleaned the seats quite effectively.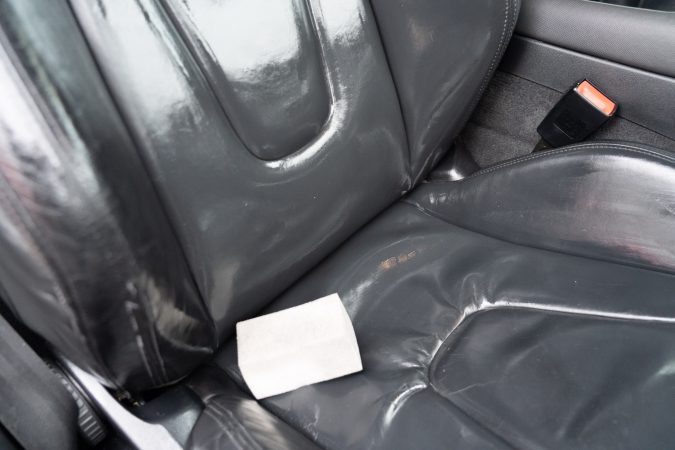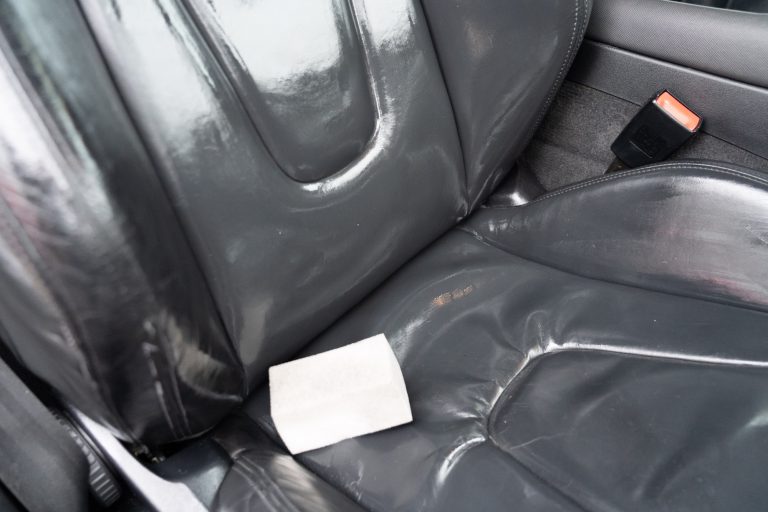 The protection cream actually works and the seats feel a lot nicer and are considerably better to look at. The before and after picture below doesn't do justice to the actual results. The seats feel a lot comfier and look better too. The creases and folds aren't as prominent as before and the overall aesthetics are improved.
Before
After
As a nice added touch, this leather care kit restores that new car smell. In short, the Furniture Clinic Leather Clean & Protect does what it says quite impressively.