A Partnership of Sound Perfection
Drawing on over five decades of expertise, British audio manufacturer Bowers & Wilkins continues its fruitful partnership with the BMW Group. Their latest collaboration brings the Diamond Surround Sound System to the brand-new BMW XM, following its successful debut in the new BMW 7 Series models.
The union of expert engineering and elegant design ensures a top-notch audio experience for the XM's passengers.
Inspired by Iconic 800 Series Diamond Loudspeakers
The vehicle's sound system takes its inspiration from Bowers & Wilkins' flagship 800 Series Diamond loudspeakers. These world-renowned speakers are used in iconic recording studios, such as London's Abbey Road Studios. The XM features 20 high-performance speakers, delivering high-fidelity audio for everyone in the car.
Collaborative Design for Optimal Performance
Bowers & Wilkins worked closely with BMW Group designers and sound engineers from the inception of the XM's development. The teams collaborated to optimise speaker positioning, ensuring the highest possible performance and an unparalleled in-car listening experience. This dedication to accuracy and fidelity reflects Bowers & Wilkins' 'True Sound' philosophy.
Cutting-Edge Technology for Exceptional Audio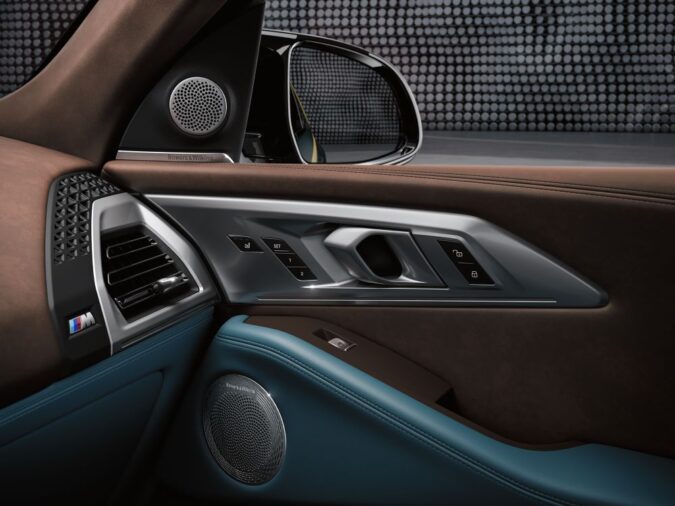 The Diamond Surround Sound System in the BMW XM includes five aluminium tweeters, two Rohacell central bass speakers under the front seats, and two Diamond Dome tweeters in the A-pillars. These innovative tweeters, created using chemical vapour deposition and intense heat, produce incredibly accurate treble with minimal distortion.
The XM also features five Continuum midrange speakers, ensuring an authentic musical experience just as the artist intended.
Exclusive Design and Illumination
The stainless-steel speaker grilles feature an exclusive pattern design, which illuminates to visually emphasise the system's remarkable sound quality. This aesthetic touch enhances the overall experience, combining visual appeal with superior audio performance.
A Growing Partnership for Premium Sound
The ongoing collaboration between Bowers & Wilkins and BMW cements the British audio manufacturer's status as the go-to brand for customers across various BMW models. This partnership brings the 'True Sound' experience to more and more people around the world, elevating the in-car audio experience for all.
In summary, the Diamond Surround Sound System by Bowers & Wilkins in the BMW XM offers drivers and passengers an exceptional in-car audio experience. With a strong partnership, state-of-the-art technology, and elegant design, this collaboration raises the bar for automotive audio.