At the heart of this year's Goodwood Festival of Speed was an eyecatcher like no other: the vibrant "Golden State of Mind" coloured 21C V Max by Czinger. Embodying the spirit of California with a color inspired by the state's native poppy flower, this state-of-the-art hypercar made its European debut in style, drawing crowds and impressing all who laid eyes on it.
The 21C V Max: Not Just Another Hypercar
This latest iteration of the 21C is aptly named the V Max, designed to push boundaries with its primary focus on high-end speed and acceleration. Its striking aesthetics serve more than just a visual feast; every line and curve is engineered to create an aerodynamically smooth body style, optimized for maximum stability at breathtaking speeds, breaching 253 mph.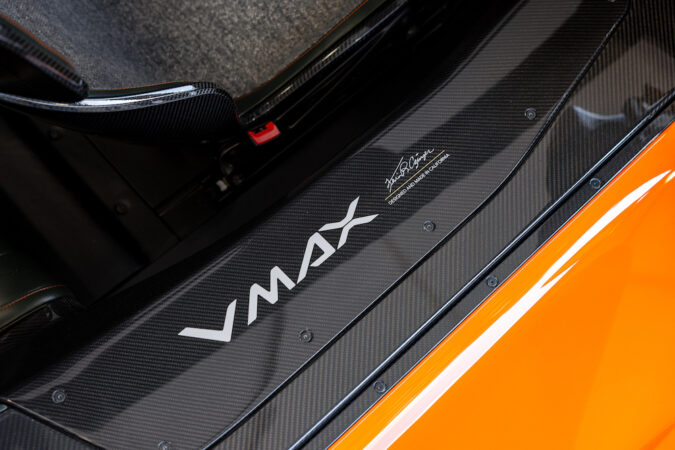 Power Unleashed: The V8 Hybrid Powertrain
Beneath its sleek exterior lies Czinger's in-house designed powertrain, boasting a 2.88 liter, twin-turbo V8 engine. Revving up to 11,000 rpm, the V Max delivers a staggering combined output of 1250hp with an optional upgrade to 1350hp. This muscle is not just for show. The V Max competes against the best, with many happy customers drawing parallels with powerhouses like the McLaren P1.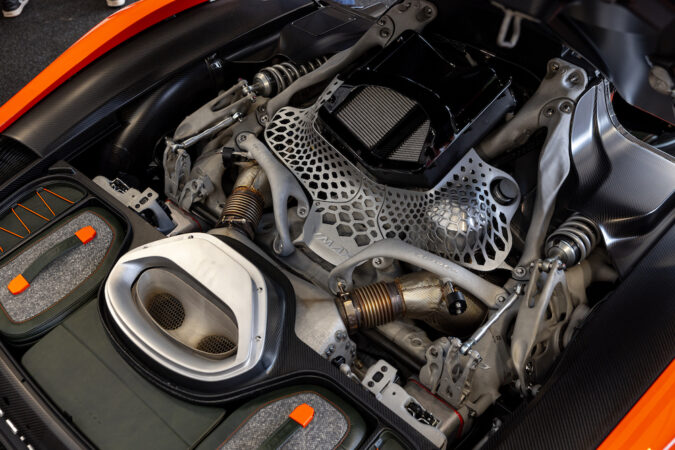 Luxurious Inside and Out
Alongside its formidable speed and performance, the 21C V Max pampers its passengers with an elevated, army-green leather interior coordinated with grey wool textile. Matched with the 2×2 twill carbon fiber front seat and accented with contrasting orange topstitching, the vehicle provides a unique bespoke interior environment. A highlight of the V Max is its new, custom-tailored luggage system, epitomising style and luxury, even at blistering speeds.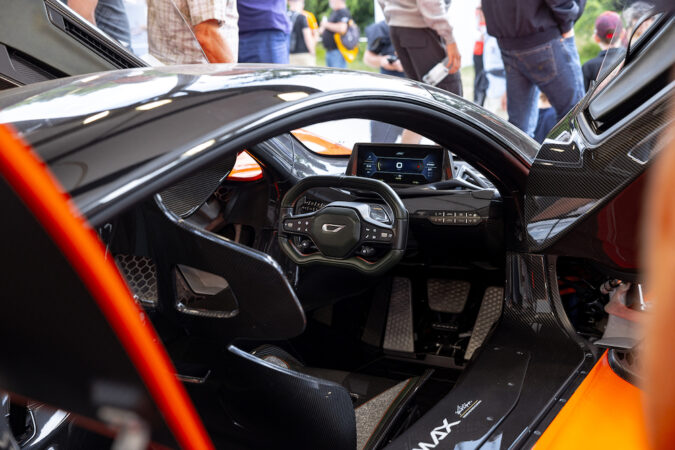 Czinger: Driving Innovation in Automotive Manufacturing
As the 21C V Max prepares to make its first customer deliveries later this year, Czinger is standing tall on the global stage. Having established an international footprint with a 15-strong global dealer network, including metropolises like London, Barcelona, Munich, Frankfurt, and Tokyo, the limited 80-car production run of the 21C variations is being swiftly secured. Czinger is not just creating cars; they are sculpting pieces of automotive history.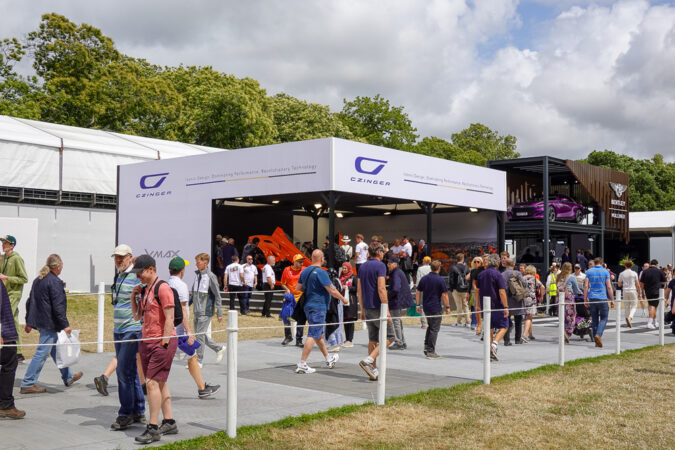 Founded by Kevin and Lukas Czinger in 2019, Czinger Vehicles is disrupting the industry by redefining how cars are designed and manufactured. Their commitment to utilizing groundbreaking, proprietary technology to create vehicles of unrivaled performance and iconic design marks a significant transformation in the manufacturing sector. Czinger stands at the forefront of an environmentally sustainable future in the automotive industry, highlighting the exciting possibilities of human-AI design collaboration.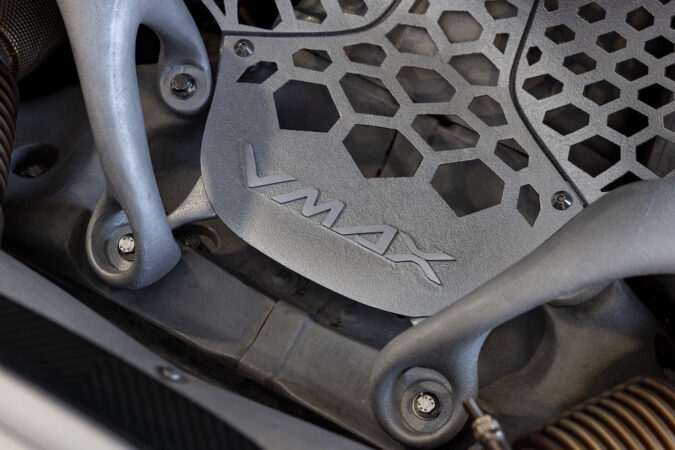 In the words of Lukas Czinger, Co-Founder and COO, "Los Angeles is our home, and we are proud that out of our California factory, we are producing a hypercar that not only shatters track records but is poised to change the way the automotive industry approaches manufacturing."
The Full Downforce Variant: A Showstopper
While the vibrant 21C V Max took center stage at Goodwood, tucked away from the main stand was another Czinger marvel that was turning heads. The full downforce variant of the 21C, a version optimized for maximum traction and aerodynamic efficiency, was on display, commanding its share of attention.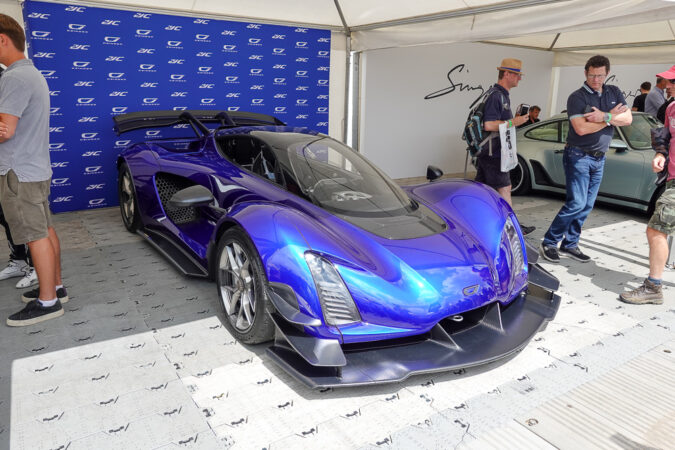 This variant, adorned with an intricate aerodynamic kit, is a testament to Czinger's relentless pursuit of performance. Engineered to hug the road, it manipulates airflow to its advantage, optimising downforce to provide unrivalled traction and stability, particularly in high-speed cornering. A balance of raw power and refined engineering, this car shows that Czinger is not just about top speed, but also about mastering the art of performance driving.
The full downforce variant stood as a compelling counterpart to the V Max, offering festival-goers a glimpse into Czinger's comprehensive approach to hypercar design and solidifying their reputation as a leader in the realm of high-performance vehicles.
Trailblazing Production: AI-Driven 3D Printing
Czinger's 21C, the world's first 3D-printed hypercar, is a testament to the ingenious fusion of cutting-edge technology and innovative design. This Los Angeles-based manufacturer employs artificial intelligence and 3D printing in creating this vehicle, offering a fresh perspective on car production.
In the early stages of the design process, an AI-based software meticulously refines each component. The system considers a range of factors such as weight, strength, size, material, and mounting points. This intricate approach enables the creation of unconventional and efficient designs, including the standout bubble-shaped cockpit.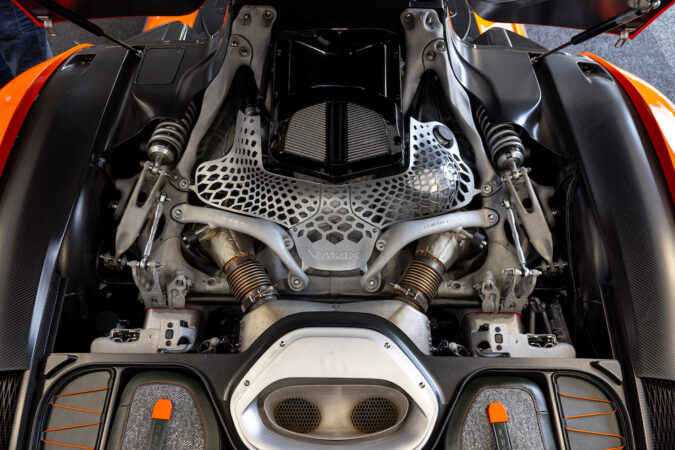 The conversion of these complex AI-crafted designs into tangible parts is achieved through 3D printing. Using a method called Selective Laser Sintering (SLS), a high-powered laser solidifies powdered metal layer by layer. This innovative process allows the materialisation of intricate designs impossible to realise through traditional machining or metal casting methods. Czinger utilises a blend of metals in the process, including aluminium, titanium, and Inconel, an alloy favoured in the aerospace industry for its heat-resistant qualities.
Czinger's ingenious production method not only brings the extraordinary 21C to life but also signals the future of car manufacturing, demonstrating a unique blend of AI, 3D printing, and robotics.
The Future is Now with Czinger
At Goodwood, Czinger's commitment to design, performance, and sustainability stood out against the backdrop of historical automotive excellence. With its glowing presence and thunderous performance, the 21C V Max not only pays tribute to its California roots but serves as a beacon lighting the path to an exciting, sustainable future in automotive manufacturing.