If you're familiar with the world of portable power, the name EcoFlow may already ring a bell. Over the past few years, their product line has revolutionised the way we view portable power solutions, especially with the release of the RIVER 2. As a keen observer of EcoFlow's offerings, I was naturally intrigued when the RIVER 2 Pro Portable Power Station was announced. It promised to bring greater capacity, more power, and even better design aesthetics to the portable power niche.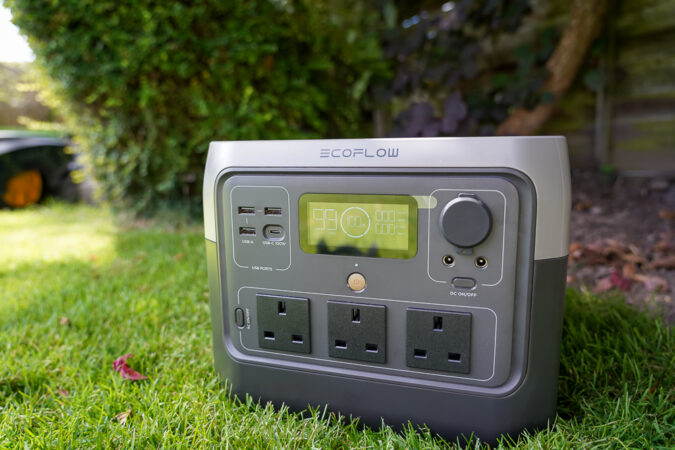 The Power Packed Punch
The most appealing facet of the RIVER 2 Pro has to be its impressive 768Wh capacity. For those unsure about what this means – it's a lot of juice! A jump from the previous non pro model's 256Wh. Accompanied by a robust 800W output, the RIVER 2 Pro can sustain power for most of your devices seamlessly, making camping, hiking, or even unexpected power outages more bearable.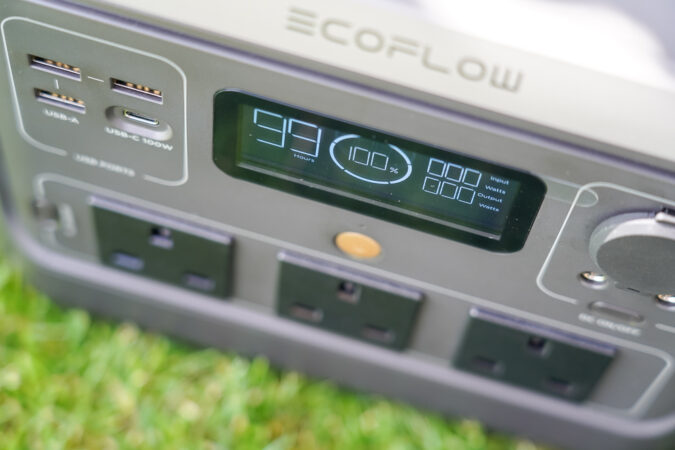 EcoFlow hasn't stopped there. They've introduced the X-Boost feature which amplifies the output to an astounding 1600W, enabling you to run about 80% of home appliances. That's right; this portable station can keep your home going in a pinch!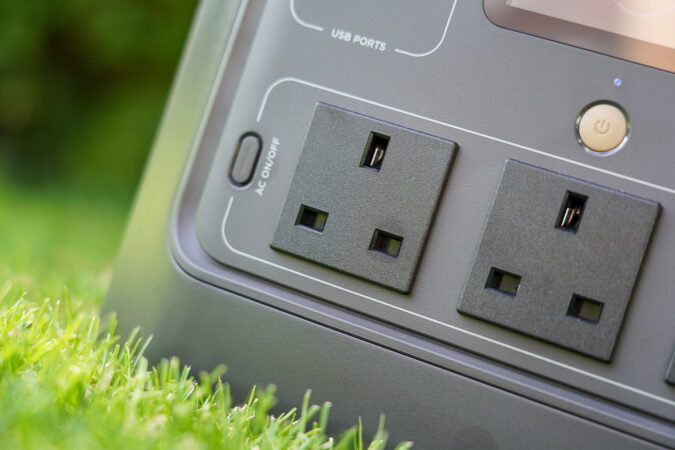 The three sockets, strategically placed on the front, highlight a careful design consideration. It keeps things uncomplicated, especially when out camping. You don't have to fiddle around looking for sockets or buttons – everything is straightforward and easily accessible.
Charging Made Simple and Speedy
EcoFlow boasts about the RIVER 2 Pro's ability to recharge from 0-100% in only 70 minutes. It certainly provides a formidable advantage over many competitors and is notably quicker than its predecessor. A versatile charging ability, including options via AC, car, solar, and now USB-C, ensures you're never far from a power source.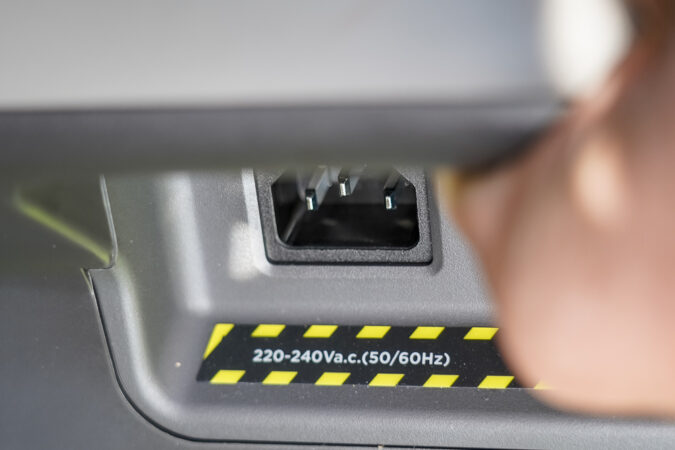 For our eco-conscious readers, the solar charging capability promises up to 1.8kWh a day. If you're off-grid camping in the UK, or even enjoying the rare sunny backyard, this feature can be a game-changer.
Safety and Durability – Ten Years and Beyond
An evident advantage of the RIVER 2 Pro is its usage of LFP battery technology. This promises a lifespan of 10 years, echoing sentiments from the predecessor review. With a safety certification from TÜV Rheinland, you know this is a product that has been rigorously tested for safety standards.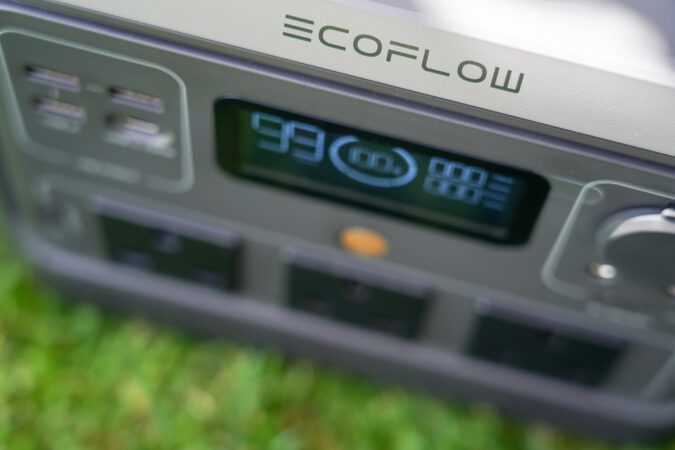 The App Experience
A delightful addition to this modern-day power solution is the Wi-Fi and Bluetooth enabled app control. Much like the RIVER 2, it allows for careful monitoring of charge rates and battery life, but with added finesse and functionality.
Ready for the British Outdoors
Weighing in at approximately 7.8kg, it's not the lightest piece of kit you'll carry, but for the power it offers, it's a worthy inclusion for your adventures. Its size is manageable, and its build quality ensures it stands up to the unpredictable UK weather.
The Ultimate Campervan Companion: EcoFlow RIVER 2 Pro with the Transporter T6
Camping has evolved. Gone are the days of fumbling around with matchsticks to light a fire or searching endlessly for a plug point to charge your devices. My recent escapade with the Transporter T6 campervan brought this to the fore, with the EcoFlow RIVER 2 Pro being a game-changing companion for the journey.
Kitchen Al Fresco with the RIVER 2 Pro
Imagine setting up camp in a scenic spot, miles away from conventional facilities. With the Transporter T6 parked and our camp set, we decided to try out the RIVER 2 Pro's prowess. We set up an electric cooker on a table, a bit away from the van – just for the sheer pleasure of cooking in the open. Not only did the power station handle this task with ease, but it also ensured we enjoyed our meals without the constant worry of running out of power.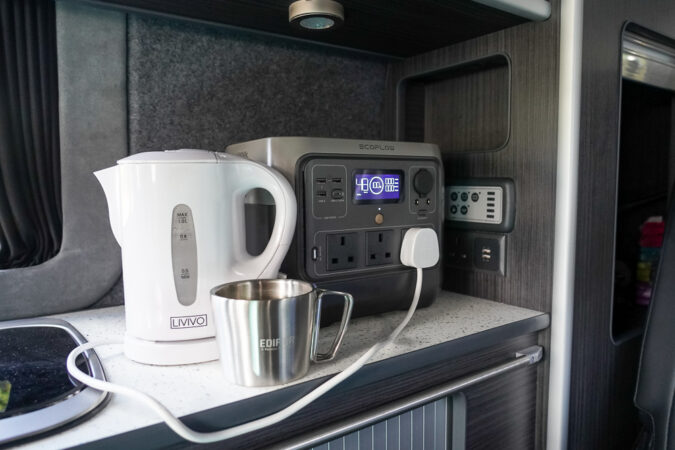 Integrated Campervan Kitchenette Boost
Inside the Transporter T6, the story was no different. Our campervan's kitchenette, while compact and efficient, always poses the challenge of managing power for various appliances. The RIVER 2 Pro slid into this setting effortlessly. We had it on the surface of the kitchen, powering our kettle for those essential morning brews. Simultaneously, the power station's multiple outlets ensured all our tech – phones, tablets, cameras, and the like – were charged and ready.
It's worth mentioning the thoughtfulness of the design here. The three sockets, all at the front, meant no tangles of wires or reaching out in awkward angles, especially in the confined space of a campervan. This made the experience streamlined and hassle-free.
Power Surplus, Even with Multiple Devices
What truly astounded us was the sheer endurance of the RIVER 2 Pro. Campervans, especially ones as equipped as the Transporter T6, can have a myriad of power demands. From basic lighting to more intensive demands like the electric cooker or a kettle, the drain on a power source can be significant. But with the RIVER 2 Pro, not once did we feel like we were rationing power or being overly cautious. There was an abundance of energy at our disposal. Multiple devices, simultaneous usage, high-drain appliances – it took everything in stride.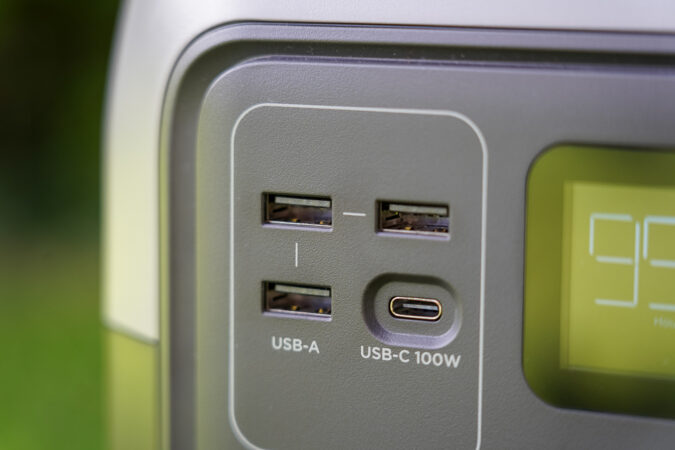 Final Thoughts on the Camping Experience
The combination of the Transporter T6's comforts with the reliability of the EcoFlow RIVER 2 Pro made our camping trip an affair to remember. The peace of mind, knowing we wouldn't run out of power, allowed us to immerse ourselves in the experience fully. Whether it was an impromptu movie night inside the van or a culinary experiment outdoors, the RIVER 2 Pro held its own, proving to be an indispensable partner for modern-day campers. If you're looking to elevate your campervan adventures, this power station is a worthy companion.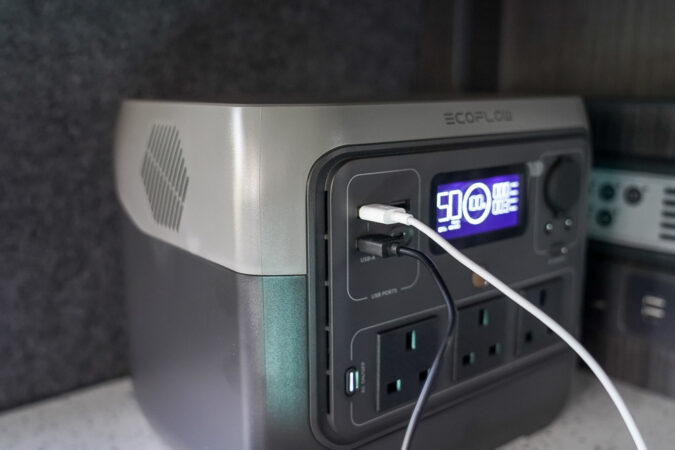 In Conclusion
The RIVER 2 Pro offers a significant step up from its predecessor. It's evident EcoFlow has taken user feedback and technological advances into account, delivering a product that's not only powerful but also user-friendly and durable. The price might be a consideration for some, but given its features, longevity, and the versatility it offers, it stands as a sound investment for those in need of reliable portable power. Whether you're a camper, traveller, or simply looking for a backup during those pesky UK power cuts, the RIVER 2 Pro is a compelling option worth considering.
From 21st August until 15th October 2023, customers can save up to £300 on a range of EcoFlow devices, including portable fridges, portable air conditioners, power stations and more.