When it comes to high-end cleaning solutions, Karcher has always been a leading name in the industry. Known for its innovative, reliable, and robust range of pressure washers, the brand also offers an array of accessories. For this review, I decided to take their WB 7 Plus 3-in-1 wash brush for a spin on my black VW Transporter camper van. Let's find out if this accessory is worth adding to your cleaning arsenal.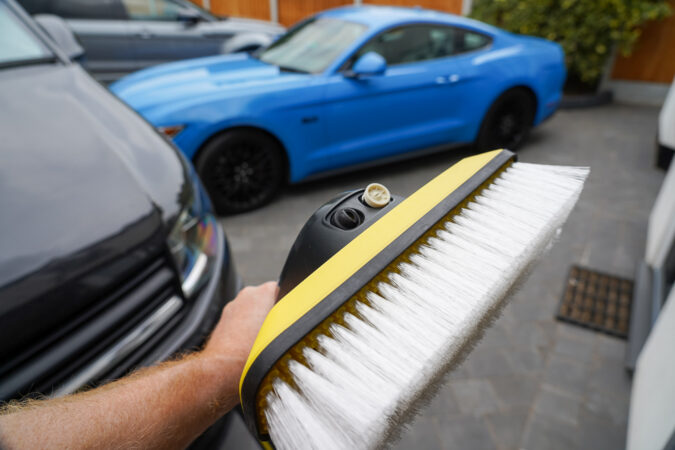 Key Features
3-in-1 Functionality – What Does This Mean?
The highlight of this accessory is undoubtedly its 3-in-1 feature: a foam applicator, high-pressure flat spray, and a soft brush, all wrapped into one. The unique design allows you to effortlessly switch between these functions using a lever in the grip area.
Detergent Tank
The integrated detergent tank extends the duration of your cleaning session by minimising refills. It's an absolute time-saver, especially when you're tackling larger projects like camper vans or SUVs.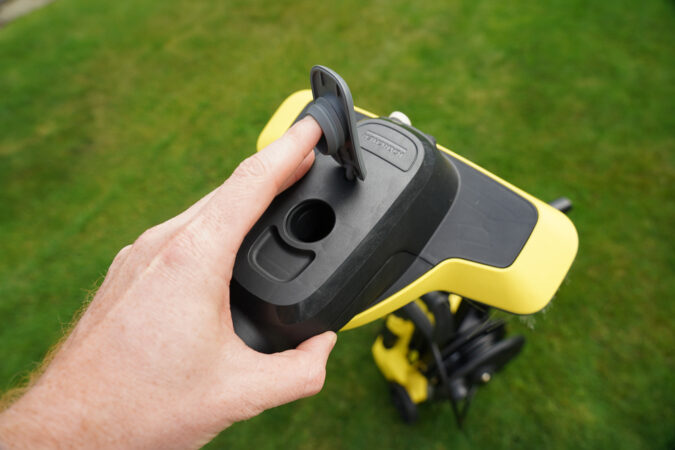 Safe on Delicate Surfaces
The WB 7 Plus 3-in-1 is meticulously designed to be gentle on delicate surfaces such as paint, glass, and plastic, thanks to its soft brush bristles and edge protector. As a car enthusiast, I would honestly limit the use of the brush on paintwork unless needed. But great, to glass, tyres, wheels and more.
Specifications
Weight: 0.8 kg (1.4 kg with packaging)
Dimensions: 377 x 264 x 223 mm
Price: £49.99
Part Number: 2.644-374.0
Delivery: 2-5 Working Days (excluding weekends/holidays)
Personal Experience Testing The 3-in-1 Wash Brush
My Personal Experience: The Brush, The Foam, and The Magic In-Between
Cleaning a vehicle like my VW Transporter is not a one-size-fits-all endeavour, and my go-to for most washes is a gentle lambswool mitt. Yet, there are times when you need that extra punch, especially when you're dealing with stubborn grime or need a more thorough clean through the winter etc. This is precisely where the Karcher WB 7 Plus 3-in-1 wash brush comes into its own.
The Brush Experience
Though I often prefer my trusty lambswool mitt for its gentleness on my van's bodywork, I was genuinely impressed by the brush on the WB 7 Plus 3-in-1. It's perfect for those occasions when you really need a brush to get the job done. What surprised me the most was its efficacy on windows. A few strokes and swirls, and the windows were not just clean, but they seemed to sparkle more than usual. If you've struggled with water spots or bird droppings, you'll appreciate the versatility this brush brings to the table. However, rest assured, this will be a situational tool for me; the lambswool mitt is not retiring any time soon.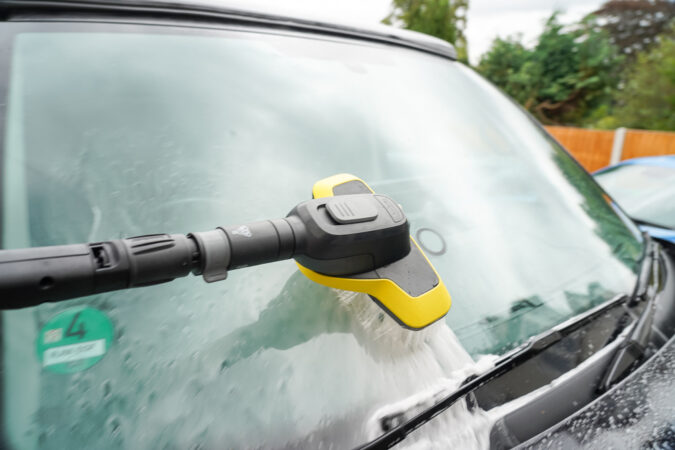 Wide-Pressure Spray for Perfect Rinsing
The wide-pressure spray function is a revelation. It provides that fine balance between potency and coverage. This feature lets you "dial-in" the intensity by adjusting your distance from the vehicle. Need to hit those stubborn wheel arch grime? Move in closer for a more focused jet. Want to rinse off the soap from the bodywork? Step back a bit for a softer, broader spray.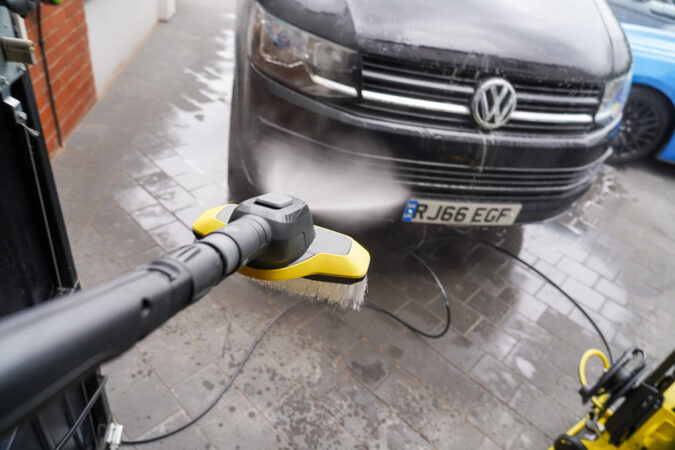 Foam Application: A Soap Opera
My favourite feature has to be the built-in detergent tank on the lance. The convenience is undeniable. No more fumbling with external soap dispensers or buckets; it's as simple as filling up the tank and letting it rip. I could easily spray soap across the entire van, top to bottom, making sure that not a single inch was left untouched. It saves time, it saves effort, and it ensures an even soap distribution for optimal cleaning. What's not to like?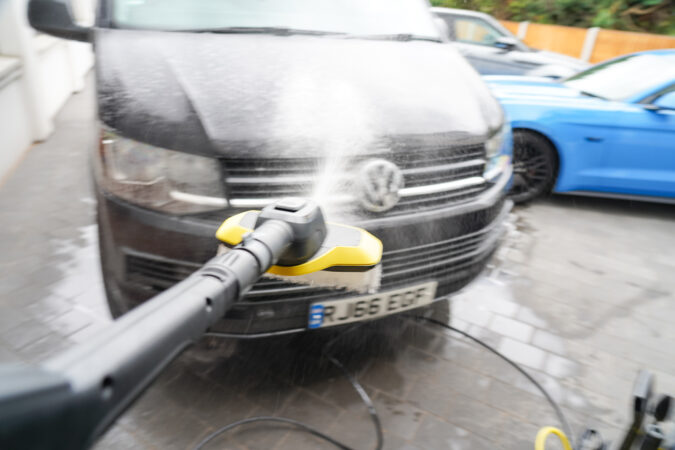 Final Thoughts Regarding Testing
The Karcher WB 7 Plus 3-in-1 wash brush is an invaluable addition to my cleaning arsenal. Though it won't replace my lambswool mitt for every wash, it has undoubtedly earned its place for those times when a brush is required. The convenience of having a wide-pressure spray and an integrated soap dispenser makes this a stellar accessory, simplifying the entire cleaning process and making it more efficient.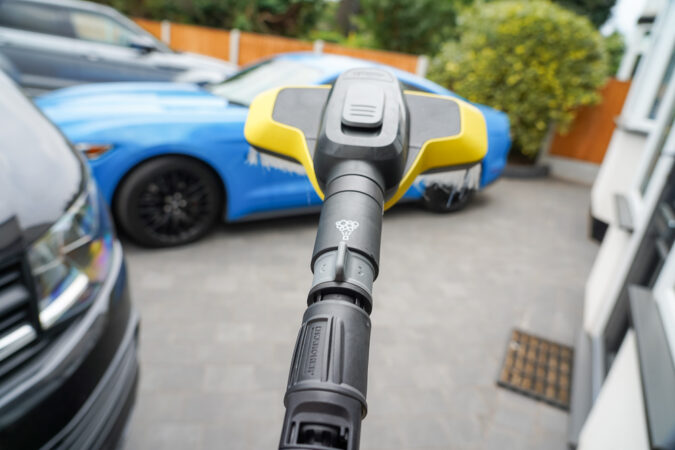 Would I recommend it? Without a shadow of a doubt. Even at £49.99, the convenience and functionality it offers make it an excellent investment for anyone serious about keeping their vehicle looking its best.
Conclusion
The Karcher WB 7 Plus 3-in-1 wash brush lives up to its promises. For a price of £49.99, you're getting an accessory that not only enhances the functionality of your Karcher pressure washer but also simplifies your entire cleaning process. In less than 30 minutes, I turned my dirt-laden VW Transporter into a shining beauty again, all without needing to change accessories even once.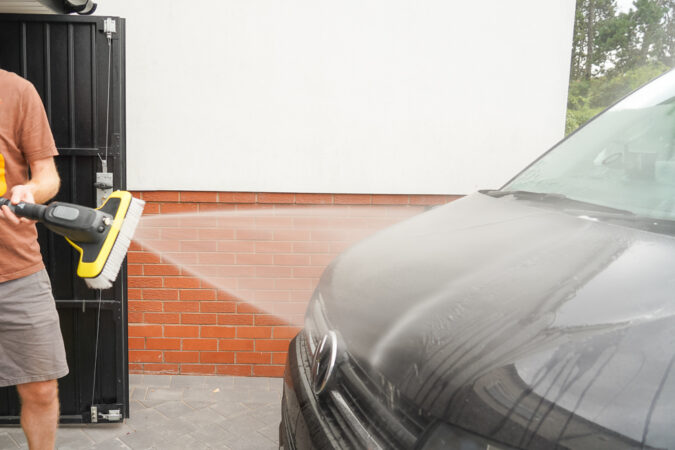 Things we like
3-in-1 functionality saves time and effort.
Built-in detergent tank is highly convenient.
Safe and effective on various surfaces.
If you're in the UK and already own a Karcher pressure washer, this accessory is practically a must-have. It does exactly what it says and does it well. This is a highly recommended product for anyone keen on maintaining their vehicles in top-notch condition.