Hold onto your hats, folks! The MINI Cooper has just unveiled its fifth-generation electric car at the IAA International Motor Show in Munich, and it's nothing short of spectacular.
Heritage Meets High-Tech
The new MINI Cooper Electric celebrates the brand's rich history while showcasing the future of driving. With two different output levels – the E and SE – drivers can expect between 190 to 250 miles of electric range, ensuring you get where you need to go without fuss.
Stefanie Wurst, Head of MINI, shared her enthusiasm for the new model, stating its perfect blend of traditional MINI DNA with innovative, future-oriented technology. Oliver Heilmer, the creative genius behind MINI's design, called their new aesthetic "Charismatic Simplicity", emphasising a clear and reduced design focus.
Redefined Exteriors
This model stays true to its MINI 3-door roots but packs a punch with its all-electric drivetrain. The new design showcases a striking new octagonal grille, hallmark MINI proportions, and those infamous MINI circular headlights with some fresh updates.
Onlookers will notice the flush door handles and missing wheel arches, as the design focuses on maximum reduction to essentials. The contrasting roof, unique three-part vehicle body division, and all-around window area still echo traditional MINI design elements, ensuring you won't miss it on the streets.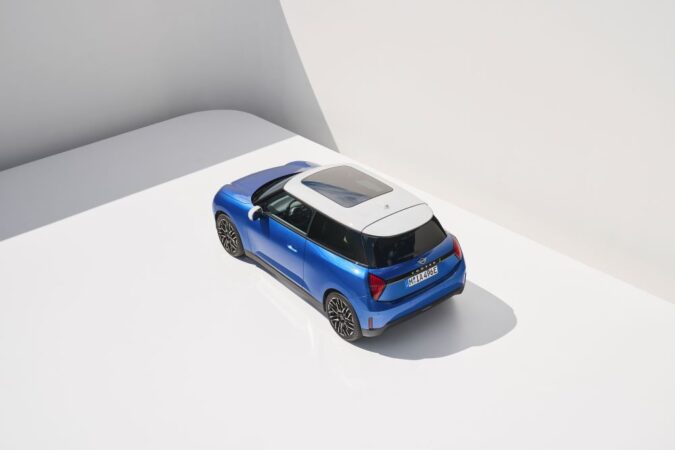 Dive into Digital Interiors
Step inside, and you'll find a minimalist yet immersive experience. The highlight? A world-first OLED display! This central display comes with a diameter of 240mm, featuring the new MINI Operating System 9. From vehicle stats to your favourite tunes, everything is accessible either through touch or voice commands.
Other novel interior features include a textile dashboard, a slim-profile air vent system, and ample storage space. The vehicle also boasts generous front seat space, ambient side lighting for those cosy night drives, and a spacious luggage compartment for all your travel needs.
Power-Packed Performance
The new MINI Cooper Electric offers two power variants. The Cooper E, with a 40.7 kWh battery, provides a range of up to 190 miles, boasting a 0-62mph in 7.3 seconds. For those craving a bit more oomph, the Cooper SE sprints from 0-62mph in a mere 6.7 seconds, thanks to its 54.2 kWh battery, and promises a max range of 250 miles.
Driving enthusiasts will be pleased to note that this MINI hasn't compromised on driving dynamics. Its increased track width and wheelbase, combined with a newly tuned suspension, ensure a smooth and precise drive.
And let's not forget the MINI Experience Modes which promise a tailored driving experience – whether you're in the mood for some go-kart fun or just want to cruise efficiently.
Simplified Charging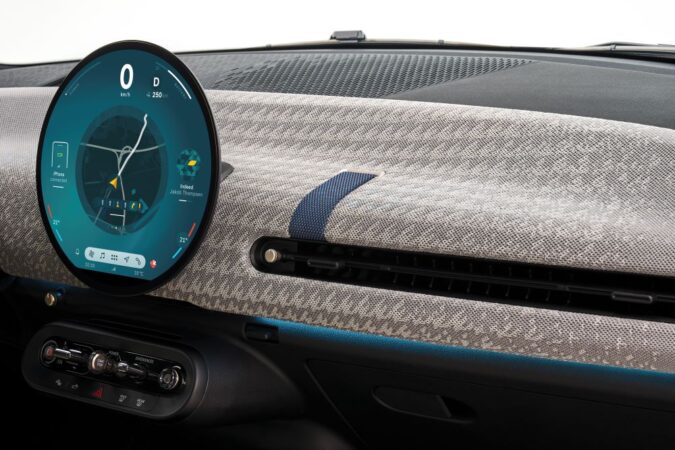 No more fussing over charging cables and hunting for stations. The MINI Cooper ensures efficient and versatile charging options, ranging from 11 kW AC charging to a zippy 95 kW DC charging. At a fast-charging station, you can get the battery from 10 to 80 per cent in under 30 minutes.
Plus, with the MINI Navigation and App, you can optimise your charging time and even precondition your vehicle for a drive.
Personalise Your MINI
And if all this wasn't enough, you can customise your MINI Cooper Electric with three newly designed trims: Classic, Exclusive, and Sport. Whether you fancy a modern 2D knitted textile or a sporty Chili Red roof, MINI's got you covered.
Available for purchase from £30,000, the first customer deliveries are expected to roll out in spring 2024. So, gear up (or not, since there's no gearstick!) and get ready to drive into the future with the new MINI Cooper Electric.