SUVs these days are all the same, I can hear you crying out. And to be fair, quite a few of them share a familiar shape. Big, boxy, tall, and a dash or two of sporting design cues. But in the end, looking over a parking lot in the 2020s is somewhat uninspiring. At least, until you gaze that bit deeper and find a Genesis GV70. As quirky as it might seem, does it really stand out with distinction and awe?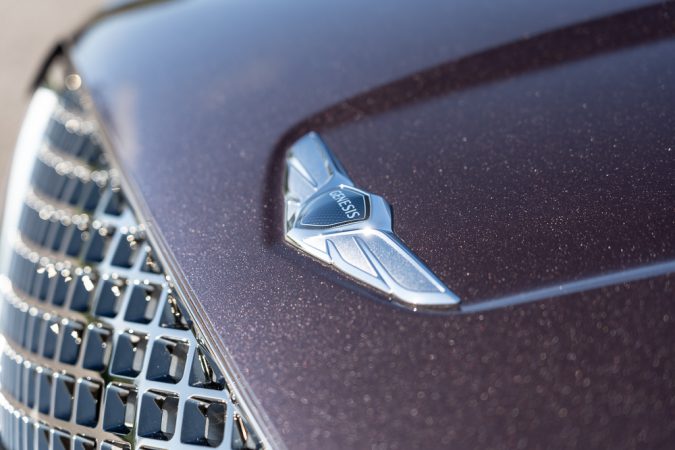 The GV70 is both Genesis' smallest SUV – and thus the entry-level high-rider to the marque – as well as its first foray into the cash cows that modern SUVs have become. But in a world where everyone's tripping head over heels over SUVs, how can "low brand recognition" companies like Genesis compete? Why don't you go for an SUV from a German brand instead? Well, the GV70 isn't just any cookie-cutter SUV.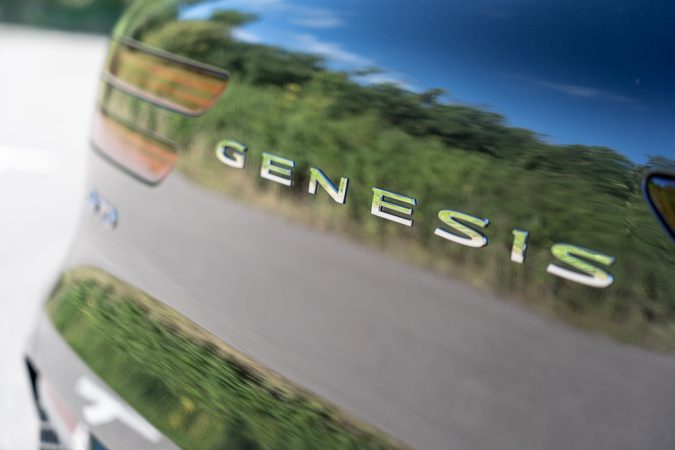 What Is The Genesis GV70 Luxury Line About?
What better way to assess the GV70 than checking out how it looks. In our particular case, our GV70 Luxury Line has eschewed aggressive sportiness with timeless elegance. You know what… We kind of like it. Admittedly, it may take a while for the looks to start growing on you. That's especially so for us Brits, given that Genesis never had a strong market presence in our backyard before this.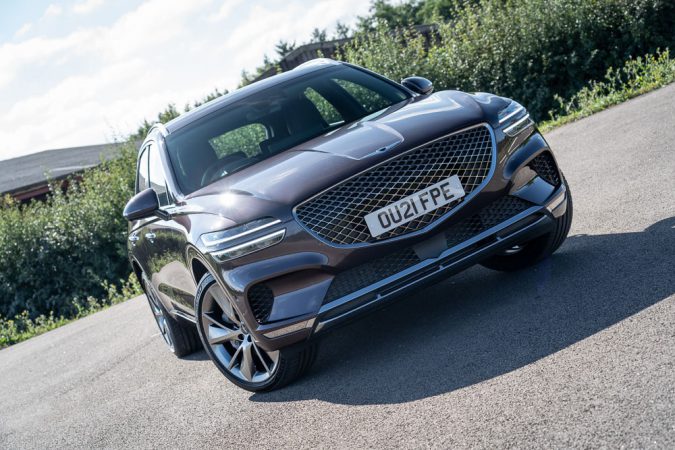 As such, no one really knows about this whole Genesis thing until recently. Consequently, Genesis needed to build a distinctive face to let everyone know just what's up. The GV70, we feel, has been able to accomplish that. It does catch people's attention in a good way. It can leave them confused sometimes… Is that a new Audi or Lexus, they ask? That said, they've created a distinct look.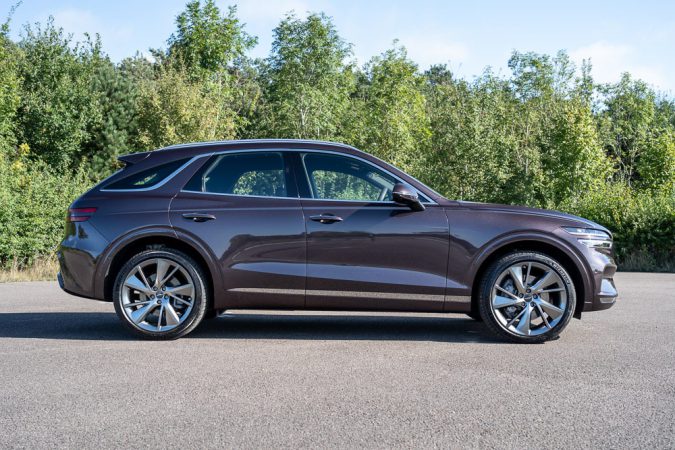 There's a big grille up on the nose, which appears to be the trend these days. Flanking them are a set of quirky split headlights, as all Genesis cars do. This does give it a unique lighting signature that you won't find on a BMW or a Merc. The rear is a tasty treat too, with luscious curvature that reminds me of a Porsche Macan or a Taycan. Okay, so maybe all SUVs prescribe to a similar silhouette.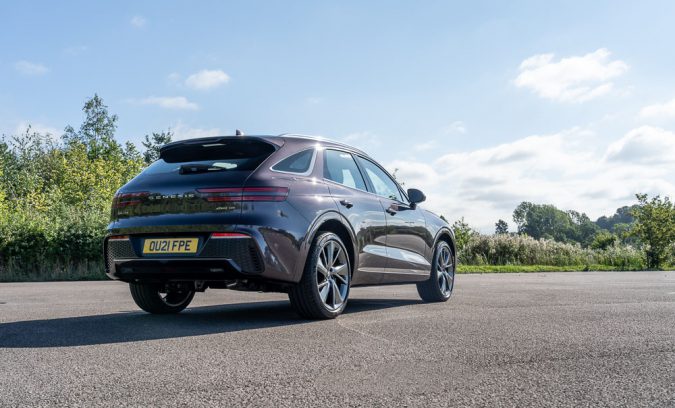 How Does It Drive?
Another familiarity with other large-ish SUVs is how the GV70 drives. This is most apparent in our car here, with its 2.2-litre diesel inline-4. It can output a frankly average 210PS, which was weighed down heavily by its mass. But being a diesel means that it has plenty of low-down grunt, as it pushes you on with all 440Nm of torques. A 0 to 62mph sprint can be done in around 7.9 seconds.
Give it a piece of tarmac long enough, and the GV70 should reach 133mph. Altogether, they're not trailblazing speeds, and more so when you compare it against some of the GV70's sportier rivals. It does, at least, drive rather well and is on par with the competition. Barring the athleticism, it wafts along with a degree of comfort and refinement that you'd expect from this price point or higher.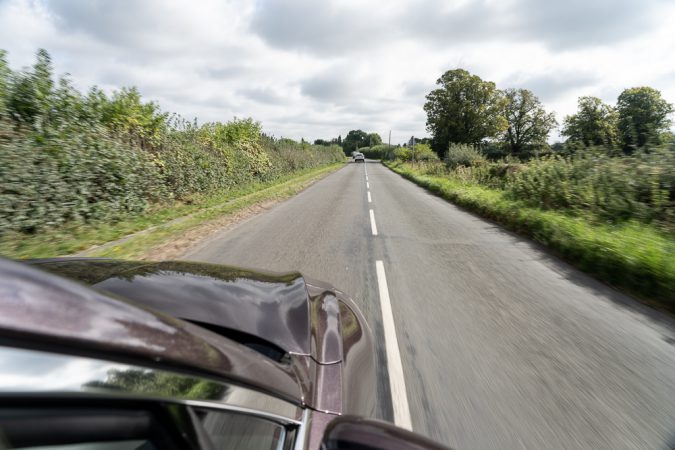 It rides exceptionally, with fantastic damping all-around – though we'll explain more on the tech later on. There isn't that much keenness as you stamp down on the throttle. It's just that bit lazy to get off the line. The 8-speed automatic shifts seamlessly, but it's hardly sporty. Now, and despite the heft of this thing, the GV70 is confidence-inspiring. For its target audience, this is a crucial factor.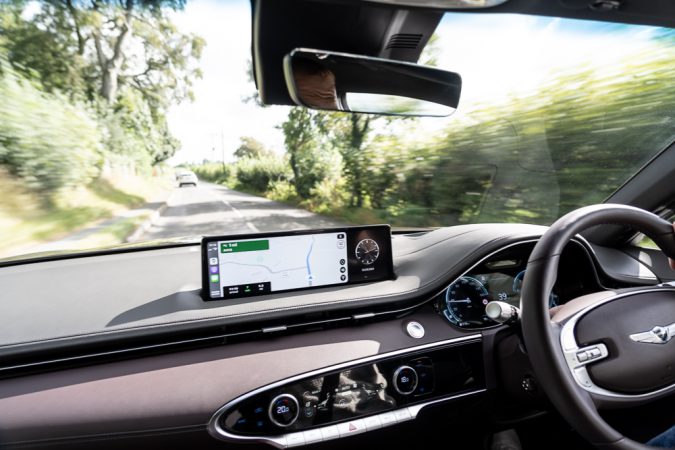 Paired with all-wheel drive, it tracks neatly on the road, with ample grip and poise. You can manage the drive-slash-terrain modes as well, so it can get down and dirty if you need it to. The GV70 isn't by any stretch of the imagination a hardcore off-roader. With that in mind, it's a great do-it-all cruiser and daily driver that's perfect for any road conditions or when the weather turns nasty.
What Is It Like Inside?
Front and centre, the cabin is dominated by an extensively landscape 14.5-inch infotainment screen, which has been an absolute joy to use. This is a great benchmark for how all infotainments should be like to be classified as 'good'. The display is sharp and crisply clear, as it animates pixels responsively. The actual user interface is well laid out and designed, and its horizontal placement works wonders.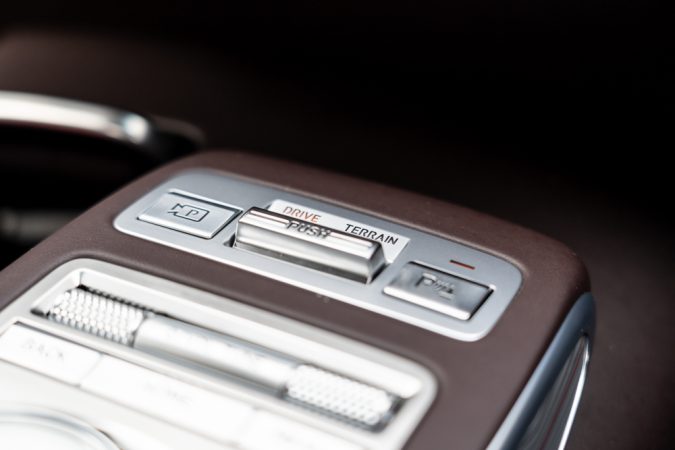 It's neither distracting you from what's ahead nor does it constrain your use of the system. Plus, it's jampacked with features like a 360° camera, which makes parking a breeze. Plus, there's a cool little augmented reality feature that works alongside the satnav to better guide you long. Trust me, once you're used to seeing large arrows floating around, a simple 2D map will never be the same again.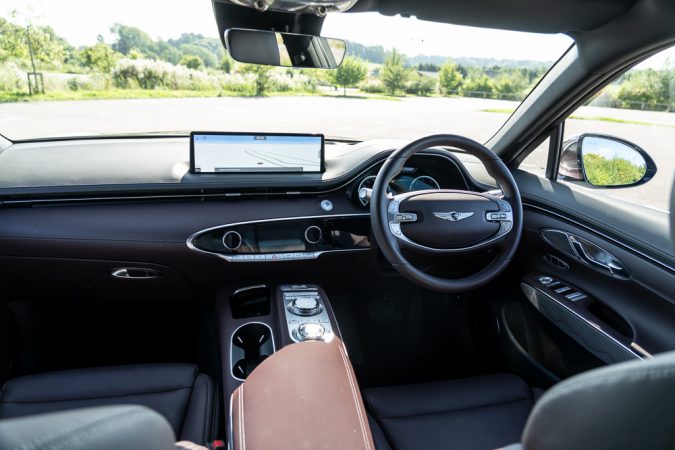 Before your very eyes, you then have a digital driver's display that's just as fantastic to gaze at as it is to use. The GV70's dash, for starters, has a 3D effect which is more than just a fancy gimmick. Alas, photos can't do it justice, and it's quite practical. It can track the movement of your eyes, as the dash adjusts the information on display accordingly to optimise the 3d effect.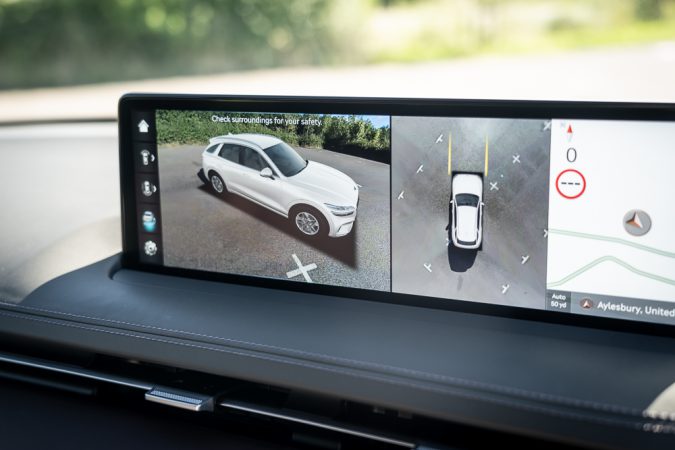 Moving along, the rest of the interior is as neat of a place to spend time in as you'd hope. Unlike its Hyundai or Kia siblings – which are all a part of the same company as Genesis – the GV70 is no doubt more upscale. Right away, you can feel the lovely leather, paired with cold-to-the-touch metal and aluminium trim. The quality and attention to detail are superb, and a rarity in most of its rivals.
Even the window switches are meticulously machined. The interior design as a whole has a lounge-like vibe to it that makes it a cosy place to be. It does appear as though Genesis has tried to reinvent the (steering) wheel with the GV70, which we don't like much. There's just something about the way in which you have to hold between the two spokes that are a tad awkward.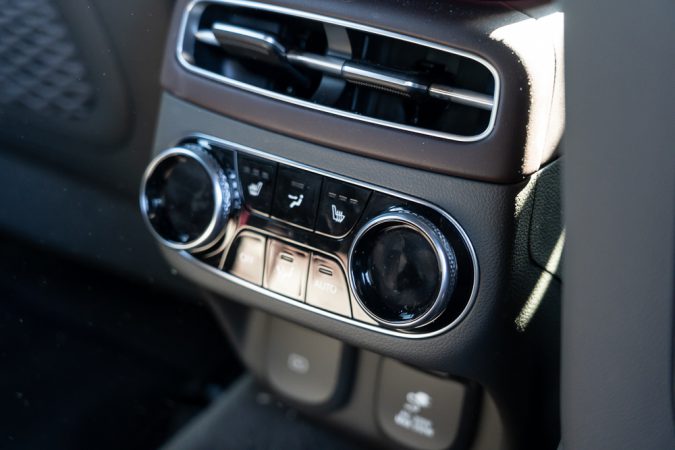 The Experience
Aside from the peculiarities of its steering wheel, the rest of the experience is quite nice. Legroom front and back are plentiful. Additionally, you'll be left with an equally enormous boot space to carry all your IKEA flatpacks. Now, back to the main focus of the GV70, and that's the tech. Despite their relative newness as a brand, Genesis hasn't been sitting still on their adoption of technology.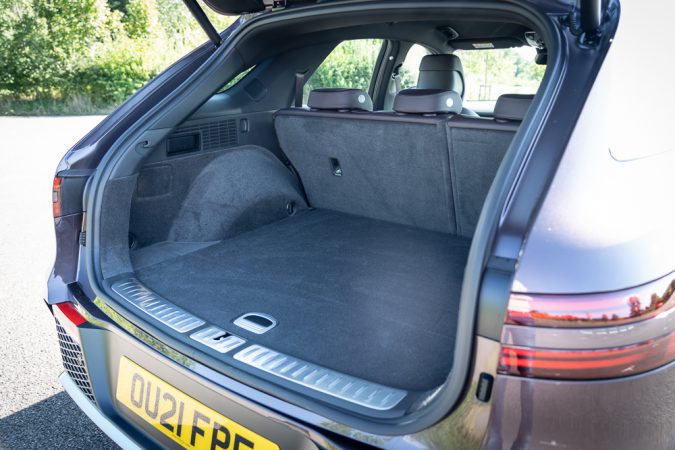 If anything, they've gone leaps and bounds ahead. Besides, modern luxury automobiles live and die on how much customers adore the tech that goes into them. If that's the case, the GV70 needn't have to worry, as it's among the most tech-heavy contenders in its class. The first that you'll come across is the remote smart parking feature, which can be activated and controlled from the key.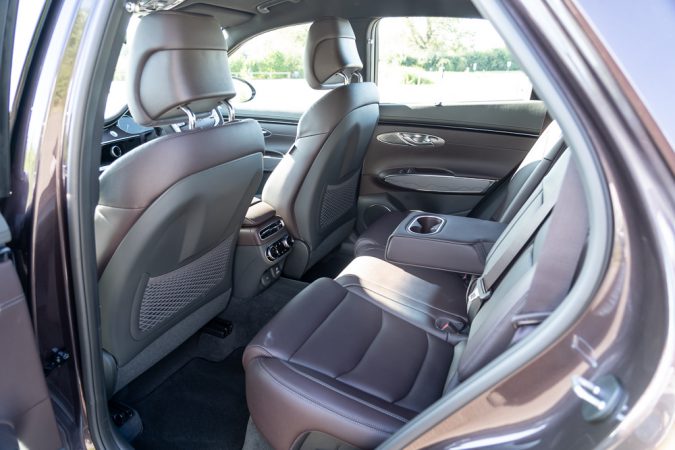 You can remotely manoeuvre your car forwards and back. We imagine that'll be quite useful in those tight parking spaces. There's a plethora of ultra-clever adaptive cruise, lane-keep assistance, and an "autonomous" lane-changing system. Another amazing little display of Genesis' tech tour de force is found at the front. Here, you'll find a bunch of sensors and cameras that work alongside the GPS.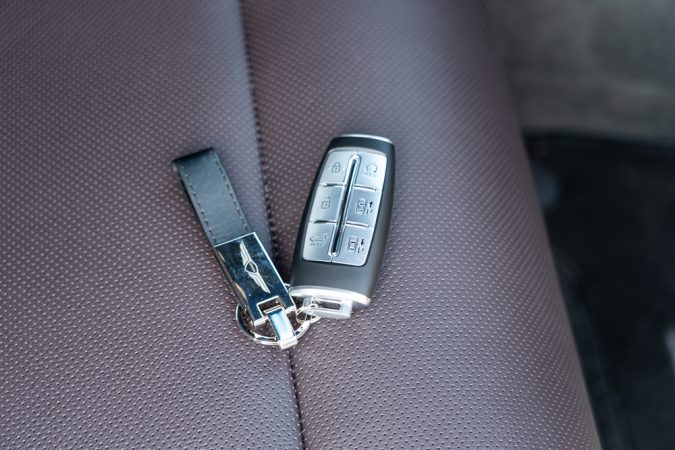 Combined, it can pre-emptively adjust the air suspension on the fly, as it can read what the roads up ahead are going to be like. So, if the computers sense that the road up ahead is littered with speed bumps or potholes, the damping slackens off. This adds a bit more cushion to the ride. Once the road straightens out again, the suspension will harden back up for optimal performance and grip.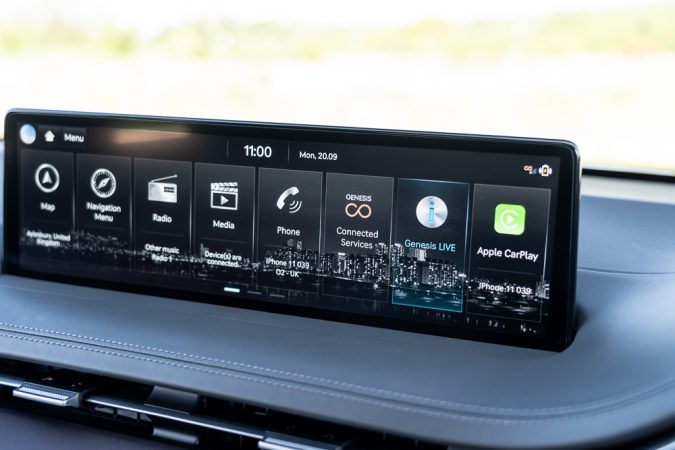 All of this adapts to what it senses up ahead, without you needing to press or adjust any settings by yourself. Truly astounding stuff. Other than that, you also have safety tech inside the GV70, such as a rear occupancy alert. If you've left a child, dog, or a bag in the rear seats, it'll chime. This is its way of politely telling you, "Hey, you left something back there that I think you should check".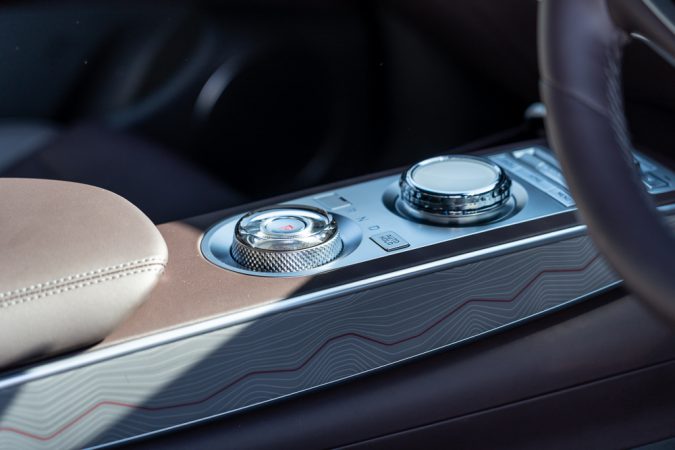 Genesis GV70 Luxury Line Cost
The GV70 line-up starts at around £42,820. Our example here, as you see it, costs £50,620 OTR. This is thanks to a few optional extras, the heavyweight of which is the Innovation Pack. It consists of the techy bits and bobs – just a few of them, though – that we've gushed over before. It'll set you back a whopping £4,190, though we do think it's worthwhile given its practicality and safety benefits.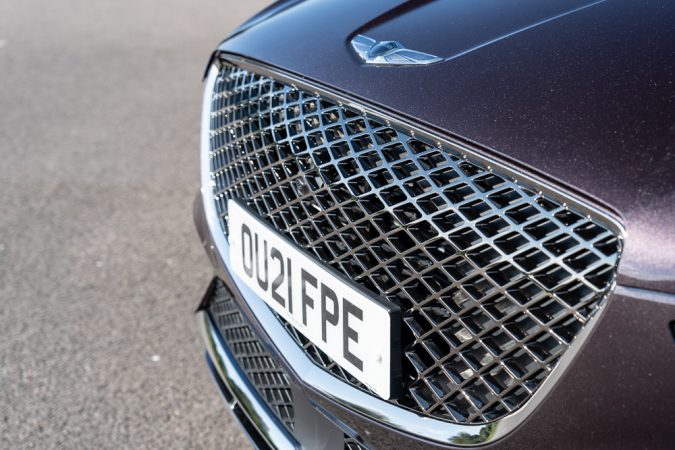 It'll pay dividends right away. The comfort seat pack, which our bums highly approved of, is another £1,470, as the booming Lexicon audio system is an extra £790. Then, there's £1,460 for the sunroof, £450 for an E-LSD (electronic limited-slip differential), and a few more boxes ticked here and there. Oh, and let us not forget this gorgeously rich Barossa Burgundy paintwork, which will cost you £750.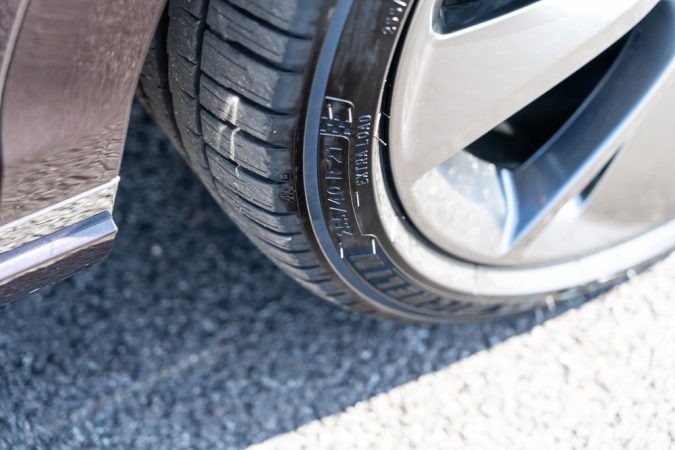 Genesis does have a featureful 5-year care plan to make that pill a tad less bitter. It includes a 5-year coverage for warranty, servicing, roadside assistance, courtesy cars, as well as OTA updates. On top of that, you have peace of mind knowing that Genesis makes some of the most reliable cars on the market right now. As a package, the GV70 is quite a good bang-for-buck SUV.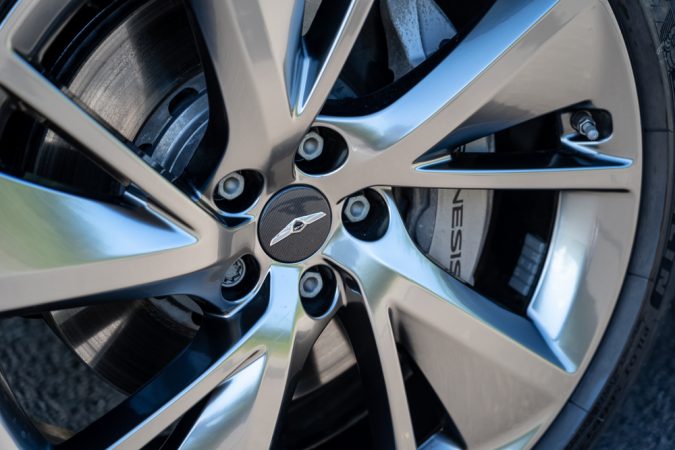 Verdict
Truthfully, SUVs – and cars in general – have gotten so good nowadays, that it's difficult to find a bad one. The GV70, nevertheless, is among the best of the better ones out there. As an SUV, it excels in all the things that matter most to you. It's practical, with an abundance of nice-to-haves which make driving and owning it that much easier. As a daily driver, it's comforting, quiet, and refined.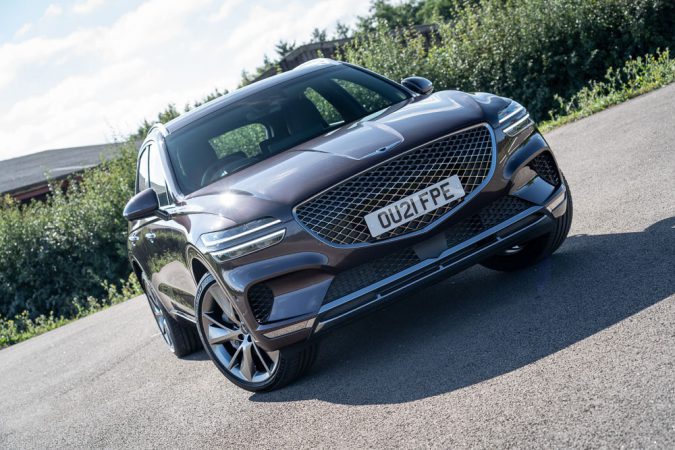 You also have that safety net of all the electronics keeping a check on you, and your occupants. All this tech is amazing and often beats out the competition. It's those smaller details where the GV70 can edge out a lead over an equivalent Audi, BMW, or Mercedes. Unfortunately, sportiness is not a trait that is present in the GV70. If you don't care about that, there's little that you can fault the GV70 for.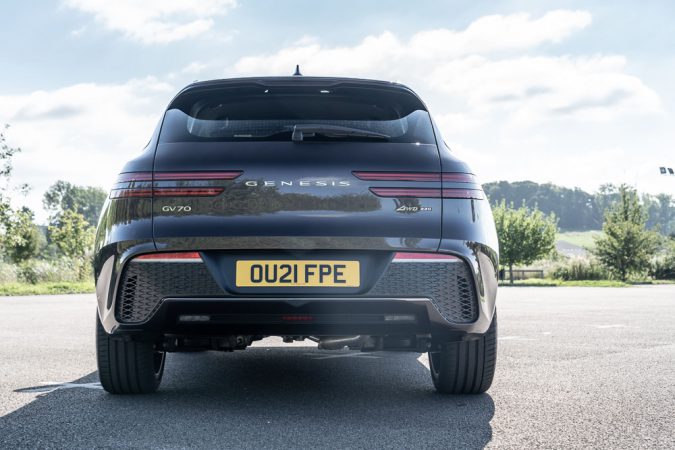 Genesis GV70 Luxury Line Specs

Price: £50,620
Engine: 2.2-Litre Diesel Inline-4
Power: 210PS
Torque: 440Nm
Transmission: 8-Speed Automatic
0-62mph: 7.9 seconds
Top speed: 133mph
Weight: 2,010kg
Economy combined: 41.06mpg
CO2: 189g/km