Even though enthusiasts like you and I typically dismiss this SUV-crazed world that we live in today, a more rational mind can see plenty of reasons why they exist. They're massively practical and capable, and offer you that do-everything functionality that few other vehicles could manage. Still, most SUVs can be a tad boring or cookie-cutter, which is a trap that Honda has avoided with its new HR-V.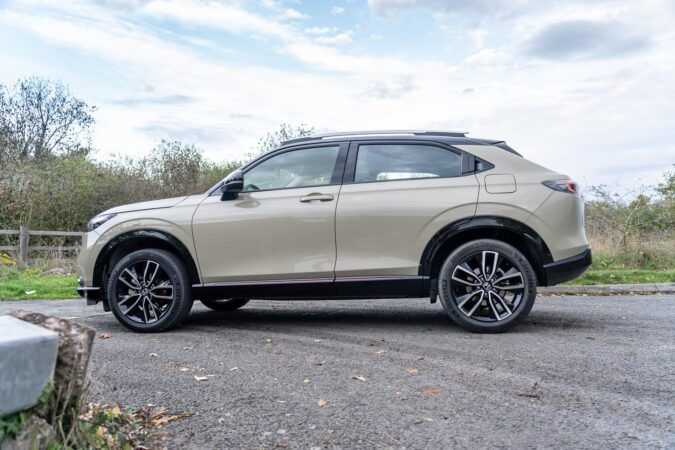 What we're seeing here is a brand-new, fully-redesigned HR-V – not merely a facelift, mind. I think we can both agree that it's no doubt one of the boldest and most striking crossover SUVs to come out as of late. In itself, the all-new HR-V is a major shift in design and aesthetics compared to its outgoing predecessors. Nevertheless, is this HR-V compelling enough compared to other options out there?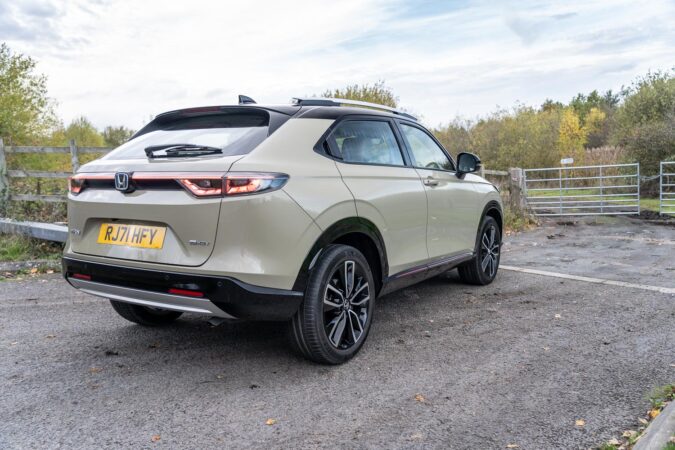 What Is The Honda HR-V Advance Style About?
Speaking of, it's pretty hard to overlook this new HR-V's looks, which I think Honda's worked miracles with. It has a simpler, cleaner, and cyberpunk-esque silhouette compared to the rounded looks of the outgoing HR-V. Technically, the new HR-V has a lower roof height than the old HR-V. Though, it'll not affect interior space one bit – as we'll look at later. So then, let's talk about this odd paintwork.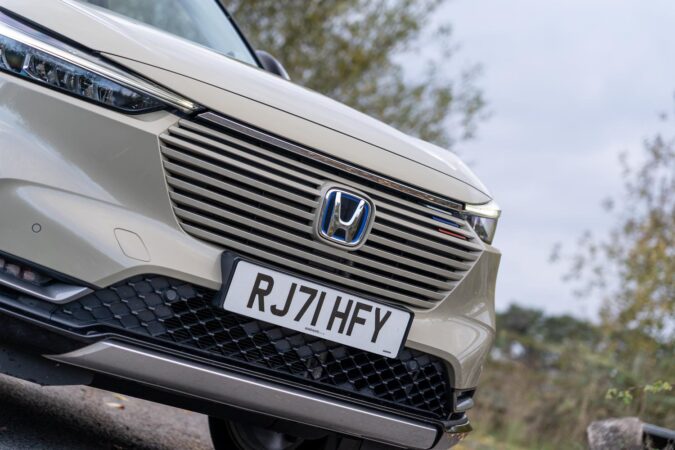 Ours came in a two-tone finish that pairs a black contrasting roof and a Sand Khaki Pearl paint. That makes for quite a distinct colour combination among the many black, silver, grey, and white Hondas out there. I'm not sure if I like it (which frankly looks better in the photos, I find), but you might. This HR-V here features the top-end Advance Style trim, as you might notice with those subtle accents.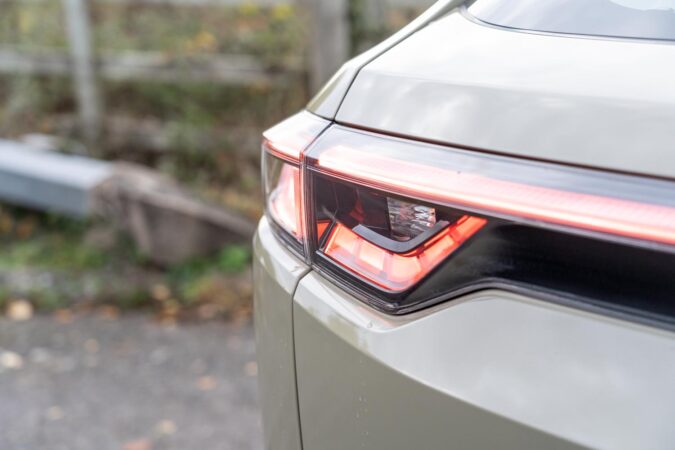 How Does It Drive?
Besides the exterior, the HR-V's innards also had a complete overhaul when put next to the outgoing models. You'll now find a 1.5-litre petrol engine that's powered in tandem with Honda's clever e-HEV hybrid system. This is then mated to an e-CVT gearbox. It's hardly the fastest car in the world, with a relaxed 0-62mph time of 10.7 seconds, courtesy of 131ps and 235Nm of torque from that hybrid powertrain.
But then again, that's never been the main point of the HR-V, being Honda's quintessential compact urban runabout. Rather than outright speed, the new HR-V trades power for good fuel economy. Its MPGs are handily in the 50s with mixed driving. Although, if you're careful enough with the throttle, you could even get it into the 60s and beyond. This is partly thanks to its relatively low kerb weight.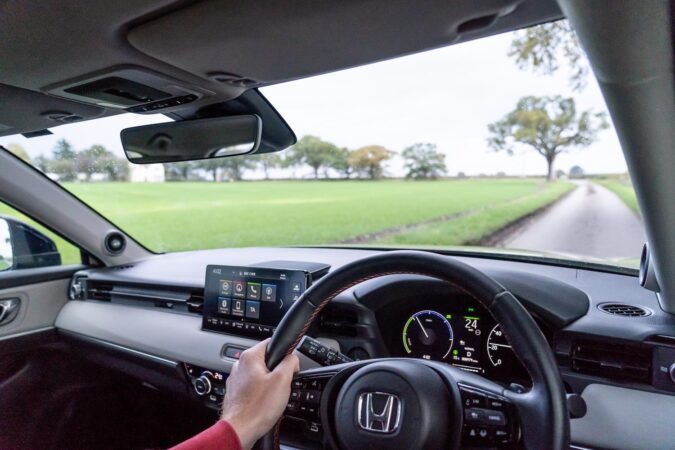 I guess that's one huge upside to choosing a hybrid over a full EV – the lack of a massive battery pack weighing you down. In day-to-day driving, the new HR-V is an ideal 'no thoughts, head empty' sort of car. In other words, all you need to do is jump in and go… Without having to play around with setting this thing up or configuring that to work. Nor, do you have to worry about its hybrid powertrain.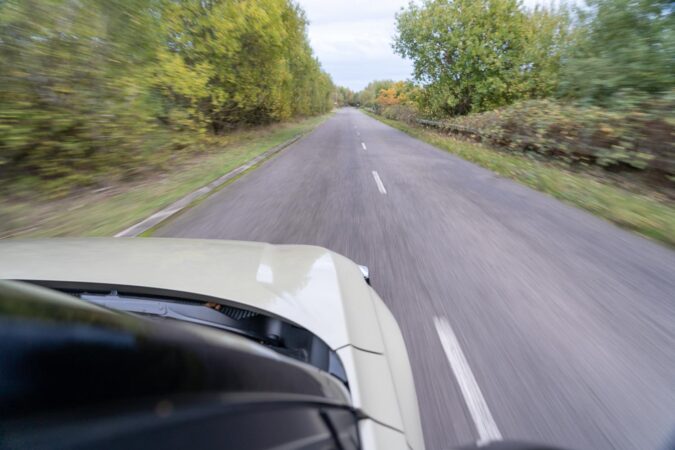 Even if you've never driven a hybrid vehicle before, the HR-V feels natural. For the most part, the hybrid system manages itself automatically depending on the situation. As such, it regularly switches between the ICE engine and the electric motor, without needing you to manually engage anything. A good example would be in slower environments manoeuvring about while you're in town or trekking city streets.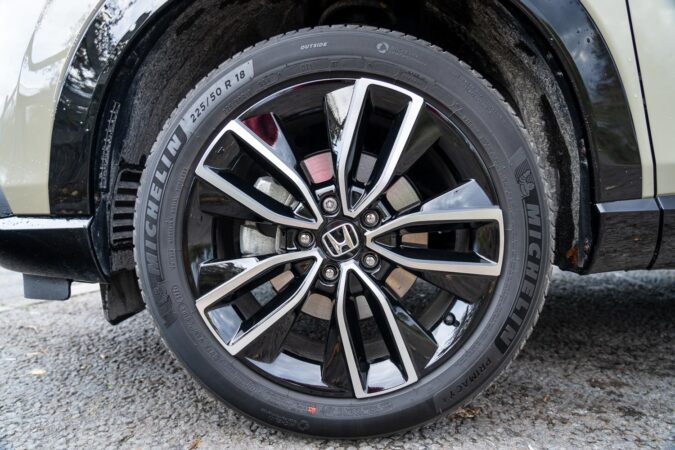 If you're cruising gently or letting off the throttle, the electrified parts of the hybrid take most of the reigns. Therefore, letting you drive more quietly and without burning too much fuel. But, should you need more horsepower while overtaking, for example, the 1.5-litre four-cylinder comes back alive to provide an added boost of speed. Thus, the benefits of its hybrid are more noticeable at slow speeds.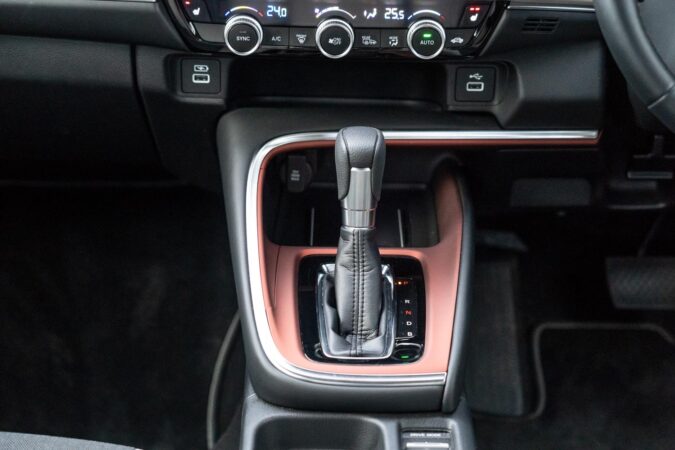 That's when the HR-V is mostly running on its electric motor. In practice, you really don't feel any of the harshness or jerkiness that can sometimes make itself known in an ICE-only vehicle. In all, you'd have the best of both worlds… Maximal MPGs, lower emissions, decent performance, and peace of mind knowing that a quick top-up of fuel will do, instead of having to wait an hour to charge it.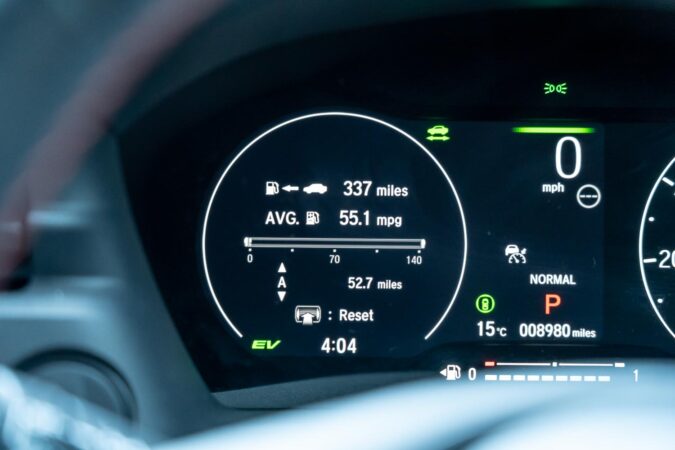 The new HR-V is certainly an enjoyable SUV to drive without overwhelming you with its hybrid-ness. In addition, you're further rewarded in the comfort department, letting you drive around cosily and quietly, ensuring that you stay refreshed even after a long motorway drive. That's mostly thanks to the superb fine-tuning of the chassis and suspension. You could even turn on one-pedal driving for effortless motoring.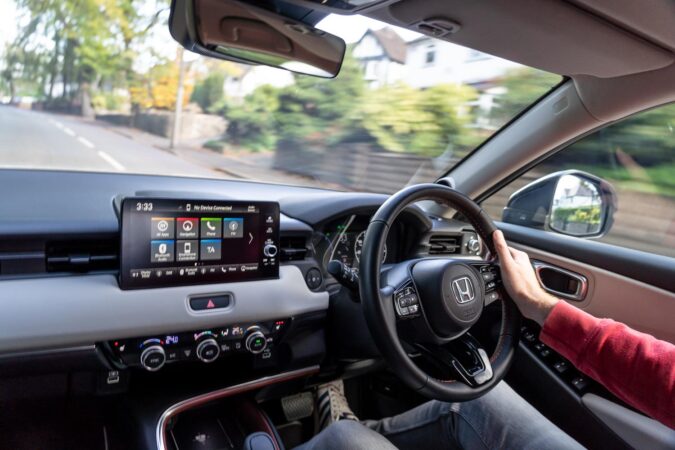 What Is It Like Inside?
Another major mark of improvement over the old HR-V is the interior fit and finish. If you've stepped inside the new Civic, then this should feel quite familiar. The 9-inch central infotainment display is as large and as accessible as you'd want it to be. Plus, with a user interface that's pleasingly intuitive and easy to use. Or, you could pair it and sync it with Apple CarPlay and Android Auto, if you need to.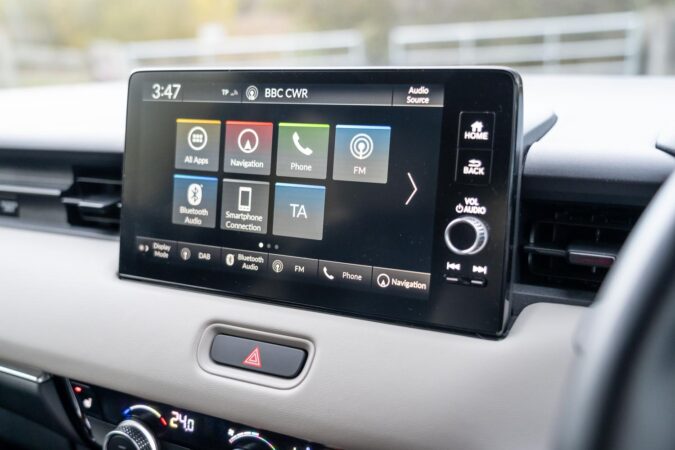 The same goes for the (mostly) digital gauge cluster, which is perfectly functional when you need to glance at details while on the move. One more neat touch is Honda's insistence on using physical buttons, switches, and knobs for practically most of your in-car controls. No matter how you look at it, you can't ever get the right feel or tactile feedback with capacitive, touch-sensitive buttons.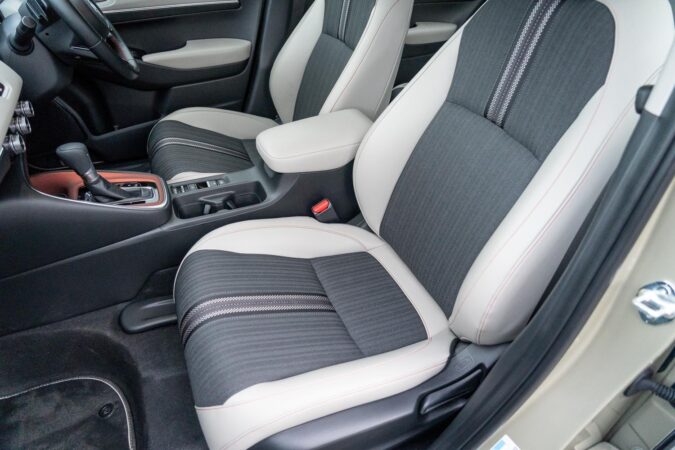 Sitting inside, you definitely get a more premium and luxurious feel from the new HR-V, especially in those sort and comfy seats. The rest of the cabin is equally as well-appointed, too. Moving on to the more practical stuff, the HR-V is shockingly spacious for a compact crossover SUV. Rear legroom and headroom are really good, with even more luggage-slash-cargo space further in the back.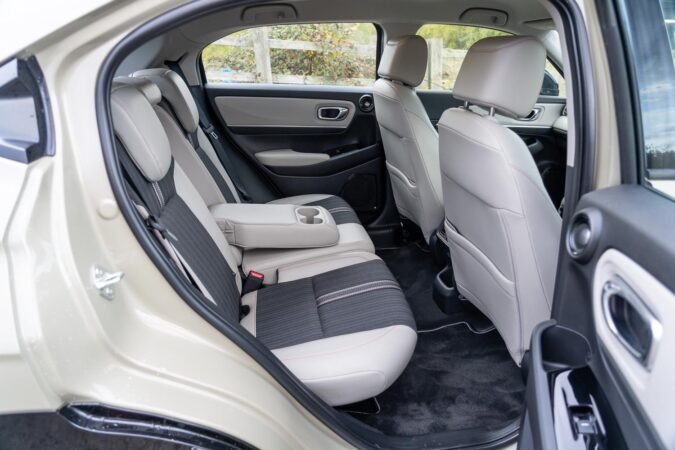 Functionally, the HR-V is very practical, including for all you parents out there. Fitting child seats in the rear and stuffing in a stroller becomes second nature. Then, there are the tiny details that you'd really only notice on a brochure but can make a noticeable difference as you spend more time with it. For instance, there are Honda's stabilising front seats to help minimise fatigue.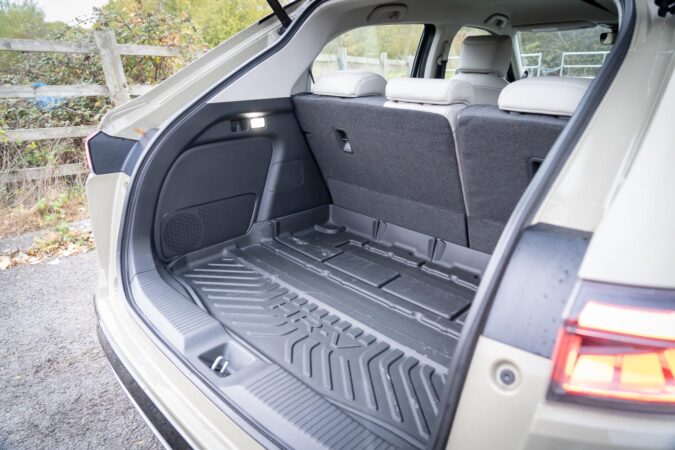 Or, its Air Diffusion System to make the air-con somehow more comforting to relax with. Or, you can make good use of Honda's handy seat-folding arrangement. The latter allows you to basically have a flat floor when you're folding the rear seats down, just to make it easier to load cargo into. In all, the updated Honda HR-V is as perfect of a daily driver as there can be. But what else does it offer?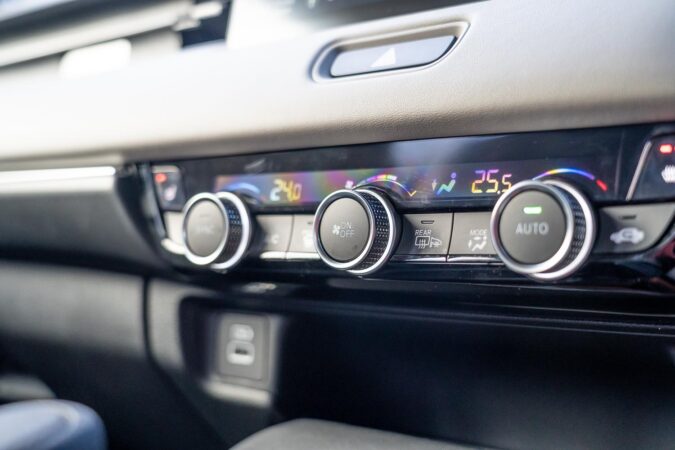 The Experience
As far as tech goes, the rear parking cameras are something that I feel I'd have to mention. It works rather simply, though there are adjustments for the viewing angle. With a wider view, this does make things a lot easier when you're trying to reverse or manoeuvre a tight parking space. Elsewhere, its gadgets and electronics are other noteworthy highlights of the HR-V, which is fairly impressive.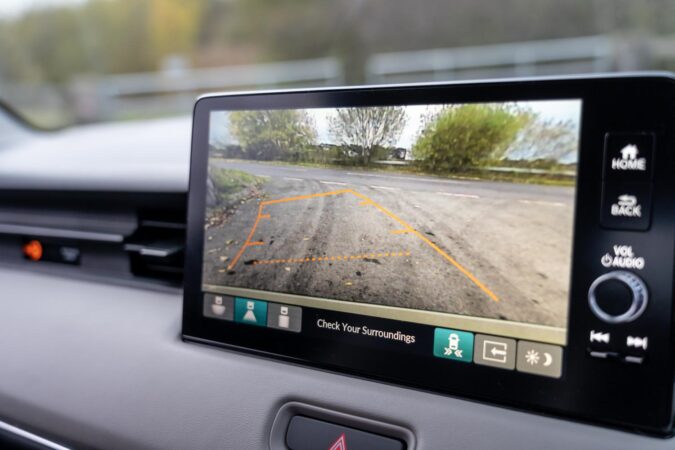 The HR-V comes with Honda's SENSING suite of advanced driver aids and active safety systems. This is made even better as Honda continually enhances it over time. In the new HR-V, it can recognise what's around you a bit better than before. As well as, affording you a much better view out when it goes dark with its impressive headlights.
Honda HR-V Advance Style Cost
Given that the Advance Style trim is (thus far, anyway) the highest available trim level for the HR-V in the UK, it comes with a lot of goodies. That includes a heated steering wheel, which is nice to have in those cold winters. Tech-wise, you're getting a wireless charging pad and a premium sound system. If you can't afford the Advance and Advance Style, the entry-level Elegance variant offers a lot, too.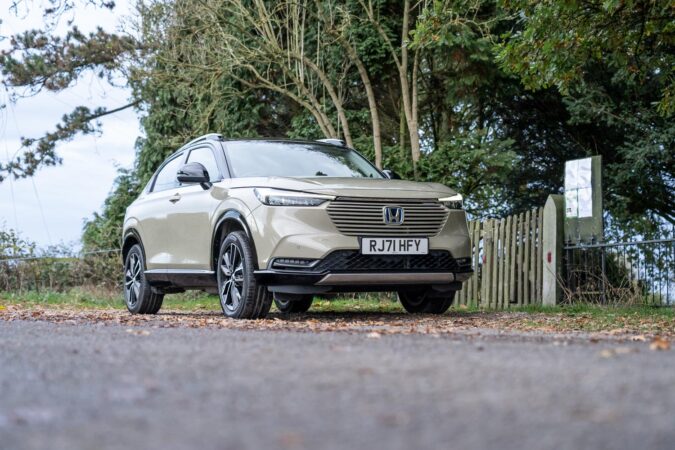 Most of it even comes by default. The rear-view camera system, Honda SENSING suite, 9-inch infotainment, air diffusion system, and more are standard. But as you see it here, our Advance Style-trimmed HR-V would set you back £34,850 – it didn't come with paid optional extras. If you ask me, it's a great price for what you're getting in return… Basically a complete package for what a commuter car ideally can be.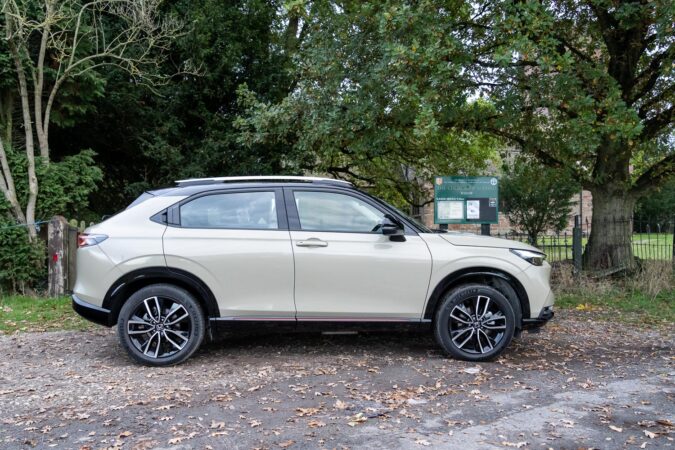 Verdict
In conclusion, this new Honda HR-V is the sort of car that does everything you need a car to do. With that in mind, it essentially achieves the same goals that the old HR-V had set out (which it did pretty well at). The biggest difference here is that this formula has been modernised and made into a much more contemporary vehicle. It looks nicer, has more tech, is rather luxurious, and drives well.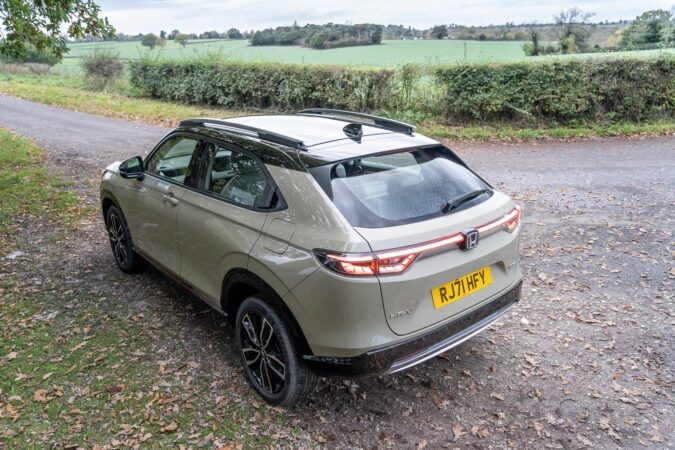 You could say that the Honda HR-V has matured, fitting for a new age where there's so much rivalry in the compact SUV segment. It's the perfect go-anywhere-mobile for a small family, or if you want a daily driver that does everything that's asked as effortlessly as possible. And hey, if you're not ready to step into a trend-shifting electric car, Honda's e:HEV hybrids are a fantastic stepping stone.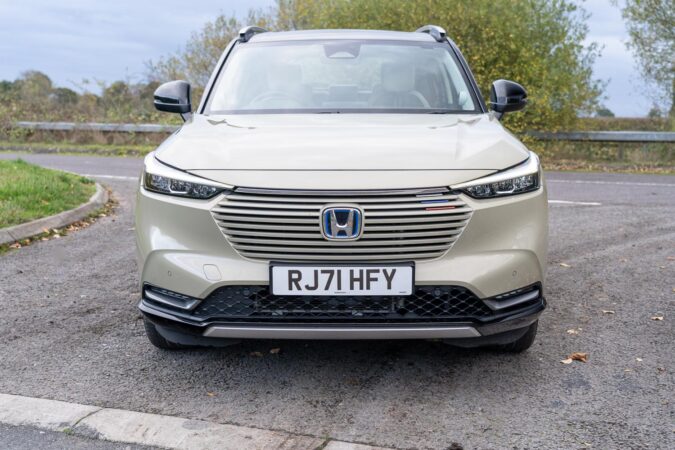 Specification
Honda HR-V Advance Style Specs

Price: £34,850
Engine: 1.5-litre e:HEV hybrid
Power: 129bhp
Torque: 253Nm
Transmission: e-CVT
0-62mph: 10.7 seconds
Top speed: 106mph
Weight: 1,380-1,401kg
Economy combined: 52.3mpg
CO2: 122g/km