Suzuki sits firmly in our imaginary hall of fame as one of the most interesting carmakers to have ever existed. A company, in fact, which started as a loom works factory weaving textiles 111 years ago. Since then, Suzuki has dabbled in everything from making cutesy microcars to high-octane outboard engines for boats. In Japanese culture, there is a concept of life called, 'kaizen'. It's a teaching where one strives to make continuous improvements and changes in their lifestyle, all for the better.
Following this centenary celebration for Suzuki, they took some time to think over all which they've been able to accomplish in the last century, and see where to head to next. So, where will kaizen take Suzuki to now, in the following 100 years? In an era that is constantly shifting beneath our feet, from practising sustainability, electrification, and emerging technologies, how can the plucky Suzuki company evolve? To see where they may land tomorrow, it's worth looking at how they came to be.
From Humble Beginnings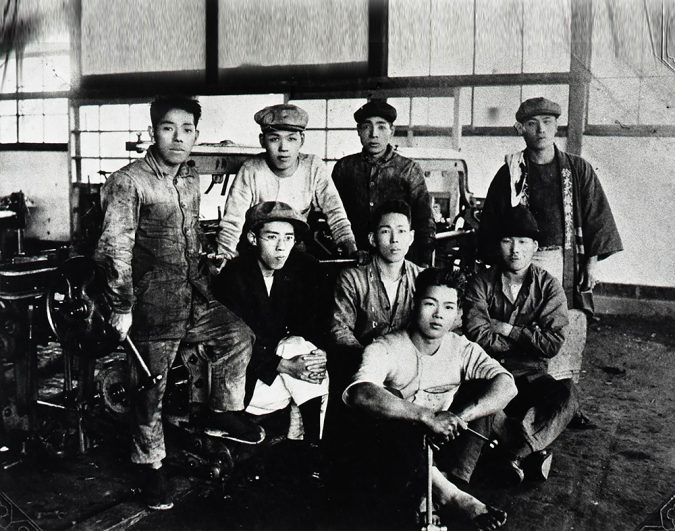 Suzuki was born, quite literally, from very humble beginnings. The namesake founder, Michio Suzuki, spent a lot of time watching his mother weave cloth. Such a simple task took a lot of effort back then, using manual shuttle devices to load cotton, and requiring plenty of muscle to even work it. Inspired by this, Mr Suzuki created an advanced automated thread loading system, and patented it in 1909. Weavers, like his beloved mother, could weave cloth 10-times faster and is far less fatiguing.
What started as an invention to help his mother then became a large textiles manufacturer in 1920, as it was known as the Suzuki Loom Manufacturing Co. Mr Suzuki's looms, ever as reliable and easy to use as his eponymous cars were decades later, spread far and wide. From plain white fabrics, he then evolved his machines to weave coloured stripes and patterns. It took a little while longer, in 1937, Michio Suzuki finally started working on cars to meet rising demand.
However, there was a problem. By then, Suzuki had already designed and built two prototypes for his innovative small cars. But they were deemed as a "non-essential commodity" by the Japanese government, as the Second World War loomed over the horizon. It's a shame too, as these compact motorcars were very clever for their day. With a cast aluminium crankcase and gearbox, it had an 800c liquid-cooled, four-stroke, and four-cylinder engine. At its peak, it can output a respectable 13hp.
A Rocky Restart
After World War Two was over, the Suzuki company swapped factories several times owing to extensive war damage. They later went back to making looms, which was all fine until the cotton market crashed in 1951. Rather than go bankrupt, Mr Suzuki brought his son, Shunzo, and went back into transportation. The first motorised vehicle by the brand was a motorcycle. Shunzo thought that life would be a lot easier if there was a tiny engine attached to his bicycle.
He would be correct, as the 'Power Free' 36cc motorcycle was launched in 1952. Uniquely, it could be ridden fully- or semi-motorised, or simply by using the pedals like a bicycle. More powerful engines came along, with its successor, the Diamond Free arriving in 1953. It had a beefier 60cc two-cylinder engine, and sales were strong. Suzuki was building over 6,000 motorcycles a month. In 1954, Michio could, at last, get back to the car that he was working on before being rudely interrupted by war.
Suzuki Motor Co, which still stands to this day, arrived in 1955 as the Suzulight, built by a team of just six people. Suzuki's first car was also the first in the world that came with fully independent suspension, as well as rack and pinion steering. The Suzulight, in keeping with its name, was fairly lightweight at just 500kg, and came with an inventive two-stroke 360cc engine. With 15PS to its name, it was also the first car in Japan to match front-wheel drive with a front-engine layout.
The Rise, And Rise Of The Suzuki Brand
The Suzulight was then classified as a Kei car, or 'Keijidosha'. The most memorable moment when prototyping the Suzulight was when it drove 300km across the scenic Hakone mountains. Across challenging and unpaved roads – a good test for the yet-to-be-born Suzulight – it snaked between Tokyo and Hamamatsu. By 1956, Suzuki was already making 30 Suzulights each month. The first car was delivered in person by Michio to a local doctor, who used to make his rounds on a bicycle.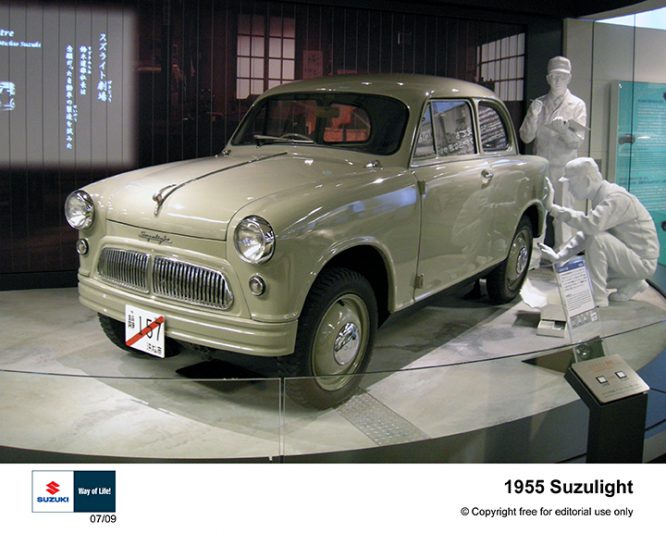 It evolved further in 1959, with the Suzulight TL. There was an increase in power to 21PS, along with an upgraded interior. By 1960, 5,824 Suzulight TLs were sold around Japan, just three months after it launched. It wasn't just the cars that gained popularity, either. Its motorcycles started racing in the famed Isle of Man TT series in 1960. In 1962, they finally garnered their first victory, when the Suzuki RM62 won its 50cc class outright, battling against Honda, and Kreider.
In 1963, Suzuki made history again, as one of its pilots, Mitsuo Itoh, became the first Japanese to win the Isle of Man TT. They won both the rider's and manufacturer's championships, as well as winning the 50cc and 125cc classes. In that year, they also went into selling motorcycles in the US market for the first time, opening up shop in Los Angeles. By 1965, Suzuki undertook another pivot and went into building outboard motors, starting with the D55 5.5hp, two-stroke engine.
New Cars, New Everything
Of course, we car folk might remember 1965 more fondly as the year when Suzuki debut the Fronte 800 subcompact car. When the concept was first teased at the 1962 Tokyo Motor Show, the 800 was beautifully clothed under a Pietro Frua-designed bodywork. That same year, Suzuki created the T20, which at the time, was the fastest 250cc motorcycle in the world. The Fronte name continued two years later, with the tiny Fronte 360 microcar, which made quite a marketing splash.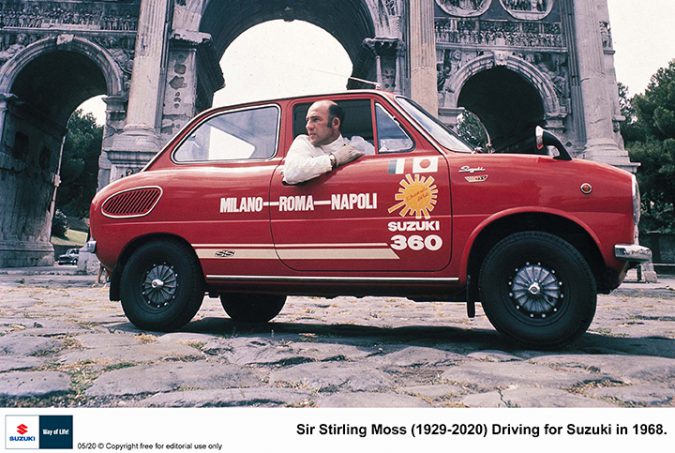 Suzuki somehow managed to convince Stirling Moss – yes, THE Stirling Moss – to get behind the wheel of a retuned Fronte SS 360. Paired alongside him was Mitsuo Itoh, who won the Isle of Man TT a couple of years earlier, in another identical Fronte. They then went on a high-speed demo run across 750km of Italy's then-new Autostrada from Milan to Napoli. The partners averaged 76mph, which was impressive with a car whose engine is smaller than that in most motorcycles at the time.
The Birth Of Jimny
The rest of the 60s saw many changes within Suzuki. At the tail end of the decade, the T500 came along, whose 500cc engine was the largest displacement of any two-stroke motorcycle (or car) back then. Things really start to get interesting in the 70s, when in 1970, we saw the birth of the Jimny. Christened by the less adorable name of LJ10, it would be the first in a long line of dependable, rugged, and plucky Suzuki 4x4s. In keeping with traditions before and after, the LJ10 was small.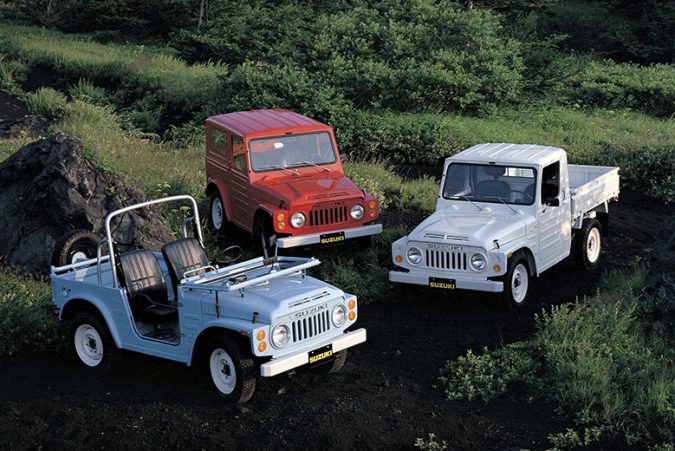 Very small, actually. Suzuki even moved the spare tyre inside the truck rather, thus keeping it under 3-metres. It, therefore, qualified as a Kei car – becoming the first four-wheel-drive Kei car – powered along with a 359cc engine. More than 5,000 LJ10s left Suzuki's factories, beating out the market leader; a rebadged Jeep sold under Mitsubishi. It underwent minute evolutions all the way up to the 1980s. The LJ20 followed suit in 1972, and Suzuki started exporting them to left-hand drive markets.
In certain markets like Australia, our little Jimny had more powerful engines, like a 550cc monster. The LJ80 came along later, and it had an even beefier 800cc engine, capable of hauling a serious amount of load. From the first generation, came the second, third, and now in our fourth iteration of the Jimny. Every step of the way, the Jimny became a car that moved entire worlds together, used in many different configurations, from pickup trucks to commercial vans, ambulances to army vehicles.
Never Stop Winning
As Jimnys were conquering off-road courses and hauling both people and cargo in their masses, Suzuki's bikes teared up every race there is. Suzuki bikes won the 1975 125cc World Motocross GP, where Suzuki dominated for the next 10 years until 1984. Pops Yoshimura won with a Suzuki GS750 at Laguna Seca at the 1976 AMA Superbike series. Meanwhile, Barry Sheene and his Suzuki GS won the 500cc World Championship. An updated GS then won the 1978 Suzuka 8-hours Endurance race.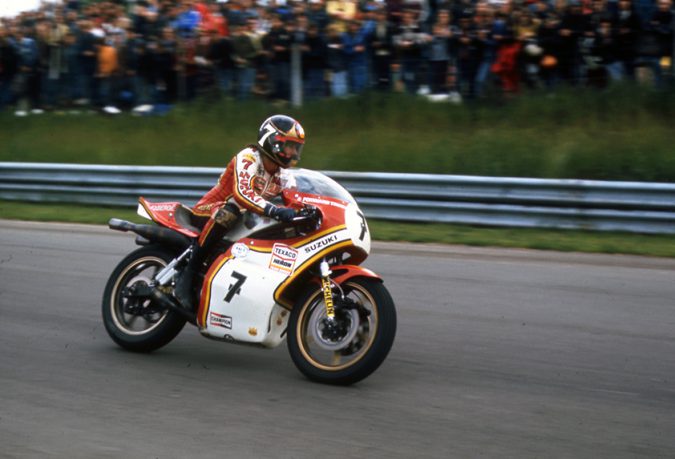 In 1981, Suzuki launched the RG Gamma, and made its first appearance in the motorcycle Grand Prix. It proved dominant instantly, and helped Suzuki to secure its sixth consecutive manufacturer's title. And guess what… Suzuki's RG motorcycles won them another title the next year, leading the pack in the 500cc class. All this winning didn't go to waste when it came to making road-going bikes, however, as Suzuki truly made its mark in 1998 with the launch of the Hayabusa.
At the turn of the decade, Suzuki kept up with racing its bikes to an inch of their lives. The GS and Hayabusa models were always in the front, be it on the road or track. In 2015, Suzuki finally came back as a manufacturer in the MotoGP series, with its uber-fast GSX-RR. It wasn't only the bikes that had all the fun, too. The Suzuki Baleno is a very popular rally car. In the Rally New Zealand from 1997 to 2001, it regularly kept up with the rest of the Group A class. It even made it to Pikes Peak!
Small, But Wonderful
Don't think we've forgotten all about four-wheeled transport. The first of the golden children after the LJ was the Alto, unveiled in 1979. The first-generation Alto was a massive sales success, and one that catapulted Suzuki to become one of the dominant carmakers in Japan. The Alto was cheap, but it was nonetheless a reliable car that many people and families relied on as their day-to-day. While the first Alto was innocent, the later generations got a bit naughty.
With the hot-hatch revolution catching up in the 1980s, Suzuki duly followed with "Works" branding on its souped-up Altos. At its peak, it had four-wheel drive, and a turbocharged inline-3 capable of making 44PS. At some point, it broke the legal 64PS limit on Kei cars, if not made already obvious with its racy body kit. By the third-generation Alto, Suzuki re-engineered a Works R variant, which was a lightened, two-seater Kei road-racer with four-wheel drive.
The Alto was but barely the first of the small Suzukis to come along, and we still recognise many of them today. In 1983, the first Swift appeared, then called the Cultus, followed by the Sidekick (or Vitara as most of us fondly remember them) in 1989. Oh, and how can we forget the Cappuccino, a two-seater convertible Kei car that we so badly wished Suzuki had made more of. By 2003, Suzuki's imaginative spirit broke new ground with the arrival of the Twin; the first hybrid Kei car.
The Suzuki Of Today (And Tomorrow)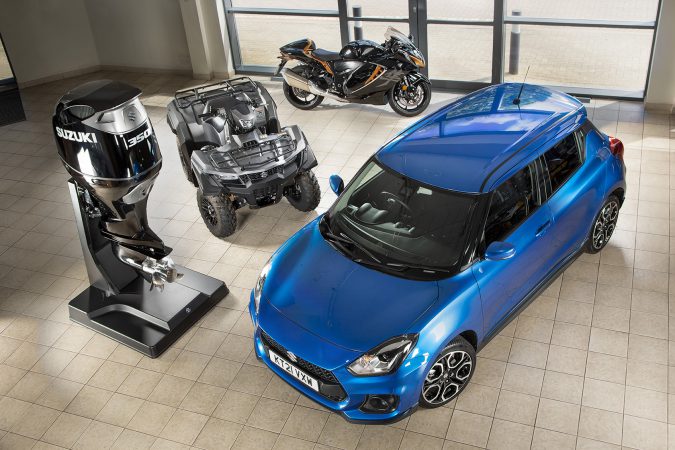 In the six decades since Suzuki made its first car, they've maintained the same principle of 'less is always more. They became the quintessential experts in small cars, with today's models like the Ignis, Swift, and Jimny weighing a tad over a tonne. Outside of cars, Suzuki continues to operate a massive empire around the world, spanning motorcycles of all shapes and sizes. That's not to mention quads and ATVs, commercial vans and trucks (small ones, of course), and boat engines.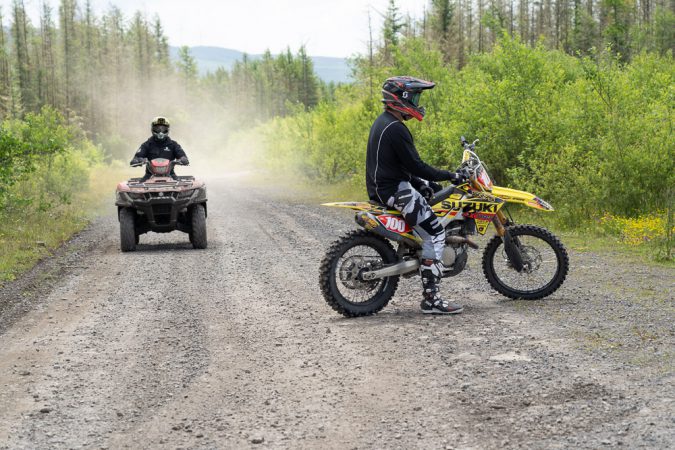 In 2021, Suzuki announced a new change in philosophy, guided under the 'Sho-Sho-Kei-Tan-Bi' plan. It literally translates to 'smaller, fewer, lighter, shorter, and neater', made to tackle new issues such as emissions. The Swift was the first of the key Suzuki models to hybridise, and we can expect to see a lot more of that to come soon. Perhaps sooner rather than later, we can see that 12V and 48V integrated starter generators move to a fully electrified platform and powertrain.
It all, we think the late Michio Suzuki would be proud to see where his old loom company had turned into, as one of the largest conglomerates in the world. Recognisable anywhere, you can find a lot of love in a Suzuki, whether you like small and practical cars, rugged and dependable (mini) SUVs, fast and racy bikes, speedy boat engines, or go-anywhere ATVs. With an upending of the automotive industry, we're certainly hoping for a bright, colourful, fun, and adorable future in Suzuki.