Of the many superlatives that we often throw at Bugatti, "beauty" is certainly one of them. And now, you have the chance to see what is perhaps the most beautiful of the already very handsome Bugatti stable this coming Concours of Elegance. There are 1,000 or so vehicles on the grounds of Hampton Court Palace. So, you'd be remiss to not notice the 1934 Bugatti Type 59 on display.
To my eyes, this is certainly one of the most gorgeous cars ever made. But the Type 59 wasn't just made to show off. Back in its heyday, Bugatti turned this into one of the successful race cars of its period. Unorthodox in design, the Type 59 looks like a two-seater, but only has room for one. The legend himself, Mr Ettore Bugatti, didn't like his drivers sitting too high up.
So, the Type 59 shuffled the driver's seat around a little bit. Placing yourself in the cockpit, you'll be sitting waist-deep next to the gearbox. At the back, the bodywork tapers into a sharp point by the tail. Here, you'll also find the fuel tank under two perfectly riveted steel panels. Rear-end collisions, therefore, aren't recommended for those of us who are allergic to bursting into a fireball.
Beauty, And Speed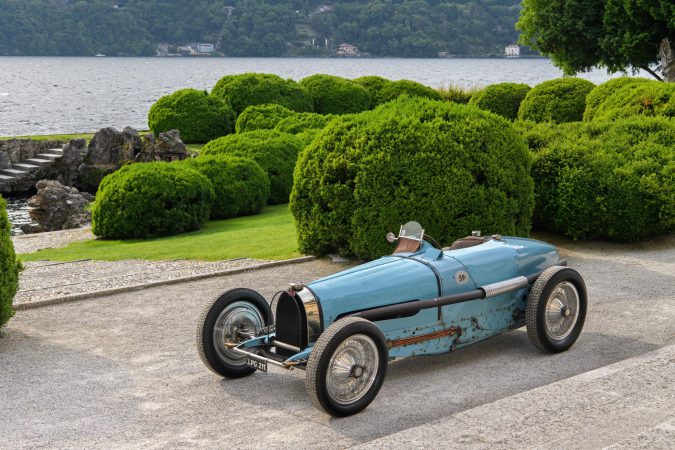 The proportions are just right, from the 'piano' wire-spoke wheels, to that famous Bugatti horseshoe grille. The Type 59 moves fast too, with a 3.2-litre straight-eight engine underneath, supplying around 250bhp to the four-speed gearbox. Other bits and pieces that you'll find in there are dual overhead cams, two Zenith carburettors, and a Bugatti-built supercharger to add some extra boost.
It's only a shame then that the Type 59 came around too late to be competitive. By the time it arrived, the Germans were dominating every single Grand Prix around the world. This particular Type 59 is example #59124. It did rather well given the circumstances, cruising to a best place of 4th at Spa-Francorchamps with Robert Benoist at the wheel.
Bugatti's Type 59 is one of the most desirable cars in the world, with there being only six or seven built. One particular Type 59, thought to be owned by the late King of the Belgians, Leopold III, sold in 2020 for an eye-watering £9,535,000. You can see this with your own eyes from the 3rd to the 5th of September, with half-day entry tickets to the 2021 Concours of Elegance costing from just £30.