Why grind for hours on end when you can use money cheats? Besides, video games are really the only place where it's acceptable to cheat. Well, in most games anyway, including American Truck Simulator. In this article, we'll give you the American Truck Simulator money cheat so you can instantly get cash in the game. We'll also guide you on how to use the money cheat.
American Truck Simulator Money Cheat – How To Use
To use the money cheat, you will first need to enable the console. American Truck Simulator is available on Microsoft, macOS, and Linux. But the steps to enabling the console are essentially the same:
American Truck Simulator Console Commands
Look for the config file, you can find it in Users\Username\Documents\American Truck Simulator
Open it with a text editor to change the values. You can do this with Notepad on Microsoft, or TextEdit in macOS.
Change uset g_developer from 0 to 1
Change uset g_console from 0 to 1
Save the file and close it
Steps To Use American Truck Simulator Money Cheat
After you enable the console, you can now use the money cheat in the game. To do this, do the following steps:
Start the game and find a rest area, and then park your truck.
Open the console by pressing ~ or # (depending on your settings) and type g_set_time x and press enter.
The game will jump to 12:00 am (the next day), and you will earn money depending on how many drivers you have.
Having more drivers will increase the effectiveness of the cheat. But you can repeat this as many times as you like and enjoy the fruits of your money cheat.
Here's a video showing how to use the American Truck Simulator money cheat:
American Truck Simulator Money Mod
In addition to money, American Truck Simulator also has EXP or experience points. These points are used for leveling up in the game, and you gain 1 EXP per 1 mile you drive while delivering cargo in the game. By leveling up, you will gain skills points and unlock tuning parts. These are then used to improve your earnings and your driver's capability in the game. The level ranges from 0 or Newbie to over 100 or Divine Champion.
If you don't feel like grinding to level up your driver in the game, you can install mods to instantly gain EXP as well as money. Additionally, there are tons of other mods for American Truck Simulator that you can install to improve the game. These mods include tuning parts, truck skins, AI traffic, and even sound mods to make the game feel more realistic. Because obviously in a simulator game, you want it to be as realistic as possible.
If you want to use mods for American Truck Simulator, you can find the money and EXP mods at Steam. You can also find a lot of other mods on websites dedicated to American Truck Simulator mods such as atsmods.
How To Use Mods
To install mods in American Truck Simulator, follow these steps:
Download the mods that you want.
Unzip the .ZIP or .RAR file into My Documents\American Truck Simulator\mod. The mods may be in an .SCS file, if you've downloaded this file, simply copy the file in the same direction.
Once installed, open the game and open the mod manage. This option will pop up just before you choose a profile in the game.
Afterward, simply click on the mod you choose to activate and you're good to go.
If you're on macOS, then copy the ZIP file into /Library/Application. Once the file is in the directory, then you can unpack it and activate it in the game.
Keep in mind some mods will need to be "triggered" before the effects start kicking it. For example, some money cheat mods will require you to do the first three jobs in the game if you've just made a new profile. But otherwise, most mods will be ready to go right from the moment you activate it. Learn more on how to install mods by watching the video below:
What Is American Truck Simulator?
As the title of the game suggests, American Truck Simulator is basically a game about being a truck driver in America. Funnily enough, the game is actually developed and published by a Czech company called SCS Software. The game was announced in 2015 and launched in 2016 on Microsoft, macOS, and Linux.
You might think, why would I play a game about being an American truck driver? Well, sometimes the whole point of a video game is to escape reality and be whatever you want to be. Want to be a racing driver? There are tons of racing games out there that will allow you to do that.
Want to be a criminal? Kind of worrying, to be honest, but Grand Theft Auto got you covered. Want to be a truck driver? Well, American Truck Simulator is here for that. Over 2 million people on Steam certainly like being an American truck driver.
The game takes place in a condensed version of the United States. It started with just California and Nevada on the map, with Arizona added later after the game's release. There are also six other states available for the game as paid DLCs (downloadable content), and now the game spans over 9 states. Wyoming and Texas are also going to be added to the game sometime soon.
American Truck Simulator Gameplay
The gameplay is fairly straightforward: you'll need to drive a trailer-hooked truck and deliver cargo to a designated location. The cargo needs to be delivered to the destination in a set amount of time while minimizing damage by avoiding collisions on the road.
This way, you'll earn the most amount of money and experience points possible. Once you level up, you'll also gain the ability to deliver more "dangerous" cargo, such as chemicals and explosives. These types of cargo will give you better rewards when delivered.
After earning money, players can purchase trucks as well as other upgrades, both mechanical and cosmetic. Players will also need to use the money to buy fuel and repairs for trucks. Additionally, players can take out loans from a bank and then repay the loans once they have earned money. Players can also hire additional drivers to earn money from them, but they also need to buy garages to house and base these drivers.
If you're wondering what the game is like to play, you can watch this gameplay video:
American Truck Simulator: Tips & Tricks For Beginners
If you're new to American Truck Simulator, or you've just decided to download it after reading this post, there are a few tips you might want to keep in mind. Of course, if you're going to use the American Truck Simulator money cheat or mods, then some of these tips may not be useful. But if you're planning to not cheat, then these tips will make life easier on the road:
1. Pick Quick Jobs
When you're choosing a job and cargo to deliver in the game, you can filter it by the length of the journey. Shorter journeys will obviously earn you less money and XP, but are quicker to finish. This will then allow you to take more jobs in the same amount of time to finish a longer job.
If you're just starting, it will be better to take quick jobs. This way, you'll put more money in your trucker's bank account more quickly, and gives you a steady income. Additionally, quick jobs won't require you to have your own truck, so you won't have to worry about gas and repairs.
2. No Rest for the Weary
Your driver will get tired the more you drive in the game. On longer journeys, you will eventually need to rest. If you don't, the screen will blackout, simulating the driver dozing off at the wheel and you won't be able to control the truck.
This is why we recommend taking quick jobs, as they're quite short and you can afford not to rest. If you want, you can disable the fatigue simulation in the gameplay. This way, your driver won't ever feel tired no matter how far they drive, but then it makes the game less realistic and beats the point of it being a simulator.
3. Take Out a Loan
Taking out a loan can be scary, whether it's in real life or in American Truck Simulator. But in the case of the latter, there's really no need to be afraid. Besides, you're going to have to work on quick jobs for a long time to gather enough cash to buy a truck without taking out a loan.
We recommend gathering up $20,000 from quick jobs and then taking out a $100,000 loan from the bank to buy your own truck. Some trucks such as the Peterbilt 579 Duty Cabin costs $112,795. This will then open up more possibilities for you to earn money, including doing jobs with longer journeys.
One thing to note is that when you do deliveries with your own truck, you will need to pay for gas yourself. If the truck requires repairs, this will also come out of your own pocket. So while it does open up more job opportunities, owning a truck also means that there will be more expenses for you to pay.
4. Invest in These Skills
As mentioned, as you level up in the game, you will earn skill points that you can then invest in various skills in the game. When done correctly, these skills will benefit you greatly in the game and make life quite a lot easier. Here are the skills that we recommend you invest in when you level up:
Long Distance. This allows you to accept jobs with longer distances, and awards you with more money and experience points for doing so.
High-Value Cargo. You will earn more money and experience points every time you finish a high-value delivery.
Fragile Cargo. Investing in this skill will allow you to take up fragile cargo deliveries, which pay higher. You will also earn more money and experience for completing them.
Hazardous Cargo. Similar to fragile cargo, these jobs pay you more money. Investing in this skill will also earn you more money and experience points for completing the job.
Just-in-Time Delivery. This one's also similar to the fragile cargo job, only it's called an "important delivery". Investing in this skill will allow you to accept this type of job. And of course, earn you more money and experience points.
Fuel Economy. You will become more fuel-efficient as you drive around, thus saving you gas money as you make deliveries.
We recommend spending your first skill point for the Long Distance skill. This will let you travel further and opens up a world of opportunities for you. After that, if you feel that the fuel costs are too high, then you should invest in Fuel Economy.
5. Watch Out for Johnny Law
Being a simulator, American Truck Simulator tries its best to feel realistic and immersive. This includes driving laws and the cops in the game. Just because you're in a game, doesn't mean you can just drive about as you please while ignoring the law, not in this game anyway.
The cop cars are in black and white colors, and if you see them, best to drive in a civilized manner and abide by the traffic law. If a cop catches you breaking the law, such as running a red light, for example, you will have to pay a hefty fine. Which will be fine if your trucking empire has grown and you are now a wealthy truck driver who's still delivering cargo just for the fun of it. But if you're just starting, then you literally can't afford to get a fine.
6. Use Your Turn Signals
Admittedly, your turn signals might not be that important in real life. Your flick the indicator stalk, you're ready to turn left, but no one going to other way seems to care and isn't allowing you to turn. Thankfully, not in American Truck Simulator. Putting on the turn signals to switch lanes or to make a turn will tell the AI traffic to get out of your way. Allowing you to switch lanes or turn safely without hitting anyone, keeping your cargo safe and your truck undamaged.
Additionally, not using your turn signal while turning can also result in a fine if a cop car is around. So unless you have a clear road and there are no cops in sight, always use your turn signals. Actually, always use your turn signals no matter what, both in American Truck Simulator and in real life. Be a safe driver. Speaking of which…
7. Drive Safely
As mentioned, breaking the law while a cop car is around will earn you a hefty fine that you simply cannot afford. Additionally, once you have your own truck, you will be responsible for any repair costs should you need any. Not to mention crashing will damage the cargo you're delivering and decrease your earnings. It would be best to drive safely and avoid accidents and abide by the traffic rules to keep expenses at a minimum. Kind of like real life, really.
Best Trucks In American Truck Simulator
Technically, the trucks in American Truck Simulator have similar specifications, so it doesn't really matter which one you pick as they won't really give you an advantage. Again, most of the benefits will come from the skills that you invest in. When it comes to choosing the trucks, it really comes down to which one you think looks the nicest. That being said, some trucks are slightly better than others and players do have their favorites. Here are some of the trucks that players prefer: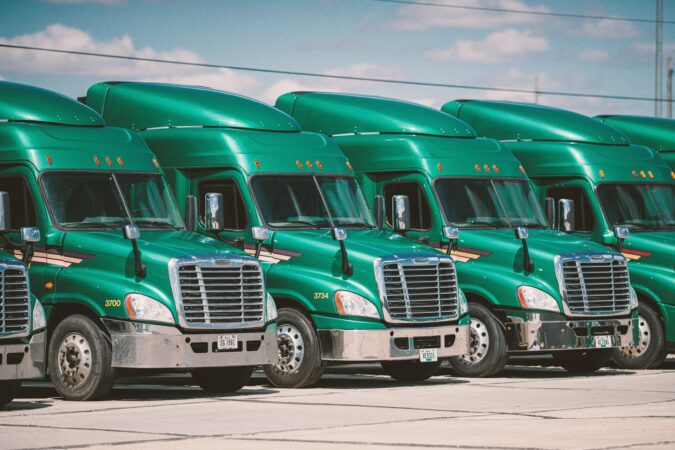 Kenworth W900
A lot of players seem to like the Kenworth W900. Mostly because it's one of the more powerful trucks in the game, starting with 370 horsepower when you first purchase it. Once you unlock the modifications, you can fit in a Caterpillar C15 625 engine, which will give you 625 horsepower for the truck to play with. Needless to say, more power means you can go faster, allowing you to finish deliveries more quickly. And as they say: time is money.
The truck also comes with a 10-speed transmission as standard, but it would be wise to invest in an 18-speed transmission in the future. This transmission would be better for cruising at higher speeds on the motorway. The 6×4 chassis upgrade is also recommended by some players. While not entirely necessary, it can help you get out of sticky situations should you accidentally get your truck stuck. Larger chassis also allows you to carry larger and heavier loads.
Mack Anthem
The Mack Anthem is a relatively new addition to the game, but it seems to be one of the more popular trucks in American Truck Simulator. Keep in mind that the Mack is slightly less powerful than the Kenworth W900, starting with just 345 horsepower from its standard engine.
Even when you upgrade it, it will only go as high as 505 horsepower with the MP8 505C engine. That being said, the Mack can be upgraded to have a 6×4 chassis should you feel you need it. And there are 14 available options for the transmission upgrade, should your level is sufficient to unlock it.
Players seem to love the Mack Anthem mostly for its sleek and modern look. Its rounded edges and curves make it look a lot more modern compared to the typical boxy-looking American trucks, such as the Kenworth W900. And honestly, we wouldn't blame you for picking a truck solely based on its looks. Just be wary that some players have complained about the Mack's side mirror placement, which can be tricky to view unless you're playing on a 21:9 monitor.
Peterbilt 579
The Peterbilt 579 was one of the original trucks available in the game when it launched alongside the Kenworth W900. Like the Kenworth, the Peterbilt 579 also packs 370 horsepower in its standard form.
However, the power figure will only go as high as 600 horsepower when you modify it, which is 25 horsepower less than the Kenworth W900's peak modification potential. But aside from that, there are 10 transmission options for the Peterbilt that you can choose from, and it starts out with a 10-speed transmission just like the Kenworth. There are also a lot of chassis upgrades available, including a 6×4 chassis upgrade if you need it.
Players seem to love the Peterbilt 579 partly because of its more modern look compared to the Kenworth, and partly because of the ergonomics. This means that the Peterbilt 579 has better visibility when you drive from the interior view compared to other trucks. Windows are large and side mirrors are easier to look at even without a wide monitor for your PC.
Again, the trucks in American Truck Simulator feel largely the same unless you've purchased extensive modifications for them. This means it won't really matter which one you pick as they feel just about the same and only the chassis setup matters since this determines the load that you can carry. So don't worry too much about which one the experienced players prefer, you can just pick whichever you like the most and get driving!
American Truck Simulator Money Cheat: In Conclusion…
Cheats are a great way to save you some time and energy to earn in-game cash while playing a video game. While not all games allow this, American Truck Simulator certainly has no problems with you using cheats in the game. Hopefully, you've found our American Truck Simulator money cheat guide useful, and you can skip hours of grinding and instantly skip to the good part: buying a bunch of cool trucks and driving them across a condensed version of the United States.
If you're not interested in using the American Truck Simulator money cheat, don't forget to follow our tips and tricks for new players. Our tips and tricks will help you to earn money a bit more quickly at the start of the game if you don't want to use either cheats or mods to play the game. It will make you more efficient and therefore you'll earn cash more quickly.
Lastly, it doesn't really matter which truck you pick in the game. They largely feel and drive the same, and it's really a matter of which one you like more visually, both in terms of the exterior and interior. Have fun!
FAQs On American Truck Simulator Money Cheat
If you're still unsure about the American Truck Simulator money cheat, our FAQs here might have something for you…
American Truck Simulator Money Cheat Engine
If you want to use cheats in American Truck Simulator, an easy to go about that is by installing a cheat engine. Once you've installed it, open it, and you can then modify the game process. Here, you could activate trainers, cheats, and other mods. For example, you could modify it so that your truck won't take any damage. Or, perhaps use this cheat engine to enable an American Trucks Simulator money cheat. In this cheat engine, you have options to specify how much money you'd want to be added, and so on.
American Truck Simulator Cheats
Like any game, American Truck Simulator has cheats to make progress and actions in the game a bit easier. Or, if you wanted to cut some corners and get to the fun stuff. To use a cheat, you'll have to edit the game file (as we've highlighted in this guide) and open up the console window. Here, you can type in the cheat codes for them to be activated. For example, and without the quotation marks, you can type in "goto ([input x, y, z coordinates here])" to teleport to said coordinates. Or, you can type in "goto ([input city name here])" to teleport to a city. "g_police [either 0 or 1]" toggles any police penalties, while "g_traffic [either 0 or 1]" turns on and off the traffic. Elsewhere, "g_set_time [input the time here]" will let you customize the time of day, while "g_set_weather [input a number here]" if you want to change the weather.
American Truck Simulator Achievements
American Truck Simulator has a large subset of more than 70 unique achievements on Steam alone. Some of these achievements are earned from discovering new locations, such as towns and cities, as well as landmarks. Meanwhile, there are many more achievements for completing deliveries, like how much worth of deliveries you've sent. Or, perhaps making sure you're not penalized or damaged your truck while making deliveries. Using in-game items, such as weighing stations and gas stations, will also prompt achievements to appear. Otherwise, upgrades and other miscellaneous tasks also gain you achievements.
American Truck Simulator Multiplayer No Jobs
One of the most common American Truck Simulator glitches is seeing no available jobs on the jobs list. One solution would be to go to your American Truck Simulator folder (found in your computer's My Documents folder). Then, head to the Profiles subfolder, and open the config.cfg file. Look for an entry written something along the lines of uset g_force_economy_reset "0", and change it from 0 to 1. This will practically reset ATS's in-game economy and will reset all available jobs in the jobs list. Reload the game, and you should start to see jobs made available once again.
Other Car Related Games
Approved Tools
These tools have been tried and tested by our team, they are ideal for fixing your car at home.
AI Car Expert Thinking 

.

.

.