2022 marks CarFest's 11th year in the running, and its return is bigger than ever this time around. It's not a surprise, of course. With lockdowns and quarantines over the past couple of years putting every physical event to a halt, it's nice to go out and about for once. But if you thought one festival was too much, CarFest 2022, presented and sponsored by cinch, combines not two, three, or four… But seven whole festivals in a single weekend.
As I was planning to hop down to Hampshire to witness CarFest South 2022 for myself, I thought that it'd be interesting to do things a bit differently this year. Usually, I'd book an overnight hotel anytime I'd get an over-the-weekend CarFest ticket. After all, with so many cars and so much stuff going on, it's very tough to absorb all of CarFest if you're just visiting for a single day, especially for their 2022 season.
Remember, it's a pretty much a 7-festival-in-1 special, featuring cars, food, workshops, music, kid-friendly games, as well as wellness talks, sports, and a whole lot more. If I wanted to experience all of this at once (which I still failed to do – there's really that much to see and do!), I needed to get creative. So, I whipped out something that I've been working on on the sidelines for some time now… My campervan project!
Setting Up The Campervan
For a spot of context, CarFest lets you buy tickets and reserve your attendance in a couple of ways. A one-day ticket is available, which is what most folks will most likely get. Or, you could get a ticket for an entire weekend. On the latter part, there are special tickets where you can get a site to camp out for the weekend… Either the old-school way of pitching a tent. Or, bring a campervan or motorhome with you.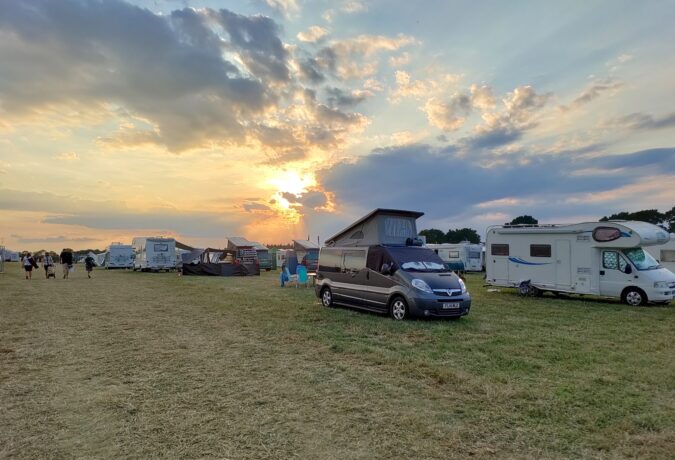 Now, if you've been here for the past few months or so, you might've noticed that I'd recently bought myself a VW Transporter. And, I've also had it converted into a campervan, with the aim of exploring the great outdoors once lockdown's all done and over with. CarFest wasn't just a good opportunity to get some relaxation in, as it was a great chance to put the Transporter camper through the wringer.
Now, some of you reading this might perhaps gravitate towards the argument of, "well, why not get one comfy hotel room, instead?" No doubt, there were plenty of neat hotels near and around CarFest. Although, there are a few (pretty) good reasons why you'd have to try out the camping, caravanning, and campervan life if you're heading over to CarFest (2023?) next time, at the very least just once…
1. The Conveniences Of A Caravan
The first major benefit of #vanlife at CarFest 2022 that stood out to me was the general convenience and ease. You might be able to spot in the map down below just how large, featureful, and action-packed CarFest South 2022 was. The entire venue itself is massive and it's frankly a tad exhausting to walk from one side of CarFest to another. Mind you, walking isn't the same as relishing the moment.
There are tons of events happening all at once all around CarFest. So much so, that the FOMO in you wants to experience every single one of them. Throughout the day, there are special activities at each moment. Combine the around-the-clock nature of CarFest and the vastness of its grounds, and as fun, as CarFest was, it's incredibly tiring. Having a campervan or caravan a short distance away does help.
If you're ever feeling too fatigued, it's not too much of a bother to walk to your parked campervan or caravan, and take a short break. In contrast, the nearest hotels are quite a distance away. Though, to be fair, my Transporter was parked on the far end of the CarFest campsite. This meant that it took a solid 15 to 20 minutes to walk to the main entrance. Still, it was at least closer than the car park.
2. All The Facilities You Ever Need
Speaking of, CarFest even provides and prepares the campsite for you. Upon arriving, I was directed toward a lush and spacious field. There, a bunch of other motorhomes were already parked up. All tents, campervans, and caravans at CarFest were given a reserved spot and they're all rather neatly organised and spaced out. That's nice, as staying in my camper didn't feel overly cramped or hectic.
Furthermore, CarFest also provided those living the #vanlife dream with all the necessities that come with off-the-grid accommodations. This meant allowing us to plug into a steady electrical supply that handily kept our Transporter powered over the weekend. This was courtesy of some quiet diesel generators dotted about. CarFest then had some portable toilets and even hot showers set up for campers to use.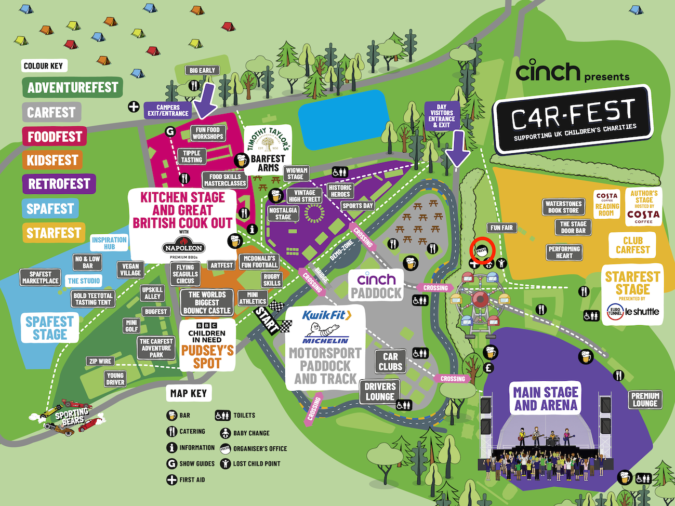 They're decent enough and get the job done. But hey, if you have a motorhome or caravan, you may (hopefully) already have some of those facilities with you, anyway. Oh, and there's a water supply to fill up those freshwater tanks, too. If you're ever feeling hungry, CarFest has loads of food stands and other pop-up eateries around the venue. So, a bite of some tasty food is just a short walk away.
3. A Festival Experience Like No Other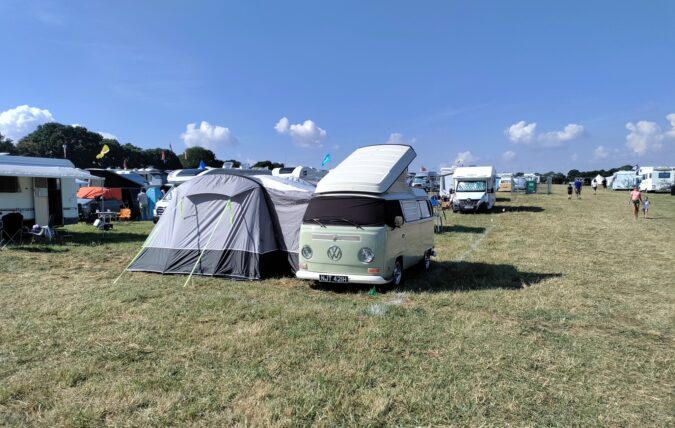 Now, you'd think that going the full #vanlife route on a busy festival weekend like CarFest South 2022 would be disastrous, right? But in truth, I think it's more enjoyable to camp out at CarFest, whether it be in a tent or a kitted-out motorhome. That's rather than booking in a hotel or dropping by for just a day. I find it more relaxing and fulfilling as a whole, to have your "hotel room" just a short jaunt away.
Should you need to take a quick break from all the festivities, your home-away-from-home isn't too far away. This gives you those precious few months to relax, calm down, and prep for the next event on the CarFest South 2022 calendar. Plus, you're not feeling inclined to rush from one event to another… Or, have to cut your visit to CarFest short just so you could beat the traffic jams on the way home.
With how nice the weather has been over this past weekend, it surely adds to the enjoyment. On top of that, you get the chance to hang out with the other happy campers sharing the grounds. They're a jolly bunch to be around and are generally just as ecstatic to be at CarFest as you are. So, if you could get (or perhaps, rent out) a camper or caravan the next time you go to CarFest, it really is worth it.
A Mecca For Car Enthusiasts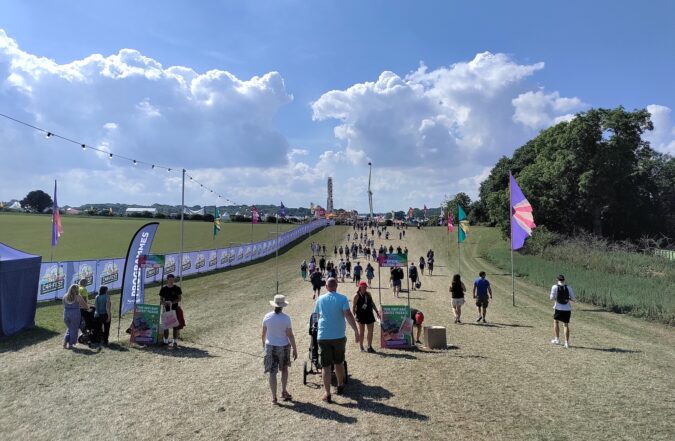 With that being said, and the camper's nice and all, but how fun was CarFest South 2022? In short, it's a blast! To enter, I followed the campsite path leading to the main entrance. Immediately, I'm greeted with cars, cars, and more cars aplenty. There's a huge range of automobilia, from classic trucks to hot rods, supercars, drift cars, and so much more. Car clubs swarmed the venue with their line-up, too.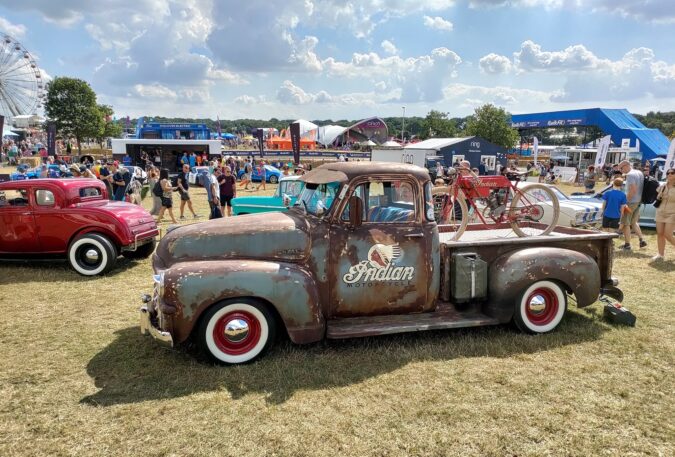 The Corvette owner's club UK came in full force with a showing of Stingrays and old C1s. Filling that Americana void, and it's a rare sight here in the UK, some vintage rat rod enthusiast groups brought a few interesting builds down to CarFest. Now that's not something you see every day. Just to show how car-heavy CarFest was, there were over 120 cars at the Kwik-Fit Michelin Track and Paddock alone.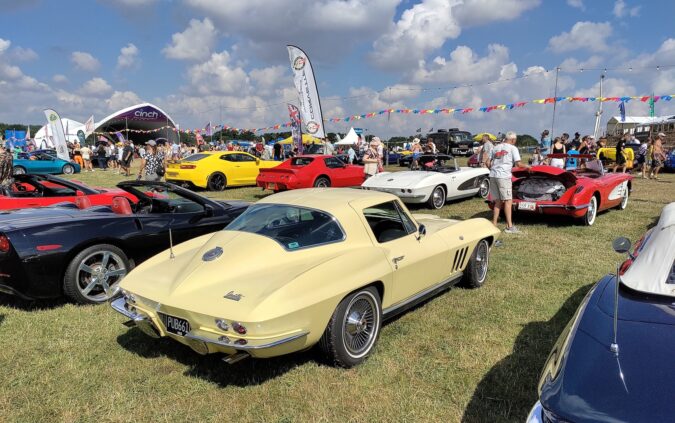 That's not counting the myriad of other events, festivals, and the massive (not to mention fascinating) car park. It's just as interesting to walk around the car park and see the cars that CarFest attendees brought along for the ride. If you're not satisfied with just seeing the cars, the Sporting Bears club lets you pick out one of your dream rides to go for a quick passenger ride.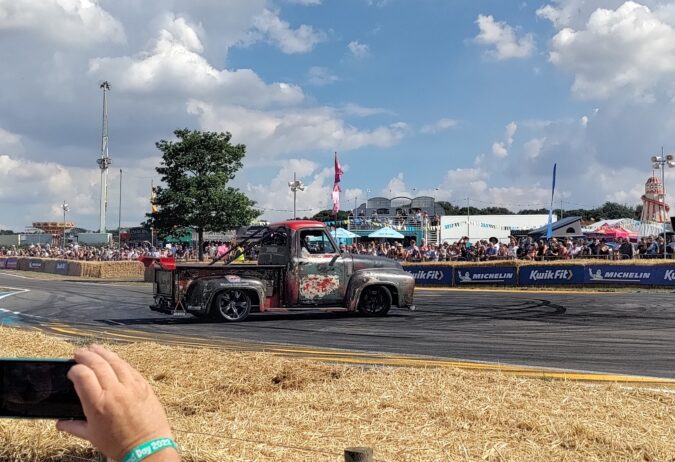 Besides, the track demonstrations were my personal highlight of CarFest South 2022. They host it quite regularly too, sometimes upwards of 4 to 5 times every day. You'd get to witness a huge bunch of cars hitting the asphalt… Between the mid-engine Corvette, an old Camaro or two, a Hoonigan truck of all things, and the Japspeed crew also showed up to CarFest with their top-of-the-lined drift machinery.
So Much To See And Do
These on-track demos are as close as you can get to this many cars outside of events like Goodwood. However, it's a disservice to associate CarFest with just cars as there's a lot more to experience away from the tarmac. I managed to catch plenty of bands and DJs, including the likes of Rag N Bone Man, Kaiser Chiefs, Faithless and Judge Jules. CarFest wouldn't be CarFest without some music thrown in.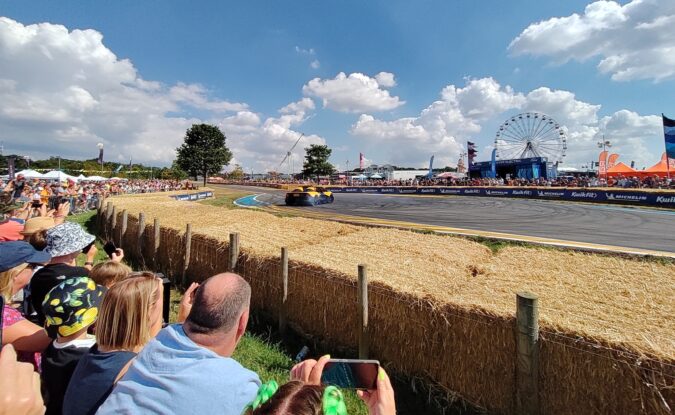 The music festival usually starts in the evening and lasts all the way into the dark of the night. It's a very chill and laid-back environment (if you prefer it that way). So, you could happily jam out to some live tunes, get a chair, and grab a snack or two. For me, CarFest is all about cars and music. Still, there's still loads more to see and do at CarFest South 2022 for all ages and crowds… Not just me.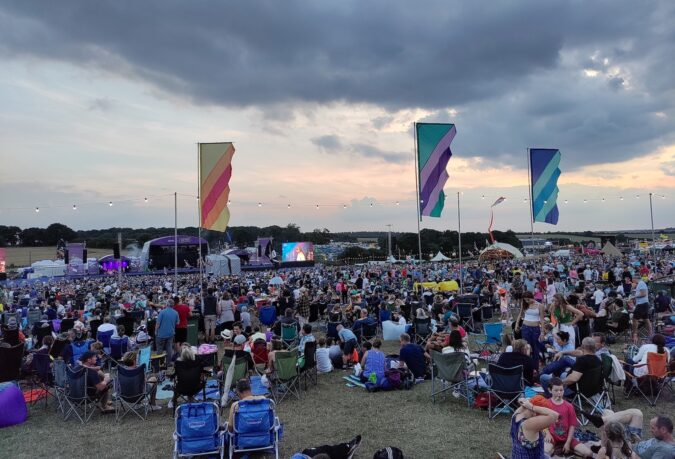 There are wellness-based talks and activities, such as yoga and meditation. You know… To relax and calm those nerves after an adrenaline-pumping day at CarFest. You might even consider visiting the local pop-up market to grab some vegan-friendly food. Additionally, CarFest is first and foremost a family-friendly event. So, there are plenty of activities to keep the young'uns occupied, as well.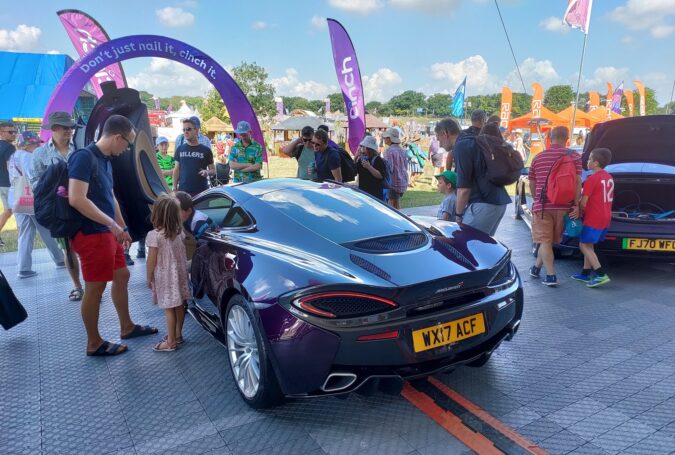 Between dancing games and workshops, CarFest also hosted the world's largest bouncy castle. For a more adventurous crowd, maybe some rock climbing, trampolining, or zooming down a zip line might be your thing. What's nice is the fact that CarFest aims to raise money for children's charities. With so many people this past weekend, fingers crossed that they'll break their £2-million fundraiser goal.