Recently, I was invited to the unveiling of Lotus' new Emira GT4. It was, without a doubt, a stunning competition-spec car and an absolute track monster. It was capable of hitting blistering speeds and marks an impressive display of tech. However, the Emira GT4 is still a quintessential Lotus, through and through. While fast, it's also lightweight, engaging, and tackles corners like nothing else.
Dynamics and handling are key traits of the Emira GT4, as it's always been for any Lotus, new or old. That experience got me thinking about the past 70 odd years since the founding of the Lotus brand. Not to mention, the core ideas and philosophy that lead up to the creation of the Emira GT4. What is it that makes Lotus special, sets it apart, and forms an identity that's embedded into the Emira?
Well, Lotus didn't just invite me as a co-pilot in its latest and greatest racer, as they also took me (as well as some others) around their Hethel headquarters. This included the Classic Team Lotus facility, which sits just across the road from the main Lotus factory. In short, I could summarise Classic Team Lotus as a private collection of cars and other memorabilia from the back catalogue of Lotus.
Back In Its Prime
Although, that brief summary won't do it justice. Classic Team Lotus is a glimpse into the golden era of the Lotus brand. This mainly encompasses the early years when Colin Chapman himself took the helm of his namesake racing team and automaker. Here, you can find iconic cars from Lotus's history, like a Lotus Cortina touring car, or perhaps some of their black-over-gold John Player Special F1 cars.
Maybe, you might be interested in Jim Clark's Lotus 25, Ayrton Senna's famed Camel-themed 99T, and much more. Walking around the collection, it's like being a kid in a sweet shop. However, it isn't just a massive display of cars either, as Classic Team Lotus doubled as a garage where these cars are cared for. The latter can be found in the workshops downstairs from the main display section.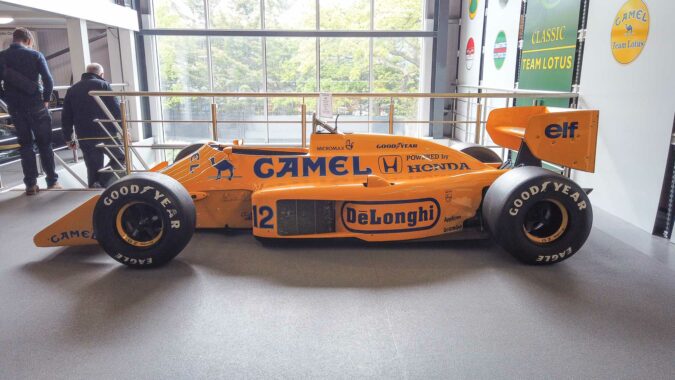 Left, right, and stacked atop one another to the ceiling, you'll find boxes filled with parts and spares. In some areas, you can find bays where old Lotuses are restored and repaired with meticulous detail. Not all of these cars are owned by Lotus, either. Many are privately owned, where their lucky owners have entrusted their storage and care to Lotus themselves. This is what Classic Team Lotus do.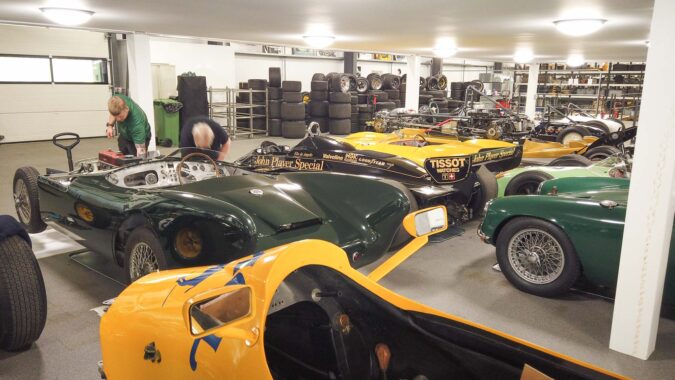 Here, these cars are kept, displayed, driven around, as well as maintained, repaired, and restored. I have to appreciate the stringent standards that Lotus sets for its technicians and engineers. It goes pretty deep too, where Classic Team Lotus dives deep into the original blueprints, documentation, and drawings of a specific car. All done just to set up before any work is done to those cars.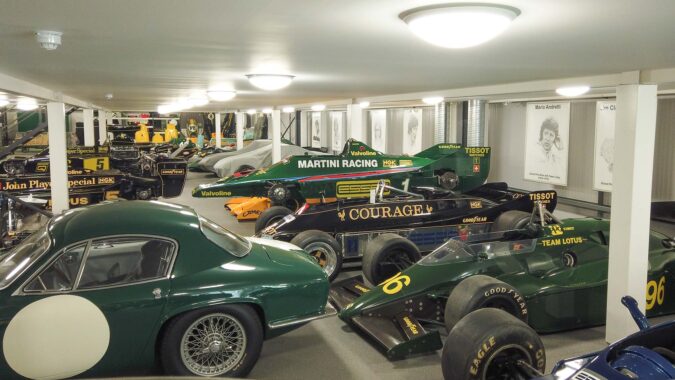 Going Back In Time
Some of those aforementioned documents go as far as including individual notes on what work has been done to that particular car in the past. For example, my group was shown paperwork that contained a detailed log of one of the Lotus F1 cars in the collection. It was a sort of after-race report of that specific car which was driven in period during a track run on a Japanese circuit.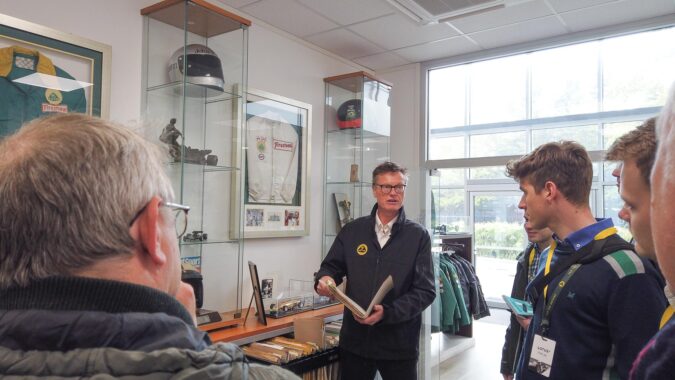 It noted details such as adjustments done to the gearing ratios, feedback from the engineers during said race event, and more within those folders. Undoubtedly, opting to have your classic Lotus racer be restored and maintained by Classic Team Lotus will be hugely expensive. Yet, this degree of care, attention to detail, and dedication would most possibly be impossible to find elsewhere.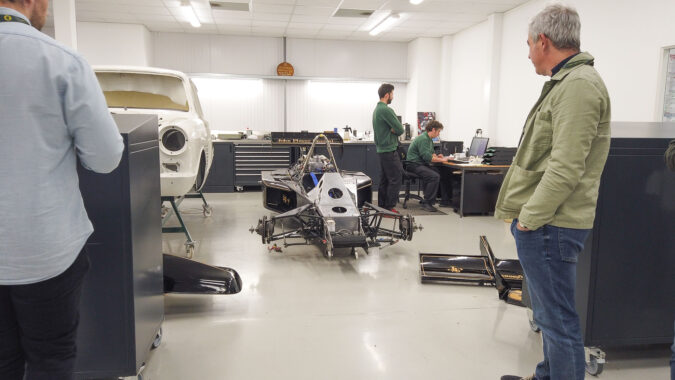 As the owner of a car, you can have the present-day Team Classic Lotus technicians re-tune your car. Perhaps, you'd like it to be tweaked according to its period specifications. Or, maybe you'd prefer a different, more contemporary set-up, instead. For eager fans, enthusiasts, or just about anyone who would be keen on how these cars used to look like and ran in their heydays, the tour is now open.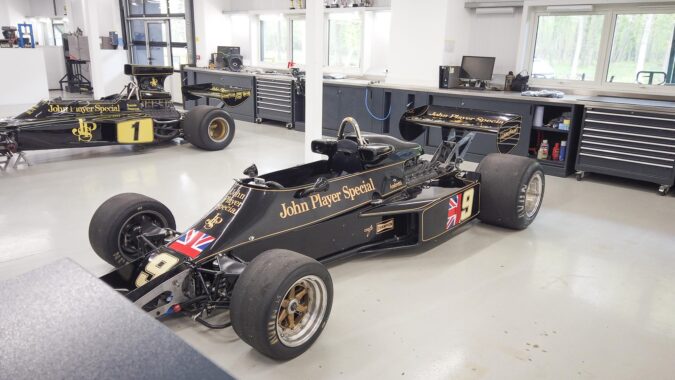 Going around the Classic Team Lotus facility will take around 2.5-hours in its entirety. And, it'll cost you £50 per person. That's a pretty good deal when you consider the substance of the cars and the stories they tell. It's especially neat given the breadth of knowledge and enthusiasm shown by the tour guide during my visit. This keen spirit is also shown by everyone else at Classic Team Lotus.
A One-Stop-Shop For All Things Lotus
With that being said, Classic Team Lotus does a lot of other things, as well. For starters, some of the cars on display are actually for sale, if you have the money. Though, remember that these are literal million-dollar cars with significant provenance behind them. All of which, Lotus keeps track of in the Team Lotus Register. Or, the Classic Team Lotus Register for cars built between 1954 to 1990.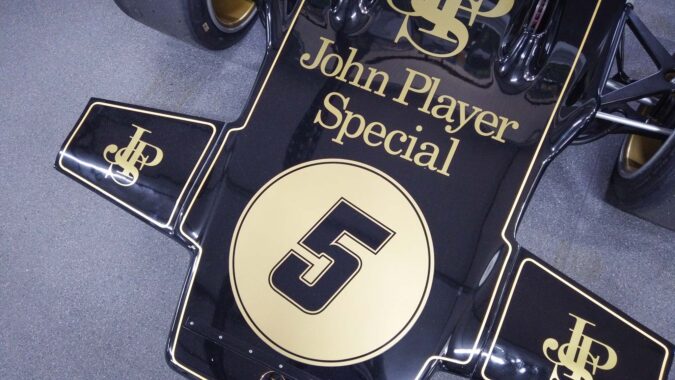 These include detailed ownership records of the Lotus' surviving F1, Tasman, and Indy cars. While I'd been writing this, a 1974 Ronnie Peterson Lotus Type 76 F1 car is up for sale. It's been restored quite recently and kept in its stunning JPS livery. I'll leave it up to you, the brave readers, to shoot over an email or two to Classic Team Lotus to ask how much it'll cost to have one of these in your garage.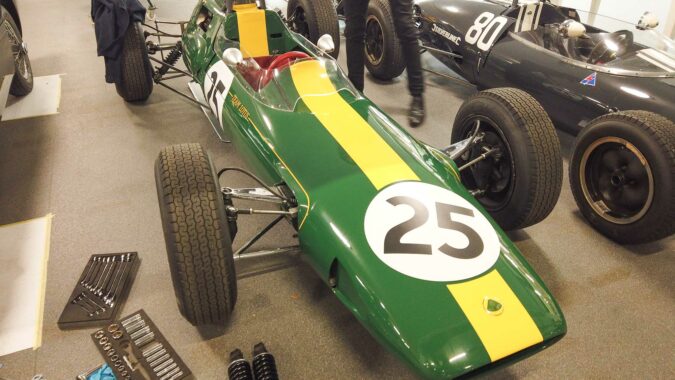 As for the other cars in the collection, it's not as though they just sit around all day. Classic Team Lotus regularly brings them out as show cars, and they've been featured at places such as Goodwood. Or even, within movies! Another cool aspect of what Classic Team Lotus does is prepare these cars to hit the track, wherever the owners choose.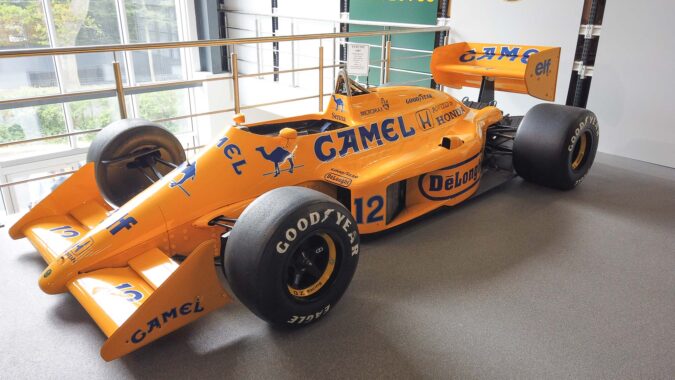 If you're the owner of one of these cars, you could ask Lotus to have it prepped and delivered to a track event. Better still, how about a spot of historic racing on the same circuits that your old heroes may have raced at decades ago. Classic Team Lotus isn't merely a collection of old cars. It's the best way to experience how Lotus, a once small, can-do team, conquered all of motorsport.