Land Rover has enhanced its current Discovery Sport range with a new 'Landmark' edition.
Celebrating the Discovery Sport's success as the fastest-selling Land Rover of all time, the company has began production of a unique new model – the Landmark. This coincides with the brand's year-long 70th anniversary celebrations.
The Discovery Sport topped sales charts in 2017 selling 126,078 models – a record-breaking single year sale for any Land Rover in the past 70 years.
Powered by Land Rover's TD4 180PS diesel 'Ingenium' engine, the Landmark also offers customers the choice of unique colour and trim combinations.
The Discovery Sport Landmark is available in three colours: Narvik Black, Corris Grey, and Yulong White, all paired with a Carpathian Grey contrast roof.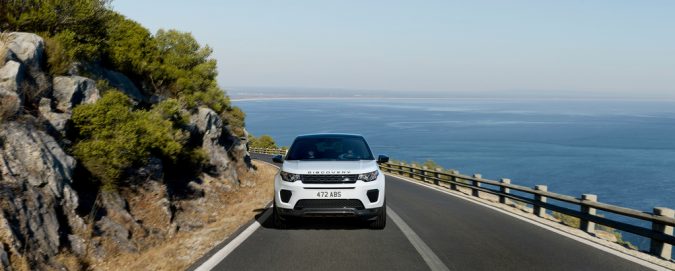 Discovery Sport Landmark Design Tweaks
The front bumper design has been revised to give a sportier, more aggressive fascia, with Graphite Atlas exterior accents. Humongous wheels come as standard with the Landmark sitting on 19 inch 'Mantis' rims in Gloss Dark Grey.
The interior features ebony grained leather seats and an ebony headliner, a panoramic roof, MeridianTM sound system and heated steering wheel.

Land Rover has been especially focused as of late on turning the company into more of a luxury brand. This new design philosophy can also be noted in the Discovery Sport SD4 Lux which MotorVerso covered earlier this year.
Greener Engines
As part of the continual focus on efficiency from Land Rover, all Discovery Sport powertrains, including petrol engine models, are now equipped with filters to make them cleaner. These filters trap soot as the exhaust gas passes through them. Under normal driving conditions, the trapped soot will be oxidised into CO2 and the filter regenerated whenever the driver lifts off the accelerator, creating less pollution and making the new Landmark edition less damaging to the environment.
Words From Land Rover
Finbar McFall, Global Product Marketing Director, said; "The Discovery Sport is loved by customers because it demonstrates the breadth of Land Rover's ability, offering unrivalled all-terrain capability with the versatility for up to seven people and a premium interior. We have sold more than 350,000 Discovery Sports globally since its introduction in 2014, with 126,078 models sold in 2017 – the best single-model annual sales in Land Rover's 70-year history."

The first model to be built on Land Rover's 70th birthday on 30 April was a Discovery Sport, at Land Rover's Halewood plant in Merseyside. This vehicle will be used to support a number of projects in 2018, starting with a community resilience project in Scotland which will be announced in June.
The Landmark edition is priced from £40,400 (UK OTR) and available to order now from www.landrover.co.uk