One of my worst fears when shopping online – and the same goes for auto parts, too – is being duped into buying counterfeit products. So, does RockAuto sell any fake parts, and should you be worried?
It's a fair concern, given that RockAuto is one of the most popular online marketplaces for auto parts, and in some ways, many enthusiasts and car owners, like myself, sometimes prefer it to Amazon or eBay.
In general, though, RockAuto mostly offers legitimate auto parts for sale, and while there are a select few bad apples that sell fake parts on RockAuto, it's no different from other sites like Amazon or eBay.
Rock Auto Parts
As I briefly highlighted earlier, yes, RockAuto does sell fake parts. However, it's important to stress that a vast majority of their auto parts are legitimate, with only a very tiny portion of sales being counterfeit.
The ratio of fake-to-legit parts isn't any different from the many other online marketplaces out there, like Amazon, eBay, AliExpress, and so on. In fact, many users stand by the quality of goods on RockAuto.
As a whole, RockAuto is a reliable source for auto parts, and personally, I've ordered quite a lot of stuff on RockAuto, and while RockAuto has many other issues besides, counterfeit parts aren't a major problem.
Besides RockAuto's competitive pricing and affordable selection of auto parts, they also have a large and diverse array of auto parts, including obscure parts for classic cars, and much more.
Is RockAuto Any Good?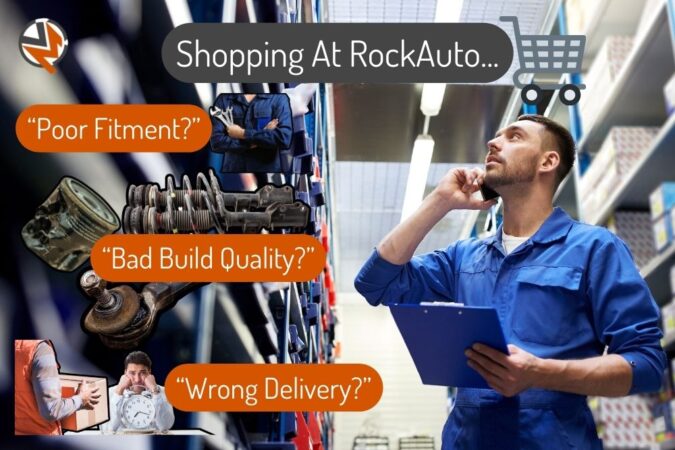 With that being said, while most auto parts on RockAuto are legitimate, that doesn't mean that the many auto parts sold there don't have their own problems and other issues besides…
Odd Fitment – Quite a few users (including myself, when I ordered some suspension parts a while back), have recounted receiving auto parts that didn't fit perfectly, even though the specifications are correct.
Inferior Quality Parts – You can easily find high-quality auto parts on RockAuto that are comparable to the OEM specs, you'll also find an abundance of cheap, low-quality, and inferior auto parts on RockAuto, too.
Occasional Slip-Ups – RockAuto and the suppliers they work with have a massive inventory of auto parts, so there have been instances in the past where users have received the delivery of incorrect parts.
Testimonial Of RockAuto Selling Fake Parts
So far, then, most RockAuto users – and you can count me in, too – stand by RockAuto as a reliable source of auto parts… Even if the site as a whole might have its own set of issues. So, fake parts aren't a concern.
Nonetheless, that doesn't mean that counterfeit auto parts haven't made it through RockAuto's inventory before. One of the most prominent cases of fake goods was discussed in the Powerstroke Diesel forums.
One of the users ordered a bulk of Motorcraft filters, only to find that they were fake. Elsewhere, some of the other users also discussed counterfeit Cummins filters (among others) that were bought on RockAuto.
Among the possible reasons why counterfeit auto parts are able to pass through RockAuto's checks is due to their supply chain structure, which some claim or speculate that RockAuto drop-ships their inventory.
In other words, RockAuto forwards orders to its network of suppliers, which then ships them to customers. RockAuto even claimed, in one response, that they don't have too much control over individual suppliers.
How To Spot Counterfeit Auto Parts
All in all, RockAuto doesn't suffer from a serious counterfeiting issue. And, I would even argue that you're more likely to receive knockoff auto parts from sites like Amazon or eBay than from RockAuto.
Still, that doesn't mean that you shouldn't be diligent when shopping for auto parts on RockAuto. Here's a list of precautionary steps that you should take when you browse for auto parts on RockAuto:
Research the Brand: Only opt for well-known and reputable brands.
Compare Prices: Extremely low prices can be a red flag.
Check Product Images: Counterfeit listings may use generic photos.
Read Reviews: Other buyers' experiences can hint at product authenticity.
Examine Packaging: Genuine parts often have branded, secure packaging.
Check Part Numbers: Verify numbers on the manufacturer's website.
Look for Certifications: Authentic parts may have industry standard labels.
Assess Quality: Counterfeit parts may differ in weight or material.
Contact the Manufacturer: They can confirm a part's authenticity.
Trust Your Instincts: If something feels off, be cautious.
Stay Updated: Join forums to stay informed about concerns around fake auto parts.