This article was recently reviewed by car expert Paul Hadley to ensure it is as accurate and helpful as possible.
Honda Ridgeline is one of the most controversial names in the pickup market, for many reasons. With a lot of fuss going on around its off-road abilities or the lack of it, a lifted Ridgeline does not really sound relevant.
But it is widely discussed in the automotive domain. Amid a lot of ridicule for the Ridgeline, there are genuine forums that praise it. People pick on the Honda for its monocoque/unibody construction, lower towing capacity, and the lack of a heavy-duty four-wheel-drive system. So, will a suspension job help a lifted Ridgeline claw back some of its lost reputations?
That is what we are yet to find out. Just like many other pickups out there, Ridgelines get their own aftermarket accessory universe. Here, users pick stuff that will make their truck more at home when the tarmac ends. Lifted Ridgeline is a creation of this passion.
Let us walk through the history of this unique pickup truck, the reasons people hated it, and see if lifted Ridgeline can help it regain its traction, literally and figuratively.
Honda Ridgeline History
Before we delve into the lifted Ridgeline story, let us turn our heads back and look at the genesis of this unique little pickup. The Honda Ridgeline made its debut back in 2006 when the pickup scene was inundated with burly units. Large ladder-frame pickup trucks dominated the scene with colossal towing capacity figures and torquey diesel engines.
First Generation (2006-2016)
The first-generation Honda Ridgeline made its entry around this time. With its relatively smaller 3.5-liter V6 engine and unibody construction, it looked like Honda brought a knife to a gunfight. But the knife had a bunch of tricks up its sleeve.
Its unique construction worked against it as it was not very tough as the market leaders. The ladder-frame chassis of these large trucks gave them strength unmatched by any monocoque out there. But there were some other areas where the monocoque of the Ridgeline shined.
Refinement, comfort, and handling were its forte. As the large pickups struggled mainly in these regions, the Ridgeline hoped to plug that gap. It made people learn that a pickup does not always have to be unrefined and uncomfortable. Also, many pickup users used their trucks mainly on the road. For them, a comfortable pickup truck with decent towing and loading capabilities made perfect sense.
Moreover, Honda Ridgeline was the perfect upgrade for sedan and minivan users looking for a pickup truck. They could get the utility of a pickup without compromising the comfort and dynamics that they were used to.  The monocoque construction and the independent suspension on all four wheels helped their case.
As a truck too, the first-generation Ridgeline made a strong case for itself. Before someone annihilates the comment section with strong words, let me explain. A chunk of truck users never takes their trucks off-road. They mostly utilize the cargo-hauling capacity on the tarmac.
For them, the Ridgeline had a lot to offer. A decent-sized 5 feet long bed, a lockable in-bed trunk underneath it, and a dual-action tailgate that can be laid down traditionally or be swung open sideways. For more truck abilities, there was always an option of an aftermarket-enhanced lifted Ridgeline.
Second Generation (2016 – Present)
This follow-up to the Ridgeline formula came in 2016 with a familiar Honda face. People were split by the design as many did not agree with the mellowed-down crossover-ish design at the front. Compared to the comparatively rugged first-gen design, this was a letdown for some. But others were happy with it as the new design made it instantly recognizable as a Honda, a trait that they loved.
But after peeling off the exterior design, you will be greeted by some familiar setup. The second-generation Ridgeline uses Honda's "global light truck platform" that underpins the Honda Pilot. But this did not come straight off the crossover. Honda made numerous changes to this platform to suit the truck applications of the Ridgeline.
The new Ridgeline carries over some features from the older model like the in-bed trunk and the dual-action tailgate. Over and above, it added some extra features like the truck bed audio system, a bed-mounted AC inverter, and more.
The power for the new Ridgeline came from a 3.5-liter V6 engine that churned out 280 hp, 30 hp more than before. It also gained a new six-speed automatic transmission and a more robust AWD system.
Lifted Ridgeline kits are mostly available in the market for this generation. The first generation is not left out though. You still get options for this truck to be a lifted Ridgeline as well.
Read our review of the 2017 Honda Ridgeline here

Is The Honda Ridgeline Really A Monocoque?
Yes, the monocoque or unibody is a clever feat of engineering. Yes, it is far more comfortable than a ladder frame. It is safer and gives better dynamics too. But does it make a good truck?
How do you move past the obvious drawbacks of using a unibody in a truck? The increase in comfort and handling cannot make up for the loss in the strength department. Then came the clever Honda engineering to the rescue.
It is widely believed that Honda uses a monocoque for their truck and lifted Ridgeline is an improvement over it. Well, it is true but if we dig into the technical bits and bobs, we can find a few eccentricities.
If you look up the image of the Ridgeline's chassis, you can find a ladder-frame-ish thing under that monocoque. Believe your eyes, it is a frame rail, just like what you get in other ladder-frame SUVs and trucks. But that is where the similarity ends. Ridgeline utilizes a special feat here to blend the best of both worlds.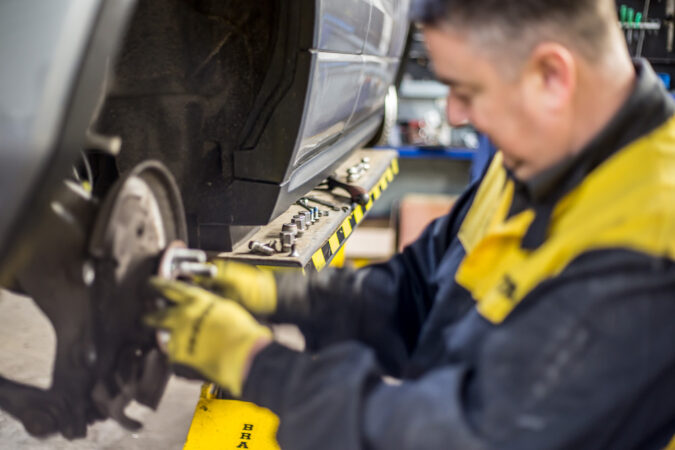 Instead of bolting the body onto the frame, like in body-on-frame/ladder-frame vehicles, the Ridgeline utilizes welding for a cohesive fit. The floor panel of the truck sits on top of the frame rail for a snug fit, and everything is welded together.
It may sound a little extra, but Honda left no stone unturned to provide the best for their pickup. The rugged frame rails provide strength to the truck while the welded body adds better dynamics, safety, and comfort. It may not be as tough as a Toyota Tacoma, or a Ford Ranger. It may also not be as comfortable as a Pilot or a CR-V. But Ridgeline is the closest you can get to a perfect blend of these characters.
Lifted Ridgeline: What Are Your Options?
If you own a Honda Ridgeline and would like to lift it for whatever reason, what er your options? The lift may be planned to improve the off-road manners of your truck. But in most cases, it is merely a cosmetic update. But if a lifted Ridgeline is on your bucket list, what should you do?
1. Lifted Ridgeline: Leveling Kits
This is the most basic of all the lift kits. It is not a lift kit if you are interested in boosting the off-road performance of your vehicle. Instead, it focuses more on enhancing the aesthetics of your vehicle by eliminating its factory rake, if there is any.
In some vehicles, the front end may be a little banked downwards. The leveling kits raise the front end a little bit to bring it in line with the rear. It is achieved by using spacers that go on top of your factory coil spring. This may not improve the credentials a lot but will make the lifted Ridgeline look better than a stock vehicle.
But do not expect monster truck-like looks with a leveling kit. For that, there are other options available in the market.
2. Lifted Ridgeline: Using Spacers
If you intend to make your lifted Ridgeline mostly cosmetic, spacers are your best bet. They are basically leveling kits on steroids. The spacers used for lifted Ridgeline trucks are taller than the ones on the leveling kits. They fit on all four sides, giving the truck an even lift.
Of course, this is not the preferred option if you plan to employ your lifted Ridgeline for serious off-roading. But most customers do not buy a monocoque truck for this purpose. If that is the case, you are always better off with a ladder-frame truck, instead of a lifted Ridgeline.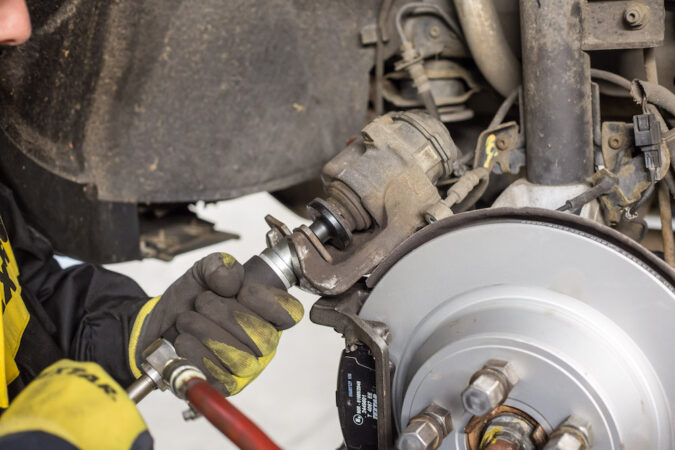 But the spacers can give your lifted Ridgeline some added advantages over the stock truck. It can provide increased ground clearance, better approach and departure angles, room for larger wheels, and of course, a more rugged look. This does bring in some real-world benefits, like better off-road abilities. Yet, this is not preferred if your lifted Ridgeline expects to perform well on a rock-climbing trail, usually dominated by Wranglers and Tacomas.
These lift kits are offered either in 2-inch or 3-inch options. With the prices ranging from $200 to $300, it is rather inexpensive for such a cosmetic update. Here is a good 2-inch spacer kit we found on Amazon.
3. Lifted Ridgeline: Suspension Lift Kits
The spacers may be a great way to achieve a small amount of lift without hurting your pocket too much. But for a complete job, a full suspension lift kit is the way to achieve a lifted Ridgeline.
The spacers fit just above the coil springs of the vehicle and lift it up. This may give the impression of a lifted vehicle without altering the articulation or wheel travel. Hence, apart from the raised ground clearance and the improved angles of capability, spacers do not do much off-road.
To improve your truck's ability off the road, you need to fit your lifted Ridgeline with a full suspension lift kit. This kit comes complete with longer springs, and new dampers. Swapping all these components can easily give your vehicle a substantial lift. On top of that, the vehicle may perform better off-road, courtesy of its improved wheel travel.
But, given the monocoque structure of the Ridgeline, most lifted Ridgeline owners opt for spacers. This is a cost-effective method to enhance the visual appeal of the truck without breaking the bank. Most serious off-roaders choose more rugged trucks in the first place. But if you want your lifted Ridgeline to have a strong off-road performance, a suspension lift kit is what you can opt for.
4. Lifted Ridgeline: Complete Lift Kits
These kits are suspension lift kits with more parts included in them. The suspension lift kits usually offer taller springs, and sometimes, shocks. A complete lift kit may add control arms, track bars, track bar brackets, and more.
The composition of the kit depends on how much money you are ready to spend on a lifted Ridgeline. With these many components in the crate, it is not going to be exactly cheap. So this is a decision that you may have to take using your wallet as a dipstick.
Complete suspension lift kits come with all these components for a cohesive performance. It can eliminate any issue that can crop up due to a lift job. Hence, it does bring a lot of peace of mind for the money it asks for.
Can Body Lift Kits Create A Lifted Ridgeline?
Body lift kits are used to lift the body of the vehicle from the chassis, providing more clearance. These are similar to spacers, with metal blocks that fit between the body and the frame, just above the original body mount bushings. The body lift kits leave the suspension and wheels at their original height.
Users of these trucks favor body lift kits because of their lower costs and easy installation procedure. It also keeps the truck's comfort and handling intact. It is also advantageous as it does not require you to purchase a new suspension or to align your wheels again.
But unfortunately, you cannot use body lifts for your lifted Ridgeline. Body lift kits are used only on ladder-frame vehicles where the body is bolted onto the chassis. Your lifted Ridgeline being a monocoque with a body welded onto the frame rails, does not offer these mounting points that are required for the spacers. So, the body lift kits are options you can take out of the options for a lifted Ridgeline.
Pros And Cons Of Lifted Ridgeline
As we have seen, lifted Ridgeline can have its own advantages. But there are certain drawbacks to lifting your vehicle as well. Let us list down the pros and cons of a lifted Ridgeline.
Pros Of A Lifted Ridgeline
These are the very reasons people spend their hard-earned money on their lifted Ridgeline trucks.
1. Higher Ground Clearance
The most important benefit of the lifted Ridgeline is the increase in ground clearance. Not that the stock car scrapes its bottom on every speed bump. It is quite adequate for regular use right from the factory.
But a lifted Ridgeline gets a few more valuable inches of ground clearance that helps it clear obstacles on trails. Should you take it off-road that is. But even for regular drives on dirt roads in a farm, the lifted Ridgeline's added clearance should help.
2. Better Approach And Departure Angles
The approach and departure angles of a truck are very important for any off-road. The approach angle helps it climb steep slopes without scraping the front bumper. The departure angle helps it drive off a steep slope without leaving a bit of the paint from the rear bumper.
A lifted Ridgeline gets higher approach and departure angles by default, helping it with better off-road manners. So, if you intend to take your Ridgeline to a trail run, a lift can help you leave home with all bumpers intact.
3. More Room For More Rubber
Lifting your Ridgeline leaves more clearance between your tire wall and the ground, liberating space for larger tires. This room can fit some chunky off-road rubber. These tires can help you achieve better traction on loose surfaces.
4. Better Aesthetics
Let us be real here. This is the main reason most people opt for a lifted Ridgeline. Or any lifted truck for that matter. Lifting your truck will add a rugged appeal to your truck, making it stand out more.
5. Better Visibility
The taller your seating is, the better will be your visibility. A lifted Ridgeline will provide the driver with a wider view of the road and traffic ahead. This can also be beneficial during off-roading. The higher seating can give you a better view of the obstacles on the track.
Cons Of A Lifted Ridgeline
1. Limited Options
Let us face it. The Ridgeline is not usually the sort of truck bough by truck aficionados who like to go hardcore rock crawling. Hence, the options for those who do opt for a lifted Ridgeline are quite limited in the market. In contrast, there are a plethora of options for ladder-frame trucks like the Ford F-150, Nissan Frontier, or SUVs like the Jeep Wrangler. Honda Ridgeline owners may find it a bit difficult to source lift kits unlike the owners of the aforementioned trucks.
But fret not, there are a bunch of options still in the market for you to pick. These include spacers and suspension lifts. But most of them are not inclined to prep your lifted Ridgeline for an intense off-road workout. Still, you can dig out lift kits that fit your purpose.
2. Drop In Fuel Efficiency
This is a given when you lift your truck and fit larger tires. In fact, it has more to do with the larger, wider tires than the lift kit. But of course, anyone opting for a lift kit will almost always slap on larger rubber. In this case, you can expect a good drop in fuel efficiency. If you are ready to take that hit for the sake of style, then it is a different story.
3. More Noise
Larger off-road rubber is not made for a refined, smooth highway ride. They have more pronounced patterns designed to dig into the loose ground, enhancing the grip. In this case, they sacrifice on-road comfort, especially the smooth operation.
Off-road tires can amplify the road noise that seeps into the cabin. This can make the ride less comfortable. On top of this, lifting a truck can also increase wind resistance, amplifying noise in that area as well. So if your priority from your truck is a smooth and silent ride, a lifted Ridgeline may not be the right option for you.
4. Changes In Suspension Geometry
This may or may not be a drawback. A well-done lift kit may not inflict any damage on the suspension of your vehicle. Especially, a full suspension lift kit may not affect your vehicle too much. But an overdone spacer might. Simply lifting the truck using a spacer requires a lot of planning to ensure that there is no damage to the suspension components. But this is not a risk at all if the lift job is done by an expert.
5. Stretched Or Pinched Cables And Hoses
This is also a drawback that a shoddy lift job causes. Lifting your truck with no regard to the peripheral components may end up damaging them. For instance, the brake lines or ABS wires going into the brakes may be designed at a certain length with the stock ride height in mind.
But with a substantial lift, these cables and hoses may be stretched or get pinched between two different components. This is in no way favorable as it can hamper the smooth operation of these components.
Facts about Lifting a Honda Ridgeline:
Lifting a Honda Ridgeline using spacers and control arms is primarily done for cosmetic reasons and added ground clearance, rather than off-roading purposes.
Benefits of lifting a Honda Ridgeline include higher ground clearance, better approach and departure angles, increased room for larger tires, better visibility in traffic, and a more rugged appearance.
Many Ridgeline lift kits are relatively inexpensive, ranging from $200 to $300.
There are two-inch and three-inch lift kits available for the Ridgeline.
While the lifted Ridgeline can handle some rocky terrain and mild obstacles, it is not as capable as other trucks in its class.
Cons of lifting a Honda Ridgeline include limited lift height due to available kits, potential tire rubbing against fenders, altered suspension geometry, worse fuel economy, and more road, and cabin noise.
Lift kits for the Ridgeline, like the one from Truxxx, often include necessary hardware to maintain factory operation.
Installing a lift kit on a Honda Ridgeline is worth the $200 to $300 cost, but professional installation is recommended as some shops have varying rates that could drive up the cost.
There are larger tire options that should fit the stock Ridgeline wheels to complete the lifted setup.
The Honda Ridgeline is a compact truck made for reliability, fuel efficiency, and ruggedness, but its unibody construction does not make it as capable as other trucks in its class.
Lifted Ridgeline: Is It For You?
Honda Ridgeline is not the kind of truck bought to go off-road. With comfort and on-road handling as its unique selling points, the monocoque truck is mostly a tarmac crawler.
But if you do wish to take it off-road, the Honda Ridgeline is decently capable to take the trails on. If you are a user who wishes to take their lifted Ridgeline off-road, the lift kits are a good choice. But instead of just squeezing in some spacers, consider getting a decent suspension lift kit.
But if your lifted Ridgeline is mostly going to operate on the road, a spacer is a great option. In this case, your truck can flaunt a rugged look without hurting your pocket too much. It also retains the smooth ride of the stock suspension so it is a win-win here.