A New Breed of Beast: The VelociRaptoR 6X6 Emerges
Hennessey, the renowned Texas-based hypercar manufacturer, has just rolled out its latest automotive marvel – the 'VelociRaptoR 6X6'. This isn't your average pick-up; it's a formidable transformation of the Ford F-150 Raptor R into a six-wheel-drive super-truck.
Imagine a vehicle that not only turns heads but also reigns supreme both on and off the road. The VelociRaptoR 6X6 isn't just about looks; it's a symphony of mechanical and aesthetic enhancements that set a new benchmark in the world of supertrucks.
Mechanical Mastery: Upgrades Galore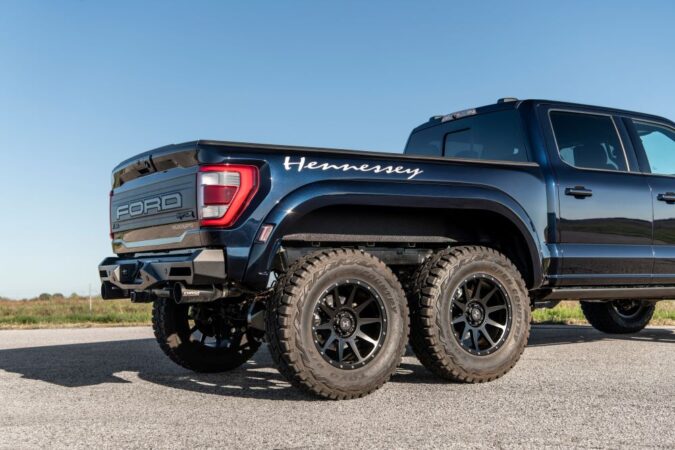 At the heart of this beast lies the untouched, powerful Ford Raptor R engine, a supercharged 5.2-litre V8, boasting a whopping 700 bhp and 640 lb-ft of torque. But the real magic happens beneath the surface. The truck features an extended boxed frame and a second, fully functional, locking rear axle, enhancing traction by more than 50%.
The suspension hasn't been overlooked either, with state-of-the-art Live Valve Fox dampers and a three-inch lift, preparing this giant for any terrain. Hennessey's custom 20-inch alloy wheels, wrapped in 37-inch off-road tires, are the cherry on top. And let's not forget the practical side – an eight-foot cargo bed, increasing cargo capacity by over 45%.
Unmistakable Presence: A Design That Demands Attention
The VelociRaptoR 6X6 isn't just about raw power and utility. It's about making a statement. The truck, nearly 27 feet long, about 7 feet tall, and 7 feet wide, is an intimidating presence on the road. Hennessey's bespoke additions like new front and rear bumpers, LED off-road lights, and distinct VelociRaptoR badging give this 6X6 an unmatched stage presence.
Hennessey's Promise: Quality and Durability
With great power comes great responsibility, and Hennessey understands this well. The VelociRaptoR 6X6 comes with a comprehensive 3-year / 36,000-mile warranty. It's a testament to Hennessey's commitment to quality and customer satisfaction. This super-truck isn't just a powerful machine; it's a reliable companion for the long haul.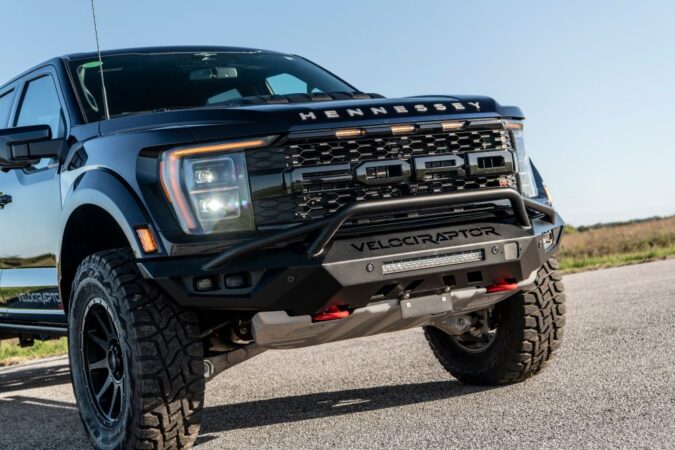 Global Reach, Exclusive Feel
For those looking to own this exclusive beast, Hennessey offers two options: send in your Ford Raptor R for conversion or purchase a turn-key vehicle directly from them. What's more, the VelociRaptoR 6X6 is available for international shipping, so no matter where you are in the world, you can have this monster delivered to your doorstep.
Hennessey's VelociRaptoR 6X6 is more than just a truck; it's a testament to engineering excellence and a bold statement in automotive design. For those who seek the ultimate in performance, utility, and style, the VelociRaptoR 6X6 is the answer.
It's not just a vehicle; it's an experience, a lifestyle. So, gear up for an adventure like no other with this supertruck that redefines boundaries and sets new standards.