The days of old-school off-roaders… Immensely capable yet simple, endlessly reliable, and focused solely on tackling the worst that Mother Nature has to throw at it… Are slowly getting numbered. With growing urbanisation, it means that the majority of car buyers prefer luxury amenities, comfort, and refinement over things like proper 4-wheel drive or high approach angles. Yet, the INEOS Grenadier is keen to soldier on.
For those who absolutely need a 4×4 off-roader, and want to go places where a typical crossover or SUV can't take you, INEOS's Grenadier aims to showcase that proper off-roaders are here to stay. And, they'll still be around for a little while. As part of INEOS demonstrating their cars at the Game Fair 2023, hosted at Ragley Hall, I had the opportunity to see what the Grenadier could do, off the beaten path.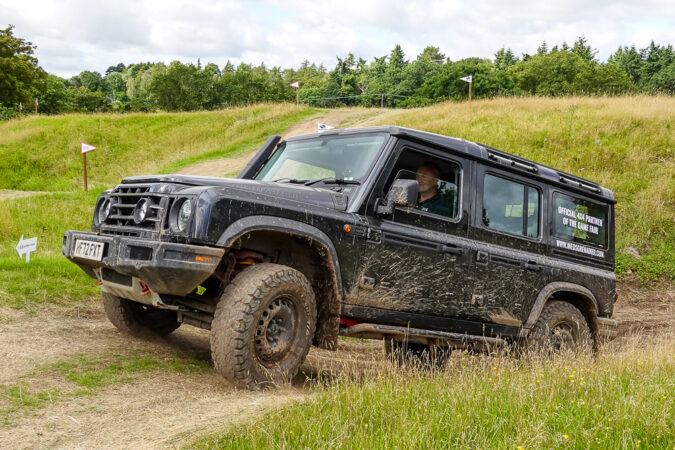 Immediately, you might be able to spot some resemblance to another iconic off-roader… The Land Rover Defender. Indeed, INEOS isn't coy about its inspiration for the Grenadier, either. Yet, where the Defender has opted for a unibody construction instead of a body-on-frame, and with a plethora of upscale niceties and posh cityscape refinements, the INEOS Grenadier has stuck by its tried-and-true off-roader roots.
It's built atop a hardy ladder frame chassis, and with the right suspension set-up designed to easily tackle your trail-chewing excursions, be it over mud, sand, snow, dirt, or grasslands. That's then paired with the rugged and robust nature of its design, not afraid to get down and dirty. But also, shamelessly functional and practical. So, here are a few things you need to know about the new INEOS Grenadier 4×4…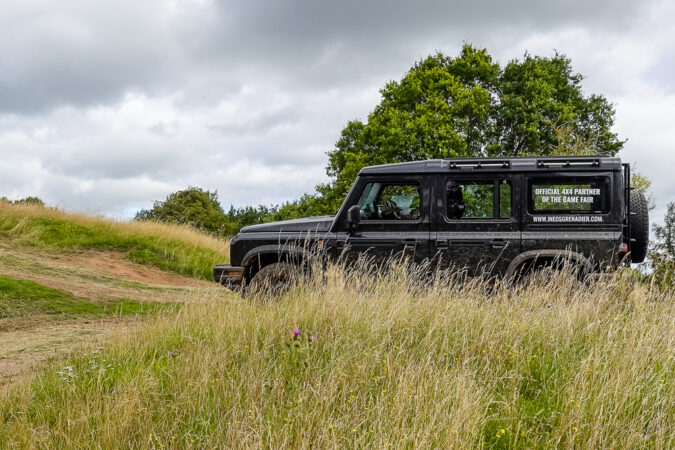 More Than One Type Of Grenadier
Before we get to my off-road driving impressions, it's worth mentioning that this Grenadier here could be a lot different than the Grenadier that you could opt to spec from INEOS. There are numerous versions of the INEOS Grenadier, depending on what you need out of it. The more affordable ones of the line-up are the Utility Wagon variants. These are designed specifically for more commercial-based applications.
They either come as a 2-seater; if you need maximal cargo space to haul additional goods. Alternatively, as a 5-seater, if you still need extensive cargo capacity, but also want to carry some passengers. Besides that, there's the standard Station Wagon version, which is the mainstay of the Grenadier family. It offers you the luxuries and nice-to-haves of modern 4x4s, but it also has what it takes to trek over mountains.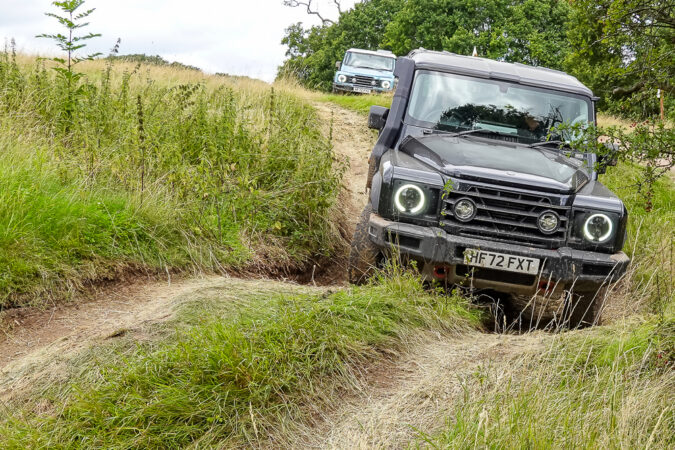 Finally, there's the Quartermaster, INEOS's take on something like the Jeep Wrangler Gladiator pickup truck – or, "ute", for our Aussie readers. This latter variant of the Grenadier swaps out the enclosed boot space of the Utility and Station Wagons, in lieu of a truck bed, instead. This would be perfect for anyone who needs to carry even larger (or awkwardly shaped) loads, yet retain the off-road capability on hand.
Moreover, each can be specified in different trims. There's the bog-standard Grenadier, ideal if you want all the fundamentals of a good 4×4. You can then step up to the extreme Trialmaster Edition, netting you hardy off-road mods, like a raised air intake. Lastly, there's the Fieldmaster Edition, blending its off-road DNA and lining it with posh upholstery and features, including leather seats and a safari-style window.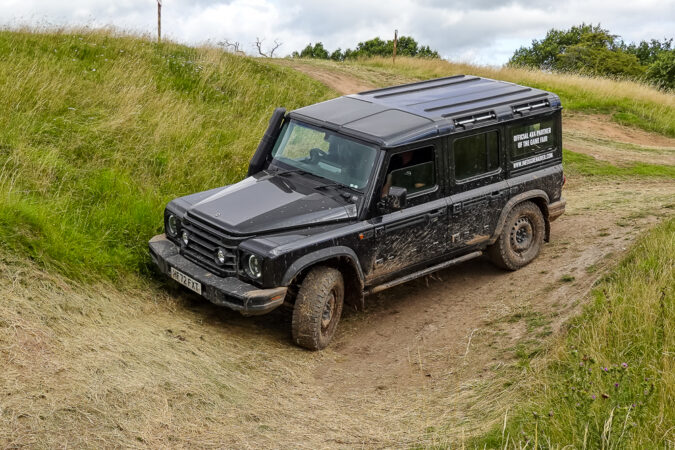 A Long-Lasting And Reliable Powertrain
In my case, this Grenadier that I'm driving here is the 5-seater Station Wagon, with the Trialmaster Edition trim. Regardless of which Grenadier form factor you go for though, there's a choice of two engines, both sourced from BMW. So, you'll either get a 'B58' turbocharged 3.0-litre petrol inline-6 engine. Or, a 'B57' turbocharged 3.0-litre diesel inline-6, instead. Nevertheless, with this diesel one here, you're getting a healthy 249PS and 550Nm of torque, perfect for on or off-road driving.
They're then mated to an 8-speed ZF automatic. This slick-shifting transmission was then uprated by INEOS, thanks to the inclusion of a heavy-duty torque converter. That should better handle the added punishment that comes with staying away from bitumen. All of that horsepower and torque is then routed to all four of the Grenadier's wheels, with its permanent 4-wheel drive system. So far then, it might look like INEOS is basically using common off-the-shelf parts.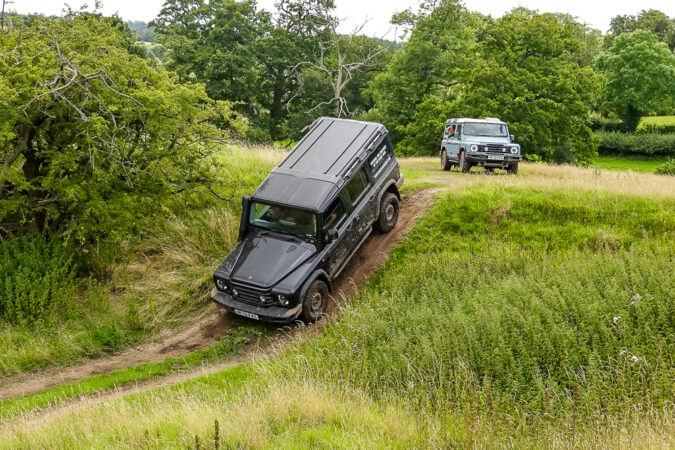 However, there's a good reason for this. These powertrains and drivetrains are well-regarded for reliability and longevity. They've been tried and tested in other cars, and they're known to work well for their application. Furthermore, INEOS has expensed a lot of effort to optimise them for the Grenadier. What they're going for is similar to the philosophy that Toyota uses for its eternally indestructible Land Cruisers and Hiluxes.
With its use of simple (and thus, easily mendable and serviceable) components, not to mention having to cherry-pick proven and demonstrable parts, INEOS may not necessarily be on the bleeding edge of tech. But, these over-engineered systems are known to last a (very) long time, while also being able to handle an off-road expedition with confidence. This is what makes the INEOS Grenadier so proficient at its task.
Functional And Focused At Its Core
The interior of the INEOS Grenadier is noteworthy, too. Its cabin has a distinct aeroplane cabin-like layout, as noted by the vast array of large-sized buttons and switches for all your common controls. That includes the climate control, hazard lights, and even the infotainment system, among many others. The shape and size of these buttons are meant so that you can still easily use them, even while wearing a pair of gloves.
You'll also find more important switches dotted about for managing the 4-wheel drive system. You'll find, for instance, the clever Wading Mode, which lets you turn off the engine cooling fans when you're wading through water up to 80cm deep. Look upward, and you'll even find overhead switches for additional auxiliary controls. Here, you could wire in extra electronics or electrical accessories, such as search lights or winches.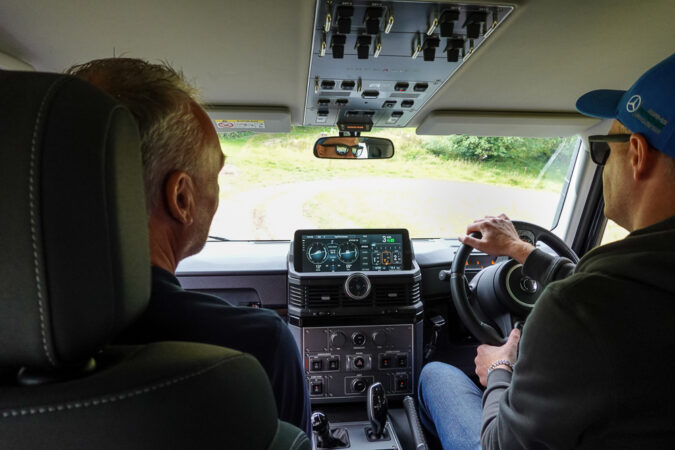 Meanwhile, the 12.3-inch infotainment system serves up a lot of data about your 4-wheel drive setup. It further has numerous gauges, including a built-in inclinometer. Underneath that, and next to that familiar BMW gear shifter, you'll notice the Grenadier's other "gear" knob that lets you manage INEOS's in-house, custom-made two-speed transfer case. In its most basic function, you can lock the centre differential.
Or, you could set it to low range, which reduces the gearing to just 2.5:1. This should provide ample torque at slower speeds to get you out of a sticky situation. As an optional extra, you could further influence, thus locking the front and rear differentials, individually. With three configurations, these could be a lifesaver if you're struggling for traction. Even with just one wheel having traction, you could still get moving.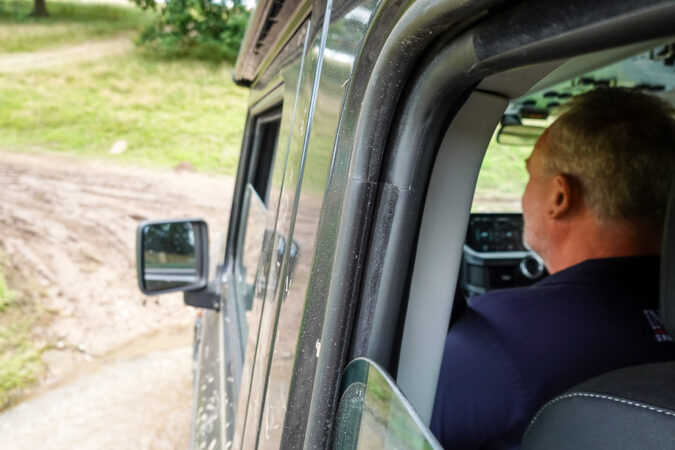 It Tackles Off-Road Trekking Like Nothing
So then, how does it actually handle off-road driving? In practice, fantastically so. The INEOS Grenadier is able to handle the local testing grounds quite capably, even under fairly harsh (albeit controlled) off-road conditions. I think it's important to bear in mind that when it comes to off-roading, pictures often don't do it justice to show how extreme the conditions are when you're sitting and piloting behind the wheel.
From my perspective, it's monstrous how steep some of these gradients are. There are occasions when I'd drop down some banking, only to spot nothing more than barren soil and grass. Or, I'd try to climb up a slope, only being able to see just the blue sky above, with no clue as to what the trail ahead of me looks like. The INEOS Grenadier has that special something that only a proper, from-the-ground-up off-roader has…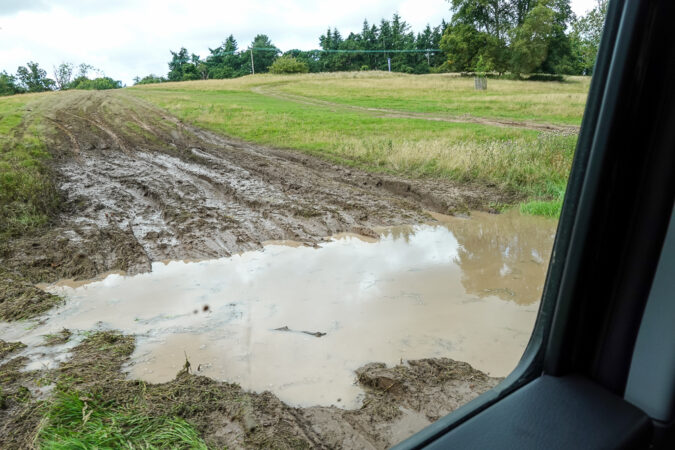 That innate ability to inspire confidence to keep the driver going, no matter how tough the going may get. Then, there's the sheer amount of traction that I got out of the Grenadier. It's impressive, given how slick the surfaces were that I drove on. This is thanks in part to INEOS's selection of rubber for the Grenadier. You get to pick between the off-road-ready BFGoodrich tyres, or the all-rounder Bridgestone all-terrains.
Nonetheless, despite these fairly challenging and extreme conditions, the INEOS Grenadier handles them with stride. In the most basic sense, the INEOS Grenadier copes with the fundamentals of off-roading as brilliantly as everything else that I've driven thus far. But, when pushed to and beyond the limit, it could happily survive through that, as well. As far as today's crop of 4x4s go, it's certainly among the best.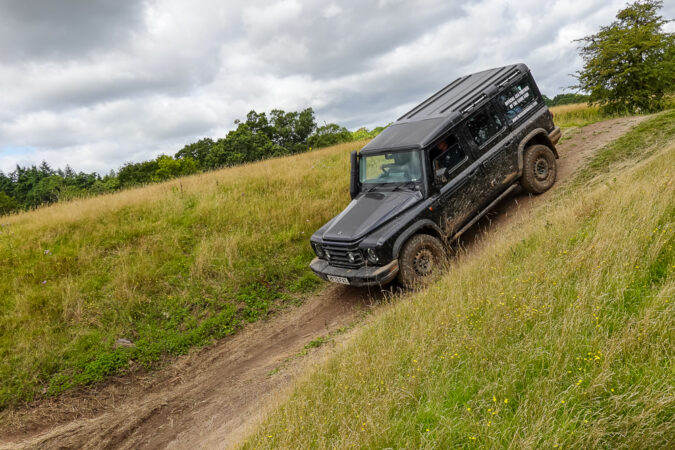 Designed To Be The Best Off The Road
The design of the Grenadier plays a huge role in its performance off-road, too. There are short overhangs front and rear, albeit the Quartermaster truck has a longer bed in the back. It means that the Grenadier has excellent approach, breakover, and departure angles… At 35.5, 28.2, and 36.1 degrees, respectively. Although, the Quartermaster has lower breakover and departure angles, at 26.2 and 22.6 degrees.
Aside from that, the rollover angle of the Grenadier is pretty good too, sticking to the ground, even with a 30-degree incline. In addition, as is de rigueur for any proper off-roader, it features a ladder frame chassis. The tuning done on the Eibach suspension and Brembo brakes are a treat to have when you're off-roading, too. When paired with 5-link solid beam axles, you're rewarded with high levels of articulation.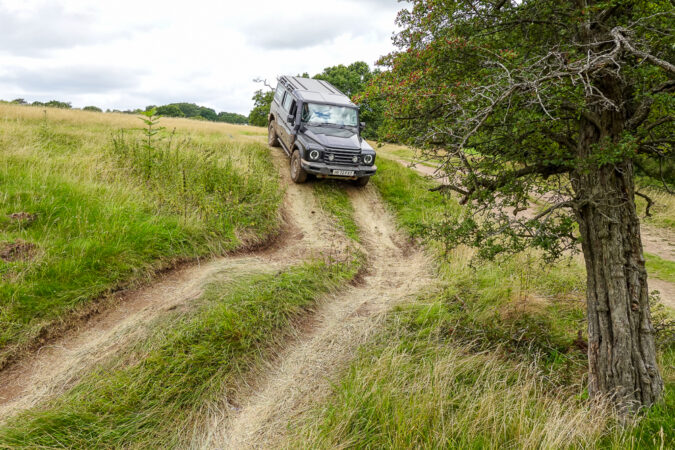 Specifically, 9 and 10 degrees between the front and rear axles, respectively. Granted, the Quartermaster truck has a higher rear-axle articulation, at 12 degrees. Altogether, this ensures good traction, more so if you find yourself on some tricky trails. INEOS has paid special attention to the anti-roll bars, as well. This'll mean that it'll easily conquer off-road driving, yet remain well-mannered and civilised on regular roads.
Another clever aspect about the INEOS Grenadier is the suite of driver aids that help you when you're off-roading. Of course, being a newer car, the Grenadier has the contemporary ADAS suite. But, on top of all that, you also get systems such as its uphill and downhill descent assist system. Or, the off-road optimised traction control system to manage wheel slip, particularly on uneven surfaces like sand, dirt, and snow.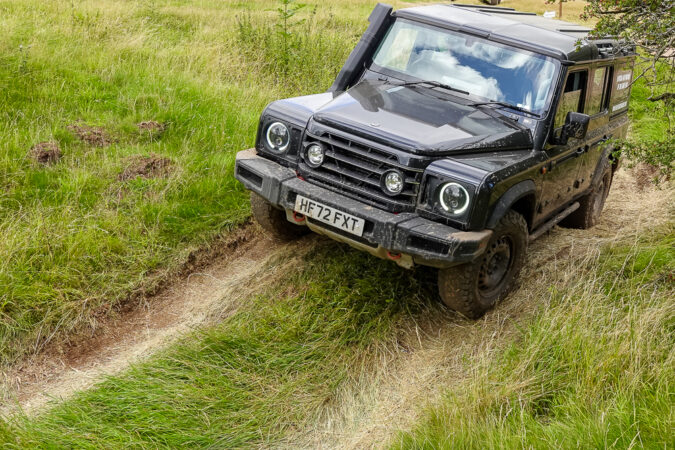 Customise And Outfit A Grenadier, Your Way
The INEOS Grenadier is a remarkably rugged and robust vehicle, inside and out. I've noticed this given the toughness of the exterior body panels and trim, not showing any scratches once I was done with it. It even offers something that not a lot of vehicles today have by default, adaptability and easy customisation. The side rails on the doors, for example, allow you to mount 100kgs worth of accessories on each door.
The built-in roof rails too, could allow you to store everything from extra cargo to a spare wheel, among a vast array of other configurations. It's easy to see that INEOS caters the Grenadier to the highly dedicated and hardcore off-roader crowd, and what they're looking for in a proper off-roader – the option to make it each to their own. On the Grenadier, it's incredibly easy to bolt on or off aftermarket accessories.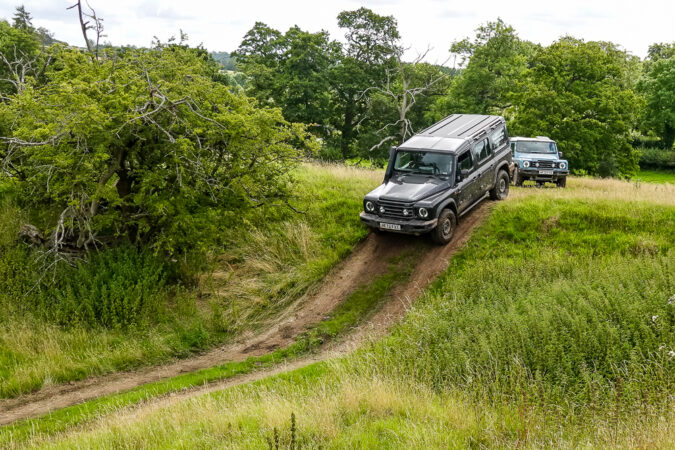 INEOS, on their part, offers a bunch of these as optional extras, such as rock sliders, a spare wheel carrier, a jack mount, a winch, and plenty more. You could even spec your Grenadier to have it pre-wired (10 amp or 25 amp), so it's ever simpler to mount and install lightbars and spotlights. Which, you could then run it through those auxiliary switches on the interior. It's mostly plug-and-play, which is awesome to see.
This means that the INEOS Grenadier is highly customisable. Given how they're used or who's driving them at any one time, it might even be the case that it'll be hard to find two of the same Grenadiers. There are infinite ways you can build your Grenadier to be the perfect off-roader and daily workhorse… Whether it's for ferrying fertilizer and seeds around the farm, or trekking through and beyond the Scottish Highlands.