As someone who takes road safety seriously, I was thrilled to try out the Kingslim D4 PRO Dash Cam Front and Rear. I've been testing this gem and I can confidently say that this product not only meets but exceeds expectations in various departments, ranging from video quality to ease of use.
Exceptional Video Quality: 4K+2K UHD Recording
Imagine capturing your road trips in stunning 4K for the front camera and 2K for the rear camera. The visual quality is so crisp that even the smallest details are captured meticulously. The dual-channel mode gives you a complete view—front, rear, or even inside the car if you wish. With a 170° front lens and 150° rear lens, the camera leaves no blind spots. It's like having an extra pair of eyes on the road!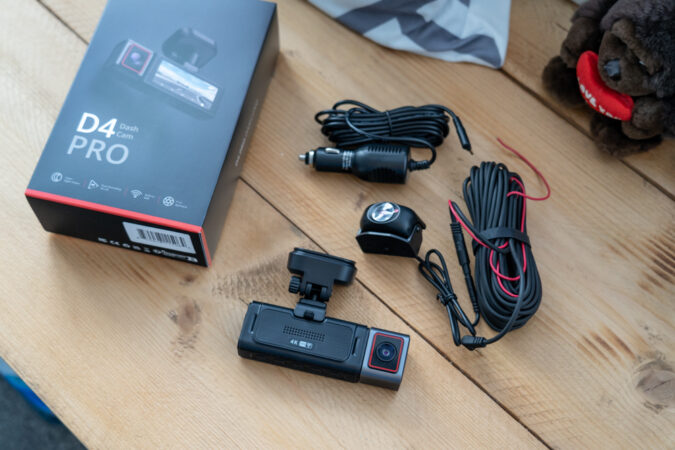 Connectivity at Your Fingertips: Built-in WiFi and GPS
Kingslim's dedicated mobile app makes it exceptionally convenient to download and view videos directly from your smartphone. The built-in GPS keeps track of your real-time speed and location, a feature that can come in handy in many situations.
Crystal Clear Night Vision: Super Night Vision Front and Rear
The D4 PRO dash cam boasts a Sony image sensor and 6-layer glass lenses, coupled with HDR on the front and WDR on the rear camera. This technology cocktail ensures crystal-clear video quality even during nighttime or in low light conditions.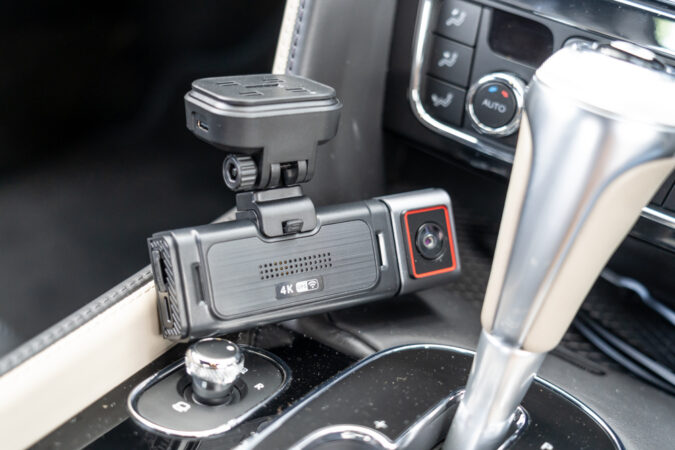 Stay Hands-Free: Voice Control Function
Safety comes first, and Kingslim understands that. With 9 voice commands at your disposal, you can easily manage tasks like taking a photo, locking a video, or toggling between camera views—all without lifting a finger!
Reliable Emergency Features
The Kingslim D4 PRO Dash Cam is packed with features designed to assist in emergency situations. The built-in G-sensor detects sudden movements and locks the current footage, preventing it from being overwritten. Other useful features like parking monitoring, time-lapse, and loop recording make this device a comprehensive safety package for any vehicle.
Ease of Installation and Use
Setting up the Kingslim D4 PRO is a breeze, thanks to the well-designed installation manual and included pry tool. With a lengthy rear camera cord, it's easy to neatly install the system while keeping the wires hidden.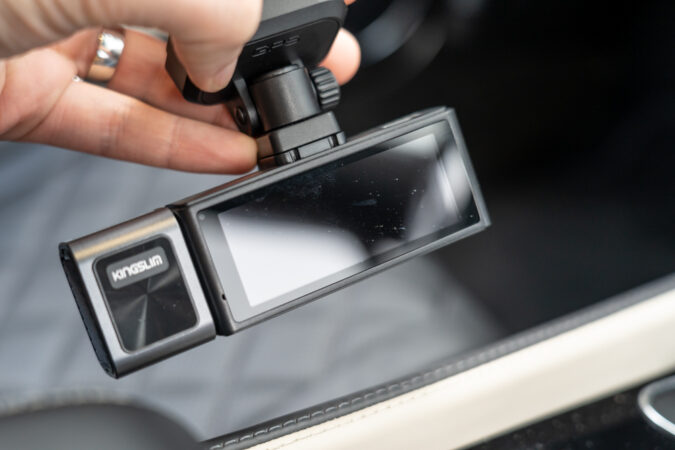 Future Enhancements: Adding a USB Port
While the Kingslim D4 PRO Dash Cam already boasts an impressive array of features, I couldn't help but ponder the possibility of further enhancements, one of which is the addition of a USB port. As someone who values convenience and connectivity, having a USB port on the device would undoubtedly be a valuable addition.
Here's why I believe this feature could be beneficial:
1. Data Transfer and Backup: A USB port would allow for quick and easy data transfer between the dash cam and other devices like laptops or external hard drives. This would be particularly useful for archiving important footage or sharing videos with others.
2. Firmware Updates: USB ports can also serve as a means to update the dash cam's firmware. Manufacturers often release updates to improve performance, fix bugs, and introduce new features. The ability to update the dash cam via USB would ensure that users always have access to the latest improvements.
3. Charging Devices: In addition to data-related functions, a USB port could double as a charging point for smartphones and other small electronic devices. This dual functionality would be especially handy for travelers who rely on their dash cam for both recording and charging on the go.
4. Expandable Storage: Some users may prefer to use external storage devices like USB flash drives to expand the dash cam's storage capacity. Having a USB port would make it convenient to plug in additional storage as needed, especially on longer journeys.
While the Kingslim D4 PRO Dash Cam already stands out in terms of video quality, connectivity, and safety features, the inclusion of a USB port in future iterations could elevate its versatility and user-friendliness even further. It's always exciting to envision how technology can evolve to better meet the needs of users like myself, who appreciate the value of innovation and practicality.
Future Innovation: Cloud Storage Integration
As I explore the impressive features of the Kingslim D4 PRO Dash Cam, my thoughts are drawn toward the future with a sense of excitement and anticipation. One particular aspect stands out as a potential game-changer: the integration of cloud storage functionality.
Cloud storage offers the convenience of automatic data backup to secure online servers. This safeguard ensures that your recorded footage remains protected, even in cases of theft or damage to the dashcam. Envision having the ability to access your dash cam footage from anywhere with an internet connection. Cloud integration empowers users to view, download, and share videos remotely, enhancing convenience for tasks like insurance claims and sharing memorable moments.
Cloud storage eliminates concerns about running out of space on the SD card, providing virtually limitless storage capacity. Users can maintain a comprehensive archive of their driving history without worrying about storage limitations. Cloud storage secures your valuable footage from physical damage or tampering. Even if the dashcam is stolen or damaged, your data remains safely stored in the cloud.
Cloud integration has the potential to enable real-time notifications or alerts for specific events, such as collisions or sudden stops. This additional functionality could further enhance the dash cam's safety features.
As technology advances in the realm of road safety, the inclusion of cloud storage capabilities is a natural progression. While not currently available in the existing model, I look forward to future iterations of the Kingslim D4 PRO Dash Cam incorporating this exciting feature. Such innovation would undoubtedly elevate the dashcam's utility, providing users with enhanced peace of mind and convenience on their journeys.
Additional Notes
The Kingslim D4 PRO Dash Cam also comes with a warranty that you can register for, giving you that extra peace of mind.
Final Thoughts
All in all, the Kingslim D4 PRO Dash Cam Front and Rear is a top-of-the-line product that offers stellar performance, unmatched video quality, and essential safety features. It's a worthy investment for anyone looking to up their driving safety game. Highly recommended!