The new Mazda MX-30 e-Skyactiv R-EV has achieved an outstanding result in Euro NCAP crash tests, scoring an impressive 91% for adult occupant protection and 87% for child occupant protection. This five-star rating is the same as the pure-electric Mazda MX-30 e-Skyactiv EV, tested in 2020, and is a testament to Mazda's commitment to safety.
Impressive Results Across the Board
Both MX-30 derivatives performed exceptionally well in all four categories of Euro NCAP crash tests: Adult Occupant, Child Occupant, Vulnerable Road User (pedestrian safety), and Safety Assist. The MX-30 series achieved maximum points in lateral impact tests and received full marks for crash test performance based on 6- and 10-year-old children for both frontal and lateral impact.
The MX-30 R-EV: Combining Electric and Rotary Power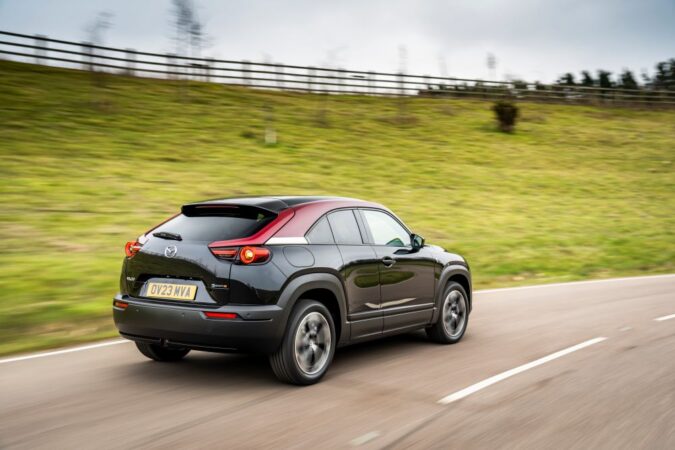 The Mazda MX-30 e-Skyactiv R-EV is a series plug-in hybrid that offers the same customer values as the pure-electric Mazda MX-30, while simultaneously offering new ways of using a car as a battery-electric vehicle.
With its 17.8KWh battery, the R-EV has a 53-mile pure electric range. Using Mazda's unique rotary engine technology, the all-new 830cc single-rotor petrol engine acts as a generator to enable longer-distance drives without range or charging anxiety.
Seamless EV Driving Experience
With no mechanical connection between the engine and the wheels, the rotary unit simply acts as a generator, ensuring the MX-30 R-EV always drives via the electric motor to deliver a seamless EV driving experience.
Mazda's expertise in the development of rotary engines, spanning more than half a century, has enabled them to select the rotary powerplant for this application due to its unique ability to produce the required output from a small, light, and easily packaged unit.
Flexible Range and Quick Charging
The combination of the 17.8kw battery and 50-litre fuel tank creates a unique series plug-in hybrid with a flexible total range of over 373 miles. The Mazda MX-30 R-EV is compatible with both AC charging and rapid DC charging, allowing for 3-phase AC charging in around 50 minutes and DC rapid charging in around 25 minutes.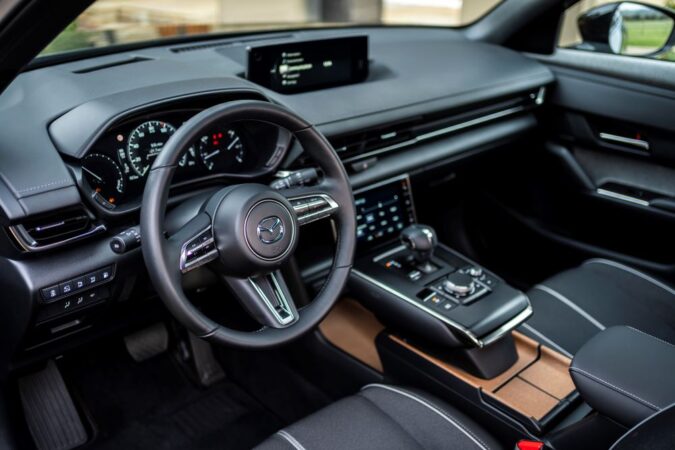 Driving Modes for Different Situations
The Mazda MX-30 e-Skyactiv R-EV features three driving modes: Normal, EV, and Charge. Normal mode delivers electric drive as long as there's enough battery charge. EV mode ensures the vehicle uses electric drive exclusively until the battery is completely drained.
Charge mode can be used to safeguard the necessary amount of battery for particular urban environments. Additionally, drivers have the option of setting the amount of battery charge they want to reserve in increments of 10%.
Safety Comes First
Mazda is committed to advancing safety performance under the Mazda Proactive Safety philosophy. The superior driving dynamics achieved as a result of Mazda's Skyactiv Technology also contribute to the new Mazda MX-30 e-Skyactiv R-EV's driving safety.
By making the car easier to drive, they reduce the potential for accidents without compromising Mazda's traditional fun-to-drive character.
Pricing and Availability
The Mazda MX-30 e-Skyactiv R-EV is available to order now, with UK arrival expected in the summer. The R-EV is offered in the same highly specified grades as the all-electric MX-30: Prime-Lime, Exclusive-Line, and Makoto.
A limited edition launch model, the Edition R, is offered exclusively in the unique colour combination of Jet Black with Maroon Rouge side pillars and a black