We have put an electric car to the test and documented the experience to explain just what it is like living with an electric car before you make the jump. Take a read below.
The electric car market is set to undergo a massive boom in the next few years. Understandable, with climate change concerns reaching an all-time high, and the need to 'go green' inspiring more of us than ever. We bought a secondhand Nissan Leaf in order to learn more about the used electric car market – over time, we have built this article to include everything you need to know about secondhand electric cars. Specifically, we'll be discussing the Generation 1 Nissan Leaf – a cute, quirky car with a unique body shape.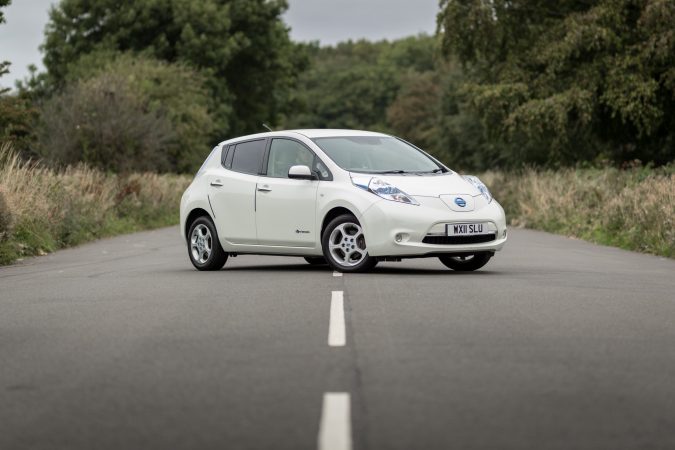 Findings Video After Spending 6 Months Driving The Car
Here is how we some up what we learned about living with this car for the first 6 months, just to give you a snapshot of what it is like. Read below for all the details on our experience.
What Did We Buy – Nissan Leaf 2011
The Leaf we chose is a 2011 Nissan Leaf with 32,000 miles on the clock. The car is in warranty, and the battery owned rather than leased. The car has the 24Kwh battery, with 11 of the 12 original bars of power remaining, so is in good health. I really think it could be a great car hack. The car needed 1 day of hoovering, polishing and waxing to make it look okay, but overall it's in good condition.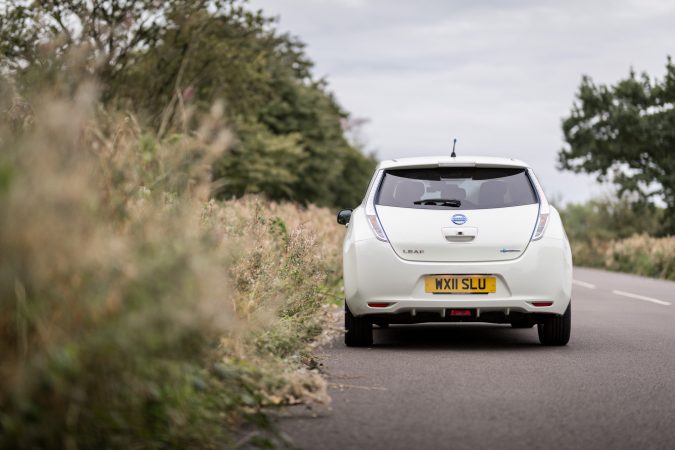 Electric Vehicle (EV) – Driving Impressions
I was actually surprised by the acceleration performance of the Nissan Leaf. It has 107bhp of power, but the availability of torque is great, and the rush from 0-45mph is pretty fun. But it soon dies down after that. I feel like the Leaf can be enjoyable to drive, but you might shorten your range significantly by playing around with the car.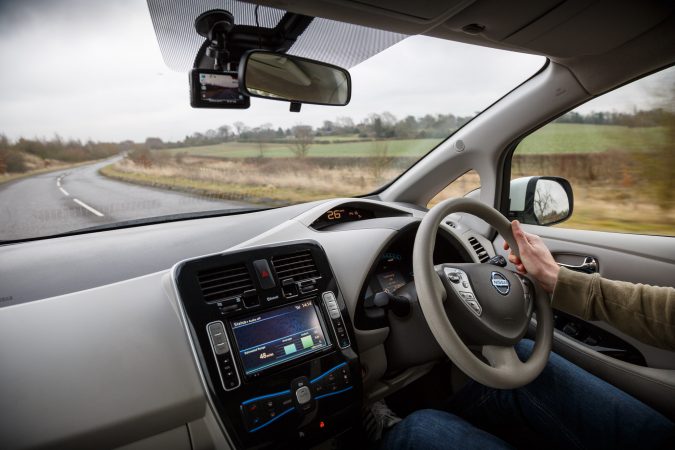 The braking is aided by regenerative technology that puts power back into the battery. However, I do feel that this gives the car an inconsistent braking feel. The brakes are effective when you stamp on them, but you do really have to push them hard to get them to work well. I'm sure this car is still on its first set of pads, so replacing them probably couldn't hurt to bring back some performance.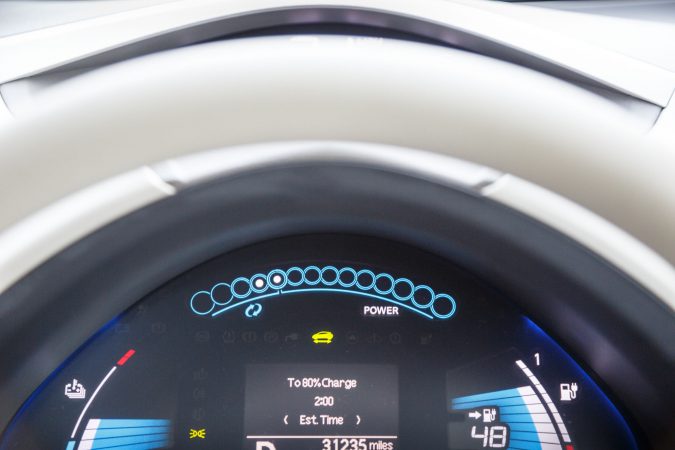 The handling of the car gives very little in terms of driver feedback. It's very numb, and quite difficult to know what's going on whilst cornering. However, driven sensibly the steering is nice and light, with little effort needed to turn. There's also an incredible turning circle on the Leaf, ideal for city driving.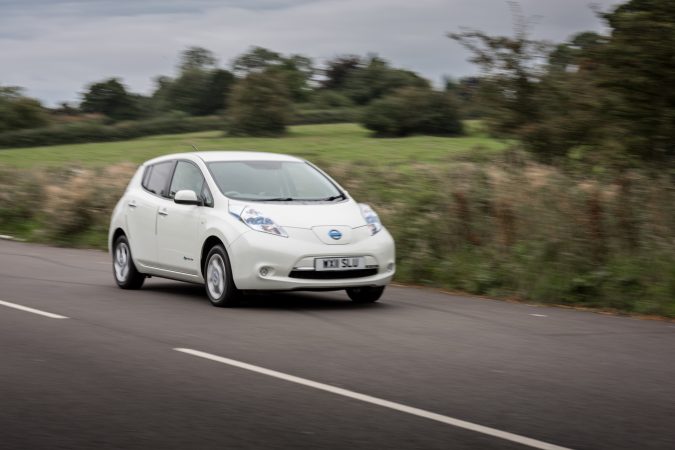 What Do You Need to Know Before Buying a Second Hand Electric Car?
Battery Leave vs. Battery Owned
Some electric cars offer several battery options when making a purchase. The Nissan Leaf gave us the option of buying the car and leasing the battery, or just buying the car outright. If the battery is leased you can expect to pay around £70 a month, which does make running costs a bit more expensive. Luckily we hunted around for one that is battery owned.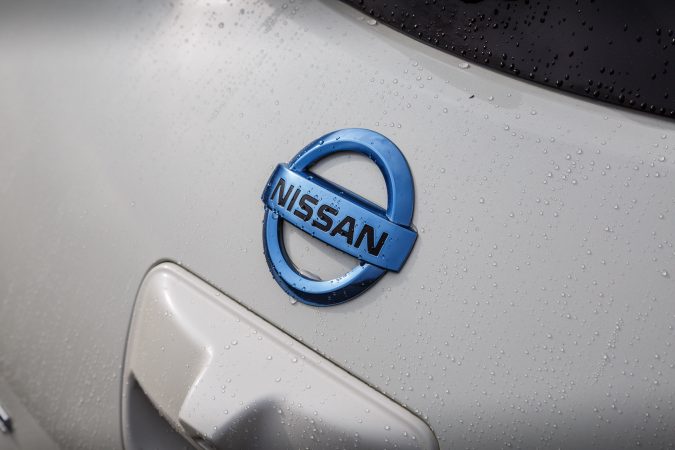 Battery Health – The 12 Bars?
Looking at the battery meter in the image below, there are two bars stacking up. The longer bar with a blue section is the indicator of how charged your battery is. If it is fully charged it will go all the way to the top and will decrease from there. The narrow column on the right is the battery capacity bar – it has a maximum of 12 bars and will reduce over time as the battery degrades. This car currently shows 11 out of the 12 bars; for its age, our Leaf is in relatively good battery health.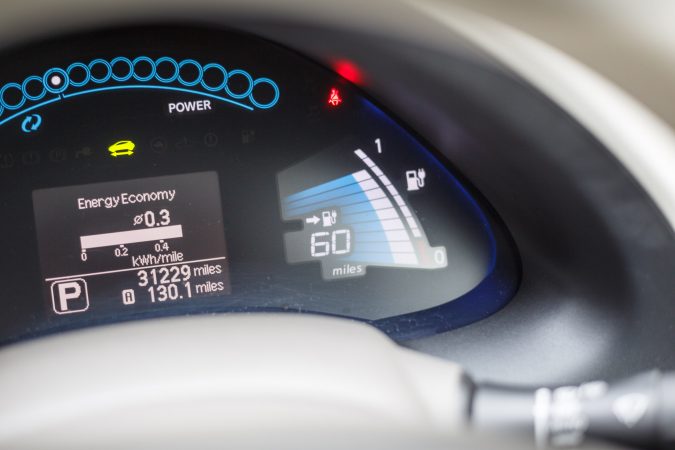 Are High Mileage Electric Cars Okay?
From all the research I've conducted online, there are a lot of really high mileage Leafs out there that are doing okay. Here is one example where the owner has managed to get to 150,000 miles. The Leaf is also a common car with taxi firms, which end up clocking high miles with few problems. I honestly wouldn't be concerned if the price was right and the remainging battery had the capacity you're looking for.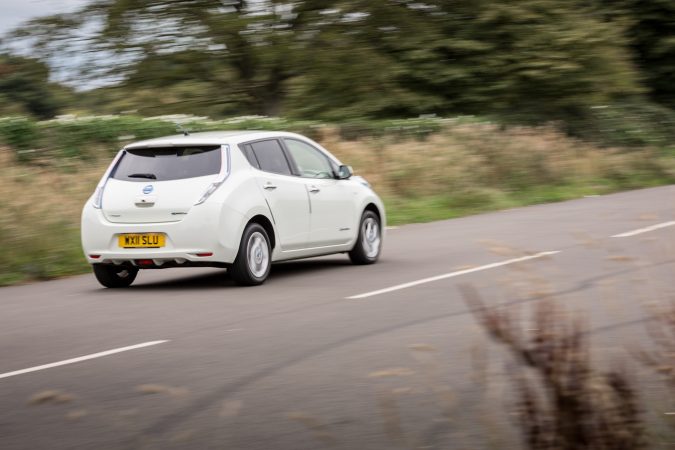 What are the Benefits of an Electric Car?
Zero Cost Car Tax
It definitely feels good to visit the car tax website, register your car for road tax, and not have to pay a penny. The Leaf qualifies for £0 car tax, so you're winning on cost-saving before even doing a mile.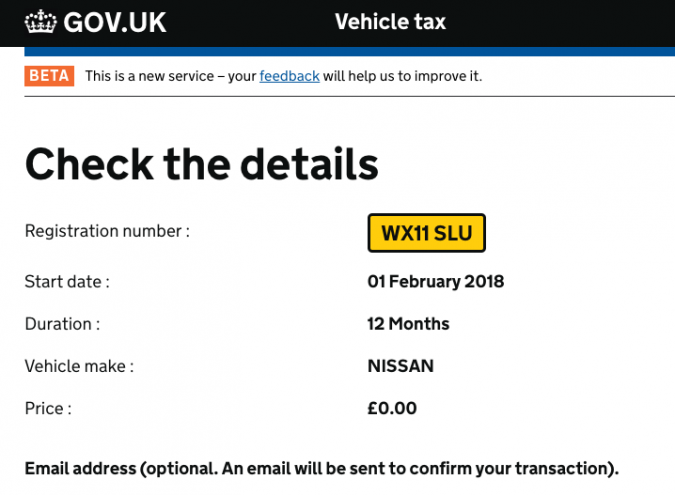 Low Motoring Insurance
At the moment you can expect to get lower insurance premiums. For myself at age 31, parking the car on the drive, including personal and business use for 8,000 miles a year, and a second driver, I can expect to pay around £300 a year.
Very Low Cost Per Mile
You can expect to pay around 0.02/3p per mile depending on how you drive it, charge it and the environment you're driving in. You could compare this to a 1.0-litre lightweight car that does 60mpg – this could still cost you around 10-15p per mile. So the EV fuel cost is around a 5th of an economical combustion engine.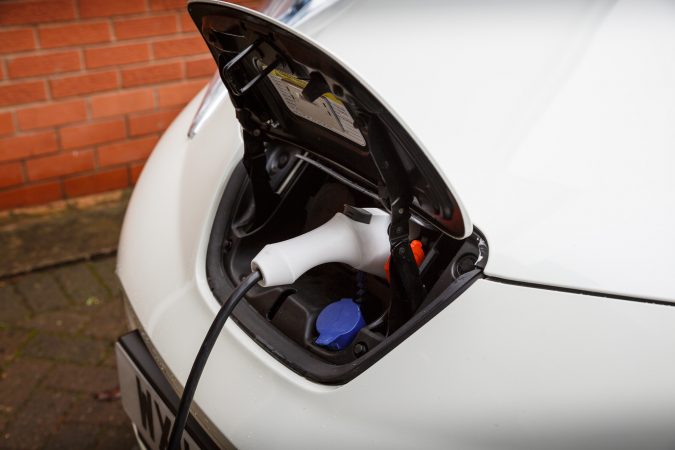 What the Disadvantages of an Electric Car?
Limited Range
This Leaf has a relatively low range from a full charge. Realistically, you're looking at around 50-70 miles range depending on if you use the lights, heaters, aircon and wipers. My finding have shown very mixed results based on the incline and traffic congestion. But the best-recorded distance so far with 11 bars of battery is 72 miles with the lowest around 52 miles in the winter.
Limited Charge Points
Although charge points are a lot more popular in 2018, in some cities they just might not be where you'd like them. However, this will develop over time. There are so many different providers of charge points. Most you need to have subscribed to the service in advance. So you can't just turn up and expect to use the service. You need to study what will work for you in your area.
Another major annoyance is you can be on a journey and when you arrive to charge your car the chargers can be out of service. This has happened to me quite a lot. A lot of providers seem to be slow to repair the chargers also with either weeks or months passing before they are repaired.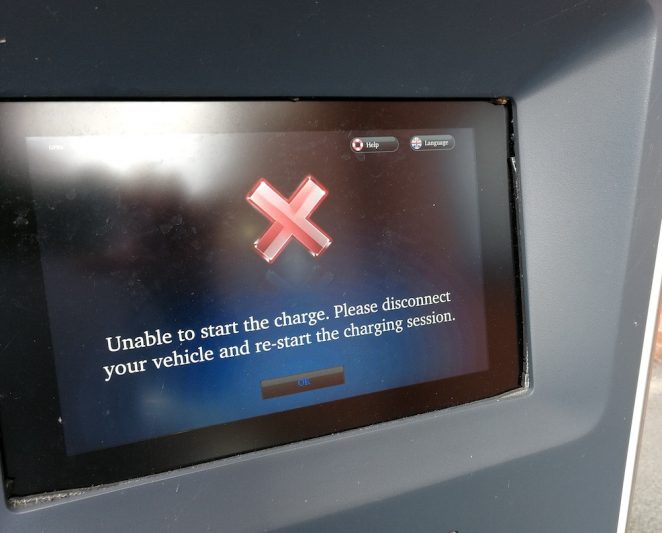 Slow Granny Lead Charger
You forked out on the car, but didn't plan on buying a charging system. Some Nissan Leafs will come with a 3-pin charger (the 'granny lead'). This will charge the car off any 13amp 3-pin house plug but from 0-100% it can take around 8 hours to charge, which might not suit your needs. There are plenty of home kits available to buy that will get a 100% charge in under 4 hours.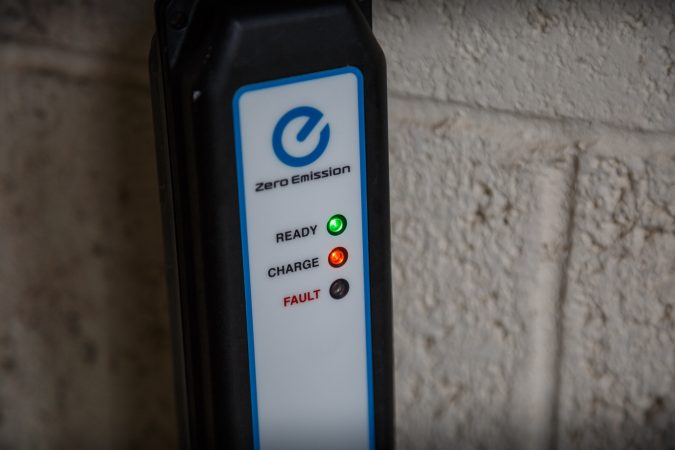 Nissan Leaf 2011 Likes and Dislikes
What Don't I Like?
There are a few instant disadvantages. The pre-2013 Nissan Leaf has a light-coloured interior that just doesn't age well. I've cleaned it up and it's come out okay, but the later black cloth interiors are a definite improvement.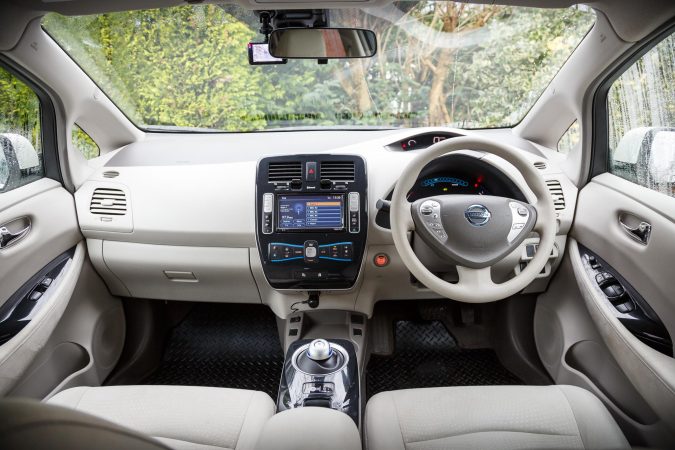 The floor carpet is, put simply, horrible. I believe it's made from recycled plastic, and you can certainly tell. It doesn't age well, and took a lot of effort to vacuum just to get it to how it looks now.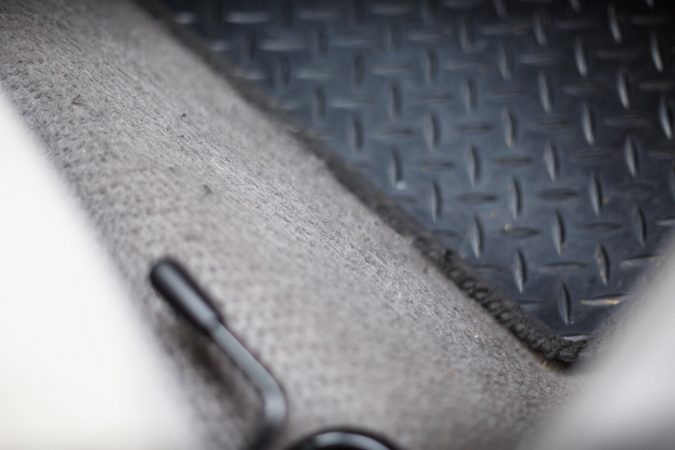 The steering wheel on the pre-2013 model doesn't have rake adjustment, meaning that you can't bring the wheel closer to you. I do find this annoying, but it's not a major problem, just frustrating.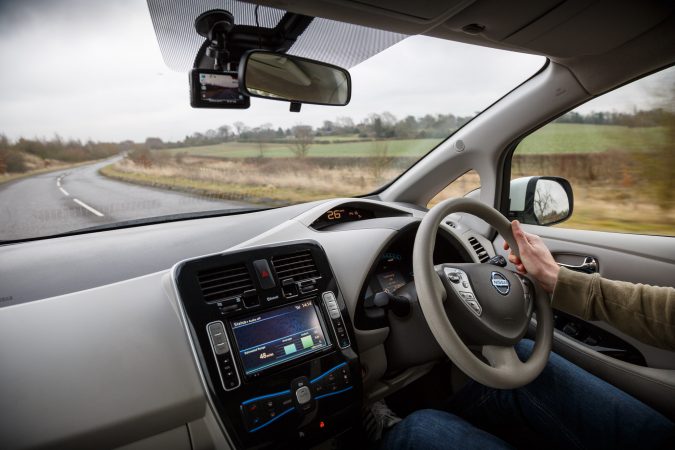 What Do I Like?
It is relatively well equipped. It has keyless entry to start with, including a modern-looking key.
It also has a modern-ish infotainment system with FM Radio, CD, Bluetooth, SatNav, USB and a good quality reversing camera. Even in 2018 the sat nav is responsive and easy to use.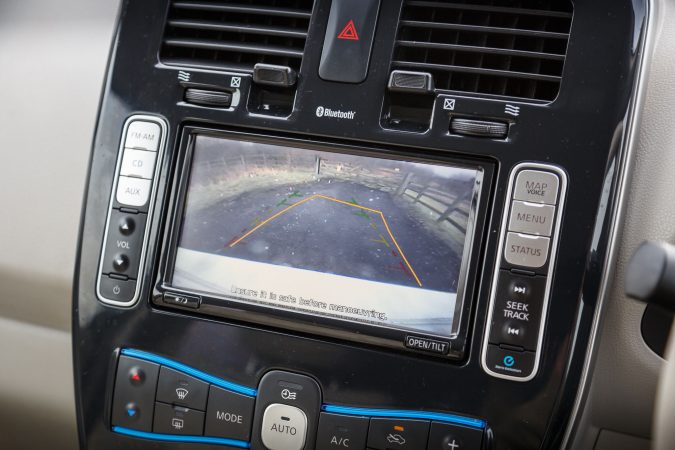 Our Leaf has LED headlights that work exceptionally well. This Nissan was certainly ahead of its time, outperforming some of the newer cars we test for nighttime visibility.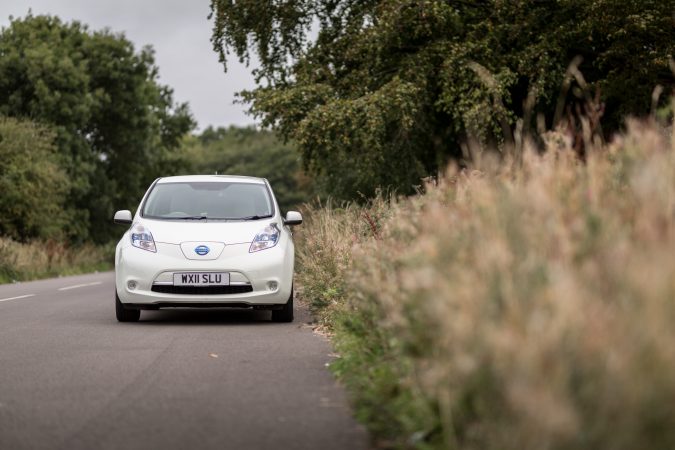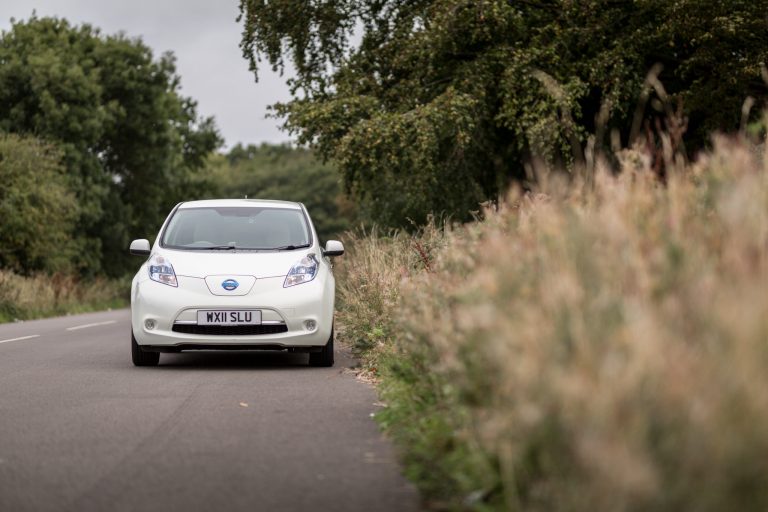 If you do decide to invest, you'll become obsessed with charging the car. There is a nice and simple 3 LED display on the dash, showing you the car's charge status. 1 light mean 0-30%, 2 lights mean 30-60%, 3 lights mean 60-100%. It is nice and simple to use –  just looking out the window, you'll always know where you're at with the charge if the car is plugged in.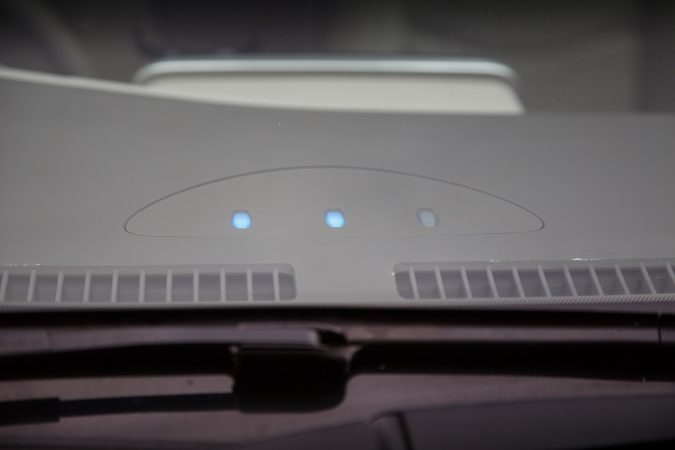 There is also the Nissan EV app (CarWings). This app gives you lots of features you don't get on a normal car. You can monitor the charge status, it will show you the current level of battery and also how long it will take to fully charge the car. However one of the best features in the app is the ability to either remotely heat or cool the car, you can do this on demand or using the timer. This means that on cold days as an example you could defrost the car and heat the car to the perfect temperature. This is a great time saver and you don't even have to go outside all works over data.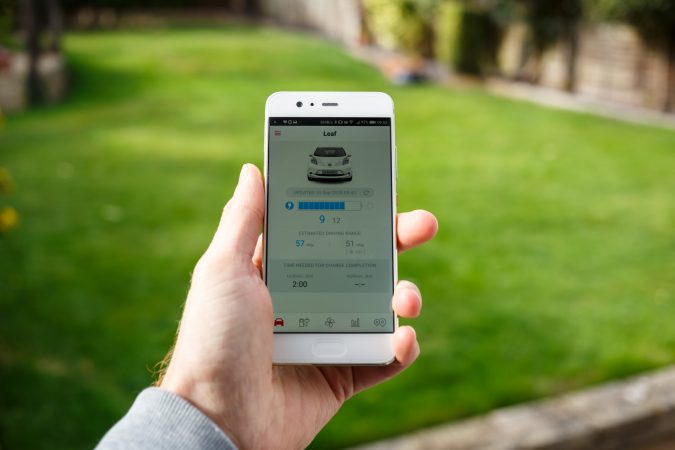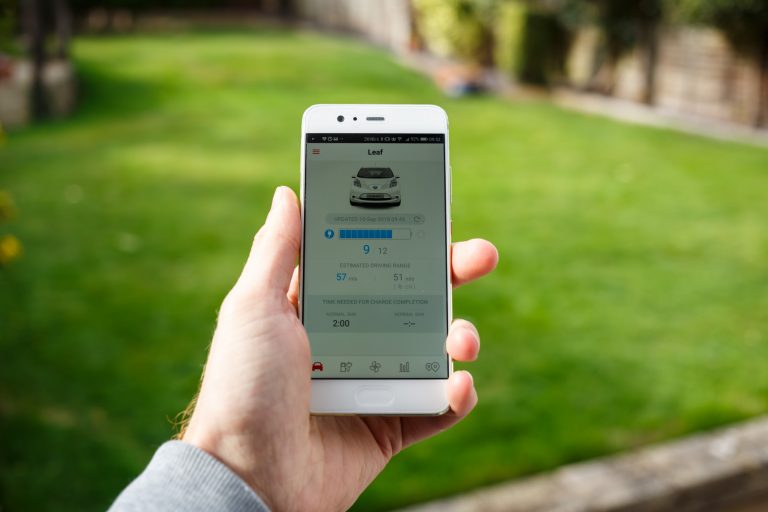 I have no explanation why I like this so much, but the gear stick – for want of a better term – I think is pretty cool. It moves right and backwards to put the car in drive, or right and forward for reverse.
There is an additional eco mode available on the car by selecting drive for the second time. This changes the mapping of the accelerator pedal, limits the power to the motor and tones down the heating, making the most out of all that energy.

Charging – What You Need To Know?
The Nissan Leaf we have here has a 24kWh battery. Charging the car offers many options, and many more things to be aware of.
Charing Over 80% Can Degrade the Battery
Nissan says that charging the car over 80% regularly could quickly degrade the battery. It may be best, then, to do this only when taking long trips. Using the car's software, you can limit the charge to stop at 80% for regular use. There is a single button that can quickly override this option if you require an extra boost to 100%. Or you can use the EV app remotely to charge the car to 100% simplying tapping charge again once the car has hit 80%.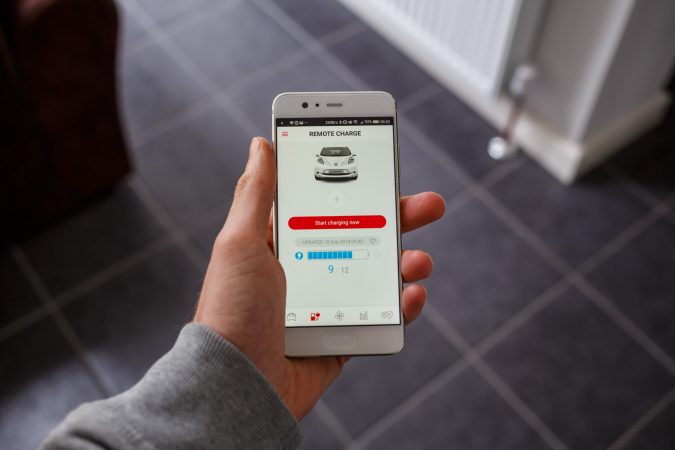 3-Pin Charger – Granny Lead
Our Leaf came with the 3-pin plugin charger that I've been using to start with. It can fully charge the car, but very slowly. From flat, the car takes around 8 hours to fully charge. Although the 3-pin is good to carry around for emergencies, it's not ideal for a frequent user of the Leaf. It is worth noting that if you know you are stopping overnight somewhere, this cable will be able to charge the car no problem at all.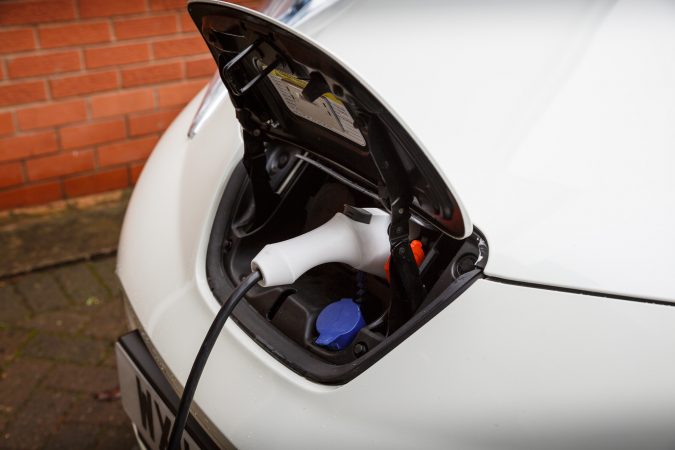 EV Home Charger Systems
There are plenty of options available to purchase to charge your car at home. Getting the right charger could mean you get a full charge time down from 8 hours to 4 hours, meaning you could be getting a lot more miles out the car.
Public Chargers
In most built-up areas there's a range of different public charging systems located in convenient areas. But there's a lot to consider. Each charge system is run by a different company which either have pay-as-you-go schemes or subscription-based services.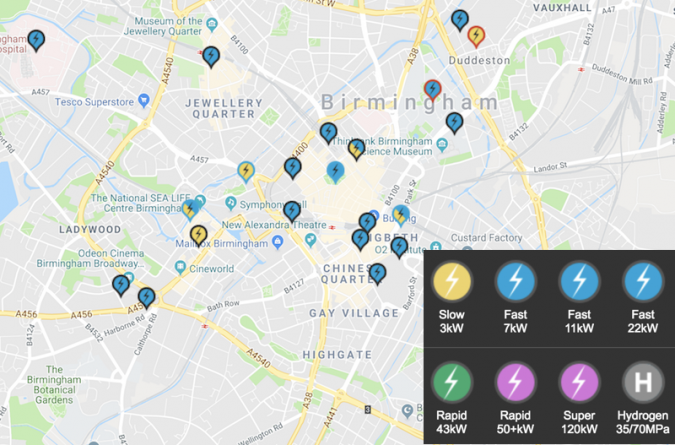 Once you have that figured out, there is also a range of different connectors and power ratings to use. The above screenshot gives you an idea of the current infrastructure in Birmingham along with some of the different power ratings.
Rapid Chargers
As part of our initial testing, we used some high power 50KW chargers on the Nissan Leaf. 30 minutes is often all you need to fill the car back up and carry on your journey.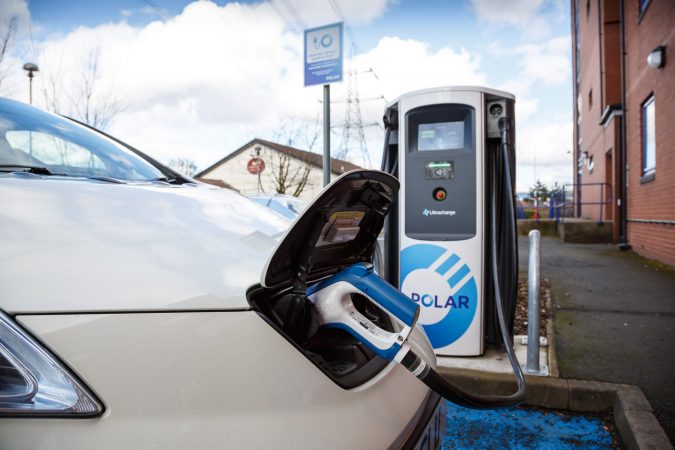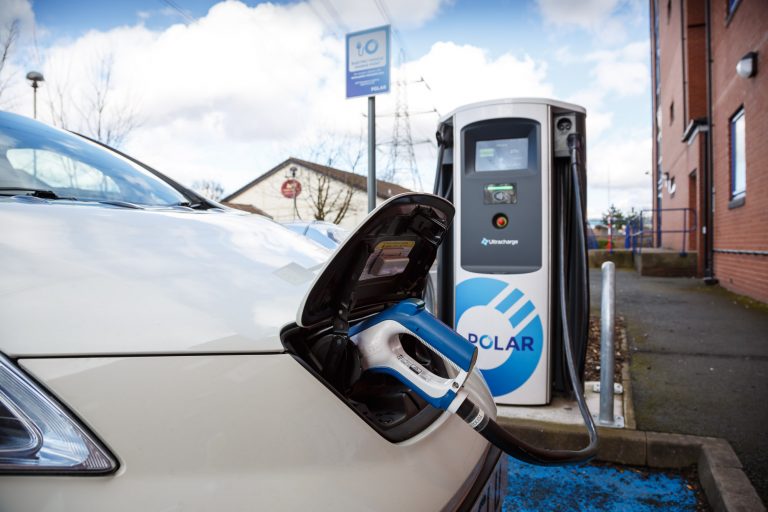 You will find these types of chargers at motorway services common brands you will see will be Polar and Ecotricity. Polar offer a cheaper rate per KW, however, Ecotricity offer green energy that is fracking free.
Nissan Leaf Connectors
In the nose of the car, there are two connectors. On the left is the CHAdeMO connector, and on the right is the type 1 connector.
The CHAdeMO connector is typically used by the rapid 50kw chargers, while the type 1 is used by your 3-pin plug and most lower-power public chargers.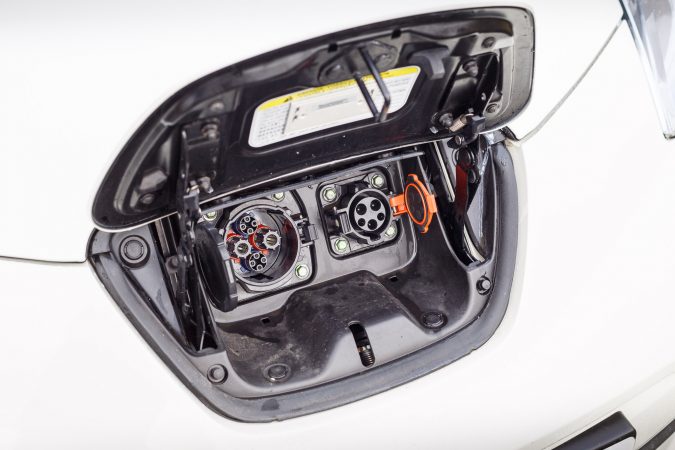 How Much Does it Cost to Charge?
At the moment, charging at home costs me 11p per kWh, so fully charging the 24kWh Nissan Leaf costs around £2.50. Which is about the same as two litres of petrol.
If you're using a rapid charger, prices vary from completely free to 30p per kWh totally £7.20 if you hit a full charge. But you will need to check the terms of the charger you are using to find out more.
Nissan After Car
Warranty
The base warranty on the Leaf is good for 3 years and 60,000 miles. However, if you buy one from a Nissan dealer they can be sold with 12 months extended warranty. This 2011 car that we have here still has a warranty on the car at 7 years old.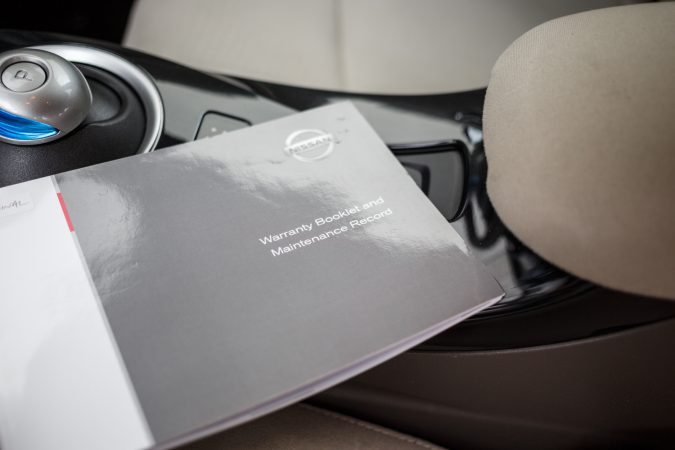 The dealer warranty is also transferable to a new owner if sold privately.
Services
Although you don't have an engine, you still need to get your electric car serviced. From a Nissan dealer you can expect to pay around £149 for a minor service, or £199 for a major service.
These services are more check-ups than part replacements. The mechanics will perform general checks on brake fluid, pollen filter etc, as well as software updates.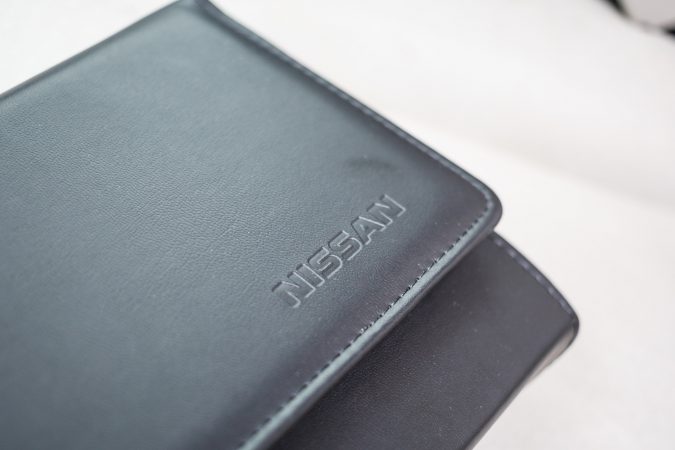 One of the major benefits of getting your car serviced at a Nissan dealer is the inclusion of a year's worth of RAC roadside assistance. This can be used if you ever run out of power – the RAC will come and collect you, and drop you at the nearest charger to fill up.
Our first service in Birmingham was completed by a West Way Nissan dealer. It did feel a little strange taking the EV for a service knowing no major physical work was going to be done. But it was good knowing the car was checked over by a trained technician. Plus the benefits of having the RAC cover is worth about £90 itself anyway, so the cost is diluted slightly. For me, I was keen to maintain the service history to ensure the car was easy to sell in the future.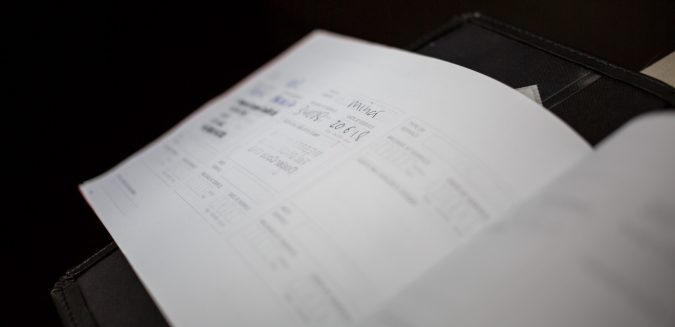 How Well Do EV Work in the Winter
We tested out our Nissan Leaf test car in the winter weather in England and reporting back on our findings. There are a couple of things to consider when using an electric vehicle in winter to ensure you aren't caught out. Our test journeys took place in snowy temperatures between -3 and -1 degrees, and found it very difficult to get more than 55 miles range out of the car during the cold weather. Below is some of the reasoning behind this.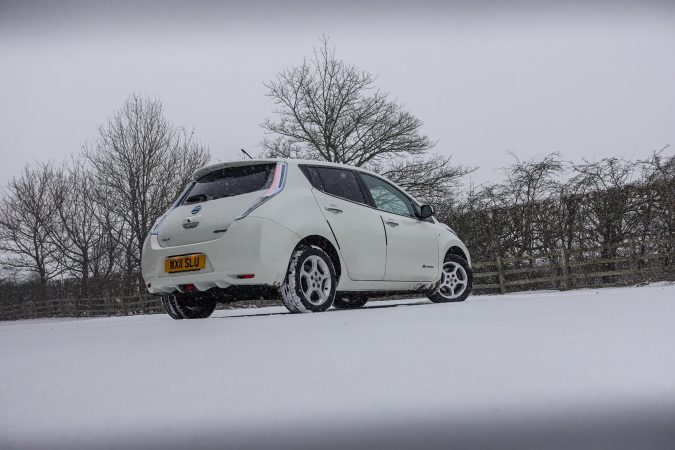 Battery Temperature Effect Range
As with any device with a battery, the amount of power that can be stored is dependent on the temperature. The Nissan Leaf has a battery temperature gauge on one side of the driver's instruments to give you an idea of the current battery temperature. The blue area of the gauge means the battery might be significantly less efficient. We certainly felt that we were getting less from the battery in cold weather – maybe a 5-10 mile loss without using the auxiliaries like lights and heating.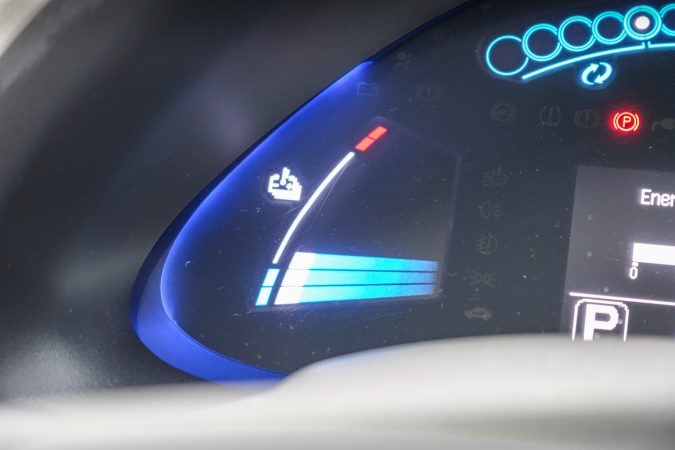 Cabin Heater Drains The Range
Even if you go into the car wrapped up and expecting to be chilly whilst using the heater as little as possible, it's still necessary to switch it on to keep the windscreen clear and safe for driving. The heater element, of course, uses electricity here. Normally heat is a by-product of a combustion engine, allowing you to effectively heat the cabin for free. However, in an EV it comes at a cost.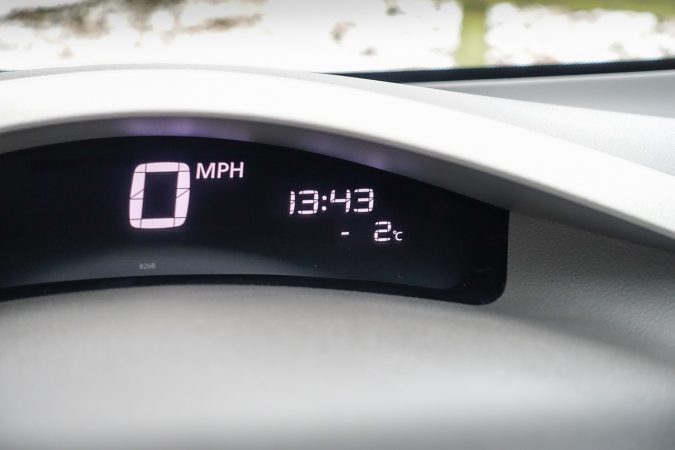 Lights and Wiper
Driving the car in snow meant that I needed to keep the wipers moving and the headlights on so I was visible to other cars on the road. This all drains the car battery and further reduces the range of the car.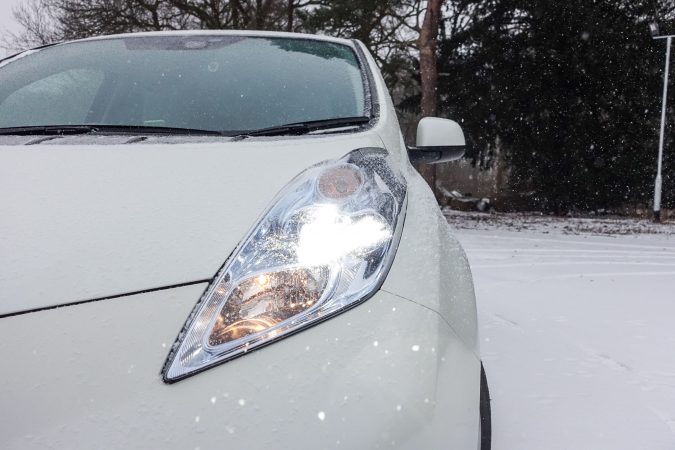 How Does the Nissan Leaf Drive in the Snow
At the time of testing, the car was running summer tyres from a non-premium tyre brand. I was interested to see how the car coped in the snow for a few different reasons: I'm aware the car is heavier than other internal combustion engine cars of this size. Furthermore, it has a low centre of gravity and of course uses motors to move the wheels.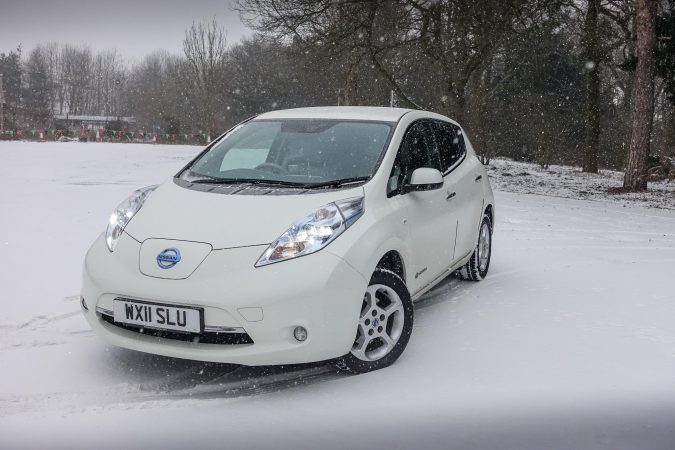 I was actually very surprised how capable the Nissan Leaf was in the snow. Even on summer tyres the grip moving off from stationary was better than expected. I put the Leaf into Eco mode to help ease the power to the front wheels. This mode is designed to limit the power usage, but doubles up very well as a snow driving mode, limiting the slip on the front wheels. Perfect.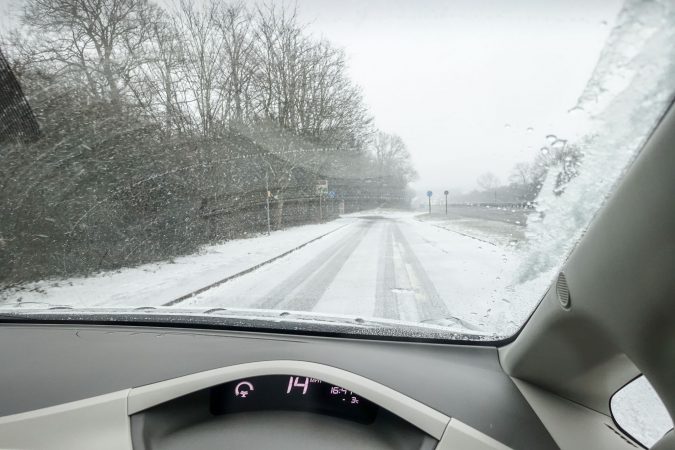 Under braking, the car also seemed to maintain good grip, which I can assume is helped by the car's additional weight. The balance of this weight over the car's footprint also doesn't hurt.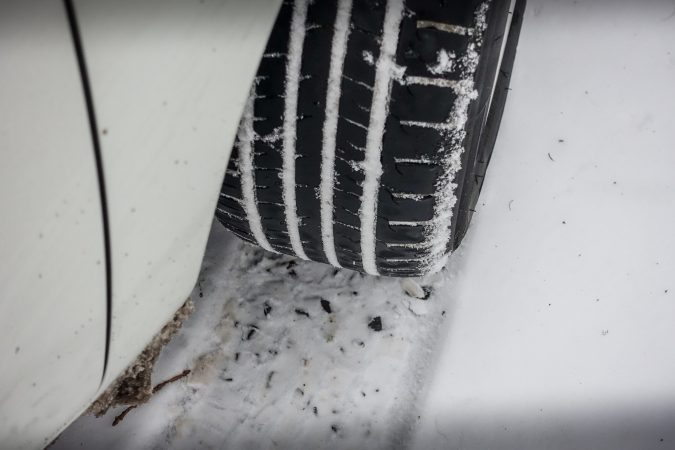 The main disadvantage I found about snow driving was the steering wheel feedback – there was little to none. In the dry, there's very limited feedback – but in snow you basically have no idea what's going on. However, if you turn the radio down you can actually hear what the wheels are doing – a minor advantage.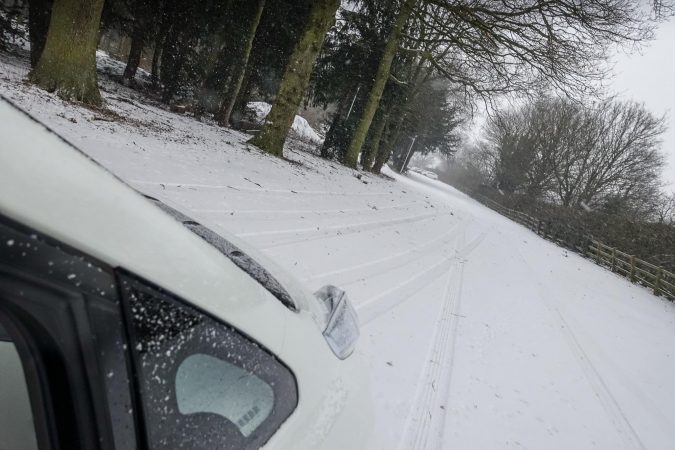 First 6 Months Completed
We have now spent 6 months testing out the all-electric Nissan Leaf. We have completed over 5,000 miles. Here are some key facts on what that means.

Purchase or Improvement Recommendations
Eco Tyres – Tyres On The Drive
With a very limited amount of mileage between charges in the Leaf, I am always keen to try and get the most out of each run. One of the best factors to do that is to make sure you are using a fuel-efficient tyre. Initially, the car came with some Briway fuel efficiency D rated tyres which certainly wasn't optimal for the cars maximum range. Tyres On The Drive fitted me some premium Continental EcoContact 6 tyres (fuel efficiency A rated). The service was great getting them fitted at home.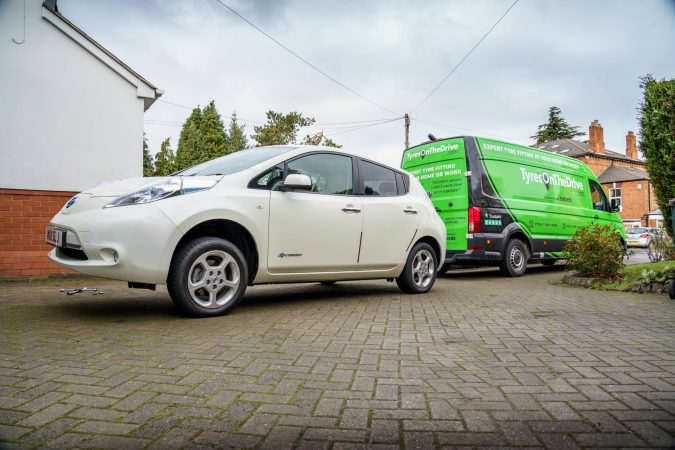 However working on around 60 miles test runs, I wasn't able to confirm that the new low rolling resistance made a significant improvement to the range. Of course, the variables on test runs on the road were changing each time. I am sure they do aid the range, but I can't scientifically prove this at this point.

Charger Extension Cable
From spending time with the electric car, we've noticed a few products that make EV life a little easier.
ICE Cars Parked in EV Charging Bays Work Around
As an EV driver, you plan your long journeys in advance and figure out all the charge points you need to use to make the journey work. You get there, and there's a diesel Ford Mondeo parked in the charging bay you need to use. And you don't have enough juice to drive the 5 or 10 miles to the next charger. Grrr.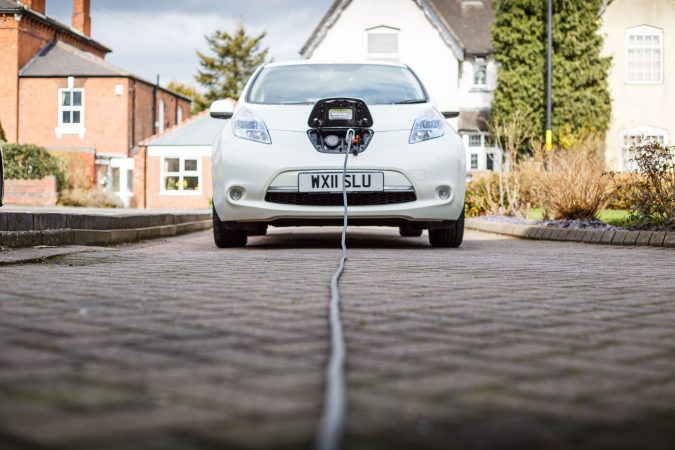 This happens a lot more than you think at busy shopping centres and places with limited parking. However, as frustrating as this can be, using EVcables 32amp Black Type 1 Extension Cable I can park my car within 10m of the chargers and still get a charge. You can simply park safely behind the internal combustion engine car in the bay and get the charge you need. This way people with bad parking habits don't need to affect your journeys. Read the review of this cable here.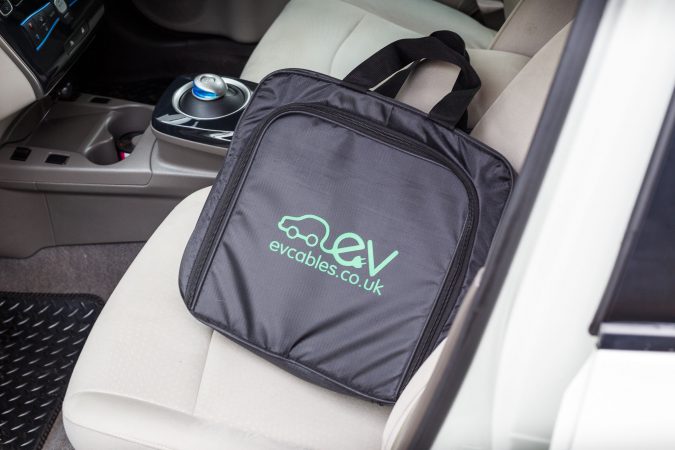 Replacing Those Old Wipers
Most of us have experienced cheap or worn wiper blades at some point on a car. They can run over the windscreen, not clearing it or improving driver visibility. This can be very dangerous as obstacles may be obscured by the rain. In an EV this brings a new problem as if your wipers are having to run faster as they are working ineffectively you are arguably wasting power and reducing the maximum range of the car. We replaced our wiper blades with a set of highly efficient new ones.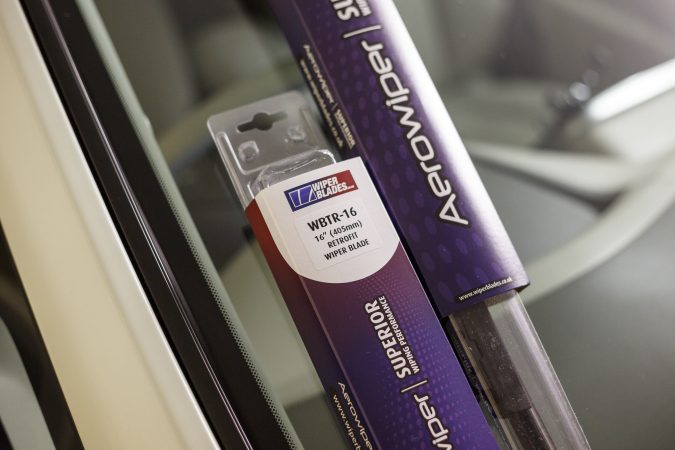 Refreshing The Carpets
The original car floor carpets were six years old and very dirty. They are worn and in need of replacement. We got hold of a set of luxury custom fitting mats that changed the interior from being old and dirty to feeling like a premium car.  The base carpet under the removable mats doesn't age well so being able to neatly cover this up from also a bonus. Read more about the mats in our product review area.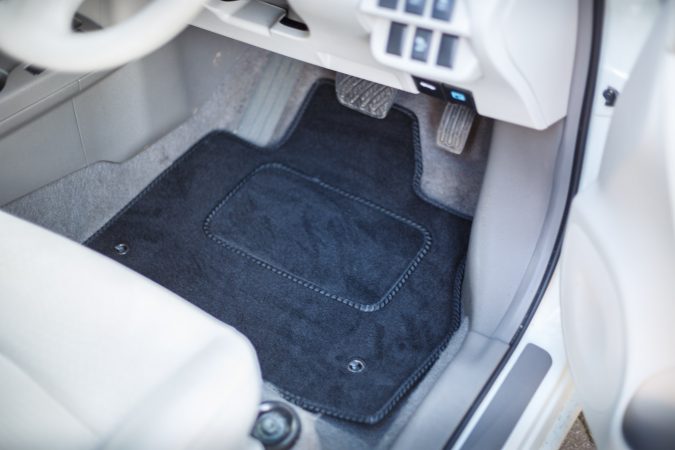 Other Cars To Learn About
We have been able to review a selection of other electric or alternative fuel cars that we would recommend learning about.
FAQs
What's the Cheapest Way to Recharge?
This all depends on your local area – if you can find a free local public charger, you're quids in. A couple of tips – in the UK, most IKEAs have a rapid charger, and will refund you the charge cost of up to £6 if you make a purchase. Most Nissan dealers will also allow you to charge for free.
If you're charging at home, it will be worth looking at competitive deals for your home electricity bill.
Does the Car Discharge if You Don't Use it?
The Nissan Leaf will very slowly discharge if you don't use it, yes, but you're only talking around maybe 3/4 miles a week, so no significant loss.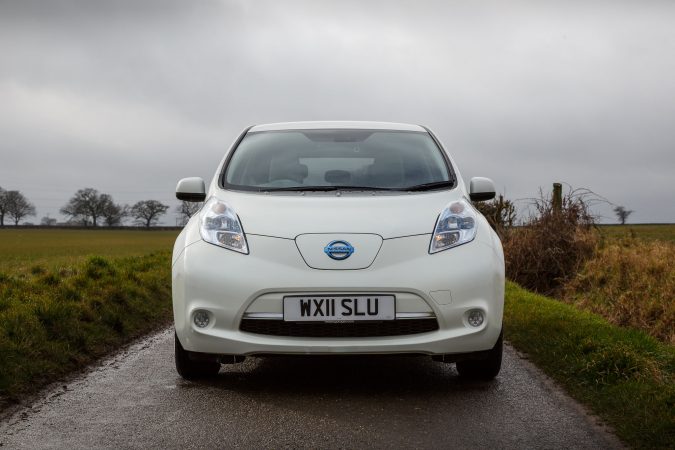 How Does the Nissan Leaf Cope With Traffic?
The Leaf is built for traffic. When you're stationary, you're not using any power to the motors. The only power used would be the internals of the car. In traffic, you actually feel pretty good knowing you're not wasting any fuel, too.
On a Public Charge, Can Somone Discount the Charge Cable When You're Not Around?
Yes. The type 1 connector on the Leaf doesn't lock in, so anyone can disconnect the cable. This has been fixed on most new EVs now.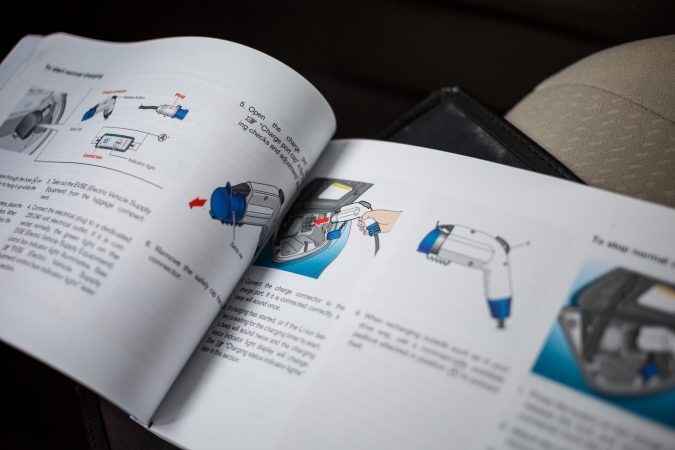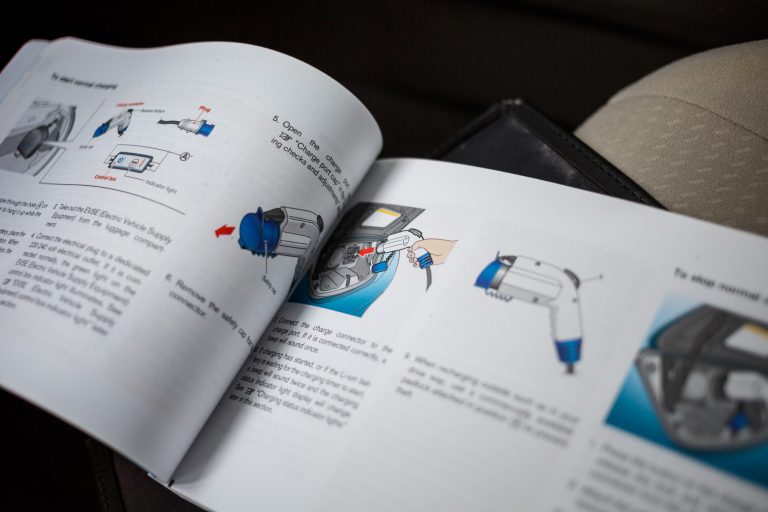 Does Range Vary With the Environment?
100% yes. There are a lot of variables, mostly temperature and gradients. However, light and rain can also factor in, for running the headlights and wipers.
Similar to a mobile phone – if the device gets too hot or cold, the battery life can drain. The same goes for the battery in the Leaf – for optimum range, you need the ideal temperature. The Leaf does offer a bar on the dash to demonstrate battery temp for your benefit.
If your journey has a lot of hills, you'll cover less miles than if you were going on a steady flat surface. More power will be needed to get up hills and you will get some regeneration on the way down, but you will never recover what it took to get up the hill in the first place.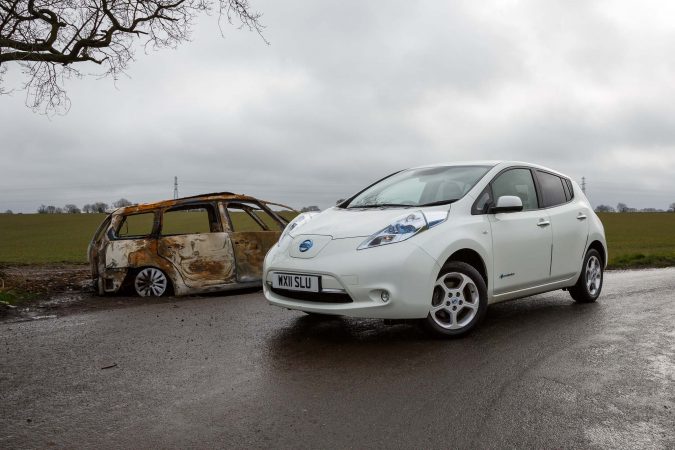 What is Regenerative Braking?
The Nissan Leaf motor can generate electricity to put back into the battery as it slows down. You can monitor the regeneration via the circles on the top of the driver's instruments. The 4 circles on the left represent braking regeneration.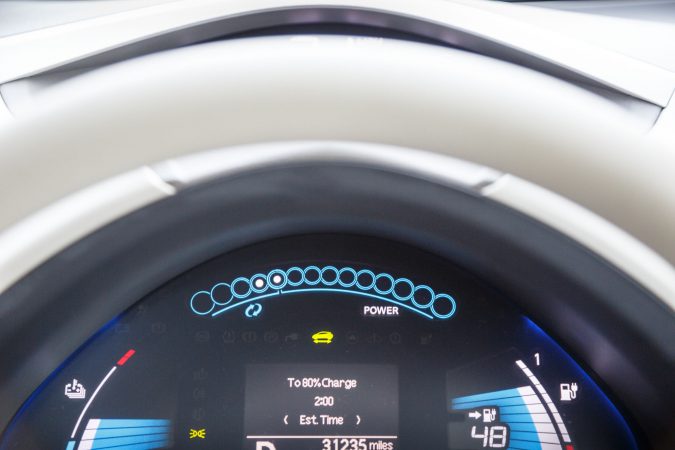 Does Using the Heating Effect the Range of the Nissan Leaf?
Yes – as you can imagine, a lot of energy is used to create heat. You can expect to lose around 8-12 miles off the battery if you run the heater for the entire range of the car. Headlights, wipers, and aircon will also affect the range.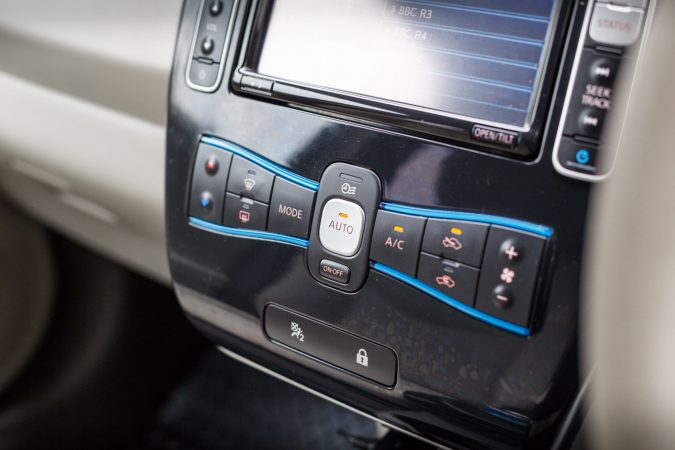 What is the Best Part of Owning a Nissan Leaf?
I do really like the fact that I never have to pay to put petrol or diesel in the Leaf. Electric at the moment is a really cheap option.
What Does it Feel Like to Drive an Electric Vehicle?
Driving an electric car does have extra surprising benefits. Because of the absence of an engine or gearbox, there's a lot less noise and vibration from the car. This makes for a more peaceful driving experience and an overall smoother ride.
On a nice bit of road, you can get a nice smooth, gliding feeling, further aided by a little bit of motor whine. With the blue interior lights, it does feel very futuristic.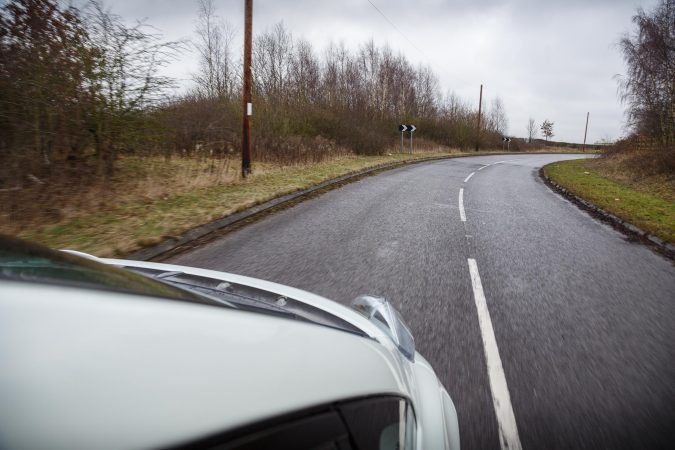 What is the Longest Trip You've Ever Taken in Your Nissan Leaf?
So far I certainly haven't broken any world records. However, I have done a few long journeys of around 200 – 250+ miles in one day. I had to plan out all my stops and it wasn't too painful, it gave me a little bit of time to catch up on email on my phone at each stop.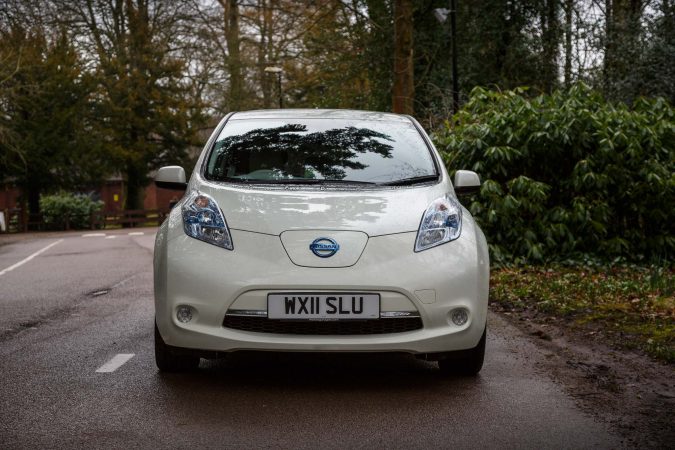 How Do You Plan Your EV Drives?
My local routes, I don't need to plan at all. However, for any longer routes, I tend to rely on ZapMap as they have a detailed list of chargers and a great community that keeps things up to date.
How Have People Reacted to Your Decision to Drive Electric?
It's always a hot topic for conversation. People always ask how far you get on a full charge and often think that it is not enough for them.
That said, I'm not planning on selling to the unsellable. I just explain my own case for the car and people can take from it what they like – either way, people are certainly interested in electric cars.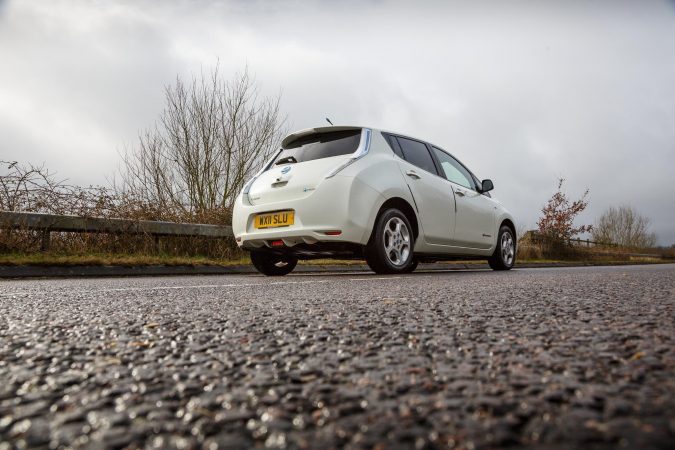 Now That You've Gone Electric, Would You Ever Go Back?
I am a petrolhead, and I will still drive and enjoy combustion engines of course. I do see real value in electric cars. As good as the Nissan Leaf is, I wouldn't have it as my primary car in the household, but it does make a great second car at this price second hand. However, a Tesla Model S would be a completely different story.