A Peak Performance: 09:37.326 Triumphs
In an astonishing performance at the renowned Pikes Peak hill climb, the Radford Type 62-2 Pikes Peak Edition seizes the top spot in the Exhibition Class. This notable victory on 25 June 2023 was secured with a time of 09:37.326, expertly clocked by the experienced rally and race car driver, Tanner Foust.
This feat was a personal best for Foust, who despite being a former Pikes Peak champion, had never surpassed the esteemed ten-minute mark – until now.
Power & Precision: Unleashing 710HP
The Radford race version is a testament to sheer power and precision. It houses a bespoke drivetrain built by JUBU Performance, generating an impressive 710HP from its supercharged 3.5L V6 DOHC engine. This powerhouse of a vehicle charges from 0 to 60mph in under 2.2 seconds and reaches a top speed of 160mph, delivering unmatched performance in its class.
Furthermore, the car utilises a paddle shift sequential gearbox for optimal control, and to maximise the potential of these enhancements, an oil mix specifically tailored for the Pikes Peak Edition was developed by Mobil1.
Radical Redesign: Crafted for Conquest
With an extensive array of engineering and chassis modifications, the Type 62-2 truly stands out. Featuring a wider body, a full carbon composite monocoque, a new underbody design, new subframes, a new suspension, and a rear aero and diffuser, the car is designed to conquer the toughest of terrains.
As part of this comprehensive redesign, the Type 62-2 was also fitted with a new soft compound Yokohama tyre, designed specifically to cope with the gruelling conditions of the Pikes Peak race.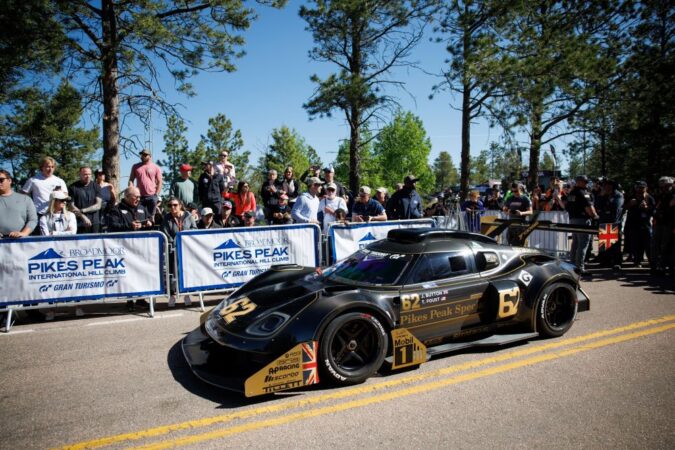 Victorious Vision: Next Stop, NASCAR
Following this triumphant display at Pikes Peak, the Type 62-2 Pikes Peak Edition isn't slowing down. Its next competitive endeavour will be at the NASCAR Chicago Street Race on 1-2 July 2023. Fans of racing and automotive excellence alike wait in anticipation as this extraordinary vehicle prepares to deliver yet another thrilling performance.
The success of the Type 62-2 Pikes Peak Edition stands as an enduring testament to Radford's commitment to innovation and performance. The accomplishment at Pikes Peak and the promise of future victories at events like the NASCAR Chicago Street Race only serve to solidify Radford's position as a formidable force in the automotive industry.