In a world that increasingly leans towards electric and futuristic designs, it's a refreshing surprise when a carmaker looks to the golden era of automotive design for inspiration. And that's precisely what RML has done with its new Short Wheelbase (SWB) car. Four years in the making, and it promises not only nostalgia but state-of-the-art tech under that classically-styled bonnet.
From Wellingborough to Monterey
The maiden SWB is all set to be delivered to its first owner in the US. But before it begins its American journey, it's making a pitstop at this month's Monterey Car Week. RML's CEO, Michael Mallock, will be there to proudly present the first production SWB in what is arguably one of the world's most significant automotive events.
Craftsmanship Meets Advanced Tech
Hand-built over a painstaking nine months, the first SWB boasts a dazzling triple-layer yellow and metallic blue paint job. Step inside, and you're met with satin chrome accents, blue Alcantara, leather trim and contrasting yellow stitching – it's a perfect blend of old-school craftsmanship and modern aesthetic.
Laser-cut precision parts and a manufacturing jig that allows only a minute 0.25mm tolerance ensures that every SWB rolling off the production line meets RML's exacting standards.
Paying Homage with a Modern Touch
The SWB was conceived as a two-seat, high-performance GT. While its lightweight, carbon-composite body gives a nod to the supercars of yesteryears, there's no compromise on modern-day comforts. Think satnav, air conditioning, cupholders, and smartphone connectivity – all subtly integrated.
But let's not forget the heart of this beast: a roaring 5.5-litre Ferrari V12 engine churning out a hefty 479bhp, coupled with a manual six-speed gearbox. That translates to a 0-60mph sprint in a mere 4.1 seconds and a top speed of 180mph. It's a modern GT with classic lines.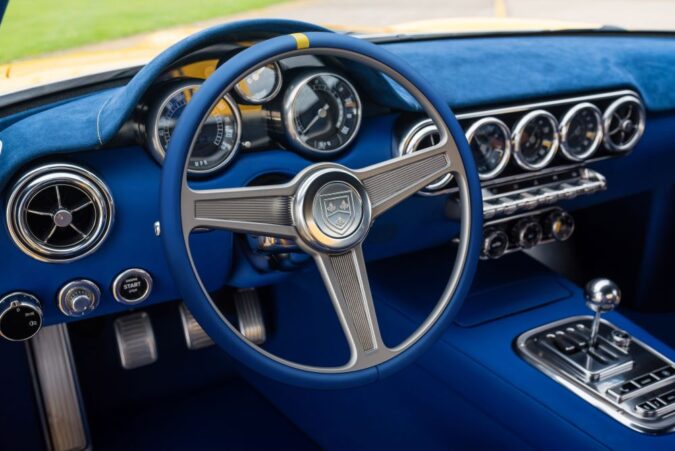 A Bright Future Ahead
While the first SWB is California-bound, two more are hot on its heels, set to reach their new homes in the coming weeks. In total, RML plans to produce just 30 of these bespoke machines.
In an age where cars often look more like gadgets, the RML Short Wheelbase stands out. It's a delightful blend of the past's elegance and the present's technology, ensuring it will turn heads wherever it goes.